March, 20, 2012
3/20/12
4:00
PM ET
WACO, Texas -- Heisman winner
Robert Griffin III
earned accolades for his performance at the podium at last month's NFL combine, but he elected not to throw until his pro day at Baylor.
The day for NFL scouts, GMs and coaches to see it up close and in person has arrived. Or, at least, it will on Wednesday.
[+] Enlarge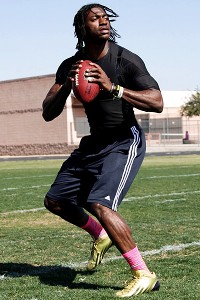 AdidasRG3 will get his chance Wednesday to show off for NFL scouts, GMs and coaches at Baylor's pro day.
"It'll probably be the biggest pro day Baylor's had in awhile," Griffin said on Monday after arriving to campus to take in his former team's spring practice.
Now, when would Baylor have ever had a bigger pro day?
"Well, I didn't want to say that," Griffin said with a laugh.
Make no mistake, it's the biggest ever. Around 130 media members were credentialed for Wednesday's event, and 60-80 more NFL personnel are expected to arrive. That number was trimmed from around 120 after the
Washington Redskins
traded up to No. 2 with intentions to select Griffin.
"We'll see what happens," Griffin said of his future destination. "Either way, if it's Indy or Washington or whatever happens in the draft, I'll be excited to play for that team."
The Bears had originally planned to allow fans to attend, and expected around 1,000 to show up and watch Griffin go throw a scripted set of throws, but that plan was scrapped.
Several networks, including ESPN, will broadcast the pro day live. The Big 12 Blog will be on hand, too. It's not only about Griffin throwing, though.
"We're trying to show [NFL teams] we've got two really good running backs in
Terrance Ganaway
and Isaac Williams. Kendall [Wright]'s going to show off and do his thing and run great routes," Griffin said. "We've got a couple older guys coming back in Ernest Smith and Krys Buerck. They're looking forward to a shot at the NFL, so I'm trying to help, help everybody out, not just show what I can do. Tape doesn't lie, so I don't have to prove anything at pro day, it's about going out and having fun and helping those guys be successful, so we're looking forward to it."
Griffin's spent the past two-plus months training in Arizona for Wednesday, and explained some of what Wednesday's workout can prove to NFL teams that want to see more than just his extensive, impressive game tape.
"The routes are all different in different systems, but they give you that generic NFL route tree and they want you to go run that and show them, 'Hey, I can run the basics, now teach me everything else,'" Griffin said. "So, just matching the drops to those throws, because they're not what anybody does in the college level, no matter whether they're in a pro system or in a spread system.
"I don't think I've ever seen a quarterback go seven [steps], plant and throw -- throw an out route at the college level. So, it doesn't matter if you're in a spread or in a pro style at college. It's still a different game and I'm excited to go play that game."
He'll get his chance this fall, but even with an adidas endorsement deal, Griffin isn't showing off any newfound cash just yet.
He hasn't made any car or house purchases, and doesn't have any plans to change that just right now.
"Not at all," he said. "I'm still broke."
December, 9, 2009
12/09/09
5:47
PM ET
By
Tim Griffin
| ESPN.com
It had all the makings of a special season for Baylor.
A season-opening victory at Wake Forest convinced long-suffering Bears fans they really could go to a bowl game for the first time since 1994. Even a home loss to Connecticut didn't diminish that excitement.

But in the following week the Bears' hopes of stopping the Big 12's longest bowl drought were snuffed out when standout sophomore quarterback Robert Griffin suffered a season-ending knee injury. It took the luster from an otherwise memorable 68-13 victory over Northwestern State.
Without Griffin, the Bears offense predictably struggled. Backup
Blake Szymanski
was also injured in the Northwestern State game, paving the way for freshman starter
Nick Florence
.
Despite his inexperience, Florence kept the offense humming and even threw for a school-record 427 yards and three touchdowns to pace a 40-32 upset victory over Missouri.
Efforts like those were few and far between for a Baylor offense that sputtered most of the time. The Bears ranked 103
rd
in scoring and 108
th
in rushing.
Other than the Missouri game, the Bears had trouble scoring against Big 12 opponents. They scored less than 14 points in seven of their eight conference games and produced an average of 10 points per game in the last three games.
The defense struggled as well, particularly late in the season. The Bears were blistered for 468 passing yards by Missouri and two weeks later yielded 375 rushing yards against Texas A&M. During the final four games of the season, the Bears allowed an average of 446.5 yards per game and 5.83 yards per play.
And with key defenders like Joe Pawelek and Jordan Lake leaving, the Bears defense now becomes its biggest question.
Offensive MVP IR Kendall Wright
There's a tendency to still pick Griffin because he means so much to the Bears. But as far as an actual production his season, inside receiver Kendall Wright was a key player no matter who was throwing him the ball. Wright led Baylor with 66 receptions, 740 receptions and produced four touchdowns. He caught at least one pass in every game, extending his streak to 24 games. And his numbers should pick up next season when Griffin is healthy.
Defensive MVP Joe Pawelek
He finished his career as one of the top defensive players in Baylor history, producing 422 tackles -- a total greater than any other active FBS player. Pawelek finished his career with 45 consecutive starts, capping his career with a 12-tackle effort against Texas Tech in his final game. He led the Bears with 109 tackles and also notched 14 tackles for loss and 2.5 sacks.
Turning point: Sept 26 vs. Northwestern State
Robert Griffin's injury changed everything about Baylor this season. The Bears' bowl hopes were iffy as soon as Griffin limped off the field after a tackle by Northwestern State's Gary Riggs. An MRI later revealed he tore his ACL in his right knee causing him to miss the rest of the season. After that injury, the Bears lost seven of their last nine games to again fall out of bowl eligibility.
What's next?
Griffin apparently is ahead of schedule in his rehabilitation after the surgery and should be ready to participate in spring practice. The Bears return most of their offensive weapons, but will miss center J.D. Walton, James Barnard and receivers
Ernest Smith
and David Gettys. The defense is where the big losses will be found as Pawelek, Jordan Lake and three starters along the defensive front all will be gone. It won't be easy to rebuild on the fly -- especially in the Big 12 South.
November, 14, 2009
11/14/09
2:04
PM ET
By
Tim Griffin
| ESPN.com
WACO, Texas -- Texas has made this game look easy, putting on a football clinic in the first half on a
40-0 throttling of Baylor
.
Here is how Texas built its huge early lead.
Turning point
: Texas cornerback Aaron Williams' interception in the Baylor end zone killed the Bears' first offensive possession and effectively snuffed out any early momentum for
Nick Florence
. After that play, Texas' defense ran off five consecutive three-and-out possessions to put the game away.
Stat of the half
: Texas' nation-best rushing defense has throttled Baylor from the opening snap. The Bears have produced minus-25 yards rushing on 13 plays. Most amazingly, the yardage was primed by only two Texas sacks.
Best player of the half
: Texas sophomore tailback
Cody Johnson
is having a huge coming-out party in his first college start. Johnson has produced 83 yards on 14 carries and scored two touchdowns to lead a resurgent Texas running game that has produced 150 yards on 21 carries. It's more rushing yardage than Texas has gained in any complete game since rushing for 304 yards against UTEP in the fourth game of the season.
Best call
: Texas quarterback
Colt McCoy
has rarely taken produced much on red zone passing this season. His 3-yard pass to
Jordan Shipley
might have been done as much for future opposing defensive coordinators as anything else. Shipley jumped in front of a Baylor defender to score the first of his two touchdowns.
September, 23, 2009
9/23/09
12:08
PM ET
By
Tim Griffin
| ESPN.com

Posted by ESPN.com's Tim Griffin
Here are a few tidbits from around the conference that people are talking about as we approach the games this weekend.
The performance of running back Rodney "Speedy" Stewart last week against Wyoming was an obvious indicator of why Colorado's biggest offensive strength is its deep backfield. And Dan Hawkins has shown no hesitancy to go with different backs as his featured runner depending on game situations. Darrell Scott will get his chances after he becomes healthy, but Stewart is a consistent substitute if the Buffaloes need another feature back.
Oklahoma State used its third set of starting offensive linemen in as many games last week against Rice, an underrated cause for the Cowboys' lack of offensive continuity so far this season. Redshirt freshman Lane Taylor made his first career start against Rice. He became the third different player to start at right guard after the Cowboys previously used Andrew Mitchell against Georgia and Anthony Morgan against Houston.
Baylor's lack of a vertical passing game has been the most surprising aspect of the Bears' offense early this season and it was a big liability against Connecticut. One would think with Robert Griffin, David Gettis and Kendall Wright that Art Briles would have been tempted to challenge the Connecticut secondary a little more. But the Bears had only one completion longer than 15 yards -- a 29-yard strike to Wright. They had only three passes longer than 15 yards against Wake Forest in the opener and one of those was a 33-yard gadget pass from running back Ernest Smith to Lanear Sampson.
Kansas State's game this week against Tennessee Tech will provide a victory, but it won't count in the Wildcats' bowl hopes. They've already beaten Massachusetts to qualify for the Division I-AA triumph that would count toward bowl certification. But after losses to Louisiana-Lafayette and UCLA in their last two games, the Wildcats aren't worrying about bowl games at this point of the season.
Texas defensive coordinator Will Muschamp looked like he learned something from his team's defensive effort last season against Texas Tech. The most impressive factor in this year's matchup was the way Texas' roaming defense snuffed out Tech's screen game, which is the best in the conference. Tech's running backs produced five receptions for no yardage in last week's game. The week before against Rice, Tech's running backs produced four receptions for 82 yards.
The biggest early concern at Kansas State has been its lack of production on offense, where the Wildcats have not scored more than 21 points and are averaging 15 points a game. It's the fewest points they've scored after three games since the Wildcats started 0-3 and scored only 28 points in Bill Snyder's first season at the school in 1989. The biggest surprise has been the Wildcats' inability to get Brandon Banks involved in the offense as a deep threat. His average yards per reception are down from last season's average of 15.7 per catch to 8.3 this season. The Wildcats need to get their prime playmaker involved quickly.
Missouri is expecting Nevada to sell out to cover the run, daring sophomore quarterback Blaine Gabbert to beat them with his passing skills. Gabbert has looked good to this point of the season by completing 68 percent of his throws with eight touchdown passes and no interceptions. But he's also had the benefit of a running game to balance his passing game in his first two games. Nevada coach Chris Ault is in the College Football Hall of Fame for a reason. I expect his Wolf Pack will cook up a strategy meant to flummox and confuse a young quarterback like Gabbert making his first road start.
September, 7, 2009
9/07/09
8:32
PM ET
By
Tim Griffin
| ESPN.com

Posted by ESPN.com's Tim Griffin
Baylor coach Art Briles dug deep into his playbook for several key plays that flummoxed Wake Forest in the Bears' season-opening victory.
Wide receiver Ernest Smith, a former high school quarterback, threw an option pass to redshirt freshman
Lanear Sampson
for a 33-yard touchdown that provided the Bears' clinching touchdown in a 24-21 conquest of the Demon Deacons.
Defensive tackles Phil Taylor and Trey Bryant lined up as lead blockers in the offensive backfield in two short-yardage situations to give the Bears key first downs on both plays.
And multi-talented quarterback Robert Griffin hit a 59-yard punt from a quick-kick formation to pin Wake Forest at its 5 in the second quarter.
"We've got a lot of tricks left -- we only used three or four," Griffin told the Waco Tribune-Herald after the game. "Coach Briles is an offensive genius."
Briles said Monday that those gadget plays are part of his basic offensive philosophy.
"Honestly, we don't look at those as tricks at all," Briles said. "We don't even those words, it's just what we do. Those aren't tricks. We're just trying to do what we can to move the football and be productive.
"All of that is situational and part of our offensive scheme. It's not something we line up and hoot and holler about and said this will be a different thing or a trick. It's stuff we do day-in and day-out."
The victory was Baylor's first road triumph under Briles. It should provide the Bears with momentum as they hope to make their first bowl appearance since 1994.
But Briles is not concerned his team will make too much of it.
"The one great thing about where we are at is that we don't have to worry about getting overconfident or the big head," Briles said. "We've had our lips punched enough times that you've never thought you've arrived or where you need to be. One game doesn't indicate that. And after yesterday, we've flipped our goals past that game."
May, 21, 2009
5/21/09
11:21
AM ET
By
Tim Griffin
| ESPN.com
Posted by ESPN.com's Tim Griffin
A host of key Big 12 players battled through a variety of maladies this spring as they missed practice in preparation for the upcoming season. Here's a look at some of the more notable players and what they need to do in order to bounce back strong when practice begins this summer.
Baylor WR David Gettis: Bothered by recurring hamstring pulls in the spring, Gettis needs to be healthy to fulfill his lofty promise that arrived before him. If not, he'll have trouble keeping pace with Kendall Wright, Ernest Smith and Justin Fenty in the Bears' developing rotation of wide receivers.
Colorado QB Tyler Hansen: Looked to be competing at a near equal basis with Cody Hawkins before he broke his right thumb in the spring game. He'll have to recover quickly from post-spring surgery if he wants to renew the competition when the Buffaloes report in August.
Iowa State T Scott Haughton: Didn't participate in spring practice while he addressed some academic issues. His return in the fall is critical for the Cyclones after making 11 starts last season.
Kansas RB Jocques Crawford: Heralded former national junior-college rushing leader fell into coach Mark Mangino's doghouse after he was suspended for an undisclosed violation of team rules. Jake Sharp and Rell Lewis have jumped far ahead in the rotation as Crawford's role for the Jayhawks remains uncertain.
Kansas State RB-S Logan Dold: After switching to defense late in practice, Dold was hampered by an undisclosed injury and did not appear in the Wildcats' spring game. He needs to be healthy to make a challenge for earning playing time either on offense or defense.
Missouri WR Jared Perry: Missed all contact work as he recovered from post-season shoulder surgery. His absence, along with that of Danario Alexander's recovery from knee surgery, might explain why Blaine Gabbert struggled in the Tigers' spring game.
Nebraska QB Kody Spano: His knee injury snuffed out any hopes of competing with Zac Lee for the starting job. Now, Lee appears entrenched and Spano will be facing big odds to move up the depth chart.
Oklahoma DE Auston English: English was the best speed pass-rusher in the Big 12 for most of the 2007 season before injuries cut his productivity. He still has that promise -- even as his struggled last season and missed the spring with a knee injury. But other talented defensive ends like Jeremy Beal and Frank Alexander have caught the attention of coaches, making it tougher to English to win his way back into the starting lineup.
Oklahoma State WR Dez Bryant: His knee injury turned around the Cowboys' Holiday Bowl loss to Oregon. He's expected to return as normal after missing all of spring practice, although there is always a concern about a recovery from any kind of knee surgery.
Texas RB Cody Johnson: Appeared ready to claim the starting lineup midway through spring practice before injuring his left hamstring. He needs to return healthy and in shape to be able to hold off heralded freshman Chris Whaley and the other contenders among Texas running backs.
Texas A&M QB-WR Ryan Tannehill: His expected challenge against Jerrod Johnson for playing time at quarterback never materialized as Tannehill's spring practice was limited by a torn labrum in his throwing shoulder. His lack of playing time at quarterback this spring could mean he heads back to receiver while also serving as Johnson's backup at quarterback.
Texas Tech DE McKinner Dixon: After the departure of Brandon Williams to the NFL, Dixon was counted to be the Red Raiders' top pass-rushing threat. But he got crossways with coach Mike Leach after falling behind academically. Leach said Dixon's return is doubtful, making the Red Raiders' biggest defensive concern that much more tenuous.
March, 2, 2009
3/02/09
9:24
PM ET
By
Tim Griffin
| ESPN.com
Posted by ESPN.com's Tim Griffin
Baylor started spring practice Monday with six players playing different positions than those they played at the end of the 2008 season.
Some notable players were key contributors at their old positions.
Here are some of the changes:
Senior RB Jeremy Sanders to safety. Sanders rushed for 128 yards on 34 carries and scored a touchdown last season. He also recorded Baylor's highest kickoff return average with six returns for 163 yards (27.2 yard per kick average).
Senior WR T.J. Scranton has moved to safety. Scranton accounted for two catches for 24 yards and one kickoff return for 19 yards.
Sophomore WR Romie Blaylock has moved to cornerback. Blaylock rushed once for 7 yards and accounted for two receptions for -6 yards
Junior CB Krys Buerck has moved back to wide receiver. Buerck produced 24 tackles, broke up two passes and notched an interception for a return of 46 yards.
Senior DT Sam Sledge has moved to fullback. Sledge notched nine tackles, and produced 1 1/2 sacks.
Senior WR Ernest Smith has moved to the inside receiver position from outside. Smith produced seven catches for 175 yards and a team-best 25.0 yard-per-catch average.
The Bears worked out for two hours, 20 minutes on their first day of practice on Monday. Coach Art Briles was excited about what his team showed.
"We're just glad to be back on the field," Briles told reporters after the workout. "You spend all your time planning and hoping and now you get to put it to realization on the field. It's just a great time."
The Bears will work three more days before taking next week off for spring break. Their work will conclude April 2 with a controlled scrimmage.
"The thing we are really excited about is just getting a chance to concentrate on our guys," Briles said. "When you are in a season, you spend a lot of your time working on opponents and yourselves. When you get to spring ball, it's all about you.
"This is what we are all about. We're about Baylor. We are about getting ready to be bowl bound in '09."
August, 11, 2008
8/11/08
9:44
AM ET
By
Tim Griffin
| ESPN.com
Posted by ESPN.com's Tim Griffin
The quote of the day comes from Scott Wright of the Oklahoman, who caught up with Troy coach Larry Blakeney and asked him about Oklahoma State's aim for revenge after losing at Troy last season. "They might have a bonfire and burn some of T. Boone's money to get ready for the game," Blakeney said, referring to the megabuck Oklahoma State booster.

Meanwhile, new Baylor coach Art Briles has shucked a traditional playbook in favor of his new team learning his philosophies by seeing and doing rather than reading. It's targeted to a younger generation that doesn't have the attention span to sit and learn by reading a book.
"It does require a lot of film study, because you've got to know what to do in live action in case anything happens," junior receiver Ernest Smith told the Waco Tribune-Herald. "If there's a check or an audible, you've got to be able to react fast. I've watched a lot of U of H film ... just getting familiar with it all."
Briles was successful with his new-age strategy, at least if four bowl appearances in the last five seasons at Houston is any indication. We'll see how it works at Baylor this season.
And for those readers out there who are too impatient to wade through 20 newspapers that cover the Big 12, I've take something from Briles' approach. Here's a condensed version of what's happening around the conference in about 20 quick links.