November, 21, 2014
Nov 21
10:00
AM ET
Lesson learned.
Last weekend appeared like it would have minimal impact on the race for a College Football Playoff berth, with TCU visiting Kansas and Baylor sitting at home during a bye week. Instead, KU gave TCU everything it could handle and the Horned Frogs ended up dropping out of the
CFP rankings
top four despite a win.
This weekend, Baylor faces a similar scenario as the clear favorite over Oklahoma State, which is in the midst of a four-game losing streak.
Here are the storylines to watch in the Big 12 during Week 13:
[+] Enlarge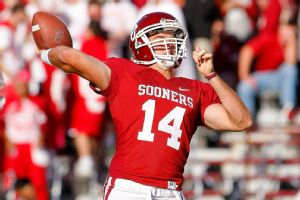 AP Photo/Alonzo AdamsCody Thomas will get his second start at QB this weekend for Oklahoma.
Kansas at No. 21 Oklahoma, noon ET (Fox Sports 1):
The Sooners returned to the Top 25 after a 42-30 road win over Texas Tech last Saturday, but it has been a while since Bob Stoops' squad looked like one of the nation's elite. Redshirt freshman quarterback
Cody Thomas
will get his second start and a second opportunity to show he should be in OU's future plans. Meanwhile, the Jayhawks are coming off a strong performance, albeit a loss, against TCU. KU's offense is more explosive with Eric Kiesau handling the play-calling duties and could make enough plays to put another ranked team on upset alert.
Texas Tech at Iowa State, 3:30 p.m. ET (Fox Sports Networks):
Both teams badly need a win with one conference victory combined between the Red Raiders and Cyclones. Texas Tech showed plenty of fight in the loss to OU and has the better offense of the two with either
Patrick Mahomes
or
Davis Webb
at quarterback. But the Red Raiders also have an ugly trend of shooting themselves in the foot with turnovers and penalties. The Cyclones are coming off a bye week with a renewed focus on righting the ship after a blowout loss to KU in their last game. In a lot of ways, the 2015 season starts now for the Red Raiders and Cyclones with players on both teams looking to solidify themselves as key playmakers of the future.
Oklahoma State at No. 7 Baylor, 7:30 p.m. ET, (Fox):
There is no shortage of reasons for Baylor to want to win -- and win impressively. Not only did Oklahoma State hammer Baylor 49-17 in 2013, but the Pokes have been the biggest thorn in the Bears' side in the entire conference in recent years, having won four of the past five meetings. Combine Baylor's pursuit of a College Football Playoff berth and desire to impress the committee with Oklahoma State's recent struggles and it could be an explosive night at McLane Stadium.
November, 23, 2011
11/23/11
5:00
PM ET
By
ESPN.com staff
| ESPN.com
Texas and Texas A&M are jumping the gun as usual and kicking off on Thursday night. We'll get a head start, too, and add a few fun facts courtesy of ESPN Stats & Information and various sports information departments around the Big 12.
Thursday will be the 64th time among the 118 meetings between the schools that they have played on Thanksgiving Day.
Texas' 92 appearances in the BCS standings are the most of any team in the nation.
This season's offensive line is the heaviest in Texas A&M school history, and the Aggies are one of just seven teams nationally without a senior starting on the O-line.
Cyrus Gray is just the third player in Texas A&M history with consecutive 1,000-yard seasons.
Gray's 6,423 career all-purpose yards are No. 24 on the all-time FBS list.
Texas held Kansas State to 121 yards of total offense last week, the lowest for the Wildcats since 182 yards against Kansas in 2005.
Texas has won 34 0f its past 40 true road games in Big 12 play.
A&M's Dustin Harris had 162 yards of punt return yardage last week, the most in school history.
The Longhorns have four consecutive games with at least 10 tackles for loss, including 16 against K-State. Quarterback Collin Klein ran 26 times for four yards.
Aggies quarterback Ryan Tannehill needs 103 passing yards for 5,000 career yards.
Texas leads the all-time series, 75-37-5, including a 9-4 record since Mack Brown took over at UT.
Brown needs 29 wins to take over the all-time lead at Texas, but has 53 more wins than the No. 3 coach at UT.
Texas A&M's 61 points last week were the third-highest in school history.
Texas has faced Texas A&M on a short week 25 times, and have a 14-11 record in those meetings.
Brown's 225 career wins are now second-most among active coaches, behind Virginia Tech's Frank Beamer, who has 250.
Texas has won 17 of its last 18 games decided by three points or less.
A&M kicker Randy Bullock's 114 points this season are 14 short of the school record for scoring, set by Joel Hunt in 1927. Bullock's 21 field goals are already tied for a school record. One more would give it to him outright, breaking Scott Slater's 1986 record.
Texas A&M hasn't lost to a team from Texas since UT beat the Aggies in the 2009 season finale.
December, 31, 2009
12/31/09
8:56
AM ET
By
Tim Griffin
| ESPN.com
Here's one last note that indicates how Mike Leach had built his program at Texas Tech.

Leach directed the Red Raiders to bowl games in each of his 10 seasons coaching there before he was abruptly fired on Wednesday.

That's a feat that was matched by only four other coaches at the same FBS schools during that same period: Frank Beamer at Virginia Tech, Bobby Bowden at Florida State, Mack Brown at Texas and Bob Stoops at Oklahoma.

Not only does it show Leach's success at Tech, but it also highlights the extreme competition that Leach faced in the Big 12 South Division in trying to keep up with Longhorns and Sooners.

Texas and Oklahoma have been the dominant programs in the Big 12 during this decade. The fact that Leach was able to build his program and keep it growing at the same time as the zenith of his divisional rivals might be the most underappreciated part of his time at Tech.

Those two South behemoths accounted for two national championships and four other trips to the national championship game, including the Longhorns' trip this season.

Leach did an outstanding job of making the Red Raiders nationally relevant, considering the kind of competition he faced on a regular basis.
August, 17, 2009
8/17/09
7:11
PM ET
By
Tim Griffin
| ESPN.com
Posted by ESPN.com's Tim Griffin
I feel badly I wasn't able to get to these last Friday. But duty called and I was scrambling at Oklahoma to finish my interviews, hammer out a few posts and still make it to the airport in time to get back home that night.
It made for an eventful day, and the e-nails did pile up. Here are the best of the questions I received over the last several days to try to clear the decks.
Nathan Winslow of Austin writes: What new information was revealed to the NCAA after the 2008 season in Oklahoma linebacker Mike Balogun's case that was not presented in his first review?
Tim Griffin: The question at case was Balogun's age when he played for the Prince George Jets, a winter semipro team, and the Maryland Marauders of the semipro North American Football League.
Under NCAA rules, any participation during each 12-month period after a player's 21st birthday would result in a corresponding loss of a season of collegiate eligibility. Balogun signed with the Sooners at the age of 24 after two seasons at Lackawanna College last season.
The NCAA now is in the process of determining if Balogun played in any semipro games after his 21st birthday, and if so, for how many 12-month periods after turning 21.
Different newspapers have different accounts of how long Balogun played semipro ball. The New York Times reported that Balogun played only a year and a half before starting at Lackawanna in 2006 and 2007. But a Maryland paper reported that Balogun played for the Jets, in the fall of 2005.
The matter was thought to be resolved before last season when Balogun was certified for the 2008 season by the NCAA. Also scrambling enforcement of the penalty is the fact the Jets no longer exist, according to the Tulsa World.
Balogun was certified by the NCAA to play two seasons at Oklahoma. But if it turns out that Balogun turned 21 and then participated on a semipro team during a 12-month period, he would be eligible to play in only one season - which would turn out to be last season.
That matter will be determined between now and Wednesday. Balogun remains working out with the Sooners until his decision is announced.
It obviously would hurt Oklahoma's depth at linebacker, although Ryan Reynolds has come back healthy after knee surgery and Oklahoma coaches have been raving about the play of freshman Tom Wort in the middle. If Balogun can't play, it would hurt the Sooners' depth but wouldn't be a catastrophic loss.
---
Charles Mitchell from Las Vegas, N.M., writes: Tim, an educated guess, please. Will Georgia make more money playing OSU in Stillwater or playing the Citadel in Athens?
Tim Griffin: Just a guess on my account, but I'm guessing with a 92,746-seat capacity at home at Sanford Stadium, the Bulldogs would be in line for a multi-million dollar payout at home for almost any game. Even with television payments they might get for the Oklahoma State game, I'd be doubtful to think they can come close to those numbers for any road game.
---
Dusty McAfee from McKinney, Texas, writes: Tim, I've always enjoyed reading your columns, always believed you to be objective, and frankly, better than most others in your profession.
That being said, I have to question why Brandon Carter, a consensus All-American in 2008, was noticeably absent from your preseason All-Big 12 team. It's assumed that a returning consensus All-American would be expected to earn all-conference honors; however, I'm sure you had a reason for why he didn't make the team. Why, I'm wondering did you leave him off?
Tim Griffin: Dusty, first, thanks for the kind words. I'm not taking anything away from Carter, who I think is one of best offensive linemen in the conference. But I keep remembering his struggles - like all of Texas Tech - at the end of the Cotton Bowl against Mississippi. I don't think any of the Red Raiders' offensive line had a particularly good game protecting Graham Harrell in that game and that is the freshest memory for me.
Maybe that game stuck with me, but that's what I kept remembering and why I elevated my choices in front of Carter.
Obviously, my team is merely a guess at this time of year and solely my choice. Carter can play his way onto my final first-team squad if he has a big season.
It might behoove him to keep the films of that second half of the Mississippi game handy for some ready inspiration.
January, 7, 2009
1/07/09
3:30
PM ET
By
Tim Griffin
| ESPN.com
Posted by ESPN.com's Tim Griffin
FORT LAUDERDALE, Fla. -- History will be made Thursday night at Dolphin Stadium no matter who ends up holding the crystal ball at the end of the game.
No coach has ever claimed two Bowl Championship Series national championships. Both Bob Stoops and Urban Meyer are among 11 coaches who have claimed one national championship since the BCS era began at the 1999 Fiesta Bowl.
Stoops will make history Thursday as the first coach with four BCS title game appearances. His Sooners won the 2001 Orange Bowl over Florida State and then lost the 2004 Sugar Bowl to LSU and the 2005 Orange Bowl to USC.
Urban Meyer is 1-0 in previous BCS title games after beating Ohio State in the 2007 Tostitos BCS National Championship Game.
Coming back to the game again is a big accomplishment for Stoops and his program. But he joked that the historical achievement would mean little if his team didn't win Thursday's game.
"I'm just proud of our program and what we've been able to do the last 10 years when you compare it to what was happening in the 10 years prior to what we've been able to do," Stoops said. "It isn't just me; it's a great administration, it's a bunch of great assistant coaches that we've had here and good character of players that have helped us build and get the program back in a strong position."
Five previous coaches have failed in their attempt to claim a second national championship after winning their first.
"It's just very humbling when you start thinking of all the great head coaches out there and great coaching staffs," Meyer said. "Other than that, I just worry about third-and-6 and make sure our punting team is ready to go."
The career records of all coaches in BCS title games
Coach
Wins
Losses
Percentage
Previous BCS title games
Phillip Fulmer, Tennessee
1
0
1.000
1999 (W)
Nick Saban, LSU
1
0
1.000
2004 (W)
Mack Brown, Texas
1
0
1.000
2006 (W)
Urban Meyer, Florida
1
0
1.000
2007 (W)
Les Miles, LSU
1
0
1.000
2008 (W)
Larry Coker, Miami
1
1
.500
2002 (W), 2003 (L)
Pete Carroll, USC
1
1
.500
2005 (W), 2006 (L)
Bobby Bowden, Florida State
1
2
.333
1999 (L), 2000 (W), 2001 (L)
Bob Stoops, Oklahoma
1
2
.333
2001 (W), 2004 (L), 2005 (L)
Jim Tressel, Ohio State
1
2
.333
2003 (W),
2007 (L), 2008 (L)
Frank Beamer, Virginia Tech
0
1
.000
2000 (L)
Frank Solich, Nebraska
0
1
.000
2002 (L)
September, 16, 2008
9/16/08
4:59
PM ET
By
Tim Griffin
| ESPN.com
Posted by ESPN.com's Tim Griffin
Here's a representative cross section of some of the letters I received over the past few days.
Isaac from Tulsa writes: If Oklahoma and Missouri both run the table in the Big 12 do you think the championship game will be bigger than USC-OSU game? It's like the media was crowning USC the champions and then was there second game. What's the deal?
Tim Griffin: First of all, it's a big "if" for both Oklahoma and Missouri to run the table. But if they do, it would set up the first potential unbeaten matchup for a Big 12 title. How big would that be? Winner would likely go to the BCS title game in Miami. The loser likely would go to the Fiesta Bowl in Glendale, Ariz.
But there's still a bunch of football before we consider something like that happening. I'm still thinking the national title will include some kind of three-cornered result from the winner of the Ohio State-USC game -- USC obviously -- the winner of the Georgia/Florida game and the Big 12 championship. I look for those three winners to play a game of musical chairs for the national championship berths.
---
Ryan from Lincoln, Neb. writes: Hey Tim, I'm sure you're going to cover this more in depth next week but I wanted to hear your take on Virginia Tech - Nebraska. After watching both teams last week it looked like this should be a pretty even match. Is containing Tyrod Taylor going to be an obstacle for the Blackshirts even with the noticeable improvement last week?
Tim Griffin: I will be focusing on that question more next week. But as expected, Virginia Tech will be Coach Bo Pelini's biggest test to date. And the big thing the Cornhuskers will need to do is stand up to Virginia Tech's physical nature from the opening kickoff. Frank Beamer's team traditionally has been successful on the road because they don't get intimidated away from Blacksburg. Containing Taylor is going to be a good test for the Cornhuskers' defense, even with the recent success that Pelini has cooked up.
This is going to be Pelini's first chance to show his program off to a wide national audience. It should be interesting.
---
John H. from Broken Arrow, Okla., writes: Tim, Do you think Oklahoma State can do better than 8-4 this year?
Tim Griffin: I think that might be stretching things just a little. The Cowboys have played well so far this season, but they still haven't faced competition anywhere like what they'll see in the Big 12. I'm still not sold on their defense after the way they were blistered by Houston. And I'm curious how explosive the OSU offense will be against Big 12 defenses.
After the first three weeks of the season, OSU has been one of my biggest surprises in the Big 12. I didn't think they would fill in so quickly for Adarius Bowman and Dantrell Savage. But they have, and their offense looks so far to be as potent as it was last season. But let's see how they play against Texas A&M and in tough early Big 12 road games at Missouri and Texas before we start christening them as potential South Division title contenders.
---
Chris from Abilene, Texas, writes: How worried should I be when my Aggies take the field against Miami on Saturday? Let me rephrase...is there any reason not to worry?
Tim Griffin: To be honest, I'm thinking that the Aggies might match up better against Miami than some might think. Remember, this isn't the monolithic "U" of the Larry Coker era. These Hurricanes rank 105th in total offense and 106th in passing offense. They do have a sturdy interior rush defense and it will be a huge effort for an underwhelming (at least so far) A&M offensive line to get much push against them.
Here's where I think the game hinges: Miami is tied for 99th nationally in net punting and 118th in kickoffs. The Aggies haven't been that much better. The team that wins the special teams will win the game.
And I'm looking for a low-scoring game, too. First team to 17 points might win it.
---
Steve from Belton, Texas, writes: I saw you on television Saturday afternoon from the studios. Your comments got better as the day went on. Do they have an open bar or something up there?
Tim Griffin: No, Steve, they don't. I probably could have used it. But I enjoyed my work in the studio much more than I ever would have imagined. Props to my colleagues Dari Nowkhah and Chris Spielman. They made a fish out of water feel like he could at least swim.
But I think I'm going to be enjoying covering a game again this weekend.
---
Roger from Oklahoma City writes: What criteria do you use for the awarding of your helmet stickers? And why did you decide not to give one to Sam Bradford (career-high five TD passes and a TD run) and give one to Robert Griffin.
Tim Griffin: I'm limited to four or five stickers each week, depending on the space we have. I was mightily impressed by what Bradford did against Washington. But I figured that setting the conference record for per-carry average was pretty special - especially when it was done in only Griffin's second career start and first against a BCS team. So that's why I awarded him the coveted sticker.
And to be truthful, the one I felt most badly about leaving out was Texas Tech S Daniel Charbonnet, who merely set a school record with three interceptions against SMU. A lot of media types were snickering when Mike Leach brought him to Kansas City for the Big 12 media days rather than Graham Harrell or Michael Crabtree. His game Saturday night proved he belonged there.
---
Victor from St. Louis writes: Any talk of how low it was for Missouri coach Gary Pinkel to run a fake FG up by 30 pts in the 2nd half on lowly Nevada? Now that Mizzou is gaining some respect as good football team, something like that is going to give people the impression that he's a Spurrieresque type of guy. That was pretty low budget.
Tim Griffin: I specifically asked Pinkel about that when I spoke with him earlier this week. And I agree with your premise. But Pinkel did make a good point when he said that running that fake got it out on film for every opponent during the rest of the season. They now know that Missouri is willing to gamble in that situation. Whether it should have been called in the particular game situation is debatable, but his thought about making opponents account for it has no ulterior motives.
---
Caleb from El Reno, Okla., writes: What was your take on the play where Oklahoma DT DeMarcus Granger got hurt? It seemed like a dirty play to triple team a player and then literally punch him while he is down, not to mention Granger was injured on the play.
Tim Griffin: The seeds for that play started on the previous play when Granger was flagged for a personal foul. As my old coaches would have said, he probably needed to "keep his head on a swivel" for the next few plays.
It was an odious play when Granger was hurt when he was down. Bob Stoops hinted that it might have been retaliation for Granger's previous play. But
he also made it clear he wasn't whining about it.
Stoops was able to take the high road a lot more easily considering all of the depth he has at defensive tackle. But it still reminded me of something from "The Longest Yard."
---
Jarratt from Austin writes: I agree that the Texas running back collection is not where it needs to be if we want to beat OU/Missouri/Kansas/Texas Tech. But I was actually surprised they average a collective 4.4 yards per carry. What is considered a good average? Perhaps I'm stuck in the "three yards and a cloud of dust age," but isn't 4.4 considered pretty good?
Tim Griffin: You should be able to keep collecting first downs if you average 4.4 yards per play. But considering the league average is currently 4.98 yards per carry, it would be considered something that could use some improvement. And among the league's top 12 ball carriers that average would be lower than every player with the exception of Texas A&M's Mike Goodson, who has a 4.4 yard-per-carry average.
So obviously, Mack Brown is looking for some improvement from his running backs.
Guys, thanks for the questions this week. Keep them coming and enjoy the games all throughout the week.
September, 5, 2008
9/05/08
11:15
AM ET
By
Tim Griffin
| ESPN.com
Posted by ESPN.com's Tim Griffin
I just can't seem to make those guys over at the Bring on the Cats blog happy.
After their recent laments about my analysis of the relative merits of the Kansas State coaching job, they've jumped on me again.
My recent comments about the need for some forward thinking in the Big 12 about Thursday night games prompted a blast this morning that I feel like I need to reply to.
My point was that the Big 12 needs to start thinking -- begging might be a better word -- to get more national exposure by playing on Thursday nights.
Guys, there's a reason why the SEC has hop-scotched past the Big 12 and maybe even the Big Ten as far as being the cash cow among college football powers.
I'm betting that the average football fan knows a little bit more about Bobby Johnson and his program at Vanderbilt this morning than they might have a day or so earlier.
I'm sorry, but I think schools like Virginia Tech, Virginia and West Virginia have benefitted because they've been willing to play Thursday night home games for the good of their conferences. Their programs are a lot better known because of the exposure they've received by playing on Thursday nights. If the Hokies and Frank Beamer hadn't thought like that, I'm betting they wouldn't be in the ACC today.
I also noticed by looking at your population charts that all three of them are in smaller cities than Manhattan, Kan.
Bring on the Cats brings up that it would be difficult for fans to travel to games on Thursday nights rather than Saturdays. True, but how much of a sacrifice is that?
The concept of Saturday afternoon games is one of my favorite in all of sports. I love the smell of cheeseburgers wafting through the air on a pristine afternoon walking into the stadium. None has quite the ambiance of Bill Snyder Family Stadium. And I hate the idea of a tight Thursday night deadline as one of society's greatest ills.
But contributing a home game or two a year for the greater good of the conference might get the Big 12 consistently mentioned in the same breath as the other national power conferences. Sometimes perception is more important than reality.
And a three-quarters-full stadium watching a game on Thursday night before a national television audience is a lot more impressive to a potential recruit or an advertiser than a stadium full of brat-eating fans two days later.