May, 13, 2013
5/13/13
9:00
AM ET
Wes Lunt
's exit from Oklahoma State surprised a lot of people, but what kind of results can he expect over the rest of his career?
Here's an update on the Big 12's recent notable transfers. The results are all over the map.
Garrett Gilbert, transferred from Texas to SMU in 2011:
Struggled in 2010 during Texas' 5-7 season, despite a strong showing in relief of Colt McCoy in the 2009 national title game against Alabama. Earned a starting position in June Jones' offense in Dallas and threw for 2,932 yards, 15 touchdowns and 15 interceptions last season. He'll start as a senior in 2013.
Keith Nichol, transferred from Oklahoma to Michigan State in 2008:
Nichol was a superstar recruit but lost a quarterback competition to some guy named Sam Bradford. After taking his talents to Lansing, he earned some time at quarterback as a sophomore in 2009, but found a home at receiver. He finished his career with 50 catches for 625 yards and four touchdowns, highlighted by a game-winning, Hail Mary touchdown to beat Wisconsin in 2011. He also threw for 826 yards and nine touchdowns.
Jevan Snead, transferred from Texas to Ole Miss in 2006:
Played some in relief of Colt McCoy, but left for Oxford in search of playing time and found it. Carried the Rebels to a Cotton Bowl win and threw for 2,762 yards, 26 touchdowns and 13 interceptions in 2008. A year later, he tossed 20 touchdowns and 20 interceptions and racked up 2,632 yards. He left Ole Miss early, but wasn't drafted.
G.J. Kinne, transferred from Texas to Tulsa in 2008:
Kinne never cracked the field at Texas, but had a huge career as a Golden Hurricane. He threw for just under 9,500 yards, ran for 1,365 yards and accounted for 96 total touchdowns in three seasons as starter. He went undrafted and hasn't caught on in the NFL, but is under contract with the Philadelphia Eagles.
Connor Wood, transferred from Texas to Colorado in 2011:
Wood couldn't get on the field at Texas, but sought playing time in Boulder, and it looks like he's found it. After
Nick Hirschman
transferred last week, Wood is Colorado's likely starter in 2013, and has three years of eligibility remaining.
Jacob Karam, transferred from Texas Tech to Memphis in 2012:
Was eligible immediately because he had already received his degree. He won the Tigers' starting job and threw for 1,895 yards and 14 touchdowns with just three interceptions. He'll be a senior, and the starter again in 2013.
Scotty Young, transferred from Texas Tech to Louisiana Tech in 2012:
Never got on the field for the Red Raiders and sat out the 2012 season at Louisiana Tech. He's in good position to be the Bulldogs' starter next season, replacing Colby Cameron.
Drew Allen, transferred from Oklahoma to Syracuse in 2013:
Allen served as a backup his entire career, but after receiving his degree, started looking for a place to play out his career. He believes Syracuse is the place to do it, and he'll compete for the starting job in the fall.
Jared Barnett, transferred from Iowa State to Illinois State in 2013:
Barnett earned a place in ISU lore when he led the Cyclones to a win against undefeated, BCS No. 2 Oklahoma State in 2011, but struggled after that and throughout 2012. He finished the season on the bench behind Sam Richardson and elected to become a Cardinal after the season. He's eligible immediately, because his new team is an FCS school.
Bobby Reid, transferred from Oklahoma State to Texas Southern in 2007:
Reid was the subject of Mike Gundy's infamous "I'm a man, I'm 40!" rant, and later said he felt like that
rant ended his "life"
, though Gundy was defending his player. He threw for 1,791 yards, 12 touchdowns and six interceptions at Texas Southern in 2008, but he and Gundy seem close again. He joined Gundy's staff in an administrative role this year.
Rhett Bomar, transferred from Oklahoma to Sam Houston State in 2006:
Bomar's transfer wasn't his choice. Bob Stoops famously kicked Bomar off the team in the wake of reports that he had received payment from a local car dealership without doing the work. That was an obvious NCAA violation. He played just 19 games over the next two seasons, but finished as the school's all-time leader in passing yards, with 5,564 yards. He was a finalist for the 2008 Walter Payton Award as the nation's best FCS player. He was drafted in the fifth round of the 2009 draft by the New York Giants, but has been out of the NFL since May 2012.
Jordan Webb, transferred from Kansas to Colorado in 2012:
Started two seasons for the Jayhawks, but left town when Charlie Weis brought
Dayne Crist
and
Jake Heaps
with him to Lawrence. He played 10 games last season, throwing for 1,434 yards, eight touchdowns and eight interceptions. He tore his ACL in spring practice, though, and is questionable to get back on the field this fall. He's not helping his case to regain his starting status by
getting arrested on felony assault charges last weekend.
September, 18, 2011
9/18/11
2:45
AM ET
By
ESPN.com staff
| ESPN.com
Tulsa QB
G.J. Kinne
is one of college football's best dual threats, but he's done for the night with a knee injury.
His replacement,
Kalen Henderson
, looks a bit overmatched in trying to keep up with Oklahoma State's
Brandon Weeden
.
The Cowboys lead, 31-6, at halftime and Weeden has completed passes to eight different receivers.
Henderson has completed just one of his six attempts for 11 yards and had a pass intercepted by Justin Gilbert.
Weeden has thrown a pair of interceptions, and now has six on the year, but the Cowboys are rolling. Unless Kinne makes a very unlikely second-half return, it looks like this long night will be even longer for the Golden Hurricane.
It hasn't been a very tight performance for Oklahoma State, and coach Mike Gundy lamented his team's sloppy play on the way into the locker room, but it's been enough for a strong first half.
September, 18, 2011
9/18/11
1:58
AM ET
By
ESPN.com staff
| ESPN.com
Oklahoma State's offense is rolling, and the only issue early was an interception on a tipped ball.
The Cowboys lead 21-3 early in the second quarter after a second touchdown in as many possession. Tulsa star quarterback
G.J. Kinne
sounds like he's done for the night with a knee injury on a late hit out of bounds by Daytawion Lowe.
Joseph Randle
finished a 10-play, 43-yard drive with a 1-yard score, his fifth of the year.
OSU got a 96-yard return from Justin Gilbert -- the third of the sophomore's career -- for its first points and
Hubert Anyiam
scored from 36 yards out on a flea flicker.
The late kickoff hasn't caused OSU's offense to look much different than it has in two games this year, and with Kinne sidelined, the chances of a Tulsa comeback already look slim.
September, 4, 2011
9/04/11
12:20
AM ET
Helmet stickers soon to follow...


No. 1 Oklahoma 47, Tulsa 14:
Hard to ask for much more from the title contenders and current No. 1. Tulsa was handcuffed by the loss of
Damaris Johnson
, but this was still a 10-win team from last year with a big playmaker at quarterback in
G.J. Kinne
. And yet, Oklahoma dominated. The Sooners ran for 246 yard, led by walk-on
Dominique Whaley
, who scored four times and had 131 yards on 18 carries. Whaley was a spring-game star, but he's taken his act to the fall, and further crowds Oklahoma's loaded backfield. Great news for Sooners' fans.
Kenny Stills
sat with a one-game suspension, but the passing game did what it does.
Landry Jones
racked up 375 yards on 35-of-47 passing, hitting
Ryan Broyles
14 times (one short of Broyles' school record) for 158 yards and a touchdown. But the best stat for the Sooners? No sacks in all that chucking. A-plus performance for the Sooners in Week 1.


Texas Tech 50, Texas State 10:
Awful, awful start for the Red Raiders, who trailed 10-0 late in the first quarter after a turnover set up the Bobcats. Tech trailed 10-9 at the half, but usually, if you can outscore an opponent 41-0 in the second half, you'll do OK. The Red Raiders got it rolling against their FCS opponents. And those replacements at the skill positions? No worries. Each was as advertised.
Seth Doege
threw for 326 yards and three scores.
Darrin Moore
caught 12 passes for 221 yards and a touchdown.
Eric Stephens
rolled for 118 yards on 21 carries. The competition wasn't much, but at least Tech knows it can execute.


Oklahoma State 61, Louisiana-Lafayette 34:
Predictable and safe. Oklahoma State's Saturday night went as planned, and
Justin Blackmon
and
Brandon Weeden
did exactly what they usually did, save Blackmon scoring a touchdown, ending his 12-game streak of a score and 100 yards. He did catch eight passes for 144 yards to lead his team. Weeden threw for 388 yards and three scores, but had three picks, including one returned for a touchdown. That's may be a bit of a red flag, but this early in the season, not a huge cause for concern. The Cowboys ran up a nice 24-point second quarter and made life easy for themselves.


Kansas 42, McNeese State 24:
There we go, Jayhawks. I wanted to see if they could put a big number on the board against anyone, and Kansas proved it could. As they should, the Jayhawks relied heavily on the running game, throwing just 10 passes to 55 rushes, but they rolled up 301 yards rushing on the night. Very nice, Kansas. Safe to say the Jayhawks have played themselves out of the No. 10 spot in the Big 12 power rankings for the first time in awhile.
James Sims
and
Darrian Miller
combined for 167 yards and a touchdown on 32 carries.
Jordan Webb
threw three touchdown passes and no picks.
September, 1, 2011
9/01/11
10:15
AM ET
Here are ten things I'm keeping an eye on in Week 1 of Big 12 football.
1. Garrett Gilbert.
Everything else aside, Gilbert is ultimately the one guy who will decide how far Texas gets this season. Or, at least whoever Texas' quarterback is by midseason. Gilbert needs to play well to a) make sure he's that guy and b) help Texas rebound from last year's debacle.
[+] Enlarge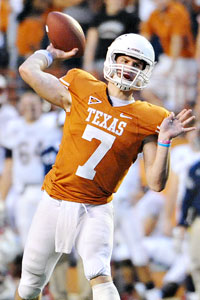 Brendan Maloney/US PresswireThe success of Texas' season likely rides on the shoulders of Garrett Gilbert ... or his replacement.
2. Does Baylor have a second go-to receiver?
Josh Gordon is a huge loss. Everything pointed to a breakout year for the big receiver, but who's going to emerge as
Robert Griffin III
's other top target. Baylor has talent at the position, but it's going to help if one receiver makes his presence clear.
Terrance Williams
?
Tevin Reese
?
Lanear Sampson
? Bueller?
3. Oklahoma's safeties.
Javon Harris and Aaron Colvin have a ton of potential, but they've got a tough test in Week 1. Last year, Oklahoma broke in two brand new corners against Utah State and nearly was upset on its home field.
G.J. Kinne
is a stud, and with both of last year's safeties in the NFL, are Harris and Colvin up for the task?
4. Weeden2Blackmon.
Here's the deal: This game won't be close. But I love watching these two play. And they're going to be putting up some big highlights for the first time in eight months. Football! Finally!
5. James Franklin's arm.
We've seen Franklin run plenty as a freshman playing behind Blaine Gabbert. But Missouri will go about as far as Franklin's arm will take them. His teammates have been impressed with what he's down through the air in the offseason. Will he validate them in the opener?
6. Steele Jantz's legs.
Nobody outside Ames has really seen Jantz, a transfer from a California junior college, do much. But he won the starting job over the more experienced
Jerome Tiller
(before he was ruled academically ineligible for the season) and has Cyclones fans excited. Is he the dynamic playmaker Iowa State's offense has been missing?
7. Kansas State's running backs.
Bill Snyder called it the closest competition on the team. The WIldcats have three co-starters, and third on the list is the Big 12 transfer with the most hype:
Bryce Brown
. Will he establish himself as the clear replacement for Daniel Thomas, who led the Big 12 in rushing the past two seasons?
8. Kansas' point total.
Kansas simply needs to show it can execute. It did it against New Mexico State last year and briefly against Colorado, but this is largely the same team from last year, with a handful of new faces added. How much better is the offense? Good enough to compete in the Big 12? Because the Jayhawks weren't close in 2010.
9. Texas A&M's linebackers.
Most of the attention is paid to quarterback
Kyle Padron
, but the Mustangs' 230-pound, rumbling running back
Zach Line
is no joke, either. He had at least 94 yards rushing in six of the past seven games in 2010, and the Aggies have a big hole at middle linebacker that Jonathan Stewart will try to fill.
10. Texas Tech's playcalling.
Tommy Tuberville wants a new commitment to the running game, but where will that show up? The Red Raiders have what I think will be a good QB, but lots of unanswered questions at receiver next to a deep stable of running backs and a good offensive line. I'm also excited to see what freshman tight end
Jace Amaro
can do.
August, 29, 2011
8/29/11
10:00
AM ET
Oh, yes.
It is game week
.
Today is Monday, which means we'll kick off our weekly power rankings and continue doing so each week throughout the season.
1. Oklahoma:
The Sooners are clearly the class of the Big 12 but will have to start proving it early with a hyped trip to Tallahassee to face a Florida State team that yours truly thinks is a bit overrated. Saturday, though?
Landry Jones
and
Ryan Broyles
will open the season at home against an underrated Tulsa team that won more games in 2010 than Florida State but will
travel to Norman perhaps without its top playmaker,
Damaris Johnson
.
G.J. Kinne
is great, but he'll have to be spectacular for the Golden Hurricane to be a serious threat.
2. Oklahoma State:
The Cowboys gave college football fans a treat with the return of
Brandon Weeden
and
Justin Blackmon
, who will kick off their encore seasons against Louisiana-Lafayette, a
team that spawned Weeden's trust in Blackmon originally last season.
The opener should be a snoozer, but next week's rematch of the Alamo Bowl against Arizona could produce big fireworks on a Thursday night national broadcast.
3. Texas A&M:
This is an absolute coin flip. Until the teams meet on Sept. 24, I'll probably flip OSU and A&M depending on who was more impressive the previous week. The Aggies will have the best chance to impress with a Sunday nighter against an underrated SMU team coming to Kyle Field with a crowd that could get a huge boost from the prospect of a future in the SEC,
which might be announced later this week.
4. Missouri:
We'll get our first real look at
James Franklin
when the Tigers suit up against Miami (Ohio). After struggling early in spring camp during his competition with Tyler Gabbert, Franklin has only gotten better. This week will be big for the Tigers' offensive line, which has to find a suitable replacement for stalwart left tackle Elvis Fisher, a 40-game starter who will miss the season with a torn patellar tendon. The Tigers' first big test is just six days from Saturday, when they travel to Tempe, Ariz.,to play Arizona State.
5. Baylor:
Baylor's new-look defense will get a pretty good test from TCU. The Bears are the Big 12's lone team matched up with a ranked opponent in Week 1. A win against the defending Rose Bowl champs with the nation's eyes watching a Friday night ESPN broadcast could be a big coming-out party for Art Briles and
Robert Griffin III
on a national scale.
6. Texas:
obody knows
what to expect from the Longhorns
, but we might find out who'll be starting at quarterback for the Horns later today. The defense, which has led the Big 12 in total defense the past four seasons, should still be stout in spite of a young secondary, but an amorphous offseason depth chart will take shape this week.
7. Texas Tech:
There are a lot of new faces on the field for the Red Raiders, but Year 2 under Tommy Tuberville will probably get off to a yawn-worthy start with FCS Texas State heading to Lubbock for the opener. Tech is a bit of a wild card that might be as good as the league's fourth-best team. This is probably as low on the power rankings as you'll see the Red Raiders all season.
8. Kansas State:
The Wildcats caught a break with Arthur Brown and
Bryce Brown
being
given limited immunity by the NCAA and avoiding eligbility issues from the mess at Miami
, but we'll finally get a chance to see K-State's hyped transfers take the field. Arthur Brown emerged as one of the defense's top playmakers during the spring, but what will Bryce Brown have to offer? And has
Collin Klein
improved enough as a passer to help the Wildcats claw into the next tier of Big 12 teams?
9. Iowa State:
The Cyclones might be better than this, but they're going to have to prove it. No one above them in the power rankings finished with a worse record last season. The Big 12 had only one team (Kansas) that finished with a record worse than 5-7. New quarterback
Steele Jantz
, replacing three-year starter Austen Arnaud, should be fun to watch.
10. Kansas:
Improvement is the name of the game for the Jayhawks, who dropped a game to an FCS team in Week 1 last year. It's doubtful we'll see a repeat against McNeese State this time around, but how much better will Kansas be? We'll get a better sense when the Jayhawks tangle with an underrated Northern Illinois team in Week 2 and ACC foe Georgia Tech the next week.
July, 28, 2011
7/28/11
2:45
PM ET
By
ESPN.com staff
| ESPN.com
You're counting down the days, I'm sure. We're so close, and yet so far from the season's opening weekend. I can't wait for it, and I'm sure every player in the Big 12 can't either. So, despite being a bit far off, we'll take a look at each team's opener, inspired by our friends over at the Big Ten Blog.
We started this series at the top of the alphabet, and it's time for the Sooners.

Oklahoma Sooners
Week 1 Opponent:
Tulsa
Coach:
Bill Blankenship, first year
2010 record:
10-3 (6-2, Conference USA)
Returning starters:
17 (8 offense, 8 defense, 1 specialist)
About the Golden Hurricane:
At Big 12 Media Days this week, Oklahoma linebacker Travis Lewis said he spent 70 percent of his film time this summer watching Tulsa. He better. The Golden Hurricane can play, and though Sooners fans will be quick to remember a 45-0 beat down in 2009 the last time these two teams met, there's no room for underestimating a 10-win team from the FBS.
Blankenship replaces Todd Graham, producing plenty of the obvious questions, but Tulsa has plenty of offensive talent, and Blankenship coached the receivers and running backs, as well as special teams.
Quarterback
G.J. Kinne
led the Golden Hurricane to co-division championship in the C-USA West, and the 10-3 season included a win over No. 24 Hawaii in the Hawaii Bowl and a win over Notre Dame. That gave the program its third 10-win season in four years, and Tulsa won its final seven games, helping Kinne win C-USA Offensive Player of the Year after throwing for 3,650 yards, 31 touchdowns and just 10 interceptions. Kinne, a Texas transfer, had one of the worst outings of his career (12-of-26, 106 yards, 2 INT) the last time he suited up against the Sooners, but it could be different this time around.
Kinne returns one of college football's most electrifying players,
Damaris Johnson
, who caught 57 passes last year for 872 yards and four touchdowns, and Johnson returned both a kick and a punt for a score last season. Johnson, an All-American, led the nation in all-purpose yards last season, averaging 202 yards per game.
Running back Charles Clay (the team's second-leading receiver) is gone, but Kinne was actually the Hurricane's leading rusher last season, with 561 yards and seven scores. Second on the team? Johnson, of course, with 560 yards and seven scores of his own. Running back
Alex Singleton
returns after getting the most carries among running backs, 87, which he turned into 399 yards and 11 scores.
Tulsa doesn't have an ordinary offense, and they'll prove a tough test for the Sooners D in the opener.
Random factoid:
Tulsa's last win over the Sooners? A 31-24 win in Norman, of all places, in 1996. Dark days for the Oklahoma program, which went 3-8 in John Blake's first year. That was also the Big 12's first year of existence, and the third in a five-year stretch without a winning season before Bob Stoops arrived. Things have been a little better since then.
Totally unscientific percentage chance Oklahoma wins: 84 percent.
The Sooners defense could struggle, but Oklahoma is more than capable of outscoring Tulsa. It may not have to do it, but if this game slips into the 30s or 40s, Oklahoma can still handle it.
More Week 1 previews:
September, 28, 2009
9/28/09
10:00
AM ET
By
Tim Griffin
| ESPN.com

Posted by ESPN.com's Tim Griffin
Here's an interesting nugget that the folks at ESPN's Stats & Information sent along to illustrate the fast start of Missouri quarterback
Blaine Gabbert
, who leads the conference and ranks ninth nationally in passing efficiency.
This is how Big 12 quarterbacks rank in terms of 20-yard passes so far this season.
Greg Alexander
of Hawaii leads the nation in 20-yard passes with 21, while Georgia's Joe Cox, Houston's
Case Keenum
and Tulsa's
G.J. Kinne
are tied for second with 19 20-yard passes.
Gabbert hasn't hesitated to really take advantage David Yost's vertical passing game. And the results have helped sparked Missouri to its surprising 4-0 start.
September, 17, 2009
9/17/09
8:53
AM ET
By
Tim Griffin
| ESPN.com

Posted by ESPN.com's Tim Griffin
After struggling through one of my worst weeks in recent history, I'm hoping for a turnaround in these picks.
Here they are.
Kansas 41, Duke 17:
The Jayhawks have too many offensive weapons and an improved defense with a knack of making big plays.
Jake Sharp
and
Toben Opurum
provide an emerging 1-2 weapon at running back and
Dezmon Briscoe
will juice production in the passing game with
Todd Reesing
as he becomes more comfortable in the offense. Duke coach David Cutcliffe will likely alternate
Sean Renfree
and
Thaddeus Lewis
at quarterback. Both will likely struggle against an emerging Kansas defensive front that has produced nine sacks in its first two games.
Missouri 45, Furman 6:
Look for the Tigers to jump on their FCS opponent quickly, hoping to make amends after last week's closer-than-expected victory over Bowling Green.
Blaine Gabbert
regressed in his second start, but should be ready to show improvement this week. If they can find the edge exhibited against Illinois, this one won't be close for very long.
Colorado 24, Wyoming 21:
It can't get any worse for Dan Hawkins and the Buffaloes, can it? If they lose this one, it will. Despite the struggles stopping big plays and operating the offense in losses against Colorado State and Toledo, the Buffaloes will rebound. Even though the Cowboys turned the heat up on Texas last week and Dave Christensen had his way against the Buffaloes when he was offensive coordinator at Missouri -- he outscored Colorado by a combined 113-10 margin last season -- it won't be that easy this time. The Buffaloes will rebound and win a gritty game that won't be very spectator friendly.
Oklahoma 38, Tulsa 17:
Landry Jones
makes his second career start against Tulsa, an underrated program under Todd Graham that will be itching to earn some national revenge against their "big brothers" from across the state. This should be a good matchup between the Golden Hurricane, who led the nation in total offense each of the past two seasons, and the salty Oklahoma defense. Sooners coaches are familiar with Tulsa quarterback
G.J. Kinne
, who they tried to recruit as a linebacker. Even without
Sam Bradford
, the Sooners still should have enough offense to win.
Virginia Tech 28, Nebraska 21:
Nebraska quarterback
Zac Lee
will be looking to stop the Hokies' 31-game home nonconference winning streak in his first career road start. There might be tougher first-game assignments in college football, but I don't know of many. Lee leads the conference in pass efficiency, but will be stepping up in class when he faces the active Virginia Tech defense.
Ryan Williams
and fellow freshman
David Wilson
both rushed for more than 160 yards last week and the Hokies will be looking to set the tempo by using them. Still, the Cornhuskers might make this one closer than expected with a strong pass rush against
Tyrod Taylor
and if they can stay away from special-teams mistakes.
Baylor 31, Connecticut 21:
The Bears will be gunning for their second straight conquest over an opponent from a BCS-affiliated conference against Connecticut, which beat them in Storrs last season. But this is a different Baylor team, which has had a bye week to settle down after an upset victory over Wake Forest in its opener. Backup quarterback
Cody Endres
steps in as Connecticut's starter after
Zach Frazer
was hurt last week against North Carolina. One item to watch will be how Baylor's young Canadian tackles Danny Watkins and Phillip Blake will handle Lindsay Witten, who leads the Big East in sacks.
Kent State 24, Iowa State 21:
Paul Rhoads will try to halt the Cyclones' nation-worst 17-game road losing streak. Iowa State quarterback
Austen Arnaud
will be trying to rebound after throwing four interceptions in the Cyclones' 35-3 loss last week to Iowa. Freshman quarterback Spencer Keith will make his first career start for the Golden Flashes, who ranked 96th or worse in each of the four major offensive statistical categories. In the end, this one might be settled by which of two of the nation's worst turnover margin teams -- Kent State is 94th and Iowa State is 108th -- does the better job of protecting the ball.
Texas A&M 38, Utah State 10:
Texas A&M hopes to build on a strong opening-game performance against New Mexico where the offense and defense were both productive in a 41-6 victory.
Jerrod Johnson
looked more comfortable starting his second season as quarterback and the Aggies showed strong skill players. The defense, while still not at the "Wrecking Crew" standards of the past, had a strong effort with five sacks keyed by three from Von Miller. Utah State was challenging for Utah, but likely doesn't have the firepower to stay close to the rejuvenated A&M attack for long in this game.
Oklahoma State 45, Rice 17:
The Cowboys are intent on rebounding after last week's disappointing home loss to Houston. They likely will play without Big 12 leading rusher
Kendall Hunter
, but backups
Beau Johnson
and
Keith Toston
averaged nearly 8 yards per carry against Houston. The Cowboys gave up more yardage in the first half last week than against Georgia in the previous week. They shouldn't face much of a challenge from Rice, which is rebuilding from last season's 10-win team. Coach David Bailiff alternated among three quarterbacks last week and could do the same against an Oklahoma State defense that will be intent on improvement this week.
Texas 54, Texas Tech 31:
Even though they claim otherwise, rest assured the Longhorns have been awaiting this rematch ever since their 39-33 loss in Lubbock last season. They should have the upper hand in this one because their secondary is a year more experienced and this will be Texas Tech quarterback Taylor Potts' first road game as a starter. The Longhorns looked lethargic in the first half last week at Wyoming, but blew the game by scoring 28 unanswered points in the second half. It won't be that easy this week against Potts and the Red Raiders, but look for the Longhorns' offense to produce similar late success.
UCLA 21, Kansas State 10:
This one figures to be a low scoring game as the Wildcats have sputtered offensively and UCLA will be playing without starting quarterback
Kevin Prince
, who sustained a broken jaw late in the Bruins' victory at Tennessee. Look for both teams to try to take control on the ground with UCLA employing
Johnathan Franklin
and Kansas State countering with Big 12 rushing leader
Daniel Thomas
. The Wildcats have also struggled mightily with special teams in their first two games and must improve for any upset hopes. But the UCLA defense is too formidable, winning this one as they pick up the slack for an offense missing Prince.
Last week:
7-3 (70 percent)
For the season:
16-6 (72.7 percent)
June, 17, 2009
6/17/09
1:40
PM ET
By
Tim Griffin
| ESPN.com
Posted by ESPN.com's Tim Griffin
Here are today's lunchtime offerings.
June, 15, 2009
6/15/09
6:30
PM ET
By
Tim Griffin
| ESPN.com
Posted by ESPN.com's Tim Griffin
Today is a special summer day for football fans across Texas and the Southwest.
Today is the annual release date of Dave Campbell's Texas Football, which is the unquestionable college football magazine of record in these parts every year.
This magazine is special because it's the 50th anniversary edition. The first one was laid out on the kitchen table of former Waco Tribune-Herald sports editor Dave Campbell, who started it in 1960.
It's gotten much bigger than that over the years, being read by three generations of football fans over the years. Today, there's a Texas Football classic every year at the Alamodome and even an official Texas Football song.
I first learned about the magazine in the late 1960s when a friend of mine in fifth grade, Richard Jackson, moved to Memphis from Houston. Along with his neat Houston Astros hat that I always was envious of was his copy of Texas Football Magazine. The story and pictures of the guys from Texas, Baylor and Rice were so different than anything I came across in the Southeastern Conference. I wanted mine, too.
My dad occasionally traveled to Texas with his job and soon learned to look at the 7-Eleven on one of his trips to Dallas to see if he could score a copy of Dave Campbell for me.
Later, my family moved to Texas and I learned the excitement of visiting the newsstand in mid-June to pick up the Dave Campbell magazine, which was there to chronicle the demise of the Southwest Conference and the start of the Big 12.
The new one will officially be released today across the area. And the coverboy is Texas quarterback Colt McCoy, who becomes the first individual player to be pictured since Texas wide receiver Roy Williams in 2003.
I picked up my copy and am already deeply into it. It takes me back to my childhood.
The only problem is that I wonder why I couldn't pick up a Grape Slurpee to drink with it like I used to back in the day.
A list of the cover boys in the magazine's history exhibits a unique history of football in the southwest. Here's a list of the players who have graced the cover of the magazine over the years.
1960: Texas RB Jack Collins
1961: Baylor RB Ronnie Bull
1962: TCU QB Sonny Gibbs
1963: Texas coach Darrell Royal and DT Scott Appleton
1964: Baylor coach John Bridgers and WR Lawrence Elkins
1965: Texas Tech RB Donny Anderson
1966: SMU NG John LaGrone, Baylor DT Greg Pipes, Texas DT Diron Talbert
1967: Texas A&M T Maurice "Mo" Moorman
1968: Texas A&M QB Edd Hargett
1969: Texas QB James Street
1970: Texas RB Steve Worster
1971: Texas Tech QB Charles Napper
1972: Texas A&M LB Brad Dusek
1973: Texas LB Glen Gaspard
1974: Texas coach Darrell Royal
1975: Baylor coach Grant Teaff
1976: Houston coach Bill Yeoman
1977: Texas Tech QB Rodney Allison
1978: Texas A&M K Tony Franklin and Texas K/P Russell Erxleben
1979: Texas DT Steve McMichael
1980: Baylor LB Mike Singletary and Texas A&M QB Mike Mosley
1981: Baylor RB Walter Abercrombie and SMU RB Craig James
1982: Texas A&M QB Gary Kubiak
1983: SMU QB Lance McIlhenny
1984: Texas A&M DE Ray Childress
1985: TCU coach Jim Wacker and TCU RB Kenneth Davis
1986: Texas A&M coach Jackie Sherrill
1987: Texas QB Bret Stafford and Texas coach David McWilliams
1988: Texas RB Eric Metcalf and Texas A&M LB John Roper
1989: Houston coach Jack Pardee and SMU coach Forrest Gregg
1990: Texas Tech coach Spike Dykes
1991: Houston QB David Klingler
1992: Rice RB Trevor Cobb
1993: Texas A&M coach R.C. Slocum
1994: Texas QB Shea Morenz
1995: A collage of Southwest Conference historical figures including Texas RB Earl Campbell, Houston coach Bill Yeoman, Baylor LB Mike Singletary, TCU QB Sammy Baugh, Texas coach Fred Akers, Texas coach Darrell Royal and SMU RB Doak Walker.
1996: Baylor coach Chuck Ready, Texas Tech coach Spike Dykes, Texas coach John Mackovic and Texas A&M coach R.C. Slocum
1997: Texas QB James Brown and Texas RB Ricky Williams
1998: Texas A&M LB Dat Nguyen, Texas RB Ricky Williams and Texas coach Mack Brown
1999: Texas coach Mack Brown and TCU coach Dennis Franchione. Note: Alternative cover for those magazines sold outside the state featured Dallas Cowboys QB Troy Aikman
2000: Midland Robert E. Lee H.S. RB Cedric Benson
2001: Texas QB Chris Simms, TCU QB Casey Printers, Texas A&M QB Mark Farris and Texas Tech QB Kliff Kingsbury
2002: Texas Tech QB Kliff Kingsbury, Celina H.S. coach G.A. Moore, Dallas Cowboys RB Emmitt Smith and Baytown Lee H.S. QB Drew Tate.
2003: Texas WR Roy Williams
2004: Texas Tech DE Adell Duckett, TCU S Marvin Godbolt, Houston QB Kevin Kolb, North Texas RB Patrick Cobb
2005: Texas QB Vince Young and Texas A&M QB Reggie McNeal
2006: Former Texas RB Earl Campbell, Mansfield Summit H.S. QB John Chiles, Texarkana Texas H.S. QB Ryan Mallett and Gilmer H.S. QB G.J. Kinne
2007: Texas A&M QB Stephen McGee, Texas QB Colt McCoy and TCU DE Tommy Blake
2008: Texas Tech coach Mike Leach, Texas Tech QB Graham Harrell and Texas Tech WR Michael Crabtree
2009: Texas QB Colt McCoy
Source: ESPN.com research