October, 14, 2013
10/14/13
1:00
PM ET
AUSTIN, Texas – Usually with these film reviews, we look into a short list of plays that swung a game. This week we're digging a little deeper, because truthfully the Longhorns didn't just beat No. 12 Oklahoma 36-20 on a couple momentum-shifting plays. They won on a mentality.
Offensive coordinator Major Applewhite defined the mentality as "playing your ass off." He said it was about so much more than plays and schemes.
His offense won the day on Saturday by doing something few expected: Texas overwhelmed the Sooners at the point of attack and owned the line of scrimmage. This wasn't about tricking or outsmarting OU. This was all about overpowering them.
So, after reviewing the tape, let's take a closer look at five things we learned about Texas' suddenly dominant power rushing attack.
1. No need for explosives
[+] Enlarge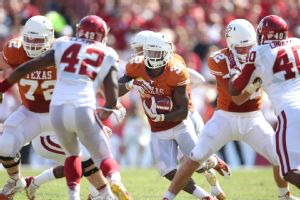 Matthew Emmons/USA TODAY SportsTexas and Johnathan Gray made a living inside the tackles in their upset of Oklahoma.
Texas ran the ball 59 times on Saturday for 255 yards. The two longest rushes of the afternoon were for 38 yards and 13 yards. Texas had only one other rush of 10 or more yards on the day. So there was really no way to pad the stats, and by the traditional definition (12-plus yards) there was very little "explosive" rushing.
That's part of what makes the rushing performance on Saturday so fascinating. Texas was grinding, plain and simple.
Johnathan Gray
gained four or more yards on 15 carries.
Malcolm Brown
got four-plus yards on 16. Together they had three carries of eight-plus yards.
Texas branded itself this offseason as having a high-tempo spread in the vein of Oklahoma State or Oregon.
In their biggest game of the season, in the Big 12's marquee game year after year, the Longhorns played like a Big Ten powerhouse.
2. Attacking the middle
Of Texas' 59 rushes, the running back went up the middle 40 times. Think about that.
The Longhorns didn't set out to attack the edge with tosses and sweeps. They hit the middle of the field hard and were richly rewarded. Maximum credit must be given to Texas' offensive line for their best four-quarter showing in a long time.
Gray attacked the middle on 22 of his 29 rushes. Brown did on 17 of 23 and was the more effective back in that capacity at 4.5 per carry.
As a team, Texas picked up nearly two-thirds of its rushing yards up the middle and averaged almost 4.1 yards per carry. It's safe to say the Sooners missed defensive tackle
Jordan Phillips
and linebacker
Corey Nelson
on Saturday.
One caveat: Not all of these were designed dive plays. Over and over in this game, Texas backs read their blocks and changed direction to maximize their gains. Again, the credit goes to those big men up front.
3. Finding their formations
About half of Texas' rushes against Oklahoma came out of the pistol formation. In addition to 29 plays out of that look, Texas ran 16 plays from a single-back set with
Case McCoy
under center and had as many plays from an I-formation (six) as from shotgun.
Gray's 38-yard dash came on a draw play from a two-back shotgun set, but the I-formation and pistol proved most effective in the long run. Texas averaged a healthy 3.5 per carry in the pistol, and four of the six I-formation runs went for first downs.
The line about Texas playing like a B1G team is particularly fitting when you notice how often Applewhite used the two-tight end combo of
Geoff Swaim
and
Greg Daniels
. Daniels was almost always next to the tackle and Swaim moved all over the field. They're two of the unsung heroes of this offense.
4. First downs and third downs
I wrote last week that Texas would need to create more second-and-short situations for its offense to thrive. Guess not.
The Longhorns ran the ball on first down 25 times against OU and gained two yards or fewer on a third of those plays. So yeah, they dealt with more than a few second-and-longs and turned out just fine.
Interestingly, they went back to the run on second down 24 times and averaged an impressive 4.3 yards per carry. Texas also ran the ball 10 times on third down and picked up conversions six times. Mix in some timely deep passing from McCoy and it was enough to keep the Big 12's No. 1 defense on its heels.
5. What this means
Texas doesn't need to break out this blueprint week after week to win with McCoy as its quarterback, so don't jump to that conclusion. This was the right way for Texas to attack Oklahoma. Don't assume this is the rebrand going forward or that we'll see another plan or performance like this one in 2013.
That being said, Applewhite and the offensive staff deserve serious praise. They kept it simple and let the run set up the big pass plays. Their players executed and manhandled OU up front.
Instead of dwelling on how McCoy could run an offense designed for Ash, Texas set him up to succeed and rode the talents of its top two backs. And yes, the Longhorns played their butts off.
March, 5, 2013
3/05/13
3:19
PM ET
By
ESPN.com staff
| ESPN.com
SoonerNation
From Brandon Chatmon

: Five Sooners on offense to keep an eye on this spring.
From Bob Przybylo

: Class of 2014 receiver Jeffery Mead, who has offers from Oklahoma and Oklahoma State will take his time in choosing a college.
HornsNation
From Carter Strickland
: With a new up-tempo offense and no clear starter, questions remain about how Texas will use Greg Daniels and the tight ends.
From Max Olson

: Texas DE commit Derick Roberson playing for state basketball title.
November, 12, 2012
11/12/12
10:00
AM ET
Time to hand out some superlatives from the week that was around the Big 12:
Best offensive performance: David Ash, QB, Texas.
Ash took care of business against Iowa State, bouncing back after some struggles earlier in conference play. He completed a 47-yard pass to start the game on a trick play out of the wishbone formation. More on that in a bit. His day only got better. He completed his first 11 passes and finished with 364 yards and two touchdowns on 25-of-31 passing.
[+] Enlarge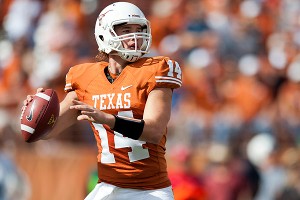 Cooper Neill/Getty ImagesTexas' David Ash threw for 364 yards and two touchdowns in Saturday's win over Iowa State.
Best defensive performance: Meshak Williams, DE, Kansas State.
Williams was everywhere for Kansas State in the Big 12's most dominant defensive performance of the weekend, a 23-10 win over TCU in Fort Worth. He had a pair of sacks and three tackles for loss among his seven stops. Those three TFLs accounted for a loss of 28 yards, too. Williams also batted down a pass.
Honorable mention: Lyndell Johnson, LB, Oklahoma State.
Best game: Texas Tech 41, Kansas 34, 2OT.
Another week, another OT thriller. This one, though, lacked the presence of TCU. All three Big 12 overtime games have gone multiple extra periods, but Tech's game-winning score came on a cheeky halfback jump pass from
Eric Stephens
to
Darrin Moore
. The Jayhawks erased a double-digit, fourth-quarter deficit to send the game into overtime, but once again, the Jayhawks came up just short from ending their painful Big 12 losing streak.
Best quote: Gary Patterson
, to Bill Snyder after K-State, Patterson's alma mater, knocked off TCU in Fort Worth to go 10-0. "Go win it all," he said.
Best team performance: Texas
. It started with a fantastic tribute to Darrell Royal, but the Longhorns' evisceration of Iowa State was as complete a beating as you'll see in a Big 12 game not involving Kansas. Texas' defensive woes looked like a distant memory as the offense outgained the Cyclones by more than 300 yards and won the turnover battle 2-0. The Longhorns had the ball almost twice as long as ISU, ran the ball well and played amazingly efficient offense. Add it up, and you get the worst beating Iowa State's received all year. No small feat.
Honorable mention: Kansas State
Worst overall performance:
West Virginia's special teams. What a nightmare for this unit. Two different kicks took odd bounces, hit WVU players and were recovered by Oklahoma State to account for both of WVU's turnovers. Another play resulted in a touchback when four different WVU special-teamers got greedy and decided to let a punt bounce one more time. That's a 20-yard mistake, and eight plays later, OSU capitalized with a touchdown to go ahead 48-34. Does that happen if OSU is pinned inside its 5-yard line? It's worth asking.
Worst explanation: Tommy Tuberville.
Hey, only Tuberville knows exactly what he was trying to do when he aggressively swiped the headset off a graduate assistant on the sideline in the middle of giving him an earful. His explanation, though, that he was trying to get him off the field and meant to grab his shirt simply doesn't line up with what the video clearly shows. There was no urgency on the part of Tuberville to get the assistant off the field, and he missed his shirt by a long, long way with the swipe. I don't believe Tuberville deserves any truly serious punishment for an incident that looked worse than it actually was, but his explanation was an insult to viewers' vision and intelligence.
Best play: Jaxon Shipley/David Ash/Greg Daniels, Texas
. The Longhorns announced to the world what formation they would open up in, and gained 47 yards anyway. Ash pitched it to Shipley out of the wishbone, a three-back formation popularized by legendary Texas coach Darrell Royal, who died last week. The Longhorns made the move as a tribute to Royal. Shipley threw the ball back to Ash in the backfield, who found Daniels for a 47-yard gain. There was irony in doing so in honor of a coach who said that only three things can happen when you pass the ball, and two of 'em are bad, but this one was very, very good for the Horns.
Most deserving of a thank-you card: Texas A&M.
Kansas State looked likely to get squeezed out of the title game by Alabama and Oregon if the Tide, Ducks and Cats all went undefeated. Then the Big 12 expats knocked off the No. 1 team in the country on its home field. Snyder owes you one, Kevin Sumlin and Johnny Football.
February, 4, 2010
2/04/10
2:27
PM ET
By
Tim Griffin
| ESPN.com
Texas Longhorns
Total class:
25
ESPN 150:
15
By position:
WR 5, DE 3, DT 3, OLB 3, ATH 2, QB 2, CB 2, G 1, RB 1, C 1, S 1, K 1.
By state:
Texas 22, Ohio 1, Oklahoma 1, Louisiana 1.
Already enrolled in school:
3.
The big ones:
Jackson Jeffcoat, the nation's top player at his position and No. 2 player overall, is a dominant speed rusher who should only get better as he fills out. Jordan Hicks, the nation's top outside linebacker and No. 4 player overall, shows the kind of burst and tackling ability that leads me to think he could win a college Butkus Award to go along with the high school version he picked up last season.
Sleeper:
DE Greg Daniels might get lost amongst all of the publicity surrounding Jeffcoat, Hicks and the others on the defense. But he's a strong, active pass rusher who should challenge for playing time while with the Longhorns.
Needs met:
With Sergio Kindle departing and Eddie Jones and Sam Acho both entering their senior seasons, the Longhorns needed defensive ends. They addressed the deficiency by attracting three of the nation's top 23 defensive ends. Texas coaches were specific about their offensive line needs and attracted Army All-Americans in center Dominic Espinosa and guard Trey Hopkins. And with
Garrett Gilbert
seemingly entrenched as the starting quarterback, the Longhorns attracted Case McCoy and Connor Wood to battle for depth at the position. Both graduated from high school early and will begin practice with the Longhorns later this month.
Analysis:
Texas won the mythical Big 12 recruiting title with a typical strong early spurt and two monster late additions in Jeffcoat and Hicks. It should give Will Muschamp a lot of defensive building blocks to tinker with for the next several seasons. Help was needed at wide receiver and the Longhorns addressed those needs with five players, including potential standouts Mike Davis and Darius White. And look for Demarco Cobbs to challenge for playing time at running back. All of these elements help to make it one of Mack Brown's top two recruiting classes, ranking with his 2002 class for his very best group.
What Mack Brown said:
"I've been asked over the last couple of days, 'Is this the best class that we've ever had?' We feel like it definitely has the potential to be because from top to bottom it covers every position and that's a very difficult thing to do." … On Texas' consistent recruiting success: "Obviously, we had 25 official visits and we got 25 kids. We're not into offering guys that we don't want. We're really not into recruiting guys that don't have interest."
Scouts Inc. grade/rankings:
A-plus, first in Big 12.