December, 27, 2011
12/27/11
10:00
AM ET
By
ESPN.com staff
| ESPN.com
One quarterback's leaving the Big 12 and isn't going elsewhere in the league.
Another is coming back closer to home.
Texas Tech's Jacob Karam -- last seen
executing the sneakiest trick play of the season
-- announced his transfer on Nov. 30 and started shopping around. He's a redshirt sophomore but already completed his undergraduate requirements, meaning he'll be eligible immediately at his new home with two years left to play. Rumors swirled that he could land at Texas, but he says he's not considering any Big 12 teams.
"I am focusing on Houston, Memphis and UTEP because those three schools are focusing on me," Karam
told Fox 28 in Houston
.
Karam said he also heard from LSU, San Diego State, Ole Miss, UNLV and Texas State.
Meanwhile, Oklahoma State is adding a quarterback. Daxx Garman, Arizona third-stringer and native of QB factory Southlake, Texas, is heading to Stillwater to play for Todd Monken and Mike Gundy.
Former Missouri quarterback Chase Daniel and Alabama quarterback Greg McElroy both hail from Southlake and both are now NFL backups.
"I'm getting the opportunity to move closer to home," Garman
told the Arizona Republic
. "My family can be more involved in the situation, and I felt like it's a better opportunity for me. Oklahoma State, they have a great football environment. The fans are great people there, and they support the Oklahoma State football program completely. I'm very excited to be a part of that."
By way of his transfer, Garman will almost certainly be
receiving a spot on next year's All-Name Team
, if only as a backup.
April, 27, 2011
4/27/11
1:00
PM ET
By
ESPN.com staff
| ESPN.com
You've surely seen
plenty of mock drafts and draft boards by position
by now, but those are all put together by mashing together players' total skill sets.
So what would happen if you broke down those skill sets and re-ranked players in the draft? Todd McShay did exactly that for every draftable offensive player.
Here's a look at what he had to say.
Quarterbacks

Missouri's Blaine Gabbert was No. 3 in intelligence and decision-making, behind Greg McElroy of Alabama and TCU's Andy Dalton.
Gabbert was No. 1 in throwing accuracy.
He's the Big 12's only draftable quarterback, according to McShay, and ranked No. 1 overall on his positional draft board.
Running backs

McShay ranked DeMarco Murray as the No. 1 running back in the draft, according to receiving skill.
Murray was also No. 1 in pass blocking. Kansas State's Daniel Thomas was No. 2.
Oklahoma State's Kendall Hunter is the Big 12's top back on his positional draft board. Hunter ranks No. 4. Thomas is No. 5. Murray ranked 10th.
Offensive line

Baylor's Danny Watkins ranked No. 2 in pass blocking among draftable guards.
Watkins also ranked No. 2 in run blocking among guards.
He ranked No. 1 in "toughness" among guards.
Watkins was the No. 6 overall offensive line prospect available. Texas' Kyle Hix was his No. 42 available and Missouri's Tim Barnes was No. 50.
January, 13, 2010
1/13/10
10:00
AM ET
By
Tim Griffin
| ESPN.com
Here's my final look at the Big 12 power rankings for this season.
1. Texas:
Longhorn fans will always remember Colt McCoy's injury in the national championship game and what could have been. Texas overcame every challenge during the regular season, but came up lacking without its leader in the biggest game of the year. The way the Alabama game played out will always haunt Texas fans. If they could have ever grabbed a touchdown lead or more over Alabama, was there any real indication that Alabama could have won with
Greg McElroy
and the Crimson Tide's leaky offensive line? But it went the other way and the Longhorns were ground into submission by Alabama's potent rushing attack to put a disappointing capper on an otherwise memorable season.
2. Nebraska:
The Cornhuskers finished 10-4 and were only five or six plays removed from winning three of those games -- losses to Texas, Iowa State and Virginia Tech. If that had happened, it's not out of the realm of possibility the Cornhuskers could have finished in the top five or six teams nationally. But the convincing victory over Arizona, especially with the unexpected offensive firepower, should build confidence and embolden Bo Pelini and his team for bigger and better things next season.
3. Texas Tech:
A roller-coaster season finished with Mike Leach and Ruffin McNeill looking for work despite an impressive 9-4 record where the Red Raiders overachieved to a Top 25 finish. Tommy Tuberville's arrival will bring changes, but Tech returns with a strong nucleus starting of quarterbacks
Taylor Potts
and
Steven Sheffield
and running back
Baron Batch
. If Tuberville can get the Red Raiders up and running quickly, it's not out of the realm of possibility that his new team could challenge Texas and Oklahoma next season. But it will be tough as he tries to change the culture of the most memorable era of Tech football.
4. Oklahoma:
A fast finish took some of the sting out of Bob Stoops' most disappointing recent season. The Sooners' hopes of a Big 12 four-peat were doomed as soon as
Sam Bradford
was lost for the season. And Jermaine Gresham's injury before the season changed the way Kevin Wilson's offense could operate. But at the end of the season,
Landry Jones
showed enough promise to give him a foothold for the starting position next season. The defense developed some young playmakers like
David King
and Demontre Hurst who showed promise in the bowl game for future growth. The Sooners will be back challenging for the Big 12 title next season if those players build on their late-season efforts.
5. Oklahoma State:
All of the promise at the start of the season unraveled with a disappointing string of injuries and suspensions. And even with all of those struggles, the Cowboys still had a chance to play in a Bowl Championship Series game if they had beaten Oklahoma. Losses in the last two games of the season left a bad taste for what could have been Mike Gundy's breakout season. The defense played much better than expected under new coordinator Bill Young, but the offense didn't live up to the promise -- especially when
Zac Robinson
was hurt and his offensive weapons were stripped away. All things considered, a 9-4 record with everything the Cowboys overcame this season was better than could be expected.
6. Missouri:
As well as the Tigers played at times during the season, their season was marked by their fourth-quarter home collapse against Nebraska and their confounding Texas Bowl upset loss to Navy. Truthfully, it was expected to be a rebuilding year after losing Chase Daniel, Jeremy Maclin and Co., but some of that was lost after a four-game winning streak to start the season.
Blaine Gabbert
surpassed expectations and is in line to become the conference's best quarterback over the next couple of years. And
Danario Alexander
was the best receiver in the nation over the second half of the season. Defensive woes hurt them, but Gabbert's return and some young defensive talent should have the Tigers pointed to improvement next season and maybe a challenge at the North title.
7. Iowa State:
Was there a better moment in the 2009 Big 12 season than Paul Rhoads' emotional response to his team's upset victory over Nebraska which became a YouTube staple? Rhoads' first season far surpassed expectations with a 7-6 record, the Insight Bowl victory over Minnesota and all of the other surprising accomplishments.
Alexander Robinson
was the most underrated player in the Big 12 and the gritty Iowa State defense played just like you would expect from a Rhoads-coached team. It won't be easy for them to duplicate next year as they switch to the Texas-Texas Tech-Oklahoma gauntlet of South Division opponents. But it was a nice first step for Rhoads in building his program.
8. Kansas State:
The Wildcats missed out on a bowl trip because of playing too many creampuffs during the nonconference season, but Bill Snyder's first season was better than expected. The Wildcats received huge contributions from
Grant Gregory
and
Daniel Thomas
, who both arrived before summer practice with no real expectations coming into the season. Thomas developed into one of the conference's best backs and should return for more next season. If Oregon transfer
Chris Harper
can develop into a playmaker at either quarterback or wide receiver and the defense comes together, the Wildcats might be a threat to make a bowl appearance in 2010.
9. Texas A&M:
For all of their offensive weapons, the Aggies' defense and special teams were the primary culprits in a 6-7 season capped by a disappointing Independence Bowl loss to Georgia.
Jerrod Johnson
posted the top statistical numbers ever produced by an A&M quarterback and he's surrounded by a bevy of strong offensive weapons. But Mike Sherman's new coordinator is going to need to produce more improvement from a young defense if the Aggies have any hopes of contending in the South Division next season and beyond.
10. Kansas:
The Jayhawks' leaky defense did it with mirrors against a weak early schedule, but it all caught up with them during a seven-game losing streak to close the season that precipitated Mark Mangino's resignation.
Todd Reesing
,
Kerry Meier
and
Dezmon Briscoe
all finished careers that will go down among the top players in Kansas history. But the challenge for new coach Turner Gill and defensive coordinator Carl Torbush will be to rebuild a defense that allowed at least 31 points in seven of eight conference games.
11. Colorado:
Dan Hawkins popped off about challenging for a Big 12 North title at the end of last season. Instead, his team's struggling performance ended his hopes of "10 wins and no excuses" before conference play even began. The season started off badly with embarrassing nationally televised losses to Colorado State, Toledo and West Virginia and didn't get much better once conference play began. The Buffaloes did start Kansas' losing streak and beat Texas A&M, but sputtered offensively as they ranked in the bottom 10 teams in rushing, passing efficiency and sacks allowed and in the bottom 20 teams in total offense.
Tyler Hansen
emerged as the quarterback of the future. His development will be critical in Hawkins' hopes at a contract extension.
12. Baylor:
The Bears started the season with a confidence-building upset at Wake Forest, but their season for all intents and purposes ended as soon as Robert Griffin sustained a season-ending injury in the third game. Griffin should be back next season but key defensive players like Joe Pawelek and Jordan Lake won't be. The quarterback's return will be critical in rebuilding offensive confidence that was booming heading into the season. The Bears might have the opportunity to snap the conference's longest bowl drought next season in a more balanced Big 12 South, but the key for the season will be developing a defense that can better challenge the South Division's powers.
January, 8, 2010
1/08/10
4:08
AM ET
By
Tim Griffin
| ESPN.com
PASADENA, Calif. -- The wear and tear was noticeable on their faces. Tired Texas players like Lamarr Houston and Roddrick Muckelroy showed the effects of trying to contain bruising Alabama running backs
Mark Ingram
and
Trent Richardson
during a long night at the Rose Bowl.
[+] Enlarge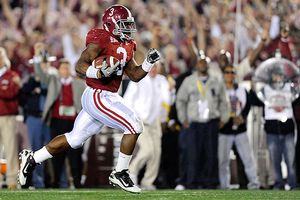 Kevork Djansezian/Getty Images Trent Richardson's 49-yard touchdown run was part of Alabama's 205-yard rushing effort.
The Longhorns' No. 1 national defense was gashed for a season-worst 205 rushing yards as Ingram rushed for 116 yards and Richardson added 109 in Alabama's
37-21
victory in the Citi BCS National Championship game.
But despite those numbers, Texas made adjustments in the second half and the defense was one of the key reasons the Longhorns had a chance to win. Texas allowed only 57 rushing yards after the break, and continually came up with the key plays that were missing in the first half.
"The defense was out there a lot with (quarterback)
Colt McCoy
being gone," Houston said. "We were playing tough and played through a lot of adversity all night long. And we were right there."
The Longhorns' defense came up with three, three-and-out possessions to start the second half, and Alabama's only two scores of the second half came off late turnovers. The Texas defense gave the Longhorns a chance to pull back into the game when the offense finally started clicking behind freshman quarterback
Garrett Gilbert
.
"We did all we could do to keep the game close," Muckelroy said. "The defense stepped up and made some plays. They got us early, but in the end, about four plays killed us."
Richardson's 49-yard touchdown run midway through the first quarter sliced through the middle of the Texas defense. It was one of four rushing touchdowns the Longhorns allowed Thursday night after giving up five rushing TDs in the 13 previous games.
"It was disappointing they got to us like that," Houston said. "But we bounced back and did what we could to make adjustments to get back in the game."
It was the second-most rushing yards against a Texas defense since Will Muschamp arrived last season. Only Oklahoma State's 217-yard effort last season surpassed the title game.
While Texas struggled containing the running game, Muschamp cooked up a pressure-heavy defensive front that sacked Alabama quarterback
Greg McElroy
five times.
The ringleader of the Texas pass rush was Sergio Kindle, who had his best game of the season with eight tackles, 2.5 sacks and 3.5 tackles for losses.
"Our game plan was to get pressure on their quarterback," Kindle said. "We thought their lineman were good in run blocking but might have slip-ups in pass coverage. We tried to get speed off the edge and middle. And those plays started coming for us as the game went on."
But there weren't enough of those big plays for the Longhorns to overcome the way the Tide won the battle in the trenches, using a methodical offensive philosophy.
"I'm not disappointed at all," Houston said. "I'm proud of the team and our players for stepping up and almost winning this game. It was a good effort, but in the end it just wasn't good enough."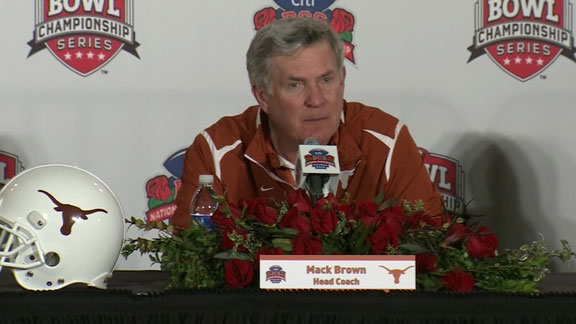 January, 7, 2010
1/07/10
10:16
PM ET
By
Tim Griffin
| ESPN.com
PASADENA, Calif. -- Here's a look at why Alabama has cruised to a commanding 24-6 halftime lead.


Turning point:
The game turned on Texas' fifth play from scrimmage when quarterback
Colt McCoy
went down with an injury to his right shoulder. McCoy appeared to have been pinned between center Chris Hall and defensive end Marcell Dareus when he went down. He was treated for the injury for several plays before he was taken for further evaluation in the Longhorns' dressing room. He did not appear for the rest of the first half.
His injury forced freshman quarterback
Garrett Gilbert
into the game for his first action. Gilbert struggled against the tough Alabama offense, directing four straight three-and-out possessions with no offensive gains of more than 6 yards on any offensive play during that span.
Stat of the half:
Texas produced 26 yards in five plays with McCoy in charge of the offense, an average of 5.2 yards per snap. After his injury, the Longhorns amassed 65 yards on 35 plays, an average of 1.9 yards per snap.
Best player of the half:
Alabama defensive end Marcell Dareus has been a one-man wrecking crew for the Crimson Tide. Not only did he knock out Colt McCoy early in the first quarter, but he also provided a huge 28-yard interception return on a botched shovel pass with 3 seconds left to give Alabama a comfortable 24-6 lead at the break.
Best call:
Alabama quarterback
Greg McElroy
took advantage of Texas blitzing on the edge early in the second quarter. Freshman running back
Trent Richardson
took advantage of the huge seam to run untouched through the middle of the Longhorn defense for a 48-yard touchdown run.
What Texas needs to do:
Apparently without McCoy, Texas offensive coordinator Greg Davis needs to open his offense up. The Longhorns aren't going to be able to beat Alabama trying to run the ball between the tackles. They might be able to have more success with misdirection plays that might neutralize Alabama's defensive speed. But it's going to be tough. The Alabama defense is in a feeding frenzy after knocking McCoy out and almost knocking out Gilbert.
What Alabama needs to do:
The Crimson Tide have the Longhorns on their heels -- especially if McCoy can't come back in the second half. Constant defensive pressure on Gilbert will likely come in waves, keeping him from getting comfortable in the pocket. It's not an easy situation for any quarterback, but particularly a freshman with as little experience as Gilbert has.
January, 6, 2010
1/06/10
10:00
PM ET
Alabama is coming off its best victory of the season. Texas is coming off its worst.
Mark Ingram
will be battling the Heisman Trophy jinx in national championship games, and Alabama will be trying to claim the fourth-straight BCS national title by an SEC team. The last non-SEC team to win the title: Texas.
Those are just a few of the subplots in Thursday's Citi BCS National Championship Game. Big 12 blogger Tim Griffin and SEC blogger Chris Low take a look at the matchup and other factors that will play into it.
[+] Enlarge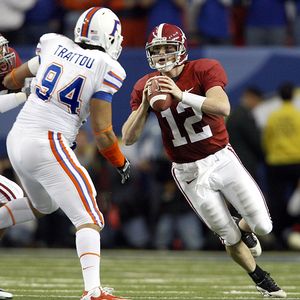 Marvin Gentry/US PresswireIf Alabama quarterback Greg McElroy plays the way he did against Florida, the Texas defense could be in for a long night.
Tim Griffin:
Chris. I saw Alabama in the SEC title game and was very impressed with the way they jumped on Florida quickly and put the Gators behind from early in the game. Do you think
Greg McElroy
can have a mammoth performance against a strong defense in back-to-back games?
Chris Low:
Tim, it's ironic that you would ask about McElroy, because everybody was asking about him back in the spring. Nobody really knew anything about him, whether he could handle the quarterback position or whether he would even finish the season as the starter. I think it's safe to say that he's far surpassed anybody's expectations. He's such a smart player, knows the Alabama offense inside and out and rarely makes the same mistake twice. After all, he's only thrown four interceptions in 13 games. I've seen halves against SEC defenses in which quarterbacks have thrown three or four picks. But McElroy is not just a caretaker of the offense. He'll spread the ball around. He throws a nice deep ball, and is better at moving around and making plays than he's given credit for. In short, if the Alabama offensive line plays the way it did against Florida, I look for McElroy to have another solid game. That's the thing about this Alabama offense. They don't need him to put up mammoth numbers to win. My question to you, Tim, is whether
Colt McCoy
is going to be running for his life against Alabama like he was against Nebraska a month ago?
TG:
If he does, Texas has absolutely no chance. But I think the fact that observers have been questioning Texas' offense for nearly five weeks after the Longhorns allowed nine sacks against Nebraska should serve as a motivational ploy. I look for Texas to try and dictate tempo early. Look for McCoy to try to use the Longhorns' one-minute offense, in which there would be little time between plays as they try to keep them out of their comfort zone. The Longhorns have struggled with their pass blocking all season. Look for freshman Tre Newton to get more time because of his pass-blocking skills. And I would also expect Texas to use tight end
Greg Smith
more than usual to have an extra blocker. In the Big 12, the Longhorns liked to run a lot of three- and four-wide receiver sets. I think they'll need the extra beef tonight. Chris, speaking of beef, how do you think Alabama's big offensive line will play against Texas' fast and quick defense. The Longhorns led the nation in rush defense, but faced four teams with defenses ranked 100th or worst. Does Alabama feel like they can exploit a Texas defense that is good, but hasn't played many good rushing attacks?
CL
: Honestly, I think Alabama thinks it can exploit any defense. This Alabama offensive line isn't as big as the one last year and has relied more on quickness and angles than just lining up and mashing people. Alabama will certainly look to run the football and won't be afraid to use both Mark Ingram and
Trent Richardson
. It seems like the Crimson Tide always have a fresh back in the game. Against Florida, Alabama was able to throw it some and spread the Gators out. But that was just one game. We also saw Alabama struggle to run the ball against Auburn in the last game of the regular season, and McElroy had to bring them from behind throwing the football. Even in that game, after getting down 14-0, the Crimson Tide didn't panic and didn't get out of character offensively. What do you make of McCoy having two of his worst games against the two best defenses he's faced this season -- Nebraska and Oklahoma?
TG:
Chris, interestingly those were also the games where he most faced consistent pressure from blitzes and had more trouble with interceptions. If Alabama can keep him from getting comfortable in the pocket and knock him around some, he could face a similar fate. The Texas offensive front isn't a great line -- by its standards or anybody else's. It's their biggest weakness, but really didn't impact them over the course of the season. The Longhorns had too many weapons and scored touchdowns in other ways to beat all the Big 12 teams they played.
[+] Enlarge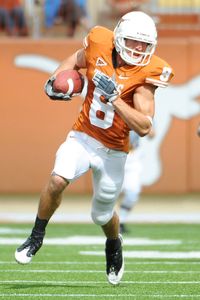 Brendan MaloneyAlabama's special teams will have its hands full with Texas returner Jordan Shipley.
When they played Oklahoma, they were facing a green quarterback in
Landry Jones
after
Sam Bradford
's injury earlier in the game. And against Nebraska, they were able to neutralize the Cornhuskers' big defensive effort because Nebraska's offense played so poorly. Chris, I think that Texas is going to have to get some cheap points -- say from a long kick or punt return or a turnover to have a chance. Is there anything you've seen that shows Alabama has got its special teams under control enough to withstand the pressure that
D.J. Monroe
,
Marquise Goodwin
and
Jordan Shipley
will place on the Tide?
CL:
Alabama has not been very good on kickoff coverage. That's a given. So it wouldn't be a shock to see the Crimson Tide give up some long returns or even a touchdown. Short fields could be critical in this game, because neither defense has allowed teams to consistently put together long drives. The problem with exploiting Alabama on special teams is that the Crimson Tide have one of the best punt returners in the country in Javier Arenas and a field goal kicker in All-American Leigh Tiffin who's made a bunch of big kicks and also has great range. In short, unless Alabama uncharacteristically turns the ball over and/or is forced to play from behind the whole game, I think the Crimson Tide take home the crystal trophy and complete a perfect season.
Alabama 27, Texas 17
TG:
I think Texas is going to have trouble stopping the run defense. But if they can get some early momentum, I like their chances of taking this game into the fourth quarter. But at that point, Alabama will have too much power and gradually wear the Longhorns down, likely with a late drive like the one Florida put Oklahoma away with last season.
Alabama 24, Texas 13
January, 6, 2010
1/06/10
9:00
AM ET
By
Tim Griffin
| ESPN.com
Here's all you need to know about the Citi BCS National Championship Game matchup between Texas (13-0) and Alabama (13-0) Thursday night at the Rose Bowl.
WHO TO WATCH: Colt McCoy, QB, Texas


Texas' hopes in springing an upset over the Crimson Tide will rely on McCoy, who will be gunning to make history in his final college game. McCoy's numbers in his senior season have been good, but not what he expected coming into the season. His most recent struggles -- a three-interception, nine-sack performance in the Big 12 title game against Nebraska -- should serve as inspiration for a better title-game performance. He'll be facing an even more imposing defense at the Rose Bowl in Alabama, and will have to be at his sharpest to help his team win. It will be important for McCoy not only to pass the ball strongly, but also to make some early plays with his feet to neutralize Alabama's defensive pressure and help give his team some early confidence after their offensive struggles in their last game. If he can do that, the Longhorns might have a puncher's chance of pulling an upset.
WHAT TO WATCH: Texas' run defense against Heisman Trophy winner Mark Ingram
Alabama's hopes of emerging victorious will be dictated by winning the game in the trenches and providing some running opportunities against Texas' defensive front. The Longhorns aren't the biggest team along the defensive front, but have done a good job of stifling opposing running games with a mixture of speed and talent. Crimson Tide players say that defensive style reminds them of their own team. But it will be key for Ingram to effectively run the ball, keeping Alabama quarterback
Greg McElroy
in manageable down-and-distance situations where he is less susceptible to turnovers. Ingram will challenge the Longhorns inside, trying to do something that no other team has done this season. The Longhorns haven't allowed an opposing player to run for more than 100 yards. Texas' chances of winning will be much better if it can keep the bullish tailback in check.
WHY WATCH: The national championship game has been a recent nightmare for No. 1 teams
The top-ranked teams haven't played well in recent national title games. The No. 2 team has won the past four games over the No. 1 team and claimed six of the past seven games. Heisman Trophy winners like
Sam Bradford
, Troy Smith and Reggie Bush all have similarly struggled as their teams lost their national championship games, which might not bode well for Ingram. The Longhorns already feel emboldened after their previous success in their last two BCS bowl victories in Pasadena. Collectively, that run of recent history might help propel another underdog to an upset Thursday night if the Longhorns can produce a few breaks.
PREDICTION:
For the past month, naysayers have knocked Texas for its struggles in the Big 12 title game and wondered if the Longhorns really deserve to be playing for the national championship. That inspiration to prove doubters wrong, however, will only last so long against a team that is as talented as Alabama in running the ball and playing strong defense. The star-studded Alabama team is dotted with a record six members on the Associated Press' All-America team. Coach Nick Saban's grinding scheme isn't pretty, but should have enough talent to gradually wear the Longhorns down. Texas' upset hopes will be predicated on big plays from McCoy and a couple of breaks along the way. The Longhorns have the speed to take advantage of Alabama's season-long struggles covering kickoffs. And if they can win that phase of the game, their chances of an upset will be much better.
But the thought here is that the Crimson Tide will be able to dominate a Texas offense that has struggled against the better defenses it has faced all season. Look for Ingram's running to wear the Longhorns down, scoring a late touchdown to clinch the game and take their first national championship since 1992 back to the Capstone.
Alabama 24, Texas 13.
December, 21, 2009
12/21/09
12:30
PM ET
By
Tim Griffin
| ESPN.com
We're still a week away from the Big 12's first bowl game.
But there's still plenty of news from across the conference to keep you occupied during your lunch hour.
Here are some lunch links for today.
December, 17, 2009
12/17/09
10:42
AM ET
By
Tim Griffin
| ESPN.com
Many of you have written to me over the last several days asking me about my bowl picks for various confidence pools.
Obviously, these games aren't quite as prevalent as bracket sheets during the NCAA men's tournament, but they assuredly are growing. I know I have several offers and have to get my sheets ready by Saturday's games.
Here are my picks for Big 12 bowl games ranked one through eight in terms of my confidence in the results of the games. I'll have much more extensive previews before the games and I reserve my right to make a last-minute change, but here are my picks in place for Saturday's confidence-pick deadline.
8 points:
Texas Tech over Michigan State,
Valero Alamo Bowl. The Red Raiders are catching the Spartans at exactly the right time. And the fact that Michigan State is riddled with suspensions only makes the Red Raiders' opportunity to win that much greater. Tech's
Taylor Potts
should have a huge game against the Spartans' struggling secondary that ranks 96th in pass-efficiency defense and 103rd in pass defense.
7 points:
Missouri over Navy
, Texas Bowl. The Tigers played well late in the season when
Blaine Gabbert
was healthy.
Danario Alexander
was the Big 12's most explosive player down the stretch. And while the defense isn't their best quality, I like their chances of being able to stuff Navy's run-heavy offense. Missouri limited four of its last five opponents to 77 yards rushing or less and Dave Steckel's group will have a long time to prepare for the option.
6 points:
Georgia over Texas A&M
, Advocare V100 Independence Bowl. Which Aggies team will show up for this game? The one that nearly beat Texas or the one that was blown out by Oklahoma or Kansas State? I think that
Joe Cox
and
A.J. Green
will have a lot of success against the Aggies' struggling defense, providing they can effectively keep Von Miller out of the Georgia backfield.
5 points:
Oklahoma over Stanford
, Brut Sun Bowl. The Sooners are intent on turning around after losing five of their last six bowl games. Oklahoma gets a break because of
Andrew Luck
's iffy status for the Cardinal. Look for the Sooners' run defense to clamp down on
Toby Gerhart
and
Ryan Broyles
and
Landry Jones
to make enough big plays to win.
4 points:
Mississippi over Oklahoma State
, AT&T Cotton Bowl. How much will that blowout loss at Oklahoma in Bedlam harm the Cowboys' psyche? I'm thinking more than might be expected as underrated bowl game coach Houston Nutt will assuredly have the Rebels ready to play. Look for a game similar to last year's Cotton Bowl against Texas Tech where the Rebels win the game in the trenches.
3 points:
Arizona over Nebraska
, Pacific Life Holiday Bowl. Look for a defensive struggle between good buddies Mike Stoops and Bo Pelini. But with Nebraska's well-chronicled offensive struggles against better opponents, it might be more of the same for the Cornhuskers in the bowl game. This one should be tight, but look for Arizona quarterback
Nick Foles
to make enough big plays to give the Wildcats a narrow victory.
2 points:
Iowa State over Minnesota
, Insight Bowl. The Cyclones definitely are happy to move up this far in the bowl pecking order. That attitude, along with strong inside running by
Alexander Robinson
, might be enough to catapult them to a big effort over the Gophers. Minnesota has been to the Insight Bowl three times in the last four seasons and might be a little bored with another trip to the desert this time around.
1 point:
Texas over Alabama,
Citi BCS National Championship Game. The Longhorns are underdogs in this one, but I'm thinking they are going to be a little tired about pundits talking about how fortunate they are to be playing in this game. The Longhorns are actually a better match for the Crimson Tide than they would have been against Florida. Will Muschamp's expertise on Nick Saban and his system will be pivotal. And I think Texas' run defense will keep
Mark Ingram
bottled up and that
Colt McCoy
will outplay
Greg McElroy
for his fourth bowl victory.
That would produce a 5-3 bowl record for the Big 12 this time around. It might be a little optimistic, but I'm fairly confident the teams can play to my expected levels.
What about some of your picks? I'm curious what you believe is a legitimate record the Big 12 can achieve this season.
October, 5, 2009
10/05/09
4:39
PM ET
By
Tim Griffin
| ESPN.com

Posted by ESPN.com's Tim Griffin
It was a little bit like being a rock star, with some football heroics thrown in for good measure.
But as Texas Tech backup quarterback
Steven Sheffield
left the field Saturday after directing the Red Raiders' 48-28 victory over New Mexico, he was thrilled when Tech fans started chanting his name.
| | |
| --- | --- |
| | |
| | Karl Anderson/Icon SMI |
| | Texas Tech quarterback Steven Sheffield made the most of his opportunity to play Saturday. |
"I was excited," said Sheffield, who took over as the Red Raiders quarterback after
Taylor Potts
sustained a concussion late in the first half. "I loved every bit of it. All of the signs and the attitude they bring. We kind of have the same attitude. I lived it and I'm glad I got the opportunity."
When his chance came, Sheffield was ready to make the most of it. He finished his first drive with a 25-yard touchdown strike to Alex Torres as time expired in the first half to account for his first TD pass. That started a binge of four scoring possessions on his first four drives.
Sheffield, known as "Sticks" by his teammates and coaches because of his lanky 6-foot-4, 190-pound frame, produced career-best totals of 238 passing yards and three touchdown passes to spark the victory.
It was like Sheffield had always dreamed. He came into the Texas Tech program from the Austin suburb of Pflugerville as an invited walk-on, ready for a chance to play if it ever materialized. And when Potts went down after a couple of sacks late in the first half, Sheffield picked up the Red Raiders.
"'Being the backup, you've always got to do as much as a starter as far as film study and what you've got to know about your opponent and what not," Sheffield said. "I don't get as many reps as the starter throughout the week of practice but at the same time you know that you don't take every rep for granted."
Potts was admitted to a Lubbock hospital after the game, where he rested until he was released Sunday afternoon. His status is not known for the Red Raiders' Big 12 opener Saturday against Kansas State.
Texas Tech coach Mike Leach was typically evasive when he addressed Potts' injury today on the Big 12's coaches media teleconference.
"First of all, we never acknowledge an injury," Leach said when asked if Potts he could play. "So since he's not injured, I think he could."
But Leach was pleased by the efforts of Sheffield, who had only six career attempts before Saturday's game.
"He kind of sparked the efforts of our entire team," Leach said. "He just creates a high level of tempo."
Sheffield's recruitment is an interesting one. Tech coaches became interested in him only after current Alabama quarterback
Greg McElroy
backed out of his commitment with the Red Raiders. That Leach left scrambling and he decided he wanted the tall, skinny kid with the crewcut.
When Sheffield found out, he was headed for Texas A&M University at Kingsville on a recruiting trip. He was jostled from sleeping in the back seat by his parents to talk with Leach, who told him he was interested. Sheffield never looked back at the decision not to join the Javelinas or play regularly in the Lone Star Conference.
And like a true backup quarterback, Sheffield vows to prepare this week like he'll get another shot at playing on Saturday.
"If my number is called again, I'll be ready just like I was this time," Sheffield said. "I'm going to watch just as much film as anybody else and when Leach is going over the game planner for this week, I'll be taking notes and seeing what I need to do. Kansas State, I'm ready."
July, 8, 2009
7/08/09
3:59
PM ET
By
Tim Griffin
| ESPN.com
Posted by ESPN.com's Tim Griffin
Oklahoma State (Big 12 No. 3) vs. Alabama (SEC No. 3)
Oklahoma State's record against the SEC: 2-3



Alabama's record against the Big 12: 3-3
Previous series: Oklahoma State leads the series, 1-0
Most recent game: Oklahoma State won, 34-31, in the 2006 Independence Bowl

Distance between them (as the crow flies according to How Far Is It): 578 miles.
Where they should play: Little Rock, Ark. (283 miles from Stillwater, 295 miles from Tuscaloosa)
Who wins: Alabama.
Why: Nick Saban got his team to the brink of the SEC championship last season. And he clearly wants more this year.
Mike Gundy is hoping to take Oklahoma State into the uncharted area where the Cowboys are challenging for conference titles and BCS bowls. Alabama is just a little further along, and that experience would be the major difference if these two teams would play.
It would be an intriguing matchup of strength against strength as the Crimson Tide's nine defensive starters would be supremely challenged by OSU's vaunted offensive attack. But nose tackle Terrence Cody and linebackers Rolando McClain and Dont'a Hightower should be able to neutralize Kendall Hunter and the Cowboys' rushing game. Gundy also would be tested to get Dez Bryant and OSU's deep passing game involved against a talented athletic secondary keyed by starters Justin Woodall, Javier Arenas and Kareem Jackson.
While Alabama isn't nearly as talented offensively, neither is OSU on defense. Saban needs to find a replacement for Andre Smith up front, but James Carpenter and D.J. Fluker are poised to take over and would be strong against OSU's rebuilding defensive front. I'd look for new Alabama quarterback Greg McElroy to manage an efficient game, using Julio Jones just enough to boost the Tide to a tight victory.
The game also would be interesting to see the special-teams battle between Arenas and Bryant on punt returns. If either team could earn a substantial special-teams advantage, it might be enough to catapult them to the mythical victory. But I'm thinking that both teams would make big plays and likely even out, enabling Alabama to win.
Thursday: Oklahoma (Big 12 No. 2) vs. Mississippi (SEC No. 2).
The count: SEC, 6-4.
Note: Matchups are determined by the most recent rankings of Big 12 blogger Tim Griffin and SEC blogger Chris Low. All cumulative records go back to the 1996 season -- the first of competition in the Big 12.