November, 30, 2010
11/30/10
1:00
PM ET
By
ESPN.com staff
| ESPN.com
Bob Stoops remembers it well. The Oklahoma coach grew up in Youngstown, Ohio, alongside the Pelini family, far outside the proverbial footprint of the Big Eight.
It didn't matter. This time of year brought one of college football's premier rivalries, and Stoops was watching. He wasn't alone.
[+] Enlarge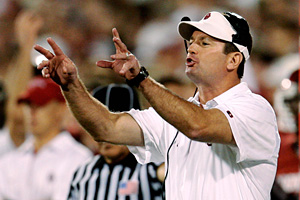 AP Photo/Sue OgrockiGrowing up as a kid Oklahoma coach Bob Stoops was a fan of the Nebraska-Oklahoma rivalry. "Couldn't wait for this game," Stoops said.
"Couldn't wait for this game," Stoops said of the Oklahoma-Nebraska rivalry. "Just watching the two teams in red and white go at it was really special, because it was always a great game, great players, great coaches.
"You have to admit, everybody was watching it around the country."
They saw the "Game of the Century" in 1971, when No. 1 Nebraska beat No. 2 Oklahoma, 35-31. From 1971-82, neither team entered the game ranked lower than No. 11. In the 1980s, the two teams met four consecutive times with both carrying top 5 rankings. That stretch birthed Oklahoma's "Sooner Magic."
Heisman winners like Johnny Rogers and Mike Rozier, among other legends like Turner Gill, Tommie Frazier and Roger Craig all helped build the rivalry across from Sooner legends like Steve Owens, Billy Sims, and Greg Pruitt, all Heisman-winning running backs.
The coaches littered throughout the series, including Nebraska's Bob Devaney and Tom Osborne and Oklahoma's Barry Switzer and Bud Wilkinson, are some of the best ever.
"I was always kind of an OU fan, their style of play, coach Switzer. And look at all the backs they had," Stoops said. "As a young kid, of course everybody's watching those flashy guys, how fast they were. Couldn't wait to watch the game."
The annual series died with the Big Eight and birth of divisions in the Big 12, but with Nebraska prepared to leave for the Big Ten in 2011, there's plenty of nostalgia for everyone building up to the last game ever in a 12-team Big 12.
Fittingly, Stoops said, between the Sooners and Huskers one more time.
"I feel fortunate to be a part of it. It's exciting and it's earned," he said. "Both of us have earned it through tough division fights."
April, 22, 2009
4/22/09
4:30
PM ET
By
Tim Griffin
| ESPN.com
Posted by ESPN.com's Tim Griffin
I got a lot of good feedback last week after I detailed a post that listed the top NFL player from each Big 12 school in the modern era.
ESPN Stats & Information went back through every draft of the modern era -- since the NFL-AFL merger -- to determine the players who accomplished the most during their NFL careers.
The rankings were based on the following criteria: Hall of Fame induction, MVP awards, All-Pro first-team selections, All-Pro second-team selections, Pro Bowls, offensive and defensive player of the year and rookie of the year awards and membership on a Super Bowl-winning or -losing team. A player scores on the ranking system when he earns at least one of those honors.
Specifically, this was the criteria that was used:
THE POINTS SYSTEM
Players received points based on the following criteria, coming up with rankings for the 13,808 NFL players who have played since 1967:
Super Bowl loss (1 point)
Offensive rookie of the year (2 points)
Defensive rookie of the year (2 points)
Pro Bowl (2 points)
Super Bowl win (3 points)
AP All-Pro second team (3 points)
AP All-Pro first team (4 points)
AP Defensive Player of the Year (6 points)
AP Offensive Player of the Year (6 points)
AP Most Valuable Player (8 points)
Hall of Famer (15 points)
After popular demand, here's how the formula calculated the five most valuable NFL players produced from each Big 12 school. I'm curious what some of your thoughts about these players and others might be.
Remember, this includes only players who were drafted. So free agents like Wes Welker were not included.
BAYLOR
Mike Singletary 81
Mike Nelms 22
Vann McElroy 10
Gary Green 8
Thomas Everett 8
COLORADO
Dick Anderson 30
Cliff Branch 29
Mark Haynes 23
Chad Brown 15
Charles Johnson 14
Alfred Williams 12
IOWA STATE
Matt Blair 18
Keith Sims 9
Marcus Robertson 5
Otto Stowe 4
Karl Nelson 3
KANSAS
John Riggins 25
Dana Stubblefield 24
Nolan Cromwell 21
Leroy Irvin 15
Larry Brown 14
KANSAS STATE
Larry Brown 34
Martin Gramatica 8
Barrett Brooks 3
Clarence Scott 2
Henry Childs 2
Terence Newman 2

MISSOURI
Roger Wehrli 44
Kellen Winslow 40
Eric Wright 23
Russ Washington 16
Mel Gray 12

NEBRASKA
Will Shields 44
Roger Craig 30
Neil Smith 28
Irving Fryar 17
John Dutton 13

OKLAHOMA
Lee Roy Selmon 46
Keith Jackson 28
Billy Sims 14
Roy Williams 14
Adrian Peterson 13
Greg Pruitt 13

OKLAHOMA STATE
Barry Sanders 93
Thurman Thomas 60
Kevin Williams 24
Leslie O'Neal 16
Dexter Manley 13

TEXAS
Earl Campbell 65
Doug English 21
Steve McMichael 21
Bill Bradley 17
John Elliott 16

TEXAS A&M
Shane Lechler 31
Lester Hayes 29
Richmond Webb 28
Ray Childress 26
Sam Adams 13

TEXAS TECH
Zach Thomas 40
Curtis Jordan 4
Dylan Gandy 3
Maury Buford 3
Ted Watts 3
Timmy Smith 3
Source: ESPN Stats & Analysis Team
July, 29, 2008
7/29/08
11:02
AM ET
By
Tim Griffin
| ESPN.com
Posted by ESPN.com's Tim Griffin

Even a revered figure like Walter Cronkite can inspire hatred and jealously in the Big 12.
"Uncle Walter's" dulcet tones have been used for an advertising campaign to hype enrollment at Texas, a school that he once attended.
"We're Texas," Cronkite booms out during commercial breaks for Longhorn games at Darrell K Royal-Texas Memorial Stadium and on network broadcasts. "What starts here changes the world."
But to most other rivals across the conference, that advertising slogan encapsulates all that they detest with the Big 12's largest and wealthiest school.
That attitude has helped many Big 12 rivals detest all things Longhorn -- from the Big Bertha drum and Bevo to "The Eyes of Texas" and the "Hook 'em" hand sign.
Longhorn fans are considered arrogant and privileged by some of their Big 12 opponents. The school's vast accumulation of wealth through the Permanent University Fund helped provide it with a huge early head start over most universities. That largesse has grown over the years, enabling Texas to have the largest endowment in 2007 of any public university in the nation.
That money, along with a deep collection of big-time boosters, has helped fuel an incredible facilities push for the Longhorns over the last few years that has left most other Big 12 schools choking in their dust. Texas coaches typically are paid more than their counterparts across the nation and most don't want to leave the Austin lifestyle if they can help it.
The Longhorns' sports marketing program made history in the euphoria of their 2005 national championship by generating more royalties than any college or university.
Recent additions at DKR Stadium have made it the conference's biggest facility and the one with the coolest trinkets. The massive Godzillatron scoreboard is the world's largest HDTV, a 55-by-134 foot conversation starter that is only 11 yards narrower than the football field.
The natural propensity of some Texans to be loud and boastful about their team's successes tends to rub many of those from outside the state in the wrong manner.
"We don't keep up with the Jones," Texas athletic director DeLoss Dodds once famously said. "We are the Joneses."
Try telling that to fans of the 11 other Big 12 teams who struggle to keep up with their neighbors with the biggest house and largest budget.
The Longhorns are considered the biggest rival for all three Big 12 Texas-based schools and Oklahoma, too. Ask any Arkansas fan who they love to hate the most and you'll still hear Texas mentioned, even though the Longhorns and Razorbacks haven't been conference rivals in 17 years.

Other schools have their haters as well. Oklahoma is perceived by many Longhorn boosters on par with athlete's foot and increasing gas prices. The Sooners have also rubbed many in Texas over the years by plundering state for many great football players like Greg Pruitt, Jack Mildren, Brian Bosworth and Adrian Peterson. And the Sooners' recent success in the Red River Rivalry under Bob Stoops has been difficult for Texas fans to swallow, along with their history-making back-to-back Big 12 titles.
Colorado fans are considered to be apart from the rest of the conference because of how different the Rocky Mountain lifestyle is with many other schools in the conference. Texas A&M's military traditions, although beloved by former students, aren't exactly embraced by many rivals. And Nebraska still is perceived by many other rivals as "The Big Red Monster," no matter how quaint their fans' tradition of clapping for vanquished opponents at Memorial Stadium might be.
But everybody else sits behind Texas -- at least in the Big 12.
Why? The slogan says it all.
BIG 12 SCOREBOARD
Saturday, 12/20
Monday, 12/22
Tuesday, 12/23
Wednesday, 12/24
Friday, 12/26
Saturday, 12/27
Monday, 12/29
Tuesday, 12/30
Wednesday, 12/31
Thursday, 1/1
Friday, 1/2
Saturday, 1/3
Sunday, 1/4
Monday, 1/12
Tweets from https://twitter.com/ESPNCFB/lists/big12