September, 27, 2014
Sep 27
10:00
AM ET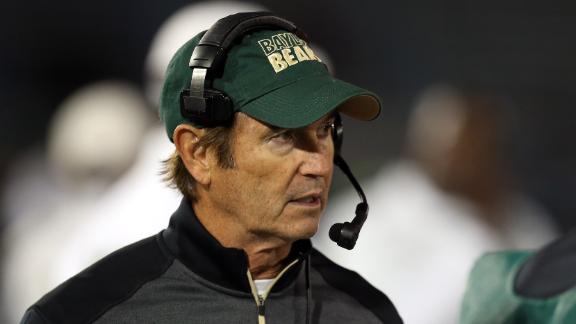 Baylor's Art Briles was voted as the nation's best offensive head coach in ESPN's weekly college football poll of the FBS head coaches, #1QFor128.
Briles received 22 percent of the votes, edging Auburn's Gus Malzahn (18 percent), in the poll, conducted by ESPN's Brett McMurphy.
Texas A&M's Kevin Sumlin was third (14 percent), followed by South Carolina's Steve Spurrier (8 percent) and Oregon's Mark Helfrich (6 percent). Rounding out the top 10: Duke's David Cutcliffe, Washington State's
Mike Leach
, Stanford's David Shaw and Oregon State's Mike Riley (each with 4 percent) and Washington's Chris Petersen (3 percent).
In all, 22 coaches received votes.
The coaches from the Power 5 conferences (ACC, Big 12, Big Ten, SEC and Pac-12) actually voted Briles third with 13 percent. Malzahn was the top vote-getter among the Power 5 coaches who voted with 20 percent, followed by Sumlin at 18 percent. Cutcliffe, Helfrich and Spurrier (with 8 percent each) tied as the fourth-most popular pick among the Power 5 coaches.
The coaches from the Group of 5 conferences (American, Conference USA, Mid-American, Mountain West, Sun Belt) voted Briles first (28 percent), followed by Malzahn (17 percent), Sumlin (12 percent), Spurrier (9 percent) and Helfrich, Leach and Shaw (each with 5 percent).
Of the 128 FBS coaches, 98 participated in this week's poll.
Who the Power 5 coaches voted for
Gus Malzahn, Auburn: 20 percent
Kevin Sumlin, Texas A&M: 18 percent
Art Briles, Baylor: 13 percent
David Cutcliffe, Duke: 8 percent
Mark Helfrich, Oregon: 8 percent
Steve Spurrier, South Carolina: 8 percent
Mike Riley, Oregon State: 5 percent
Who the Group of 5 coaches voted for
Art Briles, Baylor: 28 percent
Gus Malzahn, Auburn: 17 percent
Kevin Sumlin, Texas A&M: 12 percent
Steve Spurrier, South Carolina: 9 percent
Mark Helfrich, Oregon: 5 percent
Mike Leach, Washington State: 5 percent
David Shaw, Stanford: 5 percent
Mike Riley, Oregon State: 3 percent
Chris Petersen, Washington: 3 percent
September, 16, 2014
Sep 16
9:00
AM ET
There are similarities in the ways No. 5 Auburn and No. 20 Kansas State approach moving the ball on offense. But good luck replicating that in practice.
Both programs have taken option ball to new heights in recent years. That doesn't mean K-State coach Bill Snyder is feeling any more comfortable this week as his Wildcats prepare to host last season's BCS championship runner-up on Thursday night.

What's the biggest difficulty Kansas State will face against Auburn's offense this week? Good question.
"Take your pick. It's like throwing at a dartboard," Snyder said on the Big 12 teleconference Monday. "Probably being in the right place at the right time, being assignment-sound, execution of what you do defensively and having a reaction time to compensate for the quickness they have."
Considering what the Tigers have achieved offensively through two games, it'll take more that just precise execution. This is one of the nation's most efficient offense: Auburn is No. 1 in FBS in third-down conversions (67.9 percent), No. 1 in the SEC in red-zone efficiency (90.9 percent) and is picking up first downs or touchdowns on nearly 40 percent of its rushes.
Playing in the Big 12, K-State does see bits and pieces of the schemes that Auburn rode to a 14-2 record since coach Gus Malzahn took over. This is a copycat sport, and offenses around the country are beginning to embrace the pop pass and some of the wrinkles that the
Nick Marshall
-led Tigers mastered last fall.
"Everybody in the country has moved into some things Auburn does," Snyder said. "They have a lot more offense than what people might indicate. I mean, they do a lot of different things a lot of different ways, and it's not just the zone read.
"Zone read is the major part, is starts there, and they make you have to play that first, and then you put yourself in position where you might weaken yourself against other things. It's not the entirety of it, the entire playbook you don't see it a great deal in the conference, but pieces of it, you see every week."
Though Kansas State will have a total of 11 days to prepare for Auburn, what makes this matchup tougher in practice is the fact no program has scout-teamers who can, as Snyder put it, replicate what the Tigers bring from a speed, quickness, strength and size standpoint.
What stands out to Snyder about this deadly offense isn't just the production, but the "tremendous personnel."
"I think [
Cameron] Artis-Payne
has really stepped up and proven they're not going to take a step back at the running back position," Snyder said. "Marshall, as good as he was last year, he's gotten invested in his improvement, and he's [an] extremely talented young guy who is, I'm sure, more relaxed in the system because he's been around it a little longer. They have good size and range at the wide receiver position and guys who can go up and make the difficult catches. Big, physical offensive line. Take your pick."
Snyder knows the scouting report well by now. He'll have plenty of time to come up with solutions for a unit that is averaging 7.61 yards per play (seventh-best in FBS) and has allowed just one sack. And, surely, he knows what a win would mean for his perpetually under-the-radar program.
Well, he probably does. But he doesn't have time to get into that right now.
"Ask me Thursday night, and I can tell you," Snyder said. "If you're successful, it's a great thing. If you're not, it's not all it's cracked up to be."
November, 30, 2010
11/30/10
9:00
AM ET
By
ESPN.com staff
| ESPN.com
Oklahoma State offensive coordinator Dana Holgorsen is the Big 12's only representative on the list of finalists for the Frank Broyles Award, given annually to college football's top assistant coach.
The other finalists are:
Auburn OC Gus Malzahn
Wisconsin OC Paul Chryst
TCU DC Dick Bumpas
Stanford OC Greg Roman
There are plenty of great coordinators on the list, but with respect to the other four, Holgorsen deserves this award.
He was working with a first-year starter at quarterback and turned
Brandon Weeden
into one of the most productive passers in the country. Oklahoma State's top returning receiver has been hurt for most of the season, but he took a player with 20 career receptions and helped make
Justin Blackmon
the favorite for the Biletnikoff Award.
That's not to say this is a gimmicky, chuck-and-duck offense. His running back was an All-American two years ago, and
Kendall Hunter
is right back there again this year, needing 39 yards to equal his production in 2008.
His passing offense ranks No. 2 nationally. His rushing offense ranks No. 31. Together, it ranks No. 3 in scoring offense and No. 2 in total offense.
And all that came from behind an offensive line with four new starters this year.
None of those other coaches equaled the excellence of Holgorsen's unit, using players with more moderate resumes to begin the season.
Holgorsen should be rewarded for doing so.
June, 30, 2009
6/30/09
1:39
PM ET
By
Tim Griffin
| ESPN.com
Posted by ESPN.com's Tim Griffin
Baylor (Big 12 No. 9) vs. Auburn (SEC No. 9)
Baylor's record against the SEC: 0-0
Auburn's record against the Big 12: 2-0
Previous series: Baylor leads, 2-1-1
Most recent meeting: Baylor, 15-14, at Auburn in 1976.
Distance between them (according to How Far Is It): 690 miles.
Where they should play: Baton Rouge, La. (368 miles from Waco, 364 miles from Auburn)
Who wins: Baylor.
Why: Two words would be the difference in this game -- Robert Griffin.
Gene Chizik will return the Tigers to bowl status sooner than later. But he doesn't have the offensive weapons to match Baylor at this point. Griffin, Jay Finley, Kendall Wright and David Gettis are an imposing group of skill-position players. But Griffin is the reason why the Bears are hopeful of breaking their bowl drought.
New Auburn coordinator Gus Malzahn still hasn't decided on a quarterback yet as Kodi Burns and Neil Caudle both should receive snaps early. But the Tigers ranked 99th or worse in passing offense, scoring offense and total offense, including an impotent 17.3 points per game. They likely couldn't afford to get in a scoring battle with the Bears -- particularly after failing to score more than 28 points in all but two games last season.
That's where veteran defensive leadership like Joe Pawelek and Jordan Lake would come through for the Bears. Toss in an improved pass rush keyed by Phil Taylor and you have a recipe for the Big 12's first victory in the series.
Coming Wednesday: Missouri (Big 12 No. 8) vs. Kentucky (SEC No. 8).
The count: SEC, 3-1.
January, 2, 2009
1/02/09
8:52
PM ET
By
Tim Griffin
| ESPN.com
Posted by ESPN.com's Tim Griffin
New Auburn coach Gene Chizik has reached out to the Big 12 to help fill his staff at his new school.
The Oklahoman reports that OSU assistant head coach/running backs coach Curtis Luper will join the staff of Chizik, who served as head coach at Iowa State for two seasons before heading to Auburn.
Luper's role at his new job is undefined. Chizik has already hired former Tulsa offensive coordinator Gus Malzahn for that job on his staff.
The Cowboys already are looking for a defensive coordiantor after Tim Beckman left Coach Mike Gundy's staff for the head coaching job at Toledo.
BIG 12 SCOREBOARD
Saturday, 12/20
Monday, 12/22
Tuesday, 12/23
Wednesday, 12/24
Friday, 12/26
Saturday, 12/27
Monday, 12/29
Tuesday, 12/30
Wednesday, 12/31
Thursday, 1/1
Friday, 1/2
Saturday, 1/3
Sunday, 1/4
Monday, 1/12
Tweets from https://twitter.com/ESPNCFB/lists/big12