Big 12:

Hogs-Aggies-100910
October, 9, 2010
10/09/10
9:15
PM ET
ARLINGTON, Texas -- The last time Texas A&M lined up against Arkansas, the Aggies gave up 30 points in the first half, ending any real chance of a win early, despite a double-digit lead to open the game.
On Saturday, the defense allowed just three points in the second half, and any remaining thoughts of an upset remained realistic through the final snap solely because of the defense's play.
But a Texas A&M offense that sputtered with turnovers, false starts and incompletions, sandwiched around two long passes to receiver
Jeff Fuller
that resulted in points, couldn't make enough plays to upset No. 11 Arkansas,
losing 24-17
.
Last week, five turnovers produced a loss to Oklahoma State. This week, the Aggies will be blaming a lack of execution and offensive miscues that didn't allow the defense's play to spark a win.
[+] Enlarge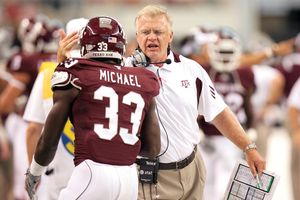 AP Photo/Mike FuentesMike Sherman expects his team to grow from Saturday's loss to Arkansas.
"It's not so much what we did, it's who we did it with," said coach Mike Sherman. "Last year, we did it with 18 freshmen, and those guys are sophomores this year."
The good news for Texas A&M is obvious: If the offense catches up to a clearly improved defense, the Aggies can rebound from a frustrating 3-2 start. But a year ago at this time, the thought of Texas A&M's offense being the reason for a loss -- two consecutive losses, to be exact -- was unthinkable.
The Aggies' offense entered the season quarterbacked by the Big 12's preseason player of the year,
Jerrod Johnson
, who led an team that ranked No. 5 nationally in total offense a year ago. But on Saturday, the offense produced just 324 yards of offense, almost 200 beneath its average.
Meanwhile, the defense was outside the national top 100 last season but sat inside the top 15 this year entering Saturday's game. That defense handed the ball back to the offense with a chance to lead or tie six times in the second half.
"It's obvious we've made some big strides," said senior linebacker Michael Hodges. "We're older. That helps. We've definitely grown a lot since our last two seasons. But really the mindset we take into it, we just build on it in practice, that fanatical effort we're always talking about. That really pushes us to be that defense that can stop anybody at any time."
But with that maturity came defensive coordinator Tim DeRuyter, who has put to good use the experienced talent Texas A&M already had, like Hodges, linebacker/defensive end Von Miller, safety Trent Hunter and defensive tackle Lucas Patterson.
They hassled Johnson throughout fall camp and did the same thing to Arkansas' Heisman hopeful,
Ryan Mallett
, who was just 10-of-16 for 81 yards in the second half.
[+] Enlarge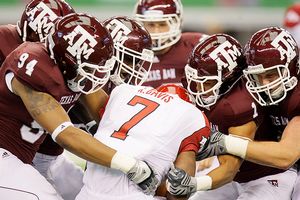 AP Photo/Mike FuentesThe Texas A&M defense did enough for the Aggies to win, but the offense couldn't come through when needed the most.
"The constant movement of the defense makes it hard. One thing Coach [DeRuyter] is constantly saying in practice is don't show anything too soon. They show you one thing and then give you something else. They run every type of coverage you can think of," Johnson said. "They just do so much, they throw so much at you, but at the same time, they're sound and they're covering all their gaps."
The defense gave up a 45-yard run to Arkansas as part of an 80-yard drive to open the game. It gave up a 71-yard touchdown pass to fall behind 14-7. It had to defend its side of the field three times when the offense turned it over on the Texas A&M side of the field, limiting Arkansas to just three points on those turnover.
"The past years we've been hit and just shut down," said defensive back Terrence Frederick.
That's clearly not the case this year, when twice, the offense has been given chances to win with timely defensive stops late in the fourth quarter.
This is a different Texas A&M defense. Most importantly, this is a better Texas A&M defense.
"I just go back to maturity; that's really the big difference," Hodges said.
But without the offense behind it, clicking like it did in 2009, this is the same Texas A&M team, headed for the middle of the Big 12 South and a low-level bowl game.
Next week, it'll host a Missouri team that may come to College Station undefeated and ranked. The opportunities for the Aggies will be there. But to win, both sides of the ball will have to take advantage of them.
"You always have to take something from every time you play the game; you either get better or you get worse," Sherman said. "Did we win the game? No. Did we improve during the course of the game? Yes. Do I think they lack confidence because they lost the game? No. If we catch the last pass instead of them, and have a chance to win the football game [in overtime], are we an entirely different football team? No, I don't think so. So I think we take a lot from today into next week."
October, 9, 2010
10/09/10
7:19
PM ET
ARLINGTON, Texas -- The offense had its chances, but it failed to string together the game-changing drive it needed for almost the entire second half.
Texas A&M started its last six drives with a one-possession deficit, but never seriously threatened to score, punting on each drive until the final try.
The defense kept it alive, and the offense that pushed the Aggies to six wins last year couldn't finish the job.
The Aggies probably played well enough to win, and even though the three turnovers in their own territory only resulted in three points for Arkansas, Aggies fans have to wonder if one of those might have ended with seven points of their own. Texas A&M never squandered any offensive opportunities deep in Arkansas territory, but those opportunities weren't there for the offense last year when the Aggies were blown out by 28 points.
The final drive had to make Arkansas fans nervous after a pass interference call gave Texas A&M a final play inside Arkansas' 40-yard line, but
Jerrod Johnson
's Hail Mary was intercepted near the goal line.
That's two consecutive losses for Texas A&M that will no doubt head back to College Station thinking it should have had. The Aggies are now 3-2 with Missouri coming to College Station for a visit next Saturday.
I'm headed downstairs for postgame interviews. We'll have plenty more from Cowboys Stadium the rest of today.
In the meantime, check out Missouri vs. Colorado and Utah vs. Iowa State, which are both just getting started.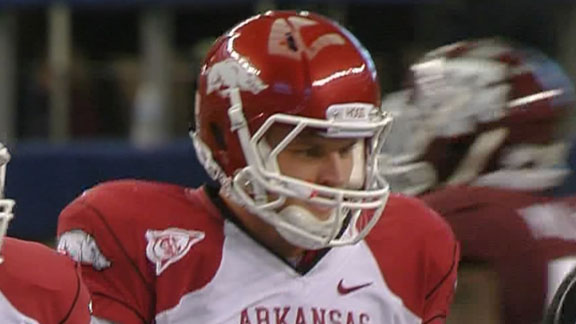 October, 9, 2010
10/09/10
6:51
PM ET
ARLINGTON, Texas -- Texas A&M's defense hasn't been put in any compromising positions since the third turnover, and it's limited Arkansas' offense to keep the Aggies within reach of an upset, trailing 24-17 midway through the fourth quarter.

Arkansas has approached midfield on both of its last two drives, but both times Texas A&M forced a punt.

Texas A&M brought in new defensive coordinator Tim DeRuyter exactly for this reason: to shut down big-time offenses like Arkansas'; offenses you'll find everywhere in the Big 12.

That hire is looking pretty good here in the second half.
October, 9, 2010
10/09/10
6:17
PM ET
ARLINGTON, Texas -- That's three turnovers in their own territory for Texas A&M, but they've only cost the Aggies three points.
Texas A&M got the ball with a chance to take the lead for the first time in the game, but running back
Christine Michael
fumbled a handoff from
Jerrod Johnson
and handed the ball right back to the Hogs, who capitalized with a field goal to take a 24-17 lead late in the third quarter.
Johnson hit
Jeff Fuller
for a 69-yard pass deep down the left sideline that set up a field goal to get the Aggies within four, but another mistake has the Aggies back in a seven-point hole.
The Aggies defense has Arkansas quarterback
Ryan Mallett
confused, and despite his big numbers (22-of-30, 255 yards, 3 touchdowns), Texas A&M has limited the big plays after Mallett's 71-yard touchdown pass in the first quarter.
That defense has helped them survive the mistakes, but coach Mike Sherman knows his team may not be able to afford another. If Texas A&M doesn't clean it up soon, that deficit might stretch to double digits.
October, 9, 2010
10/09/10
5:26
PM ET
ARLINGTON, Texas --
Jerrod Johnson
hooked up with
Jeff Fuller
for a perfect deep ball down the left sideline for a 31-yard touchdown in the final seconds of the first half, a much-needed answer to an Arkansas touchdown that followed an unspecified injury to Von Miller, trimming Arkansas' lead to 21-14.
Stat of the half:
Arkansas' two most-used running backs on Saturday,
Knile Davis
and
Broderick Green
, have broken big runs and have 94 yards on just 10 carries. Davis set up Arkansas' first touchdown with a 45-yarder, and Green had a 23-yarder late in the half. Texas A&M has to limit those runs in the second half to erase the deficit.
Best player in the half:
Arkansas quarterback
Ryan Mallett
. He's tossed three touchdown passes, including a perfect deep ball to
Cobi Hamilton
that put Arkansas up 14-7.
The other best player in the half:
Texas A&M defensive back Terrence Frederick. He intercepted Mallett to set up Texas A&M's first touchdown, and recovered a fumble on Arkansas' botched fake field goal in the second quarter.
What Texas A&M needs to do:
Keep the offensive balance (20 runs, 19 passes) that was absent against Oklahoma State, and keep feeding
Christine Michael
(12 carries, 56 yards, TD) while continuing to soften up the secondary with intermediate passes that can set-up deep balls like Johnson's to close the half. He was pressured a little less in the second half, and used his legs (five carries, 41 yards) to escape that pressure and turn possible sacks into first downs. On defense, keep doing what it's doing. The Aggies are tackling well, and though they've left receivers open more often than they'd like, they've limited their yards after catch.
October, 9, 2010
10/09/10
5:07
PM ET
ARLINGTON, Texas -- Texas A&M avoided trouble with an early mistake -- a fumble in the secondary by receiver
Jeff Fuller
-- and Arkansas failed to capitalize on a second fumble deep in its opponent's territory, and hasn't stretched its 14-7 lead late in the second quarter.
Aggies center
Matt Allen
's snap was low and dribbled between quarterback
Jerrod Johnson
's legs. Arkansas emerged from the pile with the ball.
After Texas A&M's defense held, Arkansas coach Bobby Petrino tried to channel his inner Les Miles, which these days, isn't a good thing. He called a fake field goal, with the holder trying to pitch the ball over his head to the streaking kicker, Zach Hocker. But the Hogs botched the pitch and Terrence Frederick recovered the fumble, his second big play of the day after an interception in the first quarter.
LSU tried the same play and succeeded earlier in Miles' career.
Texas A&M's defense has been impressive after a shaky start, but a team trying to earn a top-15 upset can't afford any turnovers deep in their own territory, much less two in one half.
Arkansas' Zach Hocker missed a 49-yard field goal wide right after the Fuller's fumble.
October, 9, 2010
10/09/10
4:40
PM ET
ARLINGTON, Texas -- Despite five turnovers against Oklahoma State last week, Texas A&M quarterback
Jerrod Johnson
played well on snaps he didn't turn it over.
He completed 40-of-62 passes, topped 400 yards and threw five touchdowns.
Johnson hasn't turned it over today, but he hasn't been able to string together the completions that made the Aggies offense so effective in Stillwater.
He has completed just 3-of-12 passes for 27 yards. He's tested Arkansas' defense deep a few times, but hasn't had a pass come very close to being completed. He's been pressured and forced to go on the move plenty in the first few drives, forcing some of the inaccuracy on shorter routes, but he'll have to hit a few of those big plays for Texas A&M to keep up.
October, 9, 2010
10/09/10
4:31
PM ET
ARLINGTON, Texas -- It took five games, but Von Miller finally has his first sack. He brought down
Ryan Mallett
for a loss of 11 to end a drive early in the second quarter, and
Texas A&M still trails 14-7
.
Miller led the nation in sacks last season with 17, but in new defensive coordinator Tim DeRuyter's 3-4 scheme, Miller plays the hybrid defensive end/linebacker position coined "Joker" and spends more time in pass coverage than he did last year. Before the season, coach Mike Sherman admitted that Miller's quality of play could exceed last season's and we wouldn't see it show up on the stat sheets.
Earlier this week, Sherman said that's been the case. And though he didn't earn a sack against Oklahoma State last week, he spent plenty of time in the backfield harassing Cowboys quarterback
Brandon Weeden
.
An early-season ankle injury limited his time on the field, too.
After the sack, Miller took a few seconds to kneel by himself on the field.
October, 9, 2010
10/09/10
4:13
PM ET
ARLINGTON, Texas -- Texas A&M's defense made quite a few big plays last week against Oklahoma State, despite giving up 35 points, including a sack/fumble deep in the Cowboys' territory that set up an early score.
Saturday, another big play from the defense helped A&M tie the game 7-7 midway through the first quarter, but after a 71-yard bomb from
Ryan Mallett
to
Cobi Hamilton
,
Texas A&M trails 14-7
.
Terrence Frederick stepped in front of Mallett's pass on the previous drive and appeared to score on the play, but officials ruled him out at the 2-yard line. A gutsy fourth-down call from Mike Sherman helped
Christine Michael
tie the game with a 1-yard touchdown run.
Missing that play would have been disastrous for the Aggies. Against a high-powered offense like Arkansas, any defensive stop -- much less a big play like Frederick's -- has to be taken advantage of. This time, Texas A&M got it done, after letting Arkansas march 80 yards in eight plays on the opening drive.
But too many more big plays like Mallett's pass to Hamilton will put a whole lot of pressure on Texas A&M's offense and certainly lower any chances of an upset.
October, 9, 2010
10/09/10
3:27
PM ET
ARLINGTON, Texas -- Texas A&M's band just finished the national anthem, and we're almost set to go here in Arlington. It's a pretty good crowd, with a few empty sections in the upper deck, but it should be a loud one, and just like all of these neutral-site games, a bowl atmosphere.
And the roof may be closed, but the de facto garage doors on both ends of the stadium are open.
Look for plenty of points today from two of the best quarterbacks in college football taking on improving but still vulnerable defenses.
Ryan Mallett
and
Jerrod Johnson
will probably test those defenses deep more than a few times today, so regardless of score, it'll be entertaining.
October, 9, 2010
10/09/10
2:25
PM ET
ARLINGTON, Texas -- It's a perfect day outside, but inside, "room temperature" would be an accurate description of the conditions. The Cowboys Stadium roof is closed and fans are filing around the concourse about an hour before kickoff.
Texas A&M comes into today's game as underdogs to Arkansas, but it'll be anxious to avoid a second consecutive loss after Oklahoma State beat the Aggies on a last-second field goal in Stillwater last week.
The obvious problem for the Aggies has been turnovers, particularly by
Jerrod Johnson
. He has 10 in his past two games, but if he eliminates those, the Aggies should have a great chance to knock off No. 11 Arkansas. If he throws a few interceptions, the Aggies could definitely get blown out. I picked them to lose 38-28.