Big 12:

Horns-Bears 111409
November, 14, 2009
11/14/09
6:36
PM ET
By
Tim Griffin
| ESPN.com
WACO, Texas -- Maybe it was just the joy of the moment. Or it might have been meant to punctuate a rewarding performance that had been missing all season.
[+] Enlarge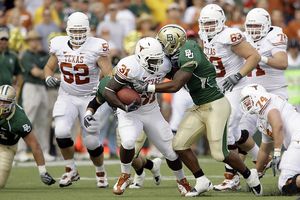 Brett Davis/US PresswireCody Johnson gained a career-best 109 yards on 19 carries and scored two touchdowns against Baylor.
Cody Johnson
did a short dance after Texas'
47-14 victory
over Baylor that was as much a signal for other teams still standing for the Longhorns as excitement for what he had just accomplished.
"We were just messing," Johnson said. "We were excited and we had fun in the situation. It was exciting for us to finally play like we did. And we can still do a lot more."
It was amazing that the bullish sophomore had enough energy for much physical movement after the pounding he delivered to the Bears.
Johnson barreled for a career-best 109 yards on 19 carries and scored two short touchdown runs that were about as subtle as a pair of Vitali Klitschko body shots.
"Cody is just a beast when he gets going," Texas guard Charlie Tanner said.
The Longhorns' big rushing day was part of the plan. Texas coaches shortened their playbook to about five runs they felt comfortable with. And they inserted Johnson for the first start of his career and installed speedy
Tre' Newton
as the No. 2 back.
"We needed balance and we felt we could do a few things this week with Cody and Tre'," Texas coach Mack Brown said. "They both stepped up. We feel our offense can be really good if we are balanced."
The combination of speed and quickness helped propel the Longhorns to 202 rushing yards and an impressive 7.0 yards per carry average. Both figures were the best that Texas has produced in conference play and trailed only the Longhorns' 304-yard effort against UTEP earlier this season.
"We can throw the ball, but to do what we want to do, our running game has got to continue to grow," Texas offensive coordinator Greg Davis said. "That was a big step today in the process of the team that can win either way."
Johnson's big game signaled the return of the Longhorns' running game missing most of the season. The Longhorns were 60th in the nation in rushing and had averaged only 146 yards per game. The struggles had grown more pronounced in recent weeks as the Longhorns had produced only 97 yards rushing per game in the last five weeks.
The Longhorns used the running game from the opening snap. Johnson was featured on three of the first four plays from scrimmage, including bruising back-to-back runs of 12 and 14 yards.
That fast start was important for Johnson, who struggled with his early conditioning after reporting back to practice this summer at well over 250 pounds. But after making a concerted effort to limit portions at mealtime and do away with his favorite fast food treats, he started feeling like the back that turned heads during the spring.
"I feel like I can run the ball better," Johnson said. "I can move the ball. You drop 20 pounds you feel better. That's how I've felt the last couple of weeks."
And Newton added an element of speed that had been missing in recent weeks, adding 80 yards as he provided the kind of outside lift missing since his breakout game against Texas Tech.
Newton's redshirt freshman season was interrupted for several weeks after he sustained a concussion against Colorado. He saw some limited action during the last three games, but not nearly as much as in Saturday's game.
"It's always frustrating when you can't help your team out," Newton said. "You just have to stay focused because when you want to come back we're ready. I wanted to do what I could when they needed me."
Together, the two young backs have provided hope that the Longhorns' major offensive question can be answered during the next several weeks.
"We can run the ball as well as we can pass it," Johnson said. "Our biggest focus was on running the ball and being more effective. And the way we did it opened some eyes out there."
Obviously running the ball against Baylor is one thing and running against Nebraska in the Big 12 title game and Florida or Alabama in the national title game is an entirely different story.
But on Saturday -- at least for the Longhorns -- it was a big start.
November, 14, 2009
11/14/09
3:13
PM ET
By
Tim Griffin
| ESPN.com
WACO, Texas --
Terrance Ganaway
has finally put Baylor on the scoreboard.
His 1-yard plunge pulled the Bears within 47-7 with 5:18 left.
It will be one of the few blemishes for a Texas team that had produced four turnovers and a fourth-down stop.
I'm headed downstairs to get comments for both teams.
I'll check back after the game with a couple of video pieces and a story or two.
November, 14, 2009
11/14/09
3:05
PM ET
By
Tim Griffin
| ESPN.com
WACO, Texas -- A 60-yard interception return for a touchdown by Texas defensive end Eddie Jones accounted for the first points of the second half, boosting
the Longhorns to a 47-0 lead
with 7:37 left in the game.
Baylor quarterback
Nick Florence
attempted to hit
Jay Finley
circling in the right flat. But Jones jumped in front of the pass and raced for the easy score.
The Texas offense hasn't been as productive in the second half. But defensive plays like the ones that Jones just produced will resonate for Will Muschamp in his post-game interviews, I would imagine.
November, 14, 2009
11/14/09
2:42
PM ET
By
Tim Griffin
| ESPN.com
WACO, Texas --
Garrett Gilbert
entered the game late in the third quarter with Texas nursing a 40-0 lead.
It apparently ends the day of
Colt McCoy
, who completed 23 of 34 passes for 181 yards and two touchdowns.
Those numbers aren't likely to turn the heads of many Heisman voters.
But the Longhorns have a huge lead and appear headed to their 10th straight victory.
Something tells me McCoy won't be complaining too much from the bench in the fourth quarter.
November, 14, 2009
11/14/09
2:04
PM ET
By
Tim Griffin
| ESPN.com
WACO, Texas -- Texas has made this game look easy, putting on a football clinic in the first half on a
40-0 throttling of Baylor
.
Here is how Texas built its huge early lead.
Turning point
: Texas cornerback Aaron Williams' interception in the Baylor end zone killed the Bears' first offensive possession and effectively snuffed out any early momentum for
Nick Florence
. After that play, Texas' defense ran off five consecutive three-and-out possessions to put the game away.
Stat of the half
: Texas' nation-best rushing defense has throttled Baylor from the opening snap. The Bears have produced minus-25 yards rushing on 13 plays. Most amazingly, the yardage was primed by only two Texas sacks.
Best player of the half
: Texas sophomore tailback
Cody Johnson
is having a huge coming-out party in his first college start. Johnson has produced 83 yards on 14 carries and scored two touchdowns to lead a resurgent Texas running game that has produced 150 yards on 21 carries. It's more rushing yardage than Texas has gained in any complete game since rushing for 304 yards against UTEP in the fourth game of the season.
Best call
: Texas quarterback
Colt McCoy
has rarely taken produced much on red zone passing this season. His 3-yard pass to
Jordan Shipley
might have been done as much for future opposing defensive coordinators as anything else. Shipley jumped in front of a Baylor defender to score the first of his two touchdowns.
November, 14, 2009
11/14/09
1:44
PM ET
By
Tim Griffin
| ESPN.com
WACO, Texas -- Texas is cruising to a
37-0 lead
after
Cody Johnson
's 1-yard scoring plunge and a safety.
But the game is turning into a penalty-fest as the Bears have been flagged five times for 47 yards on the last two drives.
It helped this game turn ugly, but can't negate what Texas has done.
The Longhorns have scored five touchdowns on seven first-half possessions. And the Longhorns punctuated their first half performance when
Terrance Ganaway
's fumble was recovered by Baylor tight end
Justin Akers
for a safety.
It could have been worse. Texas cornerback Chykie Brown whiffed on a chance to recover the fumble in the end zone for a touchdown.
The only question now will be how long
Colt McCoy
will play into the second half?
November, 14, 2009
11/14/09
1:26
PM ET
By
Tim Griffin
| ESPN.com
WACO, Texas -- Art Briles' Baylor team is getting hammered all over Floyd Casey Stadium.
But Briles just took an unusual timeout specifically to chew at officials and especially back judge Shawn Hochuli after cornerback Tim Atchison was flagged for taunting after an incomplete pass.
Briles' filibuster wasn't successful. And to make matters worse, Colt McCoy and Jordan Shipley hooked up on a 7-yard touchdown pass to
extend the Longhorns' lead to 28-0
.
Shipley's scoring grab came only three plays after he had been knocked out of the game on a devastating hit by Baylor's Tracy Robertson that was penalized by officials for taunting.
No wonder Briles is mad -- as much for the score as the recent run of penalties.
November, 14, 2009
11/14/09
12:49
PM ET
By
Tim Griffin
| ESPN.com
Some much for any worries about Texas coming into today's game against Baylor with any signs of complacency.
Two huge defensive stops by Texas have helped spark the Longhorns'
14-0 lead
with 1:56 left in the first half.
A goal-line interception by Aaron Williams ended the Bears' first drive. And Dustin Enest's fourth-and-short tackle set up the Longhorns' most recent scoring drive.
Cody Johnson
is really imposing his will early with some tough runs between the tackles, accounting for 44 yards on his first seven carries. His 6-yard touchdown blast accounted for the Longhorns' latest score.
The Longhorns look like they are ready to blow this one open. It would be Mack Brown's 12th straight victory over Baylor.
November, 14, 2009
11/14/09
12:23
PM ET
By
Tim Griffin
| ESPN.com
WACO, Texas -- Texas hoped to get bullish tailback
Cody Johnson
involved early in the Longhorns' offense, looking to boost the Longhorns' struggling running attack.
Johnson did that and more on Texas' first drive with consecutive carries of 12 and 14 yards.
Colt McCoy
did the honors with a 2-yard touchdown pass to
Jordan Shipley
. It was the only third-down play that Texas faced on the drive.
It was also one of McCoy's few cheap touchdown passes from short yardage.
After less than four minutes, the Longhorns are already rolling with a
7-0 lead
.
November, 14, 2009
11/14/09
11:12
AM ET
By
Tim Griffin
| ESPN.com
WACO, Texas -- Fans have started filing into Floyd Casey Stadium. Interestingly, most of them are burnt orange-wearing Texas fans.


The Longhorns conceivably could wrap up a trip to the Big 12 championship game in Arlington, Texas, tonight by beating Baylor and if Oklahoma State loses tonight to Texas Tech.
When the No. 3 Longhorns begin play in about an hour, here are some of the pre-game storylines I'm considering.
Colt McCoy's Heisman hopes: McCoy is coming off a career-best 470-yard effort that was only three yards away from the school's single-game passing record. He'll be attacking a Baylor defense that was blistered for 468 yards by Missouri's Blaine Gabbert last week. He'll also be gunning to tie the career NCAA FCS record for career victories held by David Greene of Georgia. McCoy is 41-7 and Greene is 42-10. A big game for McCoy could again resonate through a long day of football highlights.
Mack Brown's Baylor mastery: Brown is 11-0 against Baylor and every one of those victories has been by double-digits. His previous five triumphs in Waco came by margins of 62, 49, 56, 62 and 31 points.Baylor is one of five Big 12 opponents that has never beaten Texas under Mack Brown. The Horns are 12-0 against Oklahoma State, 11-0 vs. Baylor, 6-0 vs. Iowa State, 6-0 vs. Missouri and 5-0 vs. Kansas since Brown took over in 1998. Texas hosts Kansas next week.
Baylor's fleeting bowl hopes: The Bears need to win two of their last three games to become bowl eligible. They haven't played in a bowl game since the 1994 Alamo Bowl loss to Washington State. After Texas, Baylor travels to Texas A&M and plays Texas Tech at Cowboys Stadium in Arlington.
Cody Johnson's first start for the Longhorns at tailback: The bullish 240-pound sophomore will receive his first starting opportunity against Baylor. He's emerged as the most consistent threat in a sputtering running game. He'll be facing a Baylor defense that has yielded at least 200 yards three different times this season but held Missouri to a season-low 10 rushing yards last week.
James Kirkendoll's return to the starting lineup: The junior wide receiver started off fast but has struggled recently. But strong work in practice has enabled him to return to the starting lineup. Kirkendoll will get the start at split end while Jordan Shipley moves back to flanker.
How Nick Florence handles his big game last week: Florence set a school record by passing for 427 yards last week, blistering Missouri for three touchdowns -- more touchdowns than he had thrown in his previous 147 pass attempts in his career. It will be tough for his recent success to translate against an emerging Texas secondary that has limited opponents to an average of 106 passing yards in the last three weeks, with only two touchdown passes and six interceptions. The Longhorns have limited rival passers to a quarterback efficiency rating of 82.13 during those games. The national leader for the season is Florida at 85.86.
Baylor's running game against Texas' leading rush defense: Since Robert Griffin was lost for the season in the Bears' third game of the season on Sept. 26, the Bears have managed to top 100 yards only once. They produced 38 yards on 28 carries last week against Missouri and will be facing the nation's top rushing defense. Texas has allowed only two rushing touchdowns all season and only one since the opening game of the season. This will be a tough test for the Bears' rushing attack.
November, 14, 2009
11/14/09
9:50
AM ET
By
Tim Griffin
| ESPN.com
WACO, Texas -- Other than the Baylor band practicing on the field now, there's probably less than 100 people in Floyd Casey Stadium's stands right now. It's hard to believe there's a football game approaching in a little more than two hours.

The stadium has an ethereal feeling as a heavy fog has enveloped Central Texas, shrouding the facility in weird shadows you don't normally see. The lights are on and it doesn't really seem like there will be a game here that has serious ramifications for the BCS national championship picture.

Texas stayed in nearby Temple last night, which is about halfway between Austin and Waco. The Longhorns arrived a few minutes ago, but haven't taken the field yet.

The early kickoff time has contributed to the emptiness of the facility. Fans will start packing in here in a few minutes. I saw a few tailgaters outside the stadium, but not nearly the number you see for a late-afternoon or evening kickoff.

It will feel more like a football Saturday when the on-field warm-ups begin. But it sure doesn't look like it yet.