Big 12:

Horns-Sooners-100210
October, 2, 2010
10/02/10
10:38
PM ET

Oklahoma wide receiver Ryan Broyles talks about the win over Texas.
October, 2, 2010
10/02/10
10:11
PM ET


Mark Schlabach and David Ubben break down Oklahoma's 28-20 win over Texas.
October, 2, 2010
10/02/10
9:05
PM ET
DALLAS --
DeMarco Murray
says he doesn't remember anything about his Red River Rivalry past. On Saturday, he played like it.
[+] Enlarge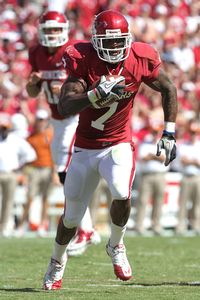 Matthew Emmons/US PresswireOklahoma's DeMarco Murray rushed for 115 yards and two touchdowns against Texas.
A senior playing for a fourth time against archrival Texas, Murray rushed for 115 yards and a pair of touchdowns on 25 carries and helped No. 8 Oklahoma hold off the No. 21 Longhorns,
28-20
.
"I see what I see from DeMarco a lot, and that's good, hard, physical running," said Oklahoma coach Bob Stoops. "He pounded the ball today, ran physical, took care of it. I never saw the ball bobble. He caught the ball well. He did everything you want him to do."
For Murray, it's probably a good thing the past two games against Texas have been erased from his memory. The gap between them and his production on Saturday is extraordinary.
He literally woke up on Saturday morning with more rushing yards against the Longhorns than he had in 2009, thanks to a five-carry, minus-3 yard day in the Cotton Bowl a year ago.
His average -- 4.6 yards -- on each carry in Saturday's win was more than his total rushing yardage from his past two years against the Longhorns, three yards.
Instead, he channeled the play of freshman year DeMarco Murray, who, like senior Murray, topped 120 total yards on the day and reached the end zone.
"He needs some space at times, and when he [gets it], he makes something happen," Stoops said.
He got that space on Saturday, and with the help of his five offensive linemen, a couple tight ends and true freshman fullback
Trey Millard
, he broke loose against The Artists Formerly Known as College Football's Best Run Defense.
"They did a great job blocking all day," Murray said. "We knew we had to run the ball to win this game."
And with Oklahoma's performance stretches a streak of 12 consecutive Red River Rivalry wins for the team that outrushes the other.
For the offensive line's efforts, Stoops handed them the first game ball in the locker room, later saying that it was "probably" their best performance of the season.
"They did an excellent job of run blocking and overall protection. They were a big part of this game," Stoops said.
The Longhorns were caught by the Sooners up-tempo offense early on, and 59 of Murray's 115 yards came in the first half.
"Some of our guys were looking to our boundary when they should have been playing," Texas coach Mack Brown said.
He was happier with the defense's effort in keeping up with the pace in the second half, but Murray still pounded them for 56 more yards on 11 carries after halftime.
And after breaking an 18-yard touchdown to finish Oklahoma's first drive of the game, he put the Sooners up 28-10 with an encore early in the fourth quarter. He slipped into the second level of the defense before tiptoeing Oklahoma's sideline and diving over the pylon, flipping over his head and landing on his back for a 20-yard touchdown run.
After the game, linebacker Travis Lewis -- complete with a Superman "S" shaved in the side of his mohawk -- snatched the Golden Hat Trophy and showed it off to anyone who wanted to see it. A junior, he hadn't felt what Murray felt as a freshman: Happy on the 190-mile, three-hour bus ride home to Norman.
"I've always wanted to do that," Lewis said. "This has been a long time coming and I've been on the losing end of this for two years, so there's a lot of built-up frustration coming out running around the field. I'm going to enjoy every minute of this."
Without Murray's efforts, Lewis and the rest of his teammates would be hoping to forget what happened on Saturday.
October, 2, 2010
10/02/10
7:06
PM ET
DALLAS -- Oklahoma was firmly in control of this one most of the way, and moves to 5-0.


How the game was won:
Oklahoma used a dominant first half to jump out to a
21-7
lead and a pair of costly penalties kept Oklahoma drives alive in the second half to keep the Longhorns from ever having the ball with a chance to win the game.
Stat of the game:
Oklahoma's first-half first downs: 19. Texas? Six.
Stat of the game II:
Oklahoma had zero turnovers. Texas' offense isn't good enough to put up 30 points on Oklahoma, and needed a big play from the defense to do it. It's only forced turnover of the game -- a sack/fumble caused by freshman defensive end Jackson Jeffcoat -- was erased by an offside penalty.
Player of the game:
Landry Jones
, QB, Oklahoma. He threw a pair of touchdown passes in the first half, kept Oklahoma's offense moving and most importantly, eliminated the turnovers that contributed to Oklahoma's 16-13 loss last season.
Unsung heroes of the game:
Texas' secondary. It prevented any back-breaking plays in the passing game and held
Ryan Broyles
-- who entered the game as the nation's leader in receptions -- to just five catches for 36 yards, though he did catch a deep pass for a touchdown that was called back for an illegal shift.
Best call:
Mack Brown
's fake punt. At midfield on Texas' opening possession of the second half, the Longhorns called a direct snap to Ryan Roberson, who ran three yards to convert the first down and keep Texas' drive alive.
Garrett Gilbert
hit
James Kirkendoll
for a 44-yard gain later in the drive and the Longhorns scored three points on the drive.
What it means:
Oklahoma has won its second Red River Rivalry in six years, and takes control of the Big 12 South race, tied at 1-0 with rival Oklahoma State. Texas now has two weeks to prepare for its showdown with Nebraska in Lincoln, where a loss will mean a three-game losing streak and a 3-3 overall record.
October, 2, 2010
10/02/10
6:29
PM ET
DALLAS -- Texas had forced Oklahoma into its fifth consecutive punt after forcing an incompletion on 3rd-and-20. But freshman defensive end Jackson Jeffcoat got in a late shove and gave Oklahoma a first down.
Two plays later, Oklahoma running back
DeMarco Murray
tightroped along the Oklahoma sideline before diving over the pylon for a 20-yard touchdown -- his second of the game -- that put Oklahoma up
28-10
early in the fourth quarter.
For the second time this half, a mistake on the defensive line came with a big cost to Texas.
Jeffcoat forced a fumble while sacking
Landry Jones
and the Longhorns recovered deep inside Oklahoma territory, but an offside penalty by Eddie Jones erased it.
Texas was already the underdog in this game. Mistakes like that have kept the Longhorns from mounting a charge in the second half, and allowed Oklahoma to further distance itself.
Considering Texas has put up just 10 points in the game's first three quarters, erasing an 18-point deficit in the game's final 12 minutes looks unlikely.
October, 2, 2010
10/02/10
5:56
PM ET
DALLAS -- Texas got it's second-best play of the day when it needed it most.
On the first play after Texas' fake punt at midfield,
Garrett Gilbert
hooked up with
James Kirkendoll
for a 44-yard gain to get Texas inside the 10-yard line.
Justin Tucker finished the drive with a 22-yard field goal to bring Texas to within 21-10.
It wasn't ideal, and the two-possession game means the Longhorns still need plenty of defensive stops. But Texas finally sustained a drive -- 13 plays for 71 yards. That's steadier than any drive Texas had in the first half, after scoring its only other points on a 60-yard touchdown by
D.J. Monroe
.
And how did the Longhorns do it? With Gilbert's arm.
Texas called just one run play -- excluding the fake punt -- on the drive and called 10 passes.
Penalties also continue to plague the Longhorns. On third down, they forced and recovered a fumble after sacking Oklahoma quarterback
Landry Jones
, but they let the drive continue after Eddie Jones was flagged for being offside.
Oklahoma running back
Mossis Madu
converted the first down with a run on the next play.
October, 2, 2010
10/02/10
5:45
PM ET
DALLAS -- Coach Mack Brown knew how badly Texas needed a score on the opening drive, and he was willing to risk turning the ball over on downs in his own territory to get it.
Facing a fourth-and-3, the Longhorns direct-snapped to Ryan Roberson, who sprinted to the sideline and dove far enough with the ball outstretched to earn the valuable first down and keep the drive alive.
The replay booth confirmed the spot, but now, it's up to
Garrett Gilbert
and the rest of the Texas offense to reward Brown's call with points.
On this drive, Gilbert has seven passes. The only run was the fake punt.
October, 2, 2010
10/02/10
5:15
PM ET
DALLAS -- Oklahoma dominated the first half, but
D.J. Monroe
's 60-yard touchdown run has kept the Longhorns within striking distance. The Sooners
lead 21-7
.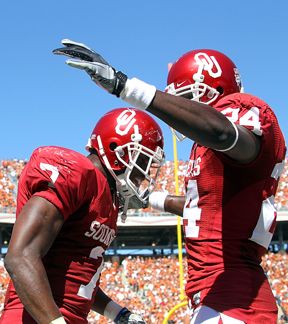 Ronald Martinez/Getty ImagesDemarco Murray struck first with an 18-yard touchdown run.
Turning point:
Oklahoma's opening drive. The Sooners marched 83 yards on 13 plays and announced definitively that this would not be the 16-13 slugfest from last year, when Oklahoma scored its first touchdown of the game late in the third quarter.
Stat of the half:
Oklahoma has 19 first downs. Texas has six.
Stat of the half II:
Oklahoma had the ball 19:11. Texas had possession 10:49.
Best player in the half:
Landry Jones
, QB, Oklahoma. He's managed the game, made no crucial mistakes, and moved the Sooners' offense. His stat line of 19-of-28 for 158 yards and two touchdowns has come against one of the nation's best secondaries, and would look a lot better if a long touchdown pass to
Ryan Broyles
had not been called back for an illegal shift.
What Texas needs to do:
Put the game in the hands of
Garrett Gilbert
and his receivers and try to sling their way to a second-half comeback. Maybe the Oklahoma defense that showed up against Utah State or Cincinnati lets Texas into the game. Maybe the Oklahoma defense that showed up against Florida State knocks them out. Either way, draw plays out of the shotgun and passes to the flat leave the Longhorns chances to win with missed tackles or defensive mistakes.
What Oklahoma needs to do:
Keep the offensive balance and high-speed approach that's kept the Longhorns' defense off-balance for the first half and allowed Oklahoma to score more first-half points than any team Texas has faced this season.
October, 2, 2010
10/02/10
4:47
PM ET
DALLAS--Through a quarter and a half, Texas has thrown the ball downfield just once, an long incompletion to Malcolm Williams from Garrett Gilbert.

Down 21-7 midway through the second quarter, Texas will have to scrap the swing passes and draw plays to get back into this game. The Longhorns receivers have been inconsistent for most of 2010, and are playing without freshman Mike Davis, who has more receptions than any other receiver on the team, despite being blanked in the season opener without Rice.

But for Texas to get back in the game, it's going to take handful of plays from the Longhorns receivers who are playing: namely James Kirkendoll, Williams and Marquise Goodwin, who had his only touchdown of last year in this game as a freshman. Maybe they can make them. Maybe they can't. We'll find out pretty quickly.

That doesn't mean Texas has to abandon the running game, and clearly, another run like D.J. Monroe's 60-yarder in the first quarter would help, but Oklahoma won't finish this game with 21 points. To keep up, Texas has to air it out.
October, 2, 2010
10/02/10
4:24
PM ET
DALLAS -- Texas kepts itself in the game with a 60-yard touchdown run by
D.J. Monroe
, but through the first quarter, Oklahoma's up-tempo offense has to be wearing down the Longhorns defense.
Oklahoma has taken 33 snaps compared to Texas' seven and leads
14-7
.
Texas forced Oklahoma into a turnover on downs on its third offensive possession, the Longhorns' first defensive stop of the game, but Texas could use a lengthy drive on its first of the second quarter, even if it doesn't result in points.
The Longhorns defense -- especially the secondary -- is among the best in college football. But if those players are out on the field for as long as they were in the first quarter, that performance will slide quickly, just as it did in the second half against UCLA last week.
October, 2, 2010
10/02/10
3:56
PM ET
It didn't take long for
DeMarco Murray
to surpass his output from last year's Red River Rivalry. In fact, he did it on the bus ride in. Murray was stuck in the negatives last year, but broke an 18-yard touchdown run to cap off a 13-play, 83-yard drive that put
Oklahoma up 7-0
.
A pair of penalties helped keep the Sooners drive alive, and Murray's other three carries on the drive went for minus-2 yards. If the Longhorns, who were gashed by UCLA's pistol offense and the zone read last week, let Murray get into the open field much more often like he did on his touchdown run, you may see some burnt orange heading for the exits early.
That's especially the case if Texas' offense can't move more effectively than it did on its following drive. The Longhorns threw three times, but two swing passes and one checkdown netted just 3 yards, giving it back to the Sooners.
October, 2, 2010
10/02/10
3:20
PM ET
DALLAS -- We're only a few minutes from kickoff. Bevo's taken to his spot on his patch of Astroturf and the Sooner Schooner looks anxious to get rolling on the field at the Cotton Bowl.
Oklahoma running back
Brennan Clay
is in uniform for the Sooners, three weeks after suffering a scary injury against Florida State and being taken to the hospital. Starting cornerback Jamell Fleming is also suited up, after spraining his ankle and leaving the game last week against Cincinnati.
Texas freshman
Mike Davis
, the team's leader in receptions, will not play after injuring his knee against UCLA in last week's loss.
OU fans arrived a little earlier than their Longhorn counterparts, but it should be a great crowd and there was plenty of energy on both sides of the field during warm-ups.
Now, it's finally time to kick off the annual marquee rivalry game for both teams.
October, 2, 2010
10/02/10
12:50
PM ET
By
ESPN.com staff
| ESPN.com
DALLAS -- Good luck finding a cloud here at the State Fair of Texas for the Red River Rivalry. It's pushing 80 degrees and should get a little warmer before game time, but it's an otherwise perfect day for football.

We're a little more than two hours away from game time, so the fans are still milling outside the stadium's gates at the fair.

Bevo made his entrance, but has since left the field. Oklahoma has arrived, and a few players made a stop on the field to pose for a couple of quick pregame photos on the field.

It should be a great one today. Look for it at 3:30 p.m. ET on ABC and ESPN/ESPN3.com.