November, 19, 2009
11/19/09
7:37
AM ET
By
Tim Griffin
| ESPN.com
Here are some items of interest heading into this week's Big 12 games:
Will Zac Robinson play tonight for Oklahoma State?
Robinson has made 34 consecutive starts for the Cowboys and is their unquestioned team leader. He's developed into more of a running threat in recent weeks, reverting to the form that he showed earlier in his career. But his condition is iffy after a brutal head-to-head collision with Texas Tech cornerback Jamar Wall at the end of last week's game. Robinson's return to the lineup will be critical as the Cowboys try to win their way into the BCS this season. And if he can't go tonight, junior
Alex Cate
would get the first start of his career against Colorado in a huge game in the national spotlight for the Cowboys.
Colorado responds to its role as a spoiler:
The Buffaloes are the only Big 12 team without any bowl hopes heading into this week's games. Dan Hawkins predicted before the season that his team would "win 10 games with no excuses." That dream has long been dashed, but can the Buffaloes ruin Oklahoma State's BCS at-large hopes before a national television audience? In order to do so, they will have to play their best game of the season.
Big 12 title game or bust for Kansas State:
It's all or nothing for the Wildcats heading into their winner-take-all showdown with Nebraska for the North Division championship Saturday in Lincoln. If the Wildcats can notch an upset, they will qualify for their first championship game berth since 2003 and would qualify for a bowl. If they lose, they are through for the season. KSU coach Bill Snyder said he's never had a team in these circumstances in his 41-season career as a coach. The Wildcats have won only once at Nebraska since 1968 and will be battling huge odds to extend their season.
Can Roy Helu Jr. continue his recent running binge?
Helu has bounced back from an earlier shoulder injury to become the Cornhuskers' most consistent offensive threat, averaging 147 rushing yards per game in his last two games. His strong effort last week seemed to perk up the Cornhuskers' entire offense in a 31-17 triumph over Kansas. Another big game will be important as the Cornhuskers attempt to claim their first championship game berth since 2006.
Colt McCoy's last home game:
It will be an emotional game Saturday in Austin when McCoy concludes his home career at Darrell K. Royal-Texas Memorial Stadium against Kansas with the rest of his senior class. McCoy also can notch his 43rd career victory, giving him the NCAA record over David Greene. And the Longhorns can clinch a title game appearance this week with either an Oklahoma State loss or their own victory over the reeling Jayhawks.
Kansas responds to all of the off-the-field dramatics around the program this week:
Coach Mark Mangino's job appears to be in serious jeopardy after reports surfaced of an internal investigation by the school of Mangino's coaching methods. The slumping Jayhawks have dropped their last five games after starting the season 5-0 and soaring as high as No. 16 in the national polls. A victory would qualify the team for its third straight bowl appearance under Mangino -- a feat that has never occurred in the 120-season history of the program. But a loss would mean Kansas would have to qualify for a bowl game next week with a victory over Missouri, or stay home from the bowls entirely.
Can Oklahoma halt its road woes?
The Sooners are 1-4 away from Owen Field this season and have seen their scoring average plunge from 49.8 points at home to 16.8 points in games away from home. They need a big effort and a more consistent running game in order to beat Texas Tech in Lubbock for the first time since 2003. Bob Stoops will try to avoid his first three-game losing streak in any conference facility. Stoops has lost three consecutive games in the Orange Bowl, but has never endured a streak like that inside any rival Big 12 home stadium.
Who starts at quarterback for Texas Tech?
Mike Leach admitted earlier this week that he made a mistake by taking
Taylor Potts
out of the game last week when he removed him for
Steven Sheffield
midway through the Red Raiders' loss at Oklahoma State. Sheffield was game, but showed the effects of foot surgery he underwent only a month earlier. Will Leach start Potts against the talented Oklahoma defense and will he show more patience in sticking with him after an early mistake or two? Or will he prefer a lift from Sheffield, who seems to provide his team with a boost with his running abilities when he enters the game?
The Battle of the Brazos -- with legitimate bowl ramifications for a change:
It's been a long time since both Baylor and Texas A&M both had bowl hopes in a game between the two old rivals late in the season. The Aggies can wrap up their first bowl berth since 2007 with a victory. And the Bears can grab an improbable bowl berth -- thought to be an impossibility after the earlier season-ending injury to Robert Griffin -- by winning against the Aggies and beating Texas Tech next week in Arlington. Baylor will be facing some long odds as it attempts to beat A&M at Kyle Field for the first time since 1984. A victory here would clearly be Art Briles' biggest triumph since his arrival at Baylor.
Can Danario Alexander do it again?
Missouri's talented senior wide receiver has developed into the league's biggest offensive weapon in recent weeks after posting back-to-back 200-yard receiving games against Baylor and Kansas State. He will be gunning for a third straight 200-yard game -- a feat that would tie him with Tulsa's Howard Twilley and Nevada's Trevor Insley for an NCAA record. Missouri quarterback
Blaine Gabbert
will be leaning on Alexander a little more with the injury to starting wide receiver
Jared Perry
. But the 6-foot-5, 215-pound Alexander's hopes should be boosted by the fact he will be playing against an undersized Iowa State starting secondary that averages only 5-foot-9.
November, 17, 2009
11/17/09
5:24
PM ET
By
Tim Griffin
| ESPN.com
Patience has been the biggest virtue developed over
Danario Alexander
's college career.
Since arriving at Missouri in the fall of 2006, the Missouri senior wide receiver has had four different surgical procedures, including three on his left knee in less than two years and a broken wrist.
Those recovery periods have occasionally shaken his confidence. But it never completely kept him from thinking he would blossom once he was healthy.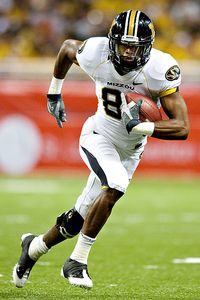 Jeff Curry/US PresswireMissouri Tigers wide receiver Danario Alexander has back-to-back 200 receiving yard games.
"It's been a rocky road for me," Alexander said. "Every time I would seem to get healthy and have a couple of games, something else seemed to happen to me. I just needed to be positive and show what I could do when I finally got the chance."
When he's finally been healthy, the freakishly athletic Alexander has made the most of his opportunity. He's developed into one of the nation's most explosive receivers, capped by back-to-back 200-yard receiving games and became the first receiver in Big 12 history to earn player of the week honors twice in the same season.
Clearly, good things come to those who wait.
"Overcoming those injuries has made me a better man," Alexander said. "The main thing I learned from those situations is you have to have perseverance to be successful. That's what is happening for me now."
After emerging late in his freshman season, Alexander beat out Jeremy Maclin for a starting job as a sophomore and appeared ready to develop into Chase Daniel's go-to deep receiver at the start of the 2007 season.
But Alexander broke his wrist in the season opener and missed three games. He returned later that season and rebounded with an eight-reception game against Kansas to clinch the North title. But he tore ligaments in his left knee the next week in the Big 12 championship game when tackled on an end-around against Oklahoma.
That injury required two surgical procedures before last season. His recovery was protracted as he producing only 26 catches and 329 yards last season.
Alexander had another surgical procedure on his knee this spring, but was determined to come back when he got the chance. After sitting out most of the spring, he has blossomed late this season, developing a strong rapport with Missouri quarterback
Blaine Gabbert
.
"I go up to the line of scrimmage thinking nobody can stop me," Alexander said. "That confidence has helped me out a lot."
In a conference stacked with strong receivers, Kansas State coach Bill Snyder said that Alexander has emerged as the Big 12's best after he blistered the Wildcats for 10 catches, 200 yards and three touchdowns on Saturday.
That big effort came on the heels of Alexander's 13-catch, 214-yard effort against Baylor the previous week.
"He's a rangy guy and he's got height that allows you to put the ball up in the air," Snyder said. "He can jump and go up and get it. I like that he catches the ball over the middle and is not afraid to lay out for the ball. Obviously he has very good hands and has good speed to go with it. He's the complete receiver that creates a lot of difficult mismatches just because of his height."
Entering Saturday's home finale against Iowa State, Alexander currently leads all Big 12 receivers and ranks third nationally in per-game yardage (123.80). He ranks first in the Big 12 and third in the NCAA with 11 receiving TDs. He also ranks second in the Big 12 and fifth in the NCAA in receptions per game (8.10).
"His numbers speak for themselves," Missouri coach Gary Pinkel said. "His name should certainly be up for All-American, if he's not already. I have great respect for the players in our league … but his numbers are really, really outstanding."
And he's become exceptionally big for them down the stretch with 46 receptions, 791 yards and seven touchdowns in his last five games. But amazingly, he is not listed on the Biletnikoff Award's list of semifinalists.
He'll be gunning to become only the third player in NCAA history to post three consecutive 200-yard receiving games. Tulsa's Howard Twilley in 1965 and Nevada's Trevor Insley in 1999 are the only players to produce that statistical feat.
Alexander's chances would appear good against ISU's smallish defensive backs. The Cyclones' four starters in the secondary average 5-feet-9 and 194.8 pounds. That would appear to make them a huge size mismatch against the 6-foot-5, 215-pound Alexander.
His injuries could have derailed his career. But after spending so much time rehabilitating, Alexander is grateful merely to have a healthy senior season.
"I knew I would have a good season, but I wasn't sure how good it would be," Alexander said. "I'm coming back a little still. It's been kind of surprising. All I wanted was to be able to get 1,000 yards this season."