Big 12:

Huskers-Aggies-112010
November, 21, 2010
11/21/10
1:21
AM ET
COLLEGE STATION, Texas --
Cyrus Gray
said earlier this week he was playing for two people.
He was way off. Like, 90,077 off -- and then some.
Gray was referencing himself and his teammate, friend and fellow running back
Christine Michael
, who is expected to miss the rest of the season with a broken leg after leading the Aggies in rushing in their first eight games.
On Saturday night, the 12th Man showed up in force, and Gray didn't disappoint the 90,079 in attendance, giving Texas A&M a
9-6 win
over No. 8 Nebraska -- the Aggies' second signature win this season.
[+] Enlarge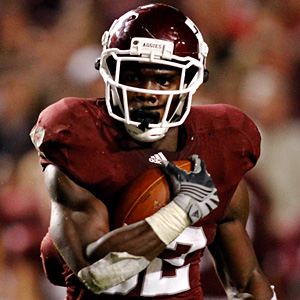 Brett Davis/US PRESSWIRECyrus Gray rushed for 137 yards on 26 carries and caught nine passes for 65 yards against Nebraska.
"I thought he had an extraordinary night, with his catches, his runs, picking his holes," said coach Mike Sherman, whose team also beat then-No. 8 Oklahoma earlier this year. "If he didn't play the game he did, we wouldn't be able to do what we did."
No player in Saturday's slugfest came close to Gray's 202 yards of total offense. Texas A&M's entire team amassed only 310 yards against a stingy Nebraska defense.
Gray carried the ball 26 times for 137 yards. He caught nine passes -- quarterback
Ryan Tannehill
only completed 19 -- for 65 yards. On all three of Texas A&M's scoring drives, the Aggies leaned on Gray. He carried them.
"The defense we played was tough, they weren't giving much up," Tannehill said. "We knew we needed to run the ball, and Cyrus carried that load. He got so many tough yards today. It seemed like he was going to get a 3-yard gain, and he took it 15. Those are huge plays for us on offense, especially when times are tough and yards are tough. He fought for every yard."
Gray's longest run went for just 18 yards. Rare were his opportunities to reach the deeper levels of Nebraska's defense. But he punished Nebraska's linebackers with powerful runs, all while Michael coached him up on the sideline in street clothes.
"He was my eyes for the night," Gray said. "It was great to have him on the sidelines tonight. He was just telling me to be patient."
Without Gray's efforts, his teammates never could have posed for those postgame photo ops with fans who rushed the field. The well-deserved chants of "Wrecking Crew" as the defense left the field once again would have been non-existent.
"My face will hurt tomorrow from smiling so much," said defensive tackle Lucas Patterson.
The 12th Man would have gone home with its head in his chest after a legendary, relentless, towel-waving performance.
"The 12th Man was three-quarters of the victory," said safety Trent Hunter, who picked off two passes after snagging three in practice on Thursday. Sherman called the practice "an omen."
If the 12th Man was three-quarters of the win, Gray certainly accounted for most of the remaining 25 percent. Gray has racked up five consecutive games of at least 100 yards rushing since Michael went down, becoming the first Aggie to do so since 1990.
Gray woke up at 10 a.m. on Saturday morning with a text from the defense's leader, Von Miller, that told him to "Play all out. Ball out and let's get this win." Gray, a junior, wanted nothing more than to send out Texas A&M's group of 12 seniors with a win.
"We knew going into the game that it would be a battle throwing the football. They're a heck of a defense," Sherman said. "We wanted to stay true to the run."
They did, thanks to Gray. After the game, the team huddled in the locker room and yelled "Family!" after a short count. Gray found Michael, and told him he loved him.
"There's nothing else to be said," Gray said.
After a performance that will be forever logged in Aggie lore, the feeling from the 12th Man is mutual.
November, 20, 2010
11/20/10
11:27
PM ET


COLLEGE STATION, Texas -- Sometimes, a little offense is just enough. That's what we saw from Texas A&M, who used a pair of late drives to beat Nebraska in a defense-dominated
9-6
game.
I'm headed down to the field now, but I'll have plenty more later in the night.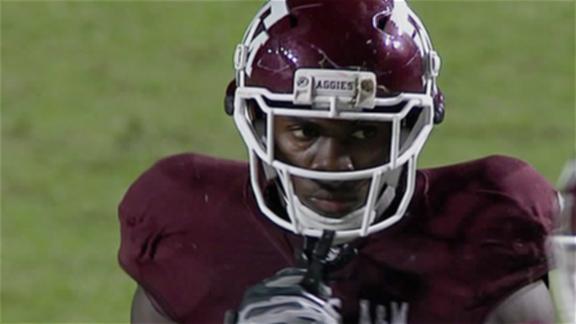 November, 20, 2010
11/20/10
11:00
PM ET
COLLEGE STATION, Texas -- Texas A&M hasn't found many creases in Nebraska's defense Saturday, but the Aggies found enough for a drive to put themselves ahead.
Sure enough, Nebraska answered after being backed up on their own five-yard line to start its next drive.
Add it up, and we're tied at six here midway through the fourth quarter after a pair of field goals.
Both teams did it on the ground, with
Rex Burkhead
digging Nebraska out of a hole with a 33-yard run on the first play of the drive.
Niles Paul
also made a big catch-and-run for 24 yards on a 3rd-and-8.
Neither team had been able to find a rhythm, but the penalty-plagued Huskers will take it, tying the game in a timely fashion.
Taylor Martinez
is back in the game for Nebraska, but he's been able to do very little with his legs after returning from a re-injured ankle.
Here's how both drives shaped up:
Texas A&M: 15 plays, 84 yards, 5:21. Finished with a 28-yard field goal by Randy Bullock.
Nebraska: 12 plays, 78 yards, 6:02. Finished with a 29-yard field goal by Alex Henery.
What is this, the Big Ten?
November, 20, 2010
11/20/10
10:33
PM ET
After three less-than-stellar weeks, Missouri's defense returned to its early-season form, shutting out an Iowa State offense that was playing without its leader, quarterback
Austen Arnaud
. Either way, that's a much-needed win for the Tigers, who notch their second shutout of the season.
They beat Colorado 26-0 earlier this year in the conference opener.
The interesting thing for Missouri is its offense got outgained by Iowa State, 332-206, and both teams had 17 first downs. Missouri didn't turn the ball over, and Iowa State had just one.
Two missed field goals by Iowa State's Grant Mahoney were obviously huge. That said, Missouri knows any road win in the Big 12 is good, and with Nebraska currently struggling with Texas A&M in College Station, their Big 12 North hopes are still alive.
---
Oklahoma will be sure to note to anyone who'll listen after its game at Baylor that it made it on the plane away from Norman.
Few would have been surprised if the 50-10 beatdown Oklahoma is currently putting on Baylor would have happened in Norman. No one was too surprised when Oklahoma did the same to Texas Tech with a 45-7 win at Owen Field last week.
But these Sooners came to play Baylor as seven-point favorites, and have played by far their best game of the season away from home.
They've forced three turnovers, including an interception returned for a touchdown by Ronnell Lewis early in the third quarter.
Landry Jones
has topped 300 yards passing and
Ryan Broyles
has 11 catches.
Meanwhile, Baylor's high-powered offense hasn't been able to do what it's done for most of the season, and just gave up a safety on kickoff coverage. Baylor has only 192 yards of offense.
So, Oklahoma has done what it's always done against Baylor. Now, the question becomes: Can they do it with the season on the line next week against Oklahoma State in Stillwater?
November, 20, 2010
11/20/10
9:43
PM ET
COLLEGE STATION, Texas -- What an entertaining first half from both teams. I love low-scoring, defensive battles, and that's what we've got on our hands in this one for sure. Here's a few notes.
Turning point:
Taylor Martinez
's injury. No question here. Nebraska's offense is hardly scary without the speedy freshman, and offensivelyNebraska hasn't done much without him after he aggravated a right ankle injury when offensive lineman Mike Caputo stepped on it in the first quarter.
Stat of the half:
Texas A&M is 0-of-7 on third down. Most of those have been passing downs, and the Blackshirts secondary has said "No, sir!" every time they've come up.
Best player in the half:
Alex Henery, P/K, Nebraska. Henery bailed out the offensive line when a personal foul and a false start made a 28-yard kick a 48-yard kick. But Henery split the uprights and put Nebraska on the board first. He's also been solid in the punting game, and like the 2009 Nebraska offense, the Huskers have needed it to play the field position game.
What Nebraska needs to do:
Find some offense somewhere, and keep the ball off the ground. That probably means more Wildcat with
Rex Burkhead
. The offense is going nowhere against an inspired Texas A&M defense that's kept
Cody Green
at bay for most of the first half.
What Texas A&M needs to do:
Keep fighting on the ground and win the game at the line of scrimmage. Testing the secondary is a bad idea that might cost them later in the game. Give
Cyrus Gray
the ball, work the play action, and try to take a shot down the field every now and then. It's going to be tough to move the ball regardless, but Texas A&M basically has no shot to do it through the air, and that's a high-risk proposition. They might be able to find some consistency on the ground.
November, 20, 2010
11/20/10
9:25
PM ET
COLLEGE STATION, Texas --
Ryan Tannehill
has struggled against a Nebraska secondary playing its best, completing just 4 of 10 passes for 36 yards. Texas A&M finally elected to rely on its running game, and strung together a 62-yard, nine-play drive that featured just one pass.
That drive ended in a field goal, and has the game tied at three midway through the second quarter.
In a game like this, big mistakes are going to turn it one way or the other. Texas A&M's offense is going to have a hard time moving the ball, but their best (and lowest-risk) bet to do it is on the ground. Nebraska's offense isn't going to put a big number on the board without
Taylor Martinez
, who plans to try and return at some point in this game.
Whoever wins this game is going to have to do it with the offensive lines, and Texas A&M has a better chance of avoiding that big mistake against one of the nation's best secondaries if they keep attacking Nebraska's front seven. The Cornhuskers' defensive line has surrendered more than 152 yards on the ground a game this year, seventh in the Big 12.
November, 20, 2010
11/20/10
8:46
PM ET
COLLEGE STATION, Texas --
Taylor Martinez
's ankle didn't make it to the second quarter.
Nebraska leads, 3-0, but Mike Caputo stepped on Martinez's tender right ankle and sent him limping badly to the sideline, where he took a seat.
Cody Green
stepped in for the Huskers, but Martinez's shoe is off and he doesn't look entirely likely to return.
Until he's able to, expect lots of runs from
Rex Burkhead
and
Roy Helu Jr.
, and some Wildcat with Burkhead.
November, 20, 2010
11/20/10
8:01
PM ET
COLLEGE STATION, Texas -- The Aggies fans are ready. The Huskers fans look ready. The players, too.
The big question is, does the same apply to
Taylor Martinez
's ankle. We've heard all week about Martinez's health, but he wasn't at full strength last week, and we'll find out quickly where he is tonight.
Straight-line speed isn't the problem for Martinez. Lateral movement is where difficulty emerges. He might need that against an athletic, fast Texas A&M defense that's playing some of its best football in a long time.
It's only an ankle, perhaps. It's only one player. But when Martinez sat two weeks ago, the Huskers came within a two-point conversion of losing to Iowa State in Ames. Last week, with Martinez on the field, the Huskers scored just 20 against Kansas.
So maybe it's just an ankle. But Nebraska's hopes to clinch the Big 12 North, and keep alive whatever national championship hopes remain, depend pretty heavily on just how healthy it is.
*Note: We're chatting throughout the game here, so blog updates will be slightly less frequent throughout the game. Come say hello.
November, 20, 2010
11/20/10
6:12
PM ET
COLLEGE STATION, Texas -- My walk in to the press box here at Kyle Field was a relatively short one, but you can feel the energy heading into tonight's game about everywhere here.

The fans are amped up for this one.

Chairs are lining the track around the field, providing for more of the student section that should exceed 30,000 tonight, a college football record. The crowd at 83,000-seat Kyle Field is expected to broach or break 90,000. They'll be packing them in tonight.

Texas A&M is still alive in the Big 12 South, but they won't be with a loss to Nebraska tonight. The 12th Man will be employing its Yells and breaking out the signature sway to do its best and help keep those hopes alive when they play Texas next week and Oklahoma State looks to end a lengthy skid against Oklahoma.

Only a few fans are in their seats, and just a few players are on the field warming up.

Still about two hours away from kickoff, that'll start to change very quickly.