March, 21, 2012
3/21/12
11:15
AM ET
By
ESPN.com staff
| ESPN.com
WACO, Texas--I'm out at Baylor's pro day Wednesday after taking in Texas' on Tuesday, but if you can't be there, you can still watch live via ESPN3 or the WatchESPN App.
Here's the link
.
Heisman winner
Robert Griffin
III will throw today for scouts for the first time after skipping the exhibition during the combine. If he's going to buck expectations and become the No. 1 pick, today will be the day he does it.
RG3's showcase is the main attraction, but it's not the only attraction.
Can Big 12 receiving champ
Kendall Wright
improve on his disappointing 4.61 40 time at the combine?
Here are the members of Baylor's 2011 team who'll be taking part in all drills today:
RG3 and Wright are both probable first-rounders and should put on a show while they partake in some drills. Big 12 rushing champ
Terrance Ganaway
and center
Philip Blake
will also be partial participants.
Check it out
. We'll have some coverage later in the day.
March, 20, 2012
3/20/12
4:00
PM ET
WACO, Texas -- Heisman winner
Robert Griffin III
earned accolades for his performance at the podium at last month's NFL combine, but he elected not to throw until his pro day at Baylor.
The day for NFL scouts, GMs and coaches to see it up close and in person has arrived. Or, at least, it will on Wednesday.
[+] Enlarge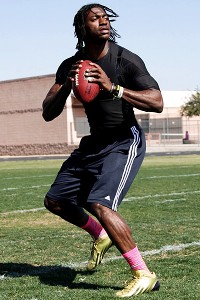 AdidasRG3 will get his chance Wednesday to show off for NFL scouts, GMs and coaches at Baylor's pro day.
"It'll probably be the biggest pro day Baylor's had in awhile," Griffin said on Monday after arriving to campus to take in his former team's spring practice.
Now, when would Baylor have ever had a bigger pro day?
"Well, I didn't want to say that," Griffin said with a laugh.
Make no mistake, it's the biggest ever. Around 130 media members were credentialed for Wednesday's event, and 60-80 more NFL personnel are expected to arrive. That number was trimmed from around 120 after the
Washington Redskins
traded up to No. 2 with intentions to select Griffin.
"We'll see what happens," Griffin said of his future destination. "Either way, if it's Indy or Washington or whatever happens in the draft, I'll be excited to play for that team."
The Bears had originally planned to allow fans to attend, and expected around 1,000 to show up and watch Griffin go throw a scripted set of throws, but that plan was scrapped.
Several networks, including ESPN, will broadcast the pro day live. The Big 12 Blog will be on hand, too. It's not only about Griffin throwing, though.
"We're trying to show [NFL teams] we've got two really good running backs in
Terrance Ganaway
and Isaac Williams. Kendall [Wright]'s going to show off and do his thing and run great routes," Griffin said. "We've got a couple older guys coming back in Ernest Smith and Krys Buerck. They're looking forward to a shot at the NFL, so I'm trying to help, help everybody out, not just show what I can do. Tape doesn't lie, so I don't have to prove anything at pro day, it's about going out and having fun and helping those guys be successful, so we're looking forward to it."
Griffin's spent the past two-plus months training in Arizona for Wednesday, and explained some of what Wednesday's workout can prove to NFL teams that want to see more than just his extensive, impressive game tape.
"The routes are all different in different systems, but they give you that generic NFL route tree and they want you to go run that and show them, 'Hey, I can run the basics, now teach me everything else,'" Griffin said. "So, just matching the drops to those throws, because they're not what anybody does in the college level, no matter whether they're in a pro system or in a spread system.
"I don't think I've ever seen a quarterback go seven [steps], plant and throw -- throw an out route at the college level. So, it doesn't matter if you're in a spread or in a pro style at college. It's still a different game and I'm excited to go play that game."
He'll get his chance this fall, but even with an adidas endorsement deal, Griffin isn't showing off any newfound cash just yet.
He hasn't made any car or house purchases, and doesn't have any plans to change that just right now.
"Not at all," he said. "I'm still broke."
December, 8, 2009
12/08/09
10:24
AM ET
By
Tim Griffin
| ESPN.com
Recruiting is the lifeblood of college football.
That's why I devour the daily recruiting updates I get from Tom Luginbill, the national recruiting director for ESPN's Scouts Inc. His information and all of the others at ESPN.com's
recruiting site
is a must read for me every day.
Here are some Big 12 recruiting nuggets, including a big get for a program that badly needs help at running back.
RB Isaac Williams
Los Angeles, Calif.
El Camino College (CA)
Once committed to Memphis, running back Isaac Williams of El Camino (Calif.) Community College, has accepted a Class of 2010 offer from Baylor.
The 6-foot, 195-pound prospect was also sought by the Tigers, Middle Tennessee State, Utah State, Nevada and Washington State.
Baylor has 14 commitments.
WR Mike Davis
Dallas, Texas
Skyline H.S.
Scouts Grade: 82
ESPNU150 Rank:
55
Position Rank:
10
LSU ESPNU 150 wide receiver commitment Mike Davis (Dallas/Skyline) isn't through looking around.
Davis made an official visit to Texas A&M in October is expected to take some more, ESPN's Gerry Hamilton reports.
He has confirmed an official visit to Texas for Dec. 11th and is considering additional visits to Florida, California and North Carolina.
Davis visited the Tigers for their Oct. 10th loss to Florida.
S Derrick Malone
Colton, Calif.
Colton H.S.
Scouts Grade:
77
Position Rank:
62
Safety Derrick Malone (Colton, Calif.) committed to Oregon after making an official visit to campus for the Civil War game against Oregon State, ESPN's Greg Biggins reports.
Malone selected Oregon over Nebraska. He also made official visits to Arizona State and Washington. Arizona, Washington State, Utah, Nevada, New Mexico, UNLV, UTEP and Idaho also offered.
"I loved it at Oregon and had an idea that was going to be where I ended up," Malone said. "I have a great relationship with the coaches and that, along with how well I connected with the players is really the main things that drew me to Oregon. It's such a family atmosphere there and out of all the schools, I felt most comfortable at Oregon. Going in to the visit, I told myself if everything felt right at Oregon, I would end up a Duck and that's how it played out."
ATH Kevin Smith
Compton, Calif.
Centennial Senior H.S.
Scouts Grade:
78
Position Rank:
54
Receiver/defensive back Kevin Smith of Centennial Compton (Calif.) has committed to Washington for the Class of 2010.
He chose the Huskies over offers from Colorado, Arizona, Arizona State, Utah and Idaho.
"I like the direction the program is going in and I think I'll fit very well in that offense," Smith told ESPN's Greg Biggins. "Coach Sark has had a lot of success with big receivers in the past at USC and I think I'll be able to get in and make an early impact, at least that's my goal."
The 6-foot-1, 200-pound Smith, expected to compete first at receiver, is the 27th pledge for Washington.
TE Cooper Helfet
Mill Valley, Calif.
Santa Rosa Junior College (CA)
Cooper Helfet, a 6-foot-3, 230-pound tight end from Redwood (Mill Valley, Calif.) / Santa Rosa CC, Calif., has committed to Duke for the Class of 2010.
He also drew recruiting interest from Louisville, Tulane, Utah State and Iowa State.
ATH B.J. Chitty
Dothan, Ala.
Northview H.S.
Scouts Grade:
78
Position Rank:
57
Troy snares Dothan standout B. J. Chitty for 2010
Receiver prospect B.J. Chitty of Northview (Dothan, Ala.), has given his commitment to sign with Troy.
Once pledged to Auburn, Chitty backed off after then-head coach Tommy Tuberville resigned. He chose Troy over offers from Duke, Kansas State, Marshall, Nebraska, Southern Mississippi and UAB.
"I know everyone up there," Chitty told the Dothan Eagle. "It dawned on me that Troy is the best place for me. Everybody in my family can come see me play, and I can go home pretty much whenever I get ready."
A three-star recruit, the 6-foot-3, 175-pound Chitty will play wide receiver at the next level after leading the Cougars at quarterback the past two seasons. He threw for 819 yards and rushed for 349 yards as a senior.