February, 3, 2014
Feb 3
4:30
PM ET
As we close in on national signing day, it's an appropriate time to look back at how the top Big 12 recruits from four years ago performed.
2010 was a banner year for the Big 12 in recruiting, as the league
collectively landed 23 from the ESPN 150
.
A few, such as
Jackson Jeffcoat
,
Ahmad Dixon
and
Shaun Lewis
, became stars. Others washed out before their careers ever got off the ground.
[+] Enlarge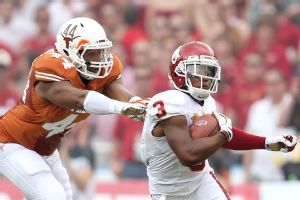 Matthew Emmons/USA TODAY SportsFormer five-star prospect Jackson Jeffcoat finished his career as the best defensive end in the Big 12.
Below is a closer look at what happened to
ESPN 150
players who signed with Big 12 schools:
No. 2: Jackson Jeffcoat, DE, Texas –
Though he never reached a high level of team success, Jeffcoat had a great individual end to his career, earning Big 12 co-Defensive Player of the Year honors and leading the league with 13 sacks.
No. 4: Jordan Hicks, LB, Texas –
Hicks has been good when he has played. Because of multiple injuries, that hasn't been often. Hicks missed most of last season with a torn Achilles, just a year after also being knocked out with a hip flexor injury. After getting a medical redshirt from his 2012 season, Hicks has one more year of eligibility remaining.
No. 13: Mike Davis, WR, Texas –
Davis finished in the Big 12's top 10 in receiving the last two seasons, compiling 200 career catches and 18 touchdown receptions.
No. 14: Taylor Bible, DT, Texas
– Bible never played a down at Texas, leaving after his redshirt freshman season because of issues with grades. Bible ended up at Carson-Newman.
No. 15: Ahmad Dixon, S, Baylor –
Dixon had a tremendous tenure with his hometown school, earning All-Big 12 and All-American honors as a senior as Baylor captured its first Big 12 title in 2013.
No. 18: Demarco Cobbs, ATH, Texas
– The Tulsa, Okla., native has appeared in 29 games on special teams and as a defensive reserve. He missed all of the 2013 season with a knee injury.
No. 20: Darius White, WR, Texas
– After making just six catches his first two seasons, White transferred to Missouri. He caught just seven passes this season for the Tigers, but has another year of eligibility left.
No. 21: Tony Jefferson, S, Oklahoma
– In his first season, Jefferson was the Big 12 co-Defensive Freshman of the year, and he was a three-year starter before leaving early to go pro.
No. 46: Ashton Dorsey, DT, Texas –
After serving as a reserve throughout his career, Dorsey was projected to start this season, but he transferred out days before Texas' season opener.
No. 48: Austin Haywood, TE, Oklahoma –
After getting playing time as a third tight end early in his career, Haywood unexpectedly quit in the middle of the season, tried to earn his way back on the team, failed and ended up transferring to Central Arkansas. After getting suspended there, Haywood gave up football.
No. 62: Corey Nelson, LB, Oklahoma –
Nelson shined early this season after finally getting a chance to be a full-time starter. That, however, was short-lived, as Nelson tore his pectoral muscle in an early October win over TCU and sat out the rest of his final season.
No. 65: Blake Bell, QB, Oklahoma –
The "Belldozer" starred his first two seasons as a situational, short-yardage QB. But in the preseason, Bell was beaten out by
Trevor Knight
for the starting job. Bell, however, still had his moments this season because of injuries to Knight. He led OU to a win at Notre Dame, then quarterbacked OU's game-winning touchdown drive at Oklahoma State.
No. 72: Reggie Wilson, DE, Texas –
He appeared in 51 games as a defensive reserve. Wilson had 19 tackles and a sack as a senior.
No. 73: Chris Jones, WR, Texas
– Jones transferred out after one year, and never played.
No. 75: Shaun Lewis, LB, Oklahoma State –
Lewis made an immediate impact, earning Big 12 co-Defensive Freshman of the Year honors along with Tony Jefferson. Lewis was a four-year starter and a big piece in Oklahoma State's defensive turnaround this season.
[+] Enlarge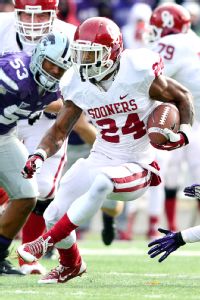 Jasen Vinlove/USA TODAY SportsFormer ESPN 150 recruit Brennan Clay was a solid, not spectacular, tailback for the Sooners.
No. 77: Quentin Hayes, S, Oklahoma –
After serving a year-long suspension, Hayes returned to win a starting job this past season. He has another year left.
No. 86: Tevin Jackson, LB, Texas
– Jackson has been a backup linebacker for the Longhorns and will be part of the team's great depth there in 2014.
No. 103: Adrian White, CB, Texas
– Played in 17 games, then joined the mass transfer exodus from this Texas class.
No. 109: Ivan McCartney, WR, West Virginia
– McCartney never became a No. 1 receiver, though he did contribute on West Virginia's explosive offenses in 2011-12. He only had 12 catches this past season as a senior, however.
No. 114: Aaron Benson, LB, Texas
– The cousin of former Texas running back great Cedric Benson has only been a contributor on special teams.
No. 122: Carrington Byndom, S, Texas
– One of the few players from this Texas class to pan out. Byndom made 39 career starts and was a second-team All-Big 12 selection this past season.
No. 129: Brennan Clay, RB, Oklahoma –
Clay proved to be a reliable and steady force in the OU backfield. He finished his career with 1,913 rushing yards, including 957 in 2013.
No. 134: Adrian Philips, ATH, Texas –
Phillips
settled in the Texas secondary, collecting 28 career starts there. He was second on the team this past season with 82 tackles.
No. 141: Trey Hopkins, OG, Texas –
Hopkins became a stalwart up front, making 42 career starts along the offensive line. He was a two-time, second-team All-Big 12 selection.
No. 142: Justin McCay, ATH, Oklahoma
– McCay transferred to Kansas after two years in Norman. He had nine receptions and a touchdown, which also was the first scoring catch by a Kansas wide receiver in almost two full seasons.
June, 5, 2013
6/05/13
12:00
PM ET
By
ESPN.com staff
| ESPN.com
Your cheek bones are even higher than my approval rating.
May, 31, 2013
5/31/13
4:00
PM ET
Thanks for all the e-mail this week, everybody.
Here's where you can reach me
if you've got more to say. Let's get to your mail.
Nicholas in Houston writes:
What do you think is roughly the likelihood of the Big 12 champs being decided prior to the last week of conference play regardless of who wins or loses? How likely do you think it is that the winner will lead by more than one game?
David Ubben:
We haven't seen this happen since the Big 12 merged divisions after becoming a 10-team league. Granted, that's only a two-year sample size, but the point remains. This year, the scenario you laid out is as unlikely as ever. For a team to run away with the Big 12 like that, it would almost certainly have to go 9-0 in Big 12 play. Even if it was 7-1 going into the final weekend, the next-best team would have to be 5-3 for the Big 12 title to be officially locked up. That is hard to envision.
I don't really see a team that's got legitimate potential to go 12-0 in the Big 12, but there are four teams who could hit 11-1 or 10-2. That is a clustered bunch, and the gap between those four teams (Oklahoma State, Texas, Oklahoma and TCU) is tiny. The league title (or at least a share) will almost assuredly come down to the final weekend.
---
Gavin in Cleveland writes:
Ubbs-What is your take on
Ivan McCartney
coming back to WVU? I feel like he could be an essential piece of the offense is he gets his head on straight.
DU:
Yeah, it's definitely possible. His decision to leave surprised me, mostly because of all the opportunity that awaited this season with Stedman Bailey and Tavon Austin in the NFL. He's also part of the pipeline from Miramar High down in Florida up to West Virginia, so he's walking a trail that had already been blazed, knew other guys on the team, and had an offense that gave him tons of opportunity to succeed.
He said he left for "personal reasons."
A lot of good players who leave teams never get another chance (Hello, Austin Haywood and Oklahoma), so McCartney should know he's part of select group. Here's hoping he takes advantage of the opportunity he's been given. Always hate to see talent go wasted.
---
Pat in Spencer, N.C. writes:
David it seems every year there are teams that do better/worse than expected. Which teams do you feel will be those teams this year and why thanks.
DU:
Among the league favorites, I'd say the biggest potential for disappointment lies with Texas and TCU. Among the bottom half of the league, the teams with the best chance to exceed expectations and finish in the top three are definitely Kansas State and Texas Tech.
---
Tom in Austin, Texas writes:
Ubbster, In your mailbag last week, it was pointed out that Boise State wasn't on the list of blocked schools by Coach Gundy.
We don't play BSU until 2018
and
Wes Lunt
will have been gone by then. Also, for all those Gundy haters out there ... this
doesn't seem to be effecting our recruiting.
DU:
I wanted to address this. Pure mistake on my part. When I got the email, I remembered Oklahoma State's first game against Boise State was in 2016. That was incorrect. I'll do my best to make sure mistakes like that don't happen.
To your second point, I don't believe that one elite recruit still wanting to go to Oklahoma State proves anything one way or another. The effects would always be more big-picture, and more of a slight decline with word trickling out periodically. Though it's possible, I don't believe the whole Lunt issue will have a tangible, negative impact on Oklahoma State's recruiting. The only thing that could change that is Lunt telling his side of the story and painting Gundy as a real villain, and lobbing accusations that eventually are proven with documents or something like that. Doing so would be a bad idea that wouldn't have any positive effect for Lunt, so don't bet on that happening.
Will other coaches bring up the Gundy/Lunt issue to recruits? I definitely think so.
Will those recruits and families ask Gundy and his staff about it? Also yes.
They might cause a few raised eyebrows, but Oklahoma State's recent rise on the field is strong enough to outweigh this stuff when it comes to recruiting.
May, 21, 2013
5/21/13
12:00
PM ET
By
ESPN.com staff
| ESPN.com
February, 14, 2013
2/14/13
11:00
AM ET
We'll kick off a new series today looking at the players across the Big 12 who have to replace program legends. We might as well call this the
Nick Florence
Memorial team, but we'll kick off at the bottom of the alphabet with West Virginia.

Big shoes to fill: WR Jordan Thompson
There will be a ton of talk this offseason about replacing
Geno Smith
, but great receivers can make even an average quarterback look a whole lot better. Replacing a player with
Tavon Austin
's kind of quickness is basically impossible, but the importance of doing so for the Mountaineers will be huge in 2013 with
Ford Childress
or
Paul Millard
stepping in for Smith. Thompson made a big impact in the spring but caught just 13 passes for 75 yards once the fall arrived. West Virginia's top three receivers (
Stedman Bailey
,
J.D. Woods
, Austin) are all gone and two of its other top six transferred during the season (
Travares Copeland
,
Ivan McCartney
). So to put it simply, Thompson doesn't really have a choice. He's got to be great in 2013 for West Virginia's offense to keep rolling under Dana Holgorsen.
There will be room for freshmen and juco transfers like Shelton Gibson and
Kevin White
to make an impact, but the scary truth is a rising sophomore in his second season on campus is the best hope to fill the enormous void left behind from Austin and Bailey. Together they accounted for 224 receptions, 2,914 yards and 37 touchdowns.
No pressure.
January, 22, 2013
1/22/13
2:00
PM ET
Every year, there's lots of turnover and change for every college program. What do the Big 12 teams need to do before next fall? Let's take a look, starting with West Virginia.

1. Sort out the quarterbacks.
I actually like both of these guys, but expect a high-quality quarterback competition this offseason between
Paul Millard
and
Ford Childress
. We've written a lot about Texas quarterbacks lately, and both Millard (Flower Mound) and Childress (Houston) both hail from the state. Dana Holgorsen has crafted a whole lot of great quarterbacks, and I like the chances for either Millard or Childress to be the next in line. I got a good look at both last spring, and though Millard has the edge in experience, don't be surprised if Childress edges out his older competition.
2. Find a defensive solution.
The changes have come fast for WVU's defensive staff, and the biggest two decisions were moving Keith Patterson up to defensive play-caller and firing cornerbacks coach Daron Roberts. Longtime Oklahoma State coach Joe DeForest is still co-defensive coordinator, but the defense is what held West Virginia back last season, much more so than an inconsistent running game. There's a lot to fix defensively, but most of it is in the passing game. WVU was serviceable stopping the run. The task is simple this spring: Fix it.
3. Figure out who it can count on as playmakers
. WVU had an exodus of receivers late in the season when
Ivan McCartney
and
Travares Copeland
transferred, and now has to deal with those consequences.
Stedman Bailey
predictably left early for the NFL and
Tavon Austin
graduated, but it's time for an overhaul for the offense.
J.D. Woods
is gone, too. West Virginia's leading receiver returning from last season's team?
Jordan Thompson
, a promising freshman who caught 13 passes for 85 yards (though running back
Andrew Buie
, who will be a junior, did catch 28 balls for 318 yards). Beyond him, there's
Connor Arlia
, who caught seven passes for 43 yards. Can WVU find a new breakout star this spring?
April, 11, 2012
4/11/12
9:00
AM ET
MORGANTOWN, W.Va. -- Maybe it's silly, but I feel a bit like a trailblazer of sorts here in Mountaineers country. Those of us who hail from the Midwest or the South haven't had much reason to head to West Virginia, and I'd never been until yesterday. For most Big 12 fans and media, I'd say that's the case. Alas, I'll start there before moving to matters on the field.
The rumors you've heard are true. This campus and area is beautiful, just as advertised by West Virginia coach Dana Holgorsen and just about anybody else who's been here. The drive from the Denver airport to Boulder used to be my favorite in the Big 12, but it's now been replaced by the drive from Pittsburgh to Morgantown. I had heard it was two hours. It's not. It's in the ballpark of an hour to 90 minutes. Easily doable. Unlike Boulder, there isn't one big looming mountain, though. The campus and surrounding area is set among rolling hills unlike anything you'll see in the Big 12, save some parts of Austin, Texas. The drive over gives you a sense of the landscape, and there are plenty of gorgeous views. You'll love the first time you make it. I grew up in Northwest Arkansas in the thick of the Ozark Mountains, and it reminded me of that area a lot. No huge peaks, but lots of gorgeous scenery. I can only imagine how it will look in the fall.

As for travel, I have some advice for airlines: Add more flights on fall weekends between Pittsburgh and Kansas City, Dallas and Houston, the three biggest hubs for Big 12 fans. If you get a direct flight into Pittsburgh, the travel won't be much different than trying to get to Texas A&M, Mizzou or Kansas State. I had to connect through Philadelphia, though, and it was a legitimate half-day of travel. It might take a little out of you heading into a game weekend.

[+] Enlarge

Andrew Weber/US PresswireWest Virginia's Geno Smith is as physically imposing as any of his new Big 12 QB counterparts.

Unfortunately, I was on hand for the coldest day of the spring in West Virginia. Imagine my surprise when I woke up Wednesday morning to very legitimate snowfall. Dorothy, you're not in Texas anymore. It had been in the 70s and 80s for much of the workouts, but it was overcast and 50 degrees with blustery winds throughout Tuesday's two-plus-hour session, which included plenty of team drills. Holgorsen's teams typically don't tackle much, but players were going full contact on Tuesday, tackling to the ground during team drills, a rarity in the spring for some programs. Running back Ryan Clarke went down with an ankle injury, but his status is pending more examination from doctors.

I was struck by Geno Smith's physical prowess. I'm not sure I realized just how big he is. He's every bit of 6-foot-3 and 214 pounds, and maybe more. To me, he was more physically imposing than Landry Jones, who checks in at 6-4, 229. Other than Collin Klein, you won't see any Big 12 passers with the kind of physique Jones and Smith have, save newcomer Dayne Crist at Kansas.

Stedman Bailey and Tavon Austin? Good grief, those two are as advertised. Nobody in the Big 12 is going to be able to cover Austin with any consistency. Bailey and Smith have been friends since growing up in South Florida, and Bailey will be productive, too. Smith's throwing reps were limited on Tuesday to give his shoulder a little rest, but he hit Bailey and Austin for rainbow 40- to 50-yard passes on consecutive plays during 11-on-11 drills Tuesday. Bailey isn't quite as physically impressive as Austin (namely his quickness), but he's really smart and coordinated, and he'll be able to get open and make plays like he did last year.

The quarterbacks behind Smith, by the way? Both Texas natives who I'm sure are itching to go up against some familiar faces. Sophomore Paul Millard is from Flower Mound, a Dallas suburb, and Ford Childress (6-5, 224) is from Houston. Both looked strong, and Millard hooked up with Ivan McCartney on a deep ball while working some with the first team early in practice. Honestly, WVU might have the best full set of QBs in the league right now, beyond starters.

The scariest thing about WVU right now? You probably know the skill-position players -- specifically at QB and receiver -- are as good as if not better than any in the Big 12. But look out for the youngsters, too. WVU is deep and have a lot of guys who keep on coming. One name already turning heads this spring: True freshman early enrollee Jordan Thompson, a Katy, Texas, native who made plenty of plays during Tuesday's practice, and took a huge hit from a pair of defenders. "They've been waiting to do that for a long time," yelled a teammate as another picked Thompson up and Holgorsen smiled at his "Welcome to Division I football" moment.

You know about Bailey and Austin, but look out for J.D. Woods, too. He looked the part of playmaker in Tuesday's practice, and the senior could finally be turning a corner after a quiet junior season.

I'll have plenty more through the week -- I'm here until Thursday -- so keep checking back for more from my trip to West Virginia.
February, 15, 2012
2/15/12
9:00
AM ET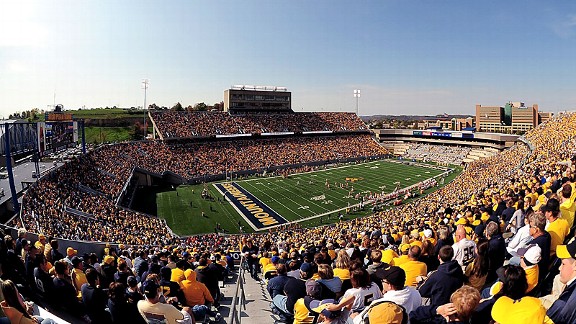 Andrew Weber/US PresswireWest Virginia's Milan Puskar Stadium offers new experiences for Big 12 fans.
After a bit of a delay, thanks to some legal wrangling,
West Virginia is finally free
.
The Big East and the Mountaineers have settled their lawsuit, and West Virginia is officially on its way to the Big 12 for 2012.
That means it's off the Big East blog and onto the Big 12 blog, too.
To help the Big 12 get to know its newest member, Big 12 blogger David Ubben asked Big East blogger Andrea Adelson for her thoughts.
David Ubben:
AA, Les Miles had my favorite quote of the 2011 season in relation to West Virginia. "They were having a football party and invited us. I knew our guys would show up."
You were there, Andrea. What can Big 12 fans expect when they go to Morgantown? Is it a football party every weekend?
Andrea Adelson:
Define "every weekend." West Virginia fans show up for the super gigantic games against teams like LSU and Pitt, but there has been concern that the fan base is "fair weather." Note -- 46,000 fans came out to watch Bowling Green. Now, the truth is, no fan in America gets up for the cupcake patsy schedule. But this rubbed Dana Holgorsen the wrong way,
and he ripped on the fans after that game:
"All I heard about was how much this meant to everybody across the state of West Virginia. This was the NFL team in town and we're going to be here to support you. Well, having 40,000 people at a game isn't doing that. ... We do our best every week to fix what the problems are offensively, defensively and special teams wise. Well, what's everybody across the state of West Virginia, including the student body, doing to fix the fact that our players had to play in front of 40,000 people?"
Now, you remember Holgy from his days at Oklahoma State. OK maybe not, since there were not many of them. But he likes stirring the pot, and I firmly believe he did that to motivate a fan base that had become dispassionate with good ol' Bill Stewart "I never met a punt I didn't like" in charge. The fact is that West Virginia has the most spirited fan base in the Big East and averaged 8,000 more fans than Louisville, which ranked No. 2 in the league in attendance in 2011. The atmosphere is fun, and was absolutely electric against LSU.
I anticipate many more crowds like that with teams like Texas and Oklahoma appearing on the schedule. West Virginia fans have gotten a bad rap nationally because of the couch burning and rowdiness. But in the two games I attended last season, I thought everybody behaved themselves accordingly.
And hey, they now serve alcohol in the stadium. I'm sure Big 12 fans can drink to that.
DU:
No doubt about the couch burning. Apparently West Virginia passed some legislation to make it stop, but I always found it sort of endearing and mostly harmless, albeit destructive. Maybe that's just me.
Holgorsen definitely speaks his mind, and I know fans will be fired up about alcohol sales in the stadium. What about once fans get to the stadium? Any in-game traditions they should be prepared for? Remember, this is the same league that had Texas A&M for its entirety. Visiting fans are prepared for a little weirdness.
AA:
You mean weirder than couch burning?
Well, the Mountaineers mascot runs onto the field with the team toting a real rifle. Each year his costume is tailored to fit just him. But my favorite tradition has to be the playing of "Country Roads" at the end of each home victory. Fans stay in the stands and join the team in signing the song, which became a tradition in 1980 after John Denver dedicated Mountaineer Field with the song.