March, 14, 2013
3/14/13
2:30
PM ET
Turnover is an annual tradition in college football, but with that, teams' strengths and weaknesses constantly shift, too. Today, we'll continue our look at the biggest strengths and weaknesses for each Big 12 team.
Next up: West Virginia.
Strongest position: Safety

This will no doubt be a weird exercise, considering how West Virginia looked on the field last year. Thing is, nobody will personify turnover in the Big 12 more than WVU, whose strengths could be markedly different this fall than they were in 2012. As for the strongest position on the team, I say safety. You could make a case for the trio of
Dustin Garrison
,
Andrew Buie
and Dreamius Smith at running back, but I'm going with the duo of
Darwin Cook
and
Karl Joseph
at safety as WVU's biggest strength right now. Joseph is probably the team's best overall player right now, and Cook is a playmaking senior who made 69 tackles, forced three fumbles, broke up four passes and intercepted a pass last season. Joseph, a true freshman, blew up as the defense's best player. He made 102 tackles, seven tackles for losses, broke up six passes and forced three fumbles for a defense that struggled. The defense should be at least a little better in Year 2 in the Big 12, and so will Joseph as a sophomore in the second year of a new defensive scheme.
Weakest position: Wide receiver
Like I said, this feels really weird. WVU's receiving duo of
Stedman Bailey
and
Tavon Austin
a year ago might have been the best in the history of the Big 12, but just a few months later, the prospects at the position are grim. This might not be WVU's weakest position once the season begins (hello, cornerbacks), but right now, this unit has a ton to prove and almost no returning talent.
J.D. Woods
graduated and
Travares Copeland
transferred along with
Ivan McCartney
. The team's leading returning receiver is running back
Andrew Buie
, but the best at the position is sophomore
Jordan Thompson
, who turned heads last spring but made just 13 catches for 75 yards last season. Will new recruits like Kevin White and Shelton Gibson make an impact? I'm guessing yes, but for right now, this position leaves me wanting a whole lot more from WVU.
February, 14, 2013
2/14/13
11:00
AM ET
We'll kick off a new series today looking at the players across the Big 12 who have to replace program legends. We might as well call this the
Nick Florence
Memorial team, but we'll kick off at the bottom of the alphabet with West Virginia.

Big shoes to fill: WR Jordan Thompson
There will be a ton of talk this offseason about replacing
Geno Smith
, but great receivers can make even an average quarterback look a whole lot better. Replacing a player with
Tavon Austin
's kind of quickness is basically impossible, but the importance of doing so for the Mountaineers will be huge in 2013 with
Ford Childress
or
Paul Millard
stepping in for Smith. Thompson made a big impact in the spring but caught just 13 passes for 75 yards once the fall arrived. West Virginia's top three receivers (
Stedman Bailey
,
J.D. Woods
, Austin) are all gone and two of its other top six transferred during the season (
Travares Copeland
,
Ivan McCartney
). So to put it simply, Thompson doesn't really have a choice. He's got to be great in 2013 for West Virginia's offense to keep rolling under Dana Holgorsen.
There will be room for freshmen and juco transfers like Shelton Gibson and
Kevin White
to make an impact, but the scary truth is a rising sophomore in his second season on campus is the best hope to fill the enormous void left behind from Austin and Bailey. Together they accounted for 224 receptions, 2,914 yards and 37 touchdowns.
No pressure.
January, 22, 2013
1/22/13
2:00
PM ET
Every year, there's lots of turnover and change for every college program. What do the Big 12 teams need to do before next fall? Let's take a look, starting with West Virginia.

1. Sort out the quarterbacks.
I actually like both of these guys, but expect a high-quality quarterback competition this offseason between
Paul Millard
and
Ford Childress
. We've written a lot about Texas quarterbacks lately, and both Millard (Flower Mound) and Childress (Houston) both hail from the state. Dana Holgorsen has crafted a whole lot of great quarterbacks, and I like the chances for either Millard or Childress to be the next in line. I got a good look at both last spring, and though Millard has the edge in experience, don't be surprised if Childress edges out his older competition.
2. Find a defensive solution.
The changes have come fast for WVU's defensive staff, and the biggest two decisions were moving Keith Patterson up to defensive play-caller and firing cornerbacks coach Daron Roberts. Longtime Oklahoma State coach Joe DeForest is still co-defensive coordinator, but the defense is what held West Virginia back last season, much more so than an inconsistent running game. There's a lot to fix defensively, but most of it is in the passing game. WVU was serviceable stopping the run. The task is simple this spring: Fix it.
3. Figure out who it can count on as playmakers
. WVU had an exodus of receivers late in the season when
Ivan McCartney
and
Travares Copeland
transferred, and now has to deal with those consequences.
Stedman Bailey
predictably left early for the NFL and
Tavon Austin
graduated, but it's time for an overhaul for the offense.
J.D. Woods
is gone, too. West Virginia's leading receiver returning from last season's team?
Jordan Thompson
, a promising freshman who caught 13 passes for 85 yards (though running back
Andrew Buie
, who will be a junior, did catch 28 balls for 318 yards). Beyond him, there's
Connor Arlia
, who caught seven passes for 43 yards. Can WVU find a new breakout star this spring?
September, 29, 2012
9/29/12
3:54
PM ET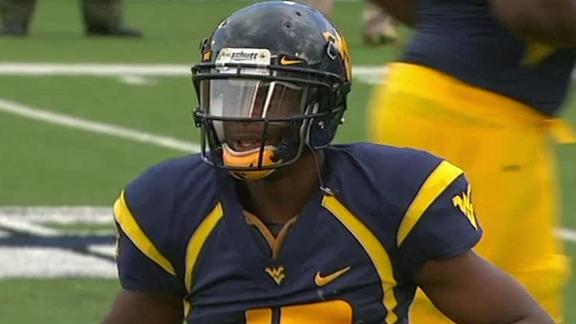 Are you like me? Do you like points? I hope you watched what I just watched. West Virginia and Baylor cleared the game's over/under of 84 midway through the third quarter of this one and nearly hit triple digits by the end of the third quarter.


West Virginia emerged as a
70-63 winner
, coming just three points short of the NCAA record for combined points in a non-overtime game in FBS history.
You won't see this many points very often, but let's take a closer look at the Mountaineers' first Big 12 game as a league member:
It was over when:
West Virginia converted a pair of third downs with a one-handed
J.D. Woods
catch and an
Andrew Buie
run to ice the game.
Game ball goes to: Geno Smith, QB, West Virginia.
If Geno had any Heisman doubters before today, he shouldn't anymore. Sure, he'll face tougher defenses, but not many quarterbacks could do against air what Geno did today against Baylor. He finished with 656 yards on 45-of-51 passing with eight touchdowns, and didn't have a turnover. That's not a typo. This thing got silly.
Stat of the game:
The teams combined for 1,511 yards of offense and two (!) players topped 300 yards receiving. Six players had at least 100 yards receiving.
Unsung hero of the game:
Baylor WR Terrance Williams.
Yes,
Stedman Bailey
and
Tavon Austin
were outstanding, but even in a losing effort, Williams might have been better than both of them. He broke the school record with 17 catches for 314 yards, and caught a pair of touchdowns for the Bears. Both were game highs. West Virginia will get all the headlines for this one, but Williams helped the Bears keep a dizzying pace. The future NFL first-round pick lived up to his billing today.
Second guessing:
Baylor seemed all too content in rushing just three or four men and daring Geno Smith to find receivers. For one, it wasn't covering guys over the top, and Smith made the Bears pay. Second, Baylor's defnsive backs and linebackers couldn't cover West Virginia's speed underneath, either. Baylor had to change it up and make a clearer effort to get some pressure on Smith. So what if you get burned? The Bears were getting burned for quick touchdowns anyway. If you get pressure, you might force a turnover and turn the game around. Instead, Baylor continued to give up score after score, and if Geno can sit back there and watch plays develop, he's going to make good decisions and deliver accurate balls very, very often. Maryland didn't exactly "rattle" Geno Smith, but it forced his worst statistical game of the season because it pressured him often.
Third guessing:
Down 70-63 with three minutes to play, Baylor kicked the ball off instead of trying to go for the onside and get possession. It didn't work. The Bears never got a chance to tie the game. Does anyone really think Baylor had a higher probability of stopping WVU's offense vs. recovering an onside kick? Why would you kick it back to the WVU offense, which had been a buzzsaw the entire game? A baffling decision by the Bears, no doubt.
What West Virginia learned:
Its defense needs plenty of work, too, but Geno Smith is a bona fide Heisman contender who's ready to make a big impact in the Big 12. His stat line's absurdity says plenty, but too many people who just see that stat line won't see some of the throws he made against Baylor's defense. Yes, the Bears left holes in a lot of places, but Smith was stretching the field all day and making picturesque throws on drive after drive, even on the occasions in which his receivers were covered.
What Baylor learned:
Its defense has major, major problems. Yes, West Virginia probably has the best offense in the Big 12. Yes, Baylor's isn't far behind and gives the defense a big margin for error. Still, some of those errors we saw today were inexcusable. Bailey and Austin are as good as any receivers in the country, and on several occasions, at least one of them was running free, completely uncovered in Baylor's secondary. The worst was Baylor, fresh off a TD that cut the deficit to 56-49, leaving Bailey wide open downfield for an 87-yard TD pass. This kind of stuff can't happen if Baylor expects to keep winning at an acceptable level in the Big 12. At some point, you can't just keep depending on your offense to go out and win every game for you.
September, 2, 2012
9/02/12
10:00
AM ET
After eight games on the Big 12's opening Saturday, this is what we know:
Oklahoma has a lot of work to do in convincing anyone it's the Big 12 favorite.
You win in the Big 12 by scoring points, though the truly elite teams mix in a good dose of defense, too. Oklahoma had a tough time scoring in its 24-7 win over UTEP that featured a pair of late touchdowns. The Sooners were in limbo for much of the night, and when
Landry Jones
wasn't hurried by the pass rush, his receivers and backs were dropping balls. The defense was solid and pitched a shutout (with the aid of three missed field goals), but the league's top-ranked team had the worst debut of any team in the league, considering expectations.
[+] Enlarge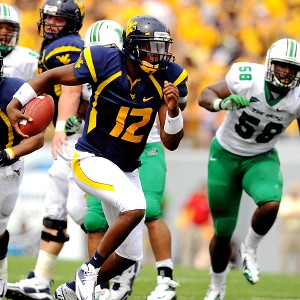 James Lang/US PRESSWIREGeno Smith looked like the Big 12's best player on opening weekend.
West Virginia's going to be scary.
The Mountaineers turned in the most impressive performance of anyone in the Big 12 so far this year, routing a decent Marshall team and doing anything it wanted offensively. WVU scored 69 points, and if it hadn't missed a first-quarter extra point, would have scored 70 in two consecutive games dating back to last year's bowl game.
Geno Smith
looked like the league's best player and Big 12 defenses are going to have tons of trouble covering WVU's deep stable of weapons. The latest on Saturday? Running back
Shawne Alston
(123 yards, 2 TDs) and receiver
J.D. Woods
(seven catches, 75 yards, TD).
Texas' defense still has a lot to prove.
The Longhorns looked like they'd be in a league of their own defensively this season, but looked very average against a decent Wyoming offense. Still, it's Wyoming. The Cowboys racked up 345 yards and 17 points, including an embarrassing 82-yard touchdown pass on what should have been nothing more than a 10-yard gain. Last year, the Longhorns gave up just more than 300 yards and 22 points a game. It'll get tougher in league play, of course, but I'm betting the Horns will, too. I'm still a believer in this defense, but Saturday was an underwhelming debut for one of the league's most hyped units.
The league's quarterback questions are being answered.
What wasn't underwhelming? Iowa State and Texas went back to the drawing board at QB this offseason, and both had solid debuts.
Steele Jantz
produced some fireworks, completing 32 of 45 attempts for 281 yards, two touchdowns and an interception. That included a gorgeous 43-yard rainbow to
Josh Lenz
, and Jantz's only interception of the day was off a tipped ball. Texas'
David Ash
completed 20 of 27 passes to keep the chains moving and didn't have a turnover. If he does that all year, the Longhorns will be a major factor in the Big 12 race, if not the national title race. Oklahoma State's
Wes Lunt
? All he did was complete all 11 of his passes for 129 yards. Good days for the league's lesser-known QBs. The QBs as a whole in the Big 12 threw 16 touchdowns to just three interceptions, and all eight won their season openers. We'll see how Baylor's
Nick Florence
looks later today.
Iowa State must be taken seriously.
Tulsa's a good team that will contend for the C-USA title. Iowa State struggled early on but completely dominated the second and third quarters to muscle up the Golden Hurricane on offense and lock down on defense. After two late first-quarter TDs, the Cyclones shut out a good Tulsa offense for the game's next 33 minutes. That led to a 31-16 lead and a big win. I do think the Big 12's depth will eventually swallow up the Cyclones and leave them a sub-.500 team, but they're not going to be an easy out. Play well, or they'll beat you. The way Oklahoma played on Saturday, Iowa State might have beat the Sooners on a neutral field by double digits.
August, 27, 2012
8/27/12
1:00
PM ET
I asked. You answered, rather emphatically, in fact.
The Big 12's best offense? West Virginia.
The Mountaineers commanded 58 percent of the vote, running away with the fan poll. They got it right, too. That's how I voted.
I've got questions about just how effective the running game will be, especially if
Dustin Garrison
isn't healthy, but the passing game should be unbelievable. Freshman
Jordan Thompson
, a Houston native, and senior
J.D. Woods
offer even more depth to a receiving corps with the league's two best wideouts,
Tavon Austin
and
Stedman Bailey
.
And it took us that long to even mention Big 12 Preseason Offensive Player of the Year
Geno Smith
, who keys the whole attack.
Oklahoma came in second with 20 percent of the vote. That's about right, I'd say. If anybody's got as much experience and as many weapons as the bearded boys out east, it's the Sooners.
Oklahoma State came in third with just nine percent of the vote. No faith in
Wes Lunt
?
Texas Tech grabbed eight percent of the vote, ahead of last-place finisher Baylor. Not a fan of that pick, fans. Baylor finishing as the fifth-best Big 12 offense? Consider me skeptical of that idea. A great offensive line is the most important piece, but
Nick Florence
is going to surprise a whole lot of people this season.
April, 11, 2012
4/11/12
9:00
AM ET
MORGANTOWN, W.Va. -- Maybe it's silly, but I feel a bit like a trailblazer of sorts here in Mountaineers country. Those of us who hail from the Midwest or the South haven't had much reason to head to West Virginia, and I'd never been until yesterday. For most Big 12 fans and media, I'd say that's the case. Alas, I'll start there before moving to matters on the field.
The rumors you've heard are true. This campus and area is beautiful, just as advertised by West Virginia coach Dana Holgorsen and just about anybody else who's been here. The drive from the Denver airport to Boulder used to be my favorite in the Big 12, but it's now been replaced by the drive from Pittsburgh to Morgantown. I had heard it was two hours. It's not. It's in the ballpark of an hour to 90 minutes. Easily doable. Unlike Boulder, there isn't one big looming mountain, though. The campus and surrounding area is set among rolling hills unlike anything you'll see in the Big 12, save some parts of Austin, Texas. The drive over gives you a sense of the landscape, and there are plenty of gorgeous views. You'll love the first time you make it. I grew up in Northwest Arkansas in the thick of the Ozark Mountains, and it reminded me of that area a lot. No huge peaks, but lots of gorgeous scenery. I can only imagine how it will look in the fall.

As for travel, I have some advice for airlines: Add more flights on fall weekends between Pittsburgh and Kansas City, Dallas and Houston, the three biggest hubs for Big 12 fans. If you get a direct flight into Pittsburgh, the travel won't be much different than trying to get to Texas A&M, Mizzou or Kansas State. I had to connect through Philadelphia, though, and it was a legitimate half-day of travel. It might take a little out of you heading into a game weekend.

[+] Enlarge

Andrew Weber/US PresswireWest Virginia's Geno Smith is as physically imposing as any of his new Big 12 QB counterparts.

Unfortunately, I was on hand for the coldest day of the spring in West Virginia. Imagine my surprise when I woke up Wednesday morning to very legitimate snowfall. Dorothy, you're not in Texas anymore. It had been in the 70s and 80s for much of the workouts, but it was overcast and 50 degrees with blustery winds throughout Tuesday's two-plus-hour session, which included plenty of team drills. Holgorsen's teams typically don't tackle much, but players were going full contact on Tuesday, tackling to the ground during team drills, a rarity in the spring for some programs. Running back Ryan Clarke went down with an ankle injury, but his status is pending more examination from doctors.

I was struck by Geno Smith's physical prowess. I'm not sure I realized just how big he is. He's every bit of 6-foot-3 and 214 pounds, and maybe more. To me, he was more physically imposing than Landry Jones, who checks in at 6-4, 229. Other than Collin Klein, you won't see any Big 12 passers with the kind of physique Jones and Smith have, save newcomer Dayne Crist at Kansas.

Stedman Bailey and Tavon Austin? Good grief, those two are as advertised. Nobody in the Big 12 is going to be able to cover Austin with any consistency. Bailey and Smith have been friends since growing up in South Florida, and Bailey will be productive, too. Smith's throwing reps were limited on Tuesday to give his shoulder a little rest, but he hit Bailey and Austin for rainbow 40- to 50-yard passes on consecutive plays during 11-on-11 drills Tuesday. Bailey isn't quite as physically impressive as Austin (namely his quickness), but he's really smart and coordinated, and he'll be able to get open and make plays like he did last year.

The quarterbacks behind Smith, by the way? Both Texas natives who I'm sure are itching to go up against some familiar faces. Sophomore Paul Millard is from Flower Mound, a Dallas suburb, and Ford Childress (6-5, 224) is from Houston. Both looked strong, and Millard hooked up with Ivan McCartney on a deep ball while working some with the first team early in practice. Honestly, WVU might have the best full set of QBs in the league right now, beyond starters.

The scariest thing about WVU right now? You probably know the skill-position players -- specifically at QB and receiver -- are as good as if not better than any in the Big 12. But look out for the youngsters, too. WVU is deep and have a lot of guys who keep on coming. One name already turning heads this spring: True freshman early enrollee Jordan Thompson, a Katy, Texas, native who made plenty of plays during Tuesday's practice, and took a huge hit from a pair of defenders. "They've been waiting to do that for a long time," yelled a teammate as another picked Thompson up and Holgorsen smiled at his "Welcome to Division I football" moment.

You know about Bailey and Austin, but look out for J.D. Woods, too. He looked the part of playmaker in Tuesday's practice, and the senior could finally be turning a corner after a quiet junior season.

I'll have plenty more through the week -- I'm here until Thursday -- so keep checking back for more from my trip to West Virginia.