November, 12, 2010
11/12/10
11:00
AM ET
Former Texas A&M coach Emory Bellard was recently diagnosed with ALS, or Lou Gehrig's disease, but the school is putting together an honorary dinner for the coach.
Former Texas A&M coaches Jackie Sherrill and R.C. Slocum plan to be in attendance at the Nov. 19 dinner, as well as Frank Broyles, Spike Dykes, Grant Teaff, Bill Yeoman and Bum Phillips.
Bellard coached Texas A&M to a 48-27 record in a little more than six seasons at Texas A&M in the 1970s, twice going 10-2.
For more information on how to attend, go to
http://www.12thmankot.org
.
November, 17, 2009
11/17/09
3:26
PM ET
By
Tim Griffin
| ESPN.com
The two schools are separated by only 84 miles as the crow flies along Texas State Highway 6.
Baylor and Texas A&M have been longtime rivals, playing a 99-game series that predated their memberships in the Southwest Conference. Both joined the Big 12 together in the continuation of a bitter rivalry that has been played yearly since 1945.
It may not seem as heated now as in the past when Grant Teaff squared off with Jackie Sherrill or later, R.C. Slocum. Even the Guy Morriss-Dennis Franchione rivalry developed into a good one with some barbs thrown from both sides on both sides.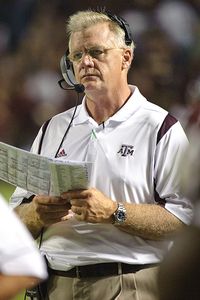 AP Photo/Dave EinselTexas A&M head coach Mike Sherman Aggie's can gain bowl eligibility with a win over Baylor.
Saturday's game will have some meaning unlike many recent Baylor-A&M games because both teams still have legitimate bowl hopes.
Baylor senior safety Jordan Lake grew up in a family where his father was a former Baylor student. Like all Baylor students, they reveled in the Bears' 41-20 victory last season in Waco that ranked as their biggest triumph in the series since 1980. And they also delighted in the Bears' wild 35-34 overtime triumph in 2004 after A&M had thumped them in College Station by 63 points the year before.
"My dad always had a dislike for A&M," Lake said. "From the beginning, I knew there was a rivalry tension there. And the way we've played the last couple of years has helped it rise to where it was back in the 1970s and 1980s."
Mike Sherman and Art Briles appear to have a respectful relationship heading into Saturday's game that will be played for some big stakes at Kyle Field.
Both teams have simmering postseason hopes heading into the game, although both have fallen dramatically in recent weeks.
Baylor (4-6) started the season strongly with an opening-game victory at Wake Forest. But the Bears lost their home opener to Connecticut and Robert Griffin went down with a season-ending knee injury the following week as the Bears have tailed off since then.
Their 47-14 loss to Texas last was their fifth in the last six games and actually seems closer than it really was. The Longhorns jumped to a 40-0 lead before Baylor scored two late touchdowns on the Texas backup defensive unit.
A&M (5-5) has faced similar recent struggles and bottomed out in their blowout 65-10 loss at Oklahoma.
The Aggies had enough problems against the Sooners in simply cleanly fielding punts or kicks. A&M fumbled or muffed five kicks to spark Oklahoma's 42-10 halftime lead. That run of struggles enabled the Sooners to run off 51 straight points en route to the wide margin of victory.
It marked the second time this season that an opponent has hung at least 60 points on the Aggies and the third time that they have lost by at least four touchdowns.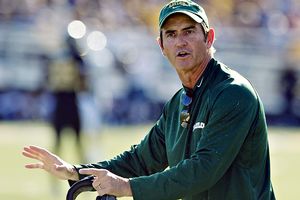 AP Photo/L.G. PattersonBaylor head coach Art Briles needs to beat Texas A&M to have a chance to go bowling.
Those blowout losses haven't undermined the progress of a young team that features 27 freshmen and sophomores in its two-deep roster.
"We're fine," senior safety Jordan Pugh said. "We just look at it as something that we've got to fix. We looked forward and moved on."
A victory would push the Aggies into their first bowl game under Sherman. But A&M players have simpler thoughts about Saturday's game.
"It's just important for us to win, period," Pugh said. "Getting a bowl game would be fun, but winning is our major focus now."
To gain bowl eligibility, the Bears would have to win their first game at Kyle Field since 1984 and then defeat Texas Tech next week at the new Dallas Cowboys' Stadium in Arlington, Texas.
Playing meaningful games in late November is new for a Baylor program that hasn't gone bowling since 1994. But the Bears are excited about the challenges that will be facing them -- even if they are perceived to be a long shot to accomplish those goals.
"A lot of people outside this locker room have written us off for awhile. When Griff went down, so did Baylor, they thought," Baylor senior middle linebacker Joe Pawelek said. "We still have a shot to make this a special season. It starts with A&M this week. And we're just looking to extend the season for one more week."
The Aggies can make a bowl trip by winning one of their last two games. And obviously, the game against Baylor looks much more winnable than their remaining game against No. 3 Texas on Thanksgiving night.
"They all know that," Sherman said about his team's bowl hopes. "I usually don't make a big deal about the obvious. I think they know how important these games are."
August, 17, 2009
8/17/09
9:00
AM ET
By
Tim Griffin
| ESPN.com
Posted by ESPN.com's Tim Griffin
It's the player, school or coach that "done you wrong" once upon a time -- or maybe even repeatedly.
These figures resonate through the years for rival schools, providing an enemy that serves as a unifying element for hatred from fans of a rival school.
Here's a list of Big 12 villains over the years, both historic and present. Take a good look at the grouping and see if you have any recommendations of players or coaches I might have missed.
I'd be curious to see if any coaches or players spark greater antagonism than the ones I've selected.
Baylor Bears
Current villain: Texas coach Mack Brown, who's gone 11-0 against them with no signs of stopping.
All-time villain: Former Baylor coach Kevin Steele. His decision to try to ram in a statement touchdown against UNLV in 1999 blew up in his face like an exploding cigar when Darrell Bush fumbled and Kevin Thomas raced 99 yards for a touchdown on the final play of the game. That play snatched a sure victory from the Bears, making Steele and the Bears the laughingstock of college football. His program never recovered from that moment.
Colorado Buffaloes
Current villain: Wyoming coach Dave Christensen, who piled up 106 straight points against the Buffaloes in the last two seasons while offensive coordinator at Missouri, beating them by a combined 113-10 margin. The Buffaloes will have a chance for payback this season when Christensen brings a less-talented Wyoming team to Boulder.
All-time villain: Nebraska coach Tom Osborne directed the Cornhuskers to a career record of 21-3-1 against the Buffaloes during his coaching stint from 1973-97.
Iowa State Cyclones
Current villain: Kansas quarterback Todd Reesing has thrown seven career TDs against the Cyclones and beaten them twice, including last season's dramatic 35-33 comeback victory.
All-time villain: Iowa coach Hayden Fry, whose homespun witticisms weren't that funny for Cyclone fans when he was winning 15 straight against them from 1983-97.
Kansas Jayhawks
Current villain: Nebraska DT/FB Ndamukong Suh who beat the Jayhawks with a memorable offensive and defensive performance last season and is back for more in 2009.
All-time villain: Kansas State coach Bill Snyder beat the Jayhawks 12 of his last 13 seasons in his first coaching run, including a nine-season streak where he rolled up 41, 38, 48, 54, 50, 52, 40, 64 and 42 points in consecutive blowout victories.
Kansas State Wildcats
Current villain: Kansas running back Jake Sharp grew up only 61 miles from Manhattan in nearby Salina, but has abused them since arriving at college. He's tormented them with five career touchdowns, including four last season.
All-time villain: Texas A&M running back Sirr Parker, whose dramatic game-winning touchdown in overtime snuffed out the Wildcats' national-title hopes in 1998.
Missouri Tigers
Current villain: Oklahoma quarterback Sam Bradford has beaten the Tigers in the Big 12 title game each of the last two seasons, ruining their hopes for a first Big 12 title.
All-time villain: Colorado coach and former Missouri grad and assistant Bill McCartney should have been magnanimous after getting a gift victory over the Tigers en route to a shared 1990 national title. Instead, he sparked hostility among his old friends by ripping Faurot Field's "treacherous" playing field.
Nebraska Cornhuskers
Current villain: Missouri quarterback Chase Daniel talked a lot of smack and then backed it up by beating the Cornhuskers in each of the last two seasons. And after orchestrating a 52-17 victory in Lincoln last season, he raised the hackles of Cornhusker fans by complaining about Nebraska players spitting on him. He'll be gone this season, but definitely not forgotten among Cornhusker fans.
All-time villain: Oklahoma. Even though the rivalry was marked by immense respect on both sides -- imagine Barry Switzer doing Nebraska television commercials and endorsing Nebraska gubernatorial candidate Tom Osborne -- the Sooners' domination was a constant source of irritation for the Cornhuskers. Oklahoma claimed 16 straight from 1943-59 and beat Osborne in eight of his first nine games against them.
Oklahoma Sooners
Current villain: Those pesky BCS bowls. The Sooners have lost five-straight BCS games, stripping coach Bob Stoops of much of his national stature that should have been gleaned from an unprecedented three-straight Big 12 titles.
All-time villain: Darrell Royal represented the ultimate turncoat to Sooner fans after starring at the school from 1946-49 as a record-setting quarterback and defensive back. His 12-7-1 career record against the Sooners included eight straight victories and 12 of his 14 games against them that made his old friends despise him.
Oklahoma State Cowboys
Current villain: Texas coach Mack Brown, who has run off an 11-0 record against them. Worse, four of those victories were by four points or less, including the last two games.
All-time villain: Oklahoma. The cross-state rivals have turned the "Bedlam Series" into a one-sided affair with a 74-16-7 edge. Since Josh Fields orchestrated back-to-back upsets in 2001-02, Stoops hasn't called off the dogs in six-straight victories, exploding for 52, 38, 42, 27, 49 and 61 points.
Texas Longhorns
Current villain: The Big 12's tiebreaker rules. Texas fans are still lamenting the national-title shot that got away last season, despite beating Big 12 title game participants Oklahoma and Missouri.
All-time villain: Jackie Sherrill. He beat them regularly at Texas A&M and continued his success at Mississippi State. Even worse, he fired up his team before that 1991 victory by castrating a bull and then crowed about it after his Texas-taming success. Even more than Barry Switzer, Longhorn fans hate Sherrill.
Texas A&M Aggies
Current villain: Texas Tech coach Mike Leach. He's beaten them seven of nine games, including four straight. And he's gigged them by mocking their traditions, their coaching, their quarterbacks, everything but "The Dixie Chicken."
All-time villain: Texas. All things burnt orange set off Aggie fans -- with good reason. Their team has been dominated by the Longhorns in the school's longest rivalry. And how much of a Texas fixation do the Aggies have? The second verse of the Aggie War Hymn is essentially all about Texas.
Texas Tech
Current villain: Missouri coach Gary Pinkel. Nobody in the conference does a better job of rolling up points or handcuffing Tech's offense than his Tigers, who have averaged 47 points and won by an average of 26.3 points per game during recent three-game winning streak in the series.
All-time villain: Texas A&M. Aggie fans chap Red Raider followers by claiming the game isn't a rivalry. Mike Leach has made it seem one-sided in recent seasons. But look closely enough and you'll find it's not unusual to see the A&M logo a
dorning urinals in several bars in Lubbock. Isn't that the best sign of antipathy there is?
June, 15, 2009
6/15/09
6:30
PM ET
By
Tim Griffin
| ESPN.com
Posted by ESPN.com's Tim Griffin
Today is a special summer day for football fans across Texas and the Southwest.
Today is the annual release date of Dave Campbell's Texas Football, which is the unquestionable college football magazine of record in these parts every year.
This magazine is special because it's the 50th anniversary edition. The first one was laid out on the kitchen table of former Waco Tribune-Herald sports editor Dave Campbell, who started it in 1960.
It's gotten much bigger than that over the years, being read by three generations of football fans over the years. Today, there's a Texas Football classic every year at the Alamodome and even an official Texas Football song.
I first learned about the magazine in the late 1960s when a friend of mine in fifth grade, Richard Jackson, moved to Memphis from Houston. Along with his neat Houston Astros hat that I always was envious of was his copy of Texas Football Magazine. The story and pictures of the guys from Texas, Baylor and Rice were so different than anything I came across in the Southeastern Conference. I wanted mine, too.
My dad occasionally traveled to Texas with his job and soon learned to look at the 7-Eleven on one of his trips to Dallas to see if he could score a copy of Dave Campbell for me.
Later, my family moved to Texas and I learned the excitement of visiting the newsstand in mid-June to pick up the Dave Campbell magazine, which was there to chronicle the demise of the Southwest Conference and the start of the Big 12.
The new one will officially be released today across the area. And the coverboy is Texas quarterback Colt McCoy, who becomes the first individual player to be pictured since Texas wide receiver Roy Williams in 2003.
I picked up my copy and am already deeply into it. It takes me back to my childhood.
The only problem is that I wonder why I couldn't pick up a Grape Slurpee to drink with it like I used to back in the day.
A list of the cover boys in the magazine's history exhibits a unique history of football in the southwest. Here's a list of the players who have graced the cover of the magazine over the years.
1960: Texas RB Jack Collins
1961: Baylor RB Ronnie Bull
1962: TCU QB Sonny Gibbs
1963: Texas coach Darrell Royal and DT Scott Appleton
1964: Baylor coach John Bridgers and WR Lawrence Elkins
1965: Texas Tech RB Donny Anderson
1966: SMU NG John LaGrone, Baylor DT Greg Pipes, Texas DT Diron Talbert
1967: Texas A&M T Maurice "Mo" Moorman
1968: Texas A&M QB Edd Hargett
1969: Texas QB James Street
1970: Texas RB Steve Worster
1971: Texas Tech QB Charles Napper
1972: Texas A&M LB Brad Dusek
1973: Texas LB Glen Gaspard
1974: Texas coach Darrell Royal
1975: Baylor coach Grant Teaff
1976: Houston coach Bill Yeoman
1977: Texas Tech QB Rodney Allison
1978: Texas A&M K Tony Franklin and Texas K/P Russell Erxleben
1979: Texas DT Steve McMichael
1980: Baylor LB Mike Singletary and Texas A&M QB Mike Mosley
1981: Baylor RB Walter Abercrombie and SMU RB Craig James
1982: Texas A&M QB Gary Kubiak
1983: SMU QB Lance McIlhenny
1984: Texas A&M DE Ray Childress
1985: TCU coach Jim Wacker and TCU RB Kenneth Davis
1986: Texas A&M coach Jackie Sherrill
1987: Texas QB Bret Stafford and Texas coach David McWilliams
1988: Texas RB Eric Metcalf and Texas A&M LB John Roper
1989: Houston coach Jack Pardee and SMU coach Forrest Gregg
1990: Texas Tech coach Spike Dykes
1991: Houston QB David Klingler
1992: Rice RB Trevor Cobb
1993: Texas A&M coach R.C. Slocum
1994: Texas QB Shea Morenz
1995: A collage of Southwest Conference historical figures including Texas RB Earl Campbell, Houston coach Bill Yeoman, Baylor LB Mike Singletary, TCU QB Sammy Baugh, Texas coach Fred Akers, Texas coach Darrell Royal and SMU RB Doak Walker.
1996: Baylor coach Chuck Ready, Texas Tech coach Spike Dykes, Texas coach John Mackovic and Texas A&M coach R.C. Slocum
1997: Texas QB James Brown and Texas RB Ricky Williams
1998: Texas A&M LB Dat Nguyen, Texas RB Ricky Williams and Texas coach Mack Brown
1999: Texas coach Mack Brown and TCU coach Dennis Franchione. Note: Alternative cover for those magazines sold outside the state featured Dallas Cowboys QB Troy Aikman
2000: Midland Robert E. Lee H.S. RB Cedric Benson
2001: Texas QB Chris Simms, TCU QB Casey Printers, Texas A&M QB Mark Farris and Texas Tech QB Kliff Kingsbury
2002: Texas Tech QB Kliff Kingsbury, Celina H.S. coach G.A. Moore, Dallas Cowboys RB Emmitt Smith and Baytown Lee H.S. QB Drew Tate.
2003: Texas WR Roy Williams
2004: Texas Tech DE Adell Duckett, TCU S Marvin Godbolt, Houston QB Kevin Kolb, North Texas RB Patrick Cobb
2005: Texas QB Vince Young and Texas A&M QB Reggie McNeal
2006: Former Texas RB Earl Campbell, Mansfield Summit H.S. QB John Chiles, Texarkana Texas H.S. QB Ryan Mallett and Gilmer H.S. QB G.J. Kinne
2007: Texas A&M QB Stephen McGee, Texas QB Colt McCoy and TCU DE Tommy Blake
2008: Texas Tech coach Mike Leach, Texas Tech QB Graham Harrell and Texas Tech WR Michael Crabtree
2009: Texas QB Colt McCoy
Source: ESPN.com research

May, 22, 2009
5/22/09
8:47
AM ET
By
Tim Griffin
| ESPN.com
Posted by ESPN.com's Tim Griffin
As anybody who reads this blog knows, I love all lists.
I came across an interesting list this morning at the Bleacher Report ranking the 11 worst college coaching performances of the 21st century.
It wasn't surprising that the Big 12 was solidly represented with two recent coaches who were fired after unceremonious struggles at traditional powers.
In a list that was topped by Ty Willingham from his Washington days and also included Syracuse's Greg Robinson and BYU's Gary Crowton among its top three spots, the Big 12 also was prominently highlighted with Bill Callahan of Nebraska ranking fourth and Texas A&M's Dennis Franchione coming in ninth.
Here's what the author had to say about Callahan:
"Twenty-two losses in four years. Legendary Cornhusker coach Bob Devaney lost only 20 games in his entire career at Nebraska. Frightening."
Or about Franchione:
"He wasn't that bad at Alabama (17-8), and he was pretty good at TCU and his other stops, but in College Station he went 32-28."
It's fair to remember that Callahan had taken the Cornhuskers to back-to-back bowl games in his previous two seasons, including a Big 12 North title in 2006. But his team's defensive struggles were a factor he couldn't overcome.
And Franchione, who qualified the Aggies for three bowl games in his final four seasons before he was fired, had his moments as well. He left with a two-game winning streak over Texas, becoming only the second coach in school history to leave with an existing multi-season winning streak over the Longhorns.
The other was Jackie Sherrill.
But his admission of selling "state secrets" through his VIP Newsletter eventually pulled his program down.
Today, few fans of either program were sorry to see Callahan and Franchione go.
But it was still interesting to me to see them ranked among the biggest coaching flops in recent history. While they struggled building their programs, I don't know if I would necessarily go that far.
April, 21, 2009
4/21/09
12:45
PM ET
By
Tim Griffin
| ESPN.com
Posted by ESPN.com's Tim Griffin
With only two teams still holding spring games, we're nearly down to the bitter end in terms of practices across the Big 12.
Colorado and Kansas State still have work to do. But there are other stories around the conference today that merit some consideration as well.
February, 12, 2009
2/12/09
4:00
PM ET
By
Tim Griffin
| ESPN.com
Posted by ESPN.com's Tim Griffin
No fan base in the Big 12 values its history and tradition quite like Texas A&M's supporters do.
The Aggies have many strong candidates who would merit consideration on my mythical Mount Rushmore for football. It was tough, but here are my four choices.
E. King Gill -- The 12th Man never saw action in the 1922 Dixie Classic, but his readiness if needed has infused the tradition of the school ever since.
Dat Nguyen -- The most decorated defensive player in Aggies' history won the Bednarik and Lombardi awards, leading Texas A&M to its only Big 12 football title in 1998.
John David Crow -- The only Heisman Trophy winner in school history claimed the award despite his team losing its final three games in 1957.
John Kimbrough -- The first two-time consensus All-American in school history finished as the runner-up for the Heisman in 1940, the year after leading the Aggies to their only national championship in 1939.
Of course, there might be room for argument as far as R.C. Slocum, Bear Bryant, Pat Thomas, Dave Elmendorf, Jackie Sherrill or Homer Norton is concerned.
Any other suggestions?
October, 21, 2008
10/21/08
4:56
PM ET
By
Tim Griffin
| ESPN.com
Posted by ESPN.com's Tim Griffin
Caleb from Norman, Okla., writes: I have to throw out the scenario of if Oklahoma, Texas and Oklahoma State all win out and Oklahoma State beats Texas and Oklahoma beats OK State, we would have a three-way tie for first in the Big 12 South. Who goes to the Big 12 Championship game then? The last few weeks of the season will be very interesting.
Tim Griffin: It would be very interesting, believe me. If the season was to finish out like you predict, the determination of the conference champion would be made on which team was ahead in the final regular-season BCS standings, which is the fifth tiebreaker.
Here, directly from the Big 12's media guide, is the list of tiebreakers. It might be something you want to periodically check during the next several weeks.
Big 12 divisional tiebreakers: The following procedure will determine the representative from each division in the event of a tie:
(a) If two teams are tied, the winner of the game between the two tied teams shall be the representative
(b) If three or more teams are tied, steps 1 through 7 will be followed until a determination is made. If only two teams remain tied after any step,
the winner of the game between the two tied teams shall be the representative.
1. The records of the three teams will be compared against each other;
2. The records of the three teams will be compared within their division;
3. The records of the three teams will be compared against the next highest placed teams in their division
in order of finish (4, 5 and 6);
4. The records of the three teams will be compared against all common conference opponents;
5. The highest ranked team in the first Bowl Championship Series standings following the completion of Big 12 regular season
conference play shall be the representative;
6. The team with the best overall winning percentage [excluding exempted games] shall be the representative;
7. The representative will be chosen by draw.
Hope that helps. I can hardly wait for the last month of the season.
September, 20, 2008
9/20/08
3:11
PM ET
By
Tim Griffin
| ESPN.com
Posted by ESPN.com's Tim Griffin
COLLEGE STATION, Texas -- I made my favorite trip in the Big 12 this morning, something I get excited about even after making it more than a hundred times during my career.
The journey along Texas State Highway 21 from San Antonio always takes me through small towns like Dime Box and Manheim. I've been driving by the same soccer field in Bastrop for more than 20 years. Some of the kids who were playing in games when I first started my career are likely watching their own kids play today.
And there's something special about heading into Kyle Field for a game. This place reeks of tradition, from the statue of E. King Gill outside the stadium to some of the older former Aggies students tailgating in the areas around the stadium in the same locations for generations.
It's fitting today that former Texas A&M coach R.C. Slocum is being inducted into the school's Hall of Fame. He was coaching the Aggies' "Wrecking Crew" defense under Jackie Sherrill when I first started coming over here.
The Aggies' sports marketing department has capitalized on those warm, fuzzy feelings with their latest catchphrase, splashing "This Is Home" across the campus and even on the ribbon scoreboards inside the stadium.
Sure, the Aggies have started slowly and there's been a lot of grumbling early in Coach Mike Sherman's tenure. But for once, I can't really disagree with them, at least on their promotions, anyway.
July, 30, 2008
7/30/08
9:24
AM ET
By
Tim Griffin
| ESPN.com
Posted by ESPN.com's Tim Griffin
While scanning the Omaha World-Herald's Web site this morning looking for something new from Tom Shatel, I came across a very cool feature that was buried deep on the newspaper's site.
The World-Herald has done a laborious job archiving game stories and pictures from each of the Cornhuskers' 44 bowl games.
My favorite was reading about Nebraska's trip to the 1941 Rose Bowl led by Coach Biff Jones. Game reporter Gregg McBride referred to the coach as "The Biffer" in his game notes. I also enjoyed reading about how the Cornhuskers met with film star Robert Taylor, a native of Filley, Neb., after the game.
For Cornhusker fans who want to remember how much fun it is to spend late December away from the frigid Midwest, it's probably the next best thing to a trip to San Antonio or Shreveport.
And it's a pretty good reminder of what will be expected on a regular basis from Bo Pelini.
But before we look forward to December bowl trips, let's serve up some morning links from around the Big 12. Happy munching.
My take: Rock-star greetings are fine in July, but Gundy would prefer fans cheering for him like that in December or January -- after bowl games.
My take: So much for fishing or golf. Stoops is already in football-mode when many other coaches are squeezing in their last couple of days of vacation.
My take: The Cyclones are ripped for their gold pants, which the Web site compares to those worn by M.C. Hammer. I'm sure Gene Chizik is more old school than that, aiming more to clothing worn by the Pittsburgh Steelers.
My take: Both the Cornhuskers and The Who have had Hall of Fame production in the past but have fallen on hard times. But I'll know there's something to the comparison if Pelini starts smashing Gatorade coolers after games like Townshend does with his guitars.
My take: Funny, most predictions are going the other way on this. The Foxsports.com guys are going to look awfully smart or awfully foolish on this one.
My take: I can only hope to see a few games as exciting as this one later this season. The North scored three times in the final 98 seconds to win the game. And the South's chances were snuffed out when Drew Nelson's 45-yard field goal with time expiring was blocked.
My take: It seems the Longhorns responded better to Brown's boot than his former Kumbaya-singing ways -- at least if the Holiday Bowl is any indication.
My take: I enjoyed Arnett's story, but I really thought the illustration that accompanied the story was neat. It showed quarterbacks Chase Daniel, Sam Bradford, Graham Harrell and Todd Reesing as the four faces of "Mount Passmore," a takeoff of the historical site Mount Rushmore. Good idea, but where was Colt McCoy?
My take: I think Ringo forgot about the most obvious player on the roster. As QB Cody Hawkins plays, so will go the Buffaloes.
My take: The best indicator about Bass' status can be found in the Big 12's media guide. He's not listed on Iowa State's roster.
My take: So much for those thoughts about teaching an older dog new tricks. Sherman appears to have gravitated to recruiting -- at least if 25 commitments is any indication.
My take: Briles is a proven winner, but he'll be facing the challenge of his career at his new job.
My take: I know Sherril
l is a media member now, but hyperbole has never been part of his schtick. This kid must be pretty good.
My take: I know the television networks love the rule, but I don't. I'd rather savor and celebrate college football's differences from the NFL rather than make it more like the "No Fun League."