June, 22, 2011
6/22/11
9:00
AM ET
The Big 12 might be weak at the top of the running back heap, but it's definitely not at receiver. The conference has at least three of the top five receivers in the country, and the top two. They highlight a very strong group of receivers across the league, and I continue our position rankings with receivers today.
Remember that depth plays a big part of these rankings. We'll be ranking the top 10 individuals at each position later on before the season begins.
Other position rankings:
1. Oklahoma
[+] Enlarge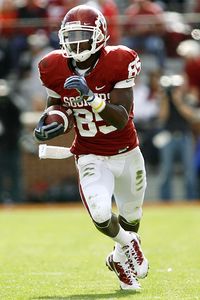 J.P. Wilson/Icon SMIRyan Broyles finished the 2010 season with 131 catches for 1,622 yards and 14 touchdowns.
The Sooners have the nation's No. 2 receiver,
Ryan Broyles
, but found a handful of others to surround him in 2010 and should have a couple more in 2011. Sophomore
Kenny Stills
broke Broyles' freshman receiving record and looks like a budding star.
Dejuan Miller
came on strong before a season-ending knee injury, but he's back. The Sooners lose
Cameron Kenney
, but
Trey Franks
had a strong freshman campaign, and freshmen
Justin McCay
(redshirt) and Trey Metoyer could provide even more playmakers.
2. Oklahoma State
The Cowboys boast the returning Biletnikoff Award winner and 2011 favorite,
Justin Blackmon
, with a great group around him, too. Slot machine
Josh Cooper
returns for his senior year, and fellow senior
Hubert Anyiam
(the team's leading receiver in 2009) is hoping to return to form after being slowed by an ankle injury in 2010.
Isaiah Anderson
is a shifty speedster, while
Michael Harrison
and
Tracy Moore
offer a more aerial approach to receiving.
3. Texas A&M
The Aggies have the Big 12's No. 3 receiver,
Jeff Fuller
, who is arguably one of the top-five in the college game. But they also have the Big 12's most experienced receiving unit, with guys who won't be surprised by anything they see in Big 12 play. Juniors
Ryan Swope
and
Uzoma Nwachukwu
are the team's second and third options, but fellow juniors
Kenric McNeal
and
Brandal Jackson
could be bigger pieces of the offense in 2011. Tight end
Nehemiah Hicks
should see his profile rise in his coming sophomore year.
4. Baylor
Top target
Kendall Wright
will likely end his career as the Bears' leading receiver for all four of his seasons on the field, and 6-foot-4, 220-pound junior
Josh Gordon
looks like the new Jeff Fuller.
Terrance Williams
,
Lanear Sampson
and Tevin Reese round out the Bears' top five, who all had at least 40 catches last season, and all return.
5. Missouri
Missouri still lacks a proven big-play threat, but has two pass-catchers who have some of the best hands in the game. Receiver
T.J. Moe
and tight end
Michael Egnew
won't drop many passes, and combined to catch 182 for 1,807 yards and 11 touchdowns.
Wes Kemp
and
Jerrell Jackson
bring a lot of experience and both had at least 39 catches last season. If
Marcus Lucas
or
Rolandis Woodland
can become a consistent downfield threat, Missouri will rise up these rankings by season's end.
6. Texas Tech
Tech's top two receivers,
Lyle Leong
and
Detron Lewis
, must be replaced, but the Red Raiders have a few solid candidates to do it. Junior
Alex Torres
will likely lead the group, but fellow junior
Austin Zouzalik
and seniors
Jacoby Franks
and
Tramain Swindall
will be counted on for more production. Dark horse/juco newcomer Marcus Kennard could blossom into a household name across the Big 12 by season's end.
7. Texas
Sophomore
Mike Davis
and redshirt freshman
Darius White
are loaded with potential, but two of the team's top three receivers (
James Kirkendoll
,
John Chiles
) are gone, and no Texas receiver caught more than two touchdowns last season.
Malcolm Williams
and
Marquise Goodwin
are as different as two receivers could be, but both need to break out to help whoever becomes the Longhorns quarterback next fall.
8. Kansas State
Brodrick Smith
will be back this season after breaking his leg in a loss to Nebraska. But two of the team's top three receivers are gone, leaving converted quarterback
Chris Harper
as the leading returner, though Smith might have held that title if he'd stayed healthy. Sophomore speedster
Tramaine Thompson
can make plays if he gets the ball with some space.
9. Iowa State
The Cyclones will be breaking in a new quarterback this season and they will need a playmaker to step up. Tight end
Collin Franklin
led team in receiving last season but he is now gone.
Darius Reynolds
looks like a possible candidate to fill the role, although incoming slot receiver Aaron Horne might rack up a few catches in space.
Darius Darks
and
Josh Lenz
should earn some more targets too.
10. Kansas
Converted defensive back Daymond Patterson is the team's top receiver, but the team's No. 3 receiver junior
Bradley McDougald
, moved to safety in the middle of the season. Tight end
Tim Biere
is one of the Big 12's best and led the team with four touchdowns last season.
Chris Omigie
and
D.J. Beshears
have some potential, and converted quarterback
Christian Matthews
keeps showing up in spring games. But all three, along with the rest of the group, would benefit from some consistency at the quarterback spot.
January, 26, 2011
1/26/11
10:00
AM ET
Signing day is exactly a week from Wednesday, and it's time to take a look at who needs what in its 2011 class.
Some schools have addressed these needs with their current class. Some haven't. Others are still trying.
Here's our look at the South, after running down the
Big 12 North
earlier this morning.

BAYLOR
Defensive tackle:
The Bears are loaded on offense and have a ton coming back, but anyone who watched Baylor in 2010 knows the big problems are on defense, starting with the front four. Phil Taylor is headed to the NFL and Nicolas Jean-Baptiste will be a senior next year. Reserve Chris Buford is gone, too. The Bears need to fill out some depth up front to avoid a repeat of their Texas Bowl debacle defending the run against Illinois.
Punter
: Derek Epperson was rock solid as a four-year starter for the Bears, averaging near 44 yards a punt for his past three seasons. He's gone now, and the Bears will need a replacement. The good news is Baylor's offense with
Robert Griffin III
doesn't make the position nearly as important as it used to be.

OKLAHOMA
Receiver:
Ryan Broyles
, a senior, and
Kenny Stills
look ready for big years in 2011, but senior
Cameron Kenney
is gone.
Trey Franks
,
Dejuan Miller
and
Joe Powell
could contribute in 2011, but beyond that, another big-time threat across from Stills would certainly help. One of the Sooners' top 2011 commits, Trey Metoyer, could become that player.
Safety:
Both starters, Quinton Carter and Jonathan Nelson, have graduated, and the Sooners will try to replace them with Sam Proctor, who has started plenty of games, and Javon Harris. The Sooners are pretty well-stocked about everywhere, but more depth in the secondary is always welcome.

OKLAHOMA STATE
Defensive line:
Three of the Cowboys' four starters are gone, and it's always necessary to fill in some depth behind them. Shane Jarka, Chris Donaldson and Ugo Chinasa all had good years in 2010.
Offensive line:
Oklahoma State brings back all five starters for 2011, but four will be seniors. That means replacing them in 2012, which will be a lot easier if those replacements don't end up being true freshmen. Oklahoma State kept offensive line coach Joe Wickline, a candidate for the same job at Texas, and his development of the line last year with four new starters was a big reason for the Cowboys' success. He'll need to do it again in 2012.

TEXAS
Running back:
Fozzy Whittaker
and
Cody Johnson
will both be seniors in 2011, and Tre Newton's career is over because of issues with concussions. Texas would be well-served if its top 2011 commit, Malcolm Brown, can come in and be effective immediately as a true freshman.
Cornerback:
Aaron Williams left early. Curtis and Chykie Brown graduated. Texas needs help at corner and will have big problems in the near future if they don't get it.
Linebacker:
Emmanuel Acho and Keenan Robinson will be seniors in 2011, and Dustin Earnest and Jared Norton already graduated. New talent behind them will help prevent a drop-off in 2012 after Acho and Robinson split.

TEXAS A&M
Kicker:
Randy Bullock will be a senior in 2011, but Texas A&M is already hoping his spot is filled by incoming freshman Taylor Bertolet, the nation's No. 2 kicker who won the Under Armour All-American game with a last-second field goal earlier this month.
Linebacker:
Michael Hodges and Von Miller have graduated, and Garrick Williams will follow them in 2011. The Wrecking Crew was pretty stout for most of 2010, but filling those holes in a four-linebacker front will be key in ensuring things stay that way.

TEXAS TECH
Secondary:
LaRon Moore and Franklin Mitchem are gone, so Texas Tech will be breaking in some new blood in the secondary for new coordinator Chad Glasgow and cornerbacks coach Otis Mounds. Freshmen cornerbacks Jarvis Phillips and Tre Porter made plays in 2010, but they also allowed offenses to make a few of their own. Stopping that will be a big step in Texas Tech getting things rolling under Tommy Tuberville.
Receiver:
Texas Tech already needs to replace
Detron Lewis
and
Lyle Leong
, and
Tramain Swindall
and
Jacoby Franks
will follow suit after 2011.
Alex Torres
was hampered by a back injury all year, but the Red Raiders will need some depth around him at receiver to keep the offense humming.
November, 6, 2010
11/06/10
8:26
PM ET
Kansas State wasn't the only team to establish itself early on the ground in the Big 12's late games tonight.
Missouri's
Marcus Murphy
did to Texas Tech what Nebraska running back
Roy Helu Jr.
did to Missouri last week.
On Missouri's third play from scrimmage, the freshman broke a 69-yard touchdown run that has Missouri up, 7-0.
Last week, the Tigers gave up a 66-yard touchdown run on the first play of the game to Nebraska before falling behind 24-0 in the first quarter.
The Tigers will certainly score points, but the game will hinge on how well it can stop Texas Tech's offense. The Red Raiders have put up big points often, but teams like Oklahoma State and Texas have shut them down consistently in wins.
Missouri's secondary is much improved, and even though Texas Tech is playing without receivers
Jacoby Franks
and
Alex Torres
, top targets
Lyle Leong
and
Detron Lewis
will provide a tough test for Missouri's cornerbacks, Kevin Rutland and Carl Gettis.
November, 4, 2010
11/04/10
10:15
AM ET
I'll be in Stillwater on Saturday checking out a big South battle between Oklahoma State and Baylor, but I'll have my eye on every game as usual. Here's what I'm watching:
1. The scoreboard at Boone Pickens Stadium.
You saw it in my pick this morning, there's going to be a lot of points on the board this Saturday, featuring some of the best skill-position talent in the league. Oklahoma State's triplets -- quarterback
Brandon Weeden
, running back
Kendall Hunter
and receiver
Justin Blackmon
-- go head-to-head with
Robert Griffin III
,
Jay Finley
and
Kendall Wright
.
[+] Enlarge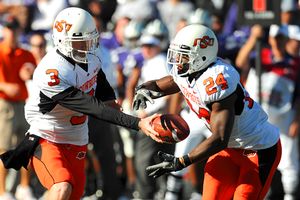 John Rieger/US PresswireOklahoma State's Brandon Weeden (3) and Kendall Hunter (24) -- along with receiver Justin Blackmon -- have been tough to stop this season.
2. Big hits.
This should be something to keep an eye on for the rest of the season, really. I had it on
last week's what to watch
, but I'm interested to see if receivers over the middle go unjacked-up, or if there's any noticeable difference with how defenders hit. Oklahoma safety Quinton Carter, one of the league's hardest hitters, says his style is changing because of the crackdown. Nebraska's defense says it won't change the way it plays after linebacker Eric Martin was suspended. Courtney Osborne's hit on
Blaine Gabbert
(clean in my book) went unpunished after Missouri's Gary Pinkel sent it to the league for review in hopes of educating his players on which hits were legal and which hits weren't.
3. Texas' defense.
It completely shut down the league's best rushing offense earlier in the season in a marquee 20-13 victory at Nebraska. Now, it takes on the Big 12's No. 2 rushing team, Kansas State, in Manhattan. What's in store for running backs
Daniel Thomas
and
William Powell
?
4. Texas Tech's receivers.
Jacoby Franks
and last year's leader,
Alex Torres
, are out. They the are Red Raiders' Nos. 3 and 4 targets. Franks is gone for the year, and Torres could be too, but arthroscopic surgery earlier this week provided hope he could return in a few weeks. Those who will be playing, namely seniors
Lyle Leong
and
Detron Lewis
, will need to play well to keep up with Missouri's offense. Younger players like
Austin Zouzalik
and
Tramain Swindall
have to elevate their play.
5. Blaine Gabbert.
Gabbert actually played pretty well for what was available last week, running when he needed to and throwing without any real misses on the rare occasion when a receiver was open. This week should be much easier against a Texas Tech secondary that is the worst in the league and one of the worst in the nation. Is he due for a big week? His targets will be back open, and he won't get hit nearly as much. The Red Raiders gave up 449 yards to
Ryan Tannehill
, 274 yards to
Cody Hawkins
and 356 to Brandon Weeden in the past three weeks. Not a sparkling résumé.
6. Oklahoma on the road.
Bob Stoops says it's not a real problem. The Sooners'
win-loss margin at home is 22.7 points higher than away
from Owen Field, by far the highest of any other elite program. This year, the Sooners have a loss to Missouri and a two-point win over Cincinnati, the last-place team in the Big East at 3-5, on their record. Texas A&M is a renewed team with Ryan Tannehill at quarterback. Is an upset in store?
7. Tannehill's next test.
Like we mentioned above, Texas Tech's secondary ranks last in the league, giving up 45 more yards per game through the air than any other team. That ranks 119 out of 120 teams nationally. Oklahoma isn't way, way better (sixth in Big 12, No. 83 nationally), but they'll be tougher than Texas Tech. What does Tannehill have in store for his encore after a school-record 449 yards and four touchdowns in his first start last week?
8. Quarterback controversies.
Texas Tech has reopened the competition between
Steven Sheffield
and
Taylor Potts
, and hasn't officially announced a starter. Kansas' top two passers may be back this week, but their status is in doubt as No. 3
Quinn Mecham
hopes to make his second career start. Texas A&M coach Mike Sherman hasn't explicitly said Tannehill will start on Saturday, but it would be hard to imagine he wouldn't after last week. Keep an eye on how all this shakes out on Saturday.
9. Kansas climbing.
The Jayhawks led at halftime last week at Iowa State. Now, they host the next-worst team in the league, Colorado, the Big 12's only other 0-4 team. There's no doubt this is the best chance for either team to get their first -- and maybe only -- conference win of the year.
10. Huskers taking care of the ball.
I'm not 100 percent sure, but I think the definition of a football nightmare is finishing a game with more turnovers than points. That's what Nebraska did last year, turning the ball over eight times in a 9-7 home loss to an Iowa State team missing its two best players, running back
Alexander Robinson
and quarterback
Austen Arnaud
. They'll face a full-strength Iowa State team in Ames on Saturday for control of the North. The Huskers have an incredible 26 fumbles in eight games, but have lost only nine of them. What are the odds history repeats itself?
November, 2, 2010
11/02/10
1:00
PM ET
By
ESPN.com staff
| ESPN.com
Surveying the conference, Saturday was an pretty bad day for injuries for a handful of teams across the Big 12. Six teams had contributors hurt just in Saturday's game, and plenty of them were serious injuries. Here's a look at the most notable players who went down on Saturday.
Texas A&M:
RB
Christine Michael
(broken tibia), out for season
Texas Tech:
WRs
Jacoby Franks
(foot) and
Alex Torres
(knee). Both will miss the remainder of the season, though Franks injury came against Colorado and his status was updated on Monday.
Texas:
OG Michael Huey (knee), out 4-6 weeks
Colorado:
WR
Travon Patterson
(ankle), status in doubt
Nebraska:
QB
Taylor Martinez
(ankle), CB Alfonzo Dennard (concussion). Both are day-to-day, but neither practiced on Monday.
Oklahoma:
RB
Jermie Calhoun
(knee), out for season
April, 20, 2009
4/20/09
8:35
AM ET
By
Tim Griffin
| ESPN.com
Posted by ESPN.com's Tim Griffin
All spring long, Texas Tech coach Mike Leach has openly discussed how his "rebuilding job" is overrated.

Sure, the Red Raiders lose standouts like Graham Harrell, Michael Crabtree and Shannon Woods from last season's team. But Leach saw flashes of promise among the young Red Raiders during the Red-White scrimmage on Saturday that made him pleased as the team finishes spring practice this week.
Backup quarterback Steve Sheffield threw a go-ahead touchdown pass and Cody Davis returned an interception 100 yards for a clinching score to power the White to a 19-7 victory over the Red before about 12,500 people at Jones AT&T Stadium.

Most of the interest in the scrimmage came from the performance of Taylor Potts, who is in line to replace Harrell. Potts completed 20 of 27 passes for 211 yards.
Davis got the pickoff on a tipped pass against backup Stefan Loucks to help ice the scrimmage victory, which came in game-like settings.
Leach typically likes to stretch competition for the quarterback out until shortly before the season begins. But he has shown no indication that Potts won't be the starter for the Red Raiders' season opener Sept. 5 against North Dakota.
"It's really comforting knowing you have the support of your coach and the coach is behind you as well as the other coaches and your teammates," Potts told the Lubbock Avalanche-Journal. "It makes your job a little easier knowing that you're backed by a lot of people on your team, so it's nice."
Among receivers, Austin Zouzalik produced five grabs for 67 yards and Edward Britton had five catches for 43 yards.
But the biggest revelation might have been redshirt freshman running back Harrison Jeffers, who produced 21 rushing yards on eight carries and also snagged seven catches for 45 yards.
Leach and the Tech coaches tried to equalize talent as much as possible in the scrimmage. The Red team had six first-team players from the offense including Potts, Britton and Tramain Swindall and defensive standouts like defensive linemen Colby Whitlock and Ra'Jon Henley and linebacker Brian Duncan.
The White's offensive starters include linemen Brandon Carter and Chris Olson and receivers Detron Lewis and Jacoby Franks. First-team defensive starters included linebackers Marlon Williams and Bront Bird.
Several players played both ways, including running backs Baron Batch and Jeffers, receiver Adam James and defensive end Sandy Riley.
"I thought Potts played well," Leach told the Fort Worth Star-Telegram. "I think we consistently moved [the ball]. But any time you split the teams up, there's going to be breakdowns in execution because you're spread a little thin."
Defensive standouts included junior safety Brett Dewhurst (seven tackles) and sophomore linebacker Tyrone Sonier, who notched eight tackles a sack and broke up a pass.
The offensive execution was a little better than last season, when an angry Leach ordered a difficult practice to finish the spring practice a couple of days after the scrimmage. There's no indication that will happen after Saturday's performance.
But he can't be happy with the performance of kicker Donnie Carona, who misfired on two of three extra-point attempts after struggling last season. Carona also averaged 28 yards on three punts.
Will that mean that kicker Matt Williams will be a revelation after his success last season? We'll see over the summer.
April, 15, 2009
4/15/09
8:59
AM ET
By
Tim Griffin
| ESPN.com
Posted by ESPN.com's Tim Griffin
Texas Tech coach Mike Leach is a busy man these days. The Red Raiders are in the middle of spring practice. Trying to replace record-breaking players like Michael Crabtree and Graham Harrell has made for an eventful few weeks for the Texas Tech coach.
Some might be surprised that Leach is even in Lubbock after his contract impasse with the school that was settled at the last minute. But direct negotiations between Leach and Tech chancellor Kent Hance resulted in a new deal that appears to have Tech's coach entrenched in the High Plains for the foreseeable future.
| | |
| --- | --- |
| | |
| | Douglas Jones/US Presswire |
| | The idea of rebuilding is nothing new to Mike Leach. |
We caught up with Leach earlier this week while he was attending his son's baseball game. Between pings of aluminum bats and cheers from surrounding parents, Leach detailed some thoughts about his team's work, quarterback Taylor Potts' development, his increased notoriety after an appearance on "60 Minutes" earlier this year and his take on the Somali pirate controversy.
How has practice looked so far for your team this spring?
Mike Leach: I think it's been good. We've got a bunch of guys who are working hard. We've had some good tempo and strong work so far. I've been pleased.
What have been your initial perceptions of Taylor Potts at quarterback?
ML: He's been pretty steady. He had one bad day and one bad period. The rest have been pretty good. He's bigger than the quarterbacks we've had and has a stronger arm than most. And like a lot of them in the past, he had several years to learn and play behind some good people.
Taylor has watched what they have done. And I think the fact that he's been behind Graham, but still didn't waste any reps as a backup. A lot of times as you are sitting and waiting their chance, guys will waste their opportunities to learn. Taylor didn't do that.
With the loss of key players like Harrell, Crabtree and Shannon Woods, is your offense going to change much this season?
ML: I don't think it will change a bunch. But what ends up is that different players and receivers will get more of a chance to emerge and play. Crabtree got so many catches, but now different players and receivers will do well. We'll have a different group of backs who do different things. But I don't think it will change that much.
How much are the Red Raiders going to miss Michael Crabtree?
ML: We've had a couple of guys in Jacoby Franks and Alex Torres who have really played so far. Last season, the second-line guy behind Crabtree was Franks and he's a year better now. I think Torres is a little better this year than last year. It means we are a little deeper than we were. Obviously, neither one is at the Crabtree level yet, but the second-level is stronger than it was last year.
After starting last season 10-0, your team finished the season with a couple of disappointing losses, including the Cotton Bowl defeat to Mississippi. Did that loss stay with you guys a little longer because of the success earlier in the season?
ML: Our guys don't think of things that way. We don't have a team that slacks in a bowl game or lingered after we lost it. We felt like we had a chance to play a little bit better, but certainly by working incredibly hard, we've got a chance to get another cohesive unit again together.
February, 23, 2009
2/23/09
12:32
PM ET
By
Tim Griffin
| ESPN.com
Posted by ESPN.com's Tim Griffin
One of the most interesting parts of spring practice will be watching potential replacements emerge in key situations across the Big 12.
Here are some of the key departures from around the conference and some of the players who will compete to try to fill those vacancies.
| | |
| --- | --- |
| | |
| | Getty Images |
| | Brian Orakpo's pass-rushing skills will be missed by Texas. |
Texas Tech wide receiver Michael Crabtree -- The Red Raiders will miss the two-time Biletnikoff winner. Lyle Leong will get the first shot and should be challenged by Jacoby Franks and 6-foot-4 Rashad Hawk. Top returning receivers Detron Lewis and Tramain Swindall will remain inside as slot receivers, meaning that other players will have to emerge at Crabtree's old featured slot.
Texas' pass-rushing specialist replacing Brian Orakpo -- Texas coaches are hoping that Sergio Kindle will ratchet up his play to Orakpo-like levels as he moves to a near permanent status as a pass-rushing specialist at defensive end. Sam Acho will get most of the work on the other side during the spring with Eddie Jones battling back from shoulder and ankle surgery, meaning the spotlight will be on Kindle this spring.
Jeremy Maclin's talents at Missouri -- It likely will take several players to cover what the multi-purpose Maclin provided as a receiver, rusher and kick return threat. Among the players who will get a look at a variety of roles include Wes Kemp, Jerrell Jackson, Gahn McGaffie and Rolandis Woodland.
Oklahoma fills a depleted offensive line -- Only tackle Trent Williams will be back as a starter for the Sooners' unit, which will lose key producers like guards Duke Robinson and Brandon Walker, center Jon Cooper and mammoth tackle Phil Loadholt. The four departing starters combined for 149 starts during their college careers. Replacements like tackle Cory Brandon, guards Alex Williams and Brian Simmons and center Jason Hannan are presumed to be talented, but are still very inexperienced. That's not a comforting thought for returning Oklahoma quarterback Sam Bradford -- at least until spring practice begins.
Kansas State replaces Ron Prince -- Sure, the Wildcats made only one bowl trip in Prince's three-season tenure before he was fired. But it will still be a huge test for legendary Kansas State coach Bill Snyder to match the success he produced earlier in his career after his sabbatical during the Prince years. It will especially be challenging this season with the loss of quarterback Josh Freeman and offensive coordinator Andy Ludwig, who went packing late last week for a similar position at California after only six weeks at Kansas State. Junior-college transfer Daniel Thomas and Carson Coffman will compete to replace Freeman. And it's anybody's guess whom Snyder will find to replace Ludwig with the start of spring practice approaching on April 6.

January, 13, 2009
1/13/09
5:57
PM ET
By
Tim Griffin
| ESPN.com
Posted by ESPN.com's Tim Griffin
There were no surprises or last-minute changes in Michael Crabtree's mind. The two-time Biletnikoff Award winner is off to the NFL draft, where he likely will be taken toward the top of the first round as one of the best receivers available.
| | |
| --- | --- |
| | |
| | AP Photo/LM Otero |
| | Is Michael Crabtree's catch-and-run for a TD with 3 seconds left against Texas the best play in Big 12 history? |
His departure was expected by Texas Tech coaches. And truthfully, Crabtree was probably as ready at the end of last season as he is now.
His numbers and productivity actually were better in 2007 than this season, when an ankle injury limited him late in the year. He still ended his career with 231 catches, a mind-boggling number considering he only played two years of college football.
It means that Tech coach Mike Leach not only will be looking for a new quarterback to replace Graham Harrell, but also a playmaking threat to fill in for Crabtree.
Backup quarterback Taylor Potts will be poised to take over for Harrell. But finding a replacement for Crabtree at his outside flanker position in Leach's offense won't be quite so easy.
Tech's top returning receivers are sophomore Detron Lewis, who produced 76 receptions, and freshman Tramain Swindall, who notched 46 catches, while sharing an inside receiving position. Leach has said he doesn't plan to move Swindall outside, but is looking at him at another of his four starting slots.
Crabtree's most likely replacement will emerge from a young cast including Lyle Leong, Rashad Hawk, Jacoby Franks and Todd Walker. All have shown flashes of promise, but don't have much game experience.
"I think our talent pool can withstand the loss," Tech receivers coach Dennis Simmons told the Lubbock Avalanche-Journal when news of Crabtree's departure first broke last week. "Obviously, it's a tremendous loss if that's what happens. But I do think that those kids will step in and play well."
It also seemingly would make the next Crabtree easier to recruit. Crabtree's development has no doubt caught the attention of many top five-star prospects across the country. Matching his development in Tech's explosive passing offense should have a lot of appeal for the kinds of recruits that Leach traditionally has not been able to get before Crabtree arrived.
Crabtree goes down in history as the greatest receiver in Tech history and in the Big 12, for that matter. No player has ever won back-to-back Biletnikoff Awards like he has accomplished in his last two seasons.
His thrilling 28-yard TD catch from Harrell in the Red Raiders' 39-33 upset victory over then-No. 1 Texas could go down as the greatest play in Big 12 history. It had tremendous significance not only in boosting Tech to its highest level in the national polls, but also costing Texas a chance to play for the national championship.
And the scouts I've talked to think that he's going to be a whale of a wide receiver once he plays at the next level. Crabtree's determination and practice habits are unsurpassed. The player I've heard him compared most frequently to is Hall of Fame receiver Michael Irvin.
If Crabtree approaches that kind of career, he'll be a great NFL player. And I frankly would be surprised if he doesn't become one -- as long as he stays away from injuries and lands on the right team.