June, 11, 2014
Jun 11
1:30
PM ET
The rule never made sense to West Virginia running backs coach JaJuan Seider. Recent signees would arrive on campus but couldn't spend time with the Mountaineers' coaching staff due to NCAA rules prohibiting coaches interaction with their players during the summer.
"You're talking about kids who might be 1,000 miles away from home for the first time," Seider said. "And you can't even go hang out with your coach if you want to. That was a dumb rule, you bring a kid up here for the first time and you can't have any interaction with those kids."
A silly rule. And one that is in the past.
"

You get to be around those kids and help them to adjust, it helps tremendously. You can be around those kids, you can see their growth, you can watch film with them, they'll understand how you coach and then they're comfortable. They get to see the guy who recruited them, the guy who will be coaching them. I can't tell you how important it is.

"

-- West Virginia RB coach JaJuan Seider
A new NCAA rule allows Big 12 coaches more interaction with their players this summer. Gone are the days of freshman arriving on campus with only upperclassmen to help make their transition into the schedule of a college football player as smooth as possible. Under the new rule, football players can be required to attend weight training and conditioning for eight hours per week during summer semesters with two of those hours available to use for film study. No on-field work is allowed.
The Mountaineers welcomed 10 new faces into the program this week, including quarterback
William Crest
and defensive back
Dravon Henry
. In the past WVU coaches couldn't have interacted with those newcomers to help prepare them to play this fall. Now, the coaching staff gets the opportunity to help those players -- including Crest, who could insert himself into the starting quarterback battle this summer -- make a smoother transition into the program.
"You get to be around those kids and help them to adjust, it helps tremendously," Seider said. "You can be around those kids, you can see their growth, you can watch film with them, they'll understand how you coach and then they're comfortable. They get to see the guy who recruited them, the guy who will be coaching them. I can't tell you how important it is."
At Oklahoma State, the new rule could help a young Cowboys' roster be better prepared to open preseason camp in August. Instead of kids teaching kids, the Pokes' coaches can teach them both.
"To be able to work with these guys in the summer time takes the mental game to another level," Cowboys cornerbacks coach Van Malone said. "Now, rather than relying on [true sophomore]
Jordan Sterns
to teach [true freshman]
Dylan Harding
, we have the opportunity to spend time, especially with this young team, to teach them both. It's really only an hour a week but you get the opportunity to be around them and help them grow."
Malone doesn't expect to even use the full allotment of time but instead wants to use it as quick primer for what to expect in the fall.
"You just try to get one point across, two points across in that time you have," Malone said. "Take advantage of this time, even though we have an hour a week, we're not going to grind them up every week, we're not going to use that full hour. You just try to get one point across, two points across and let them go. I think when you do it that way it ends up being much more fruitful."
For new Iowa State running backs coach Louis Ayeni, the time will be valuable for him to start to interact with his freshmen, but he wants to make sure the Cyclones running backs get time away from him before the season heats up at the end of the summer.
"This biggest thing it will do is answer those little questions they have as they work out with the guys, we can go on the board and draw it," Ayeni said. "It will help the freshman as they get adjusted. As they get adjusted, they'll be more on their own. My freshmen ... I'll be able to help get adjusted. My older guys are on the ball, so they'll see me when they see me."
Even with the increased interaction, the overall time demands still remain limited and manageable for both the players and coaches. Coaches will still have the opportunity for some valuable down time during the summer months, and players will continue to have much needed time away from a coaching staff they're around day in and day out during the fall.
"The thing about the summer is they'll get away from me for a little bit," Ayeni said. "Because once the season comes around I'll be on them 24/7 so I want the message to still be fresh."
May, 14, 2014
May 14
10:30
AM ET
With a meeting room full of talented running backs set to battle for carries,
West Virginia
could have the deepest position group in the Big 12 this fall.
Running backs coach JaJuan Seider took some time to chat with ESPN.com about the depth at the position, the best player this spring and what he looks for on the recruiting trail:
[+] Enlarge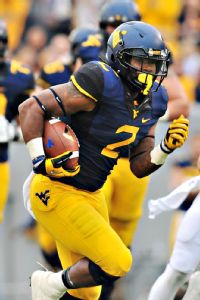 Dan Friend/USA TODAY SportsDreamius Smith rushed for 494 yards and five touchdowns for the Mountaineers in 2013.
What is the best thing about having so many talented guys?
JaJuan Seider:
You have depth. You never worry about changing what you're doing. Sometimes you end up changing everything you're doing, whether it's certain plays or certain schemes. Having those guys, you don't have to do anything.
Not only do you have depth, you have guys with different strengths. Do you consider that a staple of the group?
JS:
Yes, especially since our offense is built for versatility and to take advantage of different strengths. And the way we change up our tempo and put some of them guys out wide without having to sub in receivers. It gives us a lot of flexibility in that aspect.
Could you see having some of those guys on the field together?
JS:
Absolutely. We did it last year and it was great for us last year and it's going to be great for us this year. We'd be crazy not to take advantage. They're some of the best players on the team and we want those guys on the field as much as possible.
Were you happy with the group and the overall growth in the spring?
JS:
Extremely. Because now, being with those guys for a year, they become "your guys" even the ones left over from the previous staff. Now they trust you [and] believe in what you're doing so now you can push them the way you want them to be pushed. I challenge them to be physical, I challenge them to not just be a running back, but be a complete football player. And I thought they answered the call. We worked on protection, we worked on everything that makes them a complete back. I was impressed with them.
Have you been in a situation where you're have so much competition at one position?
JS:
Not to this extreme. When I was at Marshall, we had quite a few young guys but they hadn't seen the field. We have a group where everyone in the room has 500 rushing yards in their career. That's what makes the dynamic different, you have guys with reps under their belt.
Has that made it difficult?
JS:
Not during spring. When you get close to games it will be difficult because a guy will probably feel like he should be playing when he's not playing. Like I told my guys in the room, there's one football. Somebody is going to be a star, somebody is going to be the No. 2 guy or even a couple guys may be a star, We're going to play multiple guys. We may not have a guy with 1,600 or 1,700 yards but collectively we should have over 2,000 rushing yards.
It seems like with the additions and guys coming back one guy who has been overlooked is Wendell Smallwood. What do you like about him?
JS:
He's not overlooked at all, he probably was our MVP of spring. The media has been picking guys they want to talk about but he's been our best player all spring with what he's done at running back and playing receiver.
Dreamius Smith
had a great spring,
Rushel Shell
had a great spring and he's not even comfortable yet. Once [Shell] gets the whole dynamics of the offense he's going to be really good. But, by far, Wendell was our best player in spring football. He's been our most consistent guy.
Is [Smallwood] your most versatile guy?
JS:
Without question. Everything we did with
Charles [Sims]
, we did with him last year. If you watch the end of the season, that kid really came on and it carried over into the spring and I'm sure it will carry over into the summer. The thing I like about him is he has a mindset, he doesn't care about anyone else, all he wants to do is get better. I love his mindset.
Sounds like someone to build around.
JS:
We have quite a few to build around. I always say it's going to sort itself out. The time you worry is when you don't have good depth and you're scratching your head about how you're going to get through a situation. When you have depth, it's not a problem at all. Everyone would love to have this situation because those guys do get beat up running between the tackles.
This seems like a down time of year, but do you feel like this one of the most important times of the year in terms of building a program?
JS:
This is where it starts. We're on the road recruiting but you're also getting better with the guys you've got and making sure they're approaching the summer the way the need to in order to take the steps to move forward.
Do you remember a time when you were doing your due diligence on the road and you found a guy who wasn't on your radar?
JS:
It happens all the time in South Florida.
So it's about finding which ones you like best?
JS:
Yes. Finding the guys who fit your scheme. Everyone gets caught up in stars -- stars don't mean crap, we want guys who fit our scheme, like football and love to work. That's the type of guys we're looking for.
April, 29, 2014
Apr 29
3:00
PM ET
With spring ball done, we're
reexamining and reranking the positional situations of every Big 12 team
, continuing Tuesday with running backs. These outlooks will look different in August. But here's how we see them post-spring:

1. West Virginia (pre-spring ranking: 4):
West Virginia running backs coach JaJuan Seider has one of the best and most difficult jobs in the Big 12. Seider has an embarrassment of riches at his position in
Dreamius Smith
(the No. 1 juco back in 2013),
Wendell Smallwood
(who played last year as a true freshman),
Rushel Shell
(who before transferring from Pitt set the Pennsylvania state high school rushing record),
Andrew Buie
(the team's leading rusher in 2012) and
Dustin Garrison
, West Virginia's leading rusher from 2011, who,
finally healthy again, enjoyed a resurgent spring
. The Mountaineers also will add four-star signee
Donte Thomas-Williams
in the summer. The difficult part for Seider will be divvying up carries to so many capable backs. But if the Mountaineers can keep everyone happy and find the right combination, this could become a devastating and versatile running back stable.

2. Texas (1):
Coach Charlie Strong delivered promising news on Monday in San Antonio, suggesting
Johnathan Gray
could be cleared from his Achilles injury by mid-June. Strong also said that
Joe Bergeron
will be rejoining the team shortly, too, after sitting out the spring to focus on academics. When healthy and eligible, the trio of
Malcolm Brown
, Gray and Bergeron is a formidable bunch and the backbone of the Texas offense.

3. Baylor (3):
Shock Linwood
and
Devin Chafin
exited spring as the co-starters, but
Johnny Jefferson
left the biggest impression in the spring game. The Bears have a track record of spreading carries around, which means Big 12 fans will become very acquainted with the talented redshirt freshman next season.

4. Oklahoma State (5):
One of the biggest surprises of the spring was how much the Cowboys used
Tyreek Hill
at running back. Oklahoma State is planning to utilize the nation's top juco playmaker the way West Virginia did Tavon Austin two years ago. In other words, Hill could line up in the backfield one play then slot receiver the next. Either way, arguably the fastest player in college football gives the Cowboys a dynamic lightning component to complement the thunderous running of senior
Desmond Roland
, who led all Big 12 backs in touchdowns last season.

5. Oklahoma (3):
There might not be a Big 12 backfield with more upside than Oklahoma's. Of course, with that upside comes little experience. Sophomore
Keith Ford
has the potential to be a punishing inside runner, but he had fumbling issues last season as a freshman that re-emerged during the spring. If he can't hang onto the ball, he won't play, no matter how tough he runs between the tackles. After getting passed by Ford on the depth chart last year,
Alex Ross
bounced back with an impressive spring. Early enrollee
Dimitri Flowers
was a revelation this spring as a powerful run-blocking fullback in the mold of
Trey Millard
. If fellow incoming freshman
Joe Mixon
lives up to his recruiting hype, the Sooners could feature their most potent rushing attack in years.

6. Iowa State (8):
The most underrated one-two punch at running back in the league resides in Ames. According to first-year offensive coordinator Mark Mangino,
Aaron Wimberly
and
DeVondrick Nealy
were sharp all spring and will spearhead an offense that could surprise in 2014. The key will be keeping the slight but explosive Wimberly relatively healthy, which he never really was before and after rushing for 137 and 117 yards back to back against Tulsa and Texas. Wimberly, however, was 100 percent all spring, and it showed, as he racked up 68 yards on just nine touches in the spring game.

7. TCU (7):
TCU had to make do without its three top backs in the spring due to injuries.
Aaron Green
suffered a broken collarbone,
Kyle Hicks
had a shoulder bruise, and returning leading rusher
B.J. Catalon
dealt with a nagging hamstring injury. All three, however, should be fine for the fall, and could form a reliable rotation at running back. Four-star recruit
Shaun Nixon
could help out, too, once he arrives on campus.

8. Texas Tech (6):
The Red Raiders dropped two spots, largely because returning starter
Kenny Williams
played outside linebacker all spring and could remain there for good. But even if Williams becomes a full-time linebacker, Tech still could be solid at running back with veteran
DeAndre Washington
, sophomore
Quinton White
and incoming four-star freshman
Justin Stockton
, whom the Texas Tech coaching staff is very high on. Head coach and offensive play-caller Kliff Kingsbury wouldn't have given Williams the go-ahead to move to defense if he didn't feel optimistic about what remained in the backfield.

9. Kansas (9):
Though they come in ninth here, running back could be a position of strength for the Jayhawks next season.
Brandon Bourbon
, the favorite to start, rushed for 96 yards on 12 carries in the spring game, but
Taylor Cox
(63 yards on 15 carries) and
Darrian Miller
(50 yards on seven carries) had nice outings, as well. The Jayhawks also will welcome
De'Andre Mann,
the nation's fifth-best juco running back, in the summer, as well as four-star freshmen
Traevohn Wrench
and
Corey Avery
. Until they start winning more games, it's difficult to give the Jayhawks the benefit of the doubt in these position rankings. But with this collection of runners, they might not miss All-Big 12 performer
James Sims
as much as first thought.

10. Kansas State (10):
The spring brought little clarity about who John Hubert's primary replacement will be.
Jarvis Leverett
and
Charles Jones
both ran hard in K-State's spring game, though neither broke a run for longer than 11 yards. Meanwhile,
DeMarcus Robinson
, who has the most experience of the three, sat out the scrimmage with an injury. As a result, incoming freshman
Dalvin Warmack
, who rushed for 4,500 yards and 70 touchdowns while averaging almost 9 yards per carry his final two years in high school, will have an opportunity to be a factor once he joins the team this summer.
April, 1, 2014
Apr 1
10:00
AM ET
This spring, West Virginia linebacker
Nick Kwiatkoski
discovered firsthand the power
Rushel Shell
can bring between the tackles. During a team drill, the two fiercely collided at the line of scrimmage. Kwiatkoski bounced off one way. Shell bounced off the other.
"We both felt that one," Kwiatkoski recalled. "That showed me right there he knows how to bring it."
[+] Enlarge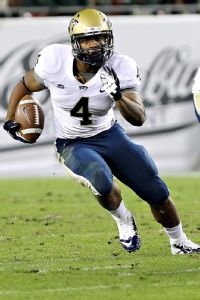 Kim Klement/USA TODAY SportsRushel Shell rushed for 641 yards and 4 TDs as a freshman at Pitt.
Since transferring to West Virginia by way of Pittsburgh last year, Shell hasn't been doing any interviews. But his teammates say the former blue-chip recruit has been bringing it behind closed practices while making a compelling case for significant carries out of the Mountaineers' crowded running back competition.
"He's shown us a lot," said cornerback
Daryl Worley
. "I really didn't think he would be doing so much this fast. He's done some things that have shocked the players. We know he's going to contribute big for us."
Last year, the Mountaineers got a big contribution out of a transfer running back, who became an All-Big 12 performer.
This year, they could have the same.
Charles Sims
arrived from Houston and instantly pried the starting running back job away from 2012 leading rusher
Andrew Buie
and top juco running back
Dreamius Smith
. Despite playing alongside an incontinent passing attack, Sims finished third in the Big 12 rushing, and led all league running backs in receiving.
Sims' ability to catch passes out of the backfield is what helped distinguish him in the fall competition. Likewise, Shell's power has been distinguishing this spring.
"He brings a physical dimension to our offense. I think he's going to make us tougher -- he already has," said West Virginia running backs coach JaJuan Seider. "[Sims] brought something to that room that was different. That's the same thing with Rushel. Not everyone is fortunate to coaching those types of guys. So you've got to make them better when you got them."
Shell ran into issues at Pitt, which prompted him to want to leave. But so far at West Virginia, Seider said Shell has been a joy to coach.
"He paid for his first semester here on his own dime, went to class every day and busted his butt in the weight room and got in the best shape of his life," Seider said. "Now, he's reaping the benefit of that."
Soon, the Mountaineers could be reaping the benefit.
Dating back to high school, Shell's talent has been undeniable. At Hopewell in Aliquippa, Pa. -- the same high school that also produced NFL Hall of Famer Tony Dorsett -- Shell set a Pennsylvania state record with 9,078 rushing yards.
"He had that unique combination of power and speed," said his high school coach, Dave Vestal. "He would carry the ball 40 times a game, but the more carries he got, the better he was."
That combination of power and speed resulted in Shell being rated the third-best running back in the country, and had the likes of Alabama and Ohio State pursuing him hard. But Shell elected to remain in the Keystone State and signed with Pittsburgh, where he rushed for 641 yards and four touchdowns as a true freshman.
Even Vestal was unclear about what went wrong for Shell at Pitt. What is clear is that West Virginia has become the beneficiary.
"He brings a lot to the backfield," Kwiatkoski said. "I think he's going to be a valuable part of our offense."
The Mountaineers have plenty of other options at the position.
Smith rushed for 494 yards last season backing up Sims, and has slimmed down 15 pounds this spring to improve his breakaway speed.
As a freshman,
Wendell Smallwood
came on strong at the end of last season, and took carries away from Smith.
Andrew Buie
is back after leading the Mountaineers in rushing in 2012.
Dustin Garrison
, who led the team in rushing in 2011, also is still around.
But Shell might have the biggest upside of them all.
"He's what I consider a three-down back," Seider said. "He can play first, second and third down. He has that physical dimension and the lateral quickness to get in and out of stuff.
"He's the complete back."
March, 17, 2014
Mar 17
3:00
PM ET
This week, we're featuring five Big 12 players on the spot this spring. Maybe they're coming back from injury. Maybe they have much to prove after a disappointing 2013 season. Maybe they're embroiled in a key position battle. Whatever the case, this spring is big for them.
Today's player on the spot: West Virginia running back Dreamius Smith
When Smith first committed to West Virginia, it looked as if he had a clear path to playing time in Morgantown. Smith was the No. 1 juco running back in the country, and
Andrew Buie
was his only apparent competition for the position.
But
Charles Sims
transferred in from Houston last summer and took over the starting job. Smith had to settle for a backup role.
[+] Enlarge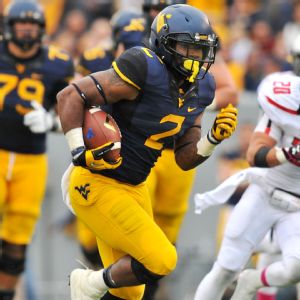 Dan Friend/USA TODAY SportsDreamius Smith rushed for 494 yards and five touchdowns in 2013.
This spring, Sims is gone. However, Smith has much to prove going into his senior season because of the arrival of another high-profile transfer.
Rushel Shell
, who transferred from Pittsburgh, was the No. 3 running back from the Class of 2012. He broke the Pennsylvania high school rushing record before signing with the Panthers. And after sitting out last season, Shell already has begun to turn heads this spring.
That's why Smith is one of our players on the spot this spring. He started out the spring atop the depth chart. But to stay there, he'll have to perform at a high level to fend off Shell, among several others.
"We're deep," Smith told reporters earlier this spring. "
Wendell [Smallwood]
is a speed back who can catch the ball and line up at receiver. Rushel Shell is a power back that has some speed.
Dustin Garrison
and Buie are guys that everyone has seen play before.
"Every rep counts. There are five quality guys competing right now, and that's how the coaches will decide who gets to play. I have to go as hard as I can."
Smith performed at a high level at times last season. He scored West Virginia's only touchdown against Oklahoma on Sept. 7 on a bulldozing, 76-yard touchdown run. On Oct. 19, he rushed for 89 yards and two touchdowns in a loss to Texas Tech.
But in the second half of the season, his production declined. So did his carries, as Smallwood emerged as an alternative as a backup to Sims.
"Dreamius played Texas Tech, and he was coming along. Then we had Kansas State, and he probably played the worst game he has ever played [seven carries for 23 yards]," running backs coach JaJuan Seider said at the advent of West Virginia's first spring practice. "If you're going to go that way, well, guess what, now you push more carries to the guy you trust. That got Dreamius to come around and realize that, 'Hey man, I've only got so many years to do this so I've got to go.'"
Smith apparently has put in the work this offseason. He's slimmed down 15 pounds to improve his breakaway speed and has done it without losing his tackle-breaking strength.
He's also been focused on refining his pass blocking, which was an Achilles heel last season that cost him time on the field.
"Pass blocking was one of my weaknesses last year, and I know coming in this year, that's a thing I've gotten better at," Smith said. "I'm just going to use that and translate that to the field and just play my game."
When on his game, Smith has the talent to be one of the Big 12's best running backs. But whether he gets the chance to showcase that next season will hinge heavily on what he shows this spring.
October, 15, 2013
10/15/13
8:00
PM ET
Editor's note: For a look at the national recruiter power rankings based only on Class of 2014 success,
click here
.
The best college football coaches will tell you that when it comes to recruiting, their business is an art. It's a craft you must perfect if you want to have the best players commit and ultimately sign. Recruiting isn't for everybody, but those who are good at it -- particularly for building the 2014 class -- should be recognized, as the business is extremely competitive.
Here are 10 of the top recruiters from the Big 12.
March, 19, 2013
3/19/13
12:00
PM ET
By
ESPN.com staff
| ESPN.com