January, 7, 2012
1/07/12
2:03
AM ET
ARLINGTON, Texas -- Arkansas punt returner
Joe Adams
made one quick cut between a wall of Kansas State defenders, and sprinted toward the sideline before turning upfield.
Around 40 or so yards later, Adams crossed the goal line and emphatically slammed the ball into the Cowboys Stadium turf.
The Hogs were rolling. They led by double digits. The red half of the 80,956 in attendance was going hog wild.
All that, and Arkansas' offense hadn't even recorded a first down yet on the way to its
29-16 victory
over the Wildcats in Friday night's AT&T Cotton Bowl Classic.
So much for Snyderball.
[+] Enlarge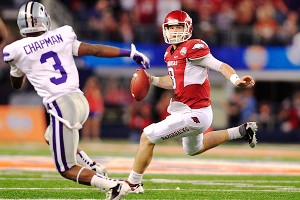 Tim Heitman/US PresswireQB Tyler Wilson helped Arkansas win 11 games for the first time in 34 seasons.
Arkansas showed up to the Cotton Bowl and K-Stated K-State.
"That's why it's a team game," Arkansas coach Bobby Petrino said. "Our defense gave us three points right off the bat. Special teams scored seven."
All season long, Kansas State's physical running offense plodded along to a ninth-place finish in total offense in the pass-happy Big 12 while an opportunistic defense and special teams waited for opponents to make mistakes.
Earlier this season, the Wildcats won four consecutive games as an underdog while also being outgained.
This time, against Arkansas, Kansas State made the mistakes it had collected from opponents all year long.
"We got off to an awfully bad start and really couldn't overcome the damage that we did," said K-State's 72-year-old coaching savant, Bill Snyder, "and most of it was pretty obvious."
Yeah, it was.
On the game's second possession, Arkansas defensive end Jake Bequette slipped into the backfield and stripped Wildcats quarterback
Collin Klein
from behind, but Arkansas' offense couldn't capitalize on the great field position and settled for a 26-yard field goal.
The Wildcats fielded an Arkansas' punt on the next possession at the 3-yard line, getting stuffed at the 4 and tightening up an offense that was bothered by dropped passes for much of the first half.
A predictable three-and-out followed to set up Adams' key return.
"It obviously made a major difference. How did I like it? I didn't like it a bit," Snyder said. "But, you know, we knew he's a talented player. We knew that he could make you miss him. We knew they were probably tired of me talking about being able to contain Joe Adams and not let him bounce the ball outside. Sure enough, he bounced it outside.
"But he's a very, very talented player. That's not the first time he's done that."
In fact, it was the fifth time — and fourth this season, an SEC single-season record. That was highlighted by a work of art against Tennessee in which Adams made approximately 52 tacklers miss on the way to an impossible return that might be the greatest highlight of the 2011 season.
"It was another one of those where you just go, 'Wow!" Petrino said. "You could see when he made the catch he had in mind what he was going to do. ... Joe showed great acceleration, made another spectacular play for us."
Kansas State's special-teams wizardry was muted. Ralph Guidry blocked his fifth kick of the year. Nigel Malone scooped up the extra point and ran it back for two points, but it wasn't enough. The Wildcats' answer for Adams, kick returner
Tyler Lockett
, dressed but didn't play after suffering a lacerated kidney this season. He ran back two kicks for scores and emerged as the Big 12's most dangerous special-teams player. He could only watch as Adams did to his team what he'd done to so many others in 2011.
"The difference in the game was how well we played on defense and the field position we were able to give our offense," Petrino said.
Kansas State's running game was mostly unproductive foot-shuffling that got it nowhere. The Wildcats carried the ball 40 times for just 86 yards and gave up six sacks.
Like so many other games this season, the Wildcats were outgained. This time, it was 345-260. Unlike so many other games this season, Kansas State couldn't find a way to win. Early mistakes made sure it hardly had a chance. It climbed back to 19-16 before Arkansas' offense, the best in the SEC, started to click.
"This game was about we need to stop this run, stop this quarterback. We tightened them up," Petrino said. "Once it became third down, (our defensive ends) widened out and teed off, made huge plays for us, the turnover early and the sacks."
The mistakes were too much. On an off-night for Kansas State's offense, it had far from enough.
Kansas State and Arkansas left Dallas with a pair of memorable double-digit-victory seasons, but Arkansas, as the three SEC teams in this game before it, will look back fondly on the finale.
"We really wanted to get them 11 wins," said Petrino, who has won 21 games in the past two seasons, giving Arkansas its first 11-win season since 1977 and third in program history. "Make sure that everybody remembered this football team."
Arkansans will. And so will Kansas State.
January, 6, 2012
1/06/12
10:15
PM ET
ARLINGTON, Texas -- Is this the same K-State team? Are we sure?
The Wildcats' play all season has been marked by precision and a lack of mistakes. The result was 10 wins. In the first half, they've been penalized four times and have turned the ball over. They're getting beat in the special teams, too, giving up a huge play on a punt return.


Arkansas has to be feeling good about that half, with the exception of a late fumble.
K-State also had a scary situation late in the half. Defensive end Meshak Williams took a helmet-to-helmet hit from teammate Emmanuel Lamur and had to be carted off. Medical personnel removed his face mask and were stabilizing his neck, according to sideline reports.
Time for some further analysis.
Turning point:
Joe Adams
' punt return. He's the most electrifying player in this game by a long shot, and he showed why with a shifty 51-yard punt return. His fourth return for a touchdown in 2011, and fifth in his career, tied the single-season SEC record and totally turned the first half. Arkansas' offense hasn't been great, but Adams got the crowd going. Yeah, he got some help from a block in the back (or two), but nobody was catching him on that play. It was the first punt return for a touchdown in the Cotton Bowl since 1961.
Turning point II:
Tyler Wilson
's fumble in the final minute of the half. It gave Kansas State some hope heading into the locker room in what was otherwise an ugly, ugly first half. Kansas State took advantage, hooking up for a 3-yard touchdown pass on a pretty rollout throwback play to
Andre McDonald
to cut the lead to 10 heading into halftime.
Best player (s) in the half:
Arkansas defensive end Jake Bequette and Joe Adams. Sometimes, all it takes is two big plays. The first half's been pretty ugly, but Bequette forced a sack/fumble in the K-State red zone, and Adams swung the game on the aforementioned punt return. Adams has almost broken a couple, and Bequette's been consistently disruptive, too.
What Kansas State needs to do:
Collin Klein
, for whatever reason, has been tentative to take off in the pocket, and he's already thrown too many passes without a ton of effectiveness. He's relied on his arm perhaps a bit too much tonight when he's had opportunities to run. That has to change, especially in a half when they're likely to be dropping back to throw quite a bit.
What Arkansas needs to do
: Keep testing K-State's defense deep. It hit Wright for a 45-yard score and nearly had Joe Adams for one from 70-plus yards. The Hogs opened a window for K-State with the late fumble, and the Wildcats climbed through it. Arkansas can slam the door shut with a couple big plays in the second half.
October, 1, 2011
10/01/11
5:55
PM ET
ARLINGTON, Texas -- R.C. Slocum coached Texas A&M to its first and what now looks like it will be its only Big 12 title in 1998.
Dallas Cowboys owner Jerry Jones was a co-captain of Arkansas' only national title team back in 1964. Before Saturday's game, the two shared a moment on the Texas A&M sideline.
"How 'bout those Aggies comin' to the SEC?" Jones asked. His school made the move from the Texas-based Southwest Conference to the SEC in 1991.
"Oh, man," Slocum said with a grin of anticipation as the two shook hands.
Oh man, indeed.
If Slocum had known what he was about to watch, that grin would have been a groan.
Last week, Texas A&M blew a 17-point halftime lead in a loss to Oklahoma State. A day later, it celebrated its move to the SEC.
This week? Try 18 to Arkansas, which roared back to take its first lead with 1:41 left and beat the Aggies, 42-38.
Broderick Green
's 244-pound frame barreled over the goal line, and the Arkansas contingent exploded as the Aggies in attendance began wondering what the traffic on Interstate 30 would look like on the way back home.
Not the best first impression for the Texas A&M Aggies, who didn't quite fill their half of Cowboys Stadium as Hog fans showed up in force.
[+] Enlarge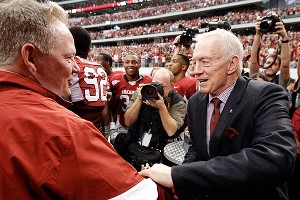 AP Photo/Brandon WadeJerry Jones congratulates Arkansas coach Bobby Petrino after the Razorbacks beat Texas A&M.
By game's end, Jones was back on his alma mater's sideline, handing over the trophy for the Southwest Classic (a game he helped create) to Bobby Petrino's Hogs.
"It's a travesty that we didn't win this football game," Texas A&M coach Mike Sherman said.
The Aggies won this game where good SEC teams win games: at the line of scrimmage.
Texas A&M sacked Arkansas quarterback
Tyler Wilson
four times and harassed him on countless other occasions, assuring he wakes up Sunday morning as sore as he's been all season. Arkansas' struggling running game continued to do so, rushing for just 71 yards on 30 carries.
The Aggies, meanwhile, protected quarterback
Ryan Tannehill
well and ran for 376 yards on 54 carries, an average of seven yards a carry on Arkansas' defense, which played without its two best defensive linemen: Tenarius Wright and Jake Bequette.
Texas A&M, though, lost this game where the rest of college football loses games: on the scoreboard.
"The stats don't matter," Tannehill said. "The only things that matter are the W or L and we didn't get it covered in the second half."
For a day, Texas A&M looked on the field exactly what it is off the field: an odd hybrid of an SEC and Big 12 defense. For all of Texas A&M's strength up front, it lost the game the way Big 12 teams have lost games for the majority of the league's 15-year history.
Wilson racked up a school-record 510 yards passing, shattering Ryan Mallett's record of 409 yards against SEC doormat Vanderbilt.
Texas A&M's defense has now gone 15 quarters without forcing a turnover, with apologies to
Justin Blackmon
's gifted touchback at Kyle Field last week.
"This defense is structured -- we take some risks defensively," Sherman said of his defense, which ran defensive backs at Wilson from various angles throughout Saturday's loss. "There's some gain when you create turnovers, and we've not been able to do that now for three weeks. That is certainly an obvious concern."
Also of concern for the Aggies was Sherman's unwillingness to try to convert a fourth-and-2 at Arkansas' 39-yard line, nursing a 35-20 lead, and a fourth-and-1 on Texas A&M's 49-yard line with a 35-27 lead.
The Aggies punted both times -- first for 19 yards to the Arkansas 25 and second for 37 yards down to Arkansas' 14 -- and the Hogs scored touchdowns after both kicks.
"If I felt like our defense was playing a little bit better, I probably would have gone for it. I felt like I just couldn't give them a shortened field," Sherman said. "If we were had been playing better defense--if this had been last year -- probably would have."
Said Tannehill: "That's the head coach's call. That's what he gets paid the big bucks for. Whatever he calls, we're going to go with it. ... We trust coach and you've just got to go with the call."
The game ended, and despite holding a huge lead early, Texas A&M was serenaded with an "S-E-C" chant at Cowboys Stadium for a fourth time in three seasons, dropping to 0-4 on the field in Arlington.
"It's emotionally tough," Tannehill said.
Maybe soon, the Aggies will be the chanters and not the chant's target. But for now, another painful loss.
For two consecutive weeks, Texas A&M has known well what it feels like to lose a game it should have won.
For at least another few months at the end of a 16-year and seven-game drought, the Aggies are left wondering how it feels to beat an SEC team.
October, 3, 2009
10/03/09
10:12
PM ET
By
Tim Griffin
| ESPN.com

Posted by ESPN.com's Tim Griffin
ARLINGTON, Texas -- It looks like Texas A&M has stepped in the way back machine, showing the struggles that repeatedly bedeviled them last season.
Arkansas has raced to a 37-13 lead.
Ryan Mallett
has done a masterful job in isolating his running backs against the slower Texas A&M linebackers. The result has been four Mallett touchdown passes as the Aggies have struggled defensively for the first time this season.
After national sack leader Von Miller was a force on the first two possessions, Arkansas has done a great job of neutralizing him. I've barely seen him involved in a play since early in the game.
And
Jerrod Johnson
is having the same problems as last season. Arkansas defensive ends Adrian Davis and Jake Bequette have repeatedly whipped Texas A&M freshman tackle Stephen Barrera and Lee Grimes to keep heavy pressure on Johnson.
If the Aggies play like they have tonight, they will have difficulty escaping the Big 12 South cellar. The secret has been to rush Johnson, which I'm sure Big 12 coordinators will quickly pick up on.
October, 3, 2009
10/03/09
9:32
PM ET
By
Tim Griffin
| ESPN.com

Posted by ESPN.com's Tim Griffin
ARLINGTON, Texas -- Here's a quick look at the trends that have helped catapult Arkansas to a 30-10 halftime lead.
Turning point:
Texas A&M was poised to reclaim the lead early in the second quarter before Tenarius Wright hit
Jerrod Johnson
in the Arkansas backfield. Arkansas outside linebacker Jerry Franklin picked up the fumble -- A&M's first turnover of the season -- and raced untouched on an 85-yard touchdown return. It helped contribute to a run of 30 straight Arkansas points after an early 10-0 A&M lead.
Stat of the half:
After hitting five of his first eight passes, Johnson finished the half by completing only six of his next 19 passes. The Texas A&M offensive front had trouble keeping speedy Arkansas defensive ends Jake Bequette and Adrian Davis away from Johnson as the half progressed. The result was Johnson's struggles after a fast three-game start.
Player of the half:
Arkansas quarterback
Ryan Mallett
looked like a different quarterback in the first half compared to last week against Alabama. Mallett completed 10 of 17 passes for 193 yards and three touchdown. As impressive as his stats was the way he got his entire team involved. Mallett appeared more confident as the half progressed as he passed to seven different receivers and orchestrated the offense strongly as the half progressed.