September, 6, 2014
Sep 6
10:00
AM ET
Florida State
's
Jameis Winston
edged out
Oregon
's
Marcus Mariota
as the nation's top quarterback according to the FBS coaches who voted in ESPN's weekly college football poll #1QFor128.
[+] Enlarge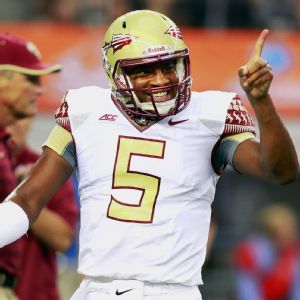 Tim Heitman/USA TODAY SportsFlorida State's Jameis Winston carried 41 percent of the vote among FBS coaches as the nation's top quarterback this week.
Winston was the choice of 41 percent of the FBS coaches, followed closely by Mariota (35 percent). UCLA's
Brett Hundley
(9 percent), Baylor's
Bryce Petty
(6 percent) and Penn State's
Christian Hackenberg
(2 percent) rounded out the top five in the poll conducted by ESPN's Brett McMurphy.
Others receiving votes: East Carolina's
Shane Carden
, Marshall's
Rakeem Cato
, Notre Dame's
Everett Golson
, Texas A&M's
Kenny Hill
, Utah State's
Chuckie Keeton
, Arizona State's
Taylor Kelly
and Oregon State's
Sean Mannion
,
Of the Power 5 coaches (ACC, Big 12, Big Ten, SEC and Pac-12), 50 percent picked Winston, compared to only 26 percent for Mariota, 12 percent for Hundley and Hackenberg at 5 percent.
However, the Group of 5 coaches (American, C-USA, MAC, MWC and Sun Belt), chose Mariota over Winston by a 42 to 34 percent margin. Hundley and Petty tied for third at 6 percent each among the Group of 5 coaches.
Of the 128 FBS coaches, 102 participated in ESPN's weekly confidential poll. Coaches could not vote for their own team. Last week, 51 percent of the coaches predicted Florida State would win the national title, followed by Alabama (18 percent), Oklahoma (11 percent) and Ohio State (7 percent).
BREAKDOWN
Overall
Jameis Winston, FSU 41 percent
Marcus Mariota, Oregon 35 percent
Brett Hundley, UCLA 9 percent
Bryce Petty, Baylor 6 percent
Christian Hackenberg, Penn State 2 percent
Shane Carden, East Carolina 1 percent
Rakeem Cato, Marshall 1 percent
Everett Golson, Notre Dame 1 percent
Kenny Hill, Texas A&M 1 percent
Chuckie Keaton, Utah State 1 percent
Todd Kelly, Arizona State 1 percent
Sean Mannion, Oregon State 1 percent
Power 5 coaches
Jameis Winston, FSU 50 percent
Marcus Mariota, Oregon 26 percent
Brett Hundley, UCLA 12 percent
Bryce Petty, Baylor 5 percent
Christian Hackenberg, Penn State 2 percent
Chuckie Keaton, Utah State 2 percent
Todd Kelly, Arizona State 2 percent
Group of 5 coaches
Marcus Mariota, Oregon 42 percent
Jameis Winston, FSU 34 percent
Brett Hundley, UCLA 6 percent
Bryce Petty, Baylor 6 percent
Shane Carden, East Carolina 2 percent
Rakeem Cato, Marshall 2 percent
Everett Golson, Notre Dame 2 percent
Christian Hackenberg, Penn State 2 percent
Kenny Hill, Texas A&M 2 percent
Sean Mannion, Oregon State 2 percent
Note:
102 of 128 FBS coaches participated
August, 31, 2014
Aug 31
12:42
AM ET
Considering the way the final three quarters played out, there were a dozen or so plays that stemmed the tide and flipped momentum in AT&T Stadium. Ultimately, three plays ended up having the biggest impact on the game, and they were all born out of mistakes. Florida State coach Jimbo Fisher agrees with the contemporary cliché that more games are lost rather than won, and Oklahoma State coach Mike Gundy has to feel that way after the No. 1 Seminoles defeated the Cowboys
37-31
.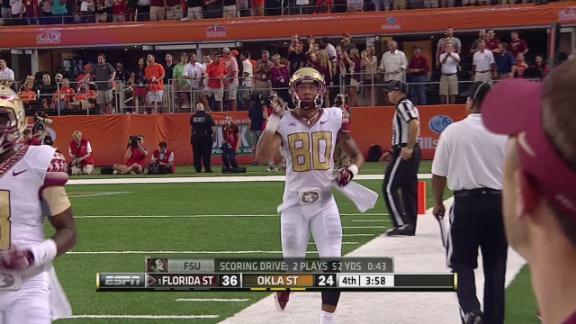 The decisive play came with a little more than four minutes left in the game. The Florida State offense struggled much of the night, and reigning Heisman winner
Jameis Winston
looked flustered throughout.
Rashad Greene
, now fourth all-time on the Seminoles' receiving list, ran a shallow cross, and as he broke to the middle of the field, the Cowboys cornerback bumped into a teammate, freeing Greene. The pass was a little behind Greene, so that little collision might have been the difference between an interception and what Greene did once he caught the ball -- go 50 yards for what proved to be the game-winning touchdown. Two plays earlier, Oklahoma State quarterback
J.W. Walsh
had fumbled the football when he looked poised to rip off a big gain. The Cowboys trailed by three and had a chance to take their first lead of the game. But Walsh was tripped up and fumbled, and Winston iced the game shortly thereafter.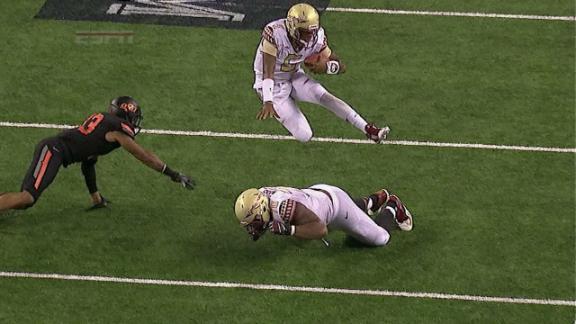 Winston looked like a Heisman winner on a 28-yard touchdown run in the third quarter. The 6-foot-4, 230-pound sophomore lumbered down the field, jumped over his offensive lineman, juked a Cowboys defender and then dove into the end zone. It was the kind of play we've come to expect from Winston but hadn't seen Saturday to that point. That touchdown was also set up by a series of Oklahoma State miscues. The Cowboys looked as if they would pin Florida State deep, but an errant snap on a punt gave the Seminoles the ball near midfield. The Cowboys defense held, but on third-and-11, Cowboys defensive back
Ashton Lampkin
, who was picked on constantly, was called for holding. It extended Florida State's drive, and Winston rumbled into the end zone the very next play.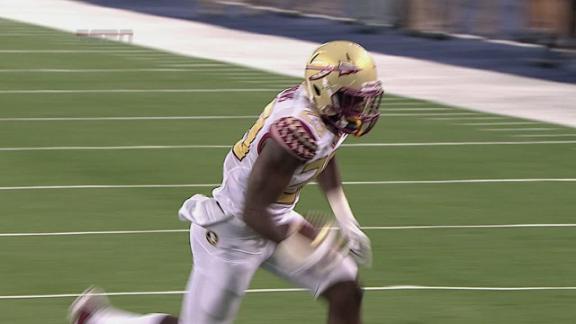 Florida State capitalized on the Cowboys' two turnovers, scoring touchdowns off of each. Oklahoma State managed only three points off the Seminoles' two miscues. The first Cowboys turnover came early in the game as
Nate Andrews
intercepted Walsh near the Oklahoma State end zone, and then Andrews walked in for the score. It was an outstanding play from Andrews, but it once again was precipitated by a special teams breakdown. The Cowboys fouled up the kickoff return and started the drive at their own 3-yard line. Walsh's interception was on the drive's first play, and it gave FSU an early 10-0 lead.
Good teams feed off their opponents' mistakes, and that is exactly what Florida State did.
October, 22, 2013
10/22/13
1:10
PM ET
By
Sharon Katz
| ESPN.com
Joshua S. Kelly/USA TODAY Sports
Jameis Winston threw for a career-high 444 yards in Florida State's blowout win over Clemson.
Week 8 featured upsets and surprises as nine ranked teams lost, including five at the hands of an unranked opponent.
Louisville
,
Texas A&M
and
Georgia
all had more than a 90 percent chance of winning midway through the third quarter before blowing double-digit leads. Conversely,
Clemson
,
LSU
,
UCLA
and
Florida
never held a lead Saturday.
With the help of ESPN's new college football metrics (see explanations
here
), ESPN Stats & Information takes a look back at the Week 8 action.
Best individual performances
Marcus Mariota
had a 97.4 opponent-adjusted QBR in
Oregon's
63-28 win against
Washington State
. He completed 10-of-12 passes and ran for a touchdown in the first quarter. As a result, his Total QBR never fell below 95 in the game. Mariota leads the nation with a 96.6 opponent-adjusted Total QBR this season.
Jameis Winston
posted a 97.0 opponent-adjusted QBR after throwing for a career-high 444 pass yards and accounting for four touchdowns in Florida State's 51-14 win at Clemson. Entering the game, Clemson's opponents had a Total QBR of 27, ninth-best in the FBS. Winston is the first player in the last 10 seasons to throw for at least 300 pass yards and three touchdowns in each of his first four conference games.
Bryce Petty
had a 96.3 opponent-adjusted QBR in
Baylor's
71-7 win against
Iowa State
. He has posted an opponent-adjusted Total QBR of 75 or higher in all of his games this season. No other player in the FBS can make that claim (minimum five games played).
AJ McCarron
posted a season-high 95.3 opponent-adjusted QBR in
Alabama's
52-0 rout of
Arkansas
. McCarron completed 71 percent of his passes with three touchdowns and no interceptions, and his Total QBR never dipped below 85 in the game.
Explaining Jordan Lynch's Total QBR:
Northern Illinois'
Jordan Lynch
set the FBS single-game record for rush yards by a quarterback (316), but his Total QBR was ONLY a 85.5. Why? QBR is a rate stat, meaning it measures efficiency.
Lynch gained 471 yards of total offense, but he was involved in 62 passing or rushing plays (7.6 yards per play).
To put that into perspective, Mariota, the nation's leader in opponent-adjusted QBR, is averaging 10.3 yards per play this season. Furthermore, Lynch threw a costly interception from the
Central Michigan
15-yard line with the score tied. That interception decreased Northern Illinois' win probability by 12 percentage points and took 3.5 expected points off the board.
For a full list of Total QBR leaders for the season and Week 8,
click here
.
Best team performances
Offense--
Florida State gained 565 yards of total offense and scored 51 points Saturday against Clemson. The Seminoles' offense added 25.3 expected points in the game, meaning they contributed about 26 net points towards their 37-point victory. Adjusted for the strength of Clemson's defense, which had allowed 16.2 points per game entering Saturday, Florida State had the highest opponent-adjusted offensive EPA of Week 8.
Defense—
Baylor's average margin of victory this season is a ridiculous 48.5 points per game, and both its offense and defense deserves credit. On Saturday, Baylor held Iowa State to seven points and 174 total yards (2.9 yards per play). As a result, its defense added 27.5 expected points, the most for any defense in Week 8. Overall, the Bears lead the nation in both offensive and defensive expected points added this season.
Special Teams—
Alabama blocked a field goal and forced a fumble on the opening kickoff of the second half of its 52-0 win against Arkansas. The Tide's special teams unit contributed 12.1 expected points, the most of any team in Week 8. Alabama is averaging 5.8 expected points added per game on special teams this season, most of any team in the FBS.
Looking ahead to Week 9
Oregon hosts
UCLA
(7 PM ET, ESPN) on Saturday in a game that will feature one of the top offenses in the nation looking to continue its success against one of the Pac-12's best defensive units.
Oregon has scored at least 45 points in each of its first seven games of the season. They are the first major college football program to do that since Harvard in 1887. UCLA, which has the second-best scoring defense in the Pac-12 (19.2 PPG), hasn't allowed more than 27 points in a game this season.
Tune in on Saturday to see of the Bruins can slow the Ducks offensive pace and jump back into the BCS discussion.
September, 4, 2013
9/04/13
4:23
PM ET
Texas head coach Mack Brown joined the ESPNU College Football podcast Wednesday, and explained why the Longhorns didn't recruit Florida State QB
Jameis Winston
:
"There was a season where the Longhorns were 5-7 and had a lot of staff turnover and it was hard to recruit out of state guys and that's what happened with Winston … a guy he trusted didn't think they had a chance so they moved on. You can't get every player you want and you learned to deal with it."
Brown discussed other topics with Matt Barrie and Ivan Maisel on the podcast. Click
here
to listen to the rest of the interview.
June, 9, 2011
6/09/11
1:30
PM ET
We
released our ESPNU 150 on Wednesday
, but like you might have read, more than half of those on the list remained uncommitted to any single program.
According to our recruiting experts,
here are the rest of the players still considering Big 12 schools.
You can see more on each player by clicking his name.
3. Dorial Green-Beckham, WR (Springfield, Mo./ Hillcrest)
Green-Beckham is wide open with offers from virtually everyone. To date, he has visited only Oklahoma and Missouri.
12. Gunner Kiel, QB (Columbus, Ind./Columbus East)
Kiel continues to keep his recruitment well guarded, and although a decision will most likely come during the summer, it might not be made public until later.
15. Jameis Winston, QB (Hueytown, Ala./Hueytown)
Winston favors five schools -- Alabama, FSU, LSU, Oklahoma and UCLA. This will likely be a Seminole/Crimson Tide battle.
22. Andrus Peat, OT (Tempe, Ariz./ Corona Del Sol)
Nebraska, USC, Texas, FSU and Notre Dame are five of Peat's favorites. He will visit Notre Dame and Texas this summer, and he hopes to get to Auburn and Florida.
27. John Theus, OT (Jacksonville, Fla./ The Bolles)
He has narrowed his list to Georgia, Alabama, Florida, Notre Dame, Texas and Arkansas. His older brother signed with Georgia in the 2010-11 recruiting cycle.
31. Geno Smith, RB (Atlanta/ Saint Pius X Catholic)
Smith is down to five schools -- Alabama, Auburn, Texas, Notre Dame and Tennessee. He plans to see all of them this summer.
41. Nelson Agholor, ATH (Tampa, Fla./ Berkeley Prep)
Agholor's first trip during the offseason was to Texas. FSU, USC and Georgia are often mentioned as top schools.
45. Dominique Wheeler, WR (Crockett, Texas/ Crockett)
Wheeler is focused on Oklahoma, Baylor, SMU, TCU, Oklahoma State and Texas Tech.
55. Evan Boehm, OG (Lee's Summit, Mo./ Lee's Summit West)
Schools such as Missouri, Oklahoma, Auburn, Alabama, Nebraska, Iowa, Arkansas, Stanford, Michigan and Michigan State are involved with Boehm. He wants to see Missouri, Oklahoma, Auburn, Alabama, Nebraska and Iowa this summer.
78. Barry Sanders, RB (Oklahoma City, Okla./ Heritage Hall)
The five primary teams in the hunt for Sanders are Alabama, FSU, Oklahoma State, Auburn and Stanford. Oregon and Notre Dame have made up a ton of ground and are gaining momentum. He wants to visit FSU and Notre Dame this summer.
91. Vadal Alexander, OG (Buford, Ga./ Buford)
Alabama, Auburn, LSU, USC and Texas are the front-runners for Alexander. He will visit the Crimson Tide in June.
93. Dalton Santos, ILB (Van, Texas/ Van)
Santos has backed out of his commitment to Oklahoma State and says Oklahoma, Arkansas, Tennessee and Alabama are in the hunt.
98. Ty Darlington, C (Apopka, Fla./ Apopka)
Darlington could start to cut his list soon, but expect Oklahoma and Auburn to make any final group.
119. Avery Young, OT (Palm Beach Gardens, Fla./Palm Beach Gardens)
Recently Virginia Tech has tried to jump into the mix for Young, who has had Oklahoma and Florida at the top of his list.
142. Lorenzo Phillips, OLB (Patterson, La./Patterson)
This linebacker now has double-digit offers from teams such as LSU, Alabama, Texas A&M, Tennessee and Nebraska. He wants to visit Alabama, Clemson and Florida this summer.