December, 5, 2009
12/05/09
7:12
PM ET
By
Tim Griffin
| ESPN.com
ARLINGTON, Texas -- When the Big 12 was created, the rivalry between Texas and Nebraska became the most heated in the conference.

Sure, there's Oklahoma-Texas, Missouri-Kansas and all of the other traditional rivalries.

But the matchup between the two superpowers when the Big 12 started immediately became intense.

It was fanned by some events that took place off the field. Nebraska wanted to have the Big 12 with continued arrival of partial qualifiers. Texas didn't.

Texas wanted the league offices in Dallas. Nebraska wanted it to remain in the old Big Eight home of Kansas City.

Texas wanted Steve Hatchell as the league's first conference. Nebraska favored Bob Frederick.

After Texas won out on all those early skirmishes it raised the ante in the rivalry.

And it became even bigger after Texas stunned the Cornhuskers with a 37-27 upset in the first conference championship game in a game where James Brown called his shot with an upset.

Since then, the Longhorns have dominated the rivalry with six victories in the seven games since Mack Brown arrived. Nebraska's only triumph was a 22-6 win in the 1999 Big 12 title game that was their most recent conference championship.

Some of the vituperation that marked the Big 12's formative stages with Texas-Nebraska have settled over the years.

One of the biggest reasons was the arrival of Mack Brown, who has been very open about his respect for the Nebraska program and its history.

Brown learned early about the Nebraska fans when Ricky Williams orchestrated a victory over the Cornhuskers in 1998. That game was pivotal in Williams' Heisman hopes.

"The standing ovation they gave Ricky, when they yelled, 'Heisman! Heisman!' was as good of a moment as I had ever seen in my life," Brown said. "We're not seeing that anymore. And I hate that. It was 11 years ago. That took me to tears, just for Ricky. And that just doesn't happen. (Nebraska) is one of the few places that could happen."

Brown called Nebraska's fans "the classiest in college football." He still has a picture of the post-game excitement of that first Nebraska win hanging on his wall.

"It was such a special moment," he said. "I had told Ricky to keep his head down and his helmet on because they were going to throw things at him. I thought he was going to be in trouble. … But, unbelievable. They all stayed, and they all cheered."

Brown came into the Big 12 for the chance to play traditional rivals like Nebraska.

"When I got here, Nebraska was one of the places I would have liked to coach," Brown said. "Their stadium was neat. I had so much respect for Coach Osborne. The fans were classy. It was a really cool place."
December, 1, 2009
12/01/09
11:14
AM ET
By
Tim Griffin
| ESPN.com
Colt McCoy
has to go way back to the dusty playing fields of West Texas to remember the last time he accomplished the ultimate in team goals for a season.
Sure, there have been a slew of individual accomplishments over the years and enough personal records to keep the Texas quarterback satisfied long after his playing career is over.
But McCoy has to revert to his days at tiny Jim Ned High School when his Class 2A team was beating up on the likes of the Bangs Dragons, Ballinger Bearcats, San Saba Armadillos and Coleman Bluecats for District 3 supremacy to remember his last true on-the-field team championship.
[+] Enlarge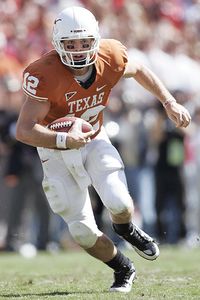 Tim Heitman/US PresswireColt McCoy has his sights set on winning a Big 12 title Saturday.
His next chance will come Saturday night at Cowboys Stadium in Arlington, Texas, when the Longhorns meet Nebraska.
"It's right there in front of us," McCoy said. "It's a goal we've worked for all year long and it's finally here. This is the most important game. We know there are big things after the game if we go out and handle our business. But right now, Nebraska is our focus."
Only a year ago, McCoy and the Longhorns dealt with the bitter disappointment of failing to make the Big 12 championship game. Earlier, they had defeated eventual champion Oklahoma in a dramatic comeback. But their South Division championship hopes were dashed by a last-second loss at Texas Tech that caused a three-way tie for division title. The split championship affected the computer polls and kept Texas out when the final numbers were tallied at the end of the regular season.
That snub resonated through all of the Longhorns' offseason practices and workouts before leading to their success this season.
Texas coach Mack Brown reminded them of that past disappointment as they began work for Nebraska earlier this week.
"They were disappointed as any group of kids I've ever seen," Brown said. "But [they] committed themselves to be in this game and win it. And now they have it all in front of them."
McCoy battled through a mid-season crisis of confidence to direct the Longhorns to a 12-0 record. Only a 16-13 victory over Oklahoma has been by a margin of less than 10 points.
Throughout the season, McCoy has talked about his personal need to play in the Big 12 championship game -- the biggest of all stages in his conference. Such a goal, he said, is bigger than an individual award like winning the Heisman Trophy.
He's never been there before, watching Paul Thompson and
Sam Bradford
claim titles for Oklahoma during his career at Texas.
He'll go down in history as the winningest quarterback in NCAA history. His 44-7 record likely will never be broken -- at least until the NCAA starts mandating 13-game or 14-game regular seasons.
In order to claim his place among the pantheon of great Texas quarterbacks like Vince Young, James Street, Bobby Layne and James Brown, McCoy needs to earn a title.
Texas offensive coordinator Greg Davis remembers hearing from McCoy only minutes after he learned that Vince Young was leaving school early for the NFL.
"Colt told me not to worry, that he was ready," Davis said.
Such a pronouncement might have been construed as a tad bold coming from a redshirt freshman who had never played before. But McCoy has been proving it ever since.
There was his first wild road victory when he beat Nebraska in a raging snowstorm in 2006.
And the way he's beaten old rivals Texas A&M and Oklahoma in back-to-back seasons. Nobody has done that since the Longhorns' salad days of late 1960s and early 1970s when Darrell Royal was roaming the sideline.
But the Big 12 title has been elusive for McCoy.
McCoy's quest has even infused Brown, who said Saturday's title game will be more meaningful for him for players like his senior quarterback than any sense of personal accomplishment in claiming his second Big 12 title and qualifying for his second BCS title game.
"I would like is for Colt and these seniors to have a championship," Brown said. "They deserve it. They have given us so much. It's a thing that's not on their résumé.
"And that's what Saturday night is about for me. I want Colt to finish getting the acclaim he should for this program and for college football. He'll have a lot more by winning Saturday."
November, 30, 2009
11/30/09
7:16
PM ET
By
Tim Griffin
| ESPN.com
Texas coach Mack Brown remembers Texas' stunning Big 12 championship game victory over Nebraska in 1996 -- all too well.

Brown was coaching at North Carolina, where he had directed the Tar Heels to a 9-2 record. A strong finish had Tar Heel fans excited about a potential trip to the Fiesta Bowl, which would have been the school's first trip to the Bowl Coalition.

But a funny thing happened for Brown and his team on their way to the desert. James Brown and Texas earned a stunning 37-27 victory over Nebraska, and both Big 12 teams -- not North Carolina -- went to the Bowl Coalition.

"Yeah, that game cost us the Fiesta Bowl," Brown said. "We're going if Texas doesn't beat Nebraska. I was mad. We're in and we're a lock. And then we go to the Gator Bowl."

The Tar Heels notched a 20-13 victory over West Virginia in the Gator Bowl, finished the season with a 10-2 record and finished 10th in the final Associated Press poll.

Brown was 11-1 the following year and was ranked sixth in the final AP poll. But he never advanced the Tar Heels higher than the Gator Bowl in the ACC's bowl pecking order before leaving the school.
November, 30, 2009
11/30/09
10:30
AM ET
By
Tim Griffin
| ESPN.com
Texas and Nebraska are two programs inexorably linked in the Big 12's young history.
Saturday's championship game in Arlington, Texas, will represent the third time the two traditional superpowers have played for the Big 12 title. Those rivals have played against each other for the title more than any other two teams in Big 12 history with each team winning one of the championship games.
Texas is a heavy favorite this year after a 12-0 regular season that has placed it on the cusp of a second national championship game berth in five seasons. Nebraska claimed the North title this season, but is a huge early underdog against the Longhorns.
[+] Enlarge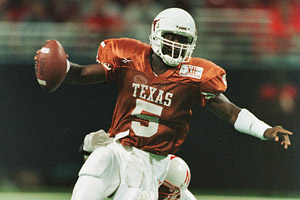 Jed Jacobsohn/Getty ImagesQuarterback James Brown predicted a Texas win in the first Big 12 championship game in 1996.
It's a complete role reversal from the first championship game in the conference's history. The Cornhuskers were ranked No. 3 and seemingly on their way to a national championship during that first Big 12 title game in St. Louis in 1996. Texas had come along late to earn the Big 12 South title, but was presumed by most prognosticators to have little chance with the mighty Cornhuskers.
"It kind of struck me a little unusual because of the matchup and how it's playing out," former Texas wide receiver Wane McGarity said. "It's almost the exact opposite of what happened that first time around."
That game became even more storied after Texas quarterback James Brown predicted a huge victory for the Longhorns and then backed it up with a stunning 37-27 upset that knocked the Cornhuskers out of the national title hunt.
The first Big 12 championship represented much more than merely a football game that would decide the conference's first representative into the old Bowl Coalition.
Nebraska was the dominant power in the old Big Eight Conference. Texas was considered to be one of the strongest among the four teams that joined the reconstituted Big 12 from the Southwest Conference.
The two schools battled on practically every item in the formative stages of the Big 12. Nebraska wanted the conference offices to remain in Kansas City. Texas wanted them moved to Dallas. Texas won that argument.
Nebraska wanted each team in the conference to be able to keep a certain number of partial qualifiers on the roster. Texas was against that. Texas won that argument.
Nebraska wanted former Kansas athletic director Bob Frederick as the conference's first commissioner. Texas wanted Southwest Conference commissioner Steve Hatchell. Texas won that argument.
Those off-the-field skirmishes made the first actual game between the two schools in the conference seem that much bigger.
Nebraska came into the game the two-time defending national champion. After losing early in the season at Arizona State, the Cornhuskers reeled off nine straight victories. Coming into the championship game, Nebraska had won 46 of its last 48 games.
Texas struggled with nonconference losses to Notre Dame and Virginia early in the season. John Mackovic's team fell into an early hole in the conference race after back-to-back losses to Oklahoma and Colorado left it at 3-4.
But Texas rebounded to win its final four regular-season games to finish strongly, including a 51-15 beatdown of Texas A&M. Still, most observers didn't give it much hope.
Nebraska was a three-touchdown favorite coming into the game. That status galled Brown, who predicted several days before the game that the Longhorns would win the game by three touchdowns.
"We weren't intimidated by them," McGarity said. "James made the comment we might win by 21 points. It just started it off and we all rallied behind him."
Like Nebraska heading into Saturday's game, that Texas team was hot after playing well down the stretch.
"We were the underdogs and people didn't think we had a chance," McGarity said. "But we weren't intimidated in the least by them. We thought we had a good chance to win once the game started. And we played like it."
That game is remembered by the stunning fourth-and-inches gamble made by Mackovic late in the game with his team nursing a slim 30-27 lead. Brown faked a handoff and then hit reserve tight end Derek Lewis on a 61-yard pass to the Nebraska 11. Priest Holmes scored his third touchdown on the next play to wrap up the victory and account for the only rushing touchdowns scored on Nebraska's first-team defense all season.
It's gone down in history as one of the biggest upsets in recent college football history.
Most observers aren't giving Nebraska much hope against Texas in this year's conference championship.
But if the Cornhuskers can duplicate the Longhorns' stunning triumph on Saturday, it will be every bit as large as the earlier Texas victory in the first conference championship game.
June, 29, 2009
6/29/09
6:00
PM ET
By
Tim Griffin
| ESPN.com
Posted by ESPN.com's Tim Griffin
Roll left: James Brown guarantees victory and then beats Nebraska
Date: Dec. 7, 1996
Place: TWA Dome, St. Louis, Mo.
Score: Texas 37, Nebraska 27
The first Big 12 championship game had much meaning and symbolism on both sides.
Nebraska and Texas had been on opposite sides of practically every major issue in the early history of the Big 12 -- from the first commissioner and site of the conference office to how many partial qualifiers would be acceptable to each conference school.
Nebraska was a two-time defending national champion that came into the game looking for a chance to play for the national championship. Texas arrived as a three-touchdown underdog, but one that had played well down the stretch. The Longhorns entered with a late four-game winning streak that boosted them to the South title after losing four of five games earlier in the season.
When reporters asked Texas quarterback James Brown about the Longhorns' huge underdog status before the game, he brazenly predicted his team might win by three touchdowns.
And while he didn't quite live up to that boast, Brown was masterful in directing one of the most memorable upsets in Big 12 history.
The Longhorns weren't intimidated by the Cornhuskers from the opening snap, marching 80 yards on 11 plays on the first drive of the game, capped by a 5-yard TD run by Priest Holmes. Texas was poised to extend the lead on its second drive after moving inside the Nebraska 10, but Brown was intercepted by Eric Stokes in the end zone to kill the drive.
The Cornhuskers tied the game on their ensuing possession on a 2-yard TD run by DeAngelo Evans.
Holmes later added a 61-yard TD run later in the first half that was matched by a 23-yard TD run by Evans later in the second quarter. Texas claimed a 20-17 halftime lead on a 30-yard field goal by Phil Dawson with 1:00 left before the break.
After another Dawson field goal, Nebraska took its first lead of the game on Evans' third TD jaunt of the game -- a 6-yarder with 2:11 left in the third quarter that boosted them to a 24-23 advantage.
The Cornhuskers then extended their lead to 27-23 on a 24-yard field goal by Kris Brown with 10:11 left.
But Brown, who passed for 353 yards on the game, put the Longhorns ahead to stay by arching a 66-yard TD pass to Wane McGarity with 7:53 left.
McGarity, a converted running back, made a brilliant over-the-shoulder catch over the outstretched hands of Nebraska safety Mike Minter near the sidelines before streaking past him for the final 35 yards into the end zone.
The Cornhuskers were stopped in Texas territory on the ensuing drive, but opted to punt the ball on fourth down to the Texas 7 with about four minutes left.
Texas coach John Mackovic then converted on the gamble of the year. Facing fourth-and-inches from his own 28, Brown faked a dive and rolled left. Tight end Derek Lewis was wide open down the left sidelines, Brown hit him in stride with a perfect pass, gaining 61 yards before he finally was stopped.
Holmes scored on an 11-yard TD run on the next play, punctuating a wild 37-27 upset victory that gave the Longhorns the first Big 12 title.
Factoids: Coming into the start of the Big 12, Nebraska coach Tom Osborne was the loudest critic of staging a conference championship game. But he and other coaches were outvoted because of the revenue generated for each conference school by the extra game ... Holmes rushed for 120 yards on nine carries ... Ricky Williams was used as a decoy, rushing for a career-low 7 yards on eight carries. But his pass blocking was invaluable in the Longhorns' triumph ... Evans rushed for a game-high 130 yards on 32 carries ... Nebraska quarterback Scott Frost rushed for 47 yards on 18 carries and completed 15-of-24 passes for 155 yards ... The Longhorns gashed the Cornhuskers for a season-worst 503 yards of total offense, despite having the ball for only 20 minutes, 25 seconds. Texas produced 8.82 yards per snap ... Before the loss, Nebraska had won its previous nine games and their last 31 games against conference opponents.
They said it, part I: "I could have thrown that ball behind my back and hit him. The play was so wide open. I looked up and Derek was open deep. I just had to get him the ball," Texas quarterback James Brown on the "Roll Left" pass to Derek Lewis.
They said it, part II: "Oh God. The losses stick with me more than the wins. And that game was disappointing to say the least. We were more talented with that team than the 1997 team that won the national championship," Nebraska defensive tackle Jason Peter on the disappointment of the Cornhuskers' loss.
They said it, part III: ''That was a tremendous call. It was a big gamble, but it worked,'' Nebraska coach Tom Osborne on Texas' dramatic fourth-down conversion.
The upshot: Texas ruined Nebraska's hopes of playing for a shot at the national championship. Instead, the Longhorns earned their first berth in the Fiesta Bowl against Penn State. The Longhorns squandered a halftime lead as the Nittany Lions stormed back to outscore them 31-3 in the second half en route to a decisive 38-15 victory. The loss dropped Texas to 8-5 for the season, finishing No. 23 in the final Associated Press poll.
While knocked out of the national title picture, Nebraska took advantage of four-straight scoring drives in the second half to claim a 41-21 triumph over Virginia Tech in the Orange Bowl. The Cornhuskers finished the season 11-2 and No. 6 in the final AP poll -- their lowest end-of-season finish in four years.
The countdown:
11. When BCS meant "Boo Chris Simms."
12. A Buffalo stampede: Six Chris Brown TDs lead CU to first Big 12 title game.
13. Run, Ricky, run. Ricky Williams breaks career rushing record.
14. Wild game, wilder post-game rants when Gundy and Leach meet in 2007.
15. Rout 66: No, that score wasn't a typo.
16. KSU finally slays the Cornhuskers.
17. Kingsbury and Long hook up in a passing duel for the ages.
18. Henery and Suh make Colorado blue.
19. Stunning OSU rally leads to Stoops' first home loss.
20. It's never over for Texas Tech until it's over.
21. Reesing to Meier. Again and again.
22. A Texas-sized comeback -- Texas over Oklahoma State in 2004.
23. A Border War unlike any of the rest -- Missouri over Kansas in 2007.
24. Seneca Wallace's wild TD run vs. Texas Tech in 2001.
25. Baylor's "So Much for Taking a Knee" against UNLV in 1999.
June, 22, 2009
6/22/09
4:00
PM ET
By
Tim Griffin
| ESPN.com
Posted by ESPN.com's Tim Griffin
No. 15
Rout 66: No, that score wasn't a typo
Date: Sept. 13, 1997
Place: Darrell K. Royal/Texas Memorial Stadium, Austin, Texas
Score: UCLA 66, Texas 3
Simply stated, it was one of the most embarrassing moments in Texas football history.
| | |
| --- | --- |
| | |
| | Stephen Dunn /Allsport |
| | Bruins quarterback Cade McNown threw for a school-record five touchdown passes. |
Rebuilding UCLA came into the season unranked. And the Bruins' national perception took a hit after starting the season with losses to Washington State and Tennessee.

The No. 11 Longhorns met UCLA without starting quarterback James Brown, who was nursing a bruised left ankle. Texas still had many of weapons returning from a team that had notched an upset victory the previous season to claim the Big 12 championship over Nebraska.
But those factors didn't matter to UCLA quarterback Cade McNown, who blistered Texas' secondary for 202 passing yards and a school-record five touchdown passes to spark the stunning victory.
McNown blew the game open with a pair of touchdown throws 20 seconds apart early in the second quarter; he hit Skip Hicks on a 43-yard scoring pass and then hooked up with Mike Grieb on a 1-yard touchdown reception after a Texas turnover.
But he was just getting started. McNown hit Jim McElroy with a 4-yard touchdown pass and Grieb with another 1-yard scoring toss that boosted UCLA to an improbable 38-0 lead with 4:37 left in the first half.
Texas got a 35-yard field goal from Phil Dawson early in the third quarter to account for all of its scoring, but the landslide didn't stop when UCLA coach Bob Toledo pulled his starters and inserted his substitutes.
The Bruins erupted for 21 points in the fourth quarter, including a 10-yard scoring run from Keith Brown with 4:24 left and a 40-yard interception return for a touchdown from Damian Allen 23 seconds later.
The Longhorns struggled with eight turnovers and seven sacks in a humiliating performance that hasn't been matched in Texas' modern football history. It was the worst home defeat in Texas history and at the time was the worst loss for a ranked team in the 61-year history of the Associated Press poll.
The game was played before a crowd of 77,203 that shrank to a few thousand hardy souls before halftime.
But it still didn't keep those fans left fromgiving the Longhorns a standing ovation late in the first half -- after the beleaguered defense forced a incompletion by McNown on third down, stopping UCLA from scoring for the first time.
After the loss, Texas coach John Mackovic was living on borrowed time on the Forty Acres.
Factoids to note: UCLA scored on its first six possessions ... Mackovic tried two quarterbacks to fill in for Brown with little success. Starter Richard Walton went 16-for-27 for 145 yards with an interception and four sacks before he was pulled. Replacement Marty Cherry was sacked three times and completed 9 of 18 passes for 105 yards and three interceptions ... UCLA's underrated defense shackled Ricky Williams and held him to one of the worst performances of his career. Williams rushed for only 36 yards on 13 carries, the third-lowest total of his career. His only games with less rushing production were 4 yards against Oklahoma in 1995 as a freshman and 7 yards against Nebraska in the 1996 Big 12 championship game ... The victory was the most lopsided for UCLA since the Bruins romped over San Diego Naval Training Center, 67-0, in 1954 ... UCLA turned six of its eight turnovers into touchdowns.

They said it, part I: "My family's out there waiting. I know it sounds horrible, but I don't want to look them in the eye. Playing sports all my life, fighting with my brother, I've never seen something like this. It's embarrassing," Texas center Ryan Fiebiger, who told reporters of his angst after the loss.
They said it, part II: "What do you say to friends and family who see this score?" Texas coach John Mackovic after the loss.
They said it, part III: "When the landslide starts, it's hard to get it stopped. I feel bad for John," UCLA coach Bob Toledo, who spoke after the game of his empathy for Mackovic.
They said it, part IV: "At least the band kept playing." The classic first paragraph in Kirk Bohls' column about the game.
The upshot: Mackovic was never able to overcome the loss as he was fired after the season ended. Only a year after the Longhorns claimed the Big 12 title, Texas finished 4-7. But the Longhorns have been to a bowl game every season since hiring Mack Brown.
Walton would win the starting job in Mack Brown's first season. But he sustained a season-ending injury early-on against the Bruins at the Rose Bowl and never started again for the Longhorns.
The Bruins used the big victory to spark them on a memorable comeback. After losing the first two games of the 1997 season by a combined nine points, UCLA erupted on a 10-game winning streak to finish the season, capped by a 29-23 victory over Texas A&M in the 1998 Cotton Bowl. In that game, UCLA overcame an early 16-0 A&M lead to charge back for the triumph that helped them finish No. 5 in the final Associated Press poll.
The countdown:
16. Kansas State finally slays the Cornhuskers.
17. Kingsbury and Long hook up in a passing duel for the ages.
18. Henery and Suh make Colorado blue.
19. Stunning OSU rally leads to Stoops' first home loss.
20. It's never over for Texas Tech until it's over.
21. Reesing to Meier. Again and again.
22. A Texas-sized comeback -- Texas over Oklahoma State in 2004.
23. A Border War unlike any of the rest -- Missouri over Kansas in 2007.
24. Seneca Wallace's wild TD run vs. Texas Tech in 2001.
25. Baylor's "So Much for Taking a Knee" against UNLV in 1999.
June, 15, 2009
6/15/09
6:30
PM ET
By
Tim Griffin
| ESPN.com
Posted by ESPN.com's Tim Griffin
Today is a special summer day for football fans across Texas and the Southwest.
Today is the annual release date of Dave Campbell's Texas Football, which is the unquestionable college football magazine of record in these parts every year.
This magazine is special because it's the 50th anniversary edition. The first one was laid out on the kitchen table of former Waco Tribune-Herald sports editor Dave Campbell, who started it in 1960.
It's gotten much bigger than that over the years, being read by three generations of football fans over the years. Today, there's a Texas Football classic every year at the Alamodome and even an official Texas Football song.
I first learned about the magazine in the late 1960s when a friend of mine in fifth grade, Richard Jackson, moved to Memphis from Houston. Along with his neat Houston Astros hat that I always was envious of was his copy of Texas Football Magazine. The story and pictures of the guys from Texas, Baylor and Rice were so different than anything I came across in the Southeastern Conference. I wanted mine, too.
My dad occasionally traveled to Texas with his job and soon learned to look at the 7-Eleven on one of his trips to Dallas to see if he could score a copy of Dave Campbell for me.
Later, my family moved to Texas and I learned the excitement of visiting the newsstand in mid-June to pick up the Dave Campbell magazine, which was there to chronicle the demise of the Southwest Conference and the start of the Big 12.
The new one will officially be released today across the area. And the coverboy is Texas quarterback Colt McCoy, who becomes the first individual player to be pictured since Texas wide receiver Roy Williams in 2003.
I picked up my copy and am already deeply into it. It takes me back to my childhood.
The only problem is that I wonder why I couldn't pick up a Grape Slurpee to drink with it like I used to back in the day.
A list of the cover boys in the magazine's history exhibits a unique history of football in the southwest. Here's a list of the players who have graced the cover of the magazine over the years.
1960: Texas RB Jack Collins
1961: Baylor RB Ronnie Bull
1962: TCU QB Sonny Gibbs
1963: Texas coach Darrell Royal and DT Scott Appleton
1964: Baylor coach John Bridgers and WR Lawrence Elkins
1965: Texas Tech RB Donny Anderson
1966: SMU NG John LaGrone, Baylor DT Greg Pipes, Texas DT Diron Talbert
1967: Texas A&M T Maurice "Mo" Moorman
1968: Texas A&M QB Edd Hargett
1969: Texas QB James Street
1970: Texas RB Steve Worster
1971: Texas Tech QB Charles Napper
1972: Texas A&M LB Brad Dusek
1973: Texas LB Glen Gaspard
1974: Texas coach Darrell Royal
1975: Baylor coach Grant Teaff
1976: Houston coach Bill Yeoman
1977: Texas Tech QB Rodney Allison
1978: Texas A&M K Tony Franklin and Texas K/P Russell Erxleben
1979: Texas DT Steve McMichael
1980: Baylor LB Mike Singletary and Texas A&M QB Mike Mosley
1981: Baylor RB Walter Abercrombie and SMU RB Craig James
1982: Texas A&M QB Gary Kubiak
1983: SMU QB Lance McIlhenny
1984: Texas A&M DE Ray Childress
1985: TCU coach Jim Wacker and TCU RB Kenneth Davis
1986: Texas A&M coach Jackie Sherrill
1987: Texas QB Bret Stafford and Texas coach David McWilliams
1988: Texas RB Eric Metcalf and Texas A&M LB John Roper
1989: Houston coach Jack Pardee and SMU coach Forrest Gregg
1990: Texas Tech coach Spike Dykes
1991: Houston QB David Klingler
1992: Rice RB Trevor Cobb
1993: Texas A&M coach R.C. Slocum
1994: Texas QB Shea Morenz
1995: A collage of Southwest Conference historical figures including Texas RB Earl Campbell, Houston coach Bill Yeoman, Baylor LB Mike Singletary, TCU QB Sammy Baugh, Texas coach Fred Akers, Texas coach Darrell Royal and SMU RB Doak Walker.
1996: Baylor coach Chuck Ready, Texas Tech coach Spike Dykes, Texas coach John Mackovic and Texas A&M coach R.C. Slocum
1997: Texas QB James Brown and Texas RB Ricky Williams
1998: Texas A&M LB Dat Nguyen, Texas RB Ricky Williams and Texas coach Mack Brown
1999: Texas coach Mack Brown and TCU coach Dennis Franchione. Note: Alternative cover for those magazines sold outside the state featured Dallas Cowboys QB Troy Aikman
2000: Midland Robert E. Lee H.S. RB Cedric Benson
2001: Texas QB Chris Simms, TCU QB Casey Printers, Texas A&M QB Mark Farris and Texas Tech QB Kliff Kingsbury
2002: Texas Tech QB Kliff Kingsbury, Celina H.S. coach G.A. Moore, Dallas Cowboys RB Emmitt Smith and Baytown Lee H.S. QB Drew Tate.
2003: Texas WR Roy Williams
2004: Texas Tech DE Adell Duckett, TCU S Marvin Godbolt, Houston QB Kevin Kolb, North Texas RB Patrick Cobb
2005: Texas QB Vince Young and Texas A&M QB Reggie McNeal
2006: Former Texas RB Earl Campbell, Mansfield Summit H.S. QB John Chiles, Texarkana Texas H.S. QB Ryan Mallett and Gilmer H.S. QB G.J. Kinne
2007: Texas A&M QB Stephen McGee, Texas QB Colt McCoy and TCU DE Tommy Blake
2008: Texas Tech coach Mike Leach, Texas Tech QB Graham Harrell and Texas Tech WR Michael Crabtree
2009: Texas QB Colt McCoy
Source: ESPN.com research

April, 29, 2009
4/29/09
2:50
PM ET
By
Tim Griffin
| ESPN.com
Posted by ESPN.com's Tim Griffin
I haven't had a mailbag in a couple of weeks because of some outstanding assignments. The letters have kept coming in, including some questions that were interesting. I thought this thought-provoking query from a reader in Nebraska merited its own answer in a separate post, along with a chart that explains my answer.
So here's the bonus question and watch Friday for a usual mailbag coming. It will have a lot of topical questions and answers about Big 12 football.
Jack Nelson from Lincoln, Neb.: Hey Tim, love your blog. But I've got one question after reading your post about Colorado the other day. How can you discount Nebraska's returning talent when you compare them against the Buffaloes or anybody else in the North. Any reasons that you think the Buffaloes stack up better than the Cornhuskers?
Griffin: Jack, thanks for the compliment and also know that I thought only that Colorado could be competitive in the North because of an experienced, deep running game, along with a strong returning offensive line.
But the major reason I might discount the Cornhuskers is because of the lack of experience at quarterback. In the history of the Big 12, only one championship quarterback has been able to win a championship in the same season he made his first collegiate start.
That would be Sam Bradford of Oklahoma in 2007. And Bradford had a pretty strong supporting case around him on that 2007 team -- certainly better than any team in the Big 12 North this season.
My experienced quarterback theory will be tested this season as three of the five teams that shared part of the division championships last season -- Missouri, Nebraska and Texas Tech - all will be starting quarterbacks with no previous experience as a collegian.
Missouri likely will be looking to Blaine Gabbert as its starter. Texas Tech will likely have Taylor Potts. And Nebraska likely will be looking to Zac Lee manning the starting quarterback slot.
All are untested. And the North Division particularly could be an area where a team with an experienced quarterback could have an edge with either Todd Reesing at Kansas or Tyler Hansen and Cody Hawkins at Colorado all having an experience edge with previous starts coming into the season.
I just think that previous starting experience is critical in college football. And it will take a special kind of quarterback to be able to win a title without previous college starting experience at the position.
Here's a look at the Big 12 championship teams over the years, who they had playing quarterback and their previous starting experience.
1996 Texas: James Brown had more than a year of starting experience coming into the season.
1997 Nebraska: Scott Frost had a year of starting experience coming into the season.
1998 Texas A&M: Both Branndon Stewart and Randy McCown had started games in previous seasons before their championship year.
1999 Nebraska: Eric Crouch had started most of the games in the previous season before his championship year.
2000 Oklahoma: Josh Heupel had started a complete season of games the previous year.
2001 Colorado: Both Craig Ochs and Bobby Pesavento had started games in previous seasons before their championship year.
2002 Oklahoma: Nate Hybl had started games in the previous season before his championship year.
2003 Kansas State: Ell Roberson had started games in the previous season before his championship year.
2004 Oklahoma: Jason White had started more than a year's worth of games before his championship season.
2005 Texas: Vince Young had started nearly two previous seasons before his championship season.
2006 Oklahoma: Paul Thompson had started one previous game during his previous year at quarterback and several more at wide receiver.
2007 Oklahoma: Sam Bradford had never started a college game before his championship season.
2008 Oklahoma: Sam Bradford had started one previous season before his championship season.
Those trends make the odds daunting that the Cornhuskers, Tigers, Red Raiders or Kansas State will be able to claim the Big 12 title this season.
It's even more likely that the championship team could come from a group of three teams with the most experience at quarterback -- Texas, Oklahoma and Oklahoma State.
April, 15, 2009
4/15/09
8:42
PM ET
By
Tim Griffin
| ESPN.com
Posted by ESPN.com's Tim Griffin
No. 18

It only seems like sixth-year wide receiver Jordan Shipley has been catching passes since James Brown was throwing them for the Longhorns.
Actually, Shipley's injuries caused him to miss the 2004 and 2005 seasons. He emerged after those nagging injuries last season, blossoming into one of the Big 12's most consistent deep threats and a clutch returner who might have saved the Longhorns' season with his dramatic kickoff return for a touchdown against Oklahoma.
After sitting out the spring after shoulder surgery after the season, Shipley should be back ready and healthy for his senior season. A big finish could enable him to finish his career as one of the Longhorns' career leaders in most receiving categories.
That is, if he can stay away from injuries.

Player: Jordan Shipley
Team: Texas
Position: Wide receiver/kick returner
Vitals: 6-foot, 190 pounds; Sr.; Burnet, Texas
Why he was picked: After struggling with injuries most of his career, Shipley blossomed as the Longhorns' leader in all-purpose yards last season, producing 119.2 yards per game. Shipley snagged 89 receptions for 1,060 yards and a team-leading 11 touchdown receptions. He also made history as the first player in school history to score touchdowns by reception, kickoff return and punt return in the same season. But he is most widely known for his season-saving 96-yard kickoff return for a touchdown against Oklahoma, which turned momentum around after the Sooners had jumped to a 14-3 lead early in the second quarter. Shipley is one of the most versatile members on his team as a kickoff and punt returner and a holder on all of Texas' placements.
What 2009 will hold: If Shipley can recover from his shoulder surgery, he could develop into one of the nation's biggest receiving weapons. It will be up to him to emerge as Colt McCoy's prime target this season after sharing the role with Quan Cosby last season. If McCoy and the Longhorns are as prolific passing as last season, it's not out of the question that Shipley could potentially catch 100 or more balls. That kind of season would be pivotal in the Longhorns' hopes at making their first Big 12 championship game appearance since 2005. And it would also cement Shipley's place among the top receivers in the school's history.
The countdown:
19. Oklahoma RB Chris Brown
20. Nebraska I-back Roy Helu Jr.
21. Texas Tech DT Colby Whitlock
22. Kansas WR-KR Dezmon Briscoe
23. Oklahoma DE Jeremy Beal
24. Kansas S Darrell Stuckey
25. Texas Tech RB Baron Batch
26. Kansas QB-WR Kerry Meier
27. Texas T Adam Ulatoski
28. Oklahoma State LB Andre Sexton
29. Missouri G Kurtis Gregory
30. Missouri RB Derrick Washington
31. Texas Tech LB Brian Duncan
32. Texas S Earl Thomas
33. Kansas State WR-KR Brandon Banks
34. Oklahoma LB Keenan Clayton
35. Baylor S Jordan Lake
36. Oklahoma State CB-KR Perrish Cox
37. Texas C Chris Hall
38. Texas Tech DE-DT McKinner Dixon
39. Kansas State DE Brandon Harold
40. Oklahoma FB Matt Clapp
November, 4, 2008
11/04/08
7:44
PM ET
By
Tim Griffin
| ESPN.com
Posted by ESPN.com's Tim Griffin
Here's another batch of e-mails from this week.
Sean from San Antonio writes: Can you tell me if I'm right or not on this? If Texas wins against Baylor, and Notre Dame loses this week, Texas (3rd) will tie the Irish for 2nd most in all-time wins (829).
Tim Griffin: Sean, you are correct. Here's the current list of all-time victories heading into this weekend.

Michigan: 871
Notre Dame: 829
Texas: 828
Nebraska: 813
Ohio State: 804
Penn State: 797
Alabama : 796
---
Jeff from Horseshoe Bay, Texas writes: Tim, are you crazy? How can you say that the Harrell-Crabtree reception last week was the biggest play in the history of the Big 12? What about Vince Young's run against USC or James Brown's fourth-down pass in the Big 12 championship game in 1996 against Nebraska to Derek Lewis. Those were pretty monumental, too.
Tim Griffin: I got several e-mails like this over the course of the last several days after I called Crabtree's catch the biggest play in Big 12 history. I think it is for several reasons. First, was the sheer magnitude of the play for Texas Tech. It enabled the Red Raiders to jump into the national championship mix, beating a No. 1 team on the verge of becoming the first team in 65 years to beat four top-12 teams in a row. It snapped a five-game losing streak to Texas and came before the largest home crowd in the history of Jones AT&T Stadium.
It was also a game-settling play with one second left. Young's run, although big and winning the national championship, did have to hold up after a Texas defensive stand later in the game. Heck, an even bigger play in that game could have been Pete Carroll deciding to call a timeout in his unsuccessful stop to let Texas go for two points on the next play. Considering how the Trojans moved the ball on the ensuing possession, I bet Carroll still wishes he had that timeout at the end of the game to have helped set up a field goal.
But I digress. And certainly if some readers don't agree it was the biggest, I certainly think that the Crabtree-Harrell hookup was the most dramatic. Like I said, many people who were watching that game on television are going to remember where they were when that play took place. They have already written to tell me about it.
---
Dan from Atlanta writes: Mack Brown should look at the one blown call that handed his team the game against Oklahoma State before he starts sending blown calls to the Big 12 from the Texas Tech game. When a quarterback gets knocked down on a late hit after an interception is thrown, you don't give the ball back to them just because he got knocked down. Quit whining and play.
Tim Griffin: To be fair, most Big 12 coaches take advantage of a system to send disputed calls to the league offices after every game. My sources indicate that even more are being sent this year by coaches from throughout the Big 12 than ever before. I just found it a little odd that Brown made his pronouncement that he couldn't talk about officiating and then say that he had sent several disputed calls to their attention. Because everybody does that almost every week anyway.
---
Drew Merrill from Denton, Texas writes: Is there a scenario out there where the remaining schedule could result in the South Division representative being determined by the BCS standings? I know that somewhere down the list of tiebreakers, BCS standings are a determinant, which would really steam some fans who already hate the BCS. If there was a scenario that resulted in using the BCS, who do you think would be ahead in the BCS?
Tim Griffin: You are right. As I've mentioned on a couple of blog items, the BCS standings at the end of the Big 12 regular season would be the fifth determiner in the list of tiebreakers involving a three-team deadlock.
Potentially, this could be even more controversial than picking a team for a national championship -- at least in this part of the world.
All of those teams that end up at the top of the South are going to be thinking they deserve a shot to play for the championship. And the supporters for each team will think it's a travesty if they don't have the opportunity to do that, especially if they were denied by a nebulous computer formula that nobody really understands.
It's hard to look that far ahead, but I'm guessing that Oklahoma or Oklahoma State would receive the most BCS bounce, if they were to be tied with other one-loss teams. Both would have to win out to force a tie with other one-loss team, meaning they likely would have the momentum generated by beating Texas Tech and/or each other down the stretch.
That would appear to give them more BCS bounce than Texas, which finishes with games against Baylor, Kansas and Texas A&M. Texas Tech would have to lose a game to fall into that three-way tie scenario and I'm guessing that would doom their BCS numbers.
But I can't say for sure. I was surprised as anybody to see Oklahoma beat Nebraska, 62-28, and drop two places in the BCS standings last week. I'm sure Bob Stoops was more perturbed than he let on when I asked him about that.
---
Kyle from Omaha writes: Tim, I'd like to hear your opinion on what Colorado needs to do to turn the program back into Big 12 and national title contenders again.

Tim Griffin: Probably get healthy first. No team has been as affected as the Buffaloes and it got worse last week when Rodney "Speedy" Stewart went down with a season-ending broken fibula. It marks the eighth player the Buffaloes have lost with a season-ending injury.
Another big question that Coach Dan Hawkins will need to answer is whether either Tyler Hansen or his son, Cody Hawkins, really is the quarterback to lead the Buffaloes into Big 12 North title contention. Considering that Colorado has scored 31 points in its five Big 12 games, the early answer might be that the offense needs a boost to get back into the title mix.
But I think the Buffaloes have a nice collection of young talent coming back. Missouri will be down a little after losing Chase Daniel. So it wouldn't surprise me if the Buffaloes were a factor in the North Division race next season.
---
Joe from New York City writes: Hi Tim. Your blog is bookmarked on my browser. Great work. Can you please answer me one question: Why didn't Mike Leach go for two points on the final touchdown of the Texas game? Kicking the PAT only put Texas Tech up by 6 points which didn't really mean anything except that a hail mary pass in the end zone (if there were a fair catch) or a run back on the kick off (kicked from the 7 1/2 yard line) would have won the game for Texas. I've thought this through a number of different ways but can't think of any reason not to go for two. Can you?
Tim Griffin: Not really. But I know that the excitement of the late play might have had something to do with it. Leach said after the game that he didn't give going for two much thought, but he did consider taking a knee on the conversion. But there also was one second remaining, meaning there would be a kickoff upcoming, no matter what.
But with the way that the crowd charged the field, it made things pretty wild along the sidelines. I can see why the Red Raiders went for the conversion almost as a matt
er of course.
---
Joseph from College Station writes: Tim, I think it's safe to say that the whole Big 12 South is dominant over the North. Wouldn't you agree? A&M, at the bottom of the South, has beaten both Iowa State and Colorado. Baylor has also beaten Iowa State and almost beat Missouri last week. And then we have Texas' stomp of Missouri. And I don't even want to throw Tech, Oklahoma State or Oklahoma in there.
Do you think the Big 12 is that one-sided and do you think they will ever consider the East/West division you wrote about last week?
Tim Griffin: The Big 12 is as one-sided during the regular season as I've ever seen in the history of the league. I think the South Division is clearly the toughest division in college football -- tougher than the SEC East or West or anything found in the ACC.
The record after last week's games is 13-3. The best North teams, Missouri and Kansas are a combined 1-4. The South's four teams in the national top 10 are a combined 10-0 against the North. And the remaining games that will merit watching next week will be when Texas visits Kansas and Oklahoma State travels to Colorado in games that the Longhorns and Cowboys both desperately need to keep their BCS hopes alive.
So the gap appears wider than ever between the two divisions this season. And the South team in the Big 12 should be a heavy favorite against the North, even playing in Kansas City. The South will carry a four-game winning title game winning streak into the game.
But even with that imbalance that has marked the recent history of the league, I don't see the Big 12's administrators rushing to make any change.
---
Ryan from Lincoln, Neb.,
writes
: Tim, I live in Lincoln but I'm not a Husker fan. Because, my question is, why in the world did Versus pick the Iowa State-Colorado game for the 11:30 a.m. time slot rather than the Kansas-Nebraska game which will be a pay-per-view contest at 1:30 p.m. Am I missing something? Is 2-7 vs. 4-5 really more appealing than 6-3 vs. 5-4?
Tim Griffin: I was thinking the same thing when I looked at this week's schedule. Which means I probably better start looking for some Nebraska or Kansas fans in the Lubbock area who wouldn't mind a blogger visiting their home for a couple of hours Saturday afternoon. Because I definitely would rather watch Nebraska-Kansas (and I'll even pay a few bucks and contribute some non-alcoholic beverages or some munchies) if they let me visit rather than watching the game that Versus will be offering that will be available for free at my hotel.
Again, thanks for all of the questions this week. Keep them coming and be sure to visit my chat beginning at 3 p.m. on Thursday.
August, 31, 2008
8/31/08
1:38
PM ET
By
Tim Griffin
| ESPN.com
Posted by ESPN.com's Tim Griffin
Colorado and Colorado State meet in a rare Sunday night battle in Denver. To celebrate, here are some Way Backs from previous Big 12 history for today.
Aug. 31, 1995 -- No. 2 Nebraska 64, Oklahoma State 21 (Stillwater, Okla.): The Cornhuskers ruined the debut of Bob Simmons as Oklahoma State's coach by erupting for 671 yards of total offense and a 50-7 lead early in the third quarter before coach Tom Osborne cleared his bench. Lawrence Phillips rushed for 153 yards and three TDs and Tommie Frazier passed for two TDs and rushed for another to key Nebraska's attack.
Aug. 31, 1996 -- No. 21 Kansas State 21, Texas Tech 14 (Manhattan, Kan.): Mario Smith turned in two huge plays to lead the Wildcats to the victory in the inaugural Big 12 game. Smith recovered a fumbled snap for a touchdown early in the fourth quarter and delivered a withering hit on WR Donnie Hart on a fourth-down pass that sealed the triumph.
Aug. 31, 1996 -- No. 8 Texas 40, Missouri 10 (Austin, Texas): In a game delayed by lightning for 45 minutes in the third quarter, the Longhorns put the game away with Bryant Westbrook's 35-yard blocked punt return for a TD and Ricky Williams' second TD run. Williams rushed for 112 yards and QB James Brown passed for two TDs.
Aug 31, 1998 -- No. 2 Florida State 23, No. 14 Texas A&M 14 (East Rutherford, N.J.): After the Aggies had claimed a 14-10 halftime lead on Jay Brooks' 21-yard TD fumble return, Chris Weinke led the Seminoles' comeback in his first collegiate start. His 9-yard TD pass to Peter Warrick late in the third quarter gave FSU the lead for good.
Aug. 31, 2002 -- Louisiana Tech 39, Oklahoma State 36 (Shreveport, La.): Luke McCown rifled a 23-yard TD pass to Erick Franklin with a minute remaining, leading the Bulldogs to a wild comeback. Oklahoma State lead 36-18 with 2:18 left in the third quarter before McCown's late charge that included two TD passes and another TD run. McCown finished the game with 448 passing yards and three TD strikes.
July, 18, 2008
7/18/08
6:34
PM ET
By
Tim Griffin
| ESPN.com
Posted by ESPN.com's Tim Griffin
James Brown is more than a decade removed from the biggest triumphs of his college football career. But he still hasn't lost the touch of leading his team to big victories.
The former Texas quarterback helped bridge two eras at his school. He helped the Longhorns win their final game in Southwest Conference history with a stunning upset victory at Texas A&M in 1995. And he notched an even bigger upset the following season when he directed Texas to the Big 12 title over Nebraska.
| | |
| --- | --- |
| | |
| | Jamie Squire /Allsport |
| | Former Texas Longhorns quarterback James Brown, seen here in the 1996 conference title game against Nebraska, is still throwing touchdowns in Texas. |
Brown, 33, is still accomplishing big things in football -- albeit on a much smaller scale. After joining the club earlier this season, he's directed the CenTex Barracudas to a playoff berth in the Intense Football League. Brown's team will meet Corpus Christi Hammerheads Saturday night in a game that might have a little less notoriety than his biggest college games.
The excitement of competition still charges him. And he said he kept himself in shape when the indoor team called after playing competitive flag football in Austin last year.
"It's nothing to do this," Brown said. "I came up here merely for the exercise. But I ended up on a good football team who had won in the past. And we've all picked it up from there."
His biggest football memories came at Texas, where he led the Longhorns to the Big 12 championship in the conference's first title game in 1996, helping his team knock off two-time defending national champion Nebraska in the title game.
The Longhorns were three-touchdown underdogs in that game, but Brown flatly predicted the week before the game that his team would win.
They lived up to his boast in dramatic fashion. With 2:16 remaining and his team clinging to a three-point lead, Brown completed a 61-yard pass to tight end Derek Lewis for a critical first down. Priest Holmes scored on an 11-yard TD run on the next play to clinch a 37-27 victory.
Brown said he could have run for a first down on the play or also connected to another receiver before opting to take a deeper route.
"I could have thrown that ball behind my back and hit him," said Brown, who finished with 353 yards passing in the game. "The play was so wide open. I looked up and Derek was open deep. I just had to get him the ball."
That game still haunts former Nebraska defensive lineman Jason Peter, who recalls it as one of the most disappointing of his career. The Longhorns gashed the Cornhuskers for 503 yards of total offense in a convincing performance orchestrated by Brown.
"Oh God. The losses stick with me more than the wins. And that game was disappointing to say the least," Peter said. "We were more talented with that team than the 1997 team that won the national championship."
The Longhorns weren't as successful the following season. A devastating 66-3 loss to UCLA started the downslide from which the Longhorns never recovered. They finished with a 4-7 record and coach John Mackovic was fired after the season.
That turmoil caused Brown get overlooked by NFL teams, as well as his 6-foot height.
"I go to the university and now Mack Brown and those guys always have the players who have gone on to the NFL around them. Everybody is now," Brown said. "Mackovic had a fear of the NCAA getting involved with our program under the guise with the NFL guys coming around. We never talked about playing in the NFL. It was never a question back then."
The coaching change also hurt him building his awareness among NFL teams, he said.
"It was just a bad time," he said. "We didn't have weight room or facilities. The other coaches were moving out and coach Brown's staff was coming in. We didn't have a weight room or facilities. It was just messed up. Maybe I should have the year before."
Brown left school with 30 Texas school records, including career passing yards (7,638), total offense (8,049) and touchdown passes (53). But he went undrafted on draft day.
After stints in several arena leagues and leading the Frankfurt Galaxy to the 2003 NFL Europe title, Brown wanted one more shot in the NFL. No calls came and he eventually settled back in Austin, where he ran a tax and real-estate appraisal business.
When the tax season ended earlier this year, Brown found himself still wondering if he could play. When CenTex coach Chris Duliban called after two other quarterbacks left his team in late April, he decided to join the Barracudas. He hasn't lost the touch, passing for 1,597 yards and 41 touchdown passes.
"I had gotten in shape to play in the All-American Football League earlier this year," Brown said. "But when that didn't get off the ground, I went back to my business. But this is a lot of fun. We're playing for the love of the game. And it's fun to be in a familiar position of playing again."