August, 9, 2011
8/09/11
9:00
AM ET
Today is all about the QBs here at ESPN.com, and here's a look at each of the quarterback races in the Big 12.
IOWA STATE
[+] Enlarge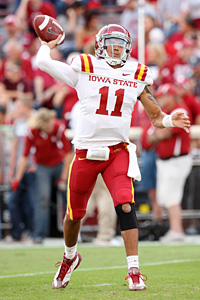 Nelson Chenault/US PresswireJerome Tiller is expected to open as Iowa State's starting QB.
The safe bet:
Jerome Tiller
. Tiller, a junior, has filled in for
Austen Arnaud
much of the past two seasons, but struggled late last season after Arnaud suffered a season-ending knee injury. Tiller quarterbacked a win at Nebraska in 2009, but didn't look much improved in the game time he earned in 2010.
The wild card:
Steele Jantz. Jantz is a speedy transfer from junior college in California who also arrived at Iowa State with his top receiver from the City College of San Francisco, Aaron Horne. Jantz will have to keep learning the offense, but can he inject life into the offense with his legs like
Taylor Martinez
did for Nebraska? Iowa State's version of The Decision is set for Aug. 20. Who will be taking their talents under center at Jack Trice Stadium? Give me the underdog in this race.
The dark horse:
Jared Barnett
.
James Capello
, a fourth contender, transferred, but Paul Rhoads says Barnett still has a chance. Can he make enough noise in fall camp to make that a reality?
KANSAS
The heavy favorite:
Jordan Webb
. Webb started seven games as a redshirt freshman in 2010, and appeared to take control during the summer, but he struggled last season. He should learn from experience, too. Last year's opening-day starter,
Kale Pick
, is now a receiver. Webb will almost certainly get the call for the season opener, but if he doesn't improve, that could change fast.
The underdog:
Quinn Mecham
. Mecham started four of the final five games for the Jayhawks, but the senior and junior college transfer might not be the best long-term option for Kansas. Webb learning on the go could pay off in the future, while any lessons Mecham learns will be out the door after the season. Mecham as the backup might be a better role for the team's greater good.
The wild cards:
Brock Berglund and Michael Cummings, a pair of true freshmen. Cummings enters with a bit less talent but much less baggage. Berglund was a blue-chip recruit from Colorado, but legal issues stemming from an April assault charge have him spending much more time back home than anticipated. Berglund also missed summer voluntary workouts because of the charge and went back to Colorado before spring practice began, despite enrolling at Kansas in January, a semester earlier than the rest of the freshman class. Expect a redshirt for one of the two, but the two quarterbacks in front of them haven't exactly set the bar high. If the favorites struggle, don't be surprised to see Cummings or Berglund get a chance.
KANSAS STATE
The heavy favorite:
Collin Klein
. Coach Bill Snyder has already given Klein the status as Day 1 starter, but the Wildcats have played two quarterbacks before under Snyder, and Klein's backups could benefit from a similar strategy this season. The only rumors surrounding Klein are those of vast development during the summer, but he'll have to prove it during fall camp and early in the season to get a stranglehold on the job.
The hype man:
Justin Tuggle. Tuggle replaced Cam Newton at Blinn Junior College and transferred to Kansas State before spring practice after originally playing for Boston College out of high school. Tuggle sounded like a strong contender entering spring practice, but didn't make it happen. We'll see if his status changes during fall camp.
The backup plan:
Sammuel Lamur
. Lamur was the No. 3 quarterback last season, and took over the No. 2 spot on the depth chart
ahead of Tuggle during the spring.
We haven't seen much of Lamur during his career, but this might be the year.
TEXAS
The favorite:
Garrett Gilbert
. Gilbert, despite his struggles in 2010, never got pulled and started all 12 games for the Longhorns. He looked unimpressive in the spring game, but indications from his teammates are that
he's embodied the leadership aspect of the job
, something coach Mack Brown covets. That might earn Gilbert the job, but if he doesn't look like a vastly different player this season, he'll lose it.
The wild card:
Case McCoy
. McCoy, the younger brother of
that other McCoy kid you might have heard of
, has taken on a bit of a fan-favorite role after
his performance in the spring game, when he outplayed
Gilbert. Despite his good numbers in the spring game, however, he looked uncomfortable and must make up for his lack of experience to oust Gilbert for the reins of the offense.
The mystery man:
Connor Wood
. Wood is a former high school All-American, but redshirted in 2010 and played sparingly in the spring game. Outside of a few snaps in spring, no one outside the locker room has had much of a chance to see Wood play, but if he starts making noise during fall camp, you'll hear it.
The young gun:
David Ash. Coaches lauding true freshman quarterbacks in the spring is rare, but Ash arrived in Austin early and got a lot of compliments from the new Longhorns coaches. He's the long shot in this race, and Brown apologized to him for not getting him enough snaps in the spring game, but the coaches indicate he's still alive in the race.
May, 13, 2011
5/13/11
12:00
PM ET
By
ESPN.com staff
| ESPN.com
May, 6, 2011
5/06/11
10:00
AM ET
By
ESPN.com staff
| ESPN.com
IOWA STATE
2010 overall record:
5-7
2010 conference record:
3-5

Returning starters:
Offense (5), Defense (7) P/K (2)
Top returners:
LB Jake Knott, LB A.J. Klein, CB Leonard Johnson, CB Ter'Ran Benton, WR
Darius Reynolds
, RB
Shontrelle Johnson
, OT Kelechi Osemele
Key losses:
QB
Austen Arnaud
, RB
Alexander Robinson
, TE
Collin Franklin
, S
David Sims
, DB Michael O'Connell
2010 statistical leaders (*returners)
Rushing:
Alexander Robinson (946 yards)
Passing:
Austen Arnaud (1,703 yards)
Receiving:
Collin Franklin (530 yards)
Tackles:
Jake Knott (131)
Sacks:
Jacob Lattimer* (4)
Interceptions:
Jake Knott* (4)
Three spring answers
1. Encouraging signs at receiver.
Iowa State's leading receiver in 2010 was tight end Franklin, not a good sign for explosive plays in a league that demands them. This spring, though, the Cyclones may have a pair of good ones. Juco transfer Aaron Horne made an impact, and Reynolds showed signs of becoming the big-play threat the Cyclones hoped they recruited.
2. No questions about defensive leaders.
Linebacker Knott was already a captain. But after having surgery for a broken arm, his first stop? Practice. His 130 tackles last season already said plenty. His clear priority said even more. Neither required words.
3. Nice addition.
We'll see a new-look stadium this fall. The Cyclones are adding a new free-standing structure with an HD video display above the Jacobson Athletic Building in the north end zone. It's a sharp update and a reason for fans to be excited for the fall.
Three fall questions
1. Who's the QB?
The Cyclones have the Big 12's most jumbled quarterback situation. Four players are still trying to lay claim to the position, each bringing something a bit different.
Jerome Tiller
has the most experience, but Steele Jantz,
Jared Barnett
and
James Capello
may end up the starter by the end of fall. My money is on Jantz, the fastest of the quartet.
2. Down south blues?
Iowa State snuck into a bowl game in 2009 and just missed another berth in 2010 after losing its final three games. It looks like it'll be on a similar plane in 2011, needing to beat a few teams it isn't supposed to in order to reach the postseason. Can that happen with a schedule that features nine conference games, including every Big 12 South team? And I didn't even mention Iowa …
3. Replacing A-Rob?
Shontrelle Johnson showed some nice burst last year in spot duty but had a fairly quiet spring. He's likely to replace the Cyclones' offensive star the last two seasons, Robinson, but can he keep up with the kind of production that Iowa State got out of its back?
April, 27, 2011
4/27/11
9:45
AM ET
By
ESPN.com staff
| ESPN.com
Miss our weekly chat?
Here's a look back
and a few highlights.
Didn't get your question answered?
Stuff it in my mailbag and I'll get around to it
later.
Barry Switzer in Oklahoma asked:
Pre-Season rankings are kind of cool but I never really put much thought into them seeing as how every year the Top 25 inevitably shuffle around. Having said that in your opinion how big of a target does OU have on its back from the word go and do you think this OU team has the maturity to handle the pressure week in and week out?
David Ubben:
It's a pretty big one, no doubt. But I agree with what Bob Stoops has reiterated all offseason. How's that anything new for Oklahoma? There are plenty of guys on this team that were around for the 2008 and 2009 seasons. It was the same thing then.
Shane in Spring, Texas asked:
How many trick plays will Bryan Harsin use against OU?
DU:
I'm setting the over/under at 4.5. That's not a joke.
Andrew in Bryan asked:
So what happens when the horns move malcolm brown (RB) to DE ( like chris whaley) because johnathon gray is so much better. wont it be weird to have two players on defense named malcolm brown? how will they communitcate? (also asuming he (DT) doesnt decommit)
DU:
That smells like Aggie discontent. Seems like Texas A&M does pretty well with two good running backs, no? Is Texas not allowed to do the same? Only one player can get all the carries, and the other will be a malcontent forced to switch positions?
Andrew in Lubbock asked:
Since
we're already making preseason poll predictions
, let's take it a step further. Who in the Big 12 do you think ends the regular season ranked?
DU:
My guesses: OU, OSU, A&M, Missouri aaaaaand ... Baylor.
Orville in Lubbock, Texas asked:
David: If
Ryan Tannehill
tanks, what kind of a season will A&M have? How dependent are they on a good/great season by Tannehill?
DU:
Tannehill playing well would take them to a great season, but A&M is still solid everywhere else. If Tannehill throws for like 2,600 yards, completes 55 percent of his passes and has like 17 TDs to 13 INTs, A&M probably wins eight games. You have to have great QB play to win big in this league, but the Aggies are good enough to do OK even if he struggles.
Filemon in College Station, Texas asked:
Who would you consider the top three darkhorses in the big12-2 for the 2011 football season? Assuming UT 2010 was only a minor blip..
DU:
Well, I think it's pretty clear that OU, OSU and A&M are the favorites. My dark horses? Missouri, Texas and the darkest horse of them all: Kansas State.
Clyde in Cleveland asked:
Best running back in the conference?
DU:
For now,
Cyrus Gray
. But look out for
Joseph Randle
and
Roy Finch
. Losing six of seven 1,000-yard rushers means it's probably going to be a bit of a down year for running backs in this league after a strong class last year with
Kendall Hunter
,
DeMarco Murray
,
Daniel Thomas
and
Rodney Stewart
, among others.
Coach Rhoads in Iowa asked:
David, who should start? It seems like everyone has a built in excuse this spring.
Jerome Tiller
had a bad throwing elbow, Steele Jantz was brand new, and
James Capello
and
Jared Barnett
are really only freshmen. A little help here...
DU:
Rhoads told me it was Tiller's shoulder, actually, not the elbow. A teammate fell on it trying to recover a fumble. If I had to bet, I'd go with Steele right now.
Kirk in Texas asked:
All time and Big 12 offense with no weaknesses? Who you got? Some are saying this 11 aggie team, others 08 sooners and 05 Longhorns. What's your take?
DU:
Uh, let's pump the brakes a bit on the 2011 Aggies. They don't have anyone on that team close to what the Sooners or Longhorns had on offense. The Sooners had one of the best O-lines in the history of college football and a No. 1 pick at quarterback. The Longhorns had one of the greatest college QBs of all-time in Vince Young. A&M? A very good offense, but nowhere near that level. No weaknesses, maybe, but nowhere near as good as either of the other two offenses.
April, 20, 2011
4/20/11
10:00
AM ET
Of the handful of quarterback competitions in the Big 12 this spring, none was more muddled than Iowa State's.
"There is by no means a two-man race that has surfaced," said Cyclones coach Paul Rhoads.
[+] Enlarge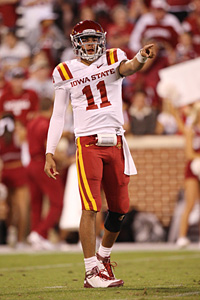 Nelson Chenault/US PresswireJerome Tiller has the most experience among the candidates battling for Iowa State's QB job.
Austen Arnaud
, a three-year starter, is gone, and Rhoads is left sorting out four candidates to replace him. He's not all talk when he says it's a four-man race, either. All four got time with the first-team offense throughout the spring and in Saturday's spring game in Ames.
Jerome Tiller
, a junior, started three times and got various other spot duty when Arnaud was injured during his three-year run behind center. He looked like a possible front-runner for the job, but has been limited after suffering a shoulder injury early in spring camp.
"There was a fumble during practice and a guy landed on it. Half of spring ball he's not been at full strength and that's hurt his velocity, and when that happens, your accuracy is going to be affected," Rhoads said. "We have not gotten a fair assessment of where Jerome's growth is at this point, which is why we'll need to go into August."
That status as front-runner was challenged by Steele Jantz's arrival this spring, a speedy juco transfer from California who showed up to spring camp with a mohawk.
The transition from junior college to the Big 12 is still in its early stages, but Rhoads is hoping for big strides in the fall from Jantz.
"The game has not slowed down for him yet, but he's still very fast," Rhoads said. "He's by far the fastest quarterback we put out there on the field. That has shown up and he has the ability to throw the soft ball, intermediate and the vertical ball. He just hasn't done it on a consistent basis."
That has kept two younger quarterbacks,
James Capello
and
Jared Barnett
, in the competition.
"James Capello and Jared Barnett have both thrown the ball in between the numbers of our receivers with a lot more consistency than the other two," Rhoads said. "They're not as athletic, but that doesn't mean they're not effective in the run game. Both have made a number of big plays off zone reads and keeping the ball off designed runs."
Rhoads knows exactly what he wants from his quarterback. It's little more than a checklist of three big factors
The first? Decision-making in pressure situations.
"It's easy to do it in the classroom and it's easy to do it sometimes on the practice field, but when the 40-second clock is running and bullets are flying, he's got to be able to make the right decisions on a consistent basis," Rhoads said.
He also wants accuracy and a quarterback who has the ability to make plays with his feet. For now, no one has proved themselves in all three areas.
Tiller's experience helped him in the first, but he's lacked Jantz's speed and the younger pair's accuracy, in part because of the shoulder injury. Jantz's transition has made decision-making a tougher task than a player like Tiller, who already has a win at Nebraska against one of college football's top defenses in 2009.
The less-athletic pair has had the advantage in accuracy, but with limited experience and athleticism, winning the job could prove difficult.
For now, the inevitable choice for Rhoads doesn't look easy.
"It's a competition. A dead heat probably wouldn't be an accurate way of explaining it, but we've got four guys that have all done good things," Rhoads said. "Time is on our side, so we've got to take advantage of that as we go into fall training camp and find out who that guy is for out September 3 opener."
April, 18, 2011
4/18/11
1:00
PM ET
By
ESPN.com staff
| ESPN.com
What happened:


The four-quarterback race continues in Ames, with Jerome Tiller, Steele Jantz, James Capello and Jared Barnett all having decent days. Tiller completed 12 of 18 passes for 174 yards and a pair of scores and ran for 28 yards on two carries. Steele completed 8 of 16 passes for 113 yards and a touchdown with an interception. All four quarterbacks got time with the first string.
Aaron Horne miraculously led both the Cardinal and Gold teams in catches with a combined eight receptions for 124 yards and a 50-yard touchdown. Darius Reynolds was the second-leading receiver for both teams, catching five passes for 126 yards and a pair of touchdowns for 40 and 19 yards.
Shontrelle Johnson led all rushers with 59 yards on 11 carries.
A crowd of 4,000 showed up on a chilly, 44-degree day in Ames.
The Cardinal team beat the Gold team, 35-22.
What we learned:
I spoke with coach Paul Rhoads last week (more from that conversation later this week) and he insisted that the quarterback race isn't between just Tiller and Jantz. Giving all four quarterbacks time with the first team is a good way to back that up. Jantz has game-breaking speed, but he'll have to wait until next fall for a chance to really show it. He had just six yards on nine carries, including sacks. I'd still be shocked if someone other than Tiller or Jantz wins the job, but Capello and Barnett are getting a shot. There's no doubt about that.
Rhoads went out of his way to praise Reynolds when we spoke last week, and the 6-foot-3, 190-pounder made him look good with a big day. Iowa State needs more help at receiver, and Reynolds looks like a player who's doing his part to step into that role. Alongside him, though? Horne, a juco transfer who came to campus early and was Jantz's teammate at the City College of San Francisco. He's a much different type of receiver at 5-foot-10 and 175 pounds, but the Cyclones need playmakers. Last season, Horne caught 51 balls for 1,176 yards and 12 touchdowns from Jantz. Whether or not Jantz wins the job, Horne is going to have to be a factor in the passing game for the Cyclones.
Jake Knott, who made 131 tackles last season at linebacker, missed the game with a broken arm. You never like to see that, but honestly, if you have to have your best player miss time with a broken bone, I'd argue that the last spring practice of the year is the best time to do it. That's fortunate for the Cyclones. He should only miss a month or so of serious offseason conditioning. But the two months he'll be sidelined from the injury will be well behind him by the time fall camp opens in August. His partner in crime, A.J. Klein, led the team with 10 tackles.
They said it:
"No one eliminated themselves today as the starter. We have to be careful with turnovers because you can't win Big 12 games turning the ball over."- Rhoads, on the Cyclones' quarterback competition
More Big 12 spring game recaps:
February, 17, 2011
2/17/11
9:00
AM ET
We took a look at
the Big 12's spring storylines yesterday
, and for several teams, that involves the quarterback. For others, it doesn't. But heading into the spring, which starts as early as Friday at Texas Tech, here's how the Big 12's teams rank in terms of certainty at quarterback.
LOCKED AND LOADED
Baylor:
Baylor's offense runs entirely through the Bears'
Robert Griffin III
. He rebounded well last season from the knee injury that made him miss most of the 2009 season, and became a much, much better passer. We'll see if that continues in 2011, but it would take a serious injury to knock him off his starting spot.
[+] Enlarge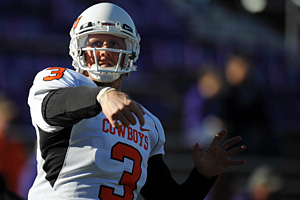 John Rieger/US PresswireBrandon Weeden enters next season as Oklahoma State's starting quarterback.
Oklahoma State:
Brandon Weeden
started every game for the Cowboys last season and earned All-Big 12 first-team honors. He's back. Look elsewhere for quarterback controversy. The backup race between
Clint Chelf
,
Johnny Deaton
and early enrolling freshman J.W. Walsh could be interesting, though.
Oklahoma:
Landry Jones
will effectively be a third-year starter for the Sooners next season, and a strong contender for All-Big 12 honors and possibly the Heisman. It's his offense for sure in 2011.
Texas A&M:
Ryan Tannehill
would be the easy front-runner even if he hadn't started the second half of the 2010 season. But he did, went 5-1 in his starts, and has the Aggies sniffing the top 10 in the preseason.
BETTER LOCK IT DOWN, KID
Texas:
Garrett Gilbert
had a horrible first year as starter in 2010, but he'll need to show his coaches -- new and old -- he'll be better in 2011. Grasping new coordinator Bryan Harsin's system will be key in keeping the junior ahead of his competition,
Case McCoy
and
Connor Wood
. Coach Mack Brown
said last month that the job was open.
Missouri:
James Franklin
is the
likely lead dog in the race,
but only because he got more time and experience playing the game and adjusting to the speed of the game. He'll need to
clearly
be the best quarterback Missouri has to leave the spring as the projected starter.
Tyler Gabbert
and
Ashton Glaser
might steal the title with standout springs, but if all three aren't getting it done, incoming freshman Corbin Berkstresser could theoretically crash the party in preseason camp.
Iowa State:
Jerome Tiller
has five starts in two seasons because of injuries to
Austen Arnaud
, including an historic, albeit ugly, 9-7 win at Nebraska in 2009. But Paul Rhoads signed juco transfer Steele Jantz, and he'll have a great chance to win the job, too.
James Capello
and
Jared Barnett
will try to make splashes in the spring.
WHICH END IS UP?
Texas Tech:
Tech, as usual, is likely to get good play out of whoever wins the job, but it's a near guessing game at this point.
Seth Doege
and
Jacob Karam
impressed coach Tommy Tuberville last spring working with the first team after
Steven Sheffield
and
Taylor Potts
were hurt, but Doege and Karam will have to hold off younger talents
Scotty Young
and Michael Brewer to win the job.
Kansas:
The Jayhawks never settled on a quarterback, and battled injuries at the position last year.
Kale Pick
was moved to receiver during the 2010 season, and
Jordan Webb
and
Quinn Mecham
will be the main competition this year, despite a lack of truly inspired play for much of 2010. If incoming freshman Brock Berglund, who enrolled early, can show flashes of potential and outplay Webb and Mecham, he might be the guy best suited to help Kansas win right now and in the future.
Kansas State:
The Wildcats' presumptive starter
might not even be playing the position in 2011
, and we've seen very, very little of the three quarterbacks hoping to replace the departed
Carson Coffman
. Justin Tuggle, a juco transfer, started three games at Boston College and has a good shot to win the job. Newcomer Daniel Sams could win the gig eventually, or it could be the returning
Sammuel Lamur
, who threw all of three passes last season (completing all three!) as the third-stringer.
February, 16, 2011
2/16/11
9:00
AM ET
By
ESPN.com staff
| ESPN.com
Springtime is almost here. And here's a look at what to expect across the Big 12 when it gets into full swing here in the next couple weeks.
BAYLOR BEARS

Spring practice starts:
February 28
Spring game:
April 2
What to watch:
Big changes on defense. Baylor brought in Phil Bennett as its new defensive coordinator, and he says his scheme will be multiple, built to fit the Bears' personnel. Considering the Bears' recent recruiting successes in the secondary, look for a 4-2-5 type of look.
Recruiting stars: time to shine. Both safeties, Tim Atchison and Byron Landor, are gone. Baylor, though, has two former ESPNU 150 recruits at safety who would be well served to start filling their potential. Prince Kent was a reserve last season and at one time, the nation's No. 51 overall recruit who originally signed with Miami. Ahmad Dixon, meanwhile, was the No. 15 overall prospect in the 2010 class. The opportunity is there. Baylor needs big talent at the position. Briles has recruited it. Can they develop into players who make Baylor a contender?
Running back competition. Jay Finley topped 1,200 yards in 2010, but he's gone. Who steps into his void? Terrance Ganaway is a bowling ball at 5-foot-11, 235 pounds, but the shifty Jarred Salubi could get a good amount of carries, too. They could begin to share carries this spring.
IOWA STATE CYCLONES

Spring practice starts:
March 22
Spring game:
April 16
What to watch:
Quarterback competition. It should be a good one in Ames this spring. Jerome Tiller is the name most recognize after getting lots of meaningful time and starts because of injuries to Austen Arnaud over the past two seasons. But juco transfer Steele Jantz sounds confident he can win the job. Rising sophomore James Capello and redshirt freshman Jared Barnett will compete, too.
Paging Cyclone receivers. Iowa State had one of the most underwhelming receiving corps in the league during the past season, and three of its top five pass-catchers won't return in 2011. Of those three, however, one is a tight end (Collin Franklin) and another is a running back (Alexander Robinson). The new quarterback will need some help, and Darius Darks and Darius Reynolds will need to provide it as seniors.
Shontrelle's time or not? Freshman Shontrelle Johnson looked like the running back with the most pop behind Robinson for most of 2010, but two other freshmen running backs jockeyed for carries, too. Paul Rhoads is hardly handing the job over to Johnson, but spring could be the time when he really separates himself from the pack.
KANSAS JAYHAWKS

Spring practice starts:
April 1
Spring game:
April 30
What to watch:
What are they doing behind center? Kansas never got much consistent play out of the quarterback position last year, but freshman Brock Berglund is one of the 2011 class' top recruits, and enrolled early to compete in the spring with Jordan Webb and Quinn Mecham. With a building program like Kansas, there's perhaps some value in handing the program to a younger player like Webb or Berglund, but they'll have to earn it. Doing so will start in the spring, but don't expect the Jayhawks to have a set-in-stone starter by spring's end.
Top linebacker back on the field. Huldon Tharp missed all of 2010 with a foot injury, but he says he's 100 percent and ready to get back on the field. As a freshman in 2009, he was fifth on the team in tackles, with 59, and looked like one of the league's possible budding stars. Now, he'll get his chance to join fellow linebacker Steven Johnson as one of the team's top tacklers, and he'll do it as a sophomore after redshirting in 2010.
Toben rising? Turner Gill raised plenty of eyebrows when he moved his team's leading rusher in 2009, Toben Opurum, to linebacker in fall camp, and eventually slid him up to defensive end. But toward the end of 2010, Opurum started showing some major signs of growth at the position. We'll get a better idea this spring if he's one of the league's most unlikely new stars at defensive end.
KANSAS STATE WILDCATS

Spring practice starts:
April 6
Spring game:
April 30
What to watch:
Prodigal Kansan sons come home. There's no doubt that the Wichita native Brown brothers are the main attraction at Kansas State this spring, a season after transferring back home. Bryce Brown, the running back, was the nation's No. 8 prospect in the 2009 class. Arthur Brown, the linebacker, was the nation's No. 6 prospect in the 2008 class. Bryce transferred from Tennessee and Arthur from Miami. The Wildcats are pinning much of their hopes on the duo, and we'll get a good sense of what they can provide soon.
Quarterback competition. Carson Coffman is gone, and two new faces will challenge for the job: juco transfer Justin Tuggle and Daniel Sams. Sammuel Lamur is also up for the gig. Collin Klein may or may not be; Bill Snyder hasn't explicitly confirmed a past comment from Sams saying Klein had moved to receiver. Don't expect a starter to be named by spring's end, but a general order could start to form.
Can the defense show improvement? Kansas State had the Big 12's worst overall defense last year, and the worst rushing defense in college football, giving up 3,008 yards on the ground. Coordinator Chris Cosh looks like he'll still be around in 2011, and defensive backs David Garrett and Tysyn Hartman are solid pieces to try and build around. But this young maturing defense must get better to make a bowl game again with so many questions on offense. That starts in the spring.
MISSOURI TIGERS

Spring practice starts:
March 8
Spring game:
April 16
What to watch:
Franklin comes alive! Blaine Gabbert bolted to the NFL early, and Missouri has a gaping hole a quarterback. The position, however, is surrounded by a lot of quality talent that likely makes the Tigers a Top 25 team. There's no understating the importance of the position for the Tigers, and that will begin to be decided in the spring. James Franklin, a rising sophomore, saw spot duty in 2010 as more of a runner, and may have the inside track on the job, but Tyler Gabbert, Blaine's younger brother, and Ashton Glaser should make it an interesting competition in the spring. If neither of them impress early, don't count out incoming freshman Corbin Berkstresser.
Here is the new secondary. Same as the old secondary? After years of pass defense being one of the Tigers' biggest weaknesses, it became a strength in 2010 behind the leadership of senior corners Kevin Rutland and Carl Gettis. But the Tigers lose them and safety Jarrell Harrison. Rutland emerged as one of the team's most impressive players last spring, but was Missouri's success in the secondary a one-time thing or the beginning of a welcome trend?
Time to dominate the trenches? Missouri played without likely first-round pick Aldon Smith for much of the previous season, but the defensive and offensive lines for the Tigers were as good as ever in 2010. How will they look in 2011? Impact juco transfer Sheldon Richardson won't be enrolled by the spring, but the four returning starters on the offensive line should get some solid work against Brad Madison, Jacquies Smith and Terrell Resonno.
OKLAHOMA SOONERS

Spring practice starts:
March 21
Spring game:
April 16
What to watch:
Freshmen on display. Coach Bob Stoops hasn't been shy about saying his 2010 recruiting class was his best ever, but it could look even better after this spring. Two of his best emerging recruits, Justin McCay and Geneo Grissom, didn't even play in 2010, and could start to make an impact. The same goes for Corey Nelson, who will try to earn some more time somewhere backing up star Travis Lewis.
Is there a golden boot in Norman? Jimmy Stevens was much more accurate in 2010, finishing 19-for-23, but his attempts outside 45 yards were sparse. The good news is he missed none of his 53 extra points. Field goals have been a bit of an adventure for the past couple years, but continuing in the spring what he started last year would be a good sign for Oklahoma. The Sooners are strong everywhere and need good special teams play to reach their lofty title goals.
Are the Sooners' backs back? Roy Finch missed the Fiesta Bowl with a stress fracture, and his durability is certainly questionable entering 2011. When he's healthy, he looks like the next star in the Sooners' backfield, but they'll need some depth behind the 5-foot-8, 173-pounder. Jermie Calhoun, Jonathan Miller and Brennan Clay have all looked good at times, but there should be some good competition from newcomers Brandon Wegher, an Iowa transfer who'll be in camp this spring and eligible next season, and blue-chip recruit Brandon Williams, who enrolled early.
OKLAHOMA STATE COWBOYS

Spring practice starts
: March 7
Spring game
: April 16
What to watch
:
Every piece of the offense. The spring in Stillwater is all about keeping or improving upon the status quo. Had it kept Dana Holgorsen, there'd be little doubt that would happen, but Oklahoma State must make the most of its five returning offensive linemen, quarterback Brandon Weeden and receiver Justin Blackmon. The opportunity for a historic season is there, but they'll have to pick up the nuances of the new offense quickly in the spring like they did last year.
What about the kicker? Dan Bailey won the Lou Groza Award as the nation's top kicker in 2010, but he's gone. Oklahoma State needs to fill that role quickly, and we'll likely know who will get the nod after the spring.
Who steps up on the defensive line? The Cowboys lose three starters up front on defense, including All-Big 12 performer Ugo Chinasa and tackles Chris Donaldson and Shane Jarka. Can senior Richetti Jones become a star in the Big 12? We'll have a good idea if he, or any of the Cowboys' other defensive linemen, can by the end of April.
TEXAS LONGHORNS

Spring practice starts
: February 24
Spring game
: April 3
What to watch
:
New coaches and their students/players. Texas has five new coaches. Although it's hard to get a good read early on, how they relate with the players on the field, in the film room and around the facilities will have a big impact on how the 2011 season plays out in Austin. The young-blooded coordinators could serve themselves well by relating to players and the players will need to spend plenty of extra time learning new schemes and plays.
Quarterback competition ... or not? Mack Brown says the gig is open and it is, for now. Garrett Gilbert can close it with a strong spring. If Garrett struggles on the field or has difficulty grasping the new system, the door will be wide open for Connor Wood or Case McCoy to step in and close it. Gilbert didn't get much help, but he did very little in 2010 to inspire a lot of breathing room with McCoy and Wood clamoring for playing time.
And you've got to defend the pass, too. Texas loses its top three cornerbacks to the NFL, and only Carrington Byndom and A.J. White got much meaningful playing time last season. Younger players can earn some rare early playing time with a strong spring. Will anyone step up?
TEXAS A&M AGGIES

Spring practice starts
: March 22
Spring game
: April 16
What to watch
:
New linebackers in the running. Spring isn't so scary when you bring back nine defensive starters, but the two Texas A&M lost were the heart of its defense. Linebackers Michael Hodges and Von Miller are gone. Kyle Mangan didn't look fantastic when forced into action during the Cotton Bowl, but the time is now for Damontre Moore and Dominique Patterson, a pair of sophomores, to make their impact.
Tannehill's tuning things up. Quarterback Ryan Tannehill played about as well as anyone could have hoped late last season, but he'll need it to continue his performance with a solid spring nailing down the timing with his receivers, who all return. He's already got a leg up on last year's quarterback, Jerrod Johnson, who was held out of team drills last spring after shoulder surgery that eventually derailed his senior season.
Christine's back. Christine Michael missed the second half of the season with a broken leg, giving way to Cyrus Gray's rise among Big 12 backs. It should make Texas A&M's depth at the position even more impressive, but we'll see how Michael looks coming back from the injury.
TEXAS TECH RED RAIDERS

Spring practice starts
: February 19
Spring game
: March 26
What to watch
:
Past defending that pass defense. Texas Tech had the Big 12's worst pass defense last season, but has a pair of big potential players at cornerback in rising sophomores Tre Porter and Jarvis Phillips. Starters LaRon Moore and Franklin Mitchem are gone, but if returning starters Cody Davis and Will Ford can continue to mature, the defense should improve in the area most important for success in the Big 12.
And they're off! There's a four-man quarterback derby set in Lubbock this spring between Seth Doege, Jacob Karam, Michael Brewer and Scotty Young. I don't expect it to be settled until midway through fall camp, similar to last season, but there should be a solid front-runner and more clarity after spring. Coach Tommy Tuberville was extremely impressed with Doege and Karam last spring after Taylor Potts and Steven Sheffield went down with injuries.
Time to find new stars. Most of the big names on Texas Tech's defense are gone. Colby Whitlock, Bront Bird, Brian Duncan will all continue their careers elsewhere. The leaders on the defense will have to begin to emerge in the spring. Is it Scott Smith? Cody Davis? A younger, unexpected player? We'll find out. Sometimes these types of situations aren't as easy to predict as they might seem, like Missouri's strength in 2010 emerging in the secondary.
June, 22, 2009
6/22/09
10:00
AM ET
By
Tim Griffin
| ESPN.com
Posted by ESPN.com's Tim Griffin
Heralded Iowa State quarterback recruit James Capello wanted to show more of his skills in Saturday night's PNC Big 33 Football Classic.
Capello appeared at quarterback on three of Pennsylvania's 14 offensive series in the game Saturday night at Hershey, Pa. He misfired on all three passing attempts with one interception.
West Catholic quarterback Curtis Drake, who is headed to Penn State as a wide receiver, produced a game-record 284 total yards to account for most of Pennsylvania's offense in a 38-31 loss to Ohio.
Capello told the Lebanon Daily News he would have liked to have played more in the game.
"I'm a little disappointed I didn't get to show what I could do," Capello told the newspaper. "But there's nothing I can do about it. Now I just have to worry about my college team."
Those wishes led him to leave for Iowa State on the day after the game. He will begin preseason conditioning work with his new teammates this week as well as enrolling in two summer courses at his new school.
With the presence of Austen Arnaud and Jerome Tiller in front of him, Capello is expected to redshirt this season. But he's still excited to begin working with the Cyclones.
"I just need to get a little bigger and stronger," Capello said. "And I need to get my arm a little stronger. What I had a little trouble with [Saturday night] was the [pass] rush, so I need to work on that."
Capello was the Pennsylvania Class 3A player of the year and a first-team all-state selection as a senior at Lebanon High School. He passed for 2,963 yards and 31 touchdowns and also rushed for 770 yards and nine touchdowns as he led his team to a 7-5 record and the first playoff berth in school history.
June, 19, 2009
6/19/09
7:00
AM ET
By
Tim Griffin
| ESPN.com
Posted by ESPN.com's Tim Griffin
Heralded incoming Iowa State freshman quarterback James Capello will have a chance to show his talents to a wide television audience Saturday night when he appears for the Pennsylvania team in the annual PNC Big 33 Football Classic.
The annual game will pit the best graduating high-school talent from Pennsylvania against those players from Ohio in a game from Hersheypark Stadium in Hershey, Pa.
Capello was attracted to Iowa State from Lebanon, Pa., by Paul Rhoads, who was Pittsburgh's defensive coordinator for several years. He helped convince Capello to accept the Cyclones' offer over those from Bowling Green and Central Michigan, among others.
It will be interesting to see Capello, who was ranked as the top high school quarterback in the state of Pennsylvania last year after a strong career at Lebanon High School. He was the Pennsylvania class 3A player of the year and a first-team all-state selection as a senior. Capello passed for 2,963 yards and 31 touchdowns and also rushed for 770 yards and nine touchdowns as he led his team to a 7-5 record and the first playoff berth in school history.
With Austen Arnaud and Jerome Tiller in front of him, Capello likely will redshirt this season with the Cyclones. But it still will be interesting to see him perform against an Ohio roster that is stocked with future Big Ten players.
Kickoff will be at 7 p.m. ET. The game will be televised live by the NFL Network.