September, 22, 2011
9/22/11
11:15
AM ET
Missouri had to be frustrated, if not paranoid.
When the season began, the Tigers could go four players down their running back depth chart before seeing any significant dropoff.
Then, reserve
Marcus Murphy
needed surgery on his shoulder in August.
And starter
Kendial Lawrence
broke his fibula.
The Tigers still had two backs,
Henry Josey
and
De'Vion Moore
, until the opening drive of a road loss against Arizona State. Before the game even took its shape, Moore was seated on the bench with a bag of ice taped around his sprained ankle.
[+] Enlarge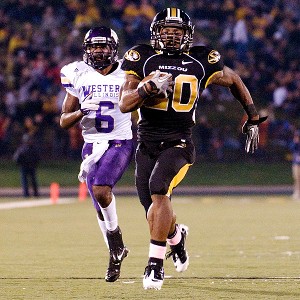 Jeff Curry/US PRESSWIRE Missouri's Henry Josey rushed for 263 yards on 14 carries against Western Illinois.
"I was just hoping those guys got back up, because I knew we needed them this year," he said.
Lawrence and Moore will return at some point, but the Tigers travel to No. 1 Oklahoma on Saturday, where no team has won since 2005.
Suddenly, there is only Josey.
He finished the Arizona State game with 145 yards of offense on just 11 touches.
His career high for carries (14) came in last year's win over Oklahoma, but Josey equaled that in just a half against Western Illinois last week, rushing for 263 yards and three touchdowns before taking a seat for the second half.
"It was obviously a great effort. He's got great speed. He's a player that accelerates well and vs. Western Illinois got tired out a little bit, too. It was a great accomplishment," said Missouri coach Gary Pinkel. "He's certainly a player that's gotten a lot better than he was a year ago and a sophomore that's got a great future."
Said Josey: "It was an unexplainable night for me. My offensive line and wide receivers, they were blocking and were just amazing that night. Holes were opening up everywhere and I was just getting to them from all angles and hitting them as hard as I could."
Against Arizona State, freshman
Greg White
, who had never played in a college game, traveled but didn't play because Pinkel didn't feel comfortable putting him on the field in a tight game. Instead Pinkel put in 250-pound walk-on fullback
Jared Culver
, who played late against the Sun Devils and who carried the ball 11 times for 86 yards and a score in a 69-0 win over Western Illinois. White carried 10 times for 36 yards against Western Illinois.
Josey said seeing Culver and White succeed against Western Illinois was one of his favorite parts of his career night.
This week could be different. During practice, Josey was given a clear directive.
"Stay healthy," he said. "That's the big thing. They didn't want me going down or having any kind of injury that would stop me from playing well. My team needs me and that was the big thing coming from them, is I've just got to make sure I stayed up."
Pinkel knows that a win over Oklahoma would probably have to feature his 190-pound, relatively inexperienced back to carry the ball more than 14 times. Maybe even twice that, if last week's first half is any indication.
"Our personnel is remarkably different. We all know that. We have injuries at that position right now," Pinkel said. "He'll carry more of a load than he normally would."
On the field, that's the case, but his more experienced position mates have been in his ear helping him adjust and learn from mistakes they made as young backs.
Josey woke up Sunday morning feeling the effects of his big night. Lots of yards and lots of hits.
Here's guessing Oklahoma's physical defense will have him even more sore this Sunday. But with an upset win, the sophomore won't mind.
September, 22, 2011
9/22/11
10:15
AM ET
Here's what I'm keeping an eye on in this weekend's games.
1. The atmosphere at Kyle Field.
The Aggies already have the best atmosphere in the Big 12, and this is the most impactful game of the year in College Station. The Aggie War Hymn will be blasting, the fans will be loud and the action on the field will be outstanding. For all the off-the-field news of the last few weeks, A&M and OSU on the field Saturday afternoon will be everything right about the game. Speed, athletic ability, offensive innovation and strategic game planning between great football minds.
2. Oklahoma State's defensive line.
Texas A&M wants to run the ball. It has the ability to run the ball against just about anyone, and the Aggies do it with power. Can OSU stop them? Will its defensive line get a push up front and the linebackers tackle well? OSU's chance to win depends it.
3. Kansas State's speed.
Bill Snyder joked that he wished his team could be twice as fast to deal with Miami's speed. Jokes aside, the Wildcats could use it. Nebraska embarrassed the Wildcats last year with its speed. Arthur Brown helps out a lot with that at a key linebacker spot, but does K-State make it clear that it can compete with Miami's speed? If so, it will be able to do so with most Big 12 teams.
[+] Enlarge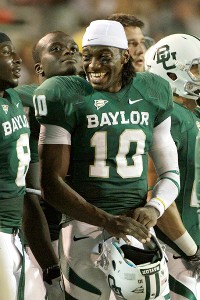 AP Photo/Tony GutierrezRobert Griffin III has put himself in the Heisman conversation with a hot start to the season.
4. Robert Griffin III.
Baylor's quarterback has been unbelievable as Baylor has rolled to wins in its first two games. Rice won't post a realistic challenge, but we'll see how Griffin looks in the third game of his pre-Big 12 season tour.
5. Darrin Moore's production.
Moore didn't hit the 200-yard mark in an easy win over New Mexico, but the Texas Tech receiver hauled in three scores in the first half and leads the Big 12 in receiving yards and touchdowns, and ranks second in catches. Will he continue his pace alongside
Ryan Broyles
and
Justin Blackmon
, the league's top two receivers?
6. Oklahoma's ability to stop James Franklin.
The Sooners let Florida State's
EJ Manuel
make some big plays with his feet last week. Franklin is much more apt to run, so OU will be keyed in on stopping it, but can Missouri out-execute the Sooners and get Franklin loose? He's much more effective when defenses are forced to account for that.
7. Henry Josey's carries.
The 190-pound Missouri running back needed just 14 carries to top 260 yards last week, and he did that in one half. Is he stout enough to handle 20-30 carries against a very, very physical OU defense coming off its best defensive performance in years? We'll find out Saturday, but look for
Greg White
and 250-pound walk-on
Jared Culver
to take some heat off the shift back.
8. Roy Finch's contribution.
Oklahoma's home-run hitting back has been MIA through two games this year, and the Sooners have relied on
Brennan Clay
and walk-on
Dominique Whaley
. Bob Stoops insists Finch isn't in the doghouse, and Clay and Whaley have taken steps forward, rather than Finch taking a step back. Will we see Finch finally make an impact?
September, 15, 2011
9/15/11
10:15
AM ET
Here's what I'm keeping my eye on in Week 3.
1. Multiple personalities.
It happens every year. Some teams do just fine. Others struggle. But
six teams across the Big 12 are going on the road
for the first time this season. Young teams are more apt to have these problems than others, but we'll see if any teams show up and look vastly different than they did in their first one or two games.
[+] Enlarge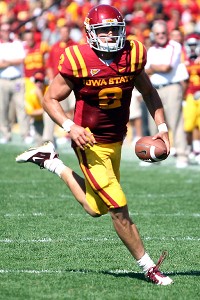 Reese Strickland/US PresswireSteele Jantz was all over the field last Saturday in Iowa State's win over Iowa.
2. How about an encore, Steele?
Iowa State's new star put on a show in an upset of Iowa last week, but he'll get a pretty decent stage to give the nation a look at him for his next performance. Iowa State plays at UConn on Friday night on ESPN2, and I know I'll be watching. The Huskies are beatable. We'll see if
Steele Jantz
helps the Cyclones do it.
3. Two heads better than one?
Texas finally made the switch away from
Garrett Gilbert
, but it's in an even more interesting position now as the only team in the Big 12 to play more than one QB -- and it has already played three. You could make a pretty good case for playing
David Ash
,
Case McCoy
or both. We'll see how Texas approaches its next step in what should be a pretty ugly game out in the Rose Bowl. Zone-read enthusiasts: This game will be like gluttony for you.
4. Where's the D, Bears?
Baylor's defense has had to sit and stare at its scoring defense sink to 117th nationally after a 50-48 win over TCU two weeks ago. That should change this week when Stephen F. Austin comes to Waco, but how much? Baylor's defense looked pretty good in games like this last year until it hit conference play.
5. Validation for the Aggies.
Oklahoma and Oklahoma State have looked great early on. So did Texas A&M in its opener against SMU. But this week against Idaho, the Aggies won't have a chance to prove anything other than they didn't look ahead to next week's showdown against OSU at Kyle Field. Do they put away the Vandals early?
6. Open it up, Wildcats.
Or not. Bill Snyder says K-State used only 15 percent of its offense in a 10-7 win over Eastern Kentucky. How much does that change two weeks later against Kent State? Might be time to open it up a bit after the close call against the Colonels. Or is it? We'll find out.
7. How Oklahoma State measures up.
The comparison is impossible not to make. Oklahoma laid waste to Tulsa in its opener two weeks ago. This time, the Cowboys complete the in-state triangle by heading to Tulsa to take on the Golden Hurricane. If you were curious, Oklahoma led 44-7 on its home field entering the fourth quarter. Not that we're comparing or anything.
8. Jayhawks, are you for real?
Kansas has looked really good through two weeks, with a blowout win over McNeese State and a dramatic win over Northern Illinois, a team that received votes in last week's Top 25 poll. It'll get even tougher this week when the Jayhawks go on the road to face a Georgia Tech team it embarrassed last year. I'll be taking a wide-angle lens with the Jayhawks this week. Can they win in Atlanta?
9. T-T-T-T.J. and the Jet.
Missouri is down this week to one running back who's played before:
Henry Josey
. Freshman
Greg White
and walk-on
Jared Culver
will get some time, but the Tigers also say they're working on some stuff with receiver
T.J. Moe
. Moe's gotten carries before on jet sweeps and direct snaps, but are we going to see some more imagination from offensive coordinator David Yost?
10. Prove something, Tech.
Tech had a rough start (trailed 10-9 at halftime) in what felt like a preseason game against Texas State in Week 1. It went back to physical work in its bye week a la spring practice and released a vastly different depth chart heading into this week's trip to New Mexico. Is Tech back on its way up into the top half of the Big 12?
September, 12, 2011
9/12/11
4:00
PM ET
By
ESPN.com staff
| ESPN.com
After Missouri's first drive against Arizona State, all
De'Vion Moore
could do was watch from the sideline with his ankle wrapped in ice.
The Tigers were down another starter -- they entered Friday night's game without six -- and a backfield with four ready running backs was reduced to one.
Two offensive linemen were sidelined, including starting center Travis Ruth with a sprained knee. All-Big 12 left tackle Elvis Fisher will miss the season after injuring his patellar tendon in fall camp.
Senior linebacker Will Ebner also missed the game after suffering a high-ankle sprain against Miami (Ohio), right before Jacquies Smith went out with a dislocated elbow.
Kendial Lawrence
also suffered a broken fibula, and
Jerrell Jackson
dressed for Friday's loss but didn't play because of a hamstring injury.
"This is my 21st year as a head coach, and I've been fortunate enough not to be in this situation. But we handle it around here," said coach Gary Pinkel. "Obviously, we're a different football team than we were August
1st."
It might be a team forced to do some unconventional things in the near future to adjust. Receiver T.J. Moe gets some touches in Missouri's running game with jet sweeps and direct snaps, but that role might be a bigger one with 190-pound Henry Josey the last man left standing with any experience in the backfield.
"We've discussed that we can do some things with T.J. Obviously, he can do a lot of things," Pinkel said. "We'll put plays in for him, hopefully from a preparation standpoint, just a backup."
Moe joked after Friday's loss that he could line up at running back, but Pinkel says more work will be available for 250-pound walk-on fullback Jared Culver, as well as freshman back Greg White.
"Big game, a big arena, he has not carried the football once. I did not want to [play White]. Bottom line," Pinkel said.
Missouri hosts FCS opponent Western Illinois on Saturday after suffering the Big 12's only loss through two weeks of play.
"We're not going to have excuses. Players understand that people have got to step it up," Pinkel said. "We live with reality. The kiss of death to me is feeling sorry for ourselves or for anybody within our organization. We don't do that here."