January, 8, 2010
1/08/10
3:10
AM ET
By
Tim Griffin
| ESPN.com
PASADENA, Calif. -- It was the kind of game that left Texas players feeling empty, wondering if they could have beaten Alabama under some different circumstances.
Like having a healthy starting quarterback. Or without a botched shovel pass late in the first half that cost them a touchdown, a touchdown that proved to be pivotal at the end of a
37-21
loss to the Crimson Tide.
[+] Enlarge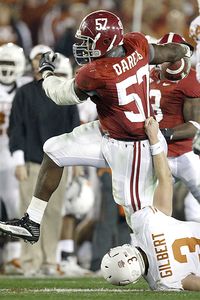 AP Photo/Chris Carlson Alabama's Marcell Dareus (57) breaks away from Texas quarterback Garrett Gilbert after intercepting a pass that he would return 28 yards for a touchdown.
"Who knows?" Texas senior defensive end Sergio Kindle said. "If Colt hadn't gotten hurt, things might have been a little different. It's something we'll never know."
The Longhorns were already in a huge hole after McCoy's injury occurred only five plays into the game. But Alabama was able to cruise into a 24-6 halftime lead after a bizarre call. Backup quarterback
Garrett Gilbert
's shovel pass for
D.J. Monroe
was intercepted by Marcell Dareus for a 28-yard touchdown with three seconds left in the half.
Texas coach Mack Brown initially considered letting the clock run out. But the Longhorns got greedy, thinking they could hit a big play and get some points.
"We knew it would be a struggle with points and we felt that with 15 seconds left we had the safest thing," Brown said. "We called a little shovel pass that had never been intercepted before and I certainly never had seen it intercepted for a touchdown. We were trying to run down 10 or 15 yards and then take a shot in the end zone."
Instead Brown's gamble backfired and gave the Crimson Tide a huge surge of momentum before the break.
"They tried to shovel pass and my first reaction was to grab the ball," Dareus said. "Then I blanked out and all I could do was think about
Mark Ingram
and Javier (Arenas), and making all the moves I didn't think I could do. I saw the lineman coming for my legs and my first reaction was to spin. I looked to my left and I saw Eryk Anders and I knew it was a touchdown. I could not wait to get into the end zone."
Brown didn't show the moxie Thursday that led to eight bowl victories in the past nine seasons, and a 3-0 record in BCS games. The Longhorns battled to overcome mistakes for much of the night.
But Brown said he was proud of what his team accomplished during a 17-game winning streak that stretched back to a October 2008 loss at Texas Tech.
"I told the guys they had a great run," Brown said. "I thought they were prepared and had worked really hard. Losing is tough. We're proud to be in the national championship game, and it's still equally hard to lose it."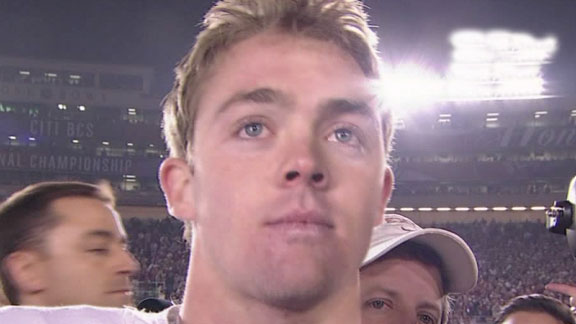 January, 8, 2010
1/08/10
12:07
AM ET
By
Tim Griffin
| ESPN.com
PASADENA, Calif. -- After overcoming obstacles throughout the game, Texas' late hope was undone by a pair of critical late mistakes by freshman quarterback
Garrett Gilbert
.
Alabama got a clinching 1-yard touchdown by Heisman Trophy winner
Mark Ingram
with 2:01 left to ice the
Tide's 37-21 victory
.
The Crimson Tide took advantage of a short field after a blindside sack by linebacker Eryk Anders. The fumble was recovered by Courtney Upshaw at the Texas 3.
On the ensuing drive, Javier Arenas returned an interception to the Texas 27 that led to a 2-yard TD run by
Trent Richardson
with 47 seconds left.
And Tyrone King produced the final interception with a pick at the Alabam 31 with 26 seconds left.
Those two late scores make the final margin of victory for the Crimson Tide a little misleading.
The Longhorns had a chance to take the lead with 3 minutes left before the sack on Gilbert.
Before the late struggles, Gilbert had shown promise and moxie. But in the end, he couldn't overcome those late miscues so deep in his own territory in the end.
January, 7, 2010
1/07/10
9:51
PM ET
By
Tim Griffin
| ESPN.com
PASADENA, Calif. -- Texas' offense finally clicked under freshman
Garrett Gilbert
, but Javier Arenas' interception snuffed out the drive at the Alabama 25.
Texas got some life when
D.J. Monroe
raced 28 yards on a reverse. On the play before the interception, Gilbert appeared to have
Malcolm Williams
in the end zone, but the sophomore wide receiver couldn't make a tough catch in the end zone.
The drive should give Gilbert some confidence, although it was a tough learning experience to finish the drive as they still trail, 14-6.
January, 7, 2010
1/07/10
7:00
AM ET
By
Tim Griffin
| ESPN.com
NEWPORT BEACH, Calif. -- Here are three keys for Texas if it hopes to pull its second upset at the Rose Bowl in four seasons and earn another Bowl Championship Series national title.

1. Producing yards on first down:
The Longhorns have a better chance of achieving offensive success if they produce early in a series. Second-and-long and third-and-long will make the Crimson Tide's defense much more difficult to crack. If
Colt McCoy
can make things happen on first down – particularly early in the game – it should boost the Longhorns' confidence and their chances at an unexpected victory.
2. Dominate special teams:
The Longhorns had one of the nation's most proficient special teams units all season. Alabama has struggled in kick coverages, ranking 116th nationally with an average of 25.7 yards per kick return, and have been blistered with two returns for touchdowns. With the likely return of
D.J. Monroe
to the kick return rotation, the Longhorns will add the No. 2 kick returner in the nation.
Marquise Goodwin
was strong while Monroe was suspended, and
Jordan Shipley
is a threat to score a touchdown every time he returns a punt. The Longhorns need to make several big plays in this phase of the game.
3. Protect Colt McCoy:
The Longhorns have allowed 30 sacks this season, and nearly half came in tight victories over Oklahoma (four) and Nebraska (nine). If the Longhorns have hopes of claiming the national title, they must give McCoy enough time to pass and keep fearsome Alabama pass rushers like Marcell Dareus, Eryk Anders, Javier Arenas and Rolando McClain away from their senior quarterback. And it would be a good time for the center of Texas' offense – guards Michael Huey and Charlie Tanner and center Chris Hall -- to keep massive defensive tackle Terrence Cody away from McCoy.
January, 6, 2010
1/06/10
10:00
PM ET
Alabama is coming off its best victory of the season. Texas is coming off its worst.
Mark Ingram
will be battling the Heisman Trophy jinx in national championship games, and Alabama will be trying to claim the fourth-straight BCS national title by an SEC team. The last non-SEC team to win the title: Texas.
Those are just a few of the subplots in Thursday's Citi BCS National Championship Game. Big 12 blogger Tim Griffin and SEC blogger Chris Low take a look at the matchup and other factors that will play into it.
[+] Enlarge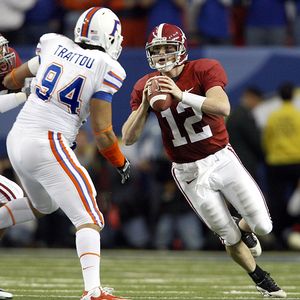 Marvin Gentry/US PresswireIf Alabama quarterback Greg McElroy plays the way he did against Florida, the Texas defense could be in for a long night.
Tim Griffin:
Chris. I saw Alabama in the SEC title game and was very impressed with the way they jumped on Florida quickly and put the Gators behind from early in the game. Do you think
Greg McElroy
can have a mammoth performance against a strong defense in back-to-back games?
Chris Low:
Tim, it's ironic that you would ask about McElroy, because everybody was asking about him back in the spring. Nobody really knew anything about him, whether he could handle the quarterback position or whether he would even finish the season as the starter. I think it's safe to say that he's far surpassed anybody's expectations. He's such a smart player, knows the Alabama offense inside and out and rarely makes the same mistake twice. After all, he's only thrown four interceptions in 13 games. I've seen halves against SEC defenses in which quarterbacks have thrown three or four picks. But McElroy is not just a caretaker of the offense. He'll spread the ball around. He throws a nice deep ball, and is better at moving around and making plays than he's given credit for. In short, if the Alabama offensive line plays the way it did against Florida, I look for McElroy to have another solid game. That's the thing about this Alabama offense. They don't need him to put up mammoth numbers to win. My question to you, Tim, is whether
Colt McCoy
is going to be running for his life against Alabama like he was against Nebraska a month ago?
TG:
If he does, Texas has absolutely no chance. But I think the fact that observers have been questioning Texas' offense for nearly five weeks after the Longhorns allowed nine sacks against Nebraska should serve as a motivational ploy. I look for Texas to try and dictate tempo early. Look for McCoy to try to use the Longhorns' one-minute offense, in which there would be little time between plays as they try to keep them out of their comfort zone. The Longhorns have struggled with their pass blocking all season. Look for freshman Tre Newton to get more time because of his pass-blocking skills. And I would also expect Texas to use tight end
Greg Smith
more than usual to have an extra blocker. In the Big 12, the Longhorns liked to run a lot of three- and four-wide receiver sets. I think they'll need the extra beef tonight. Chris, speaking of beef, how do you think Alabama's big offensive line will play against Texas' fast and quick defense. The Longhorns led the nation in rush defense, but faced four teams with defenses ranked 100th or worst. Does Alabama feel like they can exploit a Texas defense that is good, but hasn't played many good rushing attacks?
CL
: Honestly, I think Alabama thinks it can exploit any defense. This Alabama offensive line isn't as big as the one last year and has relied more on quickness and angles than just lining up and mashing people. Alabama will certainly look to run the football and won't be afraid to use both Mark Ingram and
Trent Richardson
. It seems like the Crimson Tide always have a fresh back in the game. Against Florida, Alabama was able to throw it some and spread the Gators out. But that was just one game. We also saw Alabama struggle to run the ball against Auburn in the last game of the regular season, and McElroy had to bring them from behind throwing the football. Even in that game, after getting down 14-0, the Crimson Tide didn't panic and didn't get out of character offensively. What do you make of McCoy having two of his worst games against the two best defenses he's faced this season -- Nebraska and Oklahoma?
TG:
Chris, interestingly those were also the games where he most faced consistent pressure from blitzes and had more trouble with interceptions. If Alabama can keep him from getting comfortable in the pocket and knock him around some, he could face a similar fate. The Texas offensive front isn't a great line -- by its standards or anybody else's. It's their biggest weakness, but really didn't impact them over the course of the season. The Longhorns had too many weapons and scored touchdowns in other ways to beat all the Big 12 teams they played.
[+] Enlarge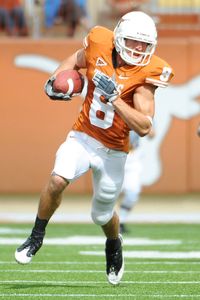 Brendan MaloneyAlabama's special teams will have its hands full with Texas returner Jordan Shipley.
When they played Oklahoma, they were facing a green quarterback in
Landry Jones
after
Sam Bradford
's injury earlier in the game. And against Nebraska, they were able to neutralize the Cornhuskers' big defensive effort because Nebraska's offense played so poorly. Chris, I think that Texas is going to have to get some cheap points -- say from a long kick or punt return or a turnover to have a chance. Is there anything you've seen that shows Alabama has got its special teams under control enough to withstand the pressure that
D.J. Monroe
,
Marquise Goodwin
and
Jordan Shipley
will place on the Tide?
CL:
Alabama has not been very good on kickoff coverage. That's a given. So it wouldn't be a shock to see the Crimson Tide give up some long returns or even a touchdown. Short fields could be critical in this game, because neither defense has allowed teams to consistently put together long drives. The problem with exploiting Alabama on special teams is that the Crimson Tide have one of the best punt returners in the country in Javier Arenas and a field goal kicker in All-American Leigh Tiffin who's made a bunch of big kicks and also has great range. In short, unless Alabama uncharacteristically turns the ball over and/or is forced to play from behind the whole game, I think the Crimson Tide take home the crystal trophy and complete a perfect season.
Alabama 27, Texas 17
TG:
I think Texas is going to have trouble stopping the run defense. But if they can get some early momentum, I like their chances of taking this game into the fourth quarter. But at that point, Alabama will have too much power and gradually wear the Longhorns down, likely with a late drive like the one Florida put Oklahoma away with last season.
Alabama 24, Texas 13
December, 6, 2009
12/06/09
8:19
PM ET
By
Tim Griffin
| ESPN.com
Texas (13-0) vs. Alabama (13-0)
Jan. 7, 8 p.m., (ABC)


The Longhorns nearly played their way out of the BCS title game Saturday night and were fortunate to beat Nebraska in the Big 12 title game.
That narrow victory should provide much emphasis over the next few weeks to the Longhorns, who earned their first BCS title game berth since 2005. Mack Brown's program has become one of the most proficient in the postseason, winning five consecutive bowl games including three BCS bowl games during that streak.
The Longhorns offensive line struggled mightily against Nebraska's defensive front, producing a season-low 18 rushing yards and allowing nine sacks against the Cornhuskers. It will be another challenge against Alabama's defense studded with defensive All-Americans Rolando McClain and Javier Arenas and mammoth run-stuffer Terrence Cody. The game will also feature offensive starpower with Heisman contenders
Colt McCoy
of Texas and
Mark Ingram
of Alabama.
The Longhorns streaked to their first Big 12 title since 2005 thanks to an offense keyed by McCoy's passing talents and a deep collection of receivers. It will be a challenge for them to make yardage against an Alabama defense that led the nation in pass efficiency defense and scoring defense and ranks second in rushing defense and total defense. In order to be successful in the title game, the Longhorns will have to show improvement over their struggling performance in the Big 12 title game.
July, 8, 2009
7/08/09
3:59
PM ET
By
Tim Griffin
| ESPN.com
Posted by ESPN.com's Tim Griffin
Oklahoma State (Big 12 No. 3) vs. Alabama (SEC No. 3)
Oklahoma State's record against the SEC: 2-3



Alabama's record against the Big 12: 3-3
Previous series: Oklahoma State leads the series, 1-0
Most recent game: Oklahoma State won, 34-31, in the 2006 Independence Bowl

Distance between them (as the crow flies according to How Far Is It): 578 miles.
Where they should play: Little Rock, Ark. (283 miles from Stillwater, 295 miles from Tuscaloosa)
Who wins: Alabama.
Why: Nick Saban got his team to the brink of the SEC championship last season. And he clearly wants more this year.
Mike Gundy is hoping to take Oklahoma State into the uncharted area where the Cowboys are challenging for conference titles and BCS bowls. Alabama is just a little further along, and that experience would be the major difference if these two teams would play.
It would be an intriguing matchup of strength against strength as the Crimson Tide's nine defensive starters would be supremely challenged by OSU's vaunted offensive attack. But nose tackle Terrence Cody and linebackers Rolando McClain and Dont'a Hightower should be able to neutralize Kendall Hunter and the Cowboys' rushing game. Gundy also would be tested to get Dez Bryant and OSU's deep passing game involved against a talented athletic secondary keyed by starters Justin Woodall, Javier Arenas and Kareem Jackson.
While Alabama isn't nearly as talented offensively, neither is OSU on defense. Saban needs to find a replacement for Andre Smith up front, but James Carpenter and D.J. Fluker are poised to take over and would be strong against OSU's rebuilding defensive front. I'd look for new Alabama quarterback Greg McElroy to manage an efficient game, using Julio Jones just enough to boost the Tide to a tight victory.
The game also would be interesting to see the special-teams battle between Arenas and Bryant on punt returns. If either team could earn a substantial special-teams advantage, it might be enough to catapult them to the mythical victory. But I'm thinking that both teams would make big plays and likely even out, enabling Alabama to win.
Thursday: Oklahoma (Big 12 No. 2) vs. Mississippi (SEC No. 2).
The count: SEC, 6-4.
Note: Matchups are determined by the most recent rankings of Big 12 blogger Tim Griffin and SEC blogger Chris Low. All cumulative records go back to the 1996 season -- the first of competition in the Big 12.