June, 3, 2013
6/03/13
12:00
PM ET
By
ESPN.com staff
| ESPN.com
Gotta love college baseball. Kansas State is inexplicably enjoying one of the best athletic years in its history. Hiring Bill Snyder to coach the baseball team, too? Great move.
March, 13, 2013
3/13/13
2:30
PM ET
Turnover is an annual tradition in college football, but with that, teams' strengths and weaknesses constantly shift, too. Today, we'll begin a look at the biggest strengths and weaknesses for each Big 12 team.

Strongest position: Pass-catchers
I had to expand the position of strength to include tight ends, because to exclude
Jace Amaro
would be criminal. He and
Eric Ward
will be a strong 1-2 punch in the passing game next season, but there are a ton of options that give this unit lots of depth, too. Ward caught 82 passes for 1,053 yards and 12 touchdowns and will be the Red Raiders' first returning 1,000-yard receiver since Michael Crabtree in 2007-08.
Darrin Moore
is gone, but Amaro wouldn't have been far from 1,000 yards if he'd avoided a rib injury suffered in the sixth game of the season when he racked up 156 receiving yards and a score in a blowout win over West Virginia.
Jakeem Grant
and
Javon Bell
offer two more solid options at receiver, and ESPN 150 recruits
Reginald Davis
and
Dominique Wheeler
may make an impact after redshirting in 2012.
Bradley Marquez
should find more responsibility this year as well. This unit is solid from top to bottom, with lots of possible contributors, lots of targets with varying strengths who can help
Michael Brewer
grow into his new role as starting quarterback. That's nothing new at Texas Tech, and watching his offense take shape in 2013 will look pretty familiar for new coach Kliff Kingsbury.
Weakest position: Safety
Replacing
Cody Davis
, a four-year starter and the leader of the defense, is an unbelievably difficult task.
D.J. Johnson
is gone, too, leaving the Red Raiders without their top two tacklers and a big hole at the back of the defense. We saw how poor Tech's defense can look when the safety play is weak like in 2010 and 2011, but the unit grew up a bit this past season, and Davis and Johnson were two big reasons why. New coordinator Matt Wallerstedt will have a lot of youth to deal with back there, and Kevin Curtis will coach the position with the most turnover for Tech in 2013. It's anyone's guess as to who fills Davis' and Johnson's void, and reserve
Chris Yeakey
is gone, too. Sophomore
J.J. Gaines
should get a shot, but I wouldn't rule out a position change from a more experienced corner.
October, 24, 2012
10/24/12
9:00
AM ET
It was an all-too-familiar feeling for Texas Tech, despite earning a big win over West Virginia.
A big hit sent
Jace Amaro
to the sidelines with a rib injury. A fractured foot ended
Javon Bell
's season. A knee injury did the same to
Bradley Marquez
.
Just like last season, the Red Raiders were forced to deal with injuries. It had been a mostly healthy year, something coach Tommy Tuberville had been unfamiliar with in his first two seasons in Lubbock.
This time, though, the Red Raiders easily adjusted in the wake of these injuries. How? Depth.
"We went out and took some junior-college players the last couple of years. We added more speed," Tuberville said. "It was ironic last week, the old hands that have been around here,
Alex Torres
and
Austin Zouzalik
, had not played as much this year as they had in the past, just because of the depth, but they really stood out last week, made a lot of plays."
[+] Enlarge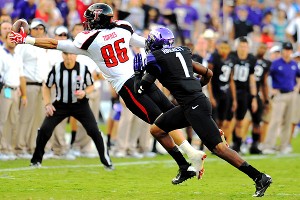 Shanna Lockwood/US PresswireSenior Alex Torres stepped up against TCU, his five catches including the winning TD for Texas Tech.
With three injuries to the receiving corps, quarterback
Seth Doege
needed help. Torres and Zouzalik provided it, combining for 10 catches, 108 yards and a pair of touchdowns, the final one coming in triple overtime by Torres to clinch the 56-53 victory over TCU, Tech's second win over a top-25 team in two weeks.
"They've shown me that I can have trust in them. They compete every Saturday and they want the ball in their hands and want to make big plays," Doege said of his new receivers. "That's the best quality of this whole corps. They're very unselfish, but they all want to compete and they all want to do what it takes to win football games."
Eight different Red Raiders have at least 100 yards receiving and 13 catches this year. Fourteen receivers have at least five catches.
The rest of the team is relatively injury-free, but when the bug bit the receivers, they were prepared.
"Outside of the '08 group, I think it has to be one of the best I've been around, because of the depth. There's so many guys that can come in and make plays on Saturday," said Doege, who redshirted that 2008 season as a freshman. "It does remind me of the '08 group that had (two-time Biletnikoff Award winner Michael) Crabtree and Eric Morris and even before that when they had Crabtree and Morris and (Danny) Amendola. There was a lot of big-time players that are still playing.
"I don't know if we have a Crabtree here, but we have a lot of solid guys that can make a lot of plays."
Maybe the Red Raiders don't have a Crabtree, but it likely has the Big 12's best tight end in Amaro, who may return this week after suffering the rib injury against West Virginia. The 6-foot-5, 257-pounder leads the team with 394 receiving yards, despite missing last week's game.
"That guy's a beast. There's no other way to explain how he plays," Doege said. "In the blocking game he makes DBs and linebackers look like rag dolls when he puts his hands on 'em. Then when he catches the ball, he's hard to bring down. He's hard to cover because he's so big."
A year ago, this might not have been the case for the Red Raiders. Injuries to just about every unit knocked the Red Raiders down to 5-7 and out of the postseason. Tech has already surpassed its win total from a year ago, and this time, it was ready to handle the injury issues.
"It pays off the most when you have times like this and have a few guys go down and then the next guy steps up and you don't lose any production," said Doege, who leads the nation with 28 touchdown passes.
Added Tuberville: "Whenever you throw 28 touchdown passes in seven games, something's going right with your receivers and quarterbacks."
October, 18, 2012
10/18/12
10:15
AM ET
Here's what I'm watching in the Big 12 this week:
1. What baseball-sized bruise?
David Ash
says he's playing, and he's practiced this week with a wrap on his left, non-throwing wrist. He can take snaps, too. Will we see
Case McCoy
start or play? And will Ash make it through the game without having to sit?
2. You want to be the Lunter, not the Lunted.
Wes Lunt
has been sidelined for more than a month now, and
J.W. Walsh
has played pretty well in his absence. Lunt is still "day-to-day" after suffering a knee injury against Louisiana-Lafayette, but is this the week he returns? Offensive coordinator Todd Monken and head coach Mike Gundy seemed to disagree on his availability last week. My guess is Lunt is back.
3. Shuffling the deck.
Baylor struggled to run the ball against TCU last week, but now faces the league's worst rushing defense in Texas. Will we see a shuffle in the carry distribution, or will
Jarred Salubi
hang on to his status as the featured back?
Lache Seastrunk
and
Glasco Martin
will be nipping at his heels, too.
[+] Enlarge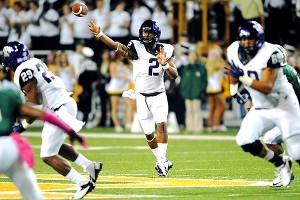 Jerome Miron/US PresswireTCU quarterback Trevone Boykin next takes aim at Texas Tech, the Big 12's best defense.
4. Who's who, and which is which?
Trevone Boykin
threw three picks and fumbled in a frustrating loss to Iowa State, but last week we saw him look like a star against Baylor. The Bears' defense, though? Not strong. Texas Tech leads the Big 12 in total defense and will be a much tougher test. How much of last week's performance was Boykin, and how much was Baylor's defense's inability to cover?
5. Check your pants, sir.
Meanwhile, at Kansas, Charlie Weis says he plans to play two quarterbacks against the Sooners.
Michael Cummings
provided a spark in a near comeback against Oklahoma State last week. Everyone saw it, including Weis. Can he do something similar in Norman, Okla., on Saturday, or was last week an aberration?
6. Running away from trouble.
Iowa State's linebacker duo of
Jake Knott
and
A.J. Klein
can shut down Oklahoma State's running game, and did so last year. Kansas did the same and OSU couldn't beat the Jayhawks convincingly through the air. Iowa State's secondary is strong, led by
Jacques Washington
. If ISU shuts down the running game, this could be another upset in the making.
7. Accounts receiving ... losses.
Texas Tech has one of the deepest receiving units in the league, but suffered major losses this week.
Bradley Marquez
and
Javon Bell
are out for the season and tight end
Jace Amaro
might not play after injuring his ribs against West Virginia. Can
Seth Doege
and the passing game still survive those hits and move on with business as usual? They'll get a tough test this week against TCU, which leads the nation with 14 interceptions.
8. Achilles' heel ... or ankle.
Last week was pretty ugly for the Mountaineers, but was it just an aberration? I'm betting yes, but they'll have to prove it against a very good, very sound Kansas State defense that was shown a way to slow this offense last week when Texas Tech stuffed WVU. Star receiver
Stedman Bailey
missed the second half last week with an ankle injury and is "day-to-day" this week. Will he even play? And if he does, will he be healthy? When he was out, Tech was able to shut down
Tavon Austin
. Can K-State do the same?
9. Make sure you've got your contacts in.
Oklahoma suited up for the most meaningful game of its season last week against Texas. On Oct. 27, one of college football's most storied programs comes to Norman, likely without a loss on its record. This week ... it's 1-5 Kansas, which hasn't beaten an FBS team this season. Do the Sooners keep their focus and still look sharp, avoiding a letdown ahead of Notre Dame's visit?
10. Those last plays are important, guys.
Geno Smith
won't throw picks to anybody these days. WVU's not fumbling all that much, either. You want to stop WVU from scoring? Getting fourth-down stops is one of your best bets. How will K-State do? Dana Holgorsen doesn't trust his kicker and loves to roll the dice on fourth down. That stat may just decide the K-State game. WVU was 5-of-5 against Texas and won. It was 2-of-7 last week against Texas Tech and got blasted by five touchdowns. A fourth-down stop isn't listed as a turnover on the stat sheet, but it's just as good.
August, 13, 2012
8/13/12
12:00
PM ET
By
ESPN.com staff
| ESPN.com
Today's fun fact:
West Virginia has the same number of BCS trophies (3) as both Texas and Oklahoma.
March, 30, 2012
3/30/12
10:00
AM ET
Got a chance to catch up with Red Raiders coach Tommy Tuberville this week, and if you missed it earlier this week, here's a look at a couple stories from that conversation:
He had plenty more to say, though.
[+] Enlarge

AP Photo/Eric GayTexas Tech coach Tommy Tuberville came away encouraged with spring practice despite having to deal with numerous injuries.

Texas Tech and Oklahoma State are the Big 12's only teams without indoor facilities, so Tuberville readily admits the Red Raiders roll the dice every year with weather when they start spring. This year, Tech began practice on Feb. 17, before any other Big 12 team. They only missed two practices, and made up the time before last Saturday's spring game. Tech is already finished with spring practice, but Kansas State hasn't even started.
You know football teams have 22 starters, right? Texas Tech was missing six to seven starters this spring from injuries suffered during the season. Nobody got beat up last year like Tech did. Mizzou was a distant second. Oklahoma had big-impact injuries (Ryan Broyles, Dominique Whaley), but had nowhere near the volume Tech did.
Texas Tech has hauled in top 25 recruiting classes in each of the past two years, two of the best in school history. But for the players even in the 2011 class, it's easy to forget most are entering their first spring. Tuberville thought this spring was really valuable for guys like DL Delvon Simmons, LB Branden Jackson, DE Kindred Evans, QB Michael Brewer, RB Kenny Williams and OL Le'Raven Clark. "They didn't know what to expect but that's where you can get better. That's where you work on a lot of fundamental techniques, so that was the main objective, trying to bring up the level of the young guys on the team," Tuberville said. "Some ended up playing, but we didn't have a lot of time to spend with them on fundamentals because of game planning in the fall."
Tuberville loved what he saw from juco transfer Rashad Fortenberry out of Mississippi. "He's going to be a real solid left tackle behind LaAdrian Waddle, and that was a big concern with him coming out of junior college," Tuberville said. "He had a very good spring, but I think we really readied ourselves there in terms of depth on the offensive line."
Looking for leadership? Tuberville feels like he identified it during the last 15 practices. Defensively, S Terrance Bullitt, S D.J. Johnson, S Cody Davis and DE Kerry Hyder emerged this spring. For the offense, Tuberville saw leadership out of offensive linemen Waddle and Deveric Gallington.
There was plenty of hype around Brewer at quarterback this spring, and Tuberville loves what he's seen from the apparent heir to the Red Raider QB throne. "He's got the ability and the luxury of playing behind [Seth] Doege and learning from him and how he handles himself and how he's worked through adversity. Seth's been a very good coach," Tuberville said. "He's got a lot of room for improvement, but the main thing is his leadership and his knowledge of the offense were much, much better this spring."
The offense had a rough spring at times, but Tuberville pointed to his reliance on a lot of different players and combinations at receiver and on the offensive line that produced some short-term struggles he hopes are long-term advantages. "We've got so many receivers that we're looking at," Tuberville said. "There wasn't one day that we had the same guys playing the same position at the same time, so timing was off a little bit, but that's a luxury for us." Among the receivers who made great strides during the spring: Javon Bell, Tyson Williams and Derek Edwards.
Art Kaufman is Texas Tech's fourth defensive coordinator in four years, but Tuberville says his scheme isn't much different from the 4-2-5 Texas Tech ran under Chad Glasgow in 2011. "We're pretty much running our same things, we just changed a little of our philosophy and some of our techniques that we're playing in the secondary and at linebacker," he said.
From my estimation, Texas Tech may have the best special teams duo of any squad (outside of do-everything Quinn Sharp at Oklahoma State) in the Big 12 next year. New kicker Ryan Bustin "picked up right where Donnie Carona left off." Tuberville estimates he made 90-95 percent of his kicks in game action this spring. Punter Ryan Erxleben averaged about 48 yards on his eight punts in the spring game, and Tuberville called it some of the best punting he'd ever seen. "I think Ryan has finally bought into the situation that golfers and basketball players and a lot of skill guys finally come to the conclusion of, 'I've gotta get stronger.' A lot of kickers and punters don't believe that," Tuberville said. "They believe in more flexibility, but Ryan's bought into the fact that he's got to get his leg stronger and in the last eight or nine months, he's worked on that, and I'll tell you, he had a really good spring."
Tuberville was disappointed in his secondary for good reason in 2011, but likes what the unit showed during the spring, especially after moving receiver Cornelius Douglas to defense and keeping him there. "We're much better with him and Eugene Neboh and Derrick Mays who, I think, is making a lot of progress. We still don't have the depth we need at defensive line," Tuberville said. "It's a work in progress, but we've got two more coming in from the high school ranks."