September, 26, 2012
9/26/12
9:00
AM ET
Prepare yourselves for as many lame high-scoring game jokes as possible before West Virginia and Baylor kick off Saturday at noon in Morgantown.
"Make sure all the bulbs on the scoreboard work!"
"Gentlemen, start your engines!"
"West Virginia state law forbids the possession of defense-like substances, so..."
Hardy har har har, or something. The over/under for Saturday's game is a healthy 79.5 points, and the prediction? A prescription for plenty of aspirin for defensive coordinators Phil Bennett (Baylor) and co-coordinators Joe DeForest and Keith Patterson (West Virginia).
[+] Enlarge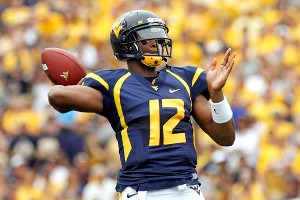 Justin K. Aller/Getty ImagesWill we see shootout when Geno Smith and West Virginia host Baylor on Saturday?
That over/under? It's nothing new for DeForest, who's seen higher. It's been a whole 11 months to the day, in fact, since DeForest last saw it.
Last season, the Big 12's top two quarterbacks and top two offenses went head to head in Stillwater, where DeForest spent 11 years coaching special teams and safeties, also earning a title as associate head coach under Mike Gundy.
His safeties were tasked with reigning in eventual Heisman winner Robert Griffin III, and the prediction was for a pointsplosion of the highest order.
At halftime? Oklahoma State had
given up exactly zero points while the offense raced to a 35-0 lead
that grew to 49-3 after three quarters. RG3? Please, said the Pokes defense, who forced five turnovers on the day and walked away with a 59-24 win that did, in fact, clear that over/under after Baylor scored three garbage time touchdowns.
"Oklahoma State did such a good job of moving the ball on offense," Holgorsen said of that game and another in 2010. The over/under for that RG3/Weeden showdown was 72.5, but Oklahoma State again held Baylor scoreless in the first half, forced three turnovers and raced to a 41-7 lead over the Bears before winning 55-28.
"Baylor was always playing from behind," Holgorsen added.
Could DeForest work his magic against Briles again in Morgantown on Saturday and turn a shootout into a blowout?
"We're going to look at those tapes to try and just like coach Briles and his staff's going to look at those tapes to try and see those similarities," Holgorsen said. "There's some things that we can do better. There's some things that they can do better, and so forth. Every year's different."
It is, but Oklahoma State's seemed to have the magic touch in shutting down Baylor's high-powered offense. Now, DeForest and Holgorsen are the biggest two pieces of Morgantown's program that's become a sort of "Stillwater East" since Holgorsen took over. DeForest replaced Jeff Casteel, who took his talents to Arizona to follow his former boss, Rich Rodriguez. Holgorsen added running backs coach Robert Gillespie and former OSU cornerback Andrew McGee as a graduate assistant.
Now, it's up to a new group of players but another big-armed quarterback and playmaking receivers to be the Kryptonite to the supermen of Baylor's offense who have the nation's No. 6 offense this year and were No. 2 in 2011.
"When Baylor lines up to play Oklahoma State this year, it's going to be a completely different ball game, so you can try to take some things and learn from it, but ultimately, it's preparing the team you have this year the best you ultimately can to be in position and make some plays," Holgorsen said.
September, 6, 2012
9/06/12
10:15
AM ET
Here are 10 things I'm keeping an eye on in Week 2 across the Big 12.
1. Collin Klein's workload.
The big man only got 12 carries a week ago. Was it because Bill Snyder knew his team could handle FCS Missouri State, or can we expect more of a change out of Kansas State's offense? I'm betting on the former, but you never know what to expect from Bill Snyder. No coach in the league plays his cards closer to the vest.
2. Oklahoma's passing game.
It was a little bit of everything last week against UTEP. Receivers looked uncomfortable and didn't always get open. One long pass was called back because the receiver stepped out of bounds. The offensive line wasn't great in protection, but
Landry Jones
held on to the ball a little too long on plenty of occasions. The Sooners know they need to fix the problems. Playing against an FCS opponent is a good time to get some work in.
[+] Enlarge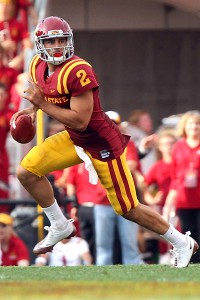 Reese Strickland/US PresswireIowa State's Steele Jantz completed over 70 percent of his passes against Tulsa.
3. Steele Jantz's decision-making.
Jantz was much more judicious with the ball in Week 1 against a decent Tulsa team than he was in the first few games of last season. Will that continue? His one interception last week was partly his fault (poor accuracy) and partly his receiver's fault (tipped pass). Iowa State can't afford turnovers against Iowa.
4. Wes Lunt under fire.
Mike Gundy liked what he saw from Lunt, but knows Lunt didn't face third-and-longs, blitzes or pressure of any kind. That'll change this week against former WVU defensive coordinator Jeff Casteel, now in Tucson. You have to assume Arizona's game plan centers around pressuring the freshman quarterback. You can't drop back and see if the backs can beat you -- they can. How does Lunt handle it? Oklahoma State's hopes hinge on it.
5. Kansas' defensive line.
The Jayhawks had just nine sacks a year ago, but defensive linemen got two against South Dakota State last week. But KU also gave up a 99-yard touchdown run. What does the unit most in need of a facelift from 2011 have in store for Week 2?
6. TCU's defense.
I don't think the Frogs can really prove anything, but I'm mostly curious about who's going to be where and how often for the Frogs. Gary Patterson shook up his defense during fall camp, and TCU has two freshmen starting on the defensive line. How do the new safeties look? Here's guessing that depth chart changes even more after Week 1.
7. Texas' defensive miscues.
Safety
Kenny Vaccaro
said players on defense played as if they'd read too many of their press clippings last week. The defense gave up an 82-yard touchdown to Wyoming and looked undeniably mortal for a unit that's supposed to be the Big 12's best. Will the Longhorns eliminate mistakes this week against New Mexico?
8. Texas Tech's first quarter.
The Red Raiders looked sluggish against FCS foe Northwestern State last week, leading just 7-3 early in the second quarter. This week, they have a road game against Texas State. I think Tech wins, but starting slow and falling behind to the Bobcats would energize the crowd and the team in a game it wants badly. Tech needs to open the game with its best. At halftime of last year's matchup, Texas Tech led this game in Lubbock 10-9.
9. Big 12's first loss of the season?
The Big 12 mostly cruised through Week 1, save for Iowa State's first quarter against Tulsa. The conference faces three major tests in Week 2, though: (1) Oklahoma State has to take care of business on the road against Arizona; (2) can Kansas State take the first step in validating last year's 10-win season against Miami? The most likely spot for a loss? and (3) A toss-up game at Iowa for Iowa State. Getting through two weeks of football at 17-0 is definitely possible for the Big 12, though.
10. Oklahoma State's renewed defense.
The Cowboys have the personnel to be solid this season, but are they as good as advertised on defense? Arizona's zone-read scheme is an interesting test -- mostly for the front seven. The Cowboys linebackers are solid, but can the defensive line prove itself? I'm looking at
Cooper Bassett
,
Nigel Nicholas
and
Calvin Barnett
on this one.
August, 1, 2012
8/01/12
10:30
AM ET
To begin the season, I see six teams with a legitimate chance to win the Big 12. Today we'll continue our series looking at why each team will or will not win the league. Next up: Newcomer West Virginia.
More contenders:
Why the Mountaineers will win the Big 12
[+] Enlarge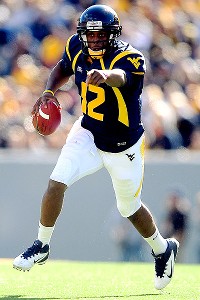 Andrew Weber/US PresswireWest Virginia's Geno Smith passed for 4,385 yards and 31 touchdowns last season.
1. They have the most explosive offense.
Nobody's got a better, more experienced pass-catch combo than Big 12 Preseason Player of the Year
Geno Smith
and his top two targets, receivers
Tavon Austin
and
Stedman Bailey
. The running game with
Dustin Garrison
and
Shawne Alston
isn't going to scare too many folks, but it's definitely good enough to make defenses respect it, and it benefits from the play of Smith, Austin and Bailey. WVU is entering Year 2 with Dana Holgorsen, and there's not a lot of reason to believe the trio won't be even better in 2012.
2. They've got plenty of inside knowledge.
Dana Holgorsen's been in the Big 12 for nine of the past 12 seasons, and his new defensive coordinator, Joe DeForest, spent more than a decade at Oklahoma State. Running backs coach Robert Gillespie and new graduate assistant Andrew McGee, a former OSU cornerback, can help provide some insight into what the Mountaineers will expect on the field in the pregame preparation.
3. They're an unknown entity.
Oklahoma has to make a trip to West Virginia on Nov. 17 in a game that may decide the league title. Nobody in the Big 12 has ever played this band of Mountaineers, and WVU can perhaps use that to their advantage. Big 12 defensive coordinators are familiar with Holgorsen's schemes, but nobody was really able to stop it when he was at Oklahoma State. Don't expect that to change with WVU this year, especially with the kind of talent he's fielding offensively.
Why the Mountaineers will not win the Big 12
1. Where's the defense?
West Virginia lost essentially its entire pass rush from last year's team, which ranked essentially in the middle of the pack in the offensively-challenged Big East. It's a whole new world in the Big 12. Defensive backs
Darwin Cook
and
Terence Garvin
return, along with defensive lineman
Will Clarke
and cornerback
Brodrick Jenkins
, but this isn't the Big East, and WVU is changing schemes from Jeff Casteel's 3-3-5 to a 3-4 with Joe DeForest and Keith Patterson. There could be a rough road ahead of the Mountaineers when it comes to trying to stop Big 12 offenses, which are in another stratosphere compared to what WVU traditionally sees on game day. The one advantage? They've gotten plenty of work in practice this offseason.
2. The Nebraska Effect: They've got too much to learn.
Nebraska was picked by plenty of folks to win the Legends Division in its first year in the Big Ten. The Huskers had the talent, but instead, went 5-3 and finished third in the division behind Michigan and Michigan State. West Virginia has the talent to win the Big 12, but has to study up on nine new teams. The rest of the Big 12 only has to adjust to two new teams. NU got rocked by Wisconsin and Michigan, teams that weren't nearly as good as Nebraska's inexperience in the league made them look. WVU may see the same fate against unfamiliar opponents.
3. The inconsistency will catch up to the Mountaineers.
Everybody remembers that nationally-televised bludgeoning WVU handed out to ACC champion Clemson. Doesn't seem like enough people remember a 26-point blowout loss to five-win Syracuse, or narrow wins over sub-.500 teams like Pitt and South Florida. West Virginia wasn't as impressive on a week-to-week basis as they were in their most prominent game in 2011. Even coach Dana Holgorsen admits that game has plenty of people thinking his team is better than it actually is. Will they improve enough between January and September to be a consistent team capable of winning a much tougher league? We'll find out soon.
May, 25, 2012
5/25/12
4:00
PM ET
By
ESPN.com staff
| ESPN.com
Thanks for all your e-mails this week. Here's
where you can reach me
if you've got more to say.
Steve B. in West Virginia wrote:
David. First of all, love the blog. Keep up the great work. As a WVU alum, I appreciate your coverage of WVU even in advance of our official "transfer" into the new conference. You may get this from a thousand different Mountaineer fans today, but
here is one of the most lasting memories we have of Coach Stewart
. After all the dust settled from Stew, this is what we remember most. Leave no doubt! Steve
David Ubben:
Thanks for all the touching tributes you sent me this week, WVU fans. I never knew Coach Stew, but after this week, I feel like I do. You all were a big part of that. Not many schools or states are as proud of a guy as the WVU folk seemed to be of him. Just a shame he had to leave this Earth so soon.
---
FRF in Austin, Texas:
Ubbs - Here is some investigative work I think you could find out. Why hasn't UT/Austin ever tried for a Bowl game? 100,000+ capacity, great city, good access, great revenue for the city. Seems like win win to me!
DU:
Now this is actually an intriguing idea. Austin really would be a perfect site in theory, but it doesn't quite work. Trying to crash the bowl picture probably means they'd be due for a low-level bowl and have trouble selling out the stadium for one, but historically, it's not too hard to see why it hasn't happened.
No other Big 12 school has a game on its campus, and the league already plays four bowl games in Texas. There's hardly a need for a fifth. Additionally, Austin's a great city, but do you want to count on fans making a second trip there in the same season? It would happen quite a bit, especially in the new configuration of the Big 12.
Maybe there are other reasons, but that makes sense to me. Great idea in theory. Difficult in practice.
---
Dave in Annapolis, Md., wrote:
I was reading your potential OOC upsets
and has to respond to your comment on OSU playing the 3-3-5 for the first time. Good point, but you left one thing out; this will be year one for the 3-3-5 in Arizona. If you've ever followed a Casteel defensive installation, you'll find it is like RichRod's offense; meaning it takes 2+ years and the right people to install. When both coach together on the same cycle, watch out; but Year One? Doubt OSU has to worry.
DU:
True, Dave. Nice name, by the way. The 3-3-5 won't exactly be clicking in the second weekend of the season, but it's still an odd formation, and I highly doubt true freshman
Wes Lunt
, the Cowboys' starting quarterback, has seen it before. He certainly hasn't seen it with a defense stocked full of Division I athletes. I mostly think it could be an interesting stop on his growth tour throughout 2012. I'm pretty excited about his career, but it's going to have its rough spots in 2012.
The defense won't be at its best, but like the 3-4 that he'll see, there will be some complex blitzes and coverages that he's not used to seeing. OSU had better get the scout team ready.
---
Craig in Kansas:
your higher on the snydercats than most
? that is a load of bs. in almost every article that you have written that involves kstate, you enjoy mentioning how you think last year is a fluke. get over it, no one cares about your opinions anyways. people care about the topic your covering, not your personal opinion of the topic.
DU:
Ouch, Craig. First off, I've never called last season a "fluke." But you're kidding yourself if you don't think K-State dodged a whole lot of bullets throughout the season. Even Bill Snyder himself admitted that K-State was fortunate to win 10 games last season.
However, is it not fair to say I'm higher on K-State than most if I have them ranked 10-12? That's where I slotted it. It's disingenuous to me to look back on K-State's 2011 team and not take a big, long look at that 8-1 record in games decided by a touchdown or less. They needed legitimate late-game heroics to beat Eastern Kentucky, Texas Tech, Miami and definitely Texas A&M, which might have been the most crazy comeback of them all.
I've never called it a fluke, but it's crazy to think K-State was among the best 10-win teams in the country last season. I'd say Oklahoma and Arkansas proved that pretty emphatically, no?
Now, could that change in 2012? Yup.
---
MJ in Fort Worth, Texas, wrote:
DU,Between BU, ISU, KSU, KU, OSU, OU, TCU, TTU, UT, and WVU, only UT is a playable word in Scrabble. Thoughts?
DU:
This explains ... everything.
---
Richard Kennedy in Stillwater, Okla., wrote:
The continuing ESPN obsession with making OSU's Defense look worse than it actually was is incredible. Not only did OSU's Defense rank 1st in the Big XII in turnovers, it was 1st in Scoring, Pass Efficiency, and Red Zone Defense in conference play. Yes, ahead of Texas in Scoring Defense. Check out the Conference stats, Dave. The question I have is, do you continue to propagate the myth that OSU's Defense was worse than it actually was and omit Scoring Defense, Pass Efficiency Defense, and Red Zone Defense because you were ordered to forward ESPN's SEC agenda or do you do so because you actually bought into the bilge without ever checking the Conference stats for yourself?
DU:
Hey now, I'd say I was among those who certainly sided with the school of thought
that OSU's defense was pretty underrated last season
. I've seen the stat you cited, and it's true. For all the accolades Texas' defense collected last season, OSU allowed fewer points in conference play. Consider also that the two best performances came against Texas Tech (6 points) and Oklahoma (10 points). The Red Raiders ranked 22nd in scoring last season, and Oklahoma ranked 10th. Both of those teams were really, really banged up when OSU played them, but still.
That's one reason I'm so excited for the defense in 2012. OSU's going to be really, really solid. Two of the best corners in the league and arguably the best set of linebackers in the conference. That's a solid base, even if there are lots of questions along the defensive line.
---
Josh B. in Roanoke, Va., wrote:
Ubbs! WVU fan here. Been reading up on your columns to familiarize myself more with the Big 12 landscape, and while doing this, a question came to mind. It's no secret that the Big 12 has some VERY fertile recruiting grounds, especially in the DFW area, my question is this. Given that Coach [Dana] Holgorsen knows Big 12 recruiting as well as he does, how long do you think it will take for the Mountaineers to start locking some of those higher ranked recruits up?
DU:
I really don't think it'll happen at any point, if we're talking about competing consistently with Texas and OU for the top talents in Texas. The Mountaineers might grab one or two, but I don't see how, even if it wins a lot and consistently, the coaching staff can sell elite kids going all the way to West Virginia to play in the Big 12.
What WVU needs to do is position itself as the new Missouri, and lock in on all the best players Texas and Oklahoma say aren't good enough for them. Dig into Texas and learn how to scout and sign those underrated talents. Missouri got so, so good at that over time and it paid off. West Virginia still has to keep recruiting Pennsylvania and Florida, but Texas' depth, especially with offseason talent, will pay off over time. Just ask running back
Dustin Garrison
, wide receiver
Jordan Thompson
and quarterback
Ford Childress
.
There are a lot of players in Texas capable of playing big-time ball. Why would players go to Missouri and almost never play in Texas when they could get on a flight and take a drive -- the same way everyone got to Mizzou -- and play tons of games in Texas? The opportunity is there for WVU to poach a whole lot of players that traditionally would have been swooped up by Mizzou.
---
Jesse in Palmer, Colo., wrote:
Is expansion for the Big 12 inevitable? Will the Big 12 have a better choice of new teams later?
DU:
Yes. No.
Just sayin'.
---
March, 12, 2012
3/12/12
1:00
PM ET
West Virginia are the new guys on the block in the Big 12, but its coach has been around the Big 12 block plenty. Dana Holgorsen did stints at Texas Tech and Oklahoma State (with Houston in between) before being named the Mountaineers' head coach.
The Mountaineers kicked off spring practice Sunday, but he took some time over the weekend while in New York for the Big East men's basketball tournament ("It's a great event. ... It's the Garden, man, and it's right in the heart of the Big Apple," he said) to talk to ESPN.com.
Portions of this interview were cut for length.
We missed you in the Big 12 last season, but it looks like we're getting you back, finally.
Dana Holgorsen:
Yeah, I was only gone a year.
What's been the best part of this whole transition process?
DH:
The transition really takes place next year, not this year, so we really haven't been -- it hasn't been a whole lot different right now. We're excited about it, no question. What's cool about it is I know what we're getting into. I've been at every venue, and I've seen every team. I know what's out there and I know what we've got to do to get better and be able to compete.
Missouri talked a bit about shifting its recruiting focus some from Texas into Atlanta and Florida. What have you guys done that you wouldn't traditionally be doing this time of year?
DH:
Nothing, really. Our recruiting base is still going to be the same recruiting base. We have been getting into Texas some little bit and we'll continue to get into Texas. You've got to focus primarily on the Dallas and the Houston area that have the airport next to it so you can get back and forth pretty quick, so we're just going to go get a lot out of Florida. I think we took 12 out of Florida this year. There's a whole lot of pretty good football right around here in Pennsylvania and Ohio and Maryland and Virginia and we don't need to change where we recruit too much.
Seems like every school that leaves a league -- Nebraska and Colorado, for instance -- faces a different set of challenges. What do you see ahead as the biggest challenge for West Virginia?
DH:
I don't care where you're at, everybody's challenged in facilities. You've got to make sure that you have the best and going into the Big 12, all Big 12 schools' facilities are as good as there is in the country. You've got to be able to keep up with whatever the other schools are doing just based on the recruiting aspect of things. That's a challenge that everybody has to figure out. Other than that, the program is in great shape, our kids are good and the support is good, where we're at and all that is in pretty good shape. It's just trying keep up with what everybody else is doing. It's an arms race, you know.
The history you do have in this league, where will that show up the most and be an advantage vs. entering this league with a coach that wouldn't have the experience you do?
[+] Enlarge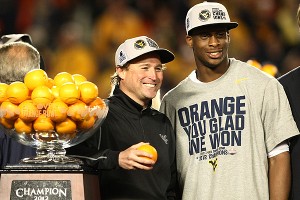 Douglas Jones/US PresswireA full offseason of work has helped QB Geno Smith, right, West Virginia coach Dana Holgorsen said.
DH:
Like I said a minute ago, I just know what we're getting into. I'm very familiar with what every team does and I've hired a lot of coaches who understand how things work in the Big 12 and what schemes are and what players are like and what the atmospheres are like. There's not a whole lot of unknowns when it comes to me going to play other teams and other venues and all that. There's a whole lot of unknowns for the rest of the league having to come to Morgantown, because nobody's ever been here. So, I feel like that's an advantage for us.
You guys are obviously a big geographical outlier. You hear Louisville and Cincinnati's names come up when people talk Big 12 expansion. What are your thoughts on Big 12 expansion, specifically as it relates to other Big East teams?
DH:
Obviously, it came down to Louisville and West Virginia to get in this past time, so if they do expand, I would assume that Louisville would be the first team that would get in. From a geographical standpoint, I think it'd be fantastic. The one thing that I think is pretty cool about 10 teams is you play every team. When you start getting into 12 teams and 16 teams, you don't play everybody. Last year in the Big East, with eight teams you played everybody and everybody knew who the best team was based on head-to-head matchups.
Back on the field, Jeff Casteel is gone, but with Keith Patterson and Joe DeForest taking over the defense, what can we expect?
DH:
Familiarity with who we're playing is incredibly important. They're going to understand that side of the ball, the people and the players, the atmospheres, I mean, that was one of the reasons we hired who we hired; they were going to be familiar with the teams we're going to play. It's all about the one thing Joe preaches more than anything, which is not to worry about giving up a play. Everybody's going to give up a play in the Big 12. The offenses are so good, but if you give up a play, it doesn't mean that you're going to lose a game. Oklahoma State was fantastic with that last year with him and (defensive coordinator Bill) Young. They just keep playing and make a play at some point to win the game, get turnovers and play with tremendous effort no matter what happens.
The 3-3-5 stack has been pretty ingrained in West Virginia's identity. With the new guys coming in, does that mean the 3-3-5 is officially dead at West Virginia?
DH:
Yeah, what's always given me the most problems is the 3-4. It's just a lot of movement and a lot of stemming and showing looks and not necessarily what you line up in is what you're going to get. I think the 3-4 gives you the best opportunity to do that. So, Oklahoma State did that a little bit with Joe, but Keith Patterson, from a front standpoint, has been doing that. I've coached against him the past four years at Tulsa, and between the two of them, they're going to put something out there that's pretty tough to play against.
Anything else I should know?
DH:
(Quarterback)
Geno (Smith)
's playing well. For his first offseason -- we didn't really have him last year because of a foot injury -- we're getting a lot of work out of him right now and he's really improving himself from a physical standpoint. I can't tell you how special I think
Tavon Austin
is. He's one of the most dynamic guys I've coached. We should get a little bit more out of him next year than we did this year. Those two guys are special. They've got a chance to make a difference in this league.
I'm excited to see those guys on a week-to-week basis. I'll be heading your way next month. I've never stepped foot in West Virginia, so I'm looking forward to it.
DH:
It's a unique place, it really is. It's really, really, really pretty. There's all kinds of stuff going on and it's probably the best-kept secret in the United States. These people are pretty passionate. I'm telling you, you're going to see nothing but blue and gold when you step in this state.
March, 12, 2012
3/12/12
10:30
AM ET
By
ESPN.com staff
| ESPN.com
West Virginia opened camp on Sunday and will continue through the next six weeks. Here's what to expect.
Schedule:
Sunday marked the first of West Virginia's 15 NCAA-allowed practices, leading up to the spring game April 21. The Mountaineers are hoping for 30,000 at the Blue-Gold Game, which would far outpace most of the Big 12. Practices before the spring game are closed to fans and media.

What's new:
Like TCU, it's the task ahead. One could argue that the task ahead of WVU isn't quite as difficult. The Mountaineers join the Big 12 next fall after two decades in the Big East. West Virginia won the league six times since 2003 and was 3-0 in BCS bowl appearances, including a dominant victory over Oklahoma. The Big East, however, has struggled to keep teams in the top 25 throughout the past few seasons. The Big 12 should open 2012 with six teams in the top 25, and maybe six in the top 20.
New faces:
You'll find a few familiar ones on WVU's staff, even if you haven't followed much outside the Big 12 lately. Second-year head coach Dana Holgorsen won 10 games (including a 70-33 Orange Bowl rout of Clemson) in his first year as a head coach after leaving his post as Oklahoma State's offensive coordinator after just one season. He was also on Mike Leach's staff at Texas Tech from 2000-2007 before jumping to Houston. As for this year, longtime defensive coordinator Jeff Casteel is gone and will be replaced by co-coordinators Keith Patterson and Joe DeForest, who was at Oklahoma State for 11 seasons.
Question mark:
Can WVU adjust to a new defensive scheme? WVU has been known for its 3-3-5 stack defense as its profile has risen over the past decade, but Casteel is taking it with him to Arizona. Instead, Patterson and DeForest will install a more traditional 3-4. Big 12 teams have been all over the map in terms of success with that formation, but look for lots of speed at the four linebacker spots. Can WVU master the scheme well enough by fall?
On the mend:
The biggest name sitting out the spring is running back
Dustin Garrison
, who took over the starting job as a freshman and rushed for 742 yards to lead the team. He tore his ACL in Orange Bowl practice, though, and will be out until the fall. Look for senior
Shawne Alston
(12 touchdowns in 2011) and
Andrew Buie
to handle most of the carries this spring.
Big shoes to fill:
The Mountaineers' entire defense, basically. In addition the new scheme on defense, WVU is replacing five top playmakers from its front seven, including leading tackler
Najee Goode
(87 stops) and sack masters
Bruce Irvin
and
Julian Miller
, who combined for 14 in 2011. Defensive backs
Keith Tandy
and
Eain Smith
are gone, too. WVU's depth chart with so much turnover and in a new scheme looks pretty jumbled, but will need some clarity this spring.
All eyes on:
Geno Smith
and the WVU offense. Is it truly good enough to produce week to week and win big in the Big 12? Smith is a dark-horse Heisman contender, but he's still got a lot to prove as the Mountaineers get used to their new digs. I'm betting yes, the WVU offense will be able to hang, but there's no guarantee until we see this fall. Year 2 in Holgorsen's system should be a big one for Smith and his top two targets,
Stedman Bailey
and
Tavon Austin
, who both topped 1,185 yards receiving and combined for 20 touchdown catches in 2011. Left tackle Don Barclay and right guard Tyler Rader are the only starters not returning for 2012, and the expectations for this offense are enormous.
February, 15, 2012
2/15/12
10:00
AM ET
We're back, and the kindly introduction is over. It's time to get to know the real West Virginia.
How will the Mountaineers handle the transition? Big 12 blogger David Ubben and Big East blogger Andrea Adelson debated the issue.
David Ubben:
TCU's jump would seem to be a lot bigger, but the Big East has had its well-chronicled struggles the past few years. The Mountaineers left the league with a convincing Orange Bowl win against Clemson, scoring 70 points in the process. Talk about endearing yourself to your new offensive-minded friends, huh? You've seen this team up close lately, though. What, if anything, do you think WVU will have to change to get back to the BCS as a Big-12 member?
[+] Enlarge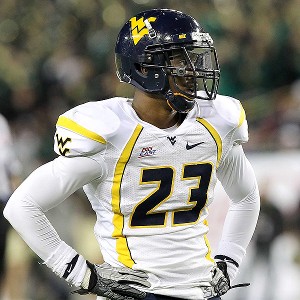 Kim Klement/US PresswireBrodrick Jenkins, an up-and-coming cornerback, will lead the Mountaineers into Big 12 play next season.
Andrea Adelson:
Well, one thing that definitely is going to change is the way West Virginia plays defense. Long-time defensive coordinator Jeff Casteel is out, and so is the odd 3-3-5 stack defense. The Mountaineers are going to go with a 3-4 base set under former Oklahoma State assistant Joe DeForest. This should help ease the transition from the stack, as West Virginia does not have the type of players on the roster to go with four down linemen.
In addition to the new scheme, West Virginia is losing its two best pass-rushers in
Bruce Irvin
and
Julian Miller
, perhaps its best defensive player in linebacker
Najee Goode
, and its best cover corner in
Keith Tandy
. There were times last season when the Mountaineers got beat deep in pass coverage, which will not bode well in Big 12 play.
However, cornerback
Brodrick Jenkins
has the potential to be truly terrific in 2012. He showed flashes late last season. As for the offense, coach Dana Holgorsen is looking for perfection. That means more consistent play out of an offensive line that was mediocre at times last season, and more explosion out of the run game. Starting running back
Dustin Garrison
is coming off ACL surgery, so it will be interesting to see whether he will be the same back come August.
Say what you will about the Holgorsen passing offense, but he definitely wants a running back to complement
Geno Smith
the way Kendall Hunter did with
Brandon Weeden
at Oklahoma State in 2010. How do you think West Virginia will fit in to its new conference home?
DU:
WVU is a good fit on the field. Geographically, not so much, but the Big 12 teams have to like that. There's a lot of uneasiness with TCU entering the league. That could shake up recruiting a lot and cut into the share of teams like Oklahoma State and Texas Tech.
But West Virginia's clearly a strong brand. This is a team that could just as easily have been in the SEC. Instead, it's in the Big 12. The three BCS wins are a big deal, as was the Orange Bowl win. That's endeared the Mountaineers to their new opponents in the Big 12. To win like that on that kind of stage says a lot about where the program is and where it's headed. Having a coach like Holgorsen, who has lots of ties to Texas, will help them grab a few players in Texas, too. The difference between WVU and Mizzou isn't much when you think about recruiting in Texas. I could see WVU being the biggest threat to Missouri recruiting in Texas.
But like TCU, winning games gets people excited. Big 12 fans are psyched about the Mountaineers, who seem like a fun group.
How do you think WVU's transition will compare to TCU's?
AA:
Watching a team put up 70 points is always fun! Hearing a guy like Holgorsen talk is always fun because you never know what he is going to say.
But on to your question: I think West Virginia will have a much smoother transition than TCU because it has played in an AQ conference already. Yeah, OK enter your Big Least jokes in here. But West Virginia has been a solid program throughout the course of its history. Note that the Mountaineers are one of just 14 schools to have 700 program victories -- joining Texas and Oklahoma from the Big 12.
West Virginia is one of just three schools to have at least nine wins in seven straight seasons. That doesn't happen by accident. And it's also important to note West Virginia is not exactly in a recruiting hotbed. Talent does not come pouring out of the state the way it does in Texas. The Mountaineers have built pipelines into Florida -- Geno Smith and
Stedman Bailey
being two notable examples on the squad -- and try to mine talent in Baltimore, Virginia and Washington, D.C. So I do think there will be inroads made into Texas with the Big 12 affiliation.
Already on the roster from the state are starting running back Dustin Garrison and quarterback Ford Childress, an ESPNU 150 player in the class of 2012. I respect the job Gary Patterson has done in building TCU, but I simply think there is going to be much more of a growing curve for a team transitioning to an automatic qualifying conference. What do you think?
DU:
I'd agree. The Big East has been weak, but there aren't any teams like New Mexico and UNLV in that league, who are little more than a week off for teams as talented as TCU has been the past few years. Show up and you win.
Last year, even Kansas beat the MAC champions, Northern Illinois, before losing its final 10 games of 2011. Big 12 champion Oklahoma State lost to 6-7 Iowa State, too. This league is so, so deep. You have to show up and play well every week, and even then, you might not win. In 2010, 11 of the league's 12 teams had five wins and at least played a game with a chance to win six and qualify for a bowl game.
This year, nine of the 10 teams did that. It's got elite teams, too. Texas and OU played for titles in 2008 and 2009 and OSU was barely shut out of the title game this year.
The depth of the Big 12 is what TCU will have to get used to. In that sense, WVU will have to adjust much less. Of course, you never know for sure. We'll find out next year. WVU had some head-scratching losses, too. Losing to Syracuse by 26 points? Really? Sheesh.
Both of these teams are built to win in 2012, and I think they'll do it. But winning a Big 12 title requires you to show up every week and play well. In the Big East, which sent an eight-win team to the BCS in 2010, that hasn't necessarily been true.
In the Big 12, Texas or OU has basically run through the year with 0-2 losses every single season. If WVU wants to win this league, they'll have to do that.
When do you think WVU will win its first title? Will it win one?
[+] Enlarge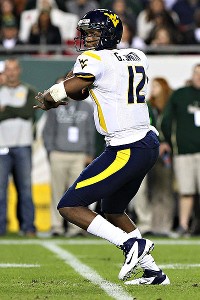 Kim Klement/US PresswireGeno Smith will enter the Big 12 in his third season as West Virginia's starting quarterback.
AA:
It is tough to put a time frame on when West Virginia will win a league title. As crazy as it might sound, I think this team is built to contend in 2012. The Mountaineers dropped FSU from the nonconference schedule, so you could consider Kansas as filling that void. I am sure West Virginia takes that.
Oklahoma is going to be a preseason national favorite, but after that, every single team returning has major question marks. Is Texas going to be Texas? What does Baylor do without RG3? What does Oklahoma State do without Weeden and
Justin Blackmon
?
You bring up a good point about the head-scratching losses. There have been a bunch of those over the last several seasons -- including TWO in a row to Syracuse. This is a team that has simply been inconsistent. It didn't put together a full game against Clemson. But I think Geno Smith,
Tavon Austin
and Stedman Bailey are going to be a handful for teams to stop, so I wouldn't be surprised if the Mountaineers were a surprise contender in 2012. Are you buying or selling?
DU:
I'd generally agree. Year 1 seems to be their best chance. It's a wide-open year in the Big 12, and I think Oklahoma's a bit overrated heading into next year, though the potential for a national title run is there. Texas looks like it's on its way back up, but next year won't be the year.
If it doesn't happen next year, though, I don't think WVU will win a Big 12 title in the next decade. It's a solid program that I think could get into the BCS, but win the Big 12?
With the stability, metroplex location and winning tradition, I like TCU's upside a whole lot more, and its ability to win a Big 12 title in the future. I'm buying a Horned Frogs Big 12 title in the next decade. Not so much on WVU.
Time to put you on the spot: What's WVU's record next year and Big 12 finish?
AA:
I can see the hate mail trickling into the Big 12 mailbag over that one, Mr. Ubben!
I am going to say West Virginia goes 10-2 and finishes second in the Big 12. What say you?
DU:
Maybe so. But hey, that's how we do things on the Big 12 Blog. I call it like I see it. And I see more potential for the Froggies, though I think the Mountaineers will be a solid, solid program. I wouldn't be that surprised if they won the league, but I'm not betting on it.
This is a league built around the state of Texas, and the location's going to make it tough for them to consistently field teams that can win 11-12 games consistently.
Next year, I'll take 9-3 for the Mountaineers, but a tie for third place.
December, 15, 2010
12/15/10
6:16
PM ET
Dana Holgorsen's stay in Stillwater is officially a short one.
The former Cowboys offensive coordinator will be West Virginia's offensive coordinator in 2011 before taking over for Bill Stewart as head coach in 2012.
"I think the transition year for coach Holgorsen will be very beneficial to the football program, and the opportunity to learn from coach Bill Stewart should not be underestimated," West Virginia athletics director Oliver Luck said in a release. "Coach Holgorsen is one of the top coaches in college football. His success at Texas Tech, Houston and Oklahoma State speaks for itself. We know that coach Holgorsen will bring a high-powered offense that will be incredibly entertaining to watch at Milan Puskar Stadium."
Holgorsen, a finalist for the 2010 Broyles Award as college football's top assistant coach, helped Oklahoma State rank third nationally in scoring offense and first nationally in total offense in his first and only season with the Cowboys.
Quarterback
Brandon Weeden
, running back
Kendall Hunter
and receiver
Justin Blackmon
were only the second trio in NCAA history with at least 3,000 passing yards, 1,5000 rushing yards and 1,500 receiving yards in the same season.
"I look forward to the opportunity to join West Virginia University as offensive coordinator for the 2011 season," Holgorsen said in a statement. "It will be a privilege to work alongside two great football coaches in Bill Stewart and Jeff Casteel. Naturally, I am excited about succeeding coach Stewart in 2012 and becoming the head coach of the Mountaineers and leading the West Virginia football program to even greater heights. My goal is to win a national championship at West Virginia University, and I firmly believe that coach Stewart has built a solid foundation, which will allow us to compete with the very best in the country."
After Holgorsen takes over as head coach in 2012, Stewart will remain at West Virginia in an administrative role.