March, 8, 2010
3/08/10
2:00
PM ET
By
ESPN.com staff
| ESPN.com
Here, we'll take at one area where each team in the Big 12 can expect to succeed, and another that needs improvement.
Baylor
Strong: Receiver
Leading receiver
Kendall Wright
returns after upping his reception total to 66 from 50 as a freshman. His 740 yards and four touchdowns should see another bump with the return of quarterback Robert Griffin. Wright, a rising junior, caught less than three passes in a game just once last season, and finished with 26 catches in his final four games. He'll need to remain consistent as defenses target him even more without outside receiver
David Gettis
, a 6-foot-4, 215-pounder, to take some of the pressure off Wright, an inside receiver who is just 5-foot-11 and 185 pounds.
But when Wright has been successful, so have the Bears. Last season, he raced for 149 yards on 10 catches and a pair of touchdowns in Baylor's lone conference win, a 40-32 win over Missouri in Columbia.
More big days for Wright should lead to more big days for the Bears.
Weak
:
Safety
Last season, Baylor had one of the Big 12's most experienced back lines with senior safeties
Jeremy Williams
and Jordan Lake patrolling the secondary. Their experience leaves, along with their combined 146 tackles. Another senior, JUCO transfer Byron Landor, could step in as a permanent starter and played in 11 games last year, racking up 11 tackles. But the other safety spot could go to a much less experienced player. Mike Hicks, a sophomore, or incoming recruit and Waco native Ahmad Dixon, the nation's No. 3 safety, are possible replacements.
Either way, Baylor can't replace Williams and Lake's seasoning and chemistry. The two were a pair of redshirt seniors with years of experience beyond what their replacements will have. Growing pains, at least in the beginning, are almost a guarantee.
February, 4, 2010
2/04/10
10:20
AM ET
By
Tim Griffin
| ESPN.com
Here's a look at Baylor's 2010 recruiting class.
Baylor Bears
Total class:
25
ESPNU 150:
1
By position:
WR 4, DE 3, OT 3, CB 3, LB 2, DT 2, QB 2, G 2, S 2, ATH 1, RB 1
By state:
Texas 20, Oklahoma 2, California 1, Florida 1, Georgia 1
Already enrolled in school:
4
The big ones:
S
Ahmad Dixon
: The nation's No. 3 safety is the best defensive recruit ever attracted by Art Briles. CB
Prince Kent
: Prep school transfer is formerly No. 5 national cornerback before spending season at Hargrave Military Academy.
Sleeper:
LB
Bryce Hager
: Son of former Texas LB Britt Hager turned down a chance to walk on for the Longhorns to accept a scholarship offer from the Bears.
Needs met:
The Bears added five defensive linemen after losing starters Jason Lamb and Trey Bryant and having Phil Taylor and Earl Patin enter their senior season. They added five players, including Dixon and Kent, in the secondary where they lost starters Jordan Lake and Jeremy Williams. And they added quarterbacks
Bryce Petty
and Tyrell Jenkins despite having Robert Griffin apparently for three more seasons.
Analysis:
This was the best talent haul in Art Briles' coaching tenure and arguably the best in the Bears' Big 12 history. A massive infusion of help in the secondary should enable the Bears to better stand up against the passing barrage in the Big 12. The Bears added some much-needed depth in the trenches. The most important factor in getting the Bears into Big 12 contention will be Robert Griffin's health. Adding the bigger second version of Robert Griffin to the program as an offensive lineman should help that in the future.
What Art Briles said:
"Last year's recruiting class was kind of about the offensive line and the receivers. This year the strength of the class is definitely the defense. Top to bottom this is a class that really fills a lot of needs for us. We feel real good about the way that the numbers fell for us this year.
Scouts Inc. grade/rankings:
C-plus, sixth in Big 12.
January, 21, 2010
1/21/10
12:18
PM ET
By
Tim Griffin
| ESPN.com
Here's a look at what each of the South Division teams need to address in terms of recruiting with signing day fast approaching.
Baylor
Defensive line:
After losing starters Jason Lamb and Trey Bryant and having Phil Taylor and Earl Patin entering their senior seasons, the Bears need to add immediate depth. Xavier Ruben and Anthony Gonzales will help shore up the deficiencies and the Bears still are in the hunt for top prospects like Carlos Thompson and Byran Jones.
Secondary:
Starters Jordan Lake and
Jeremy Williams
have graduated and four juniors in the two-deep roster will start their senior seasons. Coach Art Briles has already lured surprising strength in the defensive backfield with Ahmad Dixon, Tyler Stephenson and Prince Kent. That trio makes it one of the finest positional groupings for Baylor in recent history.
Robert Griffin's redshirt season has lessened the immediate need at quarterback:
With Griffin now having three years of eligibility remaining, recruits now see only a two-season window to play. But another Robert Griffin should help the Bears as well. Baylor coaches see the other Griffin, a junior college transfer from Coriscana Junior College, being able to contend for the starting position at right tackle from his first day in the program.
Oklahoma
Running back:
With
Chris Brown
graduating and
DeMarco Murray
entering his senior season, the Sooners need some producers at the position. Bob Stoops has never hesitated to playing top freshman players in the past if they can help. Don't be surprised if top recruits like Brennan Clay and Roy Finch get an early chance in 2010 with the Sooners.
Receiver:
Ryan Broyles
is entrenched in the slot, but the Sooners are looking all over for pass catchers who can challenge existing players. Recruits Kenny Stills, Joe Powell, Julian Wilson and Sheldon McClain all should challenge this summer to battle their way into the rotation.
Defensive tackle:
Injuries and NFL declarations have riddled the Sooners' depth at the postion. Gerald McCoy will leave early for the NFL draft with JaMarkus McFarland ready to take over.
Adrian Taylor
was set at the other position, but his nasty ankle injury sustained in the Sun Bowl has depleted the Sooners' depth. Redshirt sophomore Casey Walker and four incoming freshmen are all that is in place as far as depth at the critical position.
Oklahoma State
Offensive line:
The Cowboys lose four senior starting offensive linemen from the Cotton Bowl team, including the left side of their offensive line in tackle Russell Okung, guard Noah Franklin and center Andrew Lewis, as well as right tackle Brady Bond. Mike Gundy needs some immediate help at the position, both from existing players and incoming ones.
Defensive tackle:
Starters Swanson Miller and Derek Burton both will graduate and top backups Shane Jarka and Chris Donaldson both will be senior this season. Defensive coordinator Bill Young needs to find some defensive linemen who can challenge for playing next season.
Linebackers:
Young also will have to rebuild this group after the underrated group of Andre Sexton, Donald Booker and Patrick Lavine helped sparked the Cowboys' surprising defensive growth last season. All will be gone this season, putting pressure to add some more contributors to add to the returning mix of players including
James Thomas
, Tolu Moala and Justin Gent.
Texas
Defensive end:
With Sergio Kindle graduating and Sam Acho and Eddie Jones both entering their senior season, the Longhorns need a talent boost here. It also just happens to be the position where top target Jackson Jeffcoat would immediately fill the rather sizable hole.
The left side of the offensive line:
Tackle Adam Ulatoski, guard Charlie Tanner and center Chris Hall combined for 114 starts during their careers.The Longhorns has some strong arriving talent, but they'll still miss the leadership and savvy that this trio provided over the years.
Quarterback:
Even with
Garrett Gilbert
seemingly entrenched as the Longhorns' quarterback of the future, the Longhorns added depth with the commitments of Connor Wood and Colt's little brother Case McCoy. It will make for some interesting competition this spring and fall as the rotation sorts itself out.
Texas A&M
Defensive end:
The Aggies received a huge boost when Von Miller announced he would return for his senior season, but A&M needs to prepare for his departure -- particularly after losing starting defensive end Matt Moss and Miller's backup Matt Featherston as departing seniors from 2009.
Tight end:
Starter
Jamie McCoy
graduated and top replacements
Kenny Brown
and Craig Raschke both will be seniors next season. Adding at least one player would be beneficial as the Aggie coaches hope they can find a combination blocker/receiving threat at the position like McCoy was.
Offensive tackle:
The Aggies lose bookend senior starters Michael Shumard and Lee Grimes. They do have Stephen Barrera and Danny Baker in the depth chart but would like more depth to help the line develop.
Texas Tech
Defensive line:
The Red Raiders' biggest need is at defensive end where all three players in the two-deep roster -- Brandon Sharpe, Ra'Jon Henley and Daniel Howard were seniors. At defensive tackle, Richard Jones departs as a senior and Colby Whitlock will be a senior next season. New coordinator James Willis needs to find some productive players in the trenches quickly.
Linebackers:
Starters Bront Bird and Brian Duncan will be back as seniors next season, but Tech loses departing starter Marlon Williams on the other side. They need some depth to help build for the future at the position.
Quarterback:
Taylor Potts
and
Steven Sheffield
will wage one of the closest-watched battles for playing time in the nation during the spring and summer. But both will be seniors, meaning the Red Raiders need to prepare for their departure by grooming some young talent like Scotty Young, a recent commitment at the position.
November, 24, 2009
11/24/09
5:12
PM ET
By
Tim Griffin
| ESPN.com
With his team tucked tight against its own goal line,
Christine Michael
just wanted to do what he could to get Texas A&M out of a daunting hole.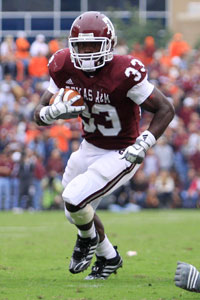 Thomas Campbell/US PresswireTexas A&M tailback Christine Michael leads all Big 12 freshmen with 684 rushing yards.
But after coming back to the huddle, tight end
Jamie McCoy
told the freshman tailback to be ready to sprint to the other end zone, providing he could deliver a clearing block against a Baylor defense bunched to stop an inside run.
"Jamie told me that he would get the block and I should be ready to run the distance," Michael said. "And that's exactly what he did. He told me he would get the first guy who came in and I should be able to outrun the rest of the defense."
Michael's record-setting 97-yard touchdown run against the Bears came with some surprising physical exertion. If he hadn't been glancing up at Kyle Field scoreboard, he never would have known that Baylor safety
Jeremy Williams
was closing on him at about the Baylor 15-yard line as he approached the end zone.
"Honestly, it's kind of hard running 97 yards," Michael said. "I got tired at the end and almost started slowing up until I looked up at the Jumbotron and saw the guy coming up. I saw that and knew I would have to finish."
The touchdown run sparked the Aggies' 38-3 victory which boosted them into a bowl game for the first time since 2007. It also catapulted them into the annual rivalry game against Thursday night with some unbridled confidence in their hopes of notching their third victory in the last four seasons against the No. 3 Longhorns.
Michael has helped spark an emerging running game that has helped the Aggies develop one of the strongest offenses in the nation.
The Aggies have scored at least 31 points in every home game this season and will have confidence they can dent the Longhorns' No. 1 ranked rushing defense.
"It all comes down to one game," Michael said. "We can win if we play good football. We're going to give them our best and see what it leads us to. We're not going to be intimidated by them, not at all."
Earlier in the season, Texas A&M defensive end/linebacker Von Miller had a unique description of Michael's running style.
"He's like a 210-pound rabbit on steroids, with the speed of a cheetah," Miller told reporters. "He's like a hybrid, mutant running back."
Michael said he took Miller's unique description as a compliment.
"I felt it was kind of funny," said Michael, who was A&M's first consensus five-star recruit since Martellus Bennett. "I like to make sure I never stop moving and keep going forward. I want to do what I can to finish runs off."
Some of that movement hasn't always enthralled A&M coach Mike Sherman, who has been concerned about Michael's habit of making spin moves. One red-zone fumble killed a scoring drive against Baylor.
But he's growing more comfortable with the play of Michael, who leads all Big 12 freshmen with 684 rushing yards and ranks seventh nationally among freshmen with an average of 68.4 rushing yards per game. He's topped 100 yards in two of the Aggies' last five games.
Some of his growth has coincided with the recent development of A&M's offensive line. The Aggies produced a season-best 375 rushing yards against Baylor, helping boost them to No. 25 nationally in rushing.
The emergence of the running game has helped A&M galvanize one of the nation's most balanced and productive offensive attacks. The Aggies are the only team nationally ranking in the top 25 in scoring, rushing, passing and total offense.
"Those guys have blocked and worked hard," Michael said. "They give us their best blocks possible. I feel they have come along like the rest of us. We've had our ups and downs and we've tried to bounce back and do what we can to finish the season strongly."
The 5-foot-11, 206-pound Michael is one of the most talented athletes in A&M's program. He sometimes shows that by doing standing back flips -- in full football gear -- during mundane practices.
"That's just me being hyper," Michael said. "I'm always moving and always playful in what I do. It's something I've done for a long time."
And if the Aggies pull off a stunning upset, Michael has promised more gymnastics later this week.
"I'll do a bunch of those if we win on Thursday night," Michael said.
April, 2, 2009
4/02/09
10:38
PM ET
By
Tim Griffin
| ESPN.com
Posted by ESPN.com's Tim Griffin
Baylor sophomore quarterback Robert Griffin passed for 310 yards and three touchdowns to highlight Baylor's 130-play scrimmage that culminated spring practice for the Bears.
Griffin played about half the scrimmage Thursday afternoon and also added a 1-yard TD run. He had a hand in four of Baylor's five touchdowns during the scrimmage.
Griffin connected with three different receivers on his scoring strike, starting with a 60-yard screen pass for a score to Jay Finley on the third play of the scrimmage for the first-teamers. Griffin also hooked with Justin Akers on a 35-yard TD pass and Brad Taylor on a 43-yard TD aerial.
Baylor coach Art Briles was pleased with his team's work, culminated his second season of spring practices.
"We weren't trying to set any records or create new opportunities for people," Briles said. "We are just trying to get in and get out and stay injury free with a little bit of production and I think we did that.
"We really feel good about the direction we are going and about how we are going to get there. What we have to do is turn it into reality on the field, but that is going to happen and we are very confident of that."
Senior backup quarterback Blake Szymanski passed for 113 yards by completing 17 of 29 passes.
Andrew Pierce produced a scrimmage-high 52 rushing yards, punctuating his efforts with a 48-yard TD run.
Baylor receivers accounted for 458 yards in receiving yards, led by Kendall Wright's five grabs for 68 yards. Wright participated in only the final two weeks of spring practice after spending most of spring practice as a member of Baylor basketball team.
Seniro safety Jeremy Williams led the defense with eight tackles, while linebacker Rodney Chadwick produced six tackles and linebackers Earl Patin and Antonio Johnson notched five stops apiece. Cornerback Michael Williams produced the lone turnover of the scrimmage when he intercepted Griffin inside the 5 yard line.
Baylor will return for summer practice on Aug 5 and start practicing the following day. The Bears open their season Sept. 5 at Wake Forest.
January, 20, 2009
1/20/09
11:51
AM ET
By
Tim Griffin
| ESPN.com
Posted by ESPN.com's Tim Griffin
Having a scintillating player like Robert Griffin should clearly benefit Baylor's recruiting for the next several seasons -- even though the Bears likely won't getting too many quarterback prospects.

Coach Art Briles won't mind that much. As he works to lure a recruiting class that will help send his team bowling for the first time since 1994, Briles likely will lean on the same philosophy he employed to turn around Houston in his first college head-coaching job. It will likely include a heavy concentration of players from smaller Texas high schools rather than those from the Dallas and Houston areas.
Briles has clicked on that strategy over the years and appears set to do that with his second recruiting class with the Bears.
The Bears need an upgrade in the trenches after losing starting tackles Jason Smith and Don Gay and they will start seniors at both guard positions and at center in 2009. Smith and Gay combined for 73 career starts. The depth at the position is aggravated because only redshirt freshman Joe Korbel was in the late-season depth chart.
Most of the skill position talent is young -- Griffin and leading receiver Kendall Wright are coming off their freshman seasons and leading rusher Jay Finley was a sophomore. But an upgrade of talent still could be used at all positions.
Most of the defensive talent is back as the Bears lose only two starters. But the Bears could use some additional young personnel at linebacker where both potential All-American Joe Pawelek and Antonio Jones will be seniors next season. And replacements will need to be cultivated for seniors-to-be like nose guard Trey Bryant, defensive end Jason Lamb and safeties Jordan Lake and Jeremy Williams.
Briles knows his way around Texas high school recruiting after a legendary career as a four-time state championship coach at Stephenville High School after earlier stops at Hamlin and Georgetown. Don't be surprised to see him lean on some of that familiarity as he beats the bushes to help fill in the roster around Griffin.
September, 4, 2008
9/04/08
8:12
AM ET
By
Tim Griffin
| ESPN.com
Posted by ESPN.com's Tim Griffin
It's the quiet before the storm today, still two days away from the games this weekend.
After all the excitement of last week's opening games, I'm wondering why the Big 12 doesn't have at least one Thursday night game every week during the nonconference part of the season. It would be a great opportunity for the conference to build some awareness.
The bigger Big 12 schools traditionally have not wanted to move their games around. But it would seem that a school itching to build some national notoriety -- are you listening Texas Tech, Oklahoma State and Kansas State? -- would like to jump into a programming slot where a lot of people would be watching their games.
Thursday night has emerged as the unofficial kickoff point of the week. And because of the glut of games on Saturdays, playing a game early gives a school a chance to stand out and build some national awareness. Look at what it's done for ACC and Big East schools.
But then again, considering the weak games across the conference this week, I could understand why the less national exposure might be better.
Here are some links to get you through the pregame hungries.