October, 1, 2011
10/01/11
5:55
PM ET
ARLINGTON, Texas -- R.C. Slocum coached Texas A&M to its first and what now looks like it will be its only Big 12 title in 1998.
Dallas Cowboys owner Jerry Jones was a co-captain of Arkansas' only national title team back in 1964. Before Saturday's game, the two shared a moment on the Texas A&M sideline.
"How 'bout those Aggies comin' to the SEC?" Jones asked. His school made the move from the Texas-based Southwest Conference to the SEC in 1991.
"Oh, man," Slocum said with a grin of anticipation as the two shook hands.
Oh man, indeed.
If Slocum had known what he was about to watch, that grin would have been a groan.
Last week, Texas A&M blew a 17-point halftime lead in a loss to Oklahoma State. A day later, it celebrated its move to the SEC.
This week? Try 18 to Arkansas, which roared back to take its first lead with 1:41 left and beat the Aggies, 42-38.
Broderick Green
's 244-pound frame barreled over the goal line, and the Arkansas contingent exploded as the Aggies in attendance began wondering what the traffic on Interstate 30 would look like on the way back home.
Not the best first impression for the Texas A&M Aggies, who didn't quite fill their half of Cowboys Stadium as Hog fans showed up in force.
[+] Enlarge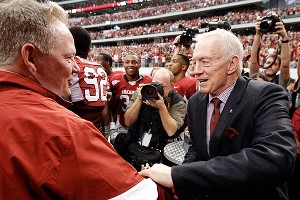 AP Photo/Brandon WadeJerry Jones congratulates Arkansas coach Bobby Petrino after the Razorbacks beat Texas A&M.
By game's end, Jones was back on his alma mater's sideline, handing over the trophy for the Southwest Classic (a game he helped create) to Bobby Petrino's Hogs.
"It's a travesty that we didn't win this football game," Texas A&M coach Mike Sherman said.
The Aggies won this game where good SEC teams win games: at the line of scrimmage.
Texas A&M sacked Arkansas quarterback
Tyler Wilson
four times and harassed him on countless other occasions, assuring he wakes up Sunday morning as sore as he's been all season. Arkansas' struggling running game continued to do so, rushing for just 71 yards on 30 carries.
The Aggies, meanwhile, protected quarterback
Ryan Tannehill
well and ran for 376 yards on 54 carries, an average of seven yards a carry on Arkansas' defense, which played without its two best defensive linemen: Tenarius Wright and Jake Bequette.
Texas A&M, though, lost this game where the rest of college football loses games: on the scoreboard.
"The stats don't matter," Tannehill said. "The only things that matter are the W or L and we didn't get it covered in the second half."
For a day, Texas A&M looked on the field exactly what it is off the field: an odd hybrid of an SEC and Big 12 defense. For all of Texas A&M's strength up front, it lost the game the way Big 12 teams have lost games for the majority of the league's 15-year history.
Wilson racked up a school-record 510 yards passing, shattering Ryan Mallett's record of 409 yards against SEC doormat Vanderbilt.
Texas A&M's defense has now gone 15 quarters without forcing a turnover, with apologies to
Justin Blackmon
's gifted touchback at Kyle Field last week.
"This defense is structured -- we take some risks defensively," Sherman said of his defense, which ran defensive backs at Wilson from various angles throughout Saturday's loss. "There's some gain when you create turnovers, and we've not been able to do that now for three weeks. That is certainly an obvious concern."
Also of concern for the Aggies was Sherman's unwillingness to try to convert a fourth-and-2 at Arkansas' 39-yard line, nursing a 35-20 lead, and a fourth-and-1 on Texas A&M's 49-yard line with a 35-27 lead.
The Aggies punted both times -- first for 19 yards to the Arkansas 25 and second for 37 yards down to Arkansas' 14 -- and the Hogs scored touchdowns after both kicks.
"If I felt like our defense was playing a little bit better, I probably would have gone for it. I felt like I just couldn't give them a shortened field," Sherman said. "If we were had been playing better defense--if this had been last year -- probably would have."
Said Tannehill: "That's the head coach's call. That's what he gets paid the big bucks for. Whatever he calls, we're going to go with it. ... We trust coach and you've just got to go with the call."
The game ended, and despite holding a huge lead early, Texas A&M was serenaded with an "S-E-C" chant at Cowboys Stadium for a fourth time in three seasons, dropping to 0-4 on the field in Arlington.
"It's emotionally tough," Tannehill said.
Maybe soon, the Aggies will be the chanters and not the chant's target. But for now, another painful loss.
For two consecutive weeks, Texas A&M has known well what it feels like to lose a game it should have won.
For at least another few months at the end of a 16-year and seven-game drought, the Aggies are left wondering how it feels to beat an SEC team.
March, 30, 2010
3/30/10
3:47
PM ET
By
ESPN.com staff
| ESPN.com
Dez Bryant
worked out in his hometown of Lufkin, Texas on Tuesday, finally providing NFL scouts a showcase.
Bryant skipped the NFL scouting combine and Oklahoma State's pro day earlier this month because of a hamstring injury.
Bryant ran a pair of 40s in 4.52 and 4.68 seconds. He was asked to run again because of the discrepancy and was able to duplicate the 4.52 time, according to Gil Brandt of NFL.com. Bryant's second 40 was run into the wind. A scout at the workout told ESPN's Adam Schefter he clocked Bryant at 4.57.
The 4.52 time would put him .03 seconds outside of the top 10 times by receivers recorded at the combine.
Bryant measured at 6-foot-1.5 and 224 pounds. He also recorded a 38-inch vertical jump and an 11-foot-1 broad jump. His time in the 20-yard shuttle was 4.48 seconds was clocked at 7.21 seconds in the three-cone drill.
He hasn't played since September, before he was suspended for the final 10 games of the 2009 season.
Both Mel Kiper and Todd McShay have Bryant being selected No. 11 overall by the
Denver Broncos
in their latest mock drafts. Schefter reported Bryant was also scheduled to dine with
Dallas Cowboys
owner Jerry Jones on Wednesday before meeting with the Cowboys at Valley Ranch on Thursday.
"I just don't want to be sitting there on draft day with a great opportunity," Jones told reporters at last week's owners meetings, "and not having really done what we ought to have been doing which is know everything about him or any other player of that quality."
July, 31, 2009
7/31/09
3:39
PM ET
By
Tim Griffin
| ESPN.com
Posted by ESPN.com's Tim Griffin
The Big 12 media days are always one of my favorite events to cover every year. It's a great way to get excited about the upcoming season, and I can guarantee I came out of the festivities with that feeling after talking to all of the players and coaches.
It's always fun to see everybody. After having a day or so to decompress, I came away from it with a few observations I'd like to share with you.
Not only are the Oklahoma Sooners the three-time defending Big 12 champions, but they also were easily the most impressive looking athletes I saw during my time at the media days. And the most impressive was Oklahoma quarterback Sam Bradford, who looked like he added about 10 pounds of muscle during the offseason.
As I walked past him, I could have sworn that Bradford was bigger, stronger and better cut muscularly than many of the linebackers I saw during the week.
But Jermaine Gresham and Gerald McCoy weren't far behind. It looks like Sooners strength and conditioning coach Jerry Schmidt's work has paid off over the past few months.
It used to be that these media days were kind of semi-formal affairs. I remember that many teams came dressed to the nines when they arrived.
The only team that came dressed in their coats and ties were the Kansas State Wildcats. They might reconsider in the future -- or at least let the players show a little originality and not come dressed in the same suits with the Powercat logo on the chest.
It wasn't a surprise that the biggest throngs of media representatives followed Colt McCoy and Bradford. But coming close to them was a surprise. Baylor quarterback Robert Griffin almost had the same kind of elbow-to-elbow jostling that the other two South Division rivals had.
And if McCoy graduates and Bradford leaves for the NFL after his junior season, Griffin could have these proceedings to himself next year.
It's hard to imagine too many better interviews than Missouri linebacker Sean Weatherspoon.
Take his explanation for why the Tigers were blown out last season at Texas.
"I was so geeked-up when we played Texas that I didn't catch my breath until the second half," Weatherspoon said. "When I play against guys that I grew up [with], it puts more emphases on that game."

Also, give Weatherspoon credit for his candor when asked about the Tigers' roster last season.
"We had six guys get drafted last year and we could have had more than six," Weatherspoon said. "I'll put my teammates up against anybody."
January, 23, 2009
1/23/09
5:13
PM ET
By
Tim Griffin
| ESPN.com
Posted by ESPN.com's Tim Griffin
I received a bunch of good letters this week, telling me that Big 12 fans are observant about their football even when the season is over. Here are some of the more notable ones.
Ryan from Austin writes: Tim, Did I read that right? Only one, repeat one Texas A&M player made Dave Campbell's Texas Football's All-Texas list for 2008? Not a knock on Justin Brantly, but has A&M's program really fallen that far, or is it a reflection of the massive amount of talent in the state?
I would also like to point out how many Texas Tech players made the list, and it was especially exciting to see Texas Tech running back Baron Batch on the first team. I think he will (if Leach gives him the touches) take a huge load off of a new QB next season. If Batch touches the ball 20-25 times a game, I could see Tech having 9 or 10 wins. Think Westbrook in Red and Black.
Tim Griffin: Ryan, it does speak to how far the talent level has dropped at Texas A&M when you saw no players other than Brantly on the Dave Campbell team. I do think that coach Mike Sherman got some production from players like Jerrod Johnson, Ryan Tannehill and Jeff Fuller. The line struggled and there wasn't a single player who emerged as a top defensive player, other than maybe Michael Bennett. Considering A&M's 4-8 record, it wasn't a surprise the All-Texas team wasn't stocked with many Aggies.
Batch was a big producer for Texas Tech after missing last season with an injury. But he did have Shannon Woods who spelled him in a tailback-by-committee rotation. It will be interesting to see what Batch does as a truly featured back next season. Is he durable enough to thrive in that role? We'll see.
---
Chuck from Omaha writes: Could you please share any knowledge as to why Iowa State is taking so long to hire a defensive coordinator? Is Coach Paul Rhoads filling that role and I missed it, or does no one want the job? No one in the Ames area is reporting anything. Thanks.
Tim Griffin: As of the time I write this, Iowa State hasn't hired a defensive coordinator yet. I don't know why it's taking so long. Maybe it's because somebody has given Rhoads a qualified answer and might be waiting on another job. Maybe it's because Rhoads is putting more attention on building relationship with meeting with his new players and recruiting. Maybe he has a line on somebody who is still coaching in the NFL and will make an announcement after the Super Bowl.
But it is curious that it's taken so long to fill this position. I'll be interested to see who he chooses and his explanation for why it took so long to fill the position.
---
Eric from Denver writes: I don't think Colorado's recruiting class this year will have much - if any - effect on if they win 10 games in 2009. They may land one or two junior-college players who can help but the majority of these kids will be freshman and won't be counted on to contribute immediately. The only exception to that is defensive end Nick Kasa, but as Darrell Scott showed us, counting on a true freshman is a risky proposition.
Tim Griffin: You are right, but a truly special freshman player -- like Scott was supposed to be and Kasa apparently is as well -- can lift the play of an entire team because of his athleticism. And Colorado desperately needs that kind of boost if they are going to come close to fulfilling Dan Hawkins' 10-2 prediction for next season.
---
Kiko Thomas from Los Angeles writes: Ever since Ricky Williams and even before him, Texas has not had a prolific runner. Save for maybe Jamaal Charles. I wonder of your opinion on Chris Whaley who some compare to Darren McFadden from Arkansas. I see he has had many 400 yard-rushing games. No ways to tell how good he will be in college, but the remaining running backs that Texas has now are O.K. at best. Your thoughts on if he could get some time or really make an impact.
Tim Griffin: Kiko, first of all Texas has had some backs like Earl Campbell, Chris Gilbert and Hodges Mitchell who were pretty productive when they had their chances. I think that Campbell even won a Heisman.
But you are right about the needs for a running back at Texas. It was noticeable all season considering that Colt McCoy was the Longhorns' top rushing threat in 2008.
They certainly need more balance in the future. It's tough to project high-school backs into college players. But I would expect Whaley to receive every opportunity to emerge as a featured back once he arrives at Texas. I don't know if it will happen right away. But I expect he'll have that opportunity during his college career.
---
Korey from Midland, Texas, writes: Tim, Oklahoma plays Sept. 5 and the Big 12 Championship will be held in the billion-dollar new Dallas Cowboys Stadium in Arlington, Texas. How long until the OU-Texas game gets moved to the new stadium?
Tim Griffin: I think that as long as DeLoss Dodds and Joe Castiglione are calling the shots at Texas and Oklahoma, there's a good chance that the game remains at the Cotton Bowl. I think both realize how special the game currently is in its current location. Obviously, Dallas owner Jerry Jones can offer them more seats in his stadium. And it certainly will be a palace, from everything I'm hearing. But by keeping the number of seats at their current levels, both schools can drive interest in priority seating because there is more demand than tickets.
Maybe, some day the game gets moved. But to be honest with you, I think a more likely scenario might be that the game would be moved to campus locations in the future. Alabama-Auburn played at Legion Field forever before moving to campus sites for good in 1998. I could see the same thing happening to Texas-Oklahoma one day -- but likely after Dodds and Castiglione are gone.
---
Chris Watkins from Lawrence, Kan., writes: Tim, I know ESPN selects a team each spring to broadcast their spring game. Two years ago it was Oklahoma, this past spring it was Florida. Is there enough buzz around the ESPN networks or the nation about Bill Snyder's comeback that they would consider broadcasting the Kansas State spring game? If it's still in the brainstorming process, it might be something you might want to suggest for the spring of 2009. I think it would be a fabulous idea, and if they did, I would bet a large crowd would turn out.
Tim Griffin: Bad news, Chris. Apparently the network has chosen to go to Georgia. The information is related in this story in the Atlanta Journal-Constitution and other Georgia papers this morning.
I agree that the trip to Manhattan would have been interesting. But I also think that Kansas State's 5-7 record wouldn't qualify them with some powers that might be a little closer to challenging for a national title. I think that was a major determiner in who got the ex
posure for their spring game.
---
Adam from Broken Arrow, Okla., writes: I enjoyed your list of 2008 moments and realize this might be a little late now. But how could you forget Artrell Woods of Oklahoma State making his first reception in a game against Iowa State after a spinal injury that nearly caused paralysis and sidelined him for more than a year. Boone Pickens Stadium gave him a standing ovation afterwards. It was a big moment for Oklahoma State football.
Tim Griffin: Adam, forgive my oversight on leaving Woods out. I saw an ESPN story on it and it absolutely brought chills to me when I saw how hard he worked to get back from injury and back into the lineup. I should have mentioned it.
---
Derek from Salina, Kan., writes: I enjoy reading your Big 12 coverage. I usually agree with or at least understand the things you post. Then I came across your prediction that Nebraska will win the North in '09, and more importantly that you don't think Kansas will win in Lubbock. Are you serious, and if so, why?
Tim Griffin: Derek, again I choose to respectfully disagree with your assessment of the Jayhawks. I think if Nebraska can find a serviceable quarterback from one of their potential starters, the Cornhuskers should be in good shape. Quentin Castille and Roy Helu Jr. give them a nice running attack. They'll be running behind a veteran offensive front. And the return of Ndamukong Suh might be the biggest factor in the reason why I think the Cornhuskers' defense should be stout.
And the reason I think Texas Tech will beat Kansas can be found in past history. I know Michael Crabtree and Graham Harrell won't be back next year. But Texas Tech has beaten Kansas 10 out of 11 times in the previous games of the series. The Red Raiders did hang 63 points on Kansas in Lawrence in 2008, didn't they? And Mike Leach's offense has averaged 40 points a game in the last five contests against the Jayhawks.
I think the Jayhawks will struggle in Lubbock, although I think that will be the crossover game they should have the best chance to win. I think Oklahoma will beat Kansas in Lawrence and Texas will be the Jayhawks in Austin.
Again, thanks for all of the great questions this week and keep them coming. I'll check back with more from my mailbag next week.