October, 24, 2014
Oct 24
10:00
AM ET
In Week 9 of Big 12 action, Kansas State and TCU will attempt to keep their playoff hopes alive, while Texas and Texas Tech will try to take a step on the road toward bowl eligibility. West Virginia, meanwhile, will look to keep rolling at Oklahoma State, which hopes to bounce back after getting blown out last week.
Those, among others, will be the storylines to watch Saturday in the Big 12:
Texas at No. 11 Kansas State, noon ET (ESPN):
If the numbers are any indication, Texas won't get anything easy in this game. Kansas State has allowed only 19 plays of 20 yards or more, which is the fewest given up by any Big 12 defense. The Longhorns have been better offensively the last two weeks. Still, only Kansas and Iowa State have produced fewer 20-yard-plus plays in the Big 12 than the Longhorns. Running backs
Johnathan Gray
and
Malcolm Brown
have also had problems breaking loose from the line of scrimmage. According to ESPN Stats & Information, Texas is averaging 1.4 yards after contact on designed runs, the worst average among Power 5 offenses.
The Longhorns will have to be better on the ground to have a chance of pulling the upset in Manhattan, Kansas.
[+] Enlarge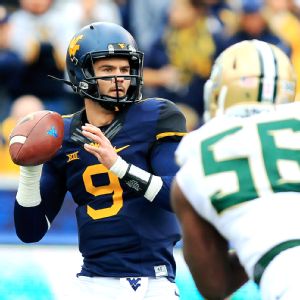 AP Photo/Chris JacksonClint Trickett has thrown 15 touchdown passes and only five interceptions this season.
No. 22 West Virginia at Oklahoma State, 3:30 p.m. ET (ESPN):
How much better has West Virginia QB
Clint Trickett
been this year? He has improved his Total QBR by 29 points from last season, the third-largest increase among Power 5 QBs, according to ESPN Stats & Information. One reason for the dramatic improvement has been the long ball. Trickett has already thrown eight touchdowns on passes of 20 yards or more, tied for third among Power 5 QBs. He had just one such touchdown pass all of last season.
Kevin White
, the nation's leading receiver, has been on the other end of the majority of Trickett's long throws. White tops the country with 16 receptions of 20 yards or more. Oklahoma State, meanwhile, has been even more reliant on throwing deep.
Daxx Garman
has 35 completions on passes thrown 15 yards or longer, tied for the most by a Power 5 QB. One thing is certain in this game: The ball will be flying downfield often.
Texas Tech at No. 10 TCU, 3:30 p.m. ET (FOX):
Trickett isn't the only Big 12 QB who has been a completely a different player this year. Trevone Boykin's Total QBR is up 28.7 points from last season, the fifth-largest increase in college football, per ESPN Stats & Information. Thanks in big part to Boykin's turnaround, the Horned Frogs have featured one of the best big-play offenses in the country. TCU has 13 touchdown drives of three plays of fewer, tied for the most such drives in the country, according to ESPN Stats & Information. Boykin & Co. could add to that total this weekend. Texas Tech's defensive efficiency is the worst among Power 5 teams. Opponents have scored a touchdown on 36 percent of their drives against Tech, the worst percentage of any Power 5 defense. The Red Raiders will probably need their best defensive effort of the year to have any shot at toppling the surging Horned Frogs.
October, 15, 2013
10/15/13
8:00
PM ET
Editor's note: For a look at the national recruiter power rankings based only on Class of 2014 success,
click here
.
The best college football coaches will tell you that when it comes to recruiting, their business is an art. It's a craft you must perfect if you want to have the best players commit and ultimately sign. Recruiting isn't for everybody, but those who are good at it -- particularly for building the 2014 class -- should be recognized, as the business is extremely competitive.
Here are 10 of the top recruiters from the Big 12.
March, 18, 2011
3/18/11
11:00
AM ET
WACO, Texas -- Baylor lost six games in 2010. In those six games, the Bears gave up 45, 45, 55 42, 53 and 38 points. The offense wasn't blameless, but it wasn't hard to see what had to improve for the Bears to win more than seven games in 2011.
Bears coach Art Briles
aggressively pursued Phil Bennett
, who coached the nation's No. 15 scoring defense at Pittsburgh in 2010 -- Baylor ranked 89th in the stat last season -- and let him hire a pair of assistants: linebackers coach Jim Gush and secondary coach Carlton Buckels.
With them came expectations.
"It's obvious. You look at [the offense], they've got some fire power," Bennett said. "We've got to get our guys to match up. If we can defend these guys, we're going to be OK. Art and them challenge you in a lot of ways."
The Bears eschew the comparison, but in 2009, Texas A&M's defense ranked outside the top 100 and gave up more than 33 points a game while the offense scored just under 33. That bad combination resulted in a 6-7 season.
With new defensive coordinator Tim DeRuyter came a drop to just less than 22 points a game and, most importantly, three more wins in 2010. The Aggies' successes and comparisons are the least of Baylor's concern, but Bennett's eye is on that big number.
"Improvement is measured to me in one statistic. One. That's scoring defense," Bennett said. "All those other statistics tie in together, but you have to, if you can average in the 30s offensively like we have and you can get in the teens defensively, you're going to win a lot of games."
For Baylor, seven wins is historically a lot of games. But they want even more. And Bennett is charged with the task of helping it get there in the area it struggled most.
"What we're going to get is the same thing you get from coach Bennett," Briles said. "You're going to get a passionate man that's very intelligent that understands what we need from a defensive standpoint, schematically to intelligent adjustments on the field. There's no questions that are going to be unanswered."
For now, Bennett is working off a base depth chart, but working every player on his defense in with the first and second teams to see what he has. Eventually, that fluidity will solidify.
"We're a work in progress right now, getting people in the right spots," Bennett said. "We're sort of mixing and matching to see who our best 11 on the field are."
He'll get plenty of practice and a tough assignment every time he brings his team on the field in the spring, which should pay off in the fall.
March, 17, 2011
3/17/11
9:00
AM ET
By
ESPN.com staff
| ESPN.com
WACO, Texas -- Baylor practiced for about two hours in full pads on Tuesday, the second practice in two days after a week-long intermission for spring break. It was their fifth of 15 spring workouts.
The big story at Baylor on the field is the progress of its defense. And based on the early returns, it has a good ways to go. Most of the practice was spent in team drills, both in seven-on-seven and 11-on-11. They were constantly beat over the middle, on the outside and over the top and running backs gashed the defense in the middle.

Keep in mind, however, that the Bears' offense has been at it awhile and is also one of the Big 12's best. The defense under Phil Bennett is in practice No. 5. The depth chart is still fluid, and every player on the roster is getting a chance to run with the first or second team at some point, according to Bennett. That accounts for some of the mistakes, surely. Their work is clearly cut out for them, but they've got the rest of spring and fall camp to make it happen. The talent and athletic ability are there, and the only guys getting beat physically were the corners. Most of the other mistakes looked like mental ones that Bennett and new linebackers coach Jim Gush were animatedly trying to correct throughout the practice.
For now, it looks like there's a lot more thinking than playing going on, but that's to be expected five practices in. I'll be writing more about the defense on Friday, but I do think Baylor fans can take some encouragement in the progress made in just one season by Texas A&M. The Baylor coaches I talked to aren't so sure about that comparison, but it could happen. Texas A&M's defense in 2009 was a lot worse than Baylor's in 2010.
A few other observations:
Robert Griffin III continues to throw one of the league's most accurate deep balls. He was on all practice. It's probably not too encouraging how often guys were wide open, but don't worry about him regressing in 2011. If the defense helps the Bears win a few more games and they get to 8-10 wins, don't count out Griffin as a possible Big 12 Offensive Player of the Year. No team in the Big 12 is more reliant on one guy to do so much, but he fills those duties well. The defense couldn't contain him as a runner, either. He's made a lot of progress in his zone read fake. At least a few times he had the defense completely shifted to cover the running back while he went the other way for a 3-on-2 with his receivers blocking corners on the outside and safeties committed to the running back, who didn't have the ball.
Former left tackle Danny Watkins was back on campus. The likely first- or second-rounder in next month's draft took in the practice, and his presence, along with others who preceded him in heading to the NFL, is a welcome sight. "Everybody wants to go pro, but the reality is, a very, very small percentage of guys do go pro," Griffin said. "So when you see Danny, Phil [Taylor], [No. 2 pick in 2009] Jason [Smith], guys that have been up there even since I've been here, it's great. You see them up there. There we are, guys. We can make it. There's nothing holding us back. If you help this team win, it makes all of us shine and it helps all of our chances at making it."
Former blue-chip recruit Ahmad Dixon looks like he's progressing nicely. I like his chances at winning a starting spot this year. He practiced a bit during 11-on-11 drills at nickel back, and looked like a good fit, but he also looks like he's got a nose for the ball that makes a great safety. On at least three occasions, he went around a receiver to slap a ball away without making too much contact that would draw a flag.
Heads up for Josh Gordon. I'll be writing about him for Friday as well, but I didn't realize just how big he was until I got a good look at him up close on Tuesday. I thought he was a bit lankier just from seeing him come onto the scene this year, but he only had one catch as a freshman and I get a chance to see him up close during the season. My original thought couldn't have been further from the truth. He comes in at 6-foot-4 and 220 pounds, compared to Jeff Fuller at Texas A&M, who is 6-foot-4 and 215 pounds. Griffin had a lot of interesting stuff to say about him. He feels really comfortable throwing him a jump ball in the red zone after last year. Fuller made his big leap with his first 1,000-yard season as a junior last year. Gordon is a junior this year. With a year of real experience in Baylor's offense behind him, we might see a similar breakout year from the big guy in 2011. Among actual contributors from last year, no receivers in the league are bigger than Fuller and Gordon.
Other guys to watch: wide receiver Darius Jones and running back Terrance Ganaway. Most know Ganaway as the guy who picked up that onside kick and ran it back for a touchdown against Texas Tech while a few Red Raiders loitered nearby. This year he's competing for a starting job with Jarred Salubi. I think they'll end up splitting carries, but Ganaway's got quite a bit of pop to him. He was running people over and seeing the way Big 12 teams defending big backs in bowl games last year, that could be a pretty valuable asset to have. Everybody in the league seems to have a back like Salubi. Not many have one like the 6-foot, 240-pound Ganaway, who's got decent speed, too. Jones, meanwhile, is a burner. He caught just two balls last year, but he was everywhere on Tuesday. Maybe it was just one good practice, but he was getting open in the slot, open behind the linebackers and in front of safeties over the middle, and burning guys deep. Griffin already has a ton of established weapons in Kendall Wright, Gordon and three other receivers who caught at least 40 balls last year, as well as a tight end with 26. Everyone but Taylor, the tight end, is back. Has he found another reliable receiver? It's pretty clear at this point: Baylor's skill position talent from top to bottom is as good as anyone else's in the country. That's a credit to Art Briles' recruiting and development. Now everything else just has to follow suit. The offensive line has been pretty good, but as I mentioned early, if the defense can it pick up, it could turn Baylor into a real contender.
I can confirm that after a year in the program, the other Robert Griffin goes by "Big Griff" and Robert Griffin III goes by "Griff."
Kendall Wright, by the way, has let his hair grow out and is sporting a solid, sizable afro. Two thumbs up from this blogger.
January, 13, 2011
1/13/11
10:15
AM ET
By
ESPN.com staff
| ESPN.com
New Baylor defensive coordinator Phil Bennett said earlier this week
changes were coming on his defensive staff.
They arrived on Wednesday, when the school announced a pair of hires.
Jim Gush comes to Baylor from Stony Brook to coach linebackers, and Carlton Buckels will coach the secondary alongside associate head coach Brian Norwood. Buckels spent the last two seasons at North Texas.
"Both of these coaches have a wealth of experience and knowledge," Briles said in a release. "They both have extensive experience with coach Bennett and we're excited about what they can bring to the table on the defensive side of the ball to help us continue our climb."
That's what Bennett wanted -- coaches he had experience with.
Linebackers coach Larry Hoefer, defensive backs coach Kim McCloud and defensive ends coach Theo Young will be replaced by Bennett's new coaches.
"It's never that the coaches are not good coaches. These guys are good guys," Bennett
told ESPN.com earlier this week
. "It's just, I've been doing this and I've always had people that know my tactics and are familiar with what I want, and it's always a transition in coaching. It's unfortunate, but it happens. I've been on both sides of it."