May, 18, 2011
5/18/11
9:00
AM ET
For the past year, I've had to listen to our friend
Ted Miller over at the Pac-12 blog
cry and complain about it over and over again.
"People outside the West Coast don't understand! It makes things a lot harder! And it makes the conference look bad!"
He's talking about the nine-game conference schedule, which has been widely supported by Big 12 administrators and coaches since it was adopted as part of the new 10-team Big 12 setup. While I'd guess a decent percentage of college football fans didn't even know until just recently -- if at all -- the Pac-10 played a nine-game conference schedule, the Big 12 is about to get up close and personal with a round-robin schedule that for most, will mean replacing an FCS team or a small conference team with a Big 12 opponent.
It also means five more sure losses for the Big 12.
[+] Enlarge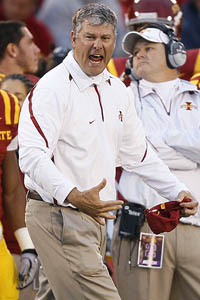 AP Photo/Charlie NeibergallPaul Rhoads' Cyclones are slated to play at least 10 games against BCS teams each season.
On Monday, Iowa State coach Paul Rhoads became, to my knowledge, the first Big 12 coach to question whether or not the change is universally good for the league.
From the Quad-City Times
:
"The college game seems to be headed in that direction with more conference competition rather than less," Rhoads said during the Cyclone Tailgate Tour's Quad-Cities stop last week. "If we're going to play nine conference games, which we are, I'd like everybody else to play nine, too.'' ...
This year, Iowa State will play 11 teams from BCS conferences, and its annual date with Big Ten foe Iowa means that from now on, every season will feature at least 10 games against BCS teams.
"I'd prefer that not to be the case every year, but we'll deal with it," said Rhoads..."What I think coaches want is some balance. You don't want to put yourself at a disadvantage when it comes to qualifying for bowls compared to teams from other conferences."
It sounds like complaining, but Rhoads absolutely has a point. And teams that have been right on the bowl bubble in recent years such as like Iowa State and Kansas State will be hurt the most by a nine-game conference schedule. Rhoads may be the first coach to question the practice, but I doubt he'll be the last.
The Pac-12 will keep its nine-game schedule in the new 12-team league, but in an informal poll recently conducted by the Pac-12 blog, the league's coaches
voted 6-4 in 2009 to move it back to an eight-game conference schedule
. The Pac-10 added a ninth in 2006 when college football added a 12th regular-season game.
Said Stanford coach Jim Harbaugh: "There's a reason no other conference plays nine conference games."
Comments like these could be common in the Big 12 very, very soon. Here's how the Pac-12 standings looked last season:
Oregon: 12-1
Stanford: 12-1
USC: 8-5
Washington: 7-6
Arizona: 7-6
Arizona State: 6-6
Oregon State: 5-7
Cal: 5-7
UCLA: 4-8
Washington State: 2-10
By comparison, the Big 12 had four teams with at least 10 wins and another with nine.
Thanks to USC's bowl ban and Arizona State's being ineligible for a bowl game since two of its wins came against FCS opponents, the Pac-10 had just four bowl-eligible teams last season. Think Arizona State, Oregon State, Cal and maybe UCLA would have liked one more big bite of a nonconference cupcake?
Eight Big 12 teams qualified for bowls in 2010, and 11 of 12 teams took the field with five wins and a chance to qualify for the postseason.
Money seems to talk the loudest these days. Is the additional TV revenue that comes with a nine-game conference schedule worth it to fans whose teams may be sitting at home during the postseason? That trade-off may arrive soon, and fans won't have a choice.
"I believed [adding a ninth conference game in 2006] was the right thing to do. It just seemed to be fair to go around and play everybody," said then-Arizona athletic director Jim Livengood. "Now that we've been through it, I'm probably on the other side totally. I'm not sure it's a great idea anymore."
The nine-game schedule has its advantages. Big 12 teams have an additional marquee game to sell fans and TV networks. The round-robin set up does allow the league to crown a true champion at the top.
But what about the teams in the middle?
Inside the league, it's definitely more fair. Nobody gets to avoid Oklahoma, Texas or any of the league's other top teams from year to year like some of the teams in the North did in the past.
For administrators, ironing out three nonconference games is simply easier than four.
But is it worth it?
I suppose we'll find out. Everyone in the Big 12 has been excited about and expressed support for the new schedule.
Here's guessing Rhoads isn't the last coach to publicly question whether or not the new schedule is best for the league.
December, 21, 2009
12/21/09
4:24
PM ET
By
Tim Griffin
| ESPN.com
Former Texas A&M coach Dennis Franchione is among two finalists for the vacant head coaching job at UNLV.
New UNLV athletic director Jim Livengood apparently will choose between
Franchione, who last coached in the 2007 season at Texas A&M
, and Montana coach Bobby Hauck, according to the Las Vegas Review Journal.
Franchione has some attractiveness for the Rebels coaching position because he turned around two previous programs in the Mountain West Conference when he coached at TCU and New Mexico.
Hauck has posted an 80-17 record at Montana, taking the Grizzlies to the NCAA FCS Football Championship game this season. His team dropped a 23-21 decision to Villanova in the title game Friday night.
Franchione and Hauck will reportedly be the only two candidates interviewed by Livengood. A contract for a new coach is expected to be taken to the school's Board of Regents meeting set for Wednesday.