December, 9, 2014
Dec 9
8:30
AM ET
Were we all deceived?
The answer is yes, according author and writer Michael Weinreb. In a Rolling Stone piece published Monday, he argues that the College Football Playoff selection committee
pulled the wool
over the collective eyes of America with its vaulting of Ohio State past TCU in the final rankings released Sunday.
He backs Baylor and makes excellent points. But each of the three sides in this discussion are supported by a good argument. Weinreb describes the way in which the committee kept us interested for six weeks, then shuffled the deck at the end, as a "long con."
That's where I disagree.
October, 28, 2014
Oct 28
8:30
AM ET
Welcome to terrific Tuesday. Or terrible Tuesday. All depends on your perspective.
The College Football Playoff selection committee began deliberations on Monday in Grapevine, Texas. Tonight at 7:30 p.m. ET, Arkansas Athletic Director Jeff Long will unveil to a most curious audience the first-ever CFP rankings.
It's a historic time -- and surely chaotic.
Marc Tracy of the New York Times, in
assessing the moment
, writes that "historians will most likely date the end of the era of good feelings to 7:31."
With that in mind, some advice for fans from the Big Ten to the SEC:
To continue reading this article you must be an Insider
August, 19, 2014
Aug 19
9:30
AM ET
Boston College coach Steve Addazio remembers an era when players wanted to redshirt as true freshmen to better prepare them for the final four years of their college career.
"Now it's 'I want to play,' " Addazio, 55, said. "If you're talking about not playing them early, the majority are like 'What do you mean?'"
So, the ability to play or possibly even start as a true freshman has become a regular sales pitch for coaches from the Power Five to the Group of Five. It's certainly a tool in the belt for Florida State coach Jimbo Fisher. Last week, Fisher alluded to the number of freshmen All-Americans he's coached the last four seasons. Twenty-four hours later, it was on the program's official recruiting Twitter page.
"The last [four] years we've had 14 freshmen All-Americans," said Fisher, condensing multiple outlets' freshmen award teams into one, concise Florida State propaganda poster. "If you come in ready to play, we're willing to put you on the field. It's critical for guys to come in saying 'When I'm the best, I'll play.'"
Fisher has the goods to back up his claims, even if the numbers are obviously skewed to best represent his program. But how does his résumé compare to those coaching some of the country's other top programs?
I tried to come up with a way to accurately discern which schools play the most freshmen and decided true freshmen letterwinners was the simplest and most effective way to crunch the numbers. To earn a letter, a player has to actually play consistently through the season. The disclaimer is each program can use different benchmarks when awarding letters, but there is never going to be a perfect way.
I began with Florida State's, looking back at the 2011-2013 classes. To properly quantify the data from Florida State, I decided I'd look at the five schools ranked highest in the preseason polls that have had its coach in place at least five seasons. Oregon's Mark Helfrich was offered an exemption because he was promoted from within and is in his sixth season with the Ducks. Coaches in place at least five years was the stipulation since an incoming coach might be susceptible to playing the prospects he recruited or having a number of transfers that could open up starting or rotational spots.
The criteria: Each class was looked at and the total number of signees was pared down to just those who enrolled as members of the football team in the fall. Junior college signees were excluded, as were any recruits who were academically or medically disqualified before playing a game. That explains why the total number of freshmen for our purposes might look different than what might be seen on RecruitingNation. Any true freshmen who spent a year at a post-graduate or prep school was also excluded. Redshirt freshmen were disqualified, too.
Bottom line is if the player was not a part of the football team the fall following his high school graduation, he was excluded.
Nearly all of the data was collected after poring through media guides and archives, although the communications departments at some of the schools were also helpful providing numbers and deserve recognition.
So, here is the actual data:
It is hardly a coincidence that Fisher and Alabama's Nick Saban, who mentored Fisher at LSU, have identical percentages of true freshmen earning a letter. Fisher and Saban arguably have been the two best recruiters over the last few cycles, and, the data shows those two are not going to keep young talent off the field simply because of age. Nearly half of the true freshmen at Alabama and Florida State lettered over the last three seasons.
Mark Dantonio has built Michigan State into a national title contender in a different manor, relying on experience. Only 12 percent of true freshmen lettered over the last three seasons. Recruiting to Michigan State is not the easy task it is at some other top-10 programs, and the Spartans are not recruiting as many ESPN 300-level players as the likes of Alabama and Florida State.
It should be noted Michigan State, Oklahoma and Oregon don't have quite the recruiting base Alabama and Florida State do.
Inquiring minds want to see how that 45 percent stacks up to some of the other top programs in the country, so even though they did not fit the criteria I looked at a few other schools with coaches in place at least five seasons and lately in the top half of the rankings. LSU was worth a look considering it's Les Miles' 10th season in Baton Rouge and, like Fisher and Saban, has recruited exceptionally well for a long period of time. Mark Richt is in his 14th season at Georgia and, like Miles, usually has a highly-regarded recruiting class. Steve Spurrier is in his 10th season at South Carolina and has steadily improved the Gamecocks' class to the point that the 2015 class is No. 5 nationally. Dabo Swinney has turned Clemson from a perennial disappointment into a two-time BCS bowl participant. And Ohio State and Texas A&M, mainly because it's worth seeing how third-year Buckeyes coach Urban Meyer fares considering he frequently voices his preference to avoid redshirting. Kevin Sumlin is also in the process of trying to build an SEC power that can compete with Alabama and LSU in the SEC West.
For the Buckeyes, out of the 69 true freshmen to land in Columbus, Ohio, from 2011-2013, 31 lettered -- the same 45 percent. Looking at just Meyer's two seasons, however, he is decimals ahead of Fisher and Saban at 46 percent (21 out of 46), thanks in large part to 14 freshmen letterwinners in his first season.
Georgia's Mark Richt has a percentage of nearly 50 percent, but the Bulldogs' numbers might be the most skewed. Along with South Carolina, the Bulldogs had several recruits that either did not qualify or spent time at a prep school or junior college. Also, Georgia's long list of dismissals and transfers is well documented, and all of the departures has opened up spots for freshmen to earn immediate playing time.
It is Miles, though, who plays a higher percentage of freshmen than all of the others. Twelve true freshmen lettered for LSU in both 2012 and 2013, and another nine earned a letter in 2011. There were a total of 65 applicable freshmen to enter LSU during that span and 33 of them lettered. That's a percentage of 51 percent.
Certainly the numbers will fluctuate year to year, and coaches at every single program are playing freshmen more frequently than ever before. When taking into account the timeline is over three years, LSU averages just one more freshman letterwinner per season than Alabama and Florida State. For our intents and purposes, though, the data shows which top programs consistently play the most freshmen in this new era of freshmen phenoms.
And, uh, FYI, Alabama has 19 ESPN 300 players prepping for their freshmen season this fall. LSU has 16, and Florida State isn't far off with 13 of their own.
July, 21, 2014
Jul 21
7:30
PM ET
By
ESPN.com staff
| ESPN.com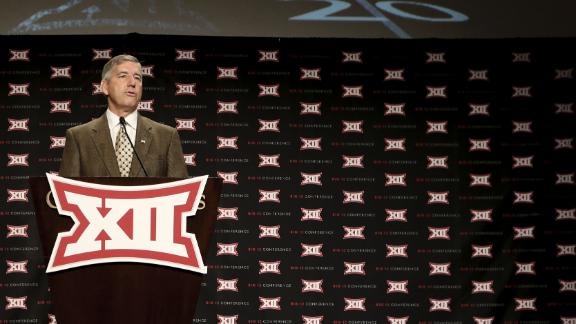 It was an action-packed day as Big 12 media days opened in Dallas, Texas. Baylor carried itself with the look and confidence of the defending Big 12 champion, while Big 12 commissioner Bob Bowlsby made it clear that change is on the horizon for college athletics. ESPN.com Big 12 reporters Jake Trotter, Max Olson and Brandon Chatmon answered four questions in our roundtable to conclude the first session, which was comprised of Baylor, Kansas, Oklahoma State, TCU and Texas Tech.
What stuck out to you most?
Trotter:
The confidence Baylor carried throughout the day. The Bears are the defending Big 12 champs, and they walked and talked like it Monday. Defensive end
Shawn Oakman
even took issue with Oklahoma getting voted as the preseason favorite, saying Baylor's 41-12 win over OU last season showed that the Sooners' "product was nowhere near as good as the product that Baylor was putting on the field." Bears coach Art Briles said the preseason seeding was fair because OU beat Alabama in the Sugar Bowl, while Baylor fell to UCF in the Fiesta. But there's little doubt the Bears will go into this season with the swagger of the league's best team.
Olson:
Other than Bowlsby's scorched-earth, "Winter is Coming" assessment of today's NCAA, I enjoyed Briles' presence at this event, as always. He had his usual great lines -- when Baylor was called a heavyweight, he said "I try to eat as healthy as possible" -- and Texas charm, but unlike last year he's not out to play hype man for his program. He was resolute in saying he's aiming for the College Football Playoff and that OU deserves to be the Big 12 favorite considering how last season ended. He also seems to have taken it personally that QB
Bryce Petty
wasn't a Heisman finalist last year. With former Texas coach Mack Brown now out of the picture, it appears Briles is the guy reporters love to gravitate toward. He seems as confident and relaxed as ever when it comes to his team's chances in 2014.
Chatmon:
Bowlsby didn't mince words at all Monday. He
kicked off Big 12 media days with a bang
, talking about the need for restructuring in the NCAA, the possibly bleak future of some Olympic sports, and the potential for cheating in college football nationwide. The cheating discussion was easily the part that stood out to me, as Bowlsby's candor was unexpected. "The infractions committee hasn't had a hearing in almost a year, and I think it's not an understatement to say that cheating pays presently," he said. He went on to say he didn't think it was rampant and didn't have any concerns "on a local basis" when asked specifically about the Big 12.
What's something new you learned?
Trotter:
TCU added Texas A&M transfer quarterback
Matt Joeckel
in the spring. But
Trevone Boykin
is not going to relinquish the job and slide to receiver without a fight. "He wants to be the guy," coach Gary Patterson said. Whether at receiver or quarterback, Boykin is going to help the Horned Frogs offensively. But he's going to try to help them at quarterback first.
Olson:
I was hardly surprised, but Oklahoma State coach Mike Gundy loves
Tyreek Hill
. OSU will play Hill at running back and receiver, and Gundy said his goal is to get the speedster the ball 15 to 20 times a game. Hill was voted Big 12 Preseason Newcomer of the Year, and Gundy admitted that the blueprint for how to maximize Hill's talent hasn't completely come together yet. But the guy has a chance to be a
Tavon Austin
-type playmaker all over the field. Gundy would be wise to put the keys to the offense in Hill's hands, and it's good to see that the coach gets that.
Chatmon:
Sam Eguavoen
is a confident guy … who doesn't like spiders. The Texas Tech linebacker has a lot of confidence in the Red Raiders' potential this season, pointing to Tech's narrow road setback to Oklahoma as a key moment in 2013: "If it wasn't for the out route to a slot receiver, we had that game. The bowl game showed what we're capable of. That's the expectation for this season." Eguavoen went on to say he'd pick Tyrese Gibson,
Paul Pierce
and
Kobe Bryant
to kick it with if he could hang with celebrities. He was then asked about Tech cheerleader Kendall Jones, who gained national attention for posting photos of her hunting exploits in Africa this summer, and responded with this gem: "I've killed a couple of roaches before, but she's out here killing bears and tigers, and I'm scared of spiders. I respect her. If I ever see a lizard in my backyard, I'll have to hit her up."
Your favorite exchange of the day?
[+] Enlarge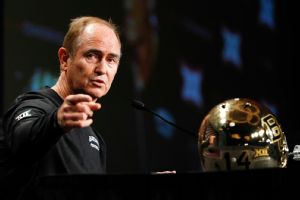 Kevin Jairaj/USA TODAY SportsAccording to Baylor coach Art Briles, Bears quarterback Bryce Petty has "name recognition" all the way up to Salem, Oregon.
Trotter:
Briles was in fine form Monday. Besides verbally tussling with Florida State coach Jimbo Fisher
about the Big 12 not playing a conference title game,
Briles explained why QB Bryce Petty has a better chance to win the Heisman this season. "Go to Salem, Oregon ... and talk to the guys at the Dairy Queen that follow college football and say, 'Bryce Petty.' And they'll say, 'Oh yeah, that's that quarterback from Baylor.' That's why. Because he's got name recognition." Petty certainly has more name recognition, though maybe not so much in Salem. A Portland radio station called all six Dairy Queens in Salem to see if anyone had ever heard of Petty.
The results for Petty weren't good.
Olson:
Patterson elicited a lot of confused frowns when he said, regarding his changes on offense, "I like Gatorade. When you have to beat people 17-13 just drinking water, you'd like to be able to go back and find out what the different Gatorades are and do everything, you know, for a few years, Rose Bowl year and all that when you score a lot of points." Makes no sense, right? What Patterson was getting at is that, when you're coasting at the end of a blowout win, there's plenty of time for sports drink taste-testing on the sideline. That's a luxury the Frogs rarely enjoyed last year. So, uh, his new offense wants more points and more blowouts. At least, I think that's what he meant ...
Chatmon:
Anything Oakman-related was gold. As the hashtag #OakmanisSoBig began to make waves during media days, the Baylor defensive end said his favorite was "#OakmanisSoBig his cereal bowl has a lifeguard." The Bears' beast of a defender went on to question Oklahoma's win over Alabama and its preseason favorite status in the Big 12. "It's kind of disrespectful. You have your starting QB back, most of the front line back, and you're still ranked No. 2. That doesn't make sense to me. We beat OU," he said.
On Tuesday, Iowa State, Kansas State, Oklahoma, Texas and West Virginia will take over the stage in Dallas. What are you looking forward to Tuesday?
Trotter:
The newcomer to the league, Texas coach Charlie Strong, will be in the house. Mack Brown was always great in the media days setting. How will Strong acquit himself in his Big 12 media days debut? A good first impression can go a long way.
Olson:
Gee, I wonder if Strong is going to face any scrutiny? He's the Big 12's only first-year head coach and he's hoping to change the perception that he's not a savvy public speaker. Plus, Mack was kind of the king of soapbox speeches and offering his take on college football issues at media days. So I'm guessing the many reporters who crowd around Strong will be practically waiting for him to slip up. He's always said he's OK with the media responsibilities of being Texas' head coach, and his performance Tuesday is truly inconsequential to the big picture, if you ask me. But can Strong make a good impression and inspire some believers on Tuesday?
Chatmon:
I'm looking forward to what West Virginia coach Dana Holgorsen will say as a huge year looms for the Mountaineers. The veteran coach is hitching his future, to begin the season at least, on the shoulders of senior quarterback
Clint Trickett
. The Mountaineers have plenty of skill-position talent and could have an explosive offense with good quarterback play, but people tend to forget WVU had superb quarterback play with
Geno Smith
in Year 1 in the conference and still finished 7-6 in 2012. So I'm interested to hear what Holgorsen has to say about his defense and the changes on that side of the ball, as well.
December, 30, 2013
12/30/13
2:15
PM ET
Thanks for all of your questions during my chat, you can find the entire transcript
here
.

Jack (Houston)
: With the current silence from Texas on their potential head coach candidates, who would you believe are the leading candidates? Also, would Art Briles leave Baylor with his current success?
Brandon Chatmon:
It appears the Longhorns have several candidates, including Art Briles. I'm starting to think Briles would leave Baylor, but I wouldn't, if I was him. I think he has a great thing going at Baylor, so don't expect him to be in a hurry to leave. He'd be a good choice for UT.
---
Victor (Monroe, La.):
Hi, Brandon. What do you make of the Big 12 and can Oklahoma State run the ball against Missouri in the Cotton Bowl on Jan. 3?
Brandon Chatmon:
I have a feeling the Cowboys could struggle to run the ball against Missouri. The Tigers have a strong defensive front. OSU is going to need Clint Chelf to have a great game and they'll need a receiver or two to really step up to beat the Tigers.
---

KG (Big East territory):
What's the attitude coming from OU camp heading into one of the biggest games of Bob Stoops tenure?
Brandon Chatmon:
They have a huge chip on their shoulder; they don't like people saying they don't have a chance. But they also know they'll have their hands full with Bama.
---
Paul (Buffalo):
The name that keeps getting mention for Texas is Jimbo Fisher. I'm surprised, because I think of FSU as a top-10 job in the country, and hard to leave after an appearance or win in the BCS championship game.
Brandon Chatmon:
A little surprising, but Texas is Texas.
---

Justin (Seminole, Texas):
What kind of odds are you giving the Red Raiders in tonight's game?
Brandon Chatmon:
I don't like their chances. Arizona State has an explosive offense, the Red Raiders defense has struggled since their 7-0 start and I think they will continue. This is probably the game that gives me the least amount of hope for the Big 12.
---
Nick (Tulsa, Okla.):
Hey Chatmon, If the Big XII goes at least 5-1, will the Big XII still be viewed as weak?
Brandon Chatmon:
It shouldn't be. It's an important bowl season for the Big 12. They need some teams to step up and play well because the conference's national reputation is clearly sliding down the mountain.
---
Vincent (Tulsa):
Does Oklahoma have a single edge over Bama? If so, what would it be?
Brandon Chatmon:
Incentive.
---
Victor (Monroe, La.):
Have you got a pick for the Oregon-Texas game later today? Predict the final score of the game.
Brandon Chatmon:
I think Oregon wins by a touchdown or more. ... So I'll say Oregon 42, UT 31.
May, 14, 2012
5/14/12
2:30
PM ET
There's no escaping the hottest rumor in college football right now: Is Florida State coming to the Big 12?
The chairman of the FSU board of trustees made headlines over the weekend when he told Warchant.com, "On behalf of the board of trustees, I can say that unanimously we would be in favor of seeing what the Big 12 might have to offer. We have to do what is in Florida State's best interest."
So
what does our ACC blogger, Heather Dinich, say
?
Before FSU decides to pursue a $20 million divorce from the ACC for a chance at better revenue in the Big 12, it should consider just how comfy ACC competition is. FSU isn't ready for the Big 12. Heck, it wasn't ready for Wake Forest last year (I know, I know, 'guys were hurt' …). Regardless of what conference the Noles play in, they still have to win to be relevant, and the ACC and its fans have grown weary of the program falling short of expectations in recent seasons. FSU hasn't won the league title since 2005. Virginia Tech has won it three times since then, including in 2010, when the Hokies beat the Noles 44-33 in Charlotte.
Strong words.
Is Florida State ready for the Big 12? There's no doubt the Big 12 is tougher than the ACC. Only the SEC is a better league than the Big 12, and excluding the excellence at the top, a case could be made for the Big 12 as a better league from top to bottom.
Sure, Florida State's not going to run the Big 12 like it ran the ACC.
The Seminoles won 12 ACC titles from 1992 to 2005, helping stake its claim as a national power under Bobby Bowden.
Since 2005, the first year of the ACC Championship Game, Florida State's been shut out of the ACC's winner's circle.
But could Florida State compete? Absolutely. Jimbo Fisher has the 'Noles on the way up, and a move to the Big 12 wouldn't affect FSU's recruiting at all.
A national power in a talent-rich state? Florida State only has 25 players on its roster not from Florida. The talent will be there, and Fisher's brought in some of the best recruiting classes in school history in recent years.
It's been a rough run for FSU, but the 'Noles could compete. They won't dominate or win Big 12 titles by the bushelful, but they'll certainly compete, and if they do win, would only further validate the program in a much tougher conference.
May, 14, 2012
5/14/12
9:00
AM ET
By
ESPN.com staff
| ESPN.com
Talk about Florida State and the Big 12 has mostly been an unsubstantiated rumor for months, and several sources fueled local media reports that the league hadn't even considered the Seminoles as a possible future member.
However, in wake of the ACC's new media deal with ABC/ESPN which is expected to fetch less than the Big 12's new pending deal, Florida State is making itself very hard for the Big 12 to ignore.
"On behalf of the Board of Trustees I can say that unanimously we would be in favor of seeing what the Big 12 might have to offer. We have to do what is in Florida State's best interest," Florida State Board of Trustees chairman Andy Haggard
told Warchant.com.
Haggard was disappointed the conference controlled third-tier TV rights for football, but universities held them for basketball. It's more evidence, Haggard said, of the conference favoring the North Carolina-based basketball schools like North Carolina and Duke. However, an ACC spokesman said ESPN controlled the rights for both football and basketball, and that Haggard was mistaken.
As for the academic side of the debate, Haggard says leaving the ACC, a conference much stronger academically than the Big 12, wouldn't be a big factor.
"No FSU graduate puts on his résumé or interviews for a job saying they are in the same conference as Duke and Virginia," he said. "Conference affiliation really has no impact on academics."
So what's it all mean?
Florida State coach Jimbo Fisher
told the Orlando Sentinel
he's open to a conference move.
"There have been no official talks, but I think you always have to look out there to see what's best for Florida State," Fisher said. "If that [jumping to the Big 12] is what's best for Florida State, then that's what we need to do."
Writes the Sentinel's Mike Bianchi:
Late Saturday, though, FSU president Dr. Eric Barron issued a statement in regard to the uproar that was fueled by discussion of the ACC's new TV contract:

"Florida State University regrets that misinformation about the provisions of the ACC contract has unnecessarily renewed the controversy and speculation about University's athletic conference alignment. Florida State respects the views of the Chair of its Board of Trustees that, of course, any university would examine options that would impact university academics, athletics or finances. At the same time, Florida State is not seeking an alternative to the ACC nor are we considering alternatives. Our current commitments remain strong."

Still, if we've learned anything in recent years about institutions of higher earning switching conferences, it is this: Without fail, they all say they are steadfastly committed to their current league only until another league offers them more money.
The Kansas City Star's Blair Kerkhoff
says the Big 12 should prick its ears up and pay attention
to the restless comments wafting into Big 12 country from Tallahassee.
Even if Haggard's anger is based on a false notion, Florida State to the Big 12 was being rumored before the latest public comments, largely the stuff of message board speculation.

A source close to the conference told The Star this week that no realignment conversations had taken place between the Big 12 and any other school since the introduction of Bob Bowlsby as commissioner last week.

But the Big 12's expansion committee, made up of athletic directors and presidents, has not been disbanded.
The rumor is still in its beginning stages, and Florida State's football program has been down since playing in BCS games six times between 1998 and 2005.
Still, the Seminoles are a commanding national brand in the game, and the Big 12 would be silly if it didn't at least offer serious attention to the situation from the South.
Louisville's been assumed as the school at the top of the Big 12's expansion list if it moved beyond a 10-team league. If Florida State's rumblings become serious, that would have to change.
September, 15, 2011
9/15/11
11:00
AM ET
By
ESPN.com staff
| ESPN.com
Oklahoma and Florida State are a fascinating crossroads.
A win for Florida State may signify an official entrance (once again) into perennial national relevance under Jimbo Fisher, with a young team and top-ranked recruiting classes in tow.
But for Oklahoma, ranked No. 1 entering this weekend's matchup, it was its win over Florida State that propelled it to national relevance.
Jake Trotter at
SoonerNation explores the juxtaposition:
With Stoops, the plucky Sooners knocked off Florida State, the "it" program in college football at the time, to claim their first national championship in 15 years.

The game signified a turning point for both programs: OU's abrupt return to prominence and the start of FSU's steady decline.

"It was the beginning of what this place has become," said OU offensive coordinator Josh Heupel, who was the quarterback for that Oklahoma team. "A springboard to the success we had the rest of the decade."
And here we are, with a mammoth matchup waiting on Saturday. I can't wait.
Check out SoonerNation for more.
December, 22, 2009
12/22/09
4:03
PM ET
By
Tim Griffin
| ESPN.com
AUSTIN, Texas -- Will Muschamp wanted to get out of his house for a few hours while visiting relatives in Atlanta on Christmas Day 2000, figuring that meeting a few old coaching friends would provide a calming respite.
[+] Enlarge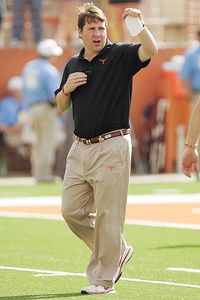 Brian Bahr/Getty ImagesTexas defensive coordinator Will Muschamp attributes some of his success to what he learned under Nick Saban.
He called some old friends on the LSU staff that morning with hopes of watching the Tigers practice for their Peach Bowl game a few days later.
While there, Muschamp met first-year LSU coach Nick Saban. Both of their lives changed from that moment.
The then-Valdosta State defensive coordinator was hired to join Saban's staff three weeks later as a linebackers coach after a vacancy appeared on the staff.
"He wanted somebody young, from the South and who had ties with people on the staff," Muschamp said. "They brought me in for an interview and we talked that day. That night, he offered me the job."
LSU won a BCS championship barely four years later. Muschamp then followed Saban to the Miami Dolphins, where at 34, he was one of the youngest defensive coordinators in recent NFL history.
Later, Saban returned to Alabama and Muschamp became the defensive coordinator at Auburn. Muschamp eventually was hired at Texas, where his strong work has earned him the designation of Mack Brown's successor when he leaves coaching.
Back in the LSU days, Saban had a reputation as a taskmaster who was difficult for many assistants to work for.
But in Muschamp, he found a kindred spirit who enjoyed grinding away at the job as much as he did.
"Nick never asked me to do anything he wasn't doing himself," Muschamp said. "From a work standpoint, a recruiting standpoint or a coaching standpoint, if you didn't want to work it wasn't a good place to be. But I enjoyed work and I like coaching football.
"I like evaluation and I like recruiting and that's why we got along philosophically and schematically. We believe the same way in coaching and motivating. I think that's why we got along."
Today, Muschamp's players say the apple hasn't fallen too far from the tree in terms of Muschamp's dedication for work.
"I always want to try to beat him into the office," Texas defensive tackle Kheeston Randall said. "But it's hard to do. He's the first one there a lot and the last one to leave. You look out and see (Muschamp's) that white truck out there all the time."
Saban is proud of Muschamp's ascension in coaching like the development of former assistants like Michigan State head coach Mark D'Antonio, incoming Florida State coach Jimbo Fisher or Louisiana Tech head coach Derek Dooley.
"To put it into perspective, (it's like) when one of your children does something that makes you proud," Saban said. "That's how you feel when coaches on your staff go on and do bigger and better things and have success in what they do. I'm really proud and want to see them all do extremely well."
Because of their dedication to coaching, Muschamp estimates that he and Saban talk less than once a month. They haven't exchanged pleasantries since the Texas-Alabama matchup was set when Texas beat Nebraska in the Big 12 championship game and Alabama defeated Florida in the Southeastern Conference title game earlier that day.
"It's tough during the season," Muschamp said. "He knows they are playing us and I know we're playing them. He's busy and I am, too."
Both coaching staffs have a lot of connections other than the Saban-Muschamp association. Current Alabama defensive coordinator Kirby Smart was Muschamp's secondary coach at Valdosta State when Muschamp was hired at LSU. Alabama associate head coach/linebackers coach James Willis worked as Muschamp's linebackers coach at Auburn. And Texas running backs coach Major Applewhite worked on Saban's staff as his offensive coordinator and quarterbacks coach in 2007.
Saban faced a similar challenge at Miami when he faced his old mentor, Bill Belichick, when he was coaching the New England Patriots.
"I'm really proud and want to see them all do extremely well," Saban said. "We're good friends and you compete and play against each other, but you don't dislike each other and it's not you don't have the same amount of respect and admiration for them.
"You want to be helpful to those guys if you can. And even if you compete against somebody in that moment in time, you're trying to do the best you can for your team."
Muschamp learned a lot during his time with Saban. While he jokes there will be a lot of "wasted ink" written bout their relationship over the next few weeks, he remains grateful for the opportunity to join Saban's staff nine years ago.
"When you get there and get exposed to a lot schematically, that appealed to me," Muschamp said. "And that's obviously where I formed my ideas about how you play and the things you needed to do to be successful."
BIG 12 SCOREBOARD
Saturday, 12/20
Monday, 12/22
Tuesday, 12/23
Wednesday, 12/24
Friday, 12/26
Saturday, 12/27
Monday, 12/29
Tuesday, 12/30
Wednesday, 12/31
Thursday, 1/1
Friday, 1/2
Saturday, 1/3
Sunday, 1/4
Saturday, 1/10
Monday, 1/12
Tweets from https://twitter.com/ESPNCFB/lists/big12