January, 12, 2012
1/12/12
9:00
AM ET
By
ESPN.com staff
| ESPN.com
The bowl season is over, and it's time to pass out a few awards.
Best offensive player:
Justin Blackmon
, WR, Oklahoma State. Blackmon went nuts against Stanford after the Cowboys were shut out in the first quarter against Stanford. His first two catches went for touchdowns, and he finished with 186 yards on eight grabs and his third three-touchdown game of his career. That was the first time he'd done that since the Tulsa game in 2010, the third game of the season.
[+] Enlarge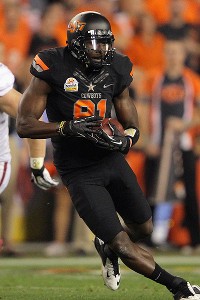 Doug Pensinger/Getty ImagesThree of Justin Blackmon's eight catches against Stanford in the Fiesta Bowl were for touchdowns.
Second-best offensive player:
Terrance Ganaway
, RB, Baylor. Ganaway ended his career in style, taking plenty of heat off his Heisman-winning quarterback,
Robert Griffin III
. He scored
five
touchdowns and ran for 200 yards, leading the way for three Bears 100-yard rushers in the 67-56 win over Washington in the Alamo Bowl.
Best defensive player:
Jamell Fleming, CB, Oklahoma. Passing? I think not, Iowa. Matched up with NFL-bound, Skycam-attacked
Marvin McNutt
, Fleming made seven tackles, returned an interception 21 yards and broke up
three
passes. Well done.
Best team performance:
Oklahoma State. The Cowboys got the Big 12's best win of the entire season, knocking off a solid Stanford team and handing
Andrew Luck
a loss in his final game as a Cardinal. Maybe they got lucky with a missed 35-yard field goal attempt to force overtime, but the Cowboys played well after a shaky first quarter and beat the nation's No. 4 team on a neutral field. Well done.
Best play:
Robert Griffin III's post-Heisman "Heisman moment." He somehow backpedalled out of a handful of Washington tacklers, escaped outside and galloped to the pylon, diving into the end zone as he took a big hit before scoring. A big-time play from the Heisman winner for a 24-yard score.
Craziest play:
North Carolina's
Bryn Renner
whipped a strike to
Dwight Jones
, but a hit jarred it loose. Somehow, it ended up on Jones' shoulder and rolled across his back, staying there long enough for Missouri LB Zaviar Gooden to sprint over and slide in to intercept the pass before it hit the ground.
Scariest play:
Marvin McNutt, WR, Iowa. McNutt was minding his own business in the Iowa huddle. Then the Skycam at Sun Devil Stadium came crashing down and sent McNutt into a panic. Fortunately, nobody was hurt, but it was memorable incident. The camera was grounded for the Fiesta Bowl later in the week.
Best out-of-nowhere performance
:
Colton Chelf
, WR, Oklahoma State. Starter
Tracy Moore
was reportedly suspended, and Chelf filled the void well. He caught just 16 balls in 12 games, but hauled in five for 97 yards in the win over Stanford, including a 24-yarder in overtime that was ruled a touchdown before being reversed and giving way to a game-winning field goal.
Worst performance:
Kansas State. It was shocking to see. The Wildcats made too many early mistakes that they hadn't made all year. There was a fumble to give Arkansas an easy three points, a handful of dropped passes, a wave of penalties and an ill-advised punt to
Joe Adams
that swung the game in favor of the Hogs. Not good, and K-State didn't give itself a chance in the 29-16 loss.
Best handling of distractions:
Texas A&M had to deal with the loss of senior offensive lineman Joey Villavisencio, who died in a car crash on his way home for Christmas. It fired coach Mike Sherman earlier. Interim coach Tim DeRuyter left for Fresno State, but stayed to coach the bowl game. The team was prepping for a move to the SEC and playing its bowl game in the home of its new coach, Kevin Sumlin. The Aggies, though, played pretty well against Northwestern and controlled most of the game in the 33-22 win.
Best atmosphere:
Cotton Bowl. For a second consecutive year, this bowl takes the cake. K-State and Arkansas fans absolutely packed Cowboys Stadium and cheered loudly from an hour before the game through the entire matchup. A big-time atmosphere for what should be a big-time game.
January, 7, 2012
1/07/12
2:03
AM ET
ARLINGTON, Texas -- Arkansas punt returner
Joe Adams
made one quick cut between a wall of Kansas State defenders, and sprinted toward the sideline before turning upfield.
Around 40 or so yards later, Adams crossed the goal line and emphatically slammed the ball into the Cowboys Stadium turf.
The Hogs were rolling. They led by double digits. The red half of the 80,956 in attendance was going hog wild.
All that, and Arkansas' offense hadn't even recorded a first down yet on the way to its
29-16 victory
over the Wildcats in Friday night's AT&T Cotton Bowl Classic.
So much for Snyderball.
[+] Enlarge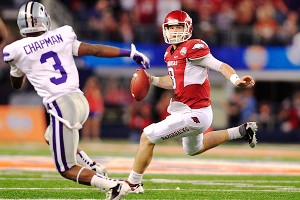 Tim Heitman/US PresswireQB Tyler Wilson helped Arkansas win 11 games for the first time in 34 seasons.
Arkansas showed up to the Cotton Bowl and K-Stated K-State.
"That's why it's a team game," Arkansas coach Bobby Petrino said. "Our defense gave us three points right off the bat. Special teams scored seven."
All season long, Kansas State's physical running offense plodded along to a ninth-place finish in total offense in the pass-happy Big 12 while an opportunistic defense and special teams waited for opponents to make mistakes.
Earlier this season, the Wildcats won four consecutive games as an underdog while also being outgained.
This time, against Arkansas, Kansas State made the mistakes it had collected from opponents all year long.
"We got off to an awfully bad start and really couldn't overcome the damage that we did," said K-State's 72-year-old coaching savant, Bill Snyder, "and most of it was pretty obvious."
Yeah, it was.
On the game's second possession, Arkansas defensive end Jake Bequette slipped into the backfield and stripped Wildcats quarterback
Collin Klein
from behind, but Arkansas' offense couldn't capitalize on the great field position and settled for a 26-yard field goal.
The Wildcats fielded an Arkansas' punt on the next possession at the 3-yard line, getting stuffed at the 4 and tightening up an offense that was bothered by dropped passes for much of the first half.
A predictable three-and-out followed to set up Adams' key return.
"It obviously made a major difference. How did I like it? I didn't like it a bit," Snyder said. "But, you know, we knew he's a talented player. We knew that he could make you miss him. We knew they were probably tired of me talking about being able to contain Joe Adams and not let him bounce the ball outside. Sure enough, he bounced it outside.
"But he's a very, very talented player. That's not the first time he's done that."
In fact, it was the fifth time — and fourth this season, an SEC single-season record. That was highlighted by a work of art against Tennessee in which Adams made approximately 52 tacklers miss on the way to an impossible return that might be the greatest highlight of the 2011 season.
"It was another one of those where you just go, 'Wow!" Petrino said. "You could see when he made the catch he had in mind what he was going to do. ... Joe showed great acceleration, made another spectacular play for us."
Kansas State's special-teams wizardry was muted. Ralph Guidry blocked his fifth kick of the year. Nigel Malone scooped up the extra point and ran it back for two points, but it wasn't enough. The Wildcats' answer for Adams, kick returner
Tyler Lockett
, dressed but didn't play after suffering a lacerated kidney this season. He ran back two kicks for scores and emerged as the Big 12's most dangerous special-teams player. He could only watch as Adams did to his team what he'd done to so many others in 2011.
"The difference in the game was how well we played on defense and the field position we were able to give our offense," Petrino said.
Kansas State's running game was mostly unproductive foot-shuffling that got it nowhere. The Wildcats carried the ball 40 times for just 86 yards and gave up six sacks.
Like so many other games this season, the Wildcats were outgained. This time, it was 345-260. Unlike so many other games this season, Kansas State couldn't find a way to win. Early mistakes made sure it hardly had a chance. It climbed back to 19-16 before Arkansas' offense, the best in the SEC, started to click.
"This game was about we need to stop this run, stop this quarterback. We tightened them up," Petrino said. "Once it became third down, (our defensive ends) widened out and teed off, made huge plays for us, the turnover early and the sacks."
The mistakes were too much. On an off-night for Kansas State's offense, it had far from enough.
Kansas State and Arkansas left Dallas with a pair of memorable double-digit-victory seasons, but Arkansas, as the three SEC teams in this game before it, will look back fondly on the finale.
"We really wanted to get them 11 wins," said Petrino, who has won 21 games in the past two seasons, giving Arkansas its first 11-win season since 1977 and third in program history. "Make sure that everybody remembered this football team."
Arkansans will. And so will Kansas State.
January, 7, 2012
1/07/12
12:07
AM ET
ARLINGTON, Texas -- Arkansas proved it was the better team
on Friday night
with a performance solid enough to keep Kansas State at an arm's length for most of the night.
Time for some analysis. Plenty more on the way tonight.


How the game was won:
Neither team brought its A game, but Arkansas' defense played one of its best games of the season and the Kansas State offense didn't do enough to chase down the Hogs, who jumped out to a 19-0 second-quarter lead, and a late third-quarter score helped put the game out of reach before Kansas State's Anthony Cantele missed a 43-yard kick with 6:36 to play.
Turning point:
Kansas State took the momentum with 16 consecutive points to get within 19-16 less than four minutes into the second half, but the Hogs'
Tyler Wilson
put together a huge drive, going 58 yards in 11 plays to put the lead back to 26-16. He capped it with a 9-yard touchdown pass to
Cobi Hamilton
and completed 5 of 7 passes for 60 yards on the drive, thanks to penalties.
Stat of the game:
Kansas State rushed 40 times for 86 yards. That average of just over 2 yards per carry isn't good enough for K-State's run-oriented offense to have a chance. Credit Arkansas' defense on that one.
Second-guessing:
Kansas State's decision to punt to
Joe Adams
. He was dangerous more in the first half, but he broke a 51-yard return for a score to put Arkansas up 10-0. Kansas State should have known better or avoided him more deliberately. You
don't need to look far to see why
.
What it means:
Arkansas becomes the fourth consecutive SEC team to win the Cotton Bowl and grabs the third 11-win season in school history and first since 1977, a year after making the school's first BCS bowl. Coach Bobby Petrino has the Hogs rolling. They'll come back in 2012 with plenty of potential to chase after an SEC title. Wilson loses three of his top four receivers, but he proved his worth as a quarterback this season.
Kansas State finished with 10 victories, its first double-digit win season since winning the Big 12 in 2003. The Wildcats' pluckiness ran out in this one, and they couldn't earn a seventh win as an underdog this season.
Record performance:
Collin Klein
became the Big 12's single-season leader for rushing touchdowns with a 6-yard run in the third quarter for his 27th of the season, tying Texas' Ricky Williams.
Record performance II:
Adams' first-half punt return was his fourth on the season, giving him the SEC single-season for punt return touchdowns. He has five for his career.
January, 6, 2012
1/06/12
10:15
PM ET
ARLINGTON, Texas -- Is this the same K-State team? Are we sure?
The Wildcats' play all season has been marked by precision and a lack of mistakes. The result was 10 wins. In the first half, they've been penalized four times and have turned the ball over. They're getting beat in the special teams, too, giving up a huge play on a punt return.


Arkansas has to be feeling good about that half, with the exception of a late fumble.
K-State also had a scary situation late in the half. Defensive end Meshak Williams took a helmet-to-helmet hit from teammate Emmanuel Lamur and had to be carted off. Medical personnel removed his face mask and were stabilizing his neck, according to sideline reports.
Time for some further analysis.
Turning point:
Joe Adams
' punt return. He's the most electrifying player in this game by a long shot, and he showed why with a shifty 51-yard punt return. His fourth return for a touchdown in 2011, and fifth in his career, tied the single-season SEC record and totally turned the first half. Arkansas' offense hasn't been great, but Adams got the crowd going. Yeah, he got some help from a block in the back (or two), but nobody was catching him on that play. It was the first punt return for a touchdown in the Cotton Bowl since 1961.
Turning point II:
Tyler Wilson
's fumble in the final minute of the half. It gave Kansas State some hope heading into the locker room in what was otherwise an ugly, ugly first half. Kansas State took advantage, hooking up for a 3-yard touchdown pass on a pretty rollout throwback play to
Andre McDonald
to cut the lead to 10 heading into halftime.
Best player (s) in the half:
Arkansas defensive end Jake Bequette and Joe Adams. Sometimes, all it takes is two big plays. The first half's been pretty ugly, but Bequette forced a sack/fumble in the K-State red zone, and Adams swung the game on the aforementioned punt return. Adams has almost broken a couple, and Bequette's been consistently disruptive, too.
What Kansas State needs to do:
Collin Klein
, for whatever reason, has been tentative to take off in the pocket, and he's already thrown too many passes without a ton of effectiveness. He's relied on his arm perhaps a bit too much tonight when he's had opportunities to run. That has to change, especially in a half when they're likely to be dropping back to throw quite a bit.
What Arkansas needs to do
: Keep testing K-State's defense deep. It hit Wright for a 45-yard score and nearly had Joe Adams for one from 70-plus yards. The Hogs opened a window for K-State with the late fumble, and the Wildcats climbed through it. Arkansas can slam the door shut with a couple big plays in the second half.
October, 4, 2009
10/04/09
1:28
AM ET
By
Tim Griffin
| ESPN.com

Posted by ESPN.com's Tim Griffin
ARLINGTON, Texas – As his slump-ridden team fell into another early hole Saturday night, Arkansas coach Bobby Petrino was a little worried.
Considering his team had three successive three and outs and produced zero yards on their first nine snaps, Petrino believed his first trip to the Dallas Cowboys Stadium could end up being a long, frustrating night.
| | |
| --- | --- |
| | |
| | Ronald Martinez/Getty Images |
| | Arkansas quarterback Ryan Mallett rebounded nicely after struggling in the past few games. |
"I was thinking this wasn't going very good," Petrino said. "There was a lot of time left on that clock and we weren't doing anything."
Fortunately for Petrino, quarterback
Ryan Mallett
was ready. The 6-foot-7 quarterback hooked up with
Joe Adams
on a 67-yard pass on the first play after those three stalled drives. Three plays later, the Razorbacks scored their first touchdown. And that score sparked an avalanche of 30 consecutive points that boosted the Razorbacks to a convincing
47-19 victory over Texas A&M
.
In the process, the Razorbacks were able to blot out bad memories from back-to-back losses to Georgia and Alabama in the last two weeks.
Arkansas likely won't be a contender for the SEC West Division title, but the rebound performance showed the Razorbacks are still a legitimate threat for a bowl trip if they can build on their Saturday night effort.
"I think this helps our confidence a lot," Petrino said. "We were talking about being a team and taking care of each other and playing together and not hurting ourselves. I think we grew up a little bit tonight."
Petrino said that Mallett showed him during the week that he was intent to bounce back after his struggles at Alabama, where he completed only 12 of 35 passes.
"A game like this will boost your confidence to come out and play 10 times better than we did against Alabama," said Mallett, who finished with 271 yards and four touchdown passes against a beleaguered A&M secondary. "When we were at Alabama, we didn't have the right juice. We had the right juice here and that's what got us the victory."
Mallett was understandably contrite last week. But he was able to put aside his own struggles to help his team steamroll to the victory.
His effectiveness at isolating running backs against slower A&M linebackers was particularly noteworthy, as it produced eight of his 17 completions to those backs.
But as big as the turnaround in Mallett's performance was, the Arkansas defense stepping up after being blistered for six touchdowns of at least 40 yards in the last two games was equally of note.
It led Arkansas defensive coordinator Willy Robinson to snatch an inspirational page from Howard Beale from the classic movie "Network."
"I'm as mad as hell and I'm not taking it anymore," Robinson said. "That's exactly how we felt. We were tired of it. It wasn't like us. We were going to play like we're capable of playing."
The Aggies were limited to nine points during the rest of the game after A&M jumped to an early 10-0 lead. The quick Razorback defensive front put repeated pressure on
Jerrod Johnson
, who came into the game third in total offense and 11th in passing efficiency.
Funny thing, however. Playing the Razorbacks was a little different than playing the tissue-soft group of UAB, Utah State and New Mexico that A&M faced to start the season.
The game turned on a critical 14-point swing late in the second quarter with A&M poised to reclaim the lead deep in Arkansas territory. As Johnson was scrambling, he was hit by Arkansas' Tenarius Wright who dislodged the ball. Arkansas outside linebacker Jerry Franklin picked up the fumble -- A&M's first turnover of the season -- and raced untouched for an 85-yard touchdown return.
Arkansas had a 21-10 lead and never looked back from there.
Franklin, a converted high school tight end, flashed a healthy dose of speed on the play.
"It was a huge play for us," Franklin said. "Our offensive guys were happy to know we had their back. It had been about two years since I scored a touchdown and it felt great."
But as excited as he was about the score, Franklin was more excited about his defense's performance when it most needed it. Together, the Razorbacks helped turn this old rivalry between Southwest Conference foes into a mundane game in the second half when many Aggie fans had already left for the exits.
"We were frustrated the last two weeks because we had given up way too many big plays," Franklin said. "That made us want to come out and play well tonight. And that's what we did. All of us came together when we really needed it."