December, 4, 2009
12/04/09
12:46
PM ET
By
Tim Griffin
| ESPN.com
Swinging a mean pitching wedge along with a previous soccer career has helped make Alex Henery develop into one of Nebraska's biggest weapons.
Henery is one of the rarest of all species in college football -- a combination kicker and punter who is proficient at both. His ability to place the ball inside the 10-yard line this season has earned him near rock-star status among Nebraska's fans.
And among the reasons that Henery credits for his uncanny success are the touch he developed working on his short game playing golf and his kicking abilities as an all-state soccer player in high school.
[+] Enlarge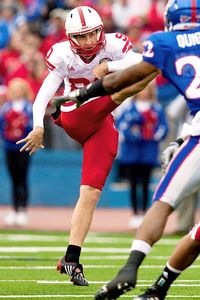 Jeff Moffett/Icon SMINebraska kicker Alex Henery will play a key role in the Big 12 title game.
"I do play golf a lot," Henery said. "But I think it just comes from kind of messing around and seeing what will work. The soccer has helped me as well."
Henery and other parts of Nebraska's special teams will be critical if the Cornhuskers have any real hope of springing an upset over No. 3 Texas in the Big 12 championship game Saturday night.
He's been dictating field position all season with a Big 12-best 26 punts that have been downed inside the 20-yard line. Amazingly, 15 of those kicks have pinning the opposition inside their 10, with eight inside the opponent's 3-yard line.
With wind no factor and the roof at the Dallas Cowboys Stadium will be closed, it should result in a big night in the kicking game for both teams.
And there's always that inviting target that drew the attention of Tennessee Titans' punter A.J. Trapasso when his punt glanced off the facility's mammoth scoreboard.
"I'm looking forward to kicking there," Henery said. "A lot of people have been asking me if I'm going to try to hit the scoreboard. But I'm going to try to kick to get my technique down."
Henery was chosen as second-team All-Big 12 as both a kicker and a punter earlier this week by Big 12 coaches. No player has ever been honored for both kicking during the same season with selection as a first and second-string punter.
After serving as the Cornhuskers' kicker last season, Henery added punting to his responsibilities this season. He earned a scholarship before the season and has become proficient at both.
Henery is 16-of-20 on field goals this season, with his misses coming on a 54-yarder against Arkansas State, a 51-yarder against Texas Tech,a 43-yarder vs. Oklahoma and a 50-yarder at Colorado. The miss against Oklahoma was just the second of Henery's career from inside 50 yards in his career.
"It would have been easier to do just one, but I wanted to take on the challenge of doing both," Henery said. "It's been harder to switch from just one to doing both. I've missed a couple of more kicks than I wanted this season. But the season has gone pretty well for me."
His kicking has earned him perhaps the strongest compliment given by Nebraska coach Bo Pelini, who has continually referred to him as "a stud" because of how he has excelled at both.
"They've really done a good job of leaning on their special teams over the year," Texas defensive coordinator Will Muschamp said. "Nebraska has really played to their strengths and that's one of the bigger ones."
The Cornhuskers also have been able to dictate field position on kickoffs thanks to the booming leg of kickoff specialist Adi Kunalic.
His booming kickoffs have resulted in touchbacks on 39 percent of his kickoffs, as he has drilled 26 of his 66 kicks to the end zone to enable the Cornhuskers to rank third nationally in touchbacks.
That work will be important in dictating field position against the Longhorns, who have returned three kickoffs for touchdowns and along with Arizona and Alabama are the only team to rank in the top 15 nationally in both kickoff returns and punt returns.
D.J. Monroe
started the season strongly with two kickoff returns for touchdowns in the Longhorns' first four games. Although he has missed Texas' last two games after he was indefinitely suspended after he was accused of drunken driving, the Longhorns have still been returning kicks as a strength.
Freshman
Marquise Goodwin
provided a huge play last week with a 95-yard fourth-quarter kickoff return for a touchdown that helped ice the victory over Texas A&M.
"I just did my job, really," Goodwin said. "It's not about me making big plays. It's just doing what I needed to do to help the team out."
The importance that Texas places on its special teams can be seen by placing top receiver
Jordan Shipley
as one of its punt return specialists. Shipley has averaged 13.3 yards per punt return and produced two touchdowns.
Texas' only weakness in special teams has been in punting, where Justin Tucker and John Gold have alternated. Mack Brown's infatuation with the rugby punting of both players has been a negative as the Longhorns have averaged only 33.6 net yards to rank 99th nationally and 11th in the conference.
Nebraska has blocked five kicks, including three by All-American defensive tackle Ndamukong Suh. Playing key players like Suh and Shipley are indicative of the importance that both Pelini and Brown invest in special teams.
"They play special teams very good and are comparing us to them in a lot of categories," Henery said. "I think whoever wins the special teams Saturday night will have a good chance to win the game."
August, 5, 2009
8/05/09
5:43
PM ET
By
Tim Griffin
| ESPN.com
Posted by ESPN.com's Tim Griffin
Baylor punter Derek Epperson is among the 10 players on the Ray Guy Award's initial 2009 watch list.
The Greater August Sports Council of Augusta, Ga., provides the award to the nation's top punter. More candidates will be added in late October.
Epperson is one of five semifinalists from the 2008 season who were named to the watch list. Others included Bryan Anger of California, Iowa's Ryan Donahue, Florida's Chas Henry and Michigan's Zoltan Mesko.
Epperson averaged 44.3 yards per punt last season to rank second among Big 12 returning punters. John Gold of Texas led Big 12 returning punters with an average of 45.0 yards per punt on 21 kicks last season.
There were no other Big 12 representatives on Wednesday's watch list.
The Big 12 has claimed four of the nine Ray Guy winners since the award was inaugurated in 2000. Included in the list include Baylor's Daniel Sepulveda, the only two-time winner of the award. Sepulveda was honored in 2004 and 2006. Other Big 12 winners have included Colorado's Mark Mariscal in 2002 and Oklahoma State's Matt Fodge in 2008.
The winner will be announced live during the Home Depot ESPNU College Football Awards Show airing on ESPN December 10.