March, 14, 2012
3/14/12
12:00
PM ET
By
ESPN.com staff
| ESPN.com
December, 26, 2011
12/26/11
1:00
PM ET
VIP strip club outings, illegal campaign contributions, expense claims that qualified as only slightly less than stealing: The Fiesta Bowl organization sounded like it was inspired by "The Sopranos" in a series of stories written by the Arizona Republic from 2009-10. When the U.S. Attorney's Office, FBI and IRS began investigations, the resemblance was even more striking.
Former Fiesta Bowl COO Natalie Wisneski was indicted in Arizona federal court on nine criminal counts on Nov. 16, and among the seven felony counts were conspiracy and filing false tax records. More indictments could follow, including for former bowl CEO John Junker, who was forced out in March. Junker, according reports on the investigations, piled up nearly $5 million in expenses on the company's credit card over a 10-year period. Along the way, he allegedly paid for a $1,200 strip club visit and held a $33,000 birthday party for himself at Pebble Beach.
Bowl games already were catching heat in the media, and not just because of fans wanting a playoff instead of the BCS. More than a few news reports had questioned the bowl games' tax-exempt status. Tales of the lavish ways of the Fiesta Bowl certainly didn't help the public perception.
[+] Enlarge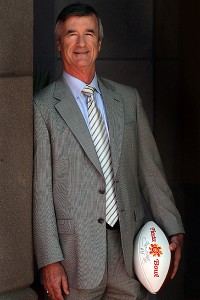 AP Photo/Darryl WebbRobert Shelton was hired to help repair the Fiesta Bowl's image.
Fiesta, indeed.
Into this swirling mess stepped Robert Shelton: an academic, a physicist, a former president of the University of Arizona. But his taking over the top spot at the Fiesta Bowl wasn't a moment for relativity. The bowl organization's issues were philosophic as much as anything. And Shelton's focus after taking over were existential. A branding group from Dallas was brought aboard to study the simple idea of why the Fiesta Bowl existed and what it should aspire to be.
"If we disappeared tomorrow, what would be better or what would be worse in the world?" Shelton said. "The answer is pretty simple in the end. The answer isn't bowl games. We exist to bring economic value to the state of Arizona, to be a window to the state of Arizona, a source of pride. That people outside the state of Arizona will come to see Arizona. We exist for philanthropic purposes. So that's why we are here."
And then he added: "If we keep that in mind, then we can say, 'How do we do this?'"
If the Fiesta Bowl -- the game itself -- isn't the end, but the means to an end, then the Fiesta Bowl's prime directive is to serve its community, though probably not at the local strip clubs and through backdoor routes to political coffers.
There have been changes, starting with a turnover of about one third of the bowl's 35 full-time employees. Even before Shelton arrived, the bowl adopted a new set of bylaws that included a far stricter set of checks and balances on how money is spent. There's a new "authorization matrix," which lists who can approve what expenditures at what levels and what kind of sign-offs you must have for purchases. Large expenditures require multiple sign-offs. The bowl now uses bowl-owned purchasing cards, instead of allowing employees to use their own credit cards for expenses, expecting reimbursement, which helps the bowl get a concrete idea of expenses. Further, all employees and volunteers undergo background checks, and all employees and board members sign a code of conduct.
And the old, infamous "Fiesta Bowl Frolic," which was basically a big party for college administrators, is now the "Fiesta Bowl Summit." It will include panels on important subjects, such as concussions in college football.
The Fiesta Bowl's problems were about the corrupt actions of individuals, but they also were about the bowl's culture. Both had to change.
"There were a handful of individuals alleged to have misbehaved," Shelton said. "But they were enabled by an atmosphere that was created over many, many years. Not through any evil intent but an atmosphere that wasn't cautious and reviewing or as informed as it should be."
Shelton was hired in June, but the months before he came aboard were precarious. Existential thoughts? The Fiesta Bowl, first played in 1971, was facing potential extermination. It could have been kicked out of the BCS, for one. And it could have lost its bowl licenses from the NCAA, which includes its oversight of the Insight Bowl. In the end, the BCS fined the bowl $1 million but retained the Fiesta Bowl, and the NCAA Postseason Bowl Licensing Subcommittee put the bowl on one-year probation.
Shelton believes the bowl game is back on firm ground, though he said it wasn't yet time for the bowl to be "sanguine."
"I think there is a sense we've done the right things, and the BCS and NCAA value what we bring to the bowls and postseason play," he said.
The bowl's mission as a charitable organization also has been reviewed. When asked how much the bowl gave to charity in past years, Shelton admitted it was "relatively low in the past."
That $1 million fine from the BCS has been paid out to charity, and the Fiesta Bowl has decided to give out another $400,000 to charitable causes. It's also adopted a more systematic fashion of giving, holding publicized general calls for charitable requests.
Of course, there's another apparent conflict of interest that Shelton must face leading up to this year's Fiesta Bowl between Stanford and Oklahoma State on Jan. 2.
Shelton is a Stanford graduate.
"I am completely neutral," he said. "I shall be dressed in neutral colors. I can't talk for my wife or kids who are also Stanford alumni."
It's a great matchup, arguably even better than the national title game between LSU and Alabama, considering that is a rematch. But while both teams have sold out their ticket allotments, the bowl is not yet a sellout.
It's possible that in a sagging local economy, the locals won't immediately re-embrace a bowl game that let its community down.
But Shelton is hoping, after an existential crisis, that the bowl finds a mythic ending.
"We could use the Fiesta Bowl's tragic events to come out even better," he said. "That's the nature of the word 'Phoenix.'"
December, 8, 2009
12/08/09
11:55
AM ET
By
Tim Griffin
| ESPN.com
The Big 12's postseason policy has reared its ugly head again.
The conference's policy of enabling its bowl partners to place teams is marked by its lack of rules, standings or even head-to-head results.
It all came into play earlier this week when 6-6 Iowa State jumped over 8-4 Missouri for a berth in the Insight Bowl.
I can't really blame John Junker and the organizers of the Insight Bowl for opting for a chance at the Cyclones. They still probably remember the record number of fans that came in the past. I'm sure Phoenix-area merchants remember all of the margaritas and serapes that were sold to ISU fans. Some people have told me that the area around Bank One Ballpark hasn't ever been the same since the first invasion of Cyclone fans back in 2000 when they defeated Pittsburgh.
So considering a shot at attracting Minnesota and Iowa State, all of the merchants along Mill Avenue in Tempe are awaiting the cha-ching of the cash register when fans of the Gophers and Cyclones start flocking to Arizona later this month. They probably haven't heard as many "you betchas" as they'll hear in a few weeks.
"As hard as our economy has been hit, we had to have a school that travels well," Insight Bowl spokesman Tony Alba told the Des Moines Register. "After what we saw from them from a fan standpoint in 2000, they certainly became the best choice for us."
But try telling that to Missouri. The Tigers finished the season with a better record and beat the Cyclones, 34-24, late in the season.
The Tigers instead will be sent to the Texas Bowl in Houston, a game in a fine stadium in a great town where they will meet Navy.
"I think we're proud we had the fourth-best record along with one other school in the Big 12 as we battled through it all," Missouri coach Gary Pinkel told reporters earlier this week. "I certainly think the process in the Big 12 has been frustrating. But I also don't think it's really the appropriate time to discuss (their bowl frustration). That's a conversation and discussion for a later point. I'm really excited about this game and feel really good about it."
It assuredly can't make Dan Beebe and the people in the Big 12 office happy. It almost undermines what competition is all about. What kind of message does it send when a team beats another and finishes higher but still gets lapped in the bowl proceedings?
The conference offices are at the mercy of rules set by its member institutions. It will be interesting to see if Missouri's snub prompts any change in the conference's rules at the league's next meetings.
In the meantime, the Tigers' freefall has prompted some conspiracy theorists.
Some newspaper pundits have said Missouri's snub is yet another reason why the Tigers should give consideration to moving to another conference in the future.
Like the Big Ten, where the sanctity of bowls apparently is stronger.
One problem with that logic. The Tigers would replace Big 12 titans Texas, Oklahoma and Nebraska for a new set of bullies like Michigan, Ohio State, Penn State, Iowa and Wisconsin.
And the Tigers would likely forfeit much of their recruiting inroads in Texas, the state that has helped them find players like Chase Daniel, Sean Weatherspoon,
Danario Alexander
, Stryker Sulak and Ziggy Hood over the years.
Missouri would still snag a few players out of Texas each season if they moved to the Big Ten. But I doubt I would see nearly the number of Missouri sweatshirts or bumper stickers when I go to the mall in San Antonio that I've seen the last few years.
And in the long run, do the Tigers really want to trade Houston for Detroit as a potential bowl destination if they would move to the Big Ten?
Because given the choice, I'll take a trip to Otto's Bar B-Q in Houston over Detroit's Lafayette's Coney Island Hot Dogs any day of the week.
And that doesn't even include the difference in weather between the two cities.
BIG 12 SCOREBOARD
Saturday, 12/27
Saturday, 12/20
Monday, 12/22
Tuesday, 12/23
Wednesday, 12/24
Friday, 12/26
Monday, 12/29
Tuesday, 12/30
Wednesday, 12/31
Thursday, 1/1
Friday, 1/2
Saturday, 1/3
Sunday, 1/4
Monday, 1/12
Tweets from https://twitter.com/ESPNCFB/lists/big12