September, 12, 2011
9/12/11
12:00
PM ET
By
ESPN.com staff
| ESPN.com
Regrets are for horseshoes and handbags.
July, 21, 2011
7/21/11
10:30
AM ET
We've tackled every other spot, and now we'll wrap up out Big 12 position rankings with the defensive lines across the Big 12.
Here are the rest of the position rankings.
Now that we've finished ranking the complete units, we'll start ranking the top 10 at each position very soon leading into the 2011 season.
This is a decent position for the Big 12 this season, and the top half of the league should feel pretty good about their group. There aren't many studs in this group, but there are a whole lot of solid players.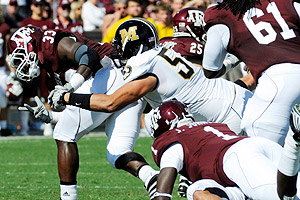 AP Photo/Pat SullivanMissouri has one of the Big 12's best pass rushers in Brad Madison.
1. Missouri --
Missouri has the Big 12's best returning pass rusher and a Defensive Player of the Year contender in Brad Madison, but its depth is what lands it on top of the list. Jacquies Smith is solid at the opposite defensive end spot, and Michael Sam and Kony Ealy provide great depth at DE. Dominique Hamilton's absence last season hurt after breaking his ankle against Oklahoma, but he's back, alongside Terrell Resonno. Sheldon Richardson, who may be transferring from junior college, is a wildcard that could be anywhere between a complete game changer, irrelevant or absent.
2. Oklahoma --
Oklahoma's defensive tackles are somewhat suspect, but the defensive end combo of Ronnell Lewis (provided he is eligible come fall camp) and Frank Alexander is on par with the best in the Big 12. Both were preseason All-Big 12 selections, but Jamarkus McFarland needs to make good on his potential. Stacy McGee and Casey Walker should both get time at the other tackle spot.
3. Texas --
Defensive end Jackson Jeffcoat is loaded with potential as the nation's former No. 1 recruit. He had a big impact early last season before being slowed by an ankle injury. Alex Okafor moved outside from defensive tackle just before spring and had five sacks in the spring game. Inside, Kheeston Randall is an All-Big 12 favorite, but Ashton Dorsey had a strong spring and could help out with Reggie Wilson opposite Randall.
4. Texas A&M --
The Aggies have one of the best linemen in the league in Tony Jerod-Eddie, but Jonathan Mathis, Eddie Brown Jr. and Ben Bass have a lot to prove around him after the loss of Lucas Patterson, who was outstanding in 2010.
5. Texas Tech --
Sam Fehoko has moved to defensive end from middle linebacker, and should provide some good speed to the front line. Scott Smith looked on his way to an All-Big 12 campaign last season, but was suspended for the remainder of the season by coach Tommy Tuberville and has yet to be officially reinstated. For now, Dartwan Bush and Aundrey Barr will help out at defensive end, outside of Donald Langley, Kerry Hyder and Pearlie Graves. The Red Raiders did snatch a big pickup from departed UNC signee Delvon Simmons, a defensive tackle that could have an impact immediately.
6. Oklahoma State --
Defensive line is the biggest weak spot for the Cowboys, who have a decent set of ends in Jamie Blatnick and former heralded recruit Richetti Jones, but an even bigger question mark at defensive tackle where Christian Littlehead and Nigel Nicholas enter fall camp as starters.
7. Kansas --
Top rusher turned defensive end Toben Opurum came on strong late last season and should be one of the most exciting Jayhawks to watch in 2011, but the rest of the line leaves a bit to be desired. Keba Agostino has the other starting spot at defensive end ahead of Pat Lewandowski, who had a great spring. Patrick Dorsey and John Williams enter fall camp as starters at defensive tackles.
8. Kansas State --
K-State recruited this position hard in its 2011 class. For now, defensive end Brandon Harold will try to bounce back from a disappointing 2010 after a promising 2009. Lance Dunbar and Taylor Martinez think this group is ranked too high, but Meshak Williams could start opposite Harold, while Ray Kibble and Raphael Guidry should be the tackles inside.
9. Baylor --
Tevin Elliott was limited this spring because of offseason shoulder surgery, and Terrance Lloyd exited spring practice as the starter, but I'd expect Elliott to regain the spot by the time the season arrives. Phil Taylor, a first-round pick, is a big loss, but Gary Mason Jr. will try to fill his spot next to Nicolas Jean-Baptiste.
10. Iowa State --
Having a pair of linebackers combine for 241 tackles is a good and bad thing. They've got outstanding linebackers, but the defensive line was the Big 12's worst last season for a unit that ranked 10th in rush defense and had just 11 sacks. That was the fewest sacks in the Big 12 and more than just three teams in all of college football. The good news is all four starters return, but for now, this is where the Cyclones start. Stephen Ruempolhamer has some promise, but Cleyon Laing, Jake McDonough and ends Patrick Neal and Roosevelt Maggitt have a lot to prove. Jacob Lattimer ran into offseason trouble, but re-appeared atop the depth chart released by the Cyclones on Wednesday.
June, 23, 2010
6/23/10
10:00
AM ET
By
ESPN.com staff
| ESPN.com
If you missed historian John D. Lukac's story from yesterday about Nebraska and the birth of the strength and conditioning program,
go check it out.
Still want more? Head over and read Pat Forde's
piece on Notre Dame strength coach Paul Longo.
But here's a look at who's beefing up players across the Big 12. So the next time your favorite player flashes a flex after a touchdown, remember who had a lot to do with that.

Baylor -- Kaz Kazadi
Kazadi, a 1997 graduate of Tulsa, came to Baylor in January 2008 and also serves as the assistant athletic director. He was also the assistant strength coach for the Kansas City Chiefs after a short stop at the University of Missouri. He played professionally after being drafted by the St. Louis Rams and received his Master's degree from the University of Missouri.

Colorado -- Jeff Pitman
Pitman came to Colorado in May 2006 after seven years as the head strength and conditioning coach at his alma mater, Boise State. He helped the Broncos win six WAC titles during that span and played center from 1990-92. Before coming back to Boise, he worked as an assistant strength coach at Minnesota.

Iowa State -- Yancy McKnight
McKnight came to Ames in 2009 via Houston, where he was the coach at Rice. He's coached under Les Miles and Todd Graham and helped develop pros like Tatum Bell, Kevin Williams and Antonio Smith. He's a graduate of Missouri Southern State in Joplin, Mo.

Kansas -- John Williams
Williams coached at South Carolina State before joining new coach Turner Gill at Kansas. He graduated from North Carolina A&T in 1995 and has made career stops at North Carolina, Oklahoma State and Baylor. Along the way, he's helped develop seven first-round NFL draft picks and 40 NFL players.

Kansas State -- Chris Dawson
Dawson was named the director of strength and conditioning in January after leaving Kansas and coach Mark Mangino. He's coached 29 NFL draft picks in his 15-plus years as a strength coach. He's previously coached at Minnesota and his alma mater, Oklahoma, where he played linebacker from 1992-94, as well as an internship with the Dallas Cowboys.

Missouri -- Josh Stoner
Stoner served under former director and current assistant athletic director Pat Ivey before becoming director of strength and conditioning in 2007. Stoner graduated from Centenary before receiving his Master's degree at Southern Miss. Before coming to Missouri, he made stops at Tulsa and coached at Southern Miss while earning his degree.

Nebraska -- James Dobson
Dobson came to Nebraska in 2008 after spending nine seasons at Iowa as assistant strength coach. Dobson graduated from Wisconsin and got his Master's degree at Central Michigan, and now finds himself preparing to be back in the Big Ten after helping the Hawkeyes win league titles in 2002 and 2004. Before Iowa, he'd also coached at SMU. During his career, he's coached pros like Bob Sanders and Dallas Clark, as well as linemen Robert Gallery and Ndamukong Suh.

Oklahoma -- Jerry Schmidt
Schmidt has been at Oklahoma since coach Bob Stoops' arrival in 1999 and followed the coach from Florida. He'd previously coached at Notre Dame and Oklahoma State. During that time, he's earned national championship rings from all three schools and worked with five Heisman winners including Sam Bradford, Jason White, Danny Wuerffel, Barry Sanders and Tim Brown. He's also coached 28 first-round NFL draft picks. Since coming to Norman, Oklahoma's produced 48 picks, including 12 first-rounders.

Oklahoma State -- Rob Glass
Glass, an Oklahoma State alum, spent 10 seasons at Florida under Steve Spurrier before coming back home to Stillwater. He had previously been an assistant strength coach when head coach Mike Gundy played in Stillwater, but left for Gainesville in 1995 before earning to head position in 1998. He's worked with 17 first-round picks, including two Heisman winners, a Thorpe Award winner, a Ray Guy Award winner and a Golden Spikes award on the baseball field.

Texas -- Jeff Madden
Madden came to Austin via North Carolina and is in his 13th year as the assistant athletics director for strength and conditioning at Texas. Madden, a graduate of Vanderbilt, played briefly in the USFL and has made stops at Cincinnati, Rice and Colorado over the course of his 20-year career. He's helped develop over 100 NFL players, including 32 first-round draft picks and 16 Olympians. Among his pupils: Two Heisman winners and two Heisman runners-up, along with numerous college football award winners. Madden spoke to ESPN earlier this week, and we'll have a Q&A with the Cleveland native later this morning.

Texas A&M -- Dave Kennedy
Kennedy came to Texas A&M in 2008 under Mike Sherman and has coached at Ohio State, Pittsburgh and his alma mater, Nebraska, most recently. Sherman, a former NFL coach, also notes that he turned down numerous NFL jobs. Kennedy has helped develop future Pro Bowlers like Eddie George, Orlando Pace and Larry Fitzgerald throughout his career, which began at Nebraska in 1982, when he was a student assistant.

Texas Tech -- Joe Walker
Walker was at Auburn for two years before joining former Tigers coach Tommy Tuberville for each's first season in Lubbock. He's also coached at TCU, Kansas State and Pittsburgh since earning his Master's degree from Auburn in 2004 after earning a bachelor's degree from Lock Haven University in 2002.
August, 4, 2009
8/04/09
2:31
PM ET
By
Tim Griffin
| ESPN.com
Posted by ESPN.com's Tim Griffin
I'll admit I'm a sucker for any achievement award. Give me an All-American squad -- either preseason or after the season is over with -- and I'll peruse it with diligence as I look for familiar players and teams.
And I've seen a bunch of them so far this season in a variety of magazine and Web sites.
But one of my most favorite ones has always been College Football News' redshirt freshman All-America team. It provides an early look at some of the more notable freshmen to watch around the country, both offensively and defensively.
Richard Cirminiello's team had a lot of familiar names from Big 12 schools that merit some watching. Here's a list of his first-team selections from the Big 12.
T -- Tanner Hawkinson, Kansas
C -- Ben Habern, Oklahoma
T -- Bryce Givens, Colorado
DT -- Baker Steinkuhler, Nebraska
LB -- Sean Fisher, Nebraska
LB -- Douglas Rippy, Colorado
S -- Joseph Ibiloye, Oklahoma
It bodes well for the Big 12's passing games if both tackles come from the conference. In particular, I'm intrigued with the selection of Hawkinson, a converted high school tight end who moves over from defense to protect Todd Reesing's blind side.
Oklahoma players tell me that Habern has the skill to perhaps be one of the best at his position at Oklahoma if he can keep developing. And Fisher and Rippy both have the ability to be playmakers in defenses that struggled to make many key stops last season.
Honorable mention selections included quarterback Landry Jones of Oklahoma, tackle Mark Buchanan of Texas, guards Trevor Marrongelli and John Williams of Kansas, defensive end Dravannti Johnson of Texas, defensive tackle Stacy McGee of Oklahoma, linebacker Kyle Mangan of Texas A&M and punters Quinn Sharp of Oklahoma State and Tress Way of Oklahoma.
It wise to keep an eye on these redshirt freshman. Remember that Michael Crabtree won the Biletnikoff Award as a redshirt freshman in 2007. Sam Bradford won the first of two Big 12 titles as a redshirt freshman in the same season. And Travis Lewis developed into one of the most play-making linebackers in the nation as a redshirt freshman last season.
March, 30, 2009
3/30/09
3:00
PM ET
By
Tim Griffin
| ESPN.com
Posted by ESPN.com's Tim Griffin
LAWRENCE, Kan. -- The best example of how things have changed around the Kansas program could have been found a couple of nights ago.
Later that evening, Kansas would square off with Michigan State in the Jayhawks' biggest men's basketball game of the year in the Elite Eight.
But before then, about 10 media members were awaiting Mark Mangino and his briefing on the Kansas football team.
While it might not match the media horde around Urban Meyer or Bo Pelini, it still indicates that interest is higher for the Jayhawks than ever before.
And that's understandable considering their back-to-back bowl bids -- a first in the history of the school's 119-year football program. It could be even bigger considering the expectations around the Kansas program heading into the upcoming season.
We sat down with Mangino for a few minutes to talk about how pereceptions of his program have changed, his team's defensive changes and whether the Jayhawks are any closer to being competitive with the South Division's top powers.
The culture appears to have changed around your program after the back-to-back bowl berths. How much of a difference have you been able to gauge in the last few months?
Mark Mangino: There's no question the culture has changed. Whether inside or outside the state, coaches are very complimentary and like to ask our guys a bunch of questions and me, too. But we're not doing anything novel. We have a system in place we believe in and our players believe in. We've tried to recruit kids who are willing to learn and have good values for hard work.
I've just tried to get as many good people and players together. And when everybody is on the same page, it's a good formula for success.
But we're still a work in progress. Just by the nature of the conference we play in, we're still under construction.
Have you ever thought how far your program has come since you arrived?
MM: Not very often, but on an occasion or two, we'll laugh or joke about some of the situations we were in during our early years. My philosophy for my program is that I always say the present is what matters and you are mindful of the future. I guess someday we might look back and say that we've come a long way. But we still have a long way to go.
There has been a lot of talk about your defense coming into the spring. How have they looked?
MM: We need all 15 practices. So far, I like what we're doing and how we're doing it. We've tweaked some things here and there. But we haven't made a wholesale change.
The kids are starting to learn it, starting to pick it up. You see they are getting a little more confident every time we practice. I like what I see.
We're going to have new linebackers so we have to get that area, get a strong two-deep in place. We've got to improve our inside guys, our defensive tackles. I don't think that we were as good as we need to be in that position last year. This spring we have to make some leaps in that area to be a good defensive unit.
There has been some talk that you guys might be going to a 4-2 as your base defense. Is that going to be the case?
MM: If you watched us last year, most of the time we were in that situation with a 4-2. We're still going to use a 4-3 as our base, but not nearly as much as we've had in the past.
It's still part of our package and it's what we call our base. It's our foundation and we build off that.
We've done some restructuring in our nickel package. Rather than just say, "OK, we're going to have that personnel in place," we've have a change in some of the responsibility of the personnel who is in the nickel.
Your offensive line will be transformed by several notable changes. Could you talk about some of your plans there?
MM: I feel much better about our offensive line right now than I did at the end of the season. I'm excited about moving Jeremiah Hatch to his natural position of center. That's what he does best. I'm excited about Tanner Hawkinson being at left tackle. We have a guy like Sal Capra who has played a lot of snaps for us now at a guard position and have a talented redshirt freshman named John Williams who will win a job unless something unforeseen comes up.
Some young guys who have been in the program for a couple of years are maturing. But I know we'll be better on the offense than we were last season.
What were your thoughts about bringing Bill Miller into the program as your new co-defensive coordinator.
MM: I kind of liked the setup we had with defensive coordinator and then a co-defensive coordinator who was the No. 2 guy who supported him and bounced ideas off of him. We didn't have that kind of role with anybody last year. But now the fact we have Billy in that role will be a big boost for us. Billy brings a lot of experience. He's been around and knows the game inside-out.
He's a good teacher and technician. And it will help us and our defense because I believe in that type of model, of having a coordinator and a No. 2 guy who plays a strong role in the defense and running our system.
Some people are discounting your team's chances of claiming Kansas' first North title mainly because of your cross-division schedule of South opponents. Do you think the team is better situated to be competitive against Texas, Oklahoma and Texas Tech?
MM: Hey, lets face it. We have won some games against South Division teams, but we've got to do better. We've got to beat some more South Division teams.
But until we do that, that kind of talk will persist. It's true and it's a fact of life. I don't hide from it, our program doesn't hide from it. The fact of the matter is until you start beating some of those South Division teams, you'll have that kind of talk.
March, 27, 2009
3/27/09
9:10
PM ET
By
Tim Griffin
| ESPN.com
Posted by ESPN.com's Tim Griffin
LAWRENCE, Kan. -- A blizzard that's supposed to dump up to 8 inches of snow in eastern Kansas hasn't hit -- yet.
But Kansas coach Mark Mangino is taking no chances as he's already canceled the team's scheduled practice for Saturday.
This is the first time that Mangino has ever postponed spring practice because of snow.
"I've moved inside a lot because of cold weather," Mangino said. "But we've been in contact with the Kansas City television stations and the weather service. They've told us this is the real deal."
The snow hasn't started yet, but it did force the Jayhawks inside for a practice that was supposed to be open to the general public. Several reporters did watch the proceedings. Here are some of my observations.
Mangino has said that he wants to play Kerry Meier full time at wide receiver, but still can't wean him from a few snaps at quarterback at each practice. Meier's move to receiver will depend on the development of redshirt freshman quarterback Kale Pick, who got a few snaps at Friday's practice. Mangino hopes to get Pick more work as the spring progresses.
The Jayhawks' defense should get a shot of enthusiasm from veteran linebackers coach/co-defensive coordinator Bill Miller, who made him presence known during some tackling drills that were a little too sloppy for his tastes.
One standout in the practice appears to be converted running back Angus Quigley, who showed promise with his raw athleticism.
Mangino has been intrigued by the quick start of redshirt freshman offensive tackle Tanner Hawkinson, who has been inserted at left tackle with Jeremiah Hatch moving to his natural position of center.
Starting quarterback Todd Reesing and Meier looked like they were in midseason form after connecting on several strikes.
I officially feel like an old man. Among the players getting work were freshman running back Deshaun Sands. I remember watching his father, Tony Sands, when he was breaking records for the Jayhawks not too many years ago.
Mangino singled out massive 338-pound freshman offensive lineman John Williams for his strong early play. "He's a powerful guy who is really quick," Mangino said. "He'll be a starter if he keeps up at this pace."
Roderick Harris Jr., a junior wide receiver, appeared to sprain his left ankle midway through practice. He hobbled to the sidelines and did not return.
As leading receiver Dezmon Briscoe's suspension continues, Johnathan Wilson had a strong practice. Wilson made several circus catches which prompted the biggest reaction of the day by his teammates.
If the blizzard lets me, I'll be off to Nebraska very early tomorrow morning to catch the Cornhuskers' workout. More reports will be coming then and maybe even my first Runza sandwich of my North Division swing.
September, 2, 2008
9/02/08
8:37
AM ET
By
Tim Griffin
| ESPN.com
Posted by ESPN.com's Tim Griffin
Teams and coaches were back at work Monday for perhaps the least-inspiring schedule of games in Big 12 history. Conference teams will play only one opponent from a BCS-affiliated conference when Oklahoma meets Cincinnati. Other than that, it's time for a visit to the pastry wagon for most schools.
As such, dive in and enjoy these tasty morning links.