February, 29, 2012
2/29/12
1:00
PM ET
We're moving on with our postseason position rankings. Today, it's time for linebackers. If you missed it,
here's how I ranked them in the preseason
.
At this position, depth is a major factor in these rankings. Additionally, I included nickelbacks in this grouping. Hybrid defensive end/linebackers will be grouped with defensive lines.
[+] Enlarge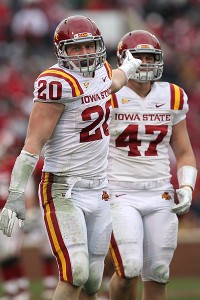 Matthew Emmons/US PresswireIowa State linebackers Jake Knott, 20, and A.J. Klein combined for 231 tackles in 2011.
More postseason position rankings:
1. Iowa State:
The Cyclones top the list after a huge year from their outstanding duo,
Jake Knott
and
A.J. Klein
. They combined for 231 tackles in 2011, both finishing among the top four in the Big 12 in tackles. They had 241 together in 2010, but this season Knott played through injuries and Klein was awarded co-Defensive Player of the Year honors from the league's coaches.
2. Texas:
The Longhorns will sorely miss an outstanding duo of their own with tons of experience.
Keenan Robinson
and
Emmanuel Acho
are both NFL-bound after combining for 215 tackles.
3. Oklahoma:
The Sooners weren't quite as good as expected in 2011, but part of that was because of a
Travis Lewis
preseason toe injury that slowed him for much of the season. Lewis,
Tony Jefferson
and
Tom Wort
all topped 70 tackles in 2011, and are a solid group.
4. Kansas State:
Arthur Brown
reinvigorated this group, finishing eighth in the Big 12 with 101 tackles, but the Wildcats linebackers were more than just Brown.
Tre Walker
and converted safety
Emmanuel Lamur
combined for 135 stops and helped lead one of the league's most underrated units and a much-improved run defense.
5. Texas A&M:
The Aggies' backers were big pass-rushers, though they struggled in coverage this season.
Sean Porter
was the Big 12's sack champion with 9.5, and
Caleb Russell
and
Jonathan Stewart
combined for six more.
Damontre Moore
is the rawest talent of the bunch, but built on that in 2011, making 72 tackles.
6. Oklahoma State:
OSU's group was good, but not great.
Alex Elkins
' crazy story came to an end with 90 stops in 2011. He showed up everywhere for the Cowboys, but reigning Big 12 Freshman of the Year
Shaun Lewis
didn't quite have the sophomore season some had hoped.
Caleb Lavey
added some solid play for the turnover-hungry unit, producing 74 tackles and five tackles for loss.
7. Missouri:
Zaviar Gooden
wasn't quite the impact player Mizzou had hoped, but he was solid alongside a group that's been injury prone over the past two years. Sophomore
Andrew Wilson
emerged as the team's top tackler with 98 stops, and
Luke Lambert
added 82 more. A high ankle sprain in the season opener kept
Will Ebner
off the field, but he'll be back in 2012 after the NCAA granted him a fifth year of eligibility.
8. Kansas:
Steven Johnson
led the Big 12 with 119 tackles, but the rest of the unit left a lot to be desired.
Darius Willis
has some potential, but the rest of the team's linebackers have their work cut out for them in 2012.
Tunde Bakare
also returns from a unit that ranked ninth in the Big 12 in rushing defense.
9. Baylor:
The Bears needed help just about everywhere.
Elliot Coffey
was solid, and finished tied for fourth with 114 stops, but Baylor was eighth in the Big 12 in rush defense. Baylor has solid athlete in the secondary and on the defensive line, but at linebacker,
Rodney Chadwick
and
Brody Trahan
leave a bit to be desired.
Ahmad Dixon
was better in 2011, but still has a lot of potential that needs to be filled.
10. Texas Tech:
The Red Raiders are looking for a new defensive coordinator and the 4-2-5 made a short stop in Lubbock. The Red Raiders were awful everywhere on defense, but especially up front. Nobody in college football was worse at stopping the run, and
D.J. Johnson
,
Daniel Cobb
and
Cqulin Hubert
turned in forgettable performances. Time to get better for 2012.
October, 15, 2011
10/15/11
6:02
PM ET
COLLEGE STATION, Texas -- Baylor quarterback
Robert Griffin III
was wrapped up, all but down on fourth down deep in Texas A&M's red zone.
Somehow, he found a way to lob the ball to tight end
Jordan Najvar
. The ball fluttered over the hands of two Aggies defenders and Najvar, setting off a celebration on the way back to the sidelines and firing up the 87,361 comprising the fourth-largest crowd ever at Kyle Field.
Baylor didn't score again, and Texas A&M rolled to
a 55-28 win
over the Bears.
"Unstoppable. That's really what we thought," defensive end Spencer Nealy said.
Nealy led the team with seven tackles and 1.5 tackles for loss.
"After the fourth down stop, honestly, you look at every guy running off the field, jumping up and down. We really uplifted our confidence," he said.
Sometimes all it takes is one play to change the course of a game and perhaps a season. The Aggies led by 13, and if the Aggies hadn't made the stop, the odds of a third second-half nightmare in four weeks becoming a reality would have quickly risen.
"We knew it was big," said linebacker Jonathan Stewart, who had one of five sacks for Texas A&M. "We just knew we needed to grit our teeth and just get the stop."
The mistakes were there. Griffin torched this wrecked crew for a school-record 430 yards, the third quarterback in four weeks to write his name in the school record book at the Aggies' expense.
A few costly offside penalties in the first half extended Baylor drives.
"I'm sure we'll probably get yelled at for that during Monday morning film, but we had to get pressure on him," Nealy said.
Twice the defense got beat over the top for touchdown passes of 77 yards and 43 yards, and Griffin set up another touchdown with a 50-yard bomb to
Tevin Reese
, who drew pass interference on the play, too.
After the game, Sherman stopped Griffin.
"If you're III, I don't want to meet I and II," he told him.
[+] Enlarge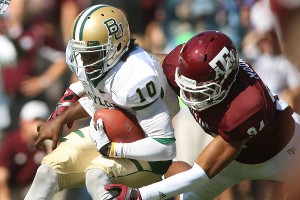 AP Photo/Jon EiltsTexas A&M's defense contained Robert Griffin III and the Baylor offense when it counted in the fourth quarter.
But for Texas A&M, it can focus on the day's biggest number: Baylor's gaping zero on the scoreboard in the fourth quarter.
"We're not going to shut this team out," Texas A&M coach Mike Sherman said of the Bears, who entered Saturday's game third nationally in total offense with the most efficient passing game in college football. "They will move the ball against anyone and everyone."
Except, apparently, Texas A&M in the fourth quarter.
"In the end, it came down to that fourth-down stop," Nealy said.
The stop allayed at least a few fears that this experienced team loaded with as much talent as any in the Big 12 can't perform in the second half.
This was a game complete with the end of a 22-quarter drought without a turnover. The Aggies did it with pressure on a previously unflappable quarterback in Griffin. He'd thrown just one interception with 19 touchdowns in 143 attempts entering Saturday's game, but the Aggies pressured him and he threw it up for grabs. Dustin Harris took advantage.
"We're taught to get takeaways. That's the first thing on our list," Harris said. "It was on our backs to get that pick or a turnover on defense and it happened on that play. Our offense went down and converted."
The last part was nothing new for the Aggies, who didn't punt in the second half. With the kind of firepower Texas A&M fields on offense, the defense's margin of error is only slightly wider than the separation
Ryan Swope
got on opposing defenders throughout Saturday's game.
Swope finished with a career-high 206 yards on 11 receptions and four of
Ryan Tannehill
's six touchdown passes.
"Our offensive line really set the tone of the game," Swope said. "People were just making plays. Coach strives on winning 1-on-1 matchups, and I feel like we did that."
Said Tannehill: "It was fun watching him play today."
The first-team offense scored on every possession in the second half, scoring 52 points in the game's final 39 minutes. The second-half failures that had become the team's defining trait through the first half of the season had, for at least an afternoon, disappeared.
Sometimes, all it takes is one play.
September, 1, 2011
9/01/11
10:15
AM ET
Here are ten things I'm keeping an eye on in Week 1 of Big 12 football.
1. Garrett Gilbert.
Everything else aside, Gilbert is ultimately the one guy who will decide how far Texas gets this season. Or, at least whoever Texas' quarterback is by midseason. Gilbert needs to play well to a) make sure he's that guy and b) help Texas rebound from last year's debacle.
[+] Enlarge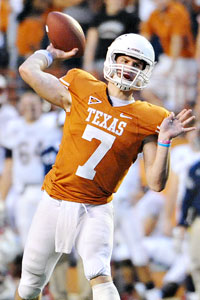 Brendan Maloney/US PresswireThe success of Texas' season likely rides on the shoulders of Garrett Gilbert ... or his replacement.
2. Does Baylor have a second go-to receiver?
Josh Gordon is a huge loss. Everything pointed to a breakout year for the big receiver, but who's going to emerge as
Robert Griffin III
's other top target. Baylor has talent at the position, but it's going to help if one receiver makes his presence clear.
Terrance Williams
?
Tevin Reese
?
Lanear Sampson
? Bueller?
3. Oklahoma's safeties.
Javon Harris and Aaron Colvin have a ton of potential, but they've got a tough test in Week 1. Last year, Oklahoma broke in two brand new corners against Utah State and nearly was upset on its home field.
G.J. Kinne
is a stud, and with both of last year's safeties in the NFL, are Harris and Colvin up for the task?
4. Weeden2Blackmon.
Here's the deal: This game won't be close. But I love watching these two play. And they're going to be putting up some big highlights for the first time in eight months. Football! Finally!
5. James Franklin's arm.
We've seen Franklin run plenty as a freshman playing behind Blaine Gabbert. But Missouri will go about as far as Franklin's arm will take them. His teammates have been impressed with what he's down through the air in the offseason. Will he validate them in the opener?
6. Steele Jantz's legs.
Nobody outside Ames has really seen Jantz, a transfer from a California junior college, do much. But he won the starting job over the more experienced
Jerome Tiller
(before he was ruled academically ineligible for the season) and has Cyclones fans excited. Is he the dynamic playmaker Iowa State's offense has been missing?
7. Kansas State's running backs.
Bill Snyder called it the closest competition on the team. The WIldcats have three co-starters, and third on the list is the Big 12 transfer with the most hype:
Bryce Brown
. Will he establish himself as the clear replacement for Daniel Thomas, who led the Big 12 in rushing the past two seasons?
8. Kansas' point total.
Kansas simply needs to show it can execute. It did it against New Mexico State last year and briefly against Colorado, but this is largely the same team from last year, with a handful of new faces added. How much better is the offense? Good enough to compete in the Big 12? Because the Jayhawks weren't close in 2010.
9. Texas A&M's linebackers.
Most of the attention is paid to quarterback
Kyle Padron
, but the Mustangs' 230-pound, rumbling running back
Zach Line
is no joke, either. He had at least 94 yards rushing in six of the past seven games in 2010, and the Aggies have a big hole at middle linebacker that Jonathan Stewart will try to fill.
10. Texas Tech's playcalling.
Tommy Tuberville wants a new commitment to the running game, but where will that show up? The Red Raiders have what I think will be a good QB, but lots of unanswered questions at receiver next to a deep stable of running backs and a good offensive line. I'm also excited to see what freshman tight end
Jace Amaro
can do.
August, 30, 2011
8/30/11
10:30
AM ET
By
ESPN.com staff
| ESPN.com
Texas A&M
unveiled its depth chart
on Monday, too, with a few interesting looks.
Damontre Moore, on the heels of his spot duty as a true freshman last season, had plenty of hype heading into 2011. But as fall camp progressed, it was apparent he might not have a starting spot. Caleb Russell, a junior, overtook Moore for the spot and enters the season as the starter at the Joker spot for the Wrecking Crew. Russell, a former walk-on who was awarded a scholarship on Monday, doesn't have the physical measurables of Moore, but he's proved he deserves the spot. Bully for him.
Junior Jonathan Stewart grabbed the inside linebacker spot opposite Garrick Williams for the Aggies in one of the most high-profile position battles in the league. Michael Hodges will be missed at the spot, but Kyle Mangan and true freshman Donnie Baggs are co-backups at the other inside linebacker spot behind Williams.
Terrance Frederick is the starter at one corner for the Aggies, but the other? Dustin Harris and Coryell Judie are sharing a spot. Big surprise on that one.
Cyrus Gray starts the season on top of the depth chart, ahead of Christine Michael. No worries. Both will get plenty of touches.
The offensive line hasn't quite jelled. Evan Eike is listed as a co-starter with sophomore Shep Klinke (a missed possible selection for the all-name team? I think so.)
At tight end, Hutson Prioleau has unseated returning starter Nehemiah Hicks, a sophomore who has slid to third behind Prioleau and co-starter Michael Lamothe. Surprised to see that there. Hopes are high for Hicks in College Station, but he's got a lot to prove.
Jameill Showers was named the backup quarterback on Monday.
August, 15, 2011
8/15/11
9:15
AM ET
COLLEGE STATION, Texas -- There's only so much you can take from a 90-minute workout without pads, but here are a couple quick thoughts and observations from Sunday afternoon's workout inside the indoor facility at Texas A&M.

I'll be there this morning for a live scrimmage with pads, too.
Last year, when I visited College Station in the preseason, it was pretty obvious during team work that Jerrod Johnson had a ways to go before he was back to the same player he was in 2009. He obviously never quite got there. This year? Not the case. All the usual suspects looked great. Ryan Tannehill was as good as you'd expect, Jeff Fuller looked great, and Christine Michael showed some nice explosiveness and lateral movement. Cyrus Gray is limited after suffering a minor hamstring injury on the first day of camp, but he's expected to be 100 percent for the season opener against SMU on Sept. 4.
Every time I've come to a practice at College Station, I've been impressed with what Jameill Showers had to offer as a backup quarterback, and Sunday was no different. It's a limited sample size, sure, but he throws an outstanding ball, and he made good decisions throughout Sunday's workout in team drills.
An offseason arrest didn't put Damontre Moore in the good graces of the coaching staff, and as a result, the possible star had spent the first week of camp working primarily with the third and fourth groups, according to other A&M reporters who had attended earlier practices. On Sunday, however, he was back working with the first team at the Joker position. A good sign for his future, no doubt. The sophomore may have struggled off the field during the offseason, but remember: Von Miller infamously wasn't the personification of a leader early in his career, and left as one of the program's all-time greats -- on and off the field. There's plenty of time for Moore to shore up his act.
Inside linebacker is a primary concern for the Aggies this fall camp, especially after they got a preview of a grim future without Michael Hodges this year when Hodges missed the majority of the Cotton Bowl with a knee injury. Garrick Williams is one of the defense's leaders and a returning starter at one of the two spots in the 3-4 scheme, but Donnie Baggs and Jonathan Stewart have been earning lots of time together with the first team -- and without Williams. Coach Mike Sherman's explanation for the approach: "I always like to see guys with the first group, because that's when you get to evaluate them. When you're with the second group, you're going up against the second group of offense. So let's see how they do against the first group guys, so it's really a more accurate evaluation of where they stand. They could be killers in the second group but go to the first group and it's a little bit more challenging, so I want to see them against the better competition."
Sherman says he's still trying to sort out who his starter will be, but I like the approach to throw them in with the first-team and see who outperforms the other. Stewart is the more experienced player, but Baggs, a true freshman, has obviously impressed enough to even be in this position. Sherman expects the position to be more solidified early next week.
Sherman played it coy when asked about a "rumor" that Texas A&M's coaches met with university president R. Bowen Loftin about the possibility of a move to the SEC. "Rumors? Really? Are you saying it's a rumor? I don't comment on rumors," he said. "You led with a rumor, so..." A poor choice of words, sure, but a fruitless line of questioning, no doubt, regardless of word choice.
Safety Trent Hunter did discuss the prospect of the SEC, but only that the team has been told not to discuss it. "Our coaches made a point on the first day. Don't talk about it, don't tweet about it, don't Facebook about it," Hunter said, adding that it hasn't been difficult to focus on the field while rumors swirled. "It's not anything that's going to affect us playing SMU on that first week."
Today's scrimmage will be live with plenty of hitting, Sherman says. Should be exciting. I'll have some notes and stats up on the blog later.
June, 30, 2011
6/30/11
9:00
AM ET
Heading into the season, I see five teams in the Big 12 with a realistic chance to win the league. I'll be breaking them down in order (which
won't be the same as my post-spring power rankings
) of their chances to leave the season with the Big 12 title.
No. 1 on the list was
the favorites: Oklahoma
Today, we take a look at my No. 2: Texas A&M.
Why the Aggies will win the Big 12
[+] Enlarge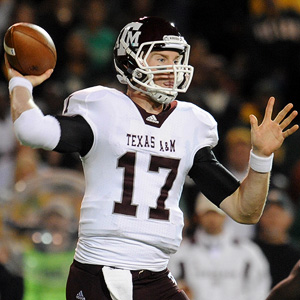 AP Photo/Rod AydelotteQuarterback Ryan Tannehill will be crucial to Texas A&M's success in 2011.
1. They've got the most complete offense.
Center Matt Allen is the only offensive starter not returning, but the Aggies have a solid line, headlined by a maturing, but already talented pair of bookends with big potential, tackles Luke Joeckel and Jake Matthews. At the skill positions, you won't find anything close to a weakness. Texas A&M returns the best running back corps in the league and maybe the best 1-2 punch in the nation with
Christine Michael
and
Cyrus Gray
. All of the team's top five receivers return, and
Jeff Fuller
, who chose to return for his senior season, is arguably one of the five best in the country.
Ryan Tannehill
doesn't have a ton of starts (six) under his belt, but he was great in a tight spot last year, and led the team in receptions his first two years on the field.
2. They're especially strong in great places on defense.
Those places: Secondary and pass-rushers. That's huge in the Big 12. New joker Damontre Moore, defensive end Tony Jerod-Eddie and linebacker Sean Porter should combine for more than 15 sacks this year and tons of quarterback pressures that could result in some big plays for another defensive strength: the secondary. All four starters return, and Terrence Frederick, Coryell Judie are experienced seniors at corner, while Trent Hunter and Steven Campbell hold down the safety spots.
3. They made it hard to win nine games last year.
Texas A&M already won a share of the Big 12 South last year, despite ranking 10th in the Big 12 in turnover margin at minus-5. Its 30 turnovers (15 INTs, 15 fumbles lost) were the most in the Big 12 and 111th most in the nation. You'd have to think that number will drop this year with Tannehill at quarterback. He struggled in the loss to LSU, throwing three interceptions, but he had just three in his six previous games at quarterback, compared to 11 touchdowns. Five of those 30 turnovers came from
Jerrod Johnson
in a loss to Oklahoma State, and if the Aggies take care of the ball then, or this time around, they're likely Big 12 champions.
Why the Aggies won't win the Big 12
1. The defensive losses will be too much.
Damontre Moore should slide in and replace Von Miller. I'd expect him to do well, but what about middle linebacker? Michael Hodges was the heart of the defense in 2010 and its leading tackler. When a knee injury forced him out of the Cotton Bowl against LSU, the Tigers gashed the Aggies' defense, which for the few weeks to end the season, looked like one of the Big 12's best and topped the league in rush defense. Hodges is gone for good now, and the Aggies left spring without a solid replacement. For now, it looks like Jonathan Stewart will slide in, but it could end up being true freshman Donnie Baggs. Either way, A&M won't be as strong there, and teams that can run the ball (i.e., OSU, OU) may take advantage. Lucas Patterson is the only other loss on the defensive side of the ball, but my money is on Hodges being missed the most on the field, even though Miller was the No. 2 pick in the NFL draft.
2. They have to travel to Norman.
Texas A&M has been outscored 107-24 in its last two trips to Norman, and Les Miles at Oklahoma State in 2001 is the only Big 12 coach to ever beat Bob Stoops at Owen Field. The odds are definitely against Mike Sherman becoming the second. The Aggies knocked off Oklahoma in College Station last year, but did it largely on the strength of the linebackers, and Hodges and Miller, who helped orchestrate those three goal-line stops to beat the Sooners, are gone.
3. Hype and the Aggies are not happy bedfellows.
Texas A&M looked like a possible Big 12 South contender last year, but the Aggies lost all three of their first real tests, and nearly lost to Florida International in College Station, erasing a 21-7 fourth-quarter deficit to avoid embarrassment. After being written off by most, they rallied for a share of the Big 12 South, but this year, the attention is back on the Aggies, who will likely be toting a top-15 ranking into the preseason. How will the team handle big games early in the season against Oklahoma State and an early trip to Lubbock before the showdown in Norman? Their recent history suggests "not well."
May, 6, 2011
5/06/11
6:30
AM ET
By
ESPN.com staff
| ESPN.com
TEXAS A&M
2010 overall record:
9-4
2010 conference record:
6-2

Returning starters:
Offense (9), Defense (8) P/K (2)
Top returners:
RB
Cyrus Gray
, WR
Jeff Fuller
, QB
Ryan Tannehill
, CB/KR Coryell Judie, RB
Christine Michael
, WR
Ryan Swope
, LB Damontre Moore, LT Luke Joeckel
Key losses:
LB Von Miller, DE Lucas Patterson, LB Michael Hodges, C
Matt Allen
2010 statistical leaders (*returners)
Rushing:
Cyrus Gray* (1,133 yards)
Passing:
Jerrod Johnson
(1,947 yards)
Receiving:
Jeff Fuller* (1,066 yards)
Tackles:
Michael Hodges (115)
Sacks:
Von Milller (10.5)
Interceptions:
Dustin Harris*, Coryell Judie* (4)
Three spring answers
1. Gray's running mate is back on track.
Cyrus Gray handled the duties well after Christine Michael went down with a broken leg. Gray finished the season with seven consecutive 100-yard games, but Michael is back and looked good this spring. The Aggies have one of the best running back duos in the country, and it should be better than ever this year.
2. Linebackers looking good.
Texas A&M is losing Von Miller and Michael Hodges, but linebackers Sean Porter and Garrick Williams look ready to step into roles as the leaders on the defense. Damontre Moore is likely to replace Miller, while Hodges spot in the middle is up for grabs, with true freshman Donnie Baggs competing to win it alongside Jonathan Stewart and Kyle Mangan. It's a question mark on a team without many, but the spring had to be encouraging.
3. Offensive line coming together.
Texas A&M returns four starters on the line, and loses center Matt Allen. Brian Thomas is likely to replace him and worked most of the spring as the first-team center. On the outside, the Aggies pair of sophomore tackles, Luke Joeckel on the left side and Jake Matthews on the right continue to mature and could be two of the Big 12's best.
Three fall questions
1. Can the Aggies handle the pressure?
There was tons of buzz about the Aggies last year, despite coming off a 6-7 season. After six games, though, Texas A&M was 3-3. Once plenty of folks had written them off, they ripped off an impressive six-game win streak and shared the Big 12 South title. This year, the hype is back, but the Aggies won't be able to weather a three-game losing streak this time around and still have a shot at the Big 12 title.
2. Will Ryan Tannehill continue his tear?
Tannehill replaced the Preseason Big 12 Player of the Year, Jerrod Johnson, midway through the season last year, and helped pace the Aggies during their impressive streak. This time around, with defenses more sure of what to expect from him, can he become a bona fide star? Not to mention that lingering Aggie senior QB curse…
3. How good is Damontre Moore?
Von Miller is gone, and Moore looks likely to replace him at the Joker position this year. The Aggies want to see him slide in and re-establish the dominance he showed early in the season when Miller was slowed by an ankle injury, but Miller was perhaps a once-in-a-lifetime player. Moore may be good, but just how good? We'll find out next year.
April, 26, 2011
4/26/11
10:00
AM ET
The ninth in our series looking at the strongest and weakest position for each team in the Big 12: The Texas A&M Aggies.

Strongest position: Skill positions
Key returnees:
QB
Ryan Tannehill
, WR
Jeff Fuller
, RB
Cyrus Gray
, RB
Christine Michael
, WR
Ryan Swope
, WR
Uzoma Nwachukwu
, WR
Kenric McNeal
Key losses:
None
Analysis:
You can't pick one position out of this group, really. The Aggies have two of the Big 12's best running backs, both with two years of solid experience in the Big 12.
The same is true of the receiving corps, which is deep and experienced with lots of ability to make sure Tannehill's first full season starting (he was 5-1 in six starts last year) goes well.
In that group of receivers is plenty of balance. Jeff Fuller's size (6-foot-4, 215 pounds) makes him one of the best red zone targets in college football, and he caught 12 touchdowns last year. Ryan Swope and Kenric McNeal are some of the league's toughest covers in the slot and Uzoma Nwachukwu is a more balanced receiver with a lot to prove after an underwhelming sophomore year.
Cyrus Gray and Christine Michael are both balanced backs, but Gray's biggest asset is his speed, and Michael is the more powerful back. They complement each other well and could both flirt with 1,000 yards this year. Gray brings a seven-game streak of at least 100 yards rushing into 2011, racked up against defenses like Nebraska, Oklahoma and LSU to close the 2010 season.
The Aggies' backup plan if Tannehill goes down isn't very attractive, with no experience behind him, but he should be among the Big 12's best at the position this year.
Best of all, the offensive line brings back four starters. The Aggies should be among the Big 12's best offenses and defenses, but the biggest asset is its depth and experience at all the skill positions.
Weakest position: Linebacker
Key returnees:
Garrick Williams, Sean Porter, Damontre Moore, Kyle Mangan
Key losses:
Von Miller, Michael Hodges
Analysis
: For the Aggies, linebacker is more of a question mark than a true weakness, but they'll need good players to blossom into great ones if they want to build on last season's strong finish.
Make no mistake, Von Miller and Michael Hodges are huge losses. Miller was the Big 12's best defender last year, and Hodges led the team in tackles, with 115. We already got a preview of what happened to Texas A&M's defense without Hodges in the Cotton Bowl. He went down early with a knee injury and the Aggies fell apart, giving up 41 points to an LSU offense that averaged fewer than 30 last season, ranking ninth in the SEC. It wasn't pretty.
Damontre Moore, at the pivotal Joker position,
showed lots of potential last year when Miller was slowed early
in the season with an ankle injury, but he was still just a freshman. He'll have to grow up and be counted on for much more as a sophomore this year.
Garrick Williams made 112 tackles last year and should be one of the defense's leaders. Sean Porter may play a bit of the Joker position, but he'll grab another linebacker spot in the Aggies' 3-4 after starting last season and making 74 tackles, third-most on the team.
Replacing Hodges isn't entirely settled yet, but someone will have to step in and be solid in the middle of the defense. Jonathan Stewart and Kyle Mangan played some last year, and freshman Donnie Baggs was in the rotation this spring as well.
More spring superlatives:
January, 28, 2010
1/28/10
5:55
PM ET
By
Tim Griffin
| ESPN.com
At an earlier stage of my life, I spent almost two years living in Temple, Texas.
It's a nice town. Back then, it had a good mall and a great location. I was never more than an hour away from either Austin or Waco if I really wanted to do something.
But it's surprising to me that Lache Seastrunk, the most notable football prospect from that city in many years, has decided to foresake all of the schools of the Big 12. Instead, he will travel 1,661 miles away from home (according to the Web site How Far Is It) and
play for Oregon
.
I'm sure that Seastrunk was struck by all of the cool Nike-influenced uniforms the Ducks have. And he also probably saw a better chance of being a featured running back so far away from home than if he had stayed in the Big 12.
With the Big 12's developing reputation as a conference of passers and throwers, that's the way the school's recruiting philosophies have tilted.
We've seen first-round picks like Texas Tech wide receiver Michael Crabtree and Missouri wide receiver Jeremy Maclin, Kansas State quarterback Josh Freeman and Oklahoma State tight end Brandon Pettigrew all selected from the conference last year. We should have more this season with Oklahoma quarterback
Sam Bradford
, Oklahoma State wide receiver
Dez Bryant
and Oklahoma tight end
Jermaine Gresham
all likely to be picked in the first round in April.
Contrast to the conference's running backs. Most draft projections have Oklahoma's
Chris Brown
pegged as the Big 12's top running back. He's not expected to be picked during the first day of the draft.
Adrian Peterson was the last first-round running back picked from a Big 12 school, and that came in 2007.
So it's not surprising that Seastrunk has decided to pack his bags and head to Oregon when all of those factors are considered. I'm sure it was noted to him that Oregon's Jonathan Stewart was a first-round pick of the Carolina Panthers in 2008.
I also checked the Web site the Sports Librarian.com, which has already posted a
group of favorites to win the Heisman
in 2010.
No Big 12 players are listed among the site's top 12 contenders, and only Texas quarterback
Garrett Gilbert
is included among seven potential candidates who could emerge as dark-horse contenders.
Included among the top 12 contenders for the 2010 Heisman are Oregon State running back
Jacquizz Rodgers
and Oregon running back
LaMichael James
. It's also interesting to consider that Rodgers graduated from Lamar Consolidated High School in Richmond, Texas, and James is a product of Liberty-Eylau High School in Texarkana, Texas.
Like Seastrunk, both players would have been a natural fit at a Big 12 school. But they all decided to travel far away from home to play in offenses that they deemed more conducive to their running talents.
Sometimes, playing time in a run-friendly offense is a more important determiner for a running back recruit than all of the home-cooked meals he would receive by staying closer to home.