April, 20, 2011
4/20/11
1:15
PM ET
Three of the most talked-about players in Kansas State's spring camp have never suited up in a Wildcats uniform.
Expectations from fans and media are high for all three, but for now, coach Bill Snyder isn't ready to tell anyone just what to expect.
[+] Enlarge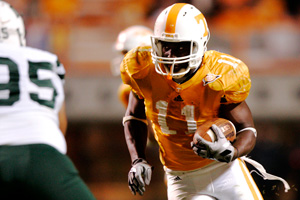 AP Photo/Wade PayneBryce Brown, now a Kansas State Wildcat, rushed 101 times for 460 yards as a member of the Tennessee Volunteers in 2009.
"These are quality young people, wonderful youngsters and very, very fine players," he said during the Big 12's conference call on Tuesday. "But I wouldn't go beyond that at this point in time, because they haven't, in either case, had the opportunity to step up and prove themselves."
Bryce and Arthur Brown are brothers and Wichita, Kan., natives. Bryce, a running back, originally signed with Tennessee before transferring back to Kansas State to be closer to home. Arthur, a linebacker, did the same after signing with Miami originally.
Both were five-star recruits, among the best in their class at their positions. In Arthur Brown's class, ESPN pegged only five players better than him, and four (
A.J. Green
,
Julio Jones
,
Terrelle Pryor
, Da'Quan Bowers) became household names over the course of their careers.
Alabama's
Trent Richardson
was the only running back ESPN ranked above
Bryce Brown
.
Neither Brown brother stuck at their respective program.
Quarterback Justin Tuggle, meanwhile, started briefly at Boston College after leaving high school as the nation's No. 38 quarterback. Last year, he spent the season filling Heisman winner
Cam Newton
's shoes at Blinn College in Texas.
Snyder has built a reputation on turning transfers from junior colleges and other Division I programs into stars, and the Wildcats hope that will be the case with their new trio, who will finally get their chance this fall.
"Are they going to step on the field and be instant successes to an extremely high degree? I can't guarantee that," Snyder said. "I'd like for it to happen, they'd like for it to happen, our players would like for it to happen, and our coaches, but I wouldn't instill that kind of pressure on either one of them."
The Brown Brothers have been in the program for a year, and Arthur has already drawn rave reviews for his work on the scout team last year. Tuggle, a dual-threat quarterback, arrived this semester and is working on learning the Wildcats offense while competing with
Collin Klein
and
Sammuel Lamur
to win the starting job.
"I'd hate to put a ceiling on anybody's capabilities, whether it's a transfer student or young people who have been in our program for a period of time. It would be hard to say this is what their limitations are. We try to stress not placing limitations on their abilities to perform successfully," Snyder said. "They weren't in a position where they were on the field, the kind of repetition that is quality or signifies quick improvement, but they are now and each and all of them are making headway. Where does that take them? That's certainly up to them."
January, 19, 2011
1/19/11
12:30
PM ET
Yo, who's the grillmaster, dog?
October, 31, 2010
10/31/10
10:00
AM ET
The Big 12 North is Nebraska's to lose.
The Huskers made sure of that early, unleashing one of the most dominant quarters by any team in Big 12 play this season. Missouri didn't fall in a 24-0 hole early, Nebraska dug that thing with a week of preparation, and once the Tigers showed up (or didn't show up) the Huskers grabbed them by the collar and threw them in. From a wide-angle lens, though, Nebraska's win is good for drama in the North. Had Missouri won, it would need to lose three of its final four games to send Nebraska to the title game. Now, one slip-up by Nebraska could put the Tigers in. The Huskers' toughest test is likely a trip to College Station, but this is college football; anything can happen. And fret not, Tigers. Regardless of what Nebraska does the rest of the year, Missouri is in decent position to go 11-1 in the regular season if they can survive Lubbock next weekend. That's nothing to complain about. I'm sure there will be a few people who rush to proclaim Missouri got "exposed," but they ran into a motivated team that played its best and, without a flat performance against Texas, would still be very much in the thick of the national title picture.
[+] Enlarge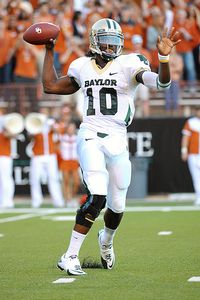 Brendan Maloney/US PresswireRobert Griffin and Baylor are leading the Big 12 South heading into November.
No, seriously, you better take Baylor seriously.
This isn't to say Texas didn't, but Baylor lined up and straight-up beat the Longhorns -- in Austin. Most surprising: No one was really surprised. The Bears didn't play fantastic, but they played well, and that's all they needed to beat Texas. The Longhorns have been average at best this season at home, but they have as much talent on defense as almost anyone in the country and they needed this game badly to salvage their season. Instead, they were firmly denied, setting up a suddenly huge game for Baylor next weekend. Was there a soul on the planet who thought Oklahoma State-Baylor in the first week of November would be between a pair of ranked teams? Shows what we media members, who picked the Cowboys and Bears to finish fifth and sixth in the league, know. We live in a strange age of Big 12 football, folks.
The Big 12 has the best receivers of any league in America.
With Oklahoma State's
Justin Blackmon
sitting out on Saturday, the league's No. 2 and No. 3 receivers put on a big-time showcase in wins. Oklahoma's
Ryan Broyles
set a school record with 208 yards and three touchdowns on nine catches before taking a seat as Oklahoma ran out the clock. Texas A&M's
Jeff Fuller
used 11 catches to rack up 171 yards and a pair of scores. All three are very different receivers, but eat your heart out
Alshon Jeffery
,
A.J. Green
,
Julio Jones
and
Greg Childs
.
Making difficult decisions will pay off.
I can't imagine what that conversation between Mike Sherman and
Jerrod Johnson
went like. Johnson, I'm sure, took it well and will keep working. He's a great player who'll do whatever he's asked, but there's no question now that Sherman made the right call. He benched the Aggies' all-time leader in total offense and a three-year starter in Johnson in favor of
Ryan Tannehill
, who torched a mediocre Texas Tech secondary for a school-record 449 yards and four touchdowns. His performance gave the Aggies a much-needed win before they enter a brutal, brutal finish to their schedule against three South teams and Nebraska.
Paul Rhoads is very, very close to shocking everybody once again.
Last year, it was impossible because he inherited a two-win team without any hope. This year, the schedule was just too hard for it to even be a remote possibility. But here the Cyclones are, sitting on five wins with a very winnable game at Colorado in two weeks between them and a trip to a bowl game for the second consecutive season. It'd be pretty unfair to say these Cyclones have no shot to beat Nebraska next week. Rhoads has already shown what happens when those types of things start getting said about his team.
July, 8, 2009
7/08/09
3:59
PM ET
By
Tim Griffin
| ESPN.com
Posted by ESPN.com's Tim Griffin
Oklahoma State (Big 12 No. 3) vs. Alabama (SEC No. 3)
Oklahoma State's record against the SEC: 2-3



Alabama's record against the Big 12: 3-3
Previous series: Oklahoma State leads the series, 1-0
Most recent game: Oklahoma State won, 34-31, in the 2006 Independence Bowl

Distance between them (as the crow flies according to How Far Is It): 578 miles.
Where they should play: Little Rock, Ark. (283 miles from Stillwater, 295 miles from Tuscaloosa)
Who wins: Alabama.
Why: Nick Saban got his team to the brink of the SEC championship last season. And he clearly wants more this year.
Mike Gundy is hoping to take Oklahoma State into the uncharted area where the Cowboys are challenging for conference titles and BCS bowls. Alabama is just a little further along, and that experience would be the major difference if these two teams would play.
It would be an intriguing matchup of strength against strength as the Crimson Tide's nine defensive starters would be supremely challenged by OSU's vaunted offensive attack. But nose tackle Terrence Cody and linebackers Rolando McClain and Dont'a Hightower should be able to neutralize Kendall Hunter and the Cowboys' rushing game. Gundy also would be tested to get Dez Bryant and OSU's deep passing game involved against a talented athletic secondary keyed by starters Justin Woodall, Javier Arenas and Kareem Jackson.
While Alabama isn't nearly as talented offensively, neither is OSU on defense. Saban needs to find a replacement for Andre Smith up front, but James Carpenter and D.J. Fluker are poised to take over and would be strong against OSU's rebuilding defensive front. I'd look for new Alabama quarterback Greg McElroy to manage an efficient game, using Julio Jones just enough to boost the Tide to a tight victory.
The game also would be interesting to see the special-teams battle between Arenas and Bryant on punt returns. If either team could earn a substantial special-teams advantage, it might be enough to catapult them to the mythical victory. But I'm thinking that both teams would make big plays and likely even out, enabling Alabama to win.
Thursday: Oklahoma (Big 12 No. 2) vs. Mississippi (SEC No. 2).
The count: SEC, 6-4.
Note: Matchups are determined by the most recent rankings of Big 12 blogger Tim Griffin and SEC blogger Chris Low. All cumulative records go back to the 1996 season -- the first of competition in the Big 12.