February, 27, 2014
Feb 27
9:00
AM ET
There are few assistants in college football who pulled in a better recruiting haul this year than Kendal Briles.
Earlier this month, the Baylor wide receivers coach and passing game coordinator inked four receivers ranked in the ESPN 300, padding what was already a loaded position in Waco.
As the defending Big 12 champs get ready to open spring practice Friday, Briles took time to talk to ESPN.com about his signing class, the new expectations at Baylor and what he's learned coaching under his dad -- Bears head coach Art Briles.
Let's first go through the four receivers you signed, and what each brings to the table. Start with K.D. Cannon, who was recruited by virtually everyone in the country.
[+] Enlarge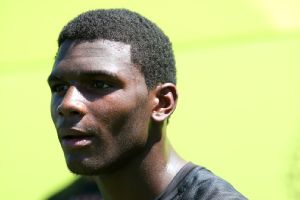 Tom Hauck/ESPN.comK.D. Cannon is one of four ESPN 300 wide receivers that Baylor signed in the 2014 class, making an already-rich position that much more stacked.
Briles:
Well, we feel like we know a lot about K.D. already. He possesses a lot of things you look for in a wide receiver. His body control, how he catches the ball, his shiftiness, competitiveness -- all those things. He's got a great family and all the intangibles to become a great wide receiver. We're real excited to get him here in June. From a talent standpoint, he's off the charts.
What about Davion Hall?
Briles:
Davion is already here and is doing a really good job. His body weight has already come up. He looks real good. He's a powerful, powerful athlete. He's got really good ball skills. He's not going to be as fluid as a K.D.-type player, but he's a really powerful kid who runs well. He's a great, great person, and wants to be extremely successful. That's the thing we really love about him; that he's a really good person. We'll see what he can do here in a few days. He's going to get a chance to put the pads on and see where he's at. He's a little bit nervous, as he should be. But he's been great since he's been here working with the strength and conditioning program, and he's going to compete in spring ball.
Ishmael Zamora?
Briles:
Ishmael is a guy who might have the greatest upside of all of them. He was up to 210 pounds when I talked to him the other day. I expect him to win the state title in the 110-meter hurdles again in [Texas Class] 5A. He's a great athlete whose talents didn't flourish in high school because of the offense he played in. I think he had like five catches as a junior. But his upside is incredible. We're very, very excited about him.
Last, but not least, what about Chris Platt?
Briles:
Chris Platt is a sleeker guy, 168 pounds probably right now. He's going to win the state track meet and become the first four-time state champ in the 400 meters in Texas state high school history. He's a guy who can play -- good ball skills. We had him in camp, and you might think he's just a straight-line guy, but he's got some good hip flexion. He catches the ball, is competitive. He's got tremendous upside as well.
OK, let's get to the guys you have coming back, starting with Antwan Goodley. I remember talking to a Big 12 coach last October, and he was like, 'Where did Antwan Goodley come from?' How did Goodley make so much improvement, and where can he go after a monster junior season?
Briles:
Antwan was a really good high school football player. I saw him, and the kid could run. He wasn't real tall. He committed to us on a junior day in February and held strong the whole time. He was 192 pounds, and he's been as high as 222 -- he's gained 30 pounds of pure muscle. He's one of the strongest kids we have on the team without a doubt. My expectation for him now is to be the best wide receiver in the United States of America. He's proven what he can do on the football field, now we have to make sure he keeps getting better. The spring is big for him. We won't let him go as much -- we have other guys we want to get reps, and we know what he can do. But there are things for him to work on, and he's very excited to get back out there and get back to work.
You've got two highly-touted young guys in Corey Coleman and Robbie Rhodes who haven't made that big splash yet. What is your expectation for them as sophomores?
Briles:
With Corey, you don't think he had a splash as a freshman, but if you look at it, he was second all-time among Baylor freshmen in receiving yards next to Kendall Wright. That's pretty good company. He has a chance to have a tremendous career. He's a little bit raw, but has tremendous speed, tremendous hands and catches the ball very well. He wants to be great. And he's a tough guy. He's not a big guy (5-foot-10) but at 190 pounds, he's very stout. He can play inside and outside because he can handle the blocking stuff well with how strong he is. We're going to have him plugged in all over the field, and he gives us a really dynamic factor.
As for Robbie, it's hard to come in and play as a true freshman. I probably should have redshirted Robbie because he didn't get the experience that he probably needed. He got to play in some big games, but he hurt his ankle early against West Virginia, then again against Kansas, and was out the latter part of the year. He gained 10 pounds in the fall, changed his body in the last two months and looks tremendous. He's going to have an unbelievable spring, and I can't wait for the fall for him. He's about as natural as it gets.
[+] Enlarge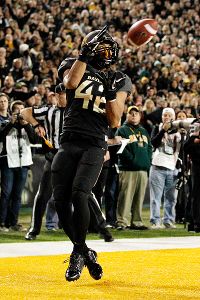 Tim Heitman/USA TODAY SportsLevi Norwood's size and ability to get open makes him a lethal weapon in Baylor's high-powered offense.
How would you characterize Clay Fuller's role on this team? Seems like he's a reliable target for you.
Briles:
That's Clay. That's what we call him. If it's third down or we're in the red zone, you throw it up to him, and he'll make the catch for you. He runs really well, and he's reliable. Add in
Levi Norwood
, who's in the same mold, and you're playing two big guys inside who are long, rangy, block well, catch the football well, run well. They do a tremendous job for us. Both do a great job on special teams for us, too.
With so many options at receiver, seems like you've got a good problem to have, right?
Briles:
Yeah it is. One guy we haven't talked about,
Jonathon Lee
, came on at the end of the year. I expect him to have a good year, too. We've done a good job recruiting as a staff. And playing wide receiver at Baylor is a pretty good deal. Wide receivers in this league have had success. We've led the country in total offense, we chuck the ball around, play in space. We have great uniforms, we're going to be playing in a great stadium. It's a pretty good gig playing wide receiver for us.
This season is going to have a different feel for you guys. As the defending Big 12 champs, you're going to have a target on your backs. How will you guys adjust?
Briles:
There's no doubt there's going to be a target on our backs, but we've always had a chip on our shoulder the way we play. We're not going to change our mindset. Our guys play fearless, physical and fast. People will be gunning for us, but we'll be ready for the task. We have a great team, and we're looking forward to defending our Big 12 championship.
What is the most valuable thing you've learned about being a coach from your dad?
Briles:
Treating people right. The way he treats people on a daily basis is one reason why he's been so successful. The humility, the way he cares for people, he truly wants people to be successful. He makes people around him feel good, and he gets the best out of people. That's a great trait that he has.
There was a lot of talk leading up to the bowl game about him possibly taking a job elsewhere. How did you guys handle that behind the scenes, and what was it like with all that around you?
Briles:
To be honest with you, it never came up inside this office or practice field with our players. People say stuff, put stuff out there. But if other people are coming after your head coach, then you're doing something right. But I think Baylor University understands the coach we have here, and weren't going to let him go anywhere. And Art Briles understands how much he loves Baylor, and doesn't want to go anywhere. It's a great marriage, and we're looking forward to being here a long time.
What's the one thing about your dad that people don't know about him?
Briles:
Everyone knows he's competitive. But if he sends you a text message to play golf at 11:30 in the morning, you better understand you're getting into a war. He's not going out there to enjoy the scenery or to a swing a club. He's going out there to kick someone's [butt]. Most people don't know that. But it better be understood by the people getting into that situation.
February, 11, 2014
Feb 11
3:00
PM ET
The Big 12 is full of talented assistant coaches. In a conference loaded with quality assistants, we've tried to narrow it down to the top 10 based on the on-field production of their offense, defense or position group and their ability to evaluate, recruit and develop players at their position.
[+] Enlarge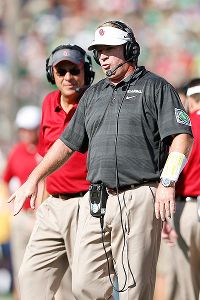 Joe Robbins/Getty ImagesMike Stoops' defenses at Oklahoma have been among the best in the Big 12 the last two seasons.
Here's a closer look at the top 10 assistant coaches in the Big 12:
Mike Stoops, Oklahoma defensive coordinator/safeties coach: The Sooners defense has been solid since Stoops returned after his stint as head coach at Arizona. Oklahoma has been among the Big 12's top defenses during the past two seasons, particularly against the pass. Stoops secured the top spot on the list with his willingness to completely change the defense in 2013, going to a three-man front and making the defense faster and more versatile. And he's one of the best evaluators and developers of defensive backs in the country.

Phillip Montgomery, Baylor offensive coordinator/quarterbacks coach: Montgomery coordinated the nation's top offense in 2013. The Bears led all BCS teams, averaging 52.4 points and 618.8 yards per game, as the offense spearheaded Baylor's run to its first Big 12 title. Montgomery also has mentored some of the Big 12's top quarterbacks in recent years, including Robert Griffin III and Nick Florence, capped by Big 12 offensive player of the year Bryce Petty in 2013.

Glenn Spencer, Oklahoma State defensive coordinator/linebackers coach: Spencer took over Oklahoma State's defense in 2013 and the Cowboys transformed into a more aggressive and adaptive unit. Oklahoma State's defense led the Big 12 in fewest points allowed (21.6) and lowest third-down conversion rate (31.4 percent) to finish among the top 20 teams in the BCS in each category. Spencer also is a superb recruiter and developer of linebackers for the Cowboys, who featured two of the Big 12's best in Caleb Lavey and Shaun Lewis last season.

Dick Bumpas, TCU defensive coordinator/defensive line coach: Bumpas has coached with TCU head coach Gary Patterson since 2004, and the Horned Frogs have fielded some of the best defenses in the nation during Patterson's tenure. TCU's defense finished among the Big 12's best in several categories in 2013, including its 4.83 yards allowed per play, which was No. 13 among BCS teams. Bumpas' defensive line group also has been among the Big 12's best, as he consistently turns players other teams overlooked into solid performers.

Dana Dimel, Kansas State offensive coordinator/running backs and tight ends coach: The Wildcats' creativity on offense often goes unnoticed, but K-State finished among the top 30 BCS teams in yards per play. Dimel, who coaches the running backs and tight ends, has been a key member of Bill Snyder's staff and has coached 34 players who have played in the NFL. That includes Daniel Thomas, who arrived on campus as a junior college quarterback before developing into an All-Big 12 running back.

Joe Wickline, Texas offensive coordinator/offensive line coach: Wickline has been one of the Big 12's top position coaches for the past few years as Oklahoma State's offensive line coach. He coached several players to all-conference honors, including NFL first-round pick Russell Okung. Wickline moves to Austin, Texas, in 2014 after being named Texas' offensive coordinator by head coach Charlie Strong. He has a proven ability to evaluate talent and develop relative unknowns into productive offensive linemen.

Wally Burnham, Iowa State defensive coordinator/linebackers coach: Burnham consistently has developed All-Big 12 linebackers during his time on the Cyclones' coaching staff. During his five seasons coaching linebackers, Jesse Smith, Jake Knott, A.J. Klein and Jeremiah George each earned All-Big 12 honors. The Cyclones defense took a step backward in 2013, but much of their success under Paul Rhoads is built upon an underrated defense led by quality linebackers.

Sonny Cumbie, TCU co-offensive coordinator: The Red Raiders receivers have been among the Big 12's best under Cumbie for the past few seasons. His work with the receivers was one reason Texas Tech led the Big 12 and finished second nationally with 392.85 yards per game in 2013 despite playing multiple quarterbacks. Cumbie will play a key role in kick-starting TCU's offense in 2014.

Kendal Briles, Baylor passing game coordinator/receivers coach: Briles secured his spot on this list thanks to his ability to evaluate, recruit and develop receivers. He's one reason Baylor has become "Wide Receiver U" in the Big 12 while putting several players into the NFL, including Kendall Wright, Terrance Williams and Josh Gordon. Not only does he evaluate well -- such as with overlooked speedster Tevin Reese -- Briles has shown he can develop those signees into all-Big 12 performers.

Jay Norvell, Oklahoma co-offensive coordinator/receivers coach: Much like Briles, Norvell consistently recruits and develops players for the Sooners. He coached NFL draftees Ryan Broyles, Kenny Stills and Justin Brown during the past three seasons, when six receivers have caught at least 50 passes. His ability to continue to bring in elite prospects amps up the competition at the position.
October, 15, 2013
10/15/13
8:00
PM ET
Editor's note: For a look at the national recruiter power rankings based only on Class of 2014 success,
click here
.
The best college football coaches will tell you that when it comes to recruiting, their business is an art. It's a craft you must perfect if you want to have the best players commit and ultimately sign. Recruiting isn't for everybody, but those who are good at it -- particularly for building the 2014 class -- should be recognized, as the business is extremely competitive.
Here are 10 of the top recruiters from the Big 12.
To continue reading this article you must be an Insider