January, 17, 2013
1/17/13
11:00
AM ET
The offseason is under way, but offseasons are fun, too. Here are the storylines to keep an eye on until the teams are back on the field in 2013.
1. Can Casey Pachall get back on track?
TCU's quarterback is officially back with the team after leaving school to go to an in-patient drug and alcohol treatment facility. Most people want to know if he'll be the same player, but what's even more important is whether he can avoid the same pitfalls and get his life back on track.
2. Expansion junction, what's your function?
The odds seem strongly against it, but you know we're not getting through a college football offseason without talking expansion at some point. How much will it heat up? Will Florida State re-emerge as a Big 12 candidate?
[+] Enlarge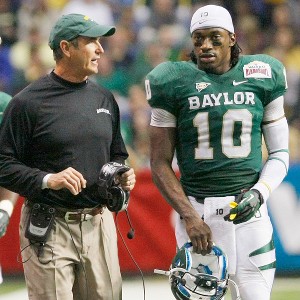 AP Photo/Darren AbateArt Briles, left, has done a great job developing quarterbacks at Houston and at Baylor.
3. Will the 'Quarterback Whisperer' do it again?
Baylor coach Art Briles' last four quarterbacks have been absurd. Kevin Kolb and Case Keenum got it done at Houston, and Robert Griffin III won a Heisman as the best of the bunch at Baylor.
Nick Florence
led the Big 12 in passing yards last year. What does Briles have in store this season?
Bryce Petty
has better measurables than Florence, but can the redshirt junior show off his experience in the system and make good decisions?
4. Striking the fear back in Lubbock.
Kliff Kingsbury is looking to bring swagger back to Lubbock. He's still piecing together his staff, but the 33-year-old has the pieces to put together a solid team on the field, too. Can Texas Tech break the string of late-season collapses the past two years?
5. Charlie Weis' juco revolution.
Weis has made it clear that he wants quick fixes and to win now at KU. Will his juco recruiting haul do it? Defensive lineman Marquel Combs was the nation's No. 1 juco recruit, and Weis has done a heck of a job selling immediate playing time to these guys. The current recruiting class has 17 juco transfers among 25 commits. Will it pay off, and how will these guys look once they get on campus? Are wins just around the corner?
6. A quarterback competition for the ages
. Was Oklahoma State the first team ever to have three 1,000-yard passers? Two of them were freshmen, too. The QB derby last spring was good. This year's will be even better, with all three showing they could win games in Big 12 play.
Clint Chelf
will have the inside track, but
Wes Lunt
and
J.W. Walsh
will try to swipe it away. Could one transfer be imminent after the spring?
7. Are the Longhorns finally, officially, certifiably back?
Texas looked like it was back after going up to Stillwater and winning a dramatic game that helped the Longhorns ascend to No. 11 in the polls. Then consecutive losses capped by a Red River Blowout made it obvious the Horns weren't quite back yet.
David Ash
's development and fixing Manny Diaz's surprisingly vulnerable defense will decide whether 2013 is the season Texas returns to the BCS stage.
8. What about the championship game?
Bob Bowlsby turned some heads when he inquired with the NCAA about a waiver to hold a championship game with just 10 teams. I don't think there's much fire around that smoke, but how serious will any talk of a return of the Big 12 title game get? The coaches would hate it.
June, 15, 2009
6/15/09
6:30
PM ET
By
Tim Griffin
| ESPN.com
Posted by ESPN.com's Tim Griffin
Today is a special summer day for football fans across Texas and the Southwest.
Today is the annual release date of Dave Campbell's Texas Football, which is the unquestionable college football magazine of record in these parts every year.
This magazine is special because it's the 50th anniversary edition. The first one was laid out on the kitchen table of former Waco Tribune-Herald sports editor Dave Campbell, who started it in 1960.
It's gotten much bigger than that over the years, being read by three generations of football fans over the years. Today, there's a Texas Football classic every year at the Alamodome and even an official Texas Football song.
I first learned about the magazine in the late 1960s when a friend of mine in fifth grade, Richard Jackson, moved to Memphis from Houston. Along with his neat Houston Astros hat that I always was envious of was his copy of Texas Football Magazine. The story and pictures of the guys from Texas, Baylor and Rice were so different than anything I came across in the Southeastern Conference. I wanted mine, too.
My dad occasionally traveled to Texas with his job and soon learned to look at the 7-Eleven on one of his trips to Dallas to see if he could score a copy of Dave Campbell for me.
Later, my family moved to Texas and I learned the excitement of visiting the newsstand in mid-June to pick up the Dave Campbell magazine, which was there to chronicle the demise of the Southwest Conference and the start of the Big 12.
The new one will officially be released today across the area. And the coverboy is Texas quarterback Colt McCoy, who becomes the first individual player to be pictured since Texas wide receiver Roy Williams in 2003.
I picked up my copy and am already deeply into it. It takes me back to my childhood.
The only problem is that I wonder why I couldn't pick up a Grape Slurpee to drink with it like I used to back in the day.
A list of the cover boys in the magazine's history exhibits a unique history of football in the southwest. Here's a list of the players who have graced the cover of the magazine over the years.
1960: Texas RB Jack Collins
1961: Baylor RB Ronnie Bull
1962: TCU QB Sonny Gibbs
1963: Texas coach Darrell Royal and DT Scott Appleton
1964: Baylor coach John Bridgers and WR Lawrence Elkins
1965: Texas Tech RB Donny Anderson
1966: SMU NG John LaGrone, Baylor DT Greg Pipes, Texas DT Diron Talbert
1967: Texas A&M T Maurice "Mo" Moorman
1968: Texas A&M QB Edd Hargett
1969: Texas QB James Street
1970: Texas RB Steve Worster
1971: Texas Tech QB Charles Napper
1972: Texas A&M LB Brad Dusek
1973: Texas LB Glen Gaspard
1974: Texas coach Darrell Royal
1975: Baylor coach Grant Teaff
1976: Houston coach Bill Yeoman
1977: Texas Tech QB Rodney Allison
1978: Texas A&M K Tony Franklin and Texas K/P Russell Erxleben
1979: Texas DT Steve McMichael
1980: Baylor LB Mike Singletary and Texas A&M QB Mike Mosley
1981: Baylor RB Walter Abercrombie and SMU RB Craig James
1982: Texas A&M QB Gary Kubiak
1983: SMU QB Lance McIlhenny
1984: Texas A&M DE Ray Childress
1985: TCU coach Jim Wacker and TCU RB Kenneth Davis
1986: Texas A&M coach Jackie Sherrill
1987: Texas QB Bret Stafford and Texas coach David McWilliams
1988: Texas RB Eric Metcalf and Texas A&M LB John Roper
1989: Houston coach Jack Pardee and SMU coach Forrest Gregg
1990: Texas Tech coach Spike Dykes
1991: Houston QB David Klingler
1992: Rice RB Trevor Cobb
1993: Texas A&M coach R.C. Slocum
1994: Texas QB Shea Morenz
1995: A collage of Southwest Conference historical figures including Texas RB Earl Campbell, Houston coach Bill Yeoman, Baylor LB Mike Singletary, TCU QB Sammy Baugh, Texas coach Fred Akers, Texas coach Darrell Royal and SMU RB Doak Walker.
1996: Baylor coach Chuck Ready, Texas Tech coach Spike Dykes, Texas coach John Mackovic and Texas A&M coach R.C. Slocum
1997: Texas QB James Brown and Texas RB Ricky Williams
1998: Texas A&M LB Dat Nguyen, Texas RB Ricky Williams and Texas coach Mack Brown
1999: Texas coach Mack Brown and TCU coach Dennis Franchione. Note: Alternative cover for those magazines sold outside the state featured Dallas Cowboys QB Troy Aikman
2000: Midland Robert E. Lee H.S. RB Cedric Benson
2001: Texas QB Chris Simms, TCU QB Casey Printers, Texas A&M QB Mark Farris and Texas Tech QB Kliff Kingsbury
2002: Texas Tech QB Kliff Kingsbury, Celina H.S. coach G.A. Moore, Dallas Cowboys RB Emmitt Smith and Baytown Lee H.S. QB Drew Tate.
2003: Texas WR Roy Williams
2004: Texas Tech DE Adell Duckett, TCU S Marvin Godbolt, Houston QB Kevin Kolb, North Texas RB Patrick Cobb
2005: Texas QB Vince Young and Texas A&M QB Reggie McNeal
2006: Former Texas RB Earl Campbell, Mansfield Summit H.S. QB John Chiles, Texarkana Texas H.S. QB Ryan Mallett and Gilmer H.S. QB G.J. Kinne
2007: Texas A&M QB Stephen McGee, Texas QB Colt McCoy and TCU DE Tommy Blake
2008: Texas Tech coach Mike Leach, Texas Tech QB Graham Harrell and Texas Tech WR Michael Crabtree
2009: Texas QB Colt McCoy
Source: ESPN.com research