January, 22, 2010
1/22/10
10:00
AM ET
By
Tim Griffin
| ESPN.com
The Big 12 had an eventful decade in the one that just concluded. Two national championships, seven trips to the BCS national title game and a spectator-friendly offensive attack earned the league much national notoriety.
But you haven't seen anything yet.
With that in mind, I dusted off my crystal ball and looked ahead to see some of the major events that we could see during the upcoming decade.
We'll see some realignment in the league as Missouri leaves for the Big Ten and TCU is added to fill the Tigers' place. That move will give Big 12 leaders an excuse for realignment that eventually will be selected from a blind draw of plans at Big 12 commissioner Dan Beebe's desk. The Osborne Division will have Nebraska, Colorado, Baylor, Texas Tech, Oklahoma State and Texas A&M. The Royal Division will give a home to TCU, Texas, Oklahoma, Iowa State, Kansas and Kansas State. After four years of play, that grouping will prove so unpopular that the old divisional format will be adapted with TCU joining the South Division and Oklahoma State moving to the North.
Mike Leach eventually will return to the Big 12 – but this time as a television analyst. His quirky conversational style will be panned by the critics but embraced by fans. And he'll also appear on television in a continuing role of his good friend Donald Trump's series "The Apprentice."
After being rebuffed by the major television networks, the Big 12 and Pac-10 will strike out on their own with a television network jointly owned by both. It will give us a late game every Thursday night from the Pac-10, along with an early Big 12 game every Saturday at noon. The two conferences will share the prime Saturday afternoon programming window and games on Saturday night, building national awareness for both conferences.
The most intriguing part of the Pac-10/Big 12 programming association will be the "Kickoff Classic," a week-long start of the season where the Big 12 teams will meet their counterparts from the Pac-10 in a series of eight games each year. The series starts off with a bang when USC beats Texas in 2015 at the Cowboys Stadium in Arlington, Texas, earning a measure of revenge for losing to the Longhorns in the national championship game in 2006.
By that time, Will Muschamp will have taken over at Texas. Mack Brown will remain at Texas through the 2012 season, celebrating as Garrett Gilbert leads the Longhorns to the national championship with a victory over Ohio State in the BCS title game. After that game, Brown announces his resignation, with Muschamp taking over and naming Major Applewhite as his offensive coordinator and Kirby Smart as his defensive coordinator in his first series of personnel moves.
Bob Stoops' association with Oklahoma will end in the middle of the decade when he accepts an offer to become the head coach of the Dallas Cowboys. At the time, it will end the longest association of any Big 12 coach with their school. He'll be replaced at Oklahoma by Houston coach Kevin Sumlin.
After Bo Pelini leaves for the vacant LSU job after the 2014 season, former Cornhusker Turner Gill takes over the Nebraska program after developing his Kansas program into a solid bowl contender. His hiring is one of the last acts that Nebraska athletic director Tom Osborne orchestrates before his retirement.
Much to the chagrin of football fans, the BCS will endure. We'll see one alteration, however. A "plus-one" model will be added with one game added for the national championship. Texas, Nebraska and Oklahoma all will win national championships during the upcoming decade. With Boone Pickens' influence lessening, Oklahoma State will fall back into a lesser position in the South. And Colorado will go through two head coaches in the decade before hiring Kyle Shanahan in 2018.
Thanks to huge seasons from Robert Griffin and national interception leader Ahmad Dixon, Baylor will end its bowl drought with an appearance in the 2011 Texas Bowl. To celebrate, the Dr Pepper bottlers in Waco will release a commemorative bottle that becomes a prized collectors' item.
One change in the BCS will affect the Big 12. The Cotton Bowl eventually will become the fifth bowl in the national title rotation. To fill that hole, the Alamo Bowl will move to New Year's Day as the destination for the top Big 12 team that doesn't make the BCS.
January, 15, 2010
1/15/10
8:55
PM ET
By
Tim Griffin
| ESPN.com
New Texas Tech defensive coordinator James Willis doesn't promise many changes from what the Red Raiders did last season.

The Red Raiders' defense was a surprising strength last season, emerging from the shadows of Mike Leach's offensive reputation to become a force in its own right. Tech's defense ranked fourth nationally in sacks, 40th in turnovers produced and 41st in scoring defense in a 9-4 season.

"This defense was very good last year," Willis said. "Some people may look at their record and kind of change things around, but these guys competed well."

Willis, who arrives at Tech after one season serving as Alabama's associate head coach and outside linebackers coach, was convinced of that success after studying film of the Red Raiders' season after his arrival. The chance to work with his former coaching mentor Tommy Tuberville only made him more excited about the opportunity.

"I turned on the game film and watched them play against Texas and some other schools. They compete now. They get after you," Willis said. "They're hard-nosed, blue collar, and that's what we'll continue to be. We'll be aggressive, fly around and get to the ball, that's what we'll continue to do."

With the Big 12's pass-heavy reputation, Willis promised an aggressive blitzing defense that will attack rival offenses.

"This conference is known for throwing the ball," Willis said. "You turn on the film and you see a lot of points being scored and the defenses really trying to get after the team and slow them down some. We'll do the same thing. We're going to be aggressive, that's what we do. That's going to be our motto."

Willis will face a difficult challenge with his players as he replaces the popular Ruffin McNeill, who helped transform the Red Raiders' defense over the last 2 ½ seasons.

But Willis arrives at Tech with the reputation as one of the fastest rising defensive coaches in college football after his work at Alabama on Kirby Smart's defensive staff.

"It was very hard to leave that place; it truly was, because I had a great time there," Willis said. "Everybody talks about the bowl game and victory, but to me it wasn't so much the victory and getting to the championship, it was the process and the road getting there."

His association with Alabama coach Nick Saban prepared him for his chance as a coordinator, where he learned the building blocks of developing a strong program.

"I think my time with coach Saban and what I learned was, of course, the formula. I will try to do the same thing here and run the same type of program and the same attitude," Willis said. "So, I'm excited to come here and for the opportunity and I think we have a chance to be pretty good."

Before working at Alabama, Willis was a linebackers coach under Will Muschamp for two seasons in 2006-07 at his alma mater of Auburn on a staff where Tuberville was the head coach. After Muschamp left for the Texas job, Willis remained on the Tigers' staff that was coordinated by current Iowa State head coach Paul Rhoads the following season.

That familiarity and his relationship with Tuberville was what convinced him to come to Texas Tech.

"It's huge because coach Tuberville and I go back a long way," Willis said. "I started my coaching career under him as a graduate assistant. I spent about three years under him in that capacity. I wanted to be an assistant coach."

Willis played college football at Auburn. He was drafted in the fifth round by Green Bay in the 1993 draft and also played for Philadelphia, Seattle and the Birmingham Thunderbolts of the defunct XFL.

After that league disbanded, Willis returned to Alabama to work on his degree. He began his work at Auburn as a student assistant in 2001 and became a graduate assistant two years later under Gene Chizik. He also had one-year stints with Rhode Island and Temple.

"I wanted to be an assistant coach and he sent me out to spread my wings a little bit and learn a little bit," Willis said. "I coached at a few different spots before I came back to him when he hired me. He really let me grow as a coach, and that's one thing about him, like players, he gives you the opportunity to grow. I'm grateful for that."
January, 5, 2010
1/05/10
12:30
PM ET
By
Tim Griffin
| ESPN.com
We've got coaching searches going on around the Big 12 and also that game coming up on Thursday.
Here are some links from around the conference to keep you informed.
January, 4, 2010
1/04/10
9:00
AM ET
By
Tim Griffin
| ESPN.com
Texas offensive coordinator Greg Davis promised some "new wrinkles" offensively to combat a feisty Alabama defense that will be the Longhorns' biggest challenge this season.
Longhorn players were hesitant to say too much about the plans, but
Colt McCoy
revealed that one aspect could be using him more as a running threat.
The Longhorns must be productive on first-down plays against the Crimson Tide, who rank second nationally in rush defense, pass efficiency defense, scoring defense and total defense.
"We've got to have first-down efficiency, let's get 4 yards on first down and stay ahead of what we need to do," McCoy said. "That limits some of the things they can do and gives us a much better opportunity to take care of some things. When you find yourself in second-and-long and third-and-long they can do anything. They can come after you and it's a nightmare on those situations. Staying ahead of the chains is key for us."
McCoy is prepared to be part of that with his arm and his feet.
"You might run four or five draws or a couple of counter reads," McCoy said. "It's one of those things you have to keep going."
For his part, Alabama defensive coordinator Kirby Smart is preparing for anything from the Longhorns on Thursday night.
"I always expect the unexpected," Smart said. "...They do a good job of changing things up, and you talk to people around them from their league and they say they are an execution team. They're going to run their offense, but everybody is going to have a new wrinkle."
December, 23, 2009
12/23/09
11:52
AM ET
By
Tim Griffin
| ESPN.com
Texas and Alabama are two of the best-coached teams in the country, or else they wouldn't be playing in the Citi Bowl Championship Series National Championship Game.

But here's an indication of the coaching talent on the staffs developed by Mack Brown and Nick Saban.

For one the second time in the history of the Broyles Award, three Broyles Award finalists will be featured in the national championship game.

Alabama will have 2009 winner Kirby Smart, who is the Crimson Tide's defensive coordinator. And Texas features defensive coordinator Will Muschamp, who was a finalist in 2007 while at Auburn, and offensive coordinator Greg Davis, who claimed the award at Texas in 2005.

It's rare to see such an aggregation of top defensive talent like this. Once a Broyles Award winner earns his honor, he typically gets a shot at a head-coaching job elsewhere.

Smart likely will get that opportunity some day. Muschamp is the designated successor to Mack Brown at Texas after his retirement. And Davis served as a head coach at Tulane from 1988-91 before returning to a fruitful career as an assistant coach at Arkansas, Georgia, North Carolina and Texas.

It's rare to see such talent on the coaching staffs and it is just another reason why this season's championship game between the Longhorns and Crimson Tide should be savored as something truly special.
December, 22, 2009
12/22/09
4:03
PM ET
By
Tim Griffin
| ESPN.com
AUSTIN, Texas -- Will Muschamp wanted to get out of his house for a few hours while visiting relatives in Atlanta on Christmas Day 2000, figuring that meeting a few old coaching friends would provide a calming respite.
[+] Enlarge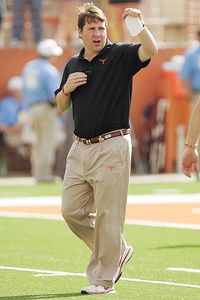 Brian Bahr/Getty ImagesTexas defensive coordinator Will Muschamp attributes some of his success to what he learned under Nick Saban.
He called some old friends on the LSU staff that morning with hopes of watching the Tigers practice for their Peach Bowl game a few days later.
While there, Muschamp met first-year LSU coach Nick Saban. Both of their lives changed from that moment.
The then-Valdosta State defensive coordinator was hired to join Saban's staff three weeks later as a linebackers coach after a vacancy appeared on the staff.
"He wanted somebody young, from the South and who had ties with people on the staff," Muschamp said. "They brought me in for an interview and we talked that day. That night, he offered me the job."
LSU won a BCS championship barely four years later. Muschamp then followed Saban to the Miami Dolphins, where at 34, he was one of the youngest defensive coordinators in recent NFL history.
Later, Saban returned to Alabama and Muschamp became the defensive coordinator at Auburn. Muschamp eventually was hired at Texas, where his strong work has earned him the designation of Mack Brown's successor when he leaves coaching.
Back in the LSU days, Saban had a reputation as a taskmaster who was difficult for many assistants to work for.
But in Muschamp, he found a kindred spirit who enjoyed grinding away at the job as much as he did.
"Nick never asked me to do anything he wasn't doing himself," Muschamp said. "From a work standpoint, a recruiting standpoint or a coaching standpoint, if you didn't want to work it wasn't a good place to be. But I enjoyed work and I like coaching football.
"I like evaluation and I like recruiting and that's why we got along philosophically and schematically. We believe the same way in coaching and motivating. I think that's why we got along."
Today, Muschamp's players say the apple hasn't fallen too far from the tree in terms of Muschamp's dedication for work.
"I always want to try to beat him into the office," Texas defensive tackle Kheeston Randall said. "But it's hard to do. He's the first one there a lot and the last one to leave. You look out and see (Muschamp's) that white truck out there all the time."
Saban is proud of Muschamp's ascension in coaching like the development of former assistants like Michigan State head coach Mark D'Antonio, incoming Florida State coach Jimbo Fisher or Louisiana Tech head coach Derek Dooley.
"To put it into perspective, (it's like) when one of your children does something that makes you proud," Saban said. "That's how you feel when coaches on your staff go on and do bigger and better things and have success in what they do. I'm really proud and want to see them all do extremely well."
Because of their dedication to coaching, Muschamp estimates that he and Saban talk less than once a month. They haven't exchanged pleasantries since the Texas-Alabama matchup was set when Texas beat Nebraska in the Big 12 championship game and Alabama defeated Florida in the Southeastern Conference title game earlier that day.
"It's tough during the season," Muschamp said. "He knows they are playing us and I know we're playing them. He's busy and I am, too."
Both coaching staffs have a lot of connections other than the Saban-Muschamp association. Current Alabama defensive coordinator Kirby Smart was Muschamp's secondary coach at Valdosta State when Muschamp was hired at LSU. Alabama associate head coach/linebackers coach James Willis worked as Muschamp's linebackers coach at Auburn. And Texas running backs coach Major Applewhite worked on Saban's staff as his offensive coordinator and quarterbacks coach in 2007.
Saban faced a similar challenge at Miami when he faced his old mentor, Bill Belichick, when he was coaching the New England Patriots.
"I'm really proud and want to see them all do extremely well," Saban said. "We're good friends and you compete and play against each other, but you don't dislike each other and it's not you don't have the same amount of respect and admiration for them.
"You want to be helpful to those guys if you can. And even if you compete against somebody in that moment in time, you're trying to do the best you can for your team."
Muschamp learned a lot during his time with Saban. While he jokes there will be a lot of "wasted ink" written bout their relationship over the next few weeks, he remains grateful for the opportunity to join Saban's staff nine years ago.
"When you get there and get exposed to a lot schematically, that appealed to me," Muschamp said. "And that's obviously where I formed my ideas about how you play and the things you needed to do to be successful."
December, 21, 2009
12/21/09
8:36
PM ET
By
Tim Griffin
| ESPN.com
AUSTIN, Texas -- For all of the talk about Texas' offensive struggles,
Colt McCoy
believes the Longhorns will learn from their narrow victory over Nebraska in the Big 12 title game.
The Longhorns will face a stout defense with similar personnel against Alabama in the Jan. 7 national title game.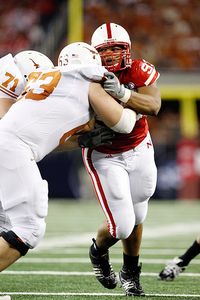 Ronald Martinez/Getty ImagesColt McCoy thinks his offensive line will rebound from a poor effort against Ndamukong Suh and Nebraska in the Big 12 title game.
"Alabama plays a little bit of the same coverages as Nebraska does," McCoy said. "Obviously, we didn't play as well as we would have wanted to, but we found a way to win. And a win is a win. That's the most important thing.
"You look up after the game and the most important thing is winning and you win, it's hard to be disappointed. You can be upset at the way you played, frustrated a little bit, but ultimately in a game like that where things don't go your way the entire night and you find a way to win in a really exciting way, it's awesome. You'll remember it the rest of your life."
McCoy said Monday that his team will use its offensive struggles for inspiration over the next several weeks.
"We understand that we've struggled a little bit and we've come through a lot," McCoy said. "But now, we're in the national championship game. That's where we wanted to be at the start of the season and we're going to do everything to do our best."
And despite the struggles of his offensive line against the Cornhuskers, McCoy is trying to use improvement against Alabama as the biggest key to his team's victory.
"We're going to win this game up front," McCoy said. "Our offensive line, if they can play well, if they can control the line of scrimmage -- that's where the game will be won or lost. If we can get the running game going and open up play action, we've got a great chance to be successful and move the ball. And for me, I"ll have to be a passer and a runner to be able to take advantage of what they do."
Texas offensive coordinator Greg Davis said that Alabama blitzes on about 32 percent of its defensive snaps. But McCoy said he wouldn't be surprised if Alabama defensive coordinator Kirby Smart took a hint from Nebraska and peppered the Texas defense with blitzes early in the game.
"They are really good at putting pressure on you," McCoy said. "I'm sure they'll watch the films of Nebraska, a lot of blitzes and edge pressure, and I'm sure we'll get the same stuff. But we'll get a month to prepare and to get better."
The nine sacks allowed by the Longhorns against Nebraska were the most the Longhorns have allowed in McCoy's four-season stint as a quarterback. It also matched the total that Texas allowed over the previous five games.