November, 3, 2014
11/03/14
9:00
AM ET
Taking stock of Week 10 in the Big 12:
Team of the week:
The
TCU Horned Frogs
found a way to win, rallying to defeat West Virginia 31-30 on a field goal as time expired. Quarterback
Trevone Boykin
was off his game, but his teammates picked up the slack, notably running back
B.J. Catalon
, who sparked the TCU offense in the fourth quarter. As Baylor can attest, winning in Morgantown isn't easy. But behind a salty defensive effort and a gutty offensive finish, the Horned Frogs escaped with their playoff and Big 12 title aspirations intact.
Disappointment of the week:
The Mountaineers took a 30-21 lead over TCU in the fourth quarter and had complete control of the game. What ensued was this: three straight three-and-outs and only one pass attempt. The conservative approach blew up in Dana Holgorsen's face, allowing TCU to scrap its way back to a victory. The Mountaineers could have seized the day and the Big 12 race. Instead, they will be left pondering what could have been.
Big (offensive) men on campus:
The big uglies on the Oklahoma offensive line paved the way for the Sooners' biggest rushing effort in 25 years. Behind
Ty Darlington
,
Tyrus Thompson
,
Daryl Williams
,
Dionte Savage
,
Adam Shead
and
Nila Kasitati
, Oklahoma finished with 510 yards on the ground while averaging 8.6 yards per carry in a 59-14 pulverization of Iowa State. The Sooners also became just the second offense this year to produce three 100-yard rushers in the same game, as quarterback
Trevor Knight
,
Samaje Perine
and
Alex Ross
all passed the century mark. The Sooners never actually lined up in the wishbone. But this was an effort that had to make Barry Switzer giddy.
Big (defensive) men on campus:
TCU defensive backs
Kevin White
,
Derrick Kindred
and
Chris Hackett
were tremendous in the win in West Virginia. White shut down the Mountaineer receiver with the same name, holding West Virginia's
Kevin White
to 28 yards receiving. It was only the second game this year West Virginia's White had failed to reach 100 yards receiving. Kindred came up big, too, with 11 tackles, a forced fumble and a fumble recovery. Hackett also forced a fumble and had a 29-yard interception return. The headlines have rightfully been about the TCU offense this season. But the Horned Frogs also boast the best secondary in the Big 12.
Special-teams player of the week:
TCU's season was on the line, and
Jaden Oberkrom
delivered with a 37-yard game-winner as time expired. We've seen many college kickers fall apart on short kicks in critical moments this season. Oberkrom was not one of them.
Play of the week:
After a rough afternoon with his arm, Boykin found
Kolby Listenbee
behind the West Virginia coverage for a 40-yard gain with a minute-and-a-half remaining. The completion -- only Boykin's 12th of the game -- set up Oberkrom's game-winning kick.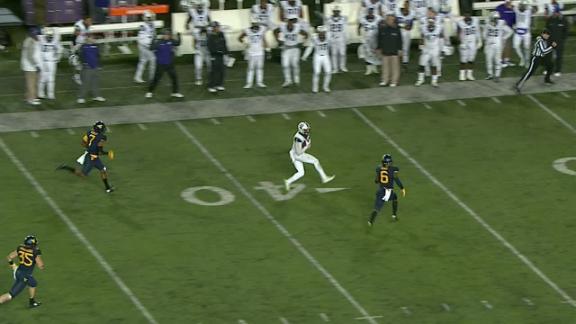 Stat of the week:
Oklahoma State, which gained 84 yards on an opening touchdown drive at Kansas State, gained just 48 yards the entire second half in a 48-14 loss to the Wildcats. The Cowboys have now scored just two offensive touchdowns since the second quarter against Kansas on Oct. 11.
Quote of the week:
"Ready for OU." -- Baylor quarterback
Bryce Petty
, who answered every question that way in his postgame press conference following a 60-14 win over Kansas. Saturday, the Bears travel to Oklahoma, where they have never won in 11 tries.
October, 15, 2014
10/15/14
11:00
AM ET
After
Marcus Mallet
's fourth-quarter pick-six of
Bryce Petty
, the visiting fans rained chants down from the upper deck of McLane Stadium.
"TCU! TCU!"
The Horned Frogs seemingly had put a vise on the Big 12 race. And placed themselves at the top of the playoff conversation.
Then the unthinkable happened.
[+] Enlarge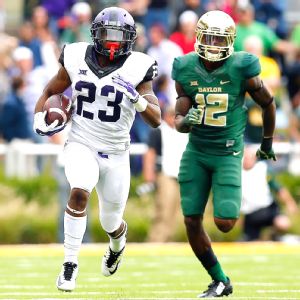 Tom Pennington/Getty Images"The loss (to Baylor) hurt," B.J. Catalon said. "But if it was going to happen, it's better it happened now rather than later. We can learn from this."
Baylor and Petty roared back with 24 unanswered points in the final 11 minutes to stun TCU with a 61-58 victory.
"I felt really bad for them," coach Gary Patterson said this week. "We didn't get done what we wanted to do."
That, however, doesn't mean the Horned Frogs still can't win the Big 12. Or even make the playoff.
Sure, TCU needs a little help now. And the margin for error is gone. But in Fort Worth, there is life after an improbable one-game demise.
"Everyone is disappointed," said TCU running back
B.J. Catalon
. "We left that game on the field. We didn't take it.
"But even though we have a loss, if we get out and play hard through this next stretch, we'll be fine. We'll have the opportunity to compete to get a Big 12 championship and get to a big bowl game."
But that will hinge on whether No. 12 TCU can ditch any Baylor hangover in time for Oklahoma State this weekend. The No. 15 Cowboys are 5-1, with five straight wins since taking defending national champion Florida State to the wire in the opener. Oklahoma State has also defeated TCU by double digits in two meetings as Big 12 foes.
Of course, this isn't the same TCU.
The Horned Frogs knocked off Big 12 preseason favorite Oklahoma two weeks ago, then had the defending Big 12 champion Bears on the ropes in their own stadium.
"One thing I didn't see last year, I didn't see tears. And I did the other night," Patterson said of the locker room at Baylor. "This group is a lot more invested in what we want to get accomplished and where we're trying to get."
These Horned Frogs have already shown they're capable of getting to the top of the Big 12 standings.
Thriving in TCU's new up-tempo attack, quarterback
Trevone Boykin
has been as improved as any player in the league. He's thrown for 1,463 yards and 11 touchdowns with just two picks. He's also rushed for another 305 yards and three scores.
"Trevone has been delivering the ball,"
Kolby Listenbee
, who had 146 receiving yards and a touchdown against Baylor, told reporters Tuesday. "Making plays."
Catalon has been making plays, too, ranking seventh in the league in all-purpose yards while tying for second with eight touchdowns. And save for the fourth-quarter collapse in Waco, the defense has been stout, too, shutting out Oklahoma in the fourth quarter of a 37-33 win.
The key for the Horned Frogs now is preventing the Baylor loss from defeating them twice.
"The same thing I said in the locker room after the Oklahoma game is basically the way I treated them after the loss in the Baylor game -- you can't get too high or too low, especially playing the level of competition we're playing," Patterson said. "It was a better practice on Sunday for Oklahoma State than it was for Baylor on Sunday the week before. I think people handle failure a lot better than they handle success sometimes."
If the Horned Frogs can handle failure, they could set themselves up for plenty of success.
Baylor is now in the driver's seat of the Big 12 race. But the Bears have the more difficult remaining schedule, including a Nov. 8 road trip to Oklahoma. Both Baylor and TCU still have to go to West Virginia. But TCU's only two remaining games against ranked opponents both come at home, including the Cowboys this weekend and No. 14 Kansas State on that pivotal Nov. 8 Saturday in the Big 12.
"The loss (to Baylor) hurt," Catalon said. "But if it was going to happen, it's better it happened now rather than later. We can learn from this. We can't get comfortable no matter what the score is. We can fix how we lost and make sure we don't lose that way again. We know now we have to finish every game."
The Horned Frogs didn't finish in Waco. But they can still finish this season strong -- while keeping their Big 12 and playoff hopes alive.
"That (Baylor) game hurt pretty bad," Listenbee said. "But we're putting it behind us and getting ready for the rest of the season."
October, 2, 2014
10/02/14
2:30
PM ET
Last week, Oklahoma State quarterback
Daxx Garman
went from "in the spotlight" to Big 12 offensive player of the week. Who could have a breakout game in Week 6? Here are 10 players to keep an eye on during a full slate of conference games Saturday.
Baylor's interior offensive line:
Texas has been a disappointment this season. Longhorns defensive tackle
Malcom Brown
has not. He leads the Big 12 in tackles for loss (7.5) this season. Bears guards Desmine Hillard and
Blake Muir
along with center
Kyle Fuller
will need to limit Brown's disruptive tendencies Saturday.
Iowa State cornerback Nigel Tribune:
The Cyclones' secondary will be under fire against Oklahoma State. Garman's arrival under center has sparked a deep passing game we haven't seen from the Pokes in a while. Expect OSU to test Tribune but, as a best-of-the-bunch at cornerback for ISU, the sophomore could win his share of battles.
Kansas cornerback Dexter McDonald:
West Virginia coach Dana Holgorsen praised McDonald and cornerback
JaCorey Shepherd
, calling the duo "as good as I've seen" earlier this week. But Holgorsen won't hesitate to go right after them, especially with Mountaineers pass catcher
Kevin White
playing as good as any receiver in the Big 12. McDonald will have plenty of chances to impact the game and has the talent to do just that.
Kansas State cornerback Danzel McDaniel:
The junior college transfer impressed with his competitiveness against Auburn. That competitive fire will likely come to the forefront against Texas Tech, which is going to put the ball in the air plenty of times regardless of who is taking the snaps for Kliff Kingsbury's squad. McDaniel enters the game with 15 tackles and one sack. He should get plenty of playmaking opportunities against the Red Raiders.
Oklahoma quarterback Trevor Knight:
Odds are TCU would rather force the game onto the shoulders of Knight than allow the tree trunks
Samaje Perine
calls legs to carry the bulk of the load for OU's offense. The Horned Frogs are likely to stack the box, try to take away Sooners go-to receiver
Sterling Shepard
and hope for the best. That's where Knight comes into the equation with his ability to make TCU pay with his arm or legs. If he can hit a deep pass or two and make TCU pay for its focus on the run, things will get a lot tougher for Gary Patterson's team.
Oklahoma State offensive line:
Coach Mike Gundy keeps referring to the Cowboys' lackluster running game, so at some point the offensive line will accept the challenge. Expect OSU to commit to the running game against an ISU defense that is allowing 226.75 rushing yards per game and 5.15 yards per carry.
Texas cornerback Quandre Diggs:
"Nobody's ever heard of that." Don't think Diggs' response to a question about Baylor's #WRU moniker Monday went unnoticed in Waco. Expect the Bears to go after Diggs and the rest of the UT secondary through the air and send wave after wave of talented receivers while doing so. But if anyone can stand up to the test it's Diggs, one of the best and most experienced defensive backs in the Big 12.
TCU receiver Kolby Listenbee:
The Horned Frogs junior has shown he can get behind defenses with his track speed. Yet he and
Trevone Boykin
have been unable to connect on most of their attempted deep throws. Listenbee has caught nine of 19 targets but is averaging 18.8 yards per reception. But it only takes one or two deep throws to change the game and set up an upset of the Sooners.
Texas Tech receiver Bradley Marquez:
Whoever lines up under center will garner much of the attention, but the Red Raiders' offense seems to have more success and increase in its explosiveness when Marquez is involved. He has six touchdown receptions in four games and 65.4 percent of his receptions result in a first down or touchdown. Getting him involved could be the key to Tech's hopes for success.
West Virginia running back Wendell Smallwood:
This feels like it could be a breakout game for Smallwood, particularly with his ability to catch the ball out of the backfield and make plays in open space. He could be an X factor in WVU's offense this weekend with a solid KU secondary and Jayhawks linebacker
Ben Heeney
likely to be a problem in the running game. Enter Smallwood, who could create havoc on screens, short passes and draws.
September, 1, 2014
9/01/14
12:30
PM ET
Over the weekend, colleeague Max Olson released his
helmet stickers
for the top performers of the weekend. But I also wanted to highlight some other players who really impressed me in Week 1:
Emmanuel Ogbah, DE, Oklahoma State:
Running back
Tyreek Hill
drew the "oohs" and "aahs" with his speed, but Ogbah had just as big an impact for the Cowboys defensively. Facing off against an offensive line starting five seniors, Ogbah was dominant in his first career start, finishing with six tackles, two sacks and two pass breakups. The Big 12 is loaded at defensive end with
Cedric Reed
,
Ryan Mueller
,
Charles Tapper
and
Shawn Oakman
. Ogbah, just a sophomore, showed Saturday night that he might be in that class, too.
[+] Enlarge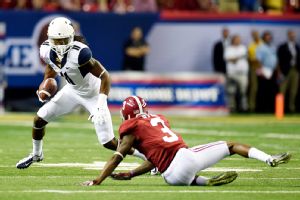 John David Mercer/USA TODAY SportsKevin White's 100-yard game against Alabama could mean he's the go-to receiver West Virginia needs.
Jay Lee, WR, Baylor:
With Baylor ailing at wide receiver, Lee displayed that he's also capable of taking on a primary role. With
Corey Coleman
and
Antwan Goodley
dealing with nagging injuries and
Clay Fuller
out with a broken collarbone, Lee hauled in eight passes for 83 yards and a touchdown. The Bears are overflowing with talent at receiver, especially with the additions of freshmen K.D. Cannon and
Davion Hall
. But Lee is another reason why.
Kolby Listenbee, WR, TCU:
The Horned Frogs have desperately been in need of playmaking at the wide receiver spot. They might have uncovered the answer in Listenbee. The burner hauled in 38- and 36-yard bombs from
Trevone Boykin
, and added a touchdown grab on a fade late in the game from
Matt Joeckel
. Listenbee was beating his man all game. The Horned Frogs might finally have a weapon at receiver who can cause concern for the opponent.
Demarco Cobbs, LB, Texas:
Cobbs missed the entire 2013 season and was such a non-factor before that anyway that some speculated his college career might be over. But Cobbs appears to have something left in the tank and displayed that with a pick-six in the opener. If the Longhorns suffer any injuries at linebacker, Cobbs could prove to be a key backup.
Kevin White, WR, West Virginia:
Other than quarterback
Clint Trickett
, there wasn't a more impressive performer against Alabama than White. The senior wideout had nine grabs for 143 yards and a touchdown. The Mountaineers had a solid wide receiving corps last year, but they never had a go-to target emerge. White clearly established himself as the target for Trickett and could be in for a monster season.
Justin Stockton, RB, Texas Tech:
In an otherwise dismal performance, Texas Tech's running back trio of
DeAndre Washington
,
Quinton White
and Stockton looked solid against Central Arkansas. And with Stockton, a true freshman, contributing, the Red Raiders should be fine at the position even with
Kenny Williams
at linebacker. Stockton had a couple of nice runs while finishing with 38 yards rushing and a nifty 6-yard touchdown.
Tyler Evans, OG, Oklahoma:
Evans is in his sixth year with the Sooners, but he hadn't played since the 2011 season Insight Bowl due to knee injuries. Saturday, Evans got the start at right guard in place of an injured
Nila Kasitati
, and the offensive line didn't miss a beat as the Sooners racked up 436 yards of offense. Evans at one point quit football because of the injuries. Instead, he'll be a valuable cog for the Sooners up front.
April, 15, 2014
4/15/14
9:30
AM ET
FORT WORTH, Texas -- For years,
TCU
stuck to an offensive philosophy built around trying to out-physical foes and trick them with play action. That style won the Horned Frogs five conference titles while in the Mountain West and Conference USA. They have not won many Big 12 games.
After two years in his new league and a 6-12 record in Big 12 play, TCU coach Gary Patterson knew it was time for a new approach.
[+] Enlarge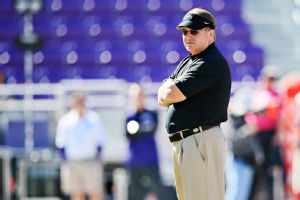 Kevin Jairaj/USA TODAY SportsTCU coach Gary Patterson brought in new coordinators Doug Meacham and Sonny Cumbie to change the team's offense.
"We're going to a style of offense that I thought evened the playing field," Patterson said.
He went out and landed a pair of offensive coordinators who know Big 12 ball to design a hybrid Oklahoma State-Texas Tech scheme that Patterson says will still have "some of the old TCU" in the run game.
But this is the new TCU. No playbook, no huddle, no looking back.
The struggles of 2013 weren't the lone motivator for Patterson's change of plans, but the evidence was hard to ignore. Last season, TCU's offense hit 10-year lows in points per game (25.1) and yards per play (5.03) and 10-year highs in turnovers (30) and three-and-outs (49).
The Horned Frogs had an offense that averaged 8.8 points in the first half of games, behind an offensive line that Patterson admits got "pushed around" at times due to injuries and departures. You can't keep up with high-speed Big 12 offenses that way.
Another motivator? Patterson's belief that a seemingly unexciting Horned Frogs offense wasn't helping his cause in recruiting.
"I had watched too many skill players leave the city. Right now, they don't know what this offense is about," Patterson said. "Right now, they think TCU has a defensive coach. But to be honest with you, I have no problem winning 45-31."
He's putting his full trust in Doug Meacham and Sonny Cumbie to build up the new-look offense, so much so that Patterson says he's taken a hands-off approach to the transition. He just tried to defend it in spring practice, and that wasn't fun.
Meacham spent eight years learning and teaching one of the nation's finest spread offenses at Oklahoma State, then left to run his own at Houston in 2013. TCU's new playcaller has already served as an OC at five other schools in his career.
He'll collaborate with Cumbie, a Mike Leach disciple who coached the past four years at Texas Tech and will oversee the TCU quarterbacks.
As Tech's quarterback in 2004, Cumbie put up 70 points on the Frogs -- two touchdowns more than a Patterson-led TCU team has ever given up. And yes, that came up in the job interview.
Both are respected offensive minds and recruiters in the Dallas-Fort Worth Metroplex, and previous coordinators Rusty Burns and Jarrett Anderson are still on staff and have a say in game plans.
"Their relationship is awesome," Patterson said. "I think the whole group has meshed real well. They've brought a lot of energy and new ideas."
[+] Enlarge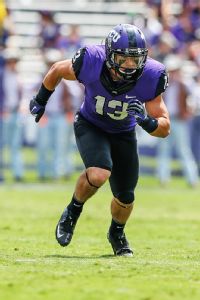 Kevin Jairaj/USA TODAY SportsHorned Frogs receiver Ty Slanina caught 19 passes for 184 yards and a touchdown as a freshman last season.
Installing the new attack meant coming up with new terminology, since at least three other Big 12 programs run similar sets, and new answers to how to outsmart opponents.
"It's not so much you don't know what's coming, but can you out-execute it?" Patterson said. "It'll be very important for us to be able to run the football, because I think going in that's where our strengths are -- our offensive line and our running backs and our quarterback can run, especially
Trevone [Boykin]
."
The offensive line should be better and much, much bigger. Six of TCU's best exiting spring ball --
Halapoulivaati Vaitai
,
Tayo Fabuluje
,
Frank Kee
,
Matt Pryor
,
Joseph Noteboom
and
Aviante Collins
-- average 6-foot-5 and 315 pounds.
TCU's top running backs all got hurt in spring ball -- literally -- but there are options there with
B.J. Catalon
,
Aaron Green
,
Kyle Hicks
, incoming freshman
Shaun Nixon
and a few others.
At receiver, Patterson says TCU has the guys needed to stretch a defense. Whether or not
Brandon Carter
returns, the staff is excited about speedsters like
Deante' Gray
and
Kolby Listenbee
and incoming freshmen
Emanuel Porter
and
Corey McBride
to go along with
David Porter
,
Josh Doctson
,
Cameron Echols-Luper
,
Ty Slanina
and
Jordan Moore
.
"I think we'll have enough weapons to be able to move the football," Patterson said.
Quarterback is still the question mark, especially if the versatile Boykin isn't the choice. No matter who runs the show, the initial goal will be simple: first downs, points and a tempo that causes trouble.
"They've been awfully fast this spring," Patterson said. "The biggest thing is to go fast enough to make people uncomfortable."
That, after all, is the goal here: An offense that can prove as challenging as Patterson's stingy defenses. The Horned Frogs' mission for transformation isn't guided by some sort of "if you can't beat 'em, join 'em" sentiment.
No, this is adaptation, and it's necessary. After its first two Big 12 seasons ended in frustration, TCU is working on a new way to beat 'em.
March, 25, 2014
3/25/14
1:00
PM ET
TCU is searching for solutions at wide receiver this spring while one of its best sits out.

Brandon Carter
is not practicing while he works to get his academic affairs in order. That means extra reps for a group that will need them.
TCU coach Gary Patterson
told the Fort Worth Star-Telegram
he's hopeful Carter will be able to rejoin the program in August.
"If he makes his academics," Patterson told the paper. "He's got to pass. Why take reps away from somebody if he's not eligible?"
If Carter is unable to get back on track, TCU would be losing one of its best playmakers as it transitions to an offense that has been described as an Oklahoma State-Texas Tech hybrid.
Carter followed up a promising 2012 season with a frustrating junior year, finishing with 370 receiving yards and no touchdowns on 31 catches. He also struggled in the return game. He took a leave of absence from the team last November to deal with personal issues and is now trying to find his way back to the field.
The offseason dismissal of receiver
LaDarius Brown
and the absence of Carter is forcing TCU to test its depth this spring. Leading receivers
Josh Doctson
and
David Porter
do return, but the rest will have to step up going forward.
Ja'Juan Story
,
Kolby Listenbee
and
Jordan Moore
, a converted running back, are all worth keeping an eye on.
Help arrives this summer from four incoming freshmen, including four-star signees
Emanuel Porter
and
Corey McBride
, and Patterson knows these rookies will need to chip in.
"We're going to need to just because we don't have the numbers," Patterson told the Star-Telegram.
If Carter can take care of his business and rejoin the program for fall camp, it'll be a major boost. TCU's returning receivers can't gain any more game experience before then, but they do have an opportunity now to load up on first-team practice reps and start proving themselves.
And as all those Oklahoma State and Texas Tech offenses have proven in the past, if the system is working and the quarterback is dealing with confidence, it might not make much of a difference who's split out. The promise of what this scheme can do for his talents ought to give Carter plenty of extra motivation to get back.
August, 16, 2012
8/16/12
1:00
PM ET
It's time to officially unveil the Big 12's All-Name Team for 2012.
Any player on a current roster, regardless of role on the team, is eligible. The only requirement: Your name must be awesome.
These are, quite simply, the best names of players in the Big 12. Some are catchy. Some are fun to say. Some are just the best. I love all of these.
Here goes:
Coach:
Major Applewhite, OC, Texas
OFFENSE
QB:
Daxx Garman
, Oklahoma State
RB:
Lache Seastrunk
, Baylor
RB:
Brandon Bourbon
, Kansas
FB:
Glenn Gronkowski
, Kansas State
WR:
Sterling Shepard
, Oklahoma
WR:
Lynx Hawthorne
, Baylor
WR:
Kolby Listenbee
, TCU
TE:
Kurt Hammerschmidt
, Iowa State
OL:
Dylan Admire
, Kansas
OL:
Will Ash
, Kansas State
OL:
Cody Whitehair
, Kansas State
OL:
Blaize Foltz
, TCU
OL:
Le'Raven Clark
, Texas Tech
DEFENSE
DL:
Keba Agostinho
, Kansas
DL:
Beau Blackshear
, Baylor
DL:
Noble Nwachukwu
, West Virginia
DL:
Stansly Maponga
, TCU
LB/DE:
Toben Opurum
, Kansas
LB:
Curtis Smelley
, West Virginia
LB:
Shaq Petteway
, West Virginia
DB:
Yves Batoba
, Oklahoma State
DB:
Terrance Bullitt
, Texas Tech
DB:
Happiness Osunde
, Texas Tech
DB:
Kip Daily
, Kansas State
SPECIALISTS

K:
Bobby Stonebraker
, Oklahoma State
P:
Ryan Erxleben
, Texas Tech
Who's your MVP? Anybody get snubbed?
February, 24, 2012
2/24/12
10:00
AM ET
By
ESPN.com staff
| ESPN.com
Another spring camp is opening, and it's time to take a closer look. Today, the TCU Horned Frogs get started.

Schedule:
Practice opens Friday at 5 p.m. ET and will conclude on April 5. Various practices may be open, but the plan has not been officially announced. TCU does not host a formal spring game.
What's new:
The task ahead, mainly. You'll see a renewed sense of purpose this spring at TCU. The Horned Frogs know they have to be better to compete for a Big 12 title. In the Big 12, you put it on the line every week, and everybody can beat everybody. Ask Baylor and Kansas about that one. Or Iowa State and Oklahoma State. One win can't make a season, and 1-2 games don't decide a conference title like they do in the Mountain West.
New faces:
TCU is welcoming four new faces to campus this spring as early enrolling freshmen: Quarterback
Tyler Matthews
, running back B.J. Catalon, transfer cornerback
Keivon Gamble
, and receiver
Kolby Listenbee
, who also
made our 2012 Recruiting All-Name team.
Rekindling old flames:
Former safeties coach Chad Glasgow returned to his post in Fort Worth after a season as the defensive coordinator at Texas Tech. He helped TCU lead the nation in total defense in 2008, 2009 and 2010. Those days are over for the Horned Frogs in the offense-heavy Big 12, but TCU fell to 15th last season in the Mountain West. Finishing there in the Big 12 in 2012 would be huge.
Big shoes to fill:
Linebacker
Deryck Gildon
.
Tank Carder
(
and his armbands
) wrapped up their eligibility last year, but hopes are high that the 6-foot-2, 235-pound Gildon can be the man to hold TCU's defense together at the linebacker spot. His importance is amplified by the exit of
Tanner Brock
, who is among four players "separated" from the team while the legal process plays out following their drug sting arrests.
Breaking out:
Receiver
Brandon Carter
. You probably already know about
Josh Boyce
and maybe
Skye Dawson
. But Carter, a freshman, could join them for a pretty dangerous third weapon in TCU's passing game for quarterback
Casey Pachall
. Among Carter's biggest catches last year was the game winner against Boise State, but this could be a big spring for him. And to think, Oklahoma only wanted him as a cornerback.
All eyes on:
Player conduct. Four players were arrested in a drug sting by local police and reports indicated that five players tested positive for marijuana while 11 others showed trace amounts in a surprise Feb. 1 drug test administered by the team. However, comments from players to undercover police in police affidavits suggest that usage was much higher. Either way, the microscope is firmly on what's otherwise been a spotless program before these recent troubles.
February, 6, 2012
2/06/12
9:00
AM ET
By
ESPN.com staff
| ESPN.com
Readers of this blog know how much I love names.
Whether it be
my most lamented transfer of the 2011 season
or guys, judging by their names, born to play the game, I love it.
As such, we celebrate these on the blog often. And with another recruiting season come and gone, it's time to give a little attention to the best new names in the Big 12.
Here's last year's team
.
We're including Texas A&M, Mizzou, TCU and West Virginia in this post ... because I want to.
Now, for the best new names in the Big 12.
Team MVP:
Lynx Hawthorne, ATH, Baylor:
Known for his cat-like reflexes, I can only assume. Will also assume the role of my new favorite player in the Big 12.
Sterling Shepard, WR, Oklahoma:
Matching consonants are a great start for a great name. But the adjective/noun first name combined with the noun last name, too? Too much, sir. My hat is off.
Eric Striker, S, Oklahoma:
A safety named Striker? Come on, Bob Stoops. Perfection. He narrowly missed my MVP nod.
Ellwood Clement, OT, Kansas State:
Bringing a bit of the blues to The Little Apple. I assume he
plays a mean harmonica
.
Maty Mauk, QB, Missouri:
His
nomenclatorial doppelganger
(I'm slapping a patent on that term) won a national title at LSU, which gives him extra points, and he gets the nod based on the snappy matching consonant, too.
Aiavion Edwards, S, Baylor:
Throw a jump ball in this man's territory at your own risk.
Torshiro Davis, LB, Texas
: I've never heard of anyone named Torshiro, but I love it. He sounds a bit like a bull, which is a great trait for a linebacker. And its uniqueness is offset by the unremarkable last name. It just works.
Zorrell Ezell, DT, Baylor:
He's not
an evil emperor
, but he means business.
Kolby Listenbee, ATH, TCU:
Rumor has it he captures the attention of insects near and far with a mere whisper.
Orion Stewart, ATH, Baylor:
I hear this guy has a belt that is just mesmerizing.
Devlyn Cousin, DT, Iowa State:
Guy is just an absolute terror at family reunions.
Glenn Gronkowski, WR, Kansas State:
A guy named Gronkowski is going to catch passes for a team with one of the game's best coaches? Where
have I heard this before
? Big brother Rob didn't win the Super Bowl this year, but everybody in the family gets to keep the name. I'd say they broke even.
Kennedy Estelle, OT, Texas:
Sounds like a supermodel. Blocks like a big ugly.
Polo Manukainiu, DE, Texas A&M:
I love Pacific Islander names, and this one clearly qualifies. Also, his name is Polo. Outstanding, sir.
Noble Nwachukwu, DE, West Virginia:
Assuming his name is pronounced the same as
the Aggies' receiver
, it looks like he'll bring an additional level of class to the family name, which is pronounced "WATCH-ah-koo."
Halapoulivaati Vaitai, OT, TCU:
I look forward to moving from "butchered" to "serviceable" when it comes to pronouncing his name in the future.
Thierry Nguema, CB, Texas Tech:
Bringing
a bit of European soccer
to the Big 12, which is something I think it's always needed.
To this year's team: Congratulations on the nod. I look forward to seeing you play and hearing your names called often on broadcasts. This was a great group of my absolute favorite names from the new classes.
Any suggestions for this year's recruiting classes that I missed?