January, 3, 2012
1/03/12
3:10
AM ET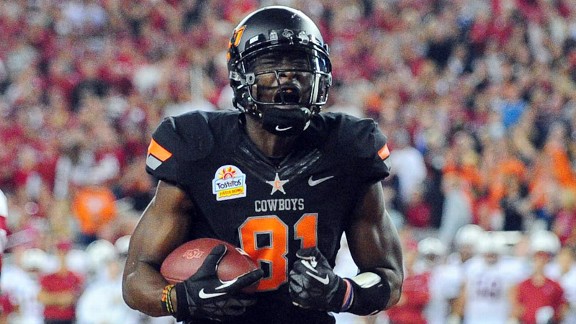 Matt Kartozian/US PresswireJustin Blackmon caught eight passes for 186 yards and three TDs in an emotional Fiesta Bowl victory.
GLENDALE, Ariz. -- With a finish as wild as that, it's a little hard to tell whether the tears stemmed from sadness or elation.
For most of Oklahoma State, the finish was the latter. For some, it was a whole lot of both.
Three seconds remained in a season that took Oklahoma State to heights it had never reached, and lows that changed lives forever.
With the game tied at 38, a few Cowboys knelt on the sidelines. Others couldn't watch.
The fans behind the end zone -- dressed in cardinal for Stanford and orange for Oklahoma State split evenly at the goal post -- would tell the bench if the season continued for a few more minutes.
Stanford redshirt freshman kicker Jordan Williamson sent the orange-clad Cowboys fans into a frenzy when his 35-yard kick sailed wide left, giving life to the Cowboys' season and setting off a storm of chest bumps.
Oklahoma State took advantage, grabbing a win in overtime,
41-38
, when kicker Quinn Sharp drilled a 22-yard field goal to put a most emotional exclamation point on the Cowboys' dream season. This was the season Fiesta Bowl MVP
Justin Blackmon
and quarterback
Brandon Weeden
imagined when, last January, they told the nation they had more business to attend to in Stillwater. Big 12 champions. Fiesta Bowl champions.
History made.
"This was it," Weeden said, "This was sort of our fairy tale ending."
Albeit an anticlimactic one.
After stuffing Stanford and another Williamson miss, Oklahoma State got what it wanted.
Stanford dominated the time of possession, holding the ball for almost 42 minutes, compared to Oklahoma State's 18. Chances were good the Cowboys
perhaps unfairly maligned defense
would be on the field to decide the game.
The celebration that ensued after Williamson's miss wasn't one of euphoria, it was one of anticipation. Finally, a team that won the Big 12 and reached the BCS on the back of its offense would have its offense on the field to decide the game.
It delivered.
Weeden hit
Colton Chelf
-- both started their Oklahoma State careers as walk-ons -- for a senior-to-senior connection that looked like it sent the duo out in style with a game-winning touchdown.
"I just ran over the middle of the field and nobody was there," Chelf said. "I thought I was in."
The Cowboys mobbed Chelf and dogpiled in front of the OSU faithful in the end zone. Weeden emerged with a smile and a double fist pump. Blackmon ran out of the pile and celebrated with a kiss from his cheerleader girlfriend, Mariel Dunlap.
It was
no postgame proposal a la Boise State on this same field in 2007
, but it'd have to suffice on this night.
The Cowboys, though, would have to wait to celebrate their first 12-win season and first BCS win. An officials' review called Chelf down inside the 1, and Quinn Sharp would need to seal it with a kick.
He did, unleashing the orangest of evenings on the Arizona desert.
It came seven weeks after one of the darkest days in Oklahoma State history. The Cowboys awoke on the day of their Nov. 18 game against Iowa State to news that women's basketball coach Kurt Budke was among four killed in a plane crash. Later that night, the 10-0 Cowboys lost, too.
A friend and mentor was gone.
Trivial though it may suddenly seem, so was a national championship.
Monday night, though, Budke's wife Shelley stood on the podium and received the Fiesta Bowl trophy from coach Mike Gundy, who dedicated the game to the four killed in the crash. The Cowboys also added a patch to their helmets for the final two games with a "4" and the victims' initials in the logo. It sits next to an "AS" patch to honor Angela Spencer, the wife of running backs coach Glenn Spencer, who died on the night Oklahoma State beat Tulsa -- a game with a post-midnight kickoff because of a weather delay.
Monday's win can't change the past, but it can offer a brief moment of happiness to those still affected by literal sudden death in a game that's supposed to be about kids having fun.
Gundy hugged a teary-eyed Budke.
Plenty of tears surrounded the platform. Before the trophy presentation, Chad Clay, one of the school's top donors, gestured to the team and school he and others had written checks to over the years.
"Y'all don't understand what you just did," he said to a team wearing fresh Fiesta Bowl championship T-shirts. Years of frustration and beatings from Oklahoma. From 1989-2002, the Cowboys went to one bowl game.
Now, they'll probably finish the season as the nation's No. 2 team. They might have some idea of what they just did.
"This is probably the biggest win in Oklahoma State football history," Weeden said.
Indeed it is, even though it took a 44-10 beating of Oklahoma to get here, a win narrowly topped on Monday night.
Blackmon starred and rightfully took home the hardware as the game's best player, grabbing eight passes for 186 yards, three touchdowns and a whole lot of shedded tackles.
"That's what he's done all year long. You could tell they were set out to stop him," Weeden said. "It doesn't matter. You can't stop 81. Especially when he's pissed off."
Blackmon disagreed about his mental state after the offense's early struggles. Chelf admitted the offense was "rusty" from a month-long layover after the Bedlam beatdown. It was held without a point in the fourth quarter for the first time all season.
"I wouldn't say I was mad. Just irritated with what was going on," Blackmon said. "I knew we could play better. I just tried to help the team play as best they could. If that takes me getting mad, I guess I get mad and go out there and do it."
They did it. And starting with an unassuming news conference with a couple folding chairs and a table a year ago and all the way until tonight, they provided Oklahoma State with a season and two players it will never, ever forget.
Two unforgettable Stanford kicks helped OSU stage the first fourth-quarter comeback of its season, too, but these Cowboys will take it.
"The big man upstairs? He blessed us on that one," assistant recruiting coordinator Terrel Harris told the Cowboys, just before Gundy gave a preview on the podium of his signature dance move, the Gundy, as his team egged him on. "Y'all know, though, we're back on the grind again in a couple weeks."
December, 6, 2011
12/06/11
9:00
AM ET
The Big 12's not so simple anymore.
Maybe it's unfair, but conferences are most often judged by their top teams. Glance at Oklahoma and Texas, the two teams that won every Big 12 title since 2003, and you'll see a combined eight losses in 2011.
The Longhorns improved from 5-7 to 7-5. Oklahoma? A 2010 Big 12 title bled into a national title chase in 2011 that ended with a third loss in its regular season finale, and a particularly embarrassing one, too.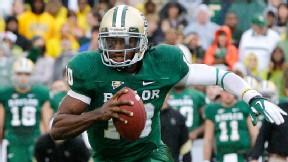 AP Photo/Tony GutierrezRobert Griffin III's star turn got Baylor nine wins -- and himself an invitation to the Heisman ceremony.
Outright Big 12 champion
stomped the Sooners in Stillwater
, ending the Longhorns and Sooners' Red River Reign over the league. This year's second-place finisher, Kansas State, had been the last team not the Longhorns or Sooners to win the Big 12. Since that title in 2003, it's been all Texas and Oklahoma.
The league ain't what it used to be, in lots of good and bad ways. The newfound parity is a good sign.
Texas A&M and Missouri leaving for the SEC? A profoundly bad sign.
Texas A&M and Missouri's combined 0-6 record against Oklahoma, Oklahoma State and Kansas State? Another good sign.
TCU and West Virginia (
probably
) join the Big 12 next season, and will find a league that looks much different than it did even two years ago.
Texas' ascent still looks in-progress, and until the Longhorns find a quarterback, can't reasonably count on having any real shot at a Big 12 title. Oklahoma will be strapped for experience next season without
Ryan Broyles
and three of its best defenders. It will only get more difficult if
Landry Jones
, projected as a top-10 pick, leaves early for the NFL.
Oklahoma State broke the proverbial glass ceiling this year in resounding fashion, challenging the idea that 2011 was a "down year" in the Big 12. Oklahoma was a disappointment. Texas A&M tanked. The Longhorns were still too young and lacked enough offense.
But there's a reason why, even without a team in the national championship game for the second consecutive year, this was far from a down year for the Big 12. You just have to look a little harder.
Oklahoma State surpassed last year's 10-win regular season with 11 this year, the most in school history. Kansas State is one of the nation's biggest surprises, and was robbed of a spot in the BCS by the Hokie-loving Sugar Bowl. Baylor? All the Bears did was win more Big 12 games (5) than any year before, and put themselves in position for the program's first Heisman winner ever.
Injuries morphed Oklahoma from great to just good, but this year, the Big 12's identity was much deeper than "How did Texas and Oklahoma do?"
The league went 27-3 in nonconference play, winning the eternal love of the BCS computers and landing eight teams in bowl games, despite switching to a nine-game conference schedule. In other words, every team replaced a likely nonconference win with a Big 12 opponent. The league, top to bottom, still put together an outstanding season. That .900 percentage was the best nonconference winning percentage of any league since the SEC in 1997.
Two of those losses, by the way, came from Texas A&M and Missouri, who will be gone to the SEC after this season.
The Big 12 missed out on the national title race, but it wasn't down this year. It was way, way up. You just had to look a little harder to tell.
Time to look back on the season that was:
Offensive MVP:
Robert Griffin III, QB, Baylor
Griffin might be the nation's offensive MVP, so why would it be any different here? The Heisman finalist (and likely favorite) helped carry the Bears to a 9-3 season and broke the NCAA record for pass-efficiency rating, at 192.31. He racked up 3,998 yards, 36 touchdowns and six interceptions on 267-of-369 passing.
Defensive MVP: Frank Alexander, DE, Oklahoma
Alexander played through a painful shoulder injury in Bedlam, and suffered a knee injury in the game, but he was outstanding throughout the season as the biggest wrecking ball on defense of anyone in the Big 12. He's got all the physical measurables, using his speed, flexibility and quickness at 6-foot-4, 255 pounds to lead the Big 12 with 8.5 sacks and 18 tackles for loss.
Newcomer(s) of the year: Arthur Brown, LB, Kansas State and Nigel Malone, CB, Kansas State
I couldn't decide between these two. Both helped completely revitalize a K-State defense that struggled last year. Brown transferred to K-State from Miami and Malone arrived via the City College of San Francisco. Brown was arguably the Big 12's surest tackler, ranking ninth in the league with 95 stops, including 7.5 for loss, two sacks and his first pick was a game-changer against Baylor to help K-State get the victory. He was the first player all season to intercept RG3, and one of just six all season. Malone, meanwhile, snatched seven picks, two more than any player in the Big 12. He also broke up nine passes and made 57 tackles (46 solo).
[+] Enlarge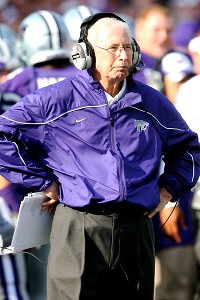 Scott Sewell/US PRESSWIREBill Snyder molded Kansas State's crew of unknowns into the Big 12's biggest surprise.
Coach of the Year: Bill Snyder, Kansas State
Easy pick here. The numbers say it all. Kansas State was loaded with unknowns. Lots of first-year players, especially on defense (see above), and one of his most hyped players, running back
Bryce Brown
, left the team at midseason. He also had a former receiver at quarterback,
Collin Klein
, who became one of the nation's most valuable players. The big man took a beating, but ran for 1,099 yards and a Big 12-best 26 touchdowns. The Wildcats were picked to finish eighth in the Big 12, and don't exude talent as much as most other Big 12 teams do. They nearly won the Big 12, though, and finished
eighth in the BCS standings
.
Biggest Surprise: Iowa State 37, Oklahoma State 31 in 2OT on Nov. 18.
This one had the biggest impact, too. The Cowboys were 28-point favorites and raced to a 24-7 third-quarter lead. They didn't score again until overtime. Iowa State rallied to tie the game, and the usually reliable Quinn Sharp missed what could have been a game-winning 37-yard field goal with just over a minute to play. After
Brandon Weeden
threw an interception in the second overtime, Iowa State pounded the running game and
Jeff Woody
crossed the goal line to win the game, put Iowa State into a second bowl game in three years, and knocked Oklahoma State out of the national title chase. The morning of the game, Oklahoma State learned that women's basketball coach Kurt Budke and assistant Miranda Serna had been killed in a plane crash. After the gam, the Cowboys were left trying to stomach a painful, shocking loss on the field, where the stands at Jack Trice Stadium had emptied for an epic field rush.
Biggest Disappointment: Texas A&M
No question about this one. Texas A&M was a Big 12 contender and had the talent to possibly win a national title. The mental makeup, though, didn't exactly reek of toughness. The Aggies were favored in 11 games and led by double digits in all 11 of those games. They lost six, including five losses with double-digit halftime leads. They saved the most painful loss for last. Hated rival Texas, a catalyst for the move to the SEC, erased a 10-0 and 16-7 halftime lead to beat the Aggies 27-25 on a last-second field goal after a late two-minute drill. Less than a week later, Texas A&M fired coach Mike Sherman and is looking for his replacement before moving to the SEC next season.
Best Game: Kansas State 53, Texas A&M 50 in 4OT on Nov. 12
This might be the best game in Big 12 history. With just 6:38 to play, Kansas State trailed, 31-21. Klein hit
Chris Harper
for a 53-yard score to get the Wildcats within reach, and K-State forced overtime on a 44-yard kick by Anthony Cantele with just 2:12 to play. The two teams traded touchdowns in the first and third overtimes, sandwiched around field goals in the second overtime. In the third, though? Texas A&M elected to kick a 20-yard field goal on 4th-and-1 at the K-State 3-yard line. Kansas State answered with all running plays and drew a pass-interference penalty before Klein pushed the pile for a 1-yard touchdown to win the game.
December, 3, 2011
12/03/11
10:07
PM ET
STILLWATER, Okla. -- Oklahoma State hasn't played a home football game since a plane crash that killed four victims, including women's basketball coach Kurt Budke and assistant Miranda Serna.

At halftime, the bands from both Oklahoma and Oklahoma State paid homage.

The Sooners band joined Oklahoma State's to fill the field and play "Amazing Grace."

A fitting tribute and a nice touch. Well done by both sides.
November, 19, 2011
11/19/11
12:05
AM ET
No other word for that than unbelievable.
Oklahoma State goes down in double overtime to Iowa State
37-31
.
National championship hopes: Over, barring more madness.


Brandon Weeden
Heisman hopes: Dashed.
The field at Jack Trice Stadium in Ames, Iowa: Rushed.
Last month, it was Oklahoma losing to Texas Tech as a four-touchdown favorite. Friday night, it was No. 2 Oklahoma State, squashing a good bit of the hype surrounding a season-ending Bedlam matchup in Stillwater on Dec. 3.
A crushing day for Oklahoma State got worse. Four lives were lost on Thursday night in
a plane crash
, including OSU women's basketball coach Kurt Budke and assistant Miranda Serna. Armed with that news, it's easy to see that this was just a football game.
It still hurts for the Cowboys, though, and a historic season — they were 10-0 for the first time in school history — meets an unceremonious end.
Don't show up one week in college football, and you can lose. Oklahoma State led 24-7 in the third quarter and didn't score the rest of regulation. Weeden threw for 476 yards and three touchdowns, but three interceptions were too much to overcome. The third was the most costly, a ball tipped by Jake Knott and intercepted by Ter'Ran Benton in the second overtime, setting up the game-winning run from
Jeff Woody
.
Oklahoma State made mistakes but had its chances. Quinn Sharp missed a late field goal. Iowa State hung around and struck when the time was right.
Fans from Oregon and Alabama say thank you. A one-loss team will play for the national title.
Paired with that, Iowa State made a little history of its own. For the second time in three seasons, Iowa State is bowling. It took a win over the nation's No. 2 team — the first in 19 tries for Iowa State football — to do it, and the Cyclones get another benchmark triumph under Paul Rhoads.
There was the victory over Nebraska in 2009; in 2010, a win over Texas and a near-miss against the Huskers. This year, it was a rivalry win over Iowa and now this game.
"It continues to move us forward," Rhoads said. "They continue to add credibility to what we're teaching."
Now, he'll get a chance to teach it a little longer.
Iowa State's season gets extended by a month.
Oklahoma State's? Almost certainly shortened by one painful, painful week.
November, 18, 2011
11/18/11
8:39
PM ET
By
ESPN.com staff
| ESPN.com


The crowd at Iowa State's Jack Trice Stadium held a moment of silence before Friday's game against Oklahoma State to honor the OSU women's basketball coaches who died in plane crash Thursday.