August, 12, 2014
Aug 12
4:00
PM ET
WACO, Texas -- Two years ago, Baylor's backup quarterback rounded up the starting offensive linemen in the preseason and took them to Chuy's for a Mexican feast on his dime. He wasn't playing in 2012, but he understood the importance of keeping the big boys well fed.
Last August,
Bryce Petty
took the gang to Olive Garden. This time he brought six linemen. They capitalized on his kindness.
"They had appetizers and salads and two entrees -- one to take home, which was ridiculous," Petty said. "I didn't think they needed that, but I couldn't really tell them no."
[+] Enlarge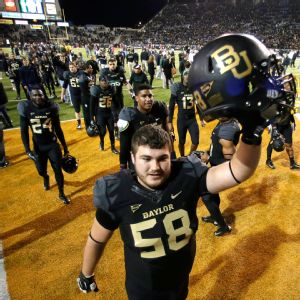 AP Photo/Tony GutierrezJunior tackle Spencer Drango is one of the leaders of the Baylor offensive line.
The final bill? More than $120. Petty would love to make these lineman dinners a weekly staple in 2014, but as he put it, "The budget doesn't really call for that all the time."
Tackle
Troy Baker
got the Olive Garden invite despite being out with a torn ACL, so he was especially appreciative. The love Petty has always shown his linemen, even before he was a starter or Big 12 Player of the Year, isn't lost on them.
"He's going to take care of his big guys. He knows we'll get beat up and we'll work for him," Baker said. "He knows what we mean to him. We know how important he is to us."
But Petty still has to tread lightly among his linemen in the locker room. Baylor's offensive line room is full of athletic freaks, blue-collar grinders and loudmouths, plus a Brit and two Aussies. And they can be merciless, even to QB1.
"Sometimes he'll come in wearing his decked-out Nike stuff, looking like Tiger, or he'll be wearing neon yellow Nike stuff head to toe," Baker said. "We'll give him some crap about that."
Petty doesn't get it as bad as
Jason Osei
, the 27-year-old sophomore from London with a martial arts and rugby background. He gets called "Pickle" on the days he's wearing his green skull cap, shirt, shorts and shoes.
"He's a character, man," tackle
Spencer Drango
said. "All the girls love him for his accent. It's pretty thick. We have a joke about who won the Revolutionary War. He says it was a tie."
Then you have brothers
Blake Muir
and
Sean Muir
, who arrived in Waco last year. Blake started 12 games at Hawaii in 2012 before transferring. Sean had never played football before joining the Bears. Their accents are just as beloved.
Blake is competing for the left guard job with
LaQuan McGowan
, a young man who might be from the future.
"LaQuan is legitimately 6-foot-8, 400 pounds," Baker said. "He's strong as can be. Coach [Art] Briles always says he's 20 years out of his time. It's unbelievable physically what he can do.
"You can't do anything to him. You literally can't. He can cut you in line and, even as another offensive lineman, you're like, 'Go ahead, buddy. It's yours. All you.'"
Drango jokes that the first time he shook hands with McGowan, his freshman-year roommate, he almost lost his.
"I have big hands," Drango said. "He completely dwarfed my hand and almost crushed it."
McGowan or Muir will line up to the right of Drango, an All-Big 12 tackle and NFL prospect who's fully recovered from the back injury that ended his 2013 season early. His backup,
Pat Colbert
, is known as "Sinbad" in the locker room. Look up his
mug shot
and it's easy to see why.
At center, there's
Kyle Fuller
, a redshirt sophomore who's described as no-nonsense and "very blue-collar" by teammates.
Desmine Hilliard
is the starting right guard and also an All-American at throwing the discus; he set school records at the NCAA track and field championships last year.
The backup at right tackle,
Tyler Edwards
, gets called "The Undertaker"
for his hair
. And then you have Baker, who's back from the torn ACL and can't wait to see what this group does at full strength.
[+] Enlarge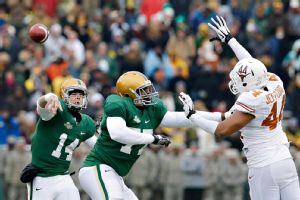 AP Photo/LM OteroBryce Petty knows his success is tied to staying upright, and he has a top-notch offensive line upon whom to rely.
As one of the old guys in the line room, Baker says he has witnessed an evolution in the past four years. The Waco native swears he wouldn't have been recruited by BU if he were a high schooler today. He wouldn't have been good enough.
"To be honest, I don't think I would," the former three-star recruit said. "They don't have to. They can recruit the studs, and the studs come after them now."
Randy Clements, Baylor's line coach, has been working alongside Briles since 1989. He oversaw linemen and power lifting back in their Stephenville High days. His linemen say he's brilliant, a coach capable of developing anybody. At Baylor, he's produced an NFL draft pick in six straight years.
The line began breaking through, in Baker's estimation, late in the 2012 season. Injuries hit the group hard last year during the stretch run, but they plugged in new starters and survived. Having All-American left guard Cyril Richardson to learn from no doubt helped.
"We had a perfect example," Baker said. "His technique was flawless and that's why he was so successful. He was able to do everything Coach Clem asked."
As Clements' linemen describe it, fall camp can be brutal. This 19-man line group averages 6-5 and 305 pounds. In practice, they run just as hard as everyone else to prep for hustling to the line of scrimmage. You can't sustain a four-plays-per-minute tempo without practicing faster than you play.
And while Petty, his trio of running backs and his endless supply of receivers get all the attention, his offensive linemen will be busy doing the dirty work.
Drango and Baker, the leaders of the gang, were stuck on the sidelines when Baylor's undefeated season fell apart at Oklahoma State. They know the run game faltered late, averaging 168 yards per game and 3.7 per carry in the final four games after putting up 300 a game and 6.0 per carry in the first nine. The seniors vow it can't happen again.
"We go as they go. I've always said that," Petty said. "I'm just praying those guys stay healthy."
His linemen are practicing and conditioning this month with December on their minds. Sure, they love to mess with each other and tease their quarterback in their spare time. But when it comes to title talk, they're not joking around.
"As we get closer to November," Baker said, "we plan on being in contention for the playoff."
May, 1, 2014
May 1
4:30
PM ET
With spring ball done, we're
reexamining and re-ranking the positional situations of every Big 12 team
, continuing Thursday with the offensive line. These outlooks will probably look different in August. But here's how we see them post-spring:
1. Oklahoma (pre-spring ranking: 1):
The Sporting News has listed the Sooners as its preseason No. 1 team in the country, due in large part to Oklahoma's offensive line. That might be going overboard, but the Sooners have a wealth of experience and depth returning up front, which includes four starters. They'll get even deeper once guard
Tyler Evans
is cleared this summer, as expected (he was running this spring). Evans has missed the past two seasons with knee injuries but was a three-year starter before getting hurt.
[+] Enlarge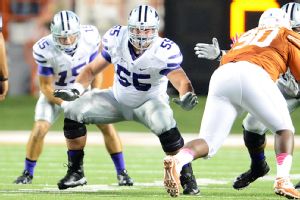 John Albright/Icon SMIAfter losing both offensive tackles from last season, Kansas State is switching All-Big 12 guard Cody Whitehair to left tackle.
2. Kansas State (2):
K-State responded to losing both tackles from last season by swinging All-Big 12 guard
Cody Whitehair
to left tackle and slotting juco transfer
Luke Hayes
at right tackle. With
B.J. Finney
entering his fourth year as the starting center and more juco offensive line help arriving in the summer, the Wildcats should be more than solid up front.
3. Texas (3):
The Longhorns will feature one of the eldest lines in the Big 12, with its projected starting front comprising two seniors and three juniors. Right guard
Taylor Doyle
emerged this spring at the biggest question spot, but Texas has other options inside with
Rami Hammad
,
Curtis Riser
and the versatile
Kent Perkins
. Center
Dominic Espinosa
is the anchor of this group, which will be asked to establish itself with the running game in Charlie Strong's first season.
4. Baylor (4):
The Bears are still waiting for left tackle
Spencer Drango
to return from last season's back injury, but right tackle
Troy Baker
showed no lingering effects of the knee injury he suffered last spring. With the depth inside and with
Kyle Fuller
locking up the center job, there are no weaknesses with this cast -- provided Drango gets healthy and gets back to the field.
5. Oklahoma State (5):
The Cowboys are also waiting for their left tackle to return from an injury he suffered last season.
Devin Davis
has NFL potential but has been slow to recover from an ACL tear last preseason. The Cowboys seemed to also be in a fix at center with their top-two players at the position from last fall moving on from the program with eligibility still remaining. But
Paul Lewis
slid over from guard this spring and stabilized that spot.
Daniel Koenig
is an All-Big 12 caliber player and capable of playing tackle or guard. He'll continue to man left tackle, at least until Davis returns.
6. Texas Tech (6):
Tech received some welcome news during spring ball with starting right tackle
Rashad Fortenberry
being granted an extra year of eligibility. The Red Raiders have one of the best returning tackles in the league on the left side in
Le'Raven Clark
, and two juco tackles they're high on in
Shaq Davis
and
Dominique Robertson
. With
Jared Kaster
and
Alfredo Morales
also returning as starters inside, Tech's offensive line should be much better than last season's.
7. West Virginia (7):
The Mountaineers have the league's most reliable one-two punch at guard in
Quinton Spain
and
Mark Glowinski
, who have 38 career starts together. The rest of the line, however, is a question. Left tackle
Adam Pankey
impressed coach Dana Holgorsen early in the spring and won a starting job before the Gold-Blue Game. If Pankey pans out, the Mountaineers could be a load up front.
8. Iowa State (8):
The Cyclones had disastrous luck with the health of their offensive line last season, but that should pay off in 2014 with so many different players having gotten experience. Left tackle
Brock Dagel
has immense upside, and center
Tom Farniok
is an All-Big-type player. But the Cyclones were especially pumped with the development of sophomore right guard
Daniel Burton
, who is physical and one of the smartest players on the team. If they get better luck with good health, this could wind up being a very a tough and balanced unit.
9. TCU (9):
The Horned Frogs welcomed the return of tackle
Tayo Fabuluje
, who left the team before the start of the season last fall. Fabuluje, however, missed several practices with an ankle injury, allowing redshirt freshman
Joseph Noteboom
to move ahead of him on the depth chart. Fabuluje will have a chance to earn his spot back in the spring opposite
Halapoulivaati Vaitai
, who replaced Fabuluje last season. But the way the 2013 season went, the Horned Frogs can't have too many reliable offensive tackles. Juco transfer
Frank Kee
impressed during the spring and should lock down a starting spot at guard next to center
Joey Hunt
, who did a nice job of adapting to the new offense during the spring. With 6-foot-7, 350-pound
Matt Pryor
also likely to fit in somewhere in the rotation, the Frogs will definitely be bigger up front than they were in 2013 -- and probably better, too.
10: Kansas (10):
Because he can get in and out of the pocket,
Montell Cozart
winning the starting job should help the offensive line. The fact that new offensive coordinator John Reagan is also an offensive line coach should be a boost, as well. The Jayhawks have several battles up front that will continue into the fall, including center, where walk-on
Joe Gibson
made a huge impression during the spring.
May, 1, 2014
May 1
11:00
AM ET
A recap of what we learned about Baylor this spring as the program prepares to defend its Big 12 conference title.
Three things we learned in the spring
:

1.
The nation's No. 1 offense is ready to reload. There's no replacing guys such
Lache Seastrunk
and
Tevin Reese
, but
Bryce Petty
is fired up about the new weapons he gets to work with. RB
Johnny Jefferson
, TE
Tre'Von Armstead
and WRs
Corey Coleman
,
Robbie Rhodes
and
Jay Lee
were a few of the many who stepped up this spring.
2.
Art Briles loves this defensive line. The Baylor coach says he'll put his D-line up against any in the nation, and with good reason. Even after losing some key seniors, a unit that features ends
Shawn Oakman
and
Jamal Palmer
, tackles
Andrew Billings
,
Beau Blackshear
,
Byron Bonds
and the versatile
Javonte Magee
should frustrate opposing offenses.
3.
A historic season ending in heartbreak left the Bears with plenty of motivation this spring. The Tostitos Fiesta Bowl loss to UCF left a sting that troubled Baylor's players and coaches in the winter, and there's a stronger sense that there's unfinished business entering 2014.
Three questions for the fall:
1.
Can Baylor's defense play up to the level of its stellar 2013 unit? DC Phil Bennett is optimistic about the caliber of his new starters, and the depth that BU's strength program is fortifying. But you can't just assume the new guys will immediately match the quality play of
Ahmad Dixon
,
Eddie Lackey
,
Sam Holl
and so many other departed starters.
2.
How will the Bears' offensive line hold up? Losing left tackle
Spencer Drango
midseason was a major blow to this group last season, and while he's back, All-America guard
Cyril Richardson
was one of three senior starters who graduated. Baylor needs
LaQuan McGowan
,
Kyle Fuller
and several others to step up.
3.
What can the newcomers bring to the table? Briles brags that he signed the best wide receiver class in the country, but it's not as if Baylor needed much help at that position. You know the junior college additions will play early on, but what can the rest of the Bears' incoming class contribute?
One way-too-early prediction:
Calling Baylor a lock for a top-10 spot in the polls requires a lot of confidence in a defense that must replace 10 seniors on the two-deep, but the staff believes its talent evaluation and development will pay off big in 2014. But the Petty-led offense is absolutely loaded, and the Bears' sights should be squarely set on fighting for a playoff bid.
April, 28, 2014
Apr 28
9:00
AM ET
Over the next two weeks, we'll be analyzing the depth charts of every Big 12 team coming out of the spring. We start with Baylor, which released an official two-deep shortly after concluding spring ball in early April.
OFFENSE
[+] Enlarge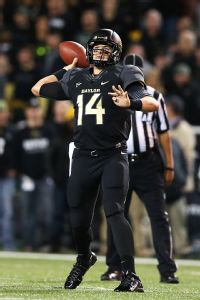 Matthew Emmons/USA TODAY SportsCan Bryce Petty be even better this season?
QB: Bryce Petty (Sr.),
Seth Russell
(So.)
The Bears have one of the top returning quarterbacks in college football in Petty, who was phenomenal last year in his first season as a starter. With a year of experience under his belt, there's no reason to believe he won't be better in 2014. Russell performed well in limited duty last year, suggesting the Bears could survive at least a minor injury to Petty.
RB:
Shock Linwood (So.)
or
Devin Chafin (So.)
,
Johnny Jefferson
(RFr.),
Terence Williams
(Fr.)
The Bears boast four potentially outstanding runners who all have at least three seasons of eligibility remaining. Linwood finished sixth in the Big 12 in rushing last season, despite backing up
Lache Seastrunk
and
Glasco Martin
. Jefferson, however, was the back who created the most buzz during the spring. The 5-foot-11, 200-pounder looks poised to give the Bears a dynamic home-run threat to complement the rest of the backfield. It's not often a program can lose two talents like Seastrunk and Martin and remain loaded.
WR:
Antwan Goodley (Sr.),
Davion Hall
(Fr.)
WR: Jay Lee (Jr.)
or
Robbie Rhodes (So.)
,
Quan Jones
(RFr.)
IR: Corey Coleman (So.)
or
Clay Fuller (Sr.)
,
Cal Spangler
(Jr.)
IR: Levi Norwood (Sr.)
,
Lynx Hawthorne
(So.)
TE: Tre'von Armstead (So.)
or
Gus Penning
(Jr.),
Jordan Feuerbacher
(Fr.)
Despite graduating all-conference performer
Tevin Reese
, the Bears should easily have the deepest collection of pass-catchers in the Big 12. Coleman was tremendous all spring, capped by a 47-yard receiving effort in the spring game. He and Rhodes could have breakout campaigns in their second years in the rotation. Goodley is one of the two best wideouts in the league along with Kansas State's
Tyler Lockett
, and Lee, Fuller and Norwood are all proven commodities. More firepower is on the way this summer, including hotshot freshman
K.D. Cannon
, who looks like a virtual lock to crack the rotation somewhere.
LT: Spencer Drango (Jr.)
,
Pat Colbert
(Jr.)
LG: LaQuan McGowan (Jr.) or Blake Muir (Jr.)
C: Kyle Fuller (So.)
,
Tyler Edwards
(Sr.)
RG: Desmine Hilliard (Jr.)
,
Jarell Broxton
(Jr.)
RT: Troy Baker (Sr.)
,
Tyler Edwards
(Sr.)
The Bears lose unanimous All-American guard
Cyril Richardson
, but will get a huge boost if Drango makes a full recovery from a back injury he suffered late last season. With Drango out, Baylor's blindside pass protection also suffered the final month of the season. When healthy, Drango is one of the best pass-protecting left tackles in the country. Baker, who started as a sophomore, returned late last season after tearing his ACL last spring to reclaim his starting job, which he held through the spring. With Hilliard returning at guard, Fuller locking down the starting job at center and other quality depth inside, the Bears should be very solid on the offensive line -- provided Drango can get healthy and Baker can stay healthy at the bookends.
DEFENSE
[+] Enlarge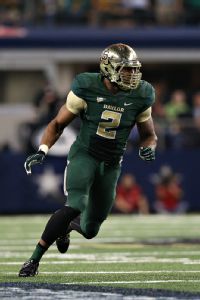 Matthew Emmons/USA TODAY SportsShawn Oakman has elevated his game.
RE: Shawn Oakman (Jr.)
,
K.J. Smith
(RFr.)
NT: Andrew Billings (So.)
,
Suleiman Masumbuko
(Jr.)
DT: Beau Blackshear (Jr.)
or
Javonte Magee
(So.),
Byron Bonds
(So.)
LE: Jamal Palmer (Jr.)
,
Sam Ukwuachu
(Jr.)
Last week, Baylor coach Art Briles said he'd put his top-seven defensive linemen against any other top seven in college football. The unit still has a lot to prove to reach that level, but there's no denying the potential. Oakman elevated his game to another level this spring, and was basically unblockable. He's a candidate to be an All-Big 12 performer even in a league that's stocked at defensive end. The fact that Magee is listed as a co-starter with Blackshear -- a starter last season -- underscores what the coaching staff thinks of Magee, who before taking last year off due to personal matters was among the most highly touted recruits Briles had ever signed. This group is high on ability, and has the capability to prove their coach right in the fall.
WLB: Aiavion Edwards (So.)
,
Taylor Young
(RFr.) or
Raaquan Davis
(RFr.)
MLB: Bryce Hager (Sr.)
, Grant Campbell (Jr.) or
Kendall Ehrlich
(So.)
Hager missed the final four games of last season due to a groin injury, which also kept him out this spring. But Hager is about as reliable as it gets in the Big 12, having earned second-team all-conference honors the last two years. Edwards is the one to watch. He was given the first nod on the weak side, after playing in the middle last season and in the spring in place of Hager. But he'll have to perform to fend off the competition, including Young, who impressed defensive coordinator Phil Bennett during the spring with his nose for the ball.
NB: Collin Brence (Sr.)
, Pat Levels (So.)
CB: Terrence Singleton (So.)
,
Ryan Reid
(So.)
CB: Xavien Howard (So.) or Chris Sanders (Jr.)
DS: Orion Stewart (So.)
,
Alfred Pullom
(RFr.)
CS: Terrell Burt (Jr.)
,
Taion Sells
(So.)
This unit comprises by far the biggest question mark on the team. The Bears should be in good shape at safety. Burt, the only returning starter in the group, will be back shortly from offseason shoulder surgery that kept him out of a spring ball. Briles also singled out Stewart for having a very promising spring as the replacement for All-American
Ahmad Dixon
. After a series of injury setbacks early in his career, Singleton returned to win a starting job at corner, at least for now. Howard also showed a ton of promise during the spring, but he'll have competition from Sanders, one of the top juco corners in the country, who had a shoulder injury this spring. Brence, a walk-on, was the biggest surprise in the secondary, and is listed as the starter at nickelback. How this untested unit comes together could ultimately determine whether the Bears repeat as Big 12 champs.
February, 21, 2014
Feb 21
3:50
PM ET
As we wait for the start of spring ball, we're examining and ranking the positional situations of every team, continuing Friday with offensive line. Some of these outlooks will look different after the spring. But here's how we see the offensive lines at the moment:
1. Oklahoma:
The Sooners lose their captain in All-American
Gabe Ikard
, who kept the line together through several moving pieces. Those pieces, however, are almost all back.
Tyrus Thompson
and
Daryl Williams
are steady veterans at tackle. Inside, guards
Dionte Savage
and
Nila Kasitati
both started the Sugar Bowl, and former starter
Tyler Evans
returns after sitting out the last two years with injury. The Sooners also have been grooming Ikard's replacement at center in
Ty Darlington
, who has played well in a reserve role the last two years. Even without Ikard, this is a seasoned unit.
[+] Enlarge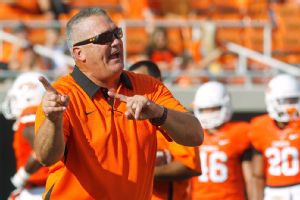 AP Photo/Sue OgrockiJoe Wickline's move from the OSU staff to Texas is an important storyline in the Big 12.
2. Kansas State:
The Wildcats will be stout inside. Guard
Cody Whitehair
and center
BJ Finney
are All-Big 12 caliber. Veteran starters
Cornelius Lucas
and
Tavon Rooks
are gone at tackle, but Bill Snyder signed two of the top 15 juco tackles in the country in
A.J. Allen
and
Luke Hayes
. If Allen and Hayes can solidify the bookends, K-State could be stout up front.
3. Texas:
The Longhorns return veteran center
Dominic Espinosa
, who has 39 career starts. But with three starters gone, the Longhorns really need the light to come up for
Desmond Harrison
. The talent is there, and if Harrison can put it all together, he'll give Texas a much-needed bookend on the left side. There's potential elsewhere in freshman guard
Rami Hammad
and sophomore tackle
Kent Perkins
, who could both earn starting roles this spring. The biggest addition to this group will be new assistant Joe Wickline, who worked magic with the offensive lines in Stillwater.
4. Baylor:
The Bears need left tackle
Spencer Drango
to make a healthy recovery from his back injury. After Drango was injured in November, Baylor struggled at times to keep quarterback
Bryce Petty
upright. Departing unanimous All-American guard
Cyril Richardson
is irreplaceable, though
Desmine Hilliard
had a solid sophomore season at right guard. Sophomore
Kyle Fuller
looks ready to take over at center, but the Bears will need another piece or two to emerge. The skill talent is in place for the Baylor offense to keep humming. How the players up front perform will determine whether it will.
5. Oklahoma State:
The key for the Cowboys here will be a healthy return of left tackle
Devin Davis
. Davis might have been Oklahoma State's best lineman last season, but suffered a torn ACL during a preseason that knocked him out for the year. Davis has NFL ability, and if he resumes his role, that will allow
Daniel Koenig
to move back to right tackle. The O-line in Stillwater was something never to worry about because of Wickline's masterful track record of mixing and matching to get a right fit. It will be interesting to see how the line performs next season with Wickline now at Texas.
[+] Enlarge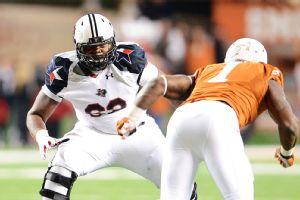 John Albright/Icon SMITexas Tech's Le'Raven Clark is one of the best offensive tackles in the Big 12.
6. Texas Tech:
The Red Raiders have an NFL talent in left tackle
Le'Raven Clark
, who earned All-Big 12 honors as a sophomore. Despite Clark, the Red Raiders line struggled last year, giving up 33 sacks (second-worst in the Big 12). But it should be improved in 2014. Juco tackles
Dominique Robertson
(ESPN JC 50) and
Shaq Davis
are on the way, and 2013 RT starter
Rashad Fortenberry
could be back, too, if the NCAA grants him a medical hardship waiver. Losing guard
Beau Carpenter
to dismissal hurts, but
Baylen Brown
has starting experience. Brown,
Alfredo Morales
,
James Polk
and center
Jared Kaster
all return after combining for 31 starts along the interior last season.
7. West Virginia:
The good news is that the Mountaineers should be superb inside.
Quinton Spain
is one of the best returning guards in the league, and
Mark Glowinski
had a solid season at the other guard spot. Tackle, however, is the biggest question on the entire squad going into the spring, outside QB. Coach Dana Holgorsen said Friday that guard
Marquis Lucas
would be swinging to the outside to compete with
Adam Pankey
,
Marcell Lazard
and
Sylvester Townes
.
8. Iowa State:
A healthy
Tom Farniok
at center would go a long way in stabilizing an inconsistent offensive line that gave up a Big 12-high 38 sacks last season. Farniok was never healthy last year, and it showed. The Cyclones are excited about the potential of
Brock Dagel
as a cornerstone at left tackle.
Jacob Gannon
will battle
Jake Campos
for the other tackle spot, while
Jamison Lalk
,
Oni Omoile
and juco transfer
Wendell Taiese
will compete for the guard spot opposite
Daniel Burton
. Under the new offensive regime, this line could enjoy huge improvement from 2013.
9. TCU:
The line was one of many reasons why the TCU offense struggled so much in 2013. Getting
Matt Pryor
on the field would be a big help. Pryor is massive at 6-foot-7, 350 pounds, and could fill a need a tackle. Getting Tayo Fabuluje back after a year away from football could help, too, assuming he's not too rusty. Juco guard
Frank Kee
, who chose the Horned Frogs over Oklahoma, could fill a spot inside immediately. True freshman
Ty Barrett
, the prize in a hotly contested recruiting battle, could challenge for time quickly, too.
10. Kansas:
John Reagan takes over at offensive coordinator and line coach, and he'll have some talented newcomers to weave into the rotation.
Devon Williams
and
Keyon Haughton
both arrived as three-star guards from Georgia Military College. Haughton is already on campus and could start right away. Freshman
Jacob Bragg
, the No. 3 center recruit in the country, could vie for time immediately, too, at the vacancy at center (2013 backup center
Dylan Admire
has moved to fullback/tight end).
December, 20, 2011
12/20/11
9:00
AM ET
So, the season gets, you know, kind of crazy. It's unrelenting, and recruiting plummets in priority. Thus, we haven't had a recruiting update since before the season.
Time to update.
Signing Day is less than two months away, and here's where each Big 12 team sits as we hit the recruiting home stretch before the big day in February.
All commit totals, rankings and stars via ESPN Recruiting, which
updated its national recruiting rankings this week
.

1. Texas Longhorns
National ranking:
No. 1
Total commits:
25
ESPNU 150 commits:
10
Key commits
: RB
Johnathan Gray
, DT
Malcom Brown
, WR
Cayleb Jones
, QB
Connor Brewer
Class notes:
Four of Texas' top five commits are skill position players, a huge need for the Longhorns. They're one of a handful of schools still chasing one of the nation's top recruits, too, receiver Dorial Green-Beckham. Gray will come to Texas as the Gatorade National Player of the Year. Texas also has two juco transfers coming next year, OT Donald Hawkins and DT Brandon Moore, a rarity for the Longhorns.

2. Texas A&M Aggies
National ranking:
No. 8
Total commits:
22
ESPNU 150 commits:
4
Key commits:
OLB
Jordan Richmond
, RB
Trey Williams
, ATH
Bralon Addison
, QB
Matt Davis
Class notes:
Texas A&M's class is being spearheaded by Davis, who's spreading the "Agg Swagg Movement" via social media, and Texas A&M will enter the SEC with one of its best classes in recent history. It's a deep class, too. Eleven of the 22 commits earned four-star status on ESPN.

3. Oklahoma Sooners
National ranking:
No. 9
Total commits:
17
ESPNU 150 commits:
5
Key commits:
RB
Alex Ross
, WR
Sterling Shepard
, WR Durron Neal, OL Ty Darlington
Class notes:
The Sooners are after DGB, too, but may have a sudden big need at running back after a handful of transfers over the past few months. ESPNU 150 signee from 2010 Trey Metoyer, a receiver, is expected to be in Norman next year after spending a year at Hargrave Military Academy. He'll offer some nice help, but will Landry Jones be throwing him the ball?

4. Texas Tech Red Raiders
National ranking:
No. 17
Total commits:
22
ESPNU 150 commits:
3
Key commits:
WR
Reginald Davis
, WR Dominique Wheeler, OT
Michael Starts
, QB Clayton Nicholas
Class notes:
The Red Raiders added five commits since our last update, but Davis, Wheeler and Starts should all be nice pickups and additions to an offense that lacked a big-play threat this year when Darrin Moore was battling injuries. Tech is also adding five juco transfers, including two more receivers and a pair of pass-rushers.

5. Oklahoma State Cowboys
Total commits:
16
ESPNU 150 commits:
1
Key commits:
TE
Dominic Ramacher
, OLB
Jeremiah Tshimanga
, QB Wes Lunt
Class notes:
Texas swiped CB Kendall Sanders with a late recruiting push, following a few high-profile former OSU commits to go elsewhere. This year's class won't make many headlines, but it'll be interesting to see if the 2011 Big 12 title pays off in the 2013 recruiting class. OSU knows definitively now that it can be better than OU and Texas. Lunt, an Illinois native, is an uber-productive dual-threat. Former blue-chipper Calvin Barnett, a DT from Tulsa, spurned OSU for Arkansas on Signing Day 2010, but he's committed this year via junior college.

6. Baylor Bears
Total commits:
19
ESPNU 150 commits
: 0
Key commits:
ATH
Corey Coleman
, OT Kyle Fuller, CB
Terrell Burt
, WR
Kiante' Griffin
Class notes:
Baylor added a handful of recruits just before the season to reach 18 commits, and added just one commit over the course of the season. Baylor's grabbed big-time recruits like Ahmad Dixon and Kendall Wright in the past that have been productive, but there's no big name in this class just yet.

7. Missouri Tigers
Total commits:
15
ESPNU 150 commits:
0
Key commits:
DT Donald Hopkins, QB Maty Mauk, ILB Donavin Newsom
Class notes:
Missouri is chasing DGB too, but the story this season has been class attrition for the Tigers. They were in the top 20 but lost ESPNU 150 commit Evan Boehm, who decommitted. The Tigers fell out of the top 25 and fell behind Oklahoma State and Baylor. Running back Jonathan Williams took his four stars to Arkansas and OT Germain Ifedi moved to fellow future SEC member Texas A&M. Mauk, Hopkins and Newsom are the only remaining four-star recruits in the class.

8. Iowa State Cyclones
Total commits:
20
ESPNU 150 commits:
0
Key commits:
OT Daniel Burton WR P.J. Harris, WR
Quan West
, QB Grant Rohach
Class notes:
The Cyclones added 11 commits since our last update. Three of the Cyclones top four commits are offensive skill position players, but Burton is the class' top commit. He committed on Sept. 29. A second QB, Luke Knott, committed way back in April. His older brother, Jake Knott, is a star linebacker for the Cyclones. Paul Rhoads' 10-year contract extension could help on the recruiting trail next year, too, offering parents some security that he'll still be coaching their sons for their whole careers. ISU has no four-star commits, but eight three-stars.

9. Kansas State Wildcats
Total commits
: 11
ESPNU 150 commits
: 0
Key commits:
WR
Vernon Vaughn
, DT Travis Britz, RB Jarvis Leverett, QB Tavarius Bender
Class notes:
Kansas State added four commits since our preseason update. Seven of the commits are three-stars and just one is committed via junior college. Two commits are unranked.

10. Kansas Jayhawks
Total commits:
8
ESPNU 150 commits:
0
Key commits:
QB Seth Russell, TE Jordan Smith, OG Brian Beckmann
Class notes:
ATH Bilal Marshall and DE De'Jon Wilson are no longer committed and new Kansas coach Charlie Weis has his work cut out for him. He says he doesn't want to be under scholarship numbers, but he doesn't want to offer guys just to fill scholarships with bodies. It'll be a tough balance. He's got catching up to do. WR Tre Parmalee and DT Keon Stowers are Weis' first two commits.