December, 4, 2010
12/04/10
9:21
PM ET
ARLINGTON, Texas --
Ryan Broyles
thought he made Oklahoma's biggest play of the game, but Nebraska safety Courtney Osborne's knee disagreed.
Osborne hauled in an easy interception and returned it to the 11-yard line, but Broyles stripped it and recovered possession as both players went to the ground. Officials ruled he had possession, but the call was reversed after a review.
That gave way to
Rex Burkhead
, who threw his third touchdown pass in two weeks -- this one to
Kyler Reed
-- that had the Huskers on top big early in the second quarter.
Oklahoma answered with a touchdown on its next drive, though, and trails
17-7
.
The pass from Burkhead was much-needed for Nebraska, whose quarterback,
Taylor Martinez
, had yet to complete a pass in four tries through the first quarter.
The Huskers' early lead should shift the entire game. Oklahoma won't abandon its run game, but it will look to pass a bit more than it did in the first quarter. Against the best secondary in the Big 12 -- and possibly the country -- that could be a dangerous proposition.
Not so much for the Sooners, who answered with a 49-yard bomb down the middle of the field to
Kenny Stills
. That's definitely a good sign for the Sooners, but a rare big play given up by the Blackshirts.
I'd be surprised if the Sooners hit another big play like that without breaking a tackle or benefiting from a miscommunication from the Huskers' secondary.
November, 24, 2010
11/24/10
11:22
AM ET
By
ESPN.com staff
| ESPN.com
Three weeks ago, the idea of Nebraska losing to Colorado was almost unthinkable.
Suddenly, it's a very real possibility with a probability that only rose with the team's announcement that leading receiver
Niles Paul
will
miss the Huskers final Big 12 regular season game
with a foot injury, and his status for the rest of the season is within doubt.
Only two Nebraska receivers have more than 13 catches this season, and Paul leads the team with 39 grabs for 516 yards and a touchdown. He's also one of the team's fastest players and an explosive kick returner who returned a kickoff for a touchdown against Oklahoma State. For the offense, that means
Brandon Kinnie
will need to play well, but outside of tight end
Kyler Reed
and converted tight end
Mike McNeill
, the Huskers are short on reliable receivers.
Curenski Gilleylen
will likely replace Paul at the "Z" receiver position.
Taylor Martinez
has been limited in Nebraska's last two games with a sprained ankle, and the Huskers running game, one of the nation's best earlier in the season, has suffered as a result. He's expected to be available on Friday, but it's doubtful he'll be anywhere near his usual self after re-injuring the ankle last week in a loss to Texas A&M when lineman Mike Caputo stepped on his foot as a tried to make a move.
So as much as other receivers will have to fill Paul's void, the real onus for beating Colorado will fall on the shoulders of the offensive line and running backs Roy Helu Jr. and
Rex Burkhead
. Nebraska didn't use much of its Wildcat formation with Burkhead taking the snap against Texas A&M, but with Martinez gimpy and Paul out, it'd be surprising if the formation that was so effective when Martinez sat against Iowa State isn't a big part of Nebraska's game plan.
It's not ideal, but thanks to those injuries, a Colorado upset is a real possibility. Questions about Pelini's sideline behavior and an incident with a cameraman involving defensive coordinator Carl Pelini have provided distractions that may or may not have an effect on what we see from Nebraska this week. At the very least, after conversations with athletic director Tom Osborne and chancellor Harvey Perlman, I'd expect to see a more docile Bo Pelini roaming the sidelines.
The penalty discrepancy (16-2 in favor of Texas A&M) last week has provided more talking points and motivation for Nebraska, but against a surging Colorado team that's found new life under interim coach Brian Cabral and is one win away from bowl eligibility, getting the win won't be easy.
Few thought that would be the case only a few weeks ago.
October, 30, 2010
10/30/10
4:12
PM ET
LINCOLN, Neb. -- Missouri's done a pretty good job of stopping
Taylor Martinez
on the ground.
Everything else? Firmly in favor of the Huskers.
Martinez has completed all five of his passes for 101 yards, including a 40-yarder to
Kyler Reed
for a touchdown to put Nebraska up
17-0
midway through the first quarter.
Missouri has just one first down, and
Blaine Gabbert
has already been sacked once, tripped up by Lavonte David. That's one more than he suffered last week in the win against Oklahoma. He's been constantly harassed, looks out of rhythm and the Blackshirts are keeping Missouri from running the ball to neutralize any of that pressure.
Gabbert's only completion of the day went for 21 yards to
T.J. Moe
for Missouri's lone first down.
This looks like it might get ugly early. Nebraska is making everything look easy.
October, 7, 2010
10/07/10
11:01
PM ET
MANHATTAN, Kan. -- That was a dominant performance from Nebraska, but most importantly, a dominant performance from
Taylor Martinez
. No questions here, that
48-13
score isn't a fluke. Nebraska is that much better than Kansas State. The Huskers still have to travel to Stillwater and College Station, but after that performance, they established themselves as even heavier favorites in the North.


How the game was won:
Martinez ran all over Kansas State. He racked up 241 yards rushing on just 15 carries and had for four touchdowns. The game got out of hand in the second half.
Turning point:
Martinez's 35-yard touchdown run in the second quarter to take a 14-3 lead was a sign of things to come and gave the Huskers a lead that eventually swelled to 45-6.
Stat of the game:
Nebraska rushed for 450 yards. Kansas State rushed for 179.
Player of the game:
Without question, Martinez had the best game of his young career, completing 5 of 7 passes for 128 yards, including a 79-yard touchdown pass to
Kyler Reed
, and rushed for 241 yards and four touchdowns.
Unsung hero of the game:
Nebraska linebacker Lavonte David. David helped stuff
Daniel Thomas
and limit one of college football's best running backs to just 63 yards on 22 carries, without a touchdown.
What Nebraska learned:
Even playing against one of college football's worst rush defenses, Nebraska showcased a three-headed monster that may challenge Oregon as the best running game in college football this year. They'll ride that all the way to the Big 12 title game.
What Kansas State learned:
It's not a contender in the Big 12 North. They survived three close games to begin the season, but this game was never close in the second half and Nebraska looked dominant for the game's final three quarters.
Record performance:
Martinez set a Nebraska quarterback record for rushing yards, breaking Jammal Lord's record of 234.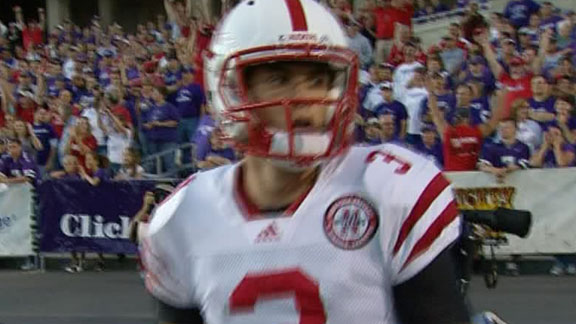 May, 5, 2009
5/05/09
4:14
PM ET
By
Tim Griffin
| ESPN.com
Posted by ESPN.com's Tim Griffin
Spring football across the Big 12 was a series of mundane drills and routine practices.
It gave coaches a chance to take a long look at their own teams as they prepared for the fall.
During the course of the past few weeks, several events played out that weren't exactly a surprise to me. In fact, they should have been expected.
Here's a list of some of them:
Jeff Fuller explodes as Texas A&M's top wide receiver: Ryan Tannehill's injury opened the opportunity for Fuller to become the featured receiver, and Fuller took it and ran and caught with it. He had a marvelous spring game and should be poised for big things this season. But his big spring performance should be taken with a grain of salt -- he won't be able to play against A&M's leaky secondary once the season starts.
Texas' secondary growth: With all of the heralded recruits among defensive backs, competition was expected to be fierce this spring for the Longhorns. And it was. Earl Thomas and Chykie Brown openly talked about winning Thorpe Awards this season. They might have their chance. But with teammates like safeties Christian Scott, Nolan Brewster and Blake Gideon and corners like Aaron Williams, Curtis Brown and Deon Beasley it could make it hard for any single to player to emerge among the talents of the group. The Longhorns appear to have more ready-to-play defensive backs than at any time in Mack Brown's coaching tenure.
Colorado unsettled quarterback situation: I frankly didn't expect either Cody Hawkins or Tyler Hansen to separate himself during the spring. The situation is scrambled by Hansen's broken thumb, which will take him the next few weeks to recover from. And the departure of former coordinator Mark Helfrich also adds another dynamic as the decision plays out. I'm betting we won't know the Buffaloes' opening-day starter until shortly before their Sept. 5 game against Colorado State.
The development of Nebraska's tight ends: Mike McNeill already was one of the most underrated players in the conference after setting a single-season record for catches by a Nebraska tight end last season. A beefed-up Dreu Young has developed into a terror as a run blocker. Ben Cotton merely showed the talents that made him a top recruit when he came to the Cornhuskers. Kyler Reed and Ryan Hill also were impressive. All that talent should help abate Bo Pelini's concerns about wide receiver a little bit heading into the summer. Look for the Cornhuskers to play a lot of two-tight end sets this season.
Brandon Harold thriving upon his return to defensive end: Harold was forced inside by injuries to Kansas State's defensive tackles late last season as a freshman. But a bulked-up Harold appears to have kept most of his speed after he moved back to the outside this spring. The results were obvious after he produced nine tackles, four tackles for losses, three sacks and forced a fumble in the Wildcats' spring game.
Nebraska leads the conference in spring game attendance: The Cornhuskers always seem to lead in spring attendance, anyway. But interest and excitement is percolating for Pelini's program after the fast finish, capped by the Gator Bowl triumph over Clemson. And it was seen in the attendance of 77,670 for the spring game -- a total more than 16,000 fans ahead of the spring game attendance for the rest of the North Division combined. That is an incredible statistic.
BIG 12 SCOREBOARD
Saturday, 12/20
Monday, 12/22
Tuesday, 12/23
Wednesday, 12/24
Friday, 12/26
Saturday, 12/27
Monday, 12/29
Tuesday, 12/30
Wednesday, 12/31
Thursday, 1/1
Friday, 1/2
Saturday, 1/3
Sunday, 1/4
Monday, 1/12
Tweets from https://twitter.com/ESPNCFB/lists/big12