October, 15, 2013
Oct 15
8:00
PM ET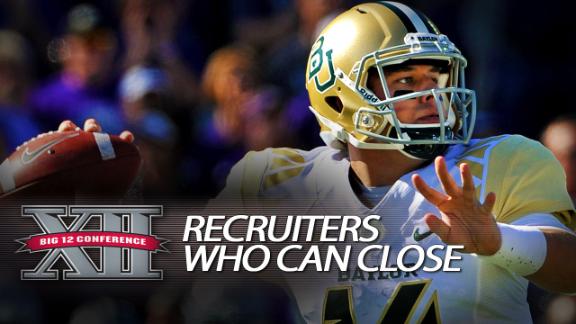 Editor's note: For a look at the national recruiter power rankings based only on Class of 2014 success,
click here
.
The best college football coaches will tell you that when it comes to recruiting, their business is an art. It's a craft you must perfect if you want to have the best players commit and ultimately sign. Recruiting isn't for everybody, but those who are good at it -- particularly for building the 2014 class -- should be recognized, as the business is extremely competitive.
Here are 10 of the top recruiters from the Big 12.
To continue reading this article you must be an Insider
October, 9, 2013
Oct 9
2:00
PM ET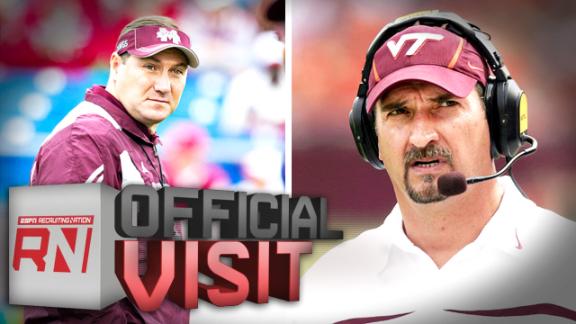 Each Wednesday, ESPN RecruitingNation updates its
national class rankings
. For an in-depth look at the Big 12 conference, check out our conference rankings:

1. Texas, 24 commits:
The Longhorns check in at No. 7 in the RecruitingNation class rankings with the headliners being No. 79 overall
Derick Roberson
(San Antonio, Texas/Williams J. Brennan High), No. 119
Armanti Foreman
(Texas City, Texas/Texas City High) and No. 138
Jerrod Heard
(Denton, Texas/John H. Guyer High). Texas, which currently has seven ESPN300 commits, has its sights set on No. 31 overall
Solomon Thomas
(Coppell, Texas/Coppell High), No. 13
Tony Brown
(Beaumont, Texas/Ozen High) and No. 25
Jamal Adams
(Lewiville, Texas/Hebron High).
To continue reading this article you must be an Insider
October, 8, 2013
Oct 8
8:00
AM ET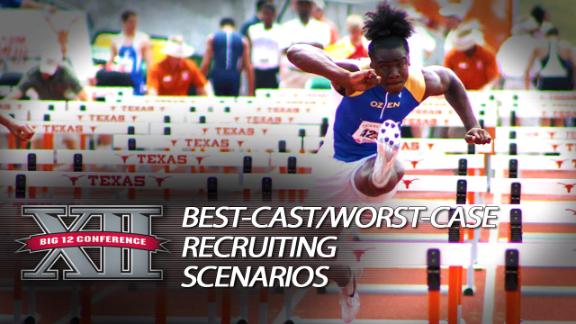 Even for schools like Baylor, Oklahoma, Oklahoma State and Texas, who all have
recruiting classes ranked in the top 40
, there is still a lot of work to be done for the Class of 2014. Here is a look at the best-case and worst-case scenarios for every school in the Big 12.

Baylor
Best-case scenario:
The Bears continue to put up gaudy numbers on offense, which allows them to round out one of their best-ever classes with a few more gems. One recruit they would love to add is
Randall Cunningham II
(Las Vegas/Bishop Gorman). On defense, one of Baylor's top targets is ESPN 300 cornerback
Nick Watkins
(Dallas/Bishop Dunne). Texas struggling this season sure does help BU's recruiting.
To continue reading this article you must be an Insider
August, 20, 2013
Aug 20
8:00
AM ET
As we inch closer to the start of the college football season, wins and losses are going to be important -- not only for bowl-game consideration but also to keep current commitments interested.
Several 2014 athletes have pledged to Big 12 programs, and it's up to the conference's schools to keep those athletes committed. Here are must-keep recruits for each team, athletes who can impact their respective classes.
To continue reading this article you must be an Insider
June, 20, 2013
Jun 20
11:00
AM ET
Kansas already turned heads when it earned a commitment from linebacker
Kyron Watson
, who would be the school's first-ever ESPN 150 signee.

Coach Charlie Weis isn't done.
Jacob Bragg
, the No. 2 center nationally and No. 257 player overall, committed to the Jayhawks on Wednesday. That's a huge pickup, giving KU two players in the ESPN 300 from the 2014 class. Bragg, a 6-foot-4, 314-pound native of Nacogdoches, Texas, had offers from Oregon State and Louisiana Tech.
Here's what our scouts said about Bragg:
Bragg could have some limitations in space and needs to keep improving in areas of his technique, but he's a center with good size, strength and flexibility. We're surprised he hasn't gained more interest and should see things pick up for him as the recruiting process goes on, as he has the tools to be a good college center.
A big senior season could mean more attention, so it's possible KU might have to do some work to keep Bragg committed if his profile rises, but it's clear that Weis has established some momentum on the recruiting trail.
The Jayhawks also beat out Missouri, Oklahoma State and Iowa State for athlete
Andre Maloney
, a 6-1, 180-pounder who plays safety for Shawnee (Kan.) Mission West.
Kansas now has five players committed for 2014, including running back
Traevohn Wrench
, the nation's No. 33 at the position. Jayhawks fans have to be happy to see those developments on the recruiting trail.
May, 24, 2013
May 24
4:00
PM ET
Thanks for the e-mails this week, everybody.
Here's where you can reach me
if you've got more to say.
Jonathan in San Antonio writes:
What are your thoughts on OSU not adding Boise State to the list of Lunt's banned options? After all, wasn't the entire motivation for the ban to ensure he doesn't go to a future opponent?
DU:
I honestly hadn't thought about this until a couple of you e-mailed. It's a valid question, I'd say. Boise State's obviously a bigger danger to knock off OSU in nonconference play than Central Michigan would be, even though the games are a couple years away. Oklahoma State and Lunt's relative silence on the issue will end eventually, but I can't think of a compelling reason why Boise State would be left out of OSU's transfer restrictions. At some point in the future, Gundy will be asked about this incident. Surely, it'll be the next time he's made available to the media. He's turned down numerous interview requests about the issue, including one from me.
Boise should be asked about, though I wouldn't count on getting much of an answer.
---
John in Greensboro, N.C. writes:
Wouldn't it be nice to see an AD or University President saying that (s)he will limit the places where a HC can move if (s)he breaks the contract?
DU:
Or how about, instead of two wrongs predictably not making a right, we prevent transfer restrictions in the future? I'm fine with the rule of losing a year of eligibility if you transfer within the conference, but I'm not one of those folks who thinks players should be allowed to transfer without sitting out a year.
This isn't a Gundy issue, ultimately. It's an NCAA issue. The NCAA requires players to get a release from their university to be eligible for a scholarship at their new school. That's where the issue lies. Gundy is operating within the rules. You're welcome to say what you'd like about Gundy, but he's not explicitly breaking any rules. The problem is those rules are stupid. More restrictions on head coaches isn't the answer.
---
Josh in Topeka, Kan. writes:
How did KU pick up Kyron Watson, the number four linebacker in the country? What do you think that Weis is selling that lured him away from big schools such as TCU and Michigan?
DU:
Every player is different. I don't know if you're insinuating it, but people don't start wondering if everything is legal until you see a wave of players like that going to a historically less successful school. Look no further than
Hugh Freeze defending his program
at Ole Miss earlier this offseason. Coaches have to be ambitious and even if you don't know if you've got a show, you owe it to the program to explore elite prospects.
Watson will obviously be able to play immediately, has an alum from his high school (RB
Tony Pierson
) on the team, and he's only going about 4-5 hours away from his home. You never know what each player wants. Weis surely convinced Watson that he wasn't going to sit through four one-win seasons at KU during his time. The NFL experience of himself and DC Dave Campo probably helped. It's a solid pickup for the Jayhawks and different guys want different things. Watson bought what KU was selling.
---
Kit Sanders in Martinsburg, W.Va. writes:
WVU WR
Kevin White
WILL top 1,000 yards next season. Big and fast with agility and in Holg's O. You can literally take this to the bank!
DU:
It's definitely possible. WVU's got a lot of guys I see being productive, but I don't see top-tier guy on the roster just yet.
Connor Arlia
and
Jordan Thompson
should rack up quite a few catches. So should newcomer Shelton Gibson. WVU will be throwing it around plenty, but with the depth at running back, they'll be running it a lot more and I see a more balanced attack with a lot of different guys catching balls, instead of a focus on two guys like we saw last year.
I'm picking WVU to have a couple 700-900 yard seasons, but not have a 1,000-yard receiver. I won't be very shocked if I'm wrong.
---
Steven in Weatherford, Texas writes:
Granted
Lache Seastrunk
and
Bryce Petty
are getting all the attention for Baylor's offense for this upcoming season, but what their defense? The defense lead Baylor to victories over K-State, pulling out against Texas Tech and Oklahoma State and ended up destroying UCLA in the bowl game. If the defense can keep up the pressure from the end of the 2012 season, do you see Baylor as a potential dark horse Big 12 champ?
DU:
Oh, most definitely. I believe in this defense this time around, and it's a combination of having more speed, more experience and more athletes all over the field. The defensive line should be as good as it's been from top to bottom under Briles. Love the addition of
Shawn Oakman
and
Chris McAllister
is a stud who should progress this year. Same with the linebackers with
Bryce Hager
and
Eddie Lackey
.
Demetri Goodson
,
Joe Williams
and
Tyler Stephenson
should be solid at corner and
Ahmad Dixon
's an impact player in the back at safety. That's a defense capable of doing some good things, and the Bears are my bet for the Big 12's best offense this year. That's a recipe for success. Outside of my four favorites (OU, Texas, TCU, OSU), the Bears are the most likely team to be in the mix for a Big 12 title.
---
D.J. in Morgantown, W.Va. writes:
How many wins for West Virginia this season?
DU:
Six.
May, 16, 2013
May 16
11:00
AM ET
By
ESPN.com staff
| ESPN.com

When ESPN 150 linebacker Kyron Watson committed to Kansas, it was arguably their biggest commit in years. Damon Sayles discusses the implications of that commitment, and Saint Louis, Missouri recruiting being an underrated hotspot. Max Olson also stops by to talk the latest in Baylor recruiting.
May, 15, 2013
May 15
11:00
AM ET
All the recruiting news out of Lawrence, Kan., on Tuesday centered around the nation's No. 1 player on the hardwood,
Andrew Wiggins
.

It overshadowed a huge pickup for football coach Charlie Weis, who got a commitment from linebacker
Kyron Watson
, a native of East St. Louis, Ill. He's just the second commit in Kansas' 2014 class, but he's going to be toting a big tag to Lawrence.
Since ESPN began making its list of the nation's top 150 recruits -- aka the ESPN 150 -- in 2006, the Jayhawks have never signed a player who was on it.
Watson is rated the nation's No. 4 outside linebacker and No. 100 overall player -- and Kansas needs a lot of help on defense. Watson previously planned to visit Michigan this weekend and make a decision, but reportedly cancelled the visit. Watson went to the same high school as versatile Kansas back
Tony Pierson
, and also had offers from TCU, Missouri, Syracuse and Iowa State. He was in the house last month for Kansas' spring game.
The 6-foot-1, 210-pounder has nice speed and fits the profile of an outside linebacker capable of playing in space against wide-open Big 12 offenses.
That's huge for KU. Who knows how Watson's career will play out, or if he'll even officially sign nine months from now on signing day, but simply getting a commitment is a huge step -- and not something we've seen often from the Jayhawks.