July, 27, 2011
7/27/11
11:00
AM ET
DALLAS -- After navigating his way through his first season in the Big 12 in 2010, Texas Tech coach Tommy Tuberville knows what the Red Raiders will have to do to be better.

"It's all about depth and speed on defense," Tuberville said. "You don't really have to worry about size. You worry about quickness and speed. I've always believed in that anyway. That's the type of defense I've been around."

Tuberville's first Texas Tech defense was one of the worst in his long coaching career. A former defensive coordinator at Miami and head coach at Ole Miss and Auburn, Tuberville built his best teams around stingy defenses.

But largely because of injuries and suspensions, the Red Raiders were woefully inept on defense in 2010. Texas Tech finished No. 118 nationally in pass defense (293.8 yards per game), 114th in total defense (456.3 yards) and 93rd in scoring defense (30.9 points).

The Red Raiders never had a full complement of players on defense in 2010. Senior cornerback LaRon Moore missed the first four games because of a broken leg; junior defensive end Scott Smith was suspended for the season after four games; and end Aundrey Barr missed the final nine games with a knee injury.

Tuberville hopes the addition of former TCU defensive backs coach Chad Glasgow, who is installing the Horned Frogs' vaunted 4-2-5 scheme as the Red Raiders' new defensive coordinator, will help shore up some of Tech's defensive problems.

"With the type of players that you play against and the formations [you face in the Big 12], you have to run a lot of nickel defenses," Tuberville said. "You play Oklahoma, you play Texas A&M last year, they just run you down. It kind of reminds me of defenses I've been part of when we've had good success. That's how you win championships; it's not with anything else other than the speed on defense."
April, 27, 2011
4/27/11
2:00
PM ET
Wednesday, we wrap up our series looking at the strongest and weakest position for each team in the Big 12 with the
Texas Tech Red Raiders
.
Strongest position: Running back

Key returnees:
Eric Stephens
,
Aaron Crawford
,
Ben McRoy
,
Harrison Jeffers
Key losses:
Baron Batch
Analysis:
The Red Raiders may not have any big-time gamebreakers at the position, but they are deep, deep, deep. And hey, maybe Stephens' 86-yard touchdown run in the TicketCity Bowl was a sign of things to come, despite having just one run longer than 30 yards the rest of the season.
Texas Tech has a good mix of size and speed with the platoon, and Crawford should get a good share of carries along with Stephens. The offense also added Ronnie Daniels this spring, a 6-foot-2, 205-pound true freshman who became a starter at fullback by the end of the spring. McRoy is a Floridian, 5-foot-9, 160-pound scatback whose elusiveness could earn him a few touches. Jeffers' bowling-ball tendencies at 5-foot-7, 200 pounds could do the same.
Coach Tommy Tuberville plans to use a few more two-back sets, and it's clear that doing so is a good use of the talent he has on the team. Texas Tech should be solid at quarterback, running back and the offensive line, but running back is the team's deepest position heading into 2011.
Weakest position: Secondary
Key returnees:
Safeties Cody Davis, D.J. Johnson and Terrance Bullitt, cornerbacks Tre Porter, Jarvis Phillips, Derrick Mays
Key losses:
CB LaRon Moore, S Franklin Mitchem
Analysis
: Texas Tech has plenty of potential at the position heading into 2011, but there's no doubt it was the biggest weakness for the Red Raiders in 2010. Under the direction of a new defensive coordinator specializing in stingy secondaries, can that change right away? Chad Glasgow brought his 4-2-5 from TCU, and Texas Tech hopes success will follow after ranking last in the Big 12 in pass defense by 18 yards a game. Those 293 yards per game ranked 118th nationally, better than just Rice and Tulsa.
Injuries forced Texas Tech to play young players that weren't quite ready, but that rushed experienced could pay off soon. Porter and Mays started as freshmen last season, and should begin their sophomore years at the top of the depth chart. The Red Raiders trio of safeties need to prove they're fast enough to slow Big 12 offenses. Davis and converted corner Johnson will handle the traditional safety spots, while Bullitt will play more of a nickel back role close to the line of scrimmage to help the pass rush or stop the run. Texas Tech's offense might not be as potent as it was in 2010, but the defense has to be way, way better, or the Red Raiders won't do much better than this past season's eight wins.
More spring superlatives:
February, 16, 2011
2/16/11
9:00
AM ET
Springtime is almost here. And here's a look at what to expect across the Big 12 when it gets into full swing here in the next couple weeks.
BAYLOR BEARS

Spring practice starts:
February 28
Spring game:
April 2
What to watch:
Big changes on defense. Baylor brought in Phil Bennett as its new defensive coordinator, and he says his scheme will be multiple, built to fit the Bears' personnel. Considering the Bears' recent recruiting successes in the secondary, look for a 4-2-5 type of look.
Recruiting stars: time to shine. Both safeties, Tim Atchison and Byron Landor, are gone. Baylor, though, has two former ESPNU 150 recruits at safety who would be well served to start filling their potential. Prince Kent was a reserve last season and at one time, the nation's No. 51 overall recruit who originally signed with Miami. Ahmad Dixon, meanwhile, was the No. 15 overall prospect in the 2010 class. The opportunity is there. Baylor needs big talent at the position. Briles has recruited it. Can they develop into players who make Baylor a contender?
Running back competition. Jay Finley topped 1,200 yards in 2010, but he's gone. Who steps into his void? Terrance Ganaway is a bowling ball at 5-foot-11, 235 pounds, but the shifty Jarred Salubi could get a good amount of carries, too. They could begin to share carries this spring.
IOWA STATE CYCLONES

Spring practice starts:
March 22
Spring game:
April 16
What to watch:
Quarterback competition. It should be a good one in Ames this spring. Jerome Tiller is the name most recognize after getting lots of meaningful time and starts because of injuries to Austen Arnaud over the past two seasons. But juco transfer Steele Jantz sounds confident he can win the job. Rising sophomore James Capello and redshirt freshman Jared Barnett will compete, too.
Paging Cyclone receivers. Iowa State had one of the most underwhelming receiving corps in the league during the past season, and three of its top five pass-catchers won't return in 2011. Of those three, however, one is a tight end (Collin Franklin) and another is a running back (Alexander Robinson). The new quarterback will need some help, and Darius Darks and Darius Reynolds will need to provide it as seniors.
Shontrelle's time or not? Freshman Shontrelle Johnson looked like the running back with the most pop behind Robinson for most of 2010, but two other freshmen running backs jockeyed for carries, too. Paul Rhoads is hardly handing the job over to Johnson, but spring could be the time when he really separates himself from the pack.
KANSAS JAYHAWKS

Spring practice starts:
April 1
Spring game:
April 30
What to watch:
What are they doing behind center? Kansas never got much consistent play out of the quarterback position last year, but freshman Brock Berglund is one of the 2011 class' top recruits, and enrolled early to compete in the spring with Jordan Webb and Quinn Mecham. With a building program like Kansas, there's perhaps some value in handing the program to a younger player like Webb or Berglund, but they'll have to earn it. Doing so will start in the spring, but don't expect the Jayhawks to have a set-in-stone starter by spring's end.
Top linebacker back on the field. Huldon Tharp missed all of 2010 with a foot injury, but he says he's 100 percent and ready to get back on the field. As a freshman in 2009, he was fifth on the team in tackles, with 59, and looked like one of the league's possible budding stars. Now, he'll get his chance to join fellow linebacker Steven Johnson as one of the team's top tacklers, and he'll do it as a sophomore after redshirting in 2010.
Toben rising? Turner Gill raised plenty of eyebrows when he moved his team's leading rusher in 2009, Toben Opurum, to linebacker in fall camp, and eventually slid him up to defensive end. But toward the end of 2010, Opurum started showing some major signs of growth at the position. We'll get a better idea this spring if he's one of the league's most unlikely new stars at defensive end.
KANSAS STATE WILDCATS

Spring practice starts:
April 6
Spring game:
April 30
What to watch:
Prodigal Kansan sons come home. There's no doubt that the Wichita native Brown brothers are the main attraction at Kansas State this spring, a season after transferring back home. Bryce Brown, the running back, was the nation's No. 8 prospect in the 2009 class. Arthur Brown, the linebacker, was the nation's No. 6 prospect in the 2008 class. Bryce transferred from Tennessee and Arthur from Miami. The Wildcats are pinning much of their hopes on the duo, and we'll get a good sense of what they can provide soon.
Quarterback competition. Carson Coffman is gone, and two new faces will challenge for the job: juco transfer Justin Tuggle and Daniel Sams. Sammuel Lamur is also up for the gig. Collin Klein may or may not be; Bill Snyder hasn't explicitly confirmed a past comment from Sams saying Klein had moved to receiver. Don't expect a starter to be named by spring's end, but a general order could start to form.
Can the defense show improvement? Kansas State had the Big 12's worst overall defense last year, and the worst rushing defense in college football, giving up 3,008 yards on the ground. Coordinator Chris Cosh looks like he'll still be around in 2011, and defensive backs David Garrett and Tysyn Hartman are solid pieces to try and build around. But this young maturing defense must get better to make a bowl game again with so many questions on offense. That starts in the spring.
MISSOURI TIGERS

Spring practice starts:
March 8
Spring game:
April 16
What to watch:
Franklin comes alive! Blaine Gabbert bolted to the NFL early, and Missouri has a gaping hole a quarterback. The position, however, is surrounded by a lot of quality talent that likely makes the Tigers a Top 25 team. There's no understating the importance of the position for the Tigers, and that will begin to be decided in the spring. James Franklin, a rising sophomore, saw spot duty in 2010 as more of a runner, and may have the inside track on the job, but Tyler Gabbert, Blaine's younger brother, and Ashton Glaser should make it an interesting competition in the spring. If neither of them impress early, don't count out incoming freshman Corbin Berkstresser.
Here is the new secondary. Same as the old secondary? After years of pass defense being one of the Tigers' biggest weaknesses, it became a strength in 2010 behind the leadership of senior corners Kevin Rutland and Carl Gettis. But the Tigers lose them and safety Jarrell Harrison. Rutland emerged as one of the team's most impressive players last spring, but was Missouri's success in the secondary a one-time thing or the beginning of a welcome trend?
Time to dominate the trenches? Missouri played without likely first-round pick Aldon Smith for much of the previous season, but the defensive and offensive lines for the Tigers were as good as ever in 2010. How will they look in 2011? Impact juco transfer Sheldon Richardson won't be enrolled by the spring, but the four returning starters on the offensive line should get some solid work against Brad Madison, Jacquies Smith and Terrell Resonno.
OKLAHOMA SOONERS

Spring practice starts:
March 21
Spring game:
April 16
What to watch:
Freshmen on display. Coach Bob Stoops hasn't been shy about saying his 2010 recruiting class was his best ever, but it could look even better after this spring. Two of his best emerging recruits, Justin McCay and Geneo Grissom, didn't even play in 2010, and could start to make an impact. The same goes for Corey Nelson, who will try to earn some more time somewhere backing up star Travis Lewis.
Is there a golden boot in Norman? Jimmy Stevens was much more accurate in 2010, finishing 19-for-23, but his attempts outside 45 yards were sparse. The good news is he missed none of his 53 extra points. Field goals have been a bit of an adventure for the past couple years, but continuing in the spring what he started last year would be a good sign for Oklahoma. The Sooners are strong everywhere and need good special teams play to reach their lofty title goals.
Are the Sooners' backs back? Roy Finch missed the Fiesta Bowl with a stress fracture, and his durability is certainly questionable entering 2011. When he's healthy, he looks like the next star in the Sooners' backfield, but they'll need some depth behind the 5-foot-8, 173-pounder. Jermie Calhoun, Jonathan Miller and Brennan Clay have all looked good at times, but there should be some good competition from newcomers Brandon Wegher, an Iowa transfer who'll be in camp this spring and eligible next season, and blue-chip recruit Brandon Williams, who enrolled early.
OKLAHOMA STATE COWBOYS

Spring practice starts
: March 7
Spring game
: April 16
What to watch
:
Every piece of the offense. The spring in Stillwater is all about keeping or improving upon the status quo. Had it kept Dana Holgorsen, there'd be little doubt that would happen, but Oklahoma State must make the most of its five returning offensive linemen, quarterback Brandon Weeden and receiver Justin Blackmon. The opportunity for a historic season is there, but they'll have to pick up the nuances of the new offense quickly in the spring like they did last year.
What about the kicker? Dan Bailey won the Lou Groza Award as the nation's top kicker in 2010, but he's gone. Oklahoma State needs to fill that role quickly, and we'll likely know who will get the nod after the spring.
Who steps up on the defensive line? The Cowboys lose three starters up front on defense, including All-Big 12 performer Ugo Chinasa and tackles Chris Donaldson and Shane Jarka. Can senior Richetti Jones become a star in the Big 12? We'll have a good idea if he, or any of the Cowboys' other defensive linemen, can by the end of April.
TEXAS LONGHORNS

Spring practice starts
: February 24
Spring game
: April 3
What to watch
:
New coaches and their students/players. Texas has five new coaches. Although it's hard to get a good read early on, how they relate with the players on the field, in the film room and around the facilities will have a big impact on how the 2011 season plays out in Austin. The young-blooded coordinators could serve themselves well by relating to players and the players will need to spend plenty of extra time learning new schemes and plays.
Quarterback competition ... or not? Mack Brown says the gig is open and it is, for now. Garrett Gilbert can close it with a strong spring. If Garrett struggles on the field or has difficulty grasping the new system, the door will be wide open for Connor Wood or Case McCoy to step in and close it. Gilbert didn't get much help, but he did very little in 2010 to inspire a lot of breathing room with McCoy and Wood clamoring for playing time.
And you've got to defend the pass, too. Texas loses its top three cornerbacks to the NFL, and only Carrington Byndom and A.J. White got much meaningful playing time last season. Younger players can earn some rare early playing time with a strong spring. Will anyone step up?
TEXAS A&M AGGIES

Spring practice starts
: March 22
Spring game
: April 16
What to watch
:
New linebackers in the running. Spring isn't so scary when you bring back nine defensive starters, but the two Texas A&M lost were the heart of its defense. Linebackers Michael Hodges and Von Miller are gone. Kyle Mangan didn't look fantastic when forced into action during the Cotton Bowl, but the time is now for Damontre Moore and Dominique Patterson, a pair of sophomores, to make their impact.
Tannehill's tuning things up. Quarterback Ryan Tannehill played about as well as anyone could have hoped late last season, but he'll need it to continue his performance with a solid spring nailing down the timing with his receivers, who all return. He's already got a leg up on last year's quarterback, Jerrod Johnson, who was held out of team drills last spring after shoulder surgery that eventually derailed his senior season.
Christine's back. Christine Michael missed the second half of the season with a broken leg, giving way to Cyrus Gray's rise among Big 12 backs. It should make Texas A&M's depth at the position even more impressive, but we'll see how Michael looks coming back from the injury.
TEXAS TECH RED RAIDERS

Spring practice starts
: February 19
Spring game
: March 26
What to watch
:
Past defending that pass defense. Texas Tech had the Big 12's worst pass defense last season, but has a pair of big potential players at cornerback in rising sophomores Tre Porter and Jarvis Phillips. Starters LaRon Moore and Franklin Mitchem are gone, but if returning starters Cody Davis and Will Ford can continue to mature, the defense should improve in the area most important for success in the Big 12.
And they're off! There's a four-man quarterback derby set in Lubbock this spring between Seth Doege, Jacob Karam, Michael Brewer and Scotty Young. I don't expect it to be settled until midway through fall camp, similar to last season, but there should be a solid front-runner and more clarity after spring. Coach Tommy Tuberville was extremely impressed with Doege and Karam last spring after Taylor Potts and Steven Sheffield went down with injuries.
Time to find new stars. Most of the big names on Texas Tech's defense are gone. Colby Whitlock, Bront Bird, Brian Duncan will all continue their careers elsewhere. The leaders on the defense will have to begin to emerge in the spring. Is it Scott Smith? Cody Davis? A younger, unexpected player? We'll find out. Sometimes these types of situations aren't as easy to predict as they might seem, like Missouri's strength in 2010 emerging in the secondary.
January, 26, 2011
1/26/11
10:00
AM ET
Signing day is exactly a week from Wednesday, and it's time to take a look at who needs what in its 2011 class.
Some schools have addressed these needs with their current class. Some haven't. Others are still trying.
Here's our look at the South, after running down the
Big 12 North
earlier this morning.

BAYLOR
Defensive tackle:
The Bears are loaded on offense and have a ton coming back, but anyone who watched Baylor in 2010 knows the big problems are on defense, starting with the front four. Phil Taylor is headed to the NFL and Nicolas Jean-Baptiste will be a senior next year. Reserve Chris Buford is gone, too. The Bears need to fill out some depth up front to avoid a repeat of their Texas Bowl debacle defending the run against Illinois.
Punter
: Derek Epperson was rock solid as a four-year starter for the Bears, averaging near 44 yards a punt for his past three seasons. He's gone now, and the Bears will need a replacement. The good news is Baylor's offense with
Robert Griffin III
doesn't make the position nearly as important as it used to be.

OKLAHOMA
Receiver:
Ryan Broyles
, a senior, and
Kenny Stills
look ready for big years in 2011, but senior
Cameron Kenney
is gone.
Trey Franks
,
Dejuan Miller
and
Joe Powell
could contribute in 2011, but beyond that, another big-time threat across from Stills would certainly help. One of the Sooners' top 2011 commits, Trey Metoyer, could become that player.
Safety:
Both starters, Quinton Carter and Jonathan Nelson, have graduated, and the Sooners will try to replace them with Sam Proctor, who has started plenty of games, and Javon Harris. The Sooners are pretty well-stocked about everywhere, but more depth in the secondary is always welcome.

OKLAHOMA STATE
Defensive line:
Three of the Cowboys' four starters are gone, and it's always necessary to fill in some depth behind them. Shane Jarka, Chris Donaldson and Ugo Chinasa all had good years in 2010.
Offensive line:
Oklahoma State brings back all five starters for 2011, but four will be seniors. That means replacing them in 2012, which will be a lot easier if those replacements don't end up being true freshmen. Oklahoma State kept offensive line coach Joe Wickline, a candidate for the same job at Texas, and his development of the line last year with four new starters was a big reason for the Cowboys' success. He'll need to do it again in 2012.

TEXAS
Running back:
Fozzy Whittaker
and
Cody Johnson
will both be seniors in 2011, and Tre Newton's career is over because of issues with concussions. Texas would be well-served if its top 2011 commit, Malcolm Brown, can come in and be effective immediately as a true freshman.
Cornerback:
Aaron Williams left early. Curtis and Chykie Brown graduated. Texas needs help at corner and will have big problems in the near future if they don't get it.
Linebacker:
Emmanuel Acho and Keenan Robinson will be seniors in 2011, and Dustin Earnest and Jared Norton already graduated. New talent behind them will help prevent a drop-off in 2012 after Acho and Robinson split.

TEXAS A&M
Kicker:
Randy Bullock will be a senior in 2011, but Texas A&M is already hoping his spot is filled by incoming freshman Taylor Bertolet, the nation's No. 2 kicker who won the Under Armour All-American game with a last-second field goal earlier this month.
Linebacker:
Michael Hodges and Von Miller have graduated, and Garrick Williams will follow them in 2011. The Wrecking Crew was pretty stout for most of 2010, but filling those holes in a four-linebacker front will be key in ensuring things stay that way.

TEXAS TECH
Secondary:
LaRon Moore and Franklin Mitchem are gone, so Texas Tech will be breaking in some new blood in the secondary for new coordinator Chad Glasgow and cornerbacks coach Otis Mounds. Freshmen cornerbacks Jarvis Phillips and Tre Porter made plays in 2010, but they also allowed offenses to make a few of their own. Stopping that will be a big step in Texas Tech getting things rolling under Tommy Tuberville.
Receiver:
Texas Tech already needs to replace
Detron Lewis
and
Lyle Leong
, and
Tramain Swindall
and
Jacoby Franks
will follow suit after 2011.
Alex Torres
was hampered by a back injury all year, but the Red Raiders will need some depth around him at receiver to keep the offense humming.
May, 6, 2010
5/06/10
6:00
AM ET
2009 overall record:
9-4

2009 conference record:
5-3
Returning starters:
Offense (7), Defense (6) P/K (2)
Top returners:
QB
Steven Sheffield
, WR
Detron Lewis
, QB
Taylor Potts
, RB
Baron Batch
, WR Alex Torres, CB LaRon Moore, DT Colby Whitlock, LB Brian Duncan, LB Bront Bird
Key losses:
DE Brandon Sharpe, OL Brandon Carter, CB Jamar Wall, OL Marlon Winn, LB Marlon Williams, DE Daniel Howard
2009 statistical leaders (*returners)
Rushing:
Baron Batch* (884 yards)
Passing:
Taylor Potts* (3,440 yards)
Receiving:
Detron Lewis* (844 yards)
Tackles:
Brian Duncan* (87)
Sacks:
Brandon Sharpe (15)
Interceptions:
Franklin Mitchem*, LaRon Moore*, Jamar Wall (2)
Three spring answers
1.
Business as usual
. The offense will remain the same under new coordinator Neal Brown, like he said it would. Other than differences in terminology and how plays are relayed to the quarterback, the offense will be similar to former coach Mike Leach's. One big difference is that quarterbacks will have the green light to tuck the ball and run if the opportunity arises.
2.
Let's run this town
. Brown says the Red Raiders will run more next season. The main reason is his offense's depth at running back. Texas Tech has three running backs who could be factors in leading rusher Baron Batch, as well as sophomores
Harrison Jeffers
and
Eric Stephens
. The pass will still be king in Lubbock, but the running game will likely be featured more than it ever was under Leach.
3.
Taking out their aggression
. Former defensive coordinator Ruffin McNeill is gone to East Carolina. He took with him his bend-but-don't-break defensive approach. Now, Texas Tech will be dictating the action with former Alabama linebackers coach James Willis coordinating the defense. He helped the Crimson Tide win a national title in 2009 with his blitz-happy schemes that force defenses to make difficult throws instead of preventing the big play at the cost of giving up underneath passes.
Three fall questions
1.
What happens once the QBs become healthy again?
Steven Sheffield and Taylor Potts' battle for the QB job ended early this spring when Sheffied re-broke his foot and Taylor Potts suffered a serious laceration to his throwing hand. Both underwent surgery midway through the team's 15 practices and did little to settle the quarterback debate. Sheffield likely had a slight edge when the two were injured, but they'll pick up where they left off—this time with more urgency—in the fall.
2.
What happens if Brown's offense stalls?
The offense, even directed by two inexperienced quarterbacks, flourished late in the spring. But if Sheffield or Potts are unable to complete a high enough percentage of their passes or move the ball, will the Red Raiders depend even more on the run? If the offense doesn't continue its run of piling up gawdy numbers against Big 12 defenses, will the spread return in 2011?
3.
Will Tech fans embrace Tommy Tuberville?
Mike Leach was perhaps the most beloved figure in the history of the program. Among the fans, at least. Will the fans cozy up to his less colorful, less quotable replacement? If he wins, it'll be easy. Tuberville's been historically more successful than Leach, but the bar in Lubbock has been set by Leach, who won more games than any coach in Texas Tech history.
April, 30, 2010
4/30/10
12:30
PM ET
March, 30, 2010
3/30/10
12:00
PM ET
LUBBOCK, Texas -- Under Mike Leach, Texas Tech became synonymous with the spread offense. When the search for his replacement began, few wanted that to change.
Importing offensive coordinator Neal Brown into Lubbock assured the wide-open offense would remain.
[+] Enlarge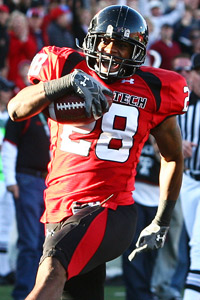 Karl Anderson/Icon SMIDefensive back LaRon Moore is excited about the Red Raiders' more aggressive scheme.
But with a defensive scheme shakeup taking place in the Red Raiders' spring practices, the Texas Tech defense wants to earn a reputation of its own.
"Right before Coach [Ruffin McNeill] left, he kept on saying, change the identity of the defense here," said defensive back LaRon Moore. "And I still text him and he still tells me make people change the way they think about the way we play."
Moore points to his 10 teammates on defense who helped rack up 27 sacks in eight conference games, four more than any team in the Big 12. Moore's math: Take the proven playmakers on defense, add a more disciplined but aggressive scheme and it could equal a change in how the rest of the country sees Texas Tech football.
"[The new coaches] are coming in and they're changing to exactly what we wanted," Moore said. "I'm excited that we're going to be forcing the action. If we're going to be a defense that holds people under 15 points a game, then we're going to be a force to reckon with."
The Red Raiders defense gave up 22.5 points last season, good for sixth in the Big 12. And while the offense would surely welcome a drop in that number, it's seen plenty of its own progress already this spring. Texas Tech becoming synonymous with stingy defense won't happen overnight, but the offense could help it get there, preparing it daily for a conference loaded with spread offenses.
"We're playing with greater tempo," Brown said. "The defense has a hard time getting lined up, and the D-line can get tired, and we kind of turned the corner [in Saturday's scrimmage] a little bit."
And that's to be expected. But it doesn't mean the defense can't or won't catch up. Moore wants that change just like McNeill did. Just don't count on seeing it this spring. Moore doesn't.
"It's going to take time," Moore said. "This program and the offense that was built started 10 years ago. With defense, you can't just do it in one game, you can't do it one play or one quarter. It has to be consistency, and that's what we're going for right now."
March, 30, 2010
3/30/10
10:30
AM ET
LUBBOCK, Texas -- Defensive back LaRon Moore said he "never" blitzed as a cornerback in Texas Tech's old defensive system.

After just two practices with his new coaches, he'd learned five different blitzes.

Some of that comes from playing multiple positions in the new system. But most of it is deliberate, a departure from what Moore called a "bend-and-don't-break" defensive mentality a season ago.

"We're going to dictate to them what they're going to do," Moore said. "We're not going to sit back and let them just run whatever they want. We're going to dictate the tempo. We want them to prepare for us like they prepare for our offense."

While the Red Raiders offense acclimates to a similar approach this spring, the defense has been forced to learn a new, aggressive 3-4 scheme bent on stopping the run and disrupting opposing offense's flow.

"Their heads got to be spinning [with] what all we're doing," coach Tommy Tuberville said.

Said Moore: "I can't just know corner. One play I'm at corner, the next play I'm at dime, the next I'm blitzing, the next play I'm back at corner. I've just got to know the whole defense and know what we want to accomplish on every single play that we run."

Doing that in just a week of spring practices isn't very likely, though Moore led the Red Raiders with seven tackles in Saturday's scrimmage, the first of the spring session. The new 3-4 scheme is predicated on flushing everything to the sideline, which means plenty of tackles for defensive backs like Moore.

But it also means a steep learning curve for the linebackers, before and after the snap.

"In this defense, the linebackers have to make all the checks. Depending on formation, if the formation changes, they have to get everybody lined up," Tuberville said. "It's a very complex defense."

Linebackers, like the versatile Moore, have to learn the entire defense as well, so the feeling of complete comfort might still be on its way.

"We've got to be patient," Tuberville said.
October, 31, 2009
10/31/09
7:20
PM ET
By
Tim Griffin
| ESPN.com
Posted by ESPN.com's Tim Griffin
Remember when Texas Tech used to be known for its passing game?
That was a couple of quarterback changes ago. The Red Raiders went to the running game in the fourth quarter to spark a wild 42-21 comeback victory over Kansas.
Baron Batch
rushed for 123 yards and four touchdowns, including three in the quarter, to power the comeback.
The Red Raiders made the comeback with
Taylor Potts
back at quarterback. And Kansas made a late change in the fourth quarter after LaRon Moore's 31-yard fumble recovery for a touchdown, inserting
Kale Pick
in the game for a few plays.
This was a crushing loss for Kansas, which fell to 1-3 in conference play. Nebraska and Kansas State are both in front of the Jayhawks. It will be tough to catch them both unless Kansas can beat both teams.
The victory helped the 6-3 Red Raiders become bowl eligible for the 10th straight season with Mike Leach.
And it no doubt made for a more festive trip for Leach when he visits the ESPN studios on Monday.
October, 16, 2009
10/16/09
11:48
AM ET
By
Tim Griffin
| ESPN.com

Posted by ESPN.com's Tim Griffin
Texas Tech coach Mike Leach still isn't saying who will be starting Saturday night at quarterback against Nebraska.
But one indicator can be seen on the team's depth chart. And recent starter
Steven Sheffield
is listed as No. 1 on the Red Raiders' most recent list of starting players and substitutes.
Sheffield has thrown 10 touchdown passes in the last two games, including seven last week against Kansas State. That total is only one behind the school's single-game record.
The quarterback change was precipitated when previous starter
Taylor Potts
sustained a concussion shortly before the end of the first half in the Red Raiders' Oct. 3 victory over New Mexico.
Leach has made no announcement, but had this cryptic comment when asked about a potential controversy brewing between Sheffield and Potts.
"This is the first time I've ever changed or potentially changed or any of that," Leach said. "So, yeah, I guess it's new at that position.''
Potts did return to practice this week.
Other injured starters who could return for the Nebraska game include center Shawn Byrnes and cornerback LaRon Moore.
December, 30, 2008
12/30/08
11:02
AM ET
By
Tim Griffin
| ESPN.com
Posted by ESPN.com's Tim Griffin
Texas Tech sophomore cornerback LaRon Moore will get his first career start for the Red Raiders Friday in the AT&T Cotton Bowl against Mississippi, Tech defensive coordinator Ruffin McNeill told the Lubbock Avalanche-Journal.
Moore will become Tech's third starter this season at right cornerback -- a position where Brent Nickerson had nine starts during the season and converted wide receiver L.A. Reed got three starts.
Reed has struggled with an undisclosed injury for the last several games. And McNeill said that Moore has shown enough in practice to receive a shot at the starting position.
"When he got his opportunity in games, he made plays," McNeill told the Avalanche-Journal. "I would say that was the final [consideration]. He made a bunch of plays in practice. For two weeks, he's done a real solid job for us."
Moore has played in 11 games this season, notching nine tackles and one pass breakup. He will be challenged by Mississippi quarterback Jevan Snead who passed for 11 TDs and was intercepted only once over the Rebels' last four games.
Snead said he's been impressed with what he's seen in the Red Raiders' defense in his film study.
"They have a lot of athletes on the field and they play well together," Snead said. "They're a solid defense and they're really underrated. They move well and make a bunch of big plays. Everybody talks about their offense, but their defense is pretty good, too."
August, 27, 2008
8/27/08
11:12
PM ET
By
Tim Griffin
| ESPN.com
Posted by ESPN.com's Tim Griffin
Texas Tech has received unprecedented national publicity this summer, becoming the Big 12's "Boys of Summer" because of their notoriety and hopes of become a dark horse BCS buster.
Now, it's up to the Red Raiders to live up to that hype. The return of Sammy Baugh winner Graham Harrell and Biletnikoff winner Michael Crabtree provides them with the nation's most potent one-two passing attack. Three running backs return for an offense that misses only one starter from last season.
And eight defensive starters return to be directed by new coordinator Ruffin McNeill, who helped the group improve after he received battlefield promotion to interim coordinator midway through last season.
Can the Red Raiders break the ceiling and contend for the first conference championship and BCS bowl appearance since joining the Big 12? It will be difficult in the ultra-competitive South Division. Here are five questions that have to be settled for them to get there.
1. How good will the defense really play?
McNeill says the defensive unit has returned with a cohesive mindset forged after several strong performances last season. But can it play that way on the road against Oklahoma and against traditional nemesis Texas? It remains the biggest question mark for the Red Raiders heading into the season.
2. Can the Red Raiders avoid slipping up on a lightly-regarded opponent?
Texas Tech has been prone to underperforming against lesser foes throughout coach Mike Leach's tenure. The Red Raiders stubbed their toe with a home losses to Colorado last season after losing to the winless Buffaloes in Boulder the season before. If they want to challenge for a conference championship, Texas Tech needs to play consistently throughout the season and avoid these slip-ups.
3. Who will emerge at cornerback?
The Red Raiders boast a lockdown corner on one side with Jamar Wall. And McNeill thought he had another one with the emergence of converted wide receiver L.A. Reed on the other side. Reed has been hobbled by an ankle injury, leaving LaRon Moore and Brent Nickerson as the likely contenders for playing time. They need a consistent player at the position before Big 12 play begins.
4. Is T Rylan Reed healthy enough to contribute in most situations?
Reed was one of the offensive line's most consistent players last season before breaking his ankle in the Gator Bowl. He set weight-lifting marks before training camp and supposedly is ready to return to the lineup. But coaches still will be holding their breaths until he performs in game situations against top pass rushers.
5. Who emerges as Tech's kicker?
Alex Trlica was one of the Red Raiders' most underrated weapons over the last several years, tying one bowl game with a clutch kick and winning the Gator Bowl last season with another. Freshman Donnie Carona and senior Cory Fowler have been hooked up in a tight battle throughout fall camp. Whoever emerges will be tested to match Trlica's accuracy and his ability in tight situations.
August, 21, 2008
8/21/08
10:57
AM ET
By
Tim Griffin
| ESPN.com
Posted by ESPN.com's Tim Griffin
And people thought it was known just for its jazz history and barbecue.
Kansas City is undoubtedly the northern hub of the Big 12. It was always the center for the old Big Eight Conference and some of the locals still haven't forgotten the interlopers from Texas who pushed the Big 12's offices to Dallas when the conference opened.
But "The City of Fountains" is bigger than just a few fax machines and file cabinets. And it will be proved again today when Iowa State and Kansas State announce they are coming soon.
Multiple newspapers reported this morning that the Cyclones and Wildcats will move 2009 and 2010 games to Arrowhead Stadium in Kansas City. Sources told the Topeka Capital-Journal the two teams will receive payments of at least $1.8 million per game. KSU nets about $1 million from a normal game in Manhattan, according to the Kansas City Star and Wichita Eagle.
Kansas City is on a roll attracting Big 12 events. Arrowhead Stadium will be the site for the Big 12 championship game on Dec. 6. The breathtaking new Sprint Center was the host for the Big 12's men's basketball championships in March and will be solidly in the rotation for future tournament events. And the venerable Municipal Auditorium, with its stately art-deco ambience, is the best arena around for the women's title.
It's surprising that more regular-season Big 12 games don't end up in facilities like Arrowhead Stadium. The Missouri-Kansas game last season was one of the most ballyhooed sports events I've ever seen and the atmosphere lived up to the hype.
That game was bigger than any Texas-Oklahoma game I had ever attended because it had significant championship ramifications penned solely on that game. Now if we could get those Kansas City engineers to figure out how to get traffic moving a little faster, the next time might be easier.
The Kansas City Chiefs' organization appears more than willing to shell out big guarantees for games that it feels will be successful. I'm surprised that Nebraska hasn't convinced an opponent to move a home game to Arrowhead for those kind of windfall profits after a successful game there in 1998 against Oklahoma State.
So don't be surprised to see more Big 12 events end up at "The Paris of the Plains" in the future.
Just save a few extra cinnamon rolls for me at the legendary Stroud's Restaurant when you get there.
Until then, here are some tasty Big 12 links. They are almost as habit-forming and not nearly as gooey on your fingers.