December, 31, 2009
12/31/09
8:56
AM ET
By
Tim Griffin
| ESPN.com
Here's one last note that indicates how Mike Leach had built his program at Texas Tech.

Leach directed the Red Raiders to bowl games in each of his 10 seasons coaching there before he was abruptly fired on Wednesday.

That's a feat that was matched by only four other coaches at the same FBS schools during that same period: Frank Beamer at Virginia Tech, Bobby Bowden at Florida State, Mack Brown at Texas and Bob Stoops at Oklahoma.

Not only does it show Leach's success at Tech, but it also highlights the extreme competition that Leach faced in the Big 12 South Division in trying to keep up with Longhorns and Sooners.

Texas and Oklahoma have been the dominant programs in the Big 12 during this decade. The fact that Leach was able to build his program and keep it growing at the same time as the zenith of his divisional rivals might be the most underappreciated part of his time at Tech.

Those two South behemoths accounted for two national championships and four other trips to the national championship game, including the Longhorns' trip this season.

Leach did an outstanding job of making the Red Raiders nationally relevant, considering the kind of competition he faced on a regular basis.
December, 30, 2009
12/30/09
9:45
PM ET
By
Tim Griffin
| ESPN.com
Texas Tech released a statement giving its side of firing Mike Leach.
Here it is.
After reviewing all the information available, Texas Tech University has decided that the best course of action for the university and its football program is to terminate its relationship with head football coach Mike Leach for cause.
Texas Tech was prepared to participate in the legal proceeding today on Coach Leach's motion for a temporary restraining order. His attorney, however, chose to not participate when he was informed that the termination of Coach Leach was inevitable.
The coach's termination was precipitated by his treatment of a player after the player was diagnosed with a concussion. The player was put at risk for additional injury. After the university was apprised of the treatment, Coach Leach was contacted by the administration of the university in an attempt to resolve the problem. In a defiant act of insubordination, Coach Leach continually refused to cooperate in a meaningful way to help resolve the complaint. He also refused to obey a suspension order and instead sued Texas Tech University.
Further, his contemporaneous statements make it clear that the coach's actions against the player were meant to demean, humiliate and punish the player rather than to serve the team's best interest. This action, along with his continuous acts of insubordination, resulted in irreconcilable differences that make it impossible for Coach Leach to remain at Texas Tech.
"It is our number one priority to protect the welfare of our students and the reputation of the Texas Tech University. Parents have entrusted us with their children and we take this responsibility very seriously. We very much appreciate the leadership shown by the university's athletic director, Gerald Myers, and president, Guy Bailey, in dealing with this unfortunate situation. The board supports their decision," said Larry Anders, chairman and Jerry Turner, vice chairman of the Texas Tech University System Board of Regents.
In the near future, Texas Tech will undertake a search for a new coach.
In the meantime, the focus of the athletic department is on the preparation for the Valero Alamo Bowl.
December, 30, 2009
12/30/09
4:14
PM ET
By
Tim Griffin
| ESPN.com
Texas Tech officials plan to move quickly to fill the position vacated when Mike Leach was fired. Under Texas state law, the opening will need to be posted for at least 10 days, meaning it is still several days from being filled.
Chancellor Kent Hance plans to take an active role in the hiring. Here's a look at some of the most prominent names you'll be hearing about in the next several days:
Baylor coach Art Briles: He played at Houston, but graduated from Texas Tech and coached there three seasons as Leach's original running backs coach before starting his head coaching career at Houston in 2003. His offensive ideas mesh well with what the Red Raiders' current philosophy. He also has the added benefit of being well-known and popular among high school coaches after winning four state championships at Stephenville High School.
Texas Tech defensive coordinator/interim head coach Ruffin McNeill: Arguably the most popular sports figure in Lubbock -- even bigger than Leach. His transformation of the Tech defense has been the team's underrated strength over the past two seasons. He's also beloved by players and respected by other members of the school's administration. His hiring would be the easiest transition in the program, especially in maintaining recruiting continuity.
Former Auburn/Mississippi coach Tommy Tuberville: Tuberville was out of coaching this season after he resigned at Auburn after last season. Insiders say he's itching to get back into college football and would be interested in the Tech job. He's familiar with Texas recruiting after coaching at Texas A&M in 1994.
Southern Mississippi coach Larry Fedora: Born in College Station, Fedora has the background to be interested in coming to Tech. He was head coach at Garland High School for four seasons before serving as an assistant for six seasons at Baylor and three seasons at Oklahoma State before taking the Golden Eagles' head coaching job in 2008. He's led them to back-to-back trips to the New Orleans Bowl in his first two seasons there.
Arizona offensive coordinator Sonny Dykes: A former baseball player at Tech, Dykes would appeal to many locals because his father is Spike Dykes, who coached there immediately before Leach. Sonny Dykes was on Leach's staff for seven seasons before he left to join Mike Stoops' staff at Arizona in 2007.
December, 30, 2009
12/30/09
3:46
PM ET
By
Tim Griffin
| ESPN.com
Mike Leach's firing wasn't a surprise on Wednesday.
His attorney had predicted to several reporters earlier this week that his client would be let go by Texas Tech officials -- probably sooner rather than later.
[+] Enlarge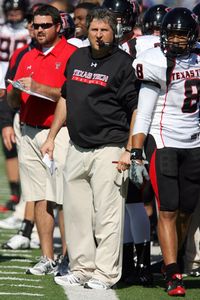 Douglas Jones/US PresswireMike Leach led Texas Tech to 10 straight bowl appearances.
But it was still a cataclysmic shock in Lubbock and West Texas when Leach was let go earlier this morning. For a period after his firing was announced, the Lubbock Avalanche-Journal's Web site crashed due to interest in the story.
That firing speaks to a larger controversy than what happened over
Adam James
' concussion and "The Shed."
Leach and Tech athletic director Gerald Myers always had a contentious relationship from the very beginning of his tenure there. It's understandable when you consider the turf wars that sometimes develop in athletic departments when a headstrong former basketball coach is the athletic director and makes decisions over a similarly headstrong football coach.
It all started in 2002, when rumors about Leach's off-field activities led to an investigation by the athletic department.
Leach was cleared, but the schism between him and his boss started at that time. At one point, Myers stopped Leach's outgoing mail in a dispute about postage stamps.
It simmered early in Leach's time when the Red Raiders played the toughest nonconference schedule in the Big 12 as a way to make money for the athletic department. During the 2002 season, for example, Tech played Ohio State, Mississippi and NC State in addition to the Big 12 South gauntlet.
That chapped Leach and he let Myers know about his concerns. The two always seemed to be better off if they were an arms-length away from the other.
Tech officials weren't happy when news surfaced of Leach shopping himself for a number of major coaching openings over the past several years.
And it continued when he went through an extremely contentious negotiation with school officials before he was given a three-year extension on what was a five-year, $12.7 million contract. To get the deal done, Leach went over Myers' head and personally negotiated with Tech chancellor Kent Hance.
Under terms of the contract, Leach was due an $800,000 bonus if he was still the Red Raiders' coach on Thursday.
Now, it appears he won't receive that bonus, although I'm sure the contract is headed for litigation between Leach and the school.
Even with the firing, Leach will be considered one of Tech's top football coaches ever, leaving the school with a program he helped boost into contention in the extremely difficult Big 12 South Division. It's not a stretch to say that he was one of the seminal figures in Big 12 history, helping transform the way offense was played from the ground-based philosophies of the old Southwest and Big Eight conferences into today's high-powered aerial attacks that have become the national rage recently.
Leach built a program out of castoffs like Wes Welker, Michael Crabtree, Graham Harrell and Brandon Williams and turned them into a team that could consistently compete with teams like Texas and Oklahoma. The Red Raiders were ranked No. 2 in the nation for a three-week period during last year's 11-2 season, which was a national breakthrough for the school.
Leach was Texas Tech football. He was as much a part of Lubbock as dust storms, Buddy Holly's statue and the blueberry muffins at the legendary Fifty-Yard Line Restaurant.
And no matter who follows Leach, he will face a mammoth chore of replacing a legend who directed the Red Raiders to 10 consecutive bowl appearances and more bowl victories in his tenure than the rest of the school's 85-season football history combined.
The football program upstaged Myers' basketball program and his hand-picked coach of choice, Bob Knight. Even with the legendary career leader in victories along the sidelines, the Red Raiders' basketball team had trouble filling the United Spirit Arena or selling the personal-seat licenses that were intended to help build the facility.
But that wasn't the case for the football program, which became a national phenomenon under their quirky coach. Tech's success led to him being a cover story in the New York Times magazine and the subject of a fawning piece on CBS-TV's "60 Minutes" late last season.
Leach gained notoriety for his fascination with pirates, mobsters and Indian chiefs. His stint as a weatherman on a Lubbock television station -- memorable because of his explanation of the local occurrence of "raining mud" -- became a YouTube staple with hundreds of thousands of hits.
He could coach a little, too. During what was expected to be a rebuilding job this season, Leach juggled three starting quarterbacks en route to an 8-4 mark and a berth in Saturday night's Valero Alamo Bowl.
He'll be gone from the sidelines in that game. The Red Raiders likely have the perfect solution to settle the upheaval with unassuming defensive coordinator Ruffin McNeill. He's familiar with the players because of his recruiting and will give them the best opportunity to keep their program together against Michigan State on Saturday night.
But after that, it will be a different story.
Myers needs to mobilize quickly to salvage what had been the best recruiting season for Tech in recent years. Whether those recruits will be willing to stay firm on their commitments to the far-flung West Texas locale that is still one of the toughest recruiting destinations in the Big 12 will be interesting to see.
Leach carved an identity that made Tech one of the top 25 or 30 programs in the country over the past 10 years.
Now, we'll see if his replacement can keep it there.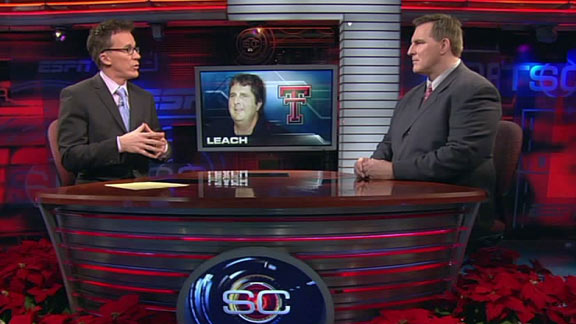 December, 30, 2009
12/30/09
2:02
PM ET
By
Tim Griffin
| ESPN.com
It wasn't a surprise, considering the contentious nature he had with school administrators in recent years.
But the firing with cause of Texas Tech coach Mike Leach on Wednesday still was a shock to Red Raiders fans who had watched Leach turn Texas Tech into consistent bowl challengers over the years.
Here's the
story
. Come back to the blog throughout the afternoon as we'll have much more on the story.
December, 30, 2009
12/30/09
1:53
PM ET
By
Tim Griffin
| ESPN.com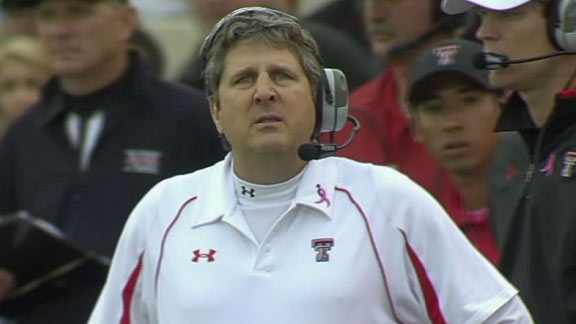 ESPN's Joe Schad
on the firing
of Texas Tech coach Mike Leach.