Big 12:

LeGarrette Blount
November, 5, 2009
11/05/09
2:26
PM ET
By
Tim Griffin
| ESPN.com
Posted by ESPN.com's Tim Griffin
The
NCAA's denial
of
Dez Bryant
's final appeal to play this season wasn't unexpected.
When Bryant was suspended by the NCAA for lying about his association with Deion Sanders, I thought his chances of ever playing again with Oklahoma State were nil.
Bryant's crime actually was much less than LeGarrette Blount's or Rhett Bomar's or some of the other notorious cases in recent years. But Bryant lied, and the NCAA takes a pretty dim view on that.
The Cowboys missed Bryant for the first time all season last week in their loss to Texas. He likely would have been OSU's most consistent offensive weapon against the Longhorns, both as a receiver and a kick returner.
I'm not saying that OSU would have won that game, but the margin would have been closer if he had played. Bryant would have caught the touchdown pass that
Hubert Anyiam
dropped early in the game. He likely wouldn't have fumbled like Anyiam did later in the game. And he would have provided another weapon that would have made Texas alter its defensive schemes.
OSU has two more upcoming games in which Bryant would have been handy -- tough ones against Texas Tech and Oklahoma.
So the difference between having Bryant all season and not having him will end up being challenging for a BCS bowl versus playing in a good one at the end of the season.
For Mike Gundy and his program, that gap is a huge one.
November, 3, 2009
11/03/09
6:31
PM ET
By
Tim Griffin
| ESPN.com
Posted by ESPN.com's Tim Griffin

Here's a group of letters I got this week from readers. Keep them coming and I'll check again Friday afternoon.

Alex Kecke from Columbia, Mo., writes: The Big 12 North is a mess this year with any team able to claim the title and make their way to the conference championship depending on how things shake out over the next few weeks. It's obviously a division of parity in the North and every team has struggled and none are ranked. We saw how the south division tie-breaker was decided last year (highest rank in the BCS), but since none of these teams are in any of the polls, how would it be decided?

Tim Griffin: Here's the list of criteria that the conference considers to break ties.

According to Big 12 rules, if two teams within a division are tied for first place at the end of the regular season, the winner of the game between the two tied teams shall determine who wins the division and plays in the Big 12 title game. If three or more teams are tied, there are seven steps to be followed until a determination is made. If only two teams remain tied after any step, the winner of the game between the two tied teams shall be the final deciding factor.

1. The records of the three teams against each other will be compared.

2. The records of the three teams within their division will be compared.

3. The records of the three teams will be compared against the next highest placed teams in their division in order of finish (4, 5 and 6).

4. The records of the three teams will be compared against all common conference opponents.

5. The highest-ranked team in the first Bowl Championship Series Poll following the completion of Big 12 regular-season conference play shall be the representative.

6. The team with the best overall winning percentage (excluding exempted games) shall be the representative.

7. The representative will be chosen by draw.

Two teams would seem to be pretty straightforward. Three could get messy, like the Big 12 South was last season. But a four-way tie, which could happen in the North this season, would really get crazy.

The best advice I could give any of the North teams in contention for the championship would be to win divisional games. Because I think that will be the most important factor in determining the winner of the division over the next month.


---
Don Bowers from Dallas writes: Tim, love the blog and your insights in the world of college football. I know this isn't Big 12 specific, but considering your keen insight, I was hoping you could help explain how Brandon Spikes' eye-gouging incident is any different LeGarrette Blount's punch? Both were "heat of the moment" displays. Both were deliberate attempts to cause physical pain on an opposing player. Both were "retaliation" for something the opposing player said or did first, yet Blount is suspended for the entire season and Spikes is suspended for half of one game. Is this fair? It seems like a grossly inadequate punishment considering the seriousness of what Spikes did.

And to tie this in to the Big 12, wasn't it Spikes that was accusing Oklahoma of playing dirty in the National Championship last year?

Tim Griffin: Don, the eye gouging isn't as clear-cut as Blount's punch because it was captured on television, on top of his antics as he left the field. But I am surprised that Spikes' incident wasn't penalized to a greater extent.

And you are right. It was Spikes who accused Oklahoma of playing dirty in the BCS title game last season.


---
Nick from Seward, Neb., writes: Tim, looking at the standing in the conference it looks very possible that there may be 10 bowl eligible teams this season. If that happens who gets pushed out?

Tim Griffin: I think there will be some attrition when the teams start beating each other up late in the season, so 10 teams might be a little much. And remember that Kansas State has to win seven games in order to become bowl-eligible because the Wildcats played two FCS teams earlier this season.

But if the Big 12 has more teams than eligible spots, the conference usually does a pretty good job of placing those teams in bowls that might have had trouble filling their teams because of their conference affiliations. I would expect that every Big 12 team that is bowl-eligible will have a bowl to play in.


---
Owen Sigley from Wichita, Kan., writes: Tim. I'm a Jayhawk fan, and unfortunately the way we have been playing lately, I don't think we can win Saturday against K-State. I hate to admit it, but Bill Snyder has done a masterful job this season. What do you think his chances are of getting the conference's coach of the year award?

Tim Griffin: Owen, I think that Snyder's coaching performance is one of the best in the country and will get more national bounce if the Wildcats can remain in contention for the Big 12 North title. The way he brought team back from its blowout loss against Texas Tech to beat Texas A&M and Colorado was impressive. And the way his team came back against Oklahoma last week had a lot of people talking around the country. Most reporters I've talked to understand that the Wildcats don't have the best talent in the North Division, but are being coached to maximize their talents by Snyder.

I would have said that Mike Gundy would have been up there, but Oklahoma State's loss to Texas diminished his hopes. Other potential contenders -- particularly if their teams make bowls -- will include Paul Rhoads of Iowa State and Mike Sherman of Texas A&M. But if Snyder's team makes a bowl and somehow sneaks away with the Big 12 North title, it will ranks as one of the most memorable coaching performances in the history of the Big 12.


---
Joe Leon of Oklahoma writes: Hey Tim, I love the blog and read it often. I know a lot of Oklahoma State fans view this season as a disappointment, but when was the last time OSU was ranked all season in both major polls and finished with a conference record better than 5-3? I think that they still will be able to do both of those. What do you think?

Tim Griffin: Joe, thanks for the nice compliment. And you are right about the rarity of Oklahoma State's accomplishments for this season. The Cowboys have been ranked in every poll during a season only once in school history, in 1945 when they were ranked in all eighth polls and finished 8-0 after the season. Oklahoma State has never won more than five conference games in a season. They did have 5-2 records in 1976, 1979, 1984, 1987 and 1988 for better conference winning percentages in the old Big Eight Conference.

If Mike Gundy can do this, it would be a first for the program and a big accomplishment.
October, 28, 2009
10/28/09
4:47
PM ET
By
Tim Griffin
| ESPN.com
Posted by ESPN.com's Tim Griffin
Give the NCAA credit for one thing.
The decision
to suspend
Dez Bryant
for one calendar year likely means we'll never see him play for Oklahoma State again.
With Bryant a likely top-10 pick in April's NFL draft, it would make sense for him to declare. That's why I think we'll see him picking up the hat of whatever team picks him in April rather than ever wearing the orange and white of Oklahoma State.
So much for a kinder, gentler NCAA. Its decision in this one basically threw the book at Bryant.
Obviously, Bryant knew he made a bad mistake when he admitted to the NCAA that he had about his association with Deion Sanders.
Lying is never a smart thing to do, especially when you are talking with the NCAA. I bet that Bryant's tale will be a cautionary one for athletes everywhere in the future.
And it baffles me that LeGarrette Blount could come back and practice with Oregon while Bryant's college career is over.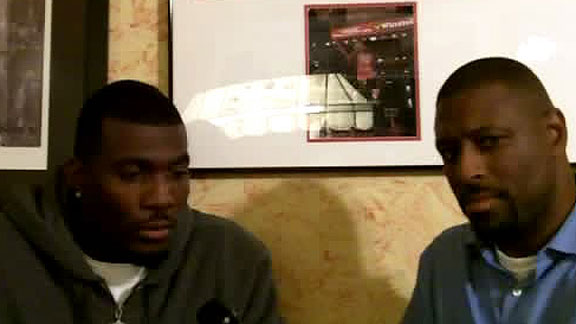 March, 16, 2009
3/16/09
6:30
PM ET
By
Tim Griffin
| ESPN.com
Posted by ESPN.com's Tim Griffin
STILLWATER, Okla. -- Mike Gundy saw some improvement in his defense last season, but remained fixated on one element of his team's defensive collapse in games they ended up losing.
The Cowboys struggled all season with tackling in key situations. Gundy has made improving those skills one of his primary aims this spring.
| | |
| --- | --- |
| | |
| | Donald Miralle/Getty Images |
| | Jeremiah Masoli and the Ducks racked up 183 yards in the fourth quarter of the Holiday Bowl. |
Oklahoma State's tackling difficulties were never more apparent than in the Cowboys' Holiday Bowl loss to Oregon. The Ducks blew the game open by producing 183 yards on 21 snaps in the fourth quarter, including five runs of at least 10 yards and two passes of at least 20 yards en route to a 42-31 victory.
"I've referred to the bowl game from a toughness standpoint," Gundy said. "We've always prided ourselves here at Oklahoma State on being tough. But we weren't tough in that ball game."
The Cowboys were pounded at the line of scrimmage, wearing down as the game continued by Oregon's tough inside running.
"In that fourth quarter we weren't tough," Gundy said. "We had a couple of injuries that set us back. And Oregon had some issues, too. But it came down to toughness and we weren't the toughest team in the fourth quarter. And we've used that for motivation during the winter."
Oklahoma State safety Andre Sexton still has memories of the way the Ducks were able to easily carve up his unit down the stretch, particularly the play of burly quarterback Jeremiah Masoli and bruising tailbacks Jeremiah Johnson and LeGarrette Blount.
"We have to go back out, do some hitting and develop our toughness," Sexton said. "They wore us down in that game. Their quarterback was a tough guy who really got after us. It's motivation for us to get better on the little stuff and just become more physical on defense."
Those struggles showed throughout the season in Oklahoma State's losses. The Cowboys were blistered for 189 total yards and 14 points by Texas Tech.
But their most humiliating collapse came with their late struggles against Oklahoma, which lit them up for 24 fourth-quarter points and 166 yards in the fourth quarter of a 61-41 loss. The Sooners scored on their final eight possessions in that game after OSU had stopped them on three of the first four Oklahoma possessions.
"We've got to do a better job of finishing games," OSU defensive tackle Swanson Miller said. "We haven't always done that, particularly last season. But we need to go out and do better in the things we fell short on and be that much better in the future."
Oklahoma State's defense in the fourth quarter
Here's a look at the difference in Oklahoma State's defensive production in the fourth quarter of their nine wins last season compared to their four losses.


Avg. points
allowed
Avg. yards
per play
Runs of 10 or more yards per game

Passes of 20 or more yards per game
Wins
6.9
4.48
0.4
0.4
Losses
13.0
7.13
2.3
1.3
December, 24, 2008
12/24/08
11:59
AM ET
By
Tim Griffin
| ESPN.com
Posted by ESPN.com's Tim Griffin
Ah, bowl time. I feel like I've missed out on a lot of the early fun from a lot of great games already.
The Big 12 finally starts on Monday night when Missouri faces Northwestern in the Valero Alamo Bowl in San Antonio.
We'll have Oklahoma State and Oregon Tuesday in the Pacific Life Holiday Bowl in San Diego and Kansas and Minnesota in the Insight Bowl in Tempe, Ariz., on Dec. 31.
How Missouri handles the stinging disappointment of another Big 12 championship game loss: The Tigers say they are intent on finishing strong, becoming the first team to win 10 games in back-to-back seasons in school history. But they have struggled defensively at the end of the season, allowing 102 points in losses to Kansas and Oklahoma. Northwestern's offense shouldn't prove troublesome, considering the Wildcats scored at least 28 points in a game only once in their final nine games of the season. What Missouri defense will show up in its bowl game?
The end of an era at Missouri: Chase Daniel and Chase Coffman will end illustrious careers with the Tigers, along with offensive coordinator Dave Christensen, who is off to his new job as head coach at Wyoming. Jeremy Maclin likely could be playing his final college game. This potent offensive mix has been the most productive offense in the school's recent history. Could they have one more huge outburst left in them in their final game together?
Better health for the Jayhawks: Key players like Kerry Meier, Jake Sharp and Todd Reesing were banged up most of the second half of the season for Kansas. After a month of rest and playing in the warm Arizona climate, will the potent Kansas trio be ready to take advantage of slumping Minnesota? The Gophers arrive with a four-game losing streak, compared to Kansas' excitement after a thrilling upset victory over Missouri in the Jayhawks' season finale.
Can the Jayhawks protect Reesing?: When Kansas was at its most successful offensively this season, Reesing was afforded protection and Sharp was a consistent runner. But the Jayhawks often struggled to do that against the Big 12's power teams. It will be critical for Kansas redshirt freshman tackle Jeff Hatch to protect Reesing's blind size from Minnesota defensive end Willie VanDeSteeg, who led the Gophers with nine sacks.
Oklahoma State's defense without Tim Beckman: The Cowboys' former defensive coordinator left immediately for his new job as head coach at Toledo, leaving Mike Gundy without a coordinator for the bowl game against Oregon. First-year defensive line coach Glenn Spencer takes over Beckman's job of coaching linebackers. A game plan has been formulated with his work along with that of cornerbacks coach Jason Jones and safeties coach Joe DeForest. It could provide a big challenge against an Oregon offense that ranks fourth nationally in rushing, seventh in scoring and eighth in total offense.
A Holiday Bowl of points: Want to see a bowl game where the two teams combine for triple digits in points and into the thousands in yards between them? This could be your game. Oklahoma State features a talented array of offensive weapons like quarterback Zac Robinson, wide receiver Dez Bryant, running back Kendall Hunter and tight end Brandon Pettigrew. Oregon will counter with quarterback Jeremiah Masoli, running backs Jeremiah Johnson and LeGarrette Blount and tight end Ed Dickson. Considering that both teams have scored at least 40 points six times apiece this season, brace for a shootout in San Diego. Who needs a San Diego delicacy like fish tacos when you can gorge yourself on a delicacy like this?