February, 7, 2013
2/07/13
10:00
AM ET
Signing day has come and gone, but we'll have plenty of coverage looking more closely at each Big 12 team's class. This morning, we're looking at how each team filled its needs. We ran down the top of the Big 12 alphabet earlier today. Here's the second half:
OKLAHOMA STATE COWBOYS

Needs filled:
The Cowboys once again lost both starters at defensive end, and junior-college transfer
Sam Wren
could have an immediate impact. ESPN 300 member
Vincent Taylor
is a big presence and might contribute early, too. In all, OSU signed six defensive linemen. In this offense, you can never have too many receivers, especially gifted ones.
Marcell Ateman
and
Ra'Shaad Samples
will have some fun in Stillwater.
Holes remaining:
The Pokes lost one starter at linebacker and will have two seniors on next season's team, but didn't sign a linebacker in this class. We'll see if they can make up for that with development and recruiting in 2014.
TEXAS LONGHORNS

Needs filled:
Texas is getting some big upgrades on the offensive line, headlined by the nation's No. 1 center,
Darius James
.
Kent Perkins
and
Jake Raulerson
are also top-10 tackles nationally and guard
Rami Hammad
and juco tackle
Desmond Harrison
fill out the class, which was one-third offensive linemen.
Holes remaining:
Texas kept striking out with defensive linemen and ended up signing zero, despite losing
Alex Okafor
and
Brandon Moore
, and with
Jackson Jeffcoat
a rising senior. That could be a problem soon, but the Longhorns lost
Daeshon Hall
and missed out on
Andrew Billings
, who went to Baylor.
TCU HORNED FROGS

Needs filled:
The running backs were drained after last season, but the Frogs had one of the league's best hauls at the position, grabbing ESPN 300 member
Kyle Hicks
and
Trevorris Johnson
, two of the best backs in Texas. The Frogs are also loading up on 6-foot, 200-pound linebackers who'll be able to cover in the open field.
Paul Whitmill
headlines that group, but the Frogs signed three linebackers with that profile.
Holes remaining:
Josh Boyce
and
Skye Dawson
are gone, and though
LaDarius Brown
and
Brandon Carter
will be there for 2013, you need a lot more big-time receivers than that to win in the Big 12. TCU signed four athletes, but no pure receivers in this class.
TEXAS TECH RED RAIDERS

Needs filled:
Receivers are always a must in this offense, and Tech got a pair of good ones in
Dylan Cantrell
and
Justis Nelson
. After
Seth Doege
graduated and
Scotty Young
transferred, Tech needed a quarterback to follow
Michael Brewer
and
Davis Webb
, the nation's No. 24 pro-style passer, could be that guy.
Holes remaining:
The Red Raiders might be a little thin at defensive tackle after signing just one in this class.
Kerry Hyder
will be a senior and
Leon Mackey
graduated. Tech will have to develop that position and maybe put some weight on some defensive ends -- a position where Texas Tech is well-stocked.
WEST VIRGINIA MOUNTAINEERS

Needs filled:
Defense, defense, defense. West Virginia needs some talent upgrades all over the field, and landed linebacker
Al-Rasheed Benton
and ESPN 300 member
Darrien Howard
.
Hodari Christian
is another talented linebacking prospect and
Dontrill Hyman
will try to have an immediate impact as a pass-rusher out of junior college. WVU signed four outside linebackers and two defensive ends.
Holes remaining:
Where are the cover guys? WVU needs help in the secondary and got it in safeties
Malik Greaves
and
Jeremy Tyler
, but didn't sign a pure cornerback in this class.
December, 26, 2012
12/26/12
10:00
AM ET
It happens every year. With a month between bowl games and a week of activity in a new city, suspensions drop and impact players miss bowls.
This year won't be the exception.
Oklahoma defensive tackle
Stacy McGee
is likely to miss the Cotton Bowl after being arrested on Monday for driving under the influence and driving with a suspended license.
From SoonerNation
:
McGee was suspended for Oklahoma's first six games after violating university rules during the preseason. But he had returned to the Sooners mid-season and become a regular part of the defensive tackle rotation along with Jamarkus McFarland and Casey Walker. If McGee does not play in the Cotton Bowl, the Sooners could turn to freshman Jordan Phillips, who has played sparingly as OU's fourth defensive tackle this season.
There's been no official word from the Sooners, but McGee, a senior, will likely never suit up again in a Sooner uniform.
Over at Texas Tech, however, interim coach Chris Thomsen is taking his new responsibility seriously. Between Tommy Tuberville's exit and Kliff Kingsbury's arrival, this is his team, and three of his players have no confusion about that.
From our news story
:
A Texas Tech official says three Red Raiders won't be playing against Minnesota in Friday's Meineke Car Care Bowl because they violated team rules.

Football program spokesman Blayne Beal on Monday would not divulge the rules violated. He says Red Raiders starting defensive back Cornelius Douglas, Chris Payne, a linebacker who played mostly on Texas Tech's special teams, and backup defensive tackle Leon Mackey won't play in the bowl game.
Douglas is by far the biggest piece missing there, though Mackey could have made some impact, too. Douglas, a senior had a pair of interceptions and four tackles for loss this year, and returned against Baylor from a knee injury that cost him almost six games.
The Lubbock Avalanche-Journal reported that Thomsen said two players missed practices in December in Lubbock without notifying coaches but wouldn't discuss the third player because of privacy laws.
September, 5, 2012
9/05/12
12:00
PM ET
March, 30, 2012
3/30/12
4:15
PM ET
By
ESPN.com staff
| ESPN.com
Thanks for all the emails this week.
Here's where you can reach me
if you've got more to say.
Robert Powell in El Paso, Texas writes:
David,
Good article on Tech
. Other than 'coaching cliche's', how can Leach's players not be near good enough for Tuberville's teams? Leach always had good/decent depth and playmakers. Now none of them can play (2011 season)? I know the defensive systems are different, but players play, no matter the system. Also, injuries happen, but Tech's apocalyptic injuries had to be among the most in all of CFB. How do Tech's number of injuries compare with other teams from '11 and in previous years? Keep up the great work!
David Ubben:
Players play, yes, and the talent's been there on offense. Defensively, though? No way. Tuberville is right on. The Red Raiders' linebackers have been really underwhelming under Tuberville, because the upperclassmen haven't had the kind of talent you need to field a good defense in this league.
The corners have been bad, but they've been young, too. Tech hasn't had the kind of pass-rushers you need to compete in this league, and the best of the bunch,
Scott Smith
, missed most of 2010 and 2011 with a coach-imposed suspension. When was the last time under Leach that Texas Tech had a defender that really wowed you? For me, Colby Whitlock was the last I really remember.
Tuberville has stacked his team with some athletes like
Leon Mackey
and
Delvon Simmons
that haven't been at Tech for a long while. Those guys have to mature now.
Making matters worse have been the injuries. Tech's been hurt more by those the past two seasons than anyone else, especially on defense. Call it an excuse if you must, but it's the truth. I've been surprised at how slow the improvement on defense has been for Tuberville, who made his career on having great defenses, but there's no question he's been hamstrung by poor depth, and having that poor depth tested quickly by a ton of injuries.
---
Daniel in Waco writes:
What do u think about adding air force as a way to recapture the Denver market?
DU:
Not a fan of that idea for several reasons. Chief among those, Air Force does not capture the Denver market. Neither did Colorado in the same sense that, say, Texas or Texas A&M captured a market.
Here's the bottom line: All the true home run expansion possibilities are gone. A&M and Nebraska have massive fan bases that move the needle and provide a lot for any league. None of that is around anymore, but West Virginia was somewhat along that line.
Bigger than that, though, is the reasons why WVU and TCU punched tickets to the Big 12: Greatness on the football field. You don't want to count on a big fan base carrying TV ratings. What carries even more TV ratings? Nationally relevant games. You get nationally relevant games by having top 25 teams playing. Air Force doesn't have that.
To me, teams like Louisville and BYU are big question marks in that area, though BYU has the biggest fan base left. Either way, Air Force won't fit either of those. Not a fan of the Falcons in the Big 12. Louisville should be No. 1 if the Big 12 looks to expand, and BYU supposedly comes with plenty of other complications in terms of wanting to do things its way in the boardroom. They love independence. WVU wanted out of the Big East, and TCU's dreams came true with a Big 12 invite. For now, the league should stand pat.
---
Bob in Crab Orchard, W. Va., writes:
Do you think that if Geno or
Tavon Austin
either one has standout seasons in the Big 12 that they have a shot at being front runners in the heisman running.
DU:
Geno definitely does. I've written that a few times. Austin, though? He's going to have to do a lot in the special teams to truly differentiate himself. And even then, it's going to be tough. We've seen some amazing receivers come through this league, especially
Justin Blackmon
and
Ryan Broyles
the past two seasons. Neither had a real chance to win the Heisman. It's too difficult for receivers, and honestly, I think that's how it should be. Great players, yes, but receivers don't have the level of impact to win games like quarterbacks and running backs do. They just don't touch the ball enough. That said, Austin should be a candidate for the Biletnikoff Award.
---
Joshua Atkins in Tyler, Texas, writes:
Ubben!
You're Famous! No wait, this photo is supposed to be about Justin Blackmon
kissing his girlfriend!
DU:
That was only the second-best photo of the Fiesta Bowl,
behind this one
. A few of you sent me that photo from The Atlantic on Twitter this week. It cracked me up. And you know I can't
see a player lay a big one on a cheerleader and not write about it
, right?
---
Jack Thompson in Valdosta, Ga., writes
: Hey David, Mountaineer till way after I die! I'm curious as to how well the other schools travel. I know we are well on our way to selling out every game this season and I know a portion of it can be attributed to the Big 12 folks coming to Morgantown. Really what I want to know is, if theres going to be a big ole (insert any B12 school ) motorcoach sporting team colors parking next to ours?!
DU:
Well, that's a complex question. When Nebraska left, so did the only team in the Big 12 that completely swarms a city regardless of how big a game is. If it's a huge game, you'll see plenty of Big 12 fans in your city. Texas and Oklahoma obviously have the biggest fan bases, and they'll be, to quote one Big and Rich, comin' to your citaaay.
If I had to pick one team you could count on to travel regardless of the magnitude of the game, I'd probably say Kansas State. The Wildcats don't have the biggest fan base, but it's one of the most loyal. The Cats love them some Bill Snyder.
---
Seth in Kansas City, Mo. writes:
I've got a plan for you to follow. How about, until the 2012-2013 academic year starts, you continue to report on the Mizzou Tigers and A&M Aggies. You know, what your job entails? Maybe I am misunderstanding your position here. You are a college football reporter for the BIG12 for ESPN correct? And the realignment does not take effect until 2012-2013 correct? Now that you have a complete understanding of the situation maybe you'll start to do your job.
DU:
Glad to see you're
one of our most loyal readers
, Seth! Thanks for
checking us out every day
!
January, 24, 2012
1/24/12
9:00
AM ET
Signing day is coming fast. Next Wednesday, the next round of players will sign up for their respective programs and start what could be storied careers.
Here's what each team across the Big 12 needs. You'll find Texas A&M and Mizzou on the SEC blog and West Virginia on the Big East Blog.

BAYLOR
Quarterback:
This one's pretty simple.
Robert Griffin III
is taking his talents to the NFL early.
Nick Florence
is waiting to take over, and the Bears have
Bryce Petty
behind him, but more reinforcements at quarterback are needed. Dual-threat quarterbacks, ideally.
Defensive tackle:
Baylor already was one of the nation's worst teams (102nd nationally) at stopping the run. Now it'll need to replace both its interior linemen,
Nicolas Jean-Baptiste
and
Tracy Robertson
.
Offensive linemen:
Baylor's offensive line, meanwhile, has been solid. It loses junior college transfer and two-year starter
Robert T. Griffin
, as well as All-Big 12 center
Philip Blake
.
John Jones
, a reserve guard, also has exhausted his eligibility.

IOWA STATE
Receiver:
This has been a weak spot for the team for several years, and its top overall talent,
Darius Reynolds
, is gone.
Darius Darks
is, too.
Aaron Horne
and
Josh Lenz
will be the team's best weapons in 2012, but the pair of shifty slot guys will be seniors. This position needs reinforcements.
Defensive back:
The DBs have been a quiet strength for ISU, especially in 2011. Cornerback
Leonard Johnson
and safety
Ter'Ran Benton
both have exhausted their eligibility, though, and defensive backs coach Bobby Elliott left for Notre Dame. You'll see plenty of new faces in the Cyclones' secondary next year.
Defensive line:
Experienced starters
Stephen Ruempolhamer and Jacob Lattimer are both gone, and Iowa State has struggled to stop the run consistently the past few seasons.

KANSAS
Quarterback:
Kansas landed high-profile transfers
Dayne Crist
(Notre Dame) and
Jake Heaps
(BYU), but this is still a huge position of need. Last year's starter,
Jordan Webb
, left the team.
Quinn Mecham
is out of eligibility. Heaps is sitting out his NCAA-mandated year after transferring. Crist is the starter, but he badly needs a backup, especially if
Brock Berglund
's transfer appeal allows him to leave.
Wide receiver:
Kansas lacks a big threat at this position. It needs a talent upgrade in a big way. Oklahoma transfer
Justin McCay
is joining the team, but he's no guarantee to a) be granted immediate eligibility or b) become an impact player.
Defensive tackle:
Kansas is thin here, too. Richard Johnson,
Patrick Dorsey
and
Michael Martinovich
are gone, and Kansas couldn't stop much of anything on defense. Some push up front could help make everything look better. A late addition to the 2012 class from a junior college seems like a no-brainer. The Jayhawks need physically mature players to contribute immediately.

KANSAS STATE
Offensive line:
K-State's offensive line was much better in 2011 and could be again in 2012. It needs help replacing All-Big 12 lineman
Clyde Aufner
, though. Starter
Colten Freeze
is also gone.
Defensive line:
Kansas State is bringing back about as many starters as anyone in the Big 12, but the biggest losses are along the defensive line. Kick-blocking specialist (five in 2011) Ralph Guidry is gone, along with tackle
Ray Kibble
. Juco transfer
Jordan Voelker
exploded onto the scene this year, but he's gone, too.
Defensive backs:
Cornerback
David Garrett
leaves a huge hole behind.
Tysyn Hartman
may not be as talented as teammate
Ty Zimmerman
, but his experience leaves a big hole. Zimmerman will have to mentor a younger safety in the near future.

OKLAHOMA
Receiver:
The Sooners are thin here in a big way. That was obvious late in the season when
Ryan Broyles
' storied college career ended a few weeks early with a knee injury. The team also lost Justin McCay (transfer) to Kansas.
Jaz Reynolds
and
Kenny Stills
are the likely top two targets, but they need help.
Tight end:
This position inspired a bit of panic at the end of the season. Seniors
James Hanna
and
Trent Ratterree
are gone.
Austin Haywood
wasn't allowed back on the team, and two more tight ends left the team for various reasons. That left the Sooners suddenly without a scholarship player at the position returning in 2012.
Offensive line:
Starting tackle
Donald Stephenson
must be replaced, as will guard
Stephen Good
, who moved in and out of the starting lineup throughout his career. The Sooners bring back a lot of talent and aren't dying for depth there, but those two will leave holes. Three more offensive line starters will be seniors in 2012.

OKLAHOMA STATE
Offensive line:
The Cowboys need a whole lot of help here to fill in behind young players stepping into the starting lineup. Starters
Levy Adcock
,
Nick Martinez
and
Grant Garner
are gone. Backup center
Casey LaBrue
is gone, too. Those are two All-Big 12 linemen who leave big shoes to be filled.
Receiver:
Justin Blackmon
surprised no one by leaving a year early, and
Josh Cooper
leaves with perhaps the most underrated career of any receiver in school history. In OSU's offense, there's always room for depth here. Nine receivers had at least 19 catches in 2011. Blackmon and Cooper combined for 192, though.
Defensive ends
: The pass rush was solid for Oklahoma State this year, but both starters,
Jamie Blatnick
and
Richetti Jones
, are gone. Replacing both is a necessity.

TEXAS
Receiver:
Texas lacks a true game-changer at the position, though
Jaxon Shipley
and
Mike Davis
may develop into that role in 2012. Former blue-chip recruit
Darius White
left for Missouri, too.
Quarterback
:
David Ash
and
Case McCoy
didn't show a ton of potential at quarterback this year, though Ash may grow with an offseason to prepare as starter. Garrett Gilbert got a big chunk of the work in the spring, summer 7-on-7 and fall preseason camp. Even if Ash does grow, the Longhorns need reinforcements at the position.
Linebacker:
Two senior impact players are gone. Texas is left trying to replace
Emmanuel Acho
and
Keenan Robinson
, though
Jordan Hicks
may mature into a star in 2012.
TCU
Offensive line:
TCU's offensive line is headed for some major turnover. OT
Robert Deck
, OG
Kyle Dooley
and OG Spencer Thompson are gone. Two more starters, OG
Blaize Foltz
and C
James Fry
, will be seniors in 2012.
Defensive linemen:
TCU isn't losing a lot at this spot, but
Ross Forrest
and
D.J. Yendrey
will be seniors in 2012. The Horned Frogs would be well-served to prepare, and offer some depth next year.
Specialists:
TCU will have to break in a pair of new starters on special teams next season. Kicker
Ross Evans
and punter
Anson Kelton
have exhausted their eligibility.
TEXAS TECH
Receiver:
The Red Raiders' offense requires a lot of depth here.
Tramain Swindall
is the only loss at the position, but three more (
Alex Torres
,
Cornelius Douglas
,
Darrin Moore
) will be seniors. Douglas moved to cornerback this year after the team was racked with injury, but we'll see whether he moves back this offseason.
Offensive line:
Tech has a huge need here. Four players won't be returning in 2012.
Lonnie Edwards
,
Mickey Okafor
and center
Justin Keown
must be replaced.
Defensive linemen:
Tech's
Donald Langley
and
Scott Smith
are both out of eligibility, and juco transfer
Leon Mackey
will be a senior.
December, 19, 2011
12/19/11
1:45
PM ET
By
ESPN.com staff
| ESPN.com
We'll take a look back at each team's season in the coming weeks, beginning with the squads who won't be in the postseason. First up: the
Texas Tech Red Raiders
.

Offense:
Seth Doege
started hot. He was among the nation's best quarterbacks early in the season and broke the NCAA record for completion percentage by hitting 40 of 44 passes in a win over New Mexico. However, he threw just one touchdown and five interceptions in losses to Kansas State and Iowa State. Those games sandwiched his best night of the season, a 441-yard, four-touchdown outing, in a win over Oklahoma. Running back
Eric Stephens
was on track to easily become the program's first 1,000-yard rusher since 1998, but dislocated a knee against Texas A&M. After the team surpassed 130 yards in every game before that loss, it topped the mark just once over the final seven games. The Red Raiders were 1-6 in those games.
Darrin Moore
showed potential with a strong start and finish, but injuries muddled most of his season. Seven of his eight scoring catches came in the first two and final two games. They were also his four highest receiving totals of the year.
Alex Torres
is capable of catching more than 51 passes for 616 yards and four scores, though
Eric Ward
had a nice season after emerging as the team's top target once Moore went down.
The Red Raiders threw a touchdown pass in 69 consecutive games dating back to 2006. Twice in losses this season, Doege failed to throw a touchdown pass.
Grade: C
Defense:
Injuries were a theme on defense for a second consecutive season. Star juco transfer Leon Mackey suffered a lung injury and missed time early, and the secondary thinned out more and more as the season progressed. Late in the year, receiver
Cornelius Douglas
was forced into the starting lineup at cornerback. Still, the numbers told the story for a defense that gave up at least 31 points in every conference game and averaged more than 51 points allowed in the five-game losing streak that ended the season.
Texas Tech's 46 points allowed per game in conference play was the worst mark in the conference, even worse than 2-10 Kansas. The injuries hurt, but they didn't hurt
that
bad. Unacceptable.
Grade: D-
Overall:
Yes, injuries probably hurt Texas Tech more than any other team in the Big 12 this season. Even still, this team had a lot more potential, and had no excuses for a 5-7 campaign, the first losing season since 1992. The Red Raiders have issues. They bring back a lot of talent next season, but there are clearly issues in transitioning from Mike Leach to Tommy Tuberville. The defense has dealt with two coordinators in two years, but this was a disaster. The offense took a slight step back with a first-year starter at quarterback once conference play hit, but it was still good enough to compete. The defense didn't give the Red Raiders a chance.
Final grade: C-
September, 19, 2011
9/19/11
12:00
PM ET
By
ESPN.com staff
| ESPN.com
If anybody's got a song they'd like to make or donate as the Big 12 Blog podcast theme song,
let me know about it
. I'll be in touch. Just make sure it doesn't suck. If it does, I'll let you know. And then we won't use it.
September, 14, 2011
9/14/11
2:15
PM ET
Texas Tech opened its season against Texas State and followed it with an off week.
In short, not a physically taxing kickoff, with half the Big 12 off for the season's second week.
Coach Tommy Tuberville took advantage, taking the off week to re-assess his team. He treated it like "spring practice" with three "physical" practices, including a scrimmage during the off week, rather than using the week for rest as others might midseason.
"Our players are glad it's over," Tuberville told reporters this week.
Now, it's 11 consecutive weeks of football for Tech.
A prediction? Variety. Perhaps 31 different kinds, beginning with Saturday's trip to New Mexico, who the Red Raiders beat 52-17 in Albuquerque last season.
"It'll be a Baskin-Robbins type year for us," Tuberville said. 'We'll have different flavors every week for our two-deep."
He's not kidding. Already, he added freshman Sam Eguavoen to join fellow freshman Blake Dees as a starting linebacker.
Jackson Richards stepped into a starting role at defensive end.
Bradley Marquez
and
Eric Ward
earned starting spots at receiver.
"We won't look like the same team," Tuberville said. "That'll change all year long."
Richards' spot came by necessity, after hyped juco transfer Leon Mackey suffered a collapsed lung and had to spend a night in the hospital after Texas Tech's opener.
The Red Raiders experienced plenty of turnover last season thanks to injuries, especially in the secondary. This year, youth and players improving at different paces may but the culprit of a constantly evolving depth chart.
"It did feel like a preseason game," running back
Eric Stephens
told reporters of the season opener. " Showed us a lot of areas that we need to improve on. So I guess it was kind of a good thing."
September, 6, 2011
9/06/11
11:15
AM ET
By
ESPN.com staff
| ESPN.com
Lots of personnel news across the Big 12 on Monday.
Missouri loses two more
Missouri is already playing without senior left tackle and captain Elvis Fisher, who will miss the season with a torn patellar tendon. So far this season, the Tigers are dealing with more injuries than any team in the Big 12.
Starting senior linebacker Will Ebner will miss Friday's game against Arizona State with a high ankle sprain, Gary Pinkel announced on Monday. He sprained the ankle in the first half of Saturday's win over Miami (OH) and did not return.
Defensive end Jacquies Smith will also miss Friday's game after dislocating his elbow in Saturday's game.
The Tigers already were playing without center Travis Ruth, and he won't make his return on Friday.
Marquise Goodwin in
Texas receiver Goodwin missed the spring and looked like he'd miss the first part of fall camp to compete on the track.
So, he decided to redshirt and return to the team in 2012. Until Monday, that is, when
Goodwin announced he'd be returning to the team
and be in practice on Tuesday.
"Words can't even explain how I excited I am right now to be getting back on the football field," Goodwin said in a release. "When I was overseas, I was missing football, the guys and being a part of the team so much. I thought about how they were getting ready for the season, working hard and pulling together, but it really hit me when I was in the airport on my way back from Seoul."
Goodwin caught 31 passes for 324 yards and a touchdown as a sophomore in 2010.
Tech starter out with 'deflated lung'
Defensive end Leon Mackey was one of the most hyped newcomers on Texas Tech's team, but he made just four tackles before being injured in Saturday's win over Texas State. On Monday, coach Tommy Tuberville announced the injury was a "deflated lung," suffered on a big hit.
The injury forced him to spend 24 hours in the hospital.
"It's up in the air how long he'll be out," Tuberville told reporters Monday. "Probably several weeks, maybe more."
August, 29, 2011
8/29/11
2:00
PM ET
By
ESPN.com staff
| ESPN.com
A few teams across the Big 12 updated their depth charts in preparation for the season. Here's what you ought to know.
KANSAS STATE
Bill Snyder's depth chart for the team's game notes heading into next week's game against Eastern Kentucky? A work of art.
Snyder said he'll be releasing the depth chart tomorrow. More later on the Wildcats.
OKLAHOMA
Oklahoma didn't have any huge surprises, but the biggest news: Jamell Fleming has officially reclaimed his spot above Gabe Lynn at the boundary corner spot, despite missing all of spring practice after leaving the university.
Three true freshmen also broke the lineup. Kameel Jackson will back up Trey Franks at receiver, and recently added linebacker Kellen Jones is a co-backup with Jaydan Bird behind Tom Wort at middle linebacker. Nila Kasitati is a co-backup behind Tyler Evans at right guard.
Doubt the committee approach at running back? Brennan Clay, Dominique Whaley and Roy Finch are all co-starters at the position. Finch is listed last on that group, but we'll see how carries are distributed in Week 1 vs. Tulsa. Whaley is a walk-on who has had big days in the spring game the past two seasons.
Ronnell Lewis is listed as the starter at defensive end, but the university has yet to officially clarify his eligibility status. Kenny Stills is likely suspended for Saturday's game after an offseason arrest, but he's listed as the starter at receiver.
TEXAS TECH
Texas Tech has pair of hyped defensive linemen, and both cracked the two-deep. Leon Mackey, a juco transfer, will start at defensive end in Week 1 for the Red Raiders against Texas State. Meanwhile, former UNC signee and recently cleared true freshman Delvon Simmons will back up Kerry Hyder at defensive tackle in Chad Glasgow's 4-2-5 scheme, fresh from TCU.
Glasgow will lean on a true freshman for one of his two linebacker spots. Blake Dees had a huge impact in the spring and solidified his starting spot during fall camp.
Receiver Marcus Kennard, a juco transfer, looks like he'll redshirt after not showing up on the two-deep, but Darrin Moore will grab the Z receiver spot for the Red Raiders.
OKLAHOMA STATE
The rumors have been officially proven correct at Oklahoma State: The Cowboys return all five starters on the offensive line, but juco transfer Michael Bowie has crashed the starting lineup at left tackle. He'll replace Nick Martinez, who'll back up Lane Taylor at right guard now. The Cowboys offensive line is the league's best, and clearly, Bowie's hyped arrival gives it a whole lot more than depth.
Justin Gilbert has officially usurped Devin Hedgepeth as the corner opposite Brodrick Brown. No surprise there. Gilbert's ceiling is sky high.
Caleb Lavey was the likely starter at the spot, but he'll officially start the year as Orie Lemon's replacement at middle linebacker, where he began spring camp.
MISSOURI
Justin Britt replaces Elvis Fisher at left tackle. The sophomore had been inside, but the team saw him moving outside eventually. He'll take that spot now with Fisher out for the season with a torn patellar tendon.
Hyped juco transfer Sheldon Richardson? Fifth on the depth chart no more. The recently cleared big man moved to No. 2 at defensive tackle behind Terrell Resonno.
Center Travis Ruth is out for the opener against Miami (OH). Jayson Palmgren fills his void.
Starting corner Kip Edwards is doubtful. Trey Hobson is listed as the starter.
Receiver Jerrell Jackson is also doubtful. Marcus Lucas will get the nod if Jackson can't go.
True freshman Corbin Berkstresser grabbed the No. 3 quarterback spot behind James Franklin and returning backup Jimmy Costello, who left the team and planned to join the Army, but re-joined after Tyler Gabbert's transfer.
IOWA STATE
Iowa State made it official on paper: Steele Jantz is the starting quarterback. His backfield? Crowded, but led by Shontrelle Johnson, as expected.
I'm not sure if it means he's playing for sure just yet, but Darius Reynolds is listed as the starter at one of the three receiver spots, despite suffering a broken toe earlier in fall camp.
A.J. Klein, meanwhile, has moved to middle linebacker next to weak side linebacker Jake Knott. Matt Tau'fo'ou started at middle linebacker spot last year, but after suffering a broken leg, he's backing up Klein in the middle. C.J. Morgan, a freshman, takes over at strong side. I haven't seen Morgan play, but at 207 pounds vs. Klein's 243, he'd presumably offer some more, much-needed speed at the position. Jacob Lattimer? Starting at defensive end, despite a March arrest and suspension.
August, 2, 2011
8/02/11
4:45
PM ET
By
ESPN.com staff
| ESPN.com
Thanks for all the questions this week. Here's
the full transcript of our weekly chat
.
Didn't get your question answered?
My mailbag is open.
And some highlights:
Greg in Omaha asked:
What's been the reaction about
Bo's comments on the officiating during the aTm game
?
David Ubben:
Not much. There's not much that's going to happen at this point. I don't buy it, but I do think Bo believes an official said something to that effect. Doesn't mean that's what an official meant, but Bo also realizes that his reactions during the game brought some of that on himself.
Bo Pelini in Nebraska asked:
Is there a statute of limitations for my complaining about being shafted by Texas and the Big "whatever"?
DU:
I don't think so, but in his defense, this wasn't a random rant. He was asked directly about it.
Mike Hale in South Austin, Texas asked:
Which QB gives Texas the best shot at 9 victories this year Wood, McCoy or Gilbert? If Gilbert is unable to gain the trust of the players around him I see more internal issues arising as long as he continues to start...if that is the case. Whatchu know about them Texas Boyz!
DU:
Every indication I've gotten is that Gilbert is the most vocal of the three quarterbacks, unlike the situation at Missouri, where Tyler Gabbert was a lot more vocal than James Franklin, which could have gotten awkward at some point. I don't think gaining his teammates' trust is going to be a problem for Gilbert. Everyone on that offense understands no one got it done last year.
Christopher in Houston asked:
Is it football season yet?
DU:
A little over four weeks. I can't wait.
Peter Terpstra in Columbia, Mo. asked:
Mizzou historically always seems to be a let down in clutch moments. With last year's OU victory, what are the chances that the Tigers can finally bring everything together and land themselves in the Big 12 Championship game or better?
DU:
Missouri could put it together, but I don't care what they do...there's zero chance Missouri gets to the Big 12 Championship game this year. I'd bet my life on it.
Damian in Utah asked:
as of right now, who do you got between BYU vs Texas?
DU:
Cougs.
Dan K. in Trophy Club asked:
Has Tubs turned the corner on the recruiting trail in Lubbock?
DU:
Certainly looks like it. He's brought in some big time guys almost immediately. Leon Mackey and Delvon Simmons are exciting players, and next year's class has big time receivers, including Dominique Wheeler. I'd expect the 2012 class to be the best ever for the Red Raiders, topping the 2011 class.
Jared in Texas asked:
Can you hide your bias view a little better? From what I can tell your man crush on everything non-UT comes through in every chat you do...
DU:
Sorry for not fawning over a five-win team with self-declared "entitlement" issues.
Travis in San Antonio asked:
What is your favorite stadium in the big 12 and who do you think has the best game day atmosphere?
DU:
Texas has the best stadium. Texas A&M has the best game day atmosphere.
Jonathan in Washington, D.C. asked:
What exactly do you think it will take for A&M to get rid of the "little brother" perception with Texas?
DU:
Not gonna happen. The inferiority complex with A&M toward Texas has intensified quite a bit over the past year, despite A&M clearly being the better football in that same span.
Luke in Pflugerville, Texas asked:
Texas A&M seems to think someone cares if they bolt for the SEC....Texas doesn't. Realistically how do you think the Aggies would do...considering over the past 10 years they couldn't hold their own in the BIG 12
DU:
Ha, let's not kid ourselves here. People care if Texas A&M leaves. I do think that could likely usher in the end of the Big 12 as we know it, and lots of folks care about that, Texas included, which would have some very difficult decisions to make if it happened. As for how Texas A&M would do in the SEC, I'd see them winning one conference title every 10-20 years.
When I say they would have trouble winning there, people want to make it seem like they'd be a cellar dweller. Not so. They'd win and go to bowl games consistently. But winning big? Not a good chance to do that consistently with the caliber of programs at the top of the SEC that are used to playing SEC-style football.
April, 22, 2011
4/22/11
3:00
PM ET
By
ESPN.com staff
| ESPN.com
Good set of stuff once again. Thanks, all.
Blake Gore in Fort Worth, Texas, writes:
David - TCU Alum here....while I do agree that TCU really doesn't bring anything to the Big 12, the Big 12 doesn't already have (strong DFW market presence and another team to split the pie with).....to
say we have no alum base or facilities, completely makes not only the response you gave
, but essentially any further reporting you could offer about anything in the future; meritless. TCU's athletic facilities are top 10 in the entire country...on top of which, if we have no alum base...how can we pay $100 million + for a stadium...in cash? You live in Dallas so come over and check them out. SMU, Baylor, Tech..even Oklahoma don't have overall facilities like TCU. You're a young guy and obviously inexperienced in being a journalist....so a little tip...stick with the facts and your arguments will go a lot further.
David Ubben:
Facts, you say? Who, dare I ask, would agree that a school with a 44,000-seat football stadium and a 7,100-seat basketball arena is among the top 10 facilities in the nation?
Really?
Talk about indoor facilities and weight rooms all you want, but none of that matters when you're talking about dollars. Renovate the football stadium all you want, but I don't see any teams in the Big 12 going undefeated and failing to sell out said 44,000-seat football stadium. The Frogs averaged fewer than 43,000 fans per game this past season.
I've been to TCU's football, basketball and baseball stadiums. Football, obviously, is in the process of getting a nice facelift, but like I said, if a 13-0 team can't sell it out every week, what can?
Baseball is already a gorgeous venue, but the Big 12 isn't handing out invites based on baseball stadiums. Basketball went seven years between sellouts this year, and
when it did, the stadium was overrun with BYU fans
. That program, with its impending entrance into the Big East, better brace for some rough nights in the coming years.
Hey, I'm as big of a proponent of TCU's football team as the next guy. I had it
over Boise State on my top 25 ballot all year
, and I'd have loved to see the Frogs get a shot at Auburn. That would have been a toss-up, and the Frogs were as good as anyone when they took the field this year. It's just a shame the fans didn't want to come see it.
Just having a good football team isn't enough to warrant inclusion into the Big 12. More than anything, it boils down to enrollment, which, over time, equals alumni. TCU has fewer than 9,000 students.
Baylor is the smallest school in the Big 12, and it has almost 14,000. The next smallest school in the conference? Oklahoma State, with just over 23,000 students.
So, there's some facts for you. Could, in theory, the Big 12 take a risk and invite TCU, hoping that the school and program rises with the Big 12's tide? Sure. But why take that risk? No one wants more than 10 teams right now, and the
league is doing better than ever financially
. There's no reason to add another mouth to feed that may not add enough value to the league in the future. Fox seemed to be just fine with the number of attractive matchups in the future.
But just remember, Horned Frogs, I only relay these facts
because I hate TCU
. No really,
I hate it
.
---
Filemon in College Station, Texas, asks
: Now that Bevo is a wholly owned subsidiary of ESPN, what is your quota for UT stories?
DU:
A minimum of 15 per week, with bonuses for hyperbole and overhyping.
---
Joe in Houston asks:
Hey, Dubs. who you got for most underated player going in to next year?
DU:
I may have a post on this in the future. For last year, it was, by far,
Rodney Stewart
, the running back from Colorado. Going into next season, though? I'll say Texas A&M receiver
Ryan Swope
. Not freakishly athletic, but he's got great hands, doesn't drop the ball, and he's such an important part of that offense. He put up big numbers himself (72 rec., 825 yards, 4 TD, eighth in the Big 12), but because of what he does to defenses, it draws a lot of focus off
Jeff Fuller
, and was a big reason he had the first 1,000-yard season in school history last year.
Beyond him, people didn't quite appreciate what
James Sims
did at Kansas last year, either.
---
Asad in Missouri asks:
Will Mizzou's offense look different depending on who is QB? If so what will be different?
DU:
No, not really. If
Tyler Gabbert
wins the job, I think we'll see a good portion of
James Franklin
as a runner and somewhat of a passer. I think he'll have a bit larger role than he had last year. He's a much, much more powerful runner than Gabbert, who is hardly a statue, but there's not another quarterback on Missouri's roster who can move the pile like Franklin did.
Offensive coordinator David Yost actually compared that ability to that of a young man named Tim Tebow.
If Franklin wins the job, though, I don't think we'll see Gabbert get off the bench much unless Franklin struggles. They're pretty even as passers. It'll be close come fall. But Missouri won't be reverting back to the Brad Smith "snap it and run!" offense with either guy. It'll still be a spread predicated on getting the ball to playmakers like
T.J. Moe
and
Michael Egnew
.
---
Kyle in Norman, Okla., asks:
Hey David, tough break
DeMarco Murray
didn't get on the cover of the new EA Sports NCAA Football 12 game, but this game is something I look forward to every July, will you be picking up a copy this year?
DU:
Most definitely. I've bought that game every year since my boy Chris Weinke was on the cover in 2002.
---
Scott in Lubbock, Texas, asks:
We all know that the biggest thing that separates the SEC from the rest of College Football is the talent and depth on the defensive line.With guys like Delvon Simmons, Leon Mackey, Scott Smith, Pearlie Graves, Chris Perry, and Jackson Richards, is Tommy Tuberville quitely putting together the best defensive line in the Big 12?
DU:
Not right away, but the potential is there. Guys like Simmons are especially rare in this league, versus the SEC, where there's usually a few greats, like Marcel Dareus, Nick Fairley and Drake Nevis. Smith still has to get back on the field. Tuberville told me he's still in his doghouse.
If one or two of those guys become real game-changers, though? Whoa, look out.
---
Brett in Kansas City ask:
David, how many wins do you think Texas needs to ensure that Mack Brown is back in 2012?
DU:
Four. For those keeping score, that's the same number of BCS bowls he's been to since 2004, and one more win than he has in those BCS games. How quickly we forget. The idea of Mack Brown being on a real hot seat in the eyes of people with real decision-making power is comical. After said four-win season, though? Giving him nine wins in two seasons? The heat would definitely be on then.
---
Hunter in Aggieland, Texas, writes:
"Softly call the Muster, let comrade answer 'Here'..." Especially proud to call myself an Aggie today. Support our troops and God bless.
DU:
I'm not an Aggie, but
Aggie Muster
seems like one of the most special traditions of any university anywhere. A good friend of mine was at the big one in College Station last night and made the family trip over from Dallas, proud to honor their grandfather, among other fallen Aggies, the same way their previous generations did. I don't think there are many other traditions like it anywhere.
---
Big Bear in San Antonio, Texas, writes
: Baylor, though almost as deep as anyone in the country at WR, looks to be fairly thin at RB. You have to have a good running game to offset/open up your passing game & of course that starts upfront, but you have to have decent backs to. Who do you see worthy of a starting RB position in the Big 12 out of our backfield? Should we be hoping the Allen, and Selders come right on in as freshman to help out?
DU:
I don't agree with that at all. I really think Baylor should be pretty deep at running back next season. I like the complementary duo of
Terrance Ganaway
and
Jarred Salubi
a whole lot, and
Glasco Martin
looked pretty good this spring when I was in Waco. They're definitely good enough to be effective. I don't see either guy topping 1,000 yards this year, but together, they should do it easily.
You also have to remember, with
Robert Griffin III
attracting so much attention in the zone read and Baylor's high-powered passing game, it's not like these guys are running against nine guys in the box. They don't need to be Adrian Peterson. There will be plenty of room for them to run, and Salubi and Ganaway should take advantage.
---
Ben in Atlanta asks:
Ubben, I'm totally on board with your idea of getting Arizona and Arizona State in the Big 12, but don't you think they'd be just as attached to the California schools as OU and Okie State are to the Texas schools? The money should be pretty close to even when the new TV deals are signed, so what could we offer them besides shedding the "west coast bias" label?
DU:
Well, my biggest theory behind why both schools would leave is pretty simple: They've only been in the Pac-12 since 1978. That's not a ton of history. For fans of both teams, I don't see a lot of rivalries besides the one that with each other, that fans would be furious about ending.
To your other question, you're right: The money should be pretty similar in per school revenue (remember, even if the Pac-12 deal is worth more money than the Big 12's, which it likely will be, they're splitting it 12 ways). But the thing that now separates the Big 12 is those third-tier rights. If schools start making a lot of money off those (and this early, it's too difficult to tell how much they will), that's definitely something to offer both schools. At the core, these decisions are about money, and that's the only thing the Big 12 can do to convince them to leave: Convince them that there's a lot more money to be had in the Big 12. That may not be the case right now. In the future, it might be.
Again, the Big 12 isn't looking for membership, but if a situation in the future necessitates it, I don't see anyone other realistic option that would qualify as a huge get. Now, there's that little problem we call New Mexico that would make adding both schools a bit of a geographic stretch, but if there are suddenly superconferences sprouting up, that wouldn't be a huge issue.
March, 24, 2011
3/24/11
1:00
PM ET
LUBBOCK, Texas -- Last season, exactly two teams in college football defended the pass worse than Texas Tech. The Red Raiders ranked last in the Big 12 and 118th in college football, giving up more than 293 yards a game.
Within that, the Red Raiders were one of just two teams to give up at least 150 pass plays of longer than 10 yards.
"We just got outran," said coach Tommy Tuberville. "That's the bottom line."
Solution one: The Red Raiders need more speed. Part of that comes with recruiting. Tuberville addressed the need in his 2011 class, recruiting a handful of pass-rushers to provide more depth.
[+] Enlarge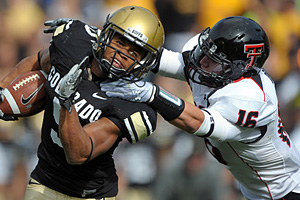 Kirby Lee/Image of Sport/US PresswireSafety Cody Davis (16) is hoping a simplified scheme will help improve the Texas Tech defense.
That depth is the other half of fixing the problem. Injuries were a constant, including two contributors in the secondary just before the season began.
But those injuries meant freshmen on the field, defensive tackles trying to play defensive end and even a few offensive players moving to the defensive side of the ball.
"It didn't look good for us early, but if guys kept getting hurt, we'd have really been in trouble," Tuberville said. "We'd have ended up with
Taylor Potts
playing safety."
Two of the team's best pass-rushers played early, Aundrey Barr (knee) and Scott Smith (suspension) missed the majority of the season, which didn't do the defense's back line any favors.
"The main thing for us next year is if we can stay healthy and get playing time underneath our belt, there's potential," Tuberville said. "A lot of them just don't have a clue what they're doing."
The hope is that changes this year with new defensive coordinator Chad Glasgow, who came from TCU as one of the nation's best secondary coaches. Most welcome, he came preaching simplicity.
"We were confused about some calls and everybody didn't know what everybody else was doing, so simplifying this should be better this year," said safety Cody Davis, second on the team with 87 tackles last year. "Everybody should know what they're doing."
Glasgow is also implementing a 4-2-5 that will put more defensive backs on the field.
"I think it fits us very well because we have so much experience at safety and lack of depth elsewhere," Davis said.
For immediate help changing that, Tuberville brought in Leon Mackey and Dennell Wesley, a pair of junior college defensive linemen.
"They're a little older guys. They're not like big-eyed 17-year-olds coming in," Tuberville said. "You throw them up against a Big 12 team in the first month, at least you've got a little experience."
Despite the defensive struggles, Texas Tech still managed to win eight games, but to tally any more than that, it'll have to stay on the same page, healthy and in front of high-powered Big 12 offenses which got behind it all too often in 2010.
"We didn't have near enough speed to compete this year, and it showed up," Tuberville said. "We had some good players, but we just didn't have enough of them."