January, 24, 2014
Jan 24
12:00
PM ET
January, 16, 2014
Jan 16
10:00
AM ET
AUSTIN, Texas -- Charlie Strong says he had a fairly good idea of what he wanted from his Texas coaching staff before the hunt began.
[+] Enlarge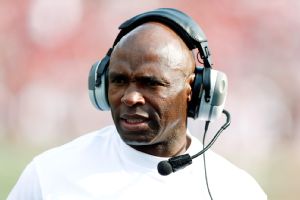 Joe Robbins/Getty ImagesNew Texas coach Charlie Strong has put together an experienced staff he's familiar with.
He wanted coaches he knew and coaches who know the state of Texas.
The staff Strong unveiled on Wednesday appears to have a good helping of both.
Ten days into the job, his staff is finally assembled, and he will hit the road on Thursday to begin selling a school the staff has barely had time to visit.
Strong had to stifle a laugh when asked if he was starting to settle in at Texas. It hasn't been easy. Not after all the work he had to put into interviewing coaches and piecing together a staff that met his standards.
He believes he's found a group that can get Texas back to its championship standard, and more importantly, he thinks these are the guys UT needs off the field.
"This is a staff that we know what it is all about," Strong said. "We are teachers, we're role models, we're going to motivate and lead. Just a staff that are family men, and you want that with the players.
"Because you want the players to look at a coach and say how, someday, if they don't end up being an engineer or a doctor but could go and be a coach, [they would] emulate the man standing right there in front of me. I am just so happy that we are aboard and finally completed it."
It's a group that touts a combined 232 years of coaching experience and, at least on paper, has a good deal of familiarity both with each other and with this state.
Strong hired four coaches he'd worked with in offensive coordinator Joe Wickline, defensive coordinator Vance Bedford, quarterbacks coach Shawn Watson and linebackers coach Brian Jean-Mary.
He hired four assistants who have coached college football in this state: Bedford, receivers coach Les Koenning, running backs coach Tommie Robinson and retained tight ends coach Bruce Chambers.
And he hired guys he'd recruited against in the past, coaches whose passion he respected in defensive line coach Chris Rumph and defensive backs coach Chris Vaughn.
And don't forget the 10th man, the one he considers just as valuable -- if not more so -- than the rest: Strength and conditioning coach Pat Moorer, who followed him from Louisville and is already putting his new players to the test with workouts this week.
All in all, it's a haul that has industry experts impressed. Is this the blank-check dream team that Texas fans envisioned when Strong took the job? No, maybe not. But he's found puzzle pieces that, thanks to all the familiarity, ought to fit together well and do so quickly.
Those fans fantasized about reeling in a big fish for an offensive coordinator, no doubt Strong's most important hire of the nine. They wanted Strong to swing for the fences with someone like Clemson's Chad Morris or Ohio State's Tom Herman.
They might not realize what they've got in Wickline, one of the nation's top offensive line coaches at Oklahoma State. He and Strong were grad assistants together at Florida in 1983 and met again in Gainesville from 2002 to 2004. He knew he was handing the keys to his offense to an underappreciated gem.
"Guys pay their dues, and guys have been around great systems, and if you look at the system he has been around at Oklahoma State for nine years, they have moved the ball very well on offense," Strong said. "When the guys have put in their time, it's like me: I have put in my time and want to be rewarded. So he has put in his time, and he is being rewarded."
What sold him on Wickline, and so many other members of the new staff, was a mandatory trait: Toughness. His offenses and players played. Strong is surrounding himself with hard-nosed leaders because that's what Texas needs right now.
Just as this group comes together, it's time to split up again. The new Longhorns coaches begin their recruiting quest on Thursday, and they've got plenty of catching up to do on that front.
Over the next few weeks, Strong will find out just what kind of recruiters he's hired. And then the real job -- putting the pieces back together at Texas -- will begin.
It's a familiar challenge for Strong. To pull this off, he's surrounded himself with familiar allies.
"I told them right from the start that this is going to be a coaching staff with no egos," Strong said. "We are here to work together, and it is all about success. We are here to win and whatever we have to do to go win a football game, that is what we have to do."
January, 15, 2014
Jan 15
5:30
PM ET
New Texas head coach Charlie Strong completed and announced his coaching staff on Wednesday. A closer look at who will join him in his first season of leading the Longhorns:

Offensive coordinator/offensive line: Joe Wickline
Age: 55 Alma mater: Florida
Previously: Oklahoma State offensive line coach
Past stops: Florida, Middle Tennessee State, Baylor, Southwest Mississippi C.C., Pearl River C.C., Ole Miss, Delta State, Tennessee
Coached up: Oklahoma State T Russell Okung, Oklahoma State OT Levy Adcock, Florida OT Max Starks
Stat: During Wickline's nine seasons at OSU, the Cowboys averaged 37.7 points per game, which ranked third-best in FBS behind Oregon and Boise State.
In short: The longtime Oklahoma State assistant is considered one of the nation's best line coaches and was a significant steal for Strong's first staff. He inherits plenty of young talent up front.

Assistant head coach/quarterbacks: Shawn Watson
Age: 54 Alma mater: Southern Illinois
Previously: Louisville offensive coordinator/quarterbacks coach
Past stops: Nebraska, Colorado, Northwestern, Southern Illinois, Miami (Ohio), Illinois
Coached up: Louisville QB Teddy Bridgewater, Nebraska QB Taylor Martinez, Colorado QB Joel Klatt
Stat: Bridgewater ranked No. 3 in FBS in raw QBR during the 2013 season at 84.5.
In short: Texas is getting an offensive mind that Strong trusts and who proved, with his coaching of Bridgewater, that he has what the Longhorns desperately need: The ability to develop a quarterback.

Running backs: Tommie Robinson
Age: 50 Alma mater: Troy State
Previously: USC pass game coordinator/running backs coach
Past stops: Arizona Cardinals, Miami, Memphis, Georgia Tech, Oklahoma State, Dallas Cowboys, TCU, Utah State, Arkansas
Coached up: Cowboys WR Michael Irvin, Cardinals RB Beanie Wells, Oklahoma State RB Tatum Bell
Stat: Four USC running backs combined for 2,225 rushing yards in 2013, with two surpassing 700 yards.
In short: Robinson comes to Austin after a year at Southern Cal, where he was a respected recruiter and position coach with a wide range of experience.

Receivers: Les Koenning
Age: 54 Alma mater: Texas
Previously: Mississippi State offensive coordinator/quarterbacks coach
Past stops: South Alabama, Texas A&M, Alabama, TCU, Houston, Duke, Miami Dolphins, Rice, Louisiana-Lafayette
Coached up: Texas A&M QB Stephen McGee, Texas A&M QB Reggie McNeal, Texas A&M WR Albert Connell
Stat: Mississippi State's offense set school records for passing yards, total yards and completion percentage in 2013.
In short: Koenning has coached all over Texas and is leaving an SEC coordinator job to return home. Strong needed assistants with ties to this state and Koenning is plenty of that.

Tight ends: Bruce Chambers
Alma mater: North Texas
Previously: Same role
Past stops: Dallas Carter High School
Coached up: Texas RB Ricky Williams, Texas TE Jermichael Finley, Texas RB Cedric Benson
Stat: Texas tight ends Geoff Swaim and Greg Daniels combined for six receptions last season.
In short: The only assistant retained from Mack Brown's staff, Chambers has been at Texas since 1998 and can help with this staff transition, especially in recruiting.

Defensive coordinator/secondary: Vance Bedford
Age: 55 Alma mater: Texas
Previously: Louisville defensive coordinator/secondary coach
Past stops: Florida, Oklahoma State, Chicago Bears, Michigan, Colorado State, Navarro J.C.
Coached up: Michigan CB Charles Woodson, Florida CB Joe Haden, Louisville DE Marcus Smith
Stat: Since the start of the 2012 season, the Cardinal defense ranks No. 4 in FBS in total defense and No. 5 in pass defense.
In short: Strong brought Bedford with him to Austin, and the former Longhorn defensive back brings a lot to the table. Known for being fiery and passionate in his time at Louisville.

Assistant head coach/defensive line: Chris Rumph
Age: 42 Alma mater: South Carolina
Previously: Alabama defensive line coach
Past stops: Clemson, Memphis, South Carolina State
Coached up: Clemson DE Da'Quan Bowers, Clemson DE Gaines Adams, Alabama DT Jesse Williams
Stat: In his stints at Clemson and Alabama, Rumph coached at least nine NFL Draft picks.
In short: Like Wickline, Rumph is considered one of the best of the best at what he does. Doesn't have much experience in Texas but does have a history of signing and developing elite linemen.

Linebackers/recruiting coordinator: Brian Jean-Mary
Age: 38 Alma mater: Appalachian State
Previously: Louisville linebackers coach
Past stops: Georgia Tech, North Alabama, South Carolina
Coached up: Georgia Tech LB Phillip Wheeler, Louisville LB Preston Brown, Georgia Tech LB Gerris Wilkinson
Stat: Under Jean-Mary's tutelage, Brown recorded 301 career tackles and twice earned all-conference honors.
In short: Jean-Mary was assistant head coach of the Louisville defense and followed Bedford and Strong. He'll be Texas' third linebackers coach in the past 12 months.

Defensive backs/special teams: Chris Vaughn
Age: 37 Alma mater: Murray State
Previously: Memphis cornerbacks coach
Past stops: Ole Miss, Arkansas
Coached up: Ole Miss CB Marshay Green, Ole Miss CB Cassius Vaughn, Arkansas LB Tony Bua
Stat: At Memphis, Vaughn inherited the second-worst pass defense in FBS in 2011. In his two seasons, the Tigers ranked 26th-best in the country in yards per completion allowed.
In short: The youngest member of the new staff, Vaughn already has eight years as an SEC recruiting coordinator on his resume.
February, 6, 2009
2/06/09
1:38
PM ET
By
Tim Griffin
| ESPN.com
Posted by ESPN.com's Tim Griffin
While Colorado strength coach Jeff Pittman's comments weren't nearly as widely reported as Tennessee coach Lane Kiffin's blast at Florida, I imagine that his recent remarks for Colorado fans probably caught some notice around other Big 12 teams.
Pittman appeared at a post-signing day recruiting wrapup for Colorado fans and was excited about his team's recent progress at conditioning. And like Kiffin, he played to his crowd.
But in the process, Pittman probably raised the hackles of a few Big 12 foes.
"The last two weeks have been the best two weeks I've had here by far," Pitman told the group in a story reported by the Boulder Camera's Kyle Ringo. "I'm definitely excited. I think we're going to road-grade some people next year."
Here are some other stories from around the Big 12 today.
BIG 12 SCOREBOARD
Saturday, 12/20
Monday, 12/22
Tuesday, 12/23
Wednesday, 12/24
Friday, 12/26
Saturday, 12/27
Monday, 12/29
Tuesday, 12/30
Wednesday, 12/31
Thursday, 1/1
Friday, 1/2
Saturday, 1/3
Sunday, 1/4
Monday, 1/12
Tweets from https://twitter.com/ESPNCFB/lists/big12